MUSIC
IN BRIEF
KID 606, "DOWN WITH THE SCENE"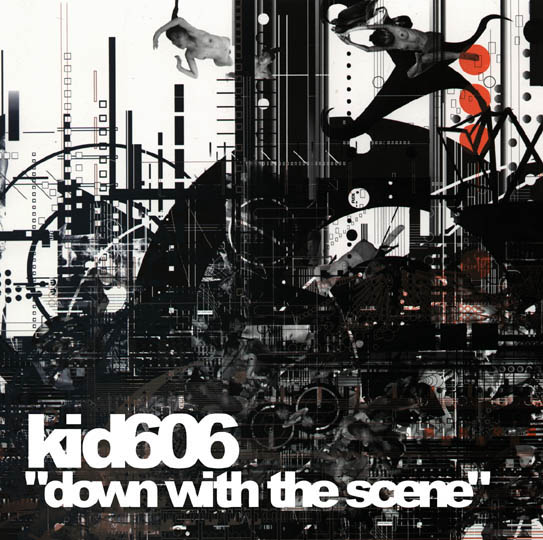 It's nice to see that in Kid's ripe old age of 20 he has no plans of slowing down. This is the first full-lengther from electronica's most obnoxious little brother to surface this year (there are now rumors floating around about a full lengther from Warp and one for Mute in the upcoming months). "Down with the Scene" has been released through Mike Patton's new Ipecac label and it is not a light effort. The 18 second opener, "Chart Topping Radio Hit" is just an indication of some of the surprises about to come, you plop the CD in, turn it up and the shock of the blast can easily wreck your speakers. What follows is nearly an hour's worth of mayhem and sample madness, drum and bass nightmare, kitch and creativity, soul and sin, ending up with the classic crowd pleaser, Hrvatski's remix of "My Kitten" (which appeared on 606 and Friends Vol. 1 earlier this year). - Jon Whitney
samples:
BLUE MAN GROUP, "AUDIO"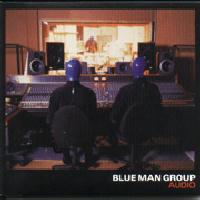 The Blue Man Group are a performance art group who's shows combine art, music, science and theater to a bizarre and comedic effect. Most of the 7 or so members appear identical, dressed in black with shaved heads and blue head paint. For those not fortumate to see them in NY, Boston, Chicago or Las Vegas, you might recognize them from one of their numerous appearances on the Tonight Show. "Audio" is their debut cd with nearly an hour of 5.1 surround sound mixed, instrumental future 'tribal-rock' music featuring their own instrument inventions (which are pictured and described in the insert). Percussion is the driving force on most tracks as the group utilizes a wall of drummers with traditional sets as well as their own PVC tubing and metal instruments, plus 'air poles', Chapman Stick and various guitars. The tracks range from 2 to 8 minutes and are often dramatic and cinematic with alternating mellow and busy sections. Unfortunately, there's nothing too terribly spectacular about the music itself. There are plenty of great sounds within the tracks but the group chooses to keep them within a structured and often unimaginative rock song context rather than fully exploring a more experimental path. The guitar in particular detracts from the unique and wonderful PVC tube thumpings, air pole whooshes and dulcimer strikes. And even the rhythms get tiresome by the end due to a lack of variety. While the music of The Blue Man Group certainly isn't bad, it's too conventional and a huge waste of potential. It's ultimately much more interesting to watch and listen to the Blue Man Group than it is to just listen to them. I suggest they put out a live performance DVD next time rather than another audio cd ... - Mark Weddle
samples:
THE NO WTO COMBO, "LIVE FROM THE BATTLE"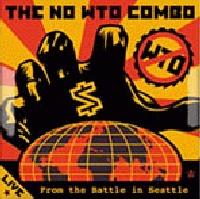 There's no way a protest against the WTO (World Trade Organization) is going down without Jello Biafra getting involved. Jello has helped expose the evils of corporations and government for over 20 years through spoken word and music. This past December, Biafra and makeshift band Krist Novoselic (Nirvana, Sweet 75), Kim Thayil (Soundgarden) and Gina Mainwal (Sweet 75) performed live, amidst a sea of cops and tear gas, for some of the 40-50,000 protesters at the "Battle in Seattle". The introductory track is a fifteen minute spoken ramble by Biafra explaining the importance and details of the protest and various other related tangents. Of the 4 songs, 2 are new and 2 are old. The band, who were raised on old school punk, do justice to the Dead Kennedy's classic "Let's Lynch the Landlord" and the 16+ minute Biafra/D.O.A. epic "Full Metal Jackoff". The new songs "New Feudalism" and "Electronic Plantation" are fast punk rock anthems that lyrically attack the WTO and big business practices. The 26 page booklet contains all the lyrics (some updated for the year 2000), liner notes of the happenings by Biafra and Novoselic, information on the WTO courtesy of the Institute for Consumer Responsibility and photos of the band and protesters in action. It's a shame there isn't any multimedia footage of the band and/or protest on the cd itself. The NO WTO Combo helped make a little bit of history, in style, and this cd does a great job of documenting it and informing the public (myself included) beyond the agendas of the mainstream media ... - Mark Weddle
samples:
PEACE ORCHESTRA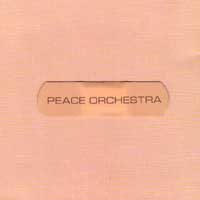 Okay, so this album came out about a year ago but after some listening I finally want to give it a wee bit of attention. Peace Orchestra is essentially Pete Kruder (of Kruder & Dorfmeister fame) and this full-lengther is a serene dub lounge journey. With organic drums, bass guitar and lightly treated organ sounds, the illusion of a full band on groove mode is well-kept. Droning "ambient" noises and sound effects coupled with the emotional basslines could easily make this disc a strong contender for some Lynch filmwork. Shuffling rhythms combined with spacey keyboards on other tracks would be much appreciated by any Laika or Orb fan. Without a skip of a heartbeat, each song flows into each other without stepping on themselves or fading into the distance. (I sincerely hate songs which end prematurely or get drowned out by a new song fading up.) My recommendation: get this disc before your next low-key small gathering where everybody sits in the livingroom after dinner, playing games, talking and ingesting their favorite chemicals or minerals. As an added bonus the CD comes with a bandage stuck to the front - behind the bandage on the booklet is a small cut! - Jon Whitney
samples:
ASMUS TIETCHENS, "a-MENGE"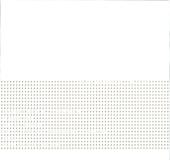 Clear your mind for a second, forget all you know about modern minimalism, listen to the sound samples below and consider the fact that Tietchens has been releasing electronic music for over 20 years. For this album, Tietchens has been picked up by Ritornell - Mille Plateaux's 'minimal' label. Unlike the drones of modern minimalists, he draws on various different genres and influences from classical to process music of some of the mid 20th Century electronic composers. Tietchens achieves something rare in modern minimalists - a balance between high and low end sounds, where everything has its intentional place - nothing sounds random or haphazardly assigned. Every sound develops and becomes solid in the listener's mind. While there is a clear flow to the music, it simply doesn't go in one ear and out the other. Listen to the sounds below but keep in mind the crummy computer speakers combined with MP3 compression will not give you the rich listening experience and depth your entertainment room or even a great pair of headphones could. - Jon Whitney
samples:
"TAKE ME HOME - A TRIBUTE TO JOHN DENVER"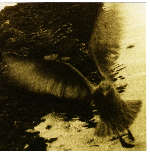 No matter how you slice it, it still comes up John Denver. Even if you're into Red House Painters, Low, Will Oldham or the Innocence Mission, you're not going to get much out of the album if you dislike John Denver's songs. While I do like these bands and these songs are very good, there's not much action going on here. I somewhat feel let down as there were more things these artists could have done to the songs. Perhaps it's just a wee bit light for me. But don't take my word for it entirely, please.... - Jon Whitney
samples:
TOMAS JIRKU, "VARIANTS"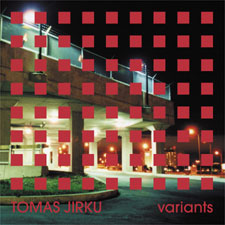 21-year old Czech-born Canadian resident Thomas Jirku was picked up by Alien8 for the sounds they heard on MP3 'label' Notype. While the disc starts out somewhat remeniscent of Pole and Chain Reaction label material, Jirku expands on the beat, modifying it, molding it, changing the sound and feel from the beginning to the end of the CD. Jirku is new and has a lot of experience and sounds to explore, as some of the instruments and sounds could have been treated slightly more to give a more personal feel to some of the tracks. Overall, I think it's a fine release and will be listening to this more and more. See? I can like this type of stuff so long as somebody's doing something good with it!! - Jon Whitney
samples:
We know that sometimes these CDs are somewhat challenging to find, which is why we have a RECOMMENDED STORES section which can be used to obtain nearly everything available on the site.
NEW
RELEASES
MONDAY
Aphelion - Zugzwang CD (deFocus, UK)
Carbon Cube - The Noise Box CD (indie, US)
Cut La Roc - Freeze CDEP (Skint, UK)
Day One - Waiting For A Break 12"/CDEP (Melankolic, UK)
David Holmes - Zero Tolerance two CDEPs (Go Beat, UK)
LTJ Bukem - Sunrain 12"/CDEP (Good Looking, UK)
Mindfield General - Reach Out 12"/two CDEPs (Skint, UK)
Plaid - Trainer 2xCD/3xLP [anthology release of early and rare Plaid material including several new and unreleased tracks] (Warp, UK)
Spring Heel Jack - Disappeared CD/3xLP (Tugboat, UK)
Two Lone Swordsmen - Tiny Reminders 1 12" [first in a series of three 12" EPs, to be collected on a single CD later this year] (Warp, UK)
Up, Bustle & Out - Rebel Radio Vol.1 CD/CD+book/LP (Ninja Tune, UK/Canada/US)
Various - Neurokinetic CD [with CiM, Funckarama, Quench, Gimmik, Fizzarum and more] (Toytronic, UK)

TUESDAY
* The Arms of Someone New - Susan Sleepwalking CD & Love, Power & Justice CD [reissues with bonus tracks] (Projekt/Archive, US)
Audra - Audra CD (Projekt, US)
Codec - Amalgamation CD [remix album with mixes by Zammuto, Thug, Octopus Inc., Solenoid and more] (Component, US)
Miranda Sex Garden - Carnival of Souls CD (Cleopatra, US)
* Hans Platzgumer - Datacard CD (Disko B/The Music Cartel, US)
* Steve Roach/Elmar Schulte - Solitaire~Ritual Ground CD [reissue] (Projekt/Archive, US)
Various - Cues Hip Hop Shop Vol 2 12" (Stray, US)
Various - This Is Jungle Sky Volume 7: J.A.H. 2xCD [with DJ Soul Slinger, Hive, Ming & FS, Yellow Note, DJ Wally and more] (Jungle Sky, US)

FRIDAY
Zorn - Tower Park 12" (Lux Nigra, Germany)

SATURDAY
T. Millar/Merrick Brown - split 12" [ltd to 500 copies] (Mad Monkey/Tektite, US)
Nocturnal Emissions - Zeneca/Monsato 7" [ltd to 100 copies] (Syntactic, Austria)
K.K. Null - Invisible Fire/Mad Water 7" [ltd to 100 copies] (Syntactic, Austria)

For a more comprehensive release schedule stretching far into the future, please check out the NEW RELEASES brought to you by Greg and Feedback Monitor.
MOVIES
REVIEWED
SCARY MOVIE


At first I didn't really want to see this film, but the Wayans brothers have never let me down before, after making such timeless classics as "I'm Gonna Git You Sucka," and "Low Down Dirty Shame," along with the ground breaking television program, "In Living Color," I would have figured this would have been the same silly humor as the others, and it was. "Scary Movie" parodies "Scream," and "I Know What You Did Last Summer" almost scene for scene. The opening scene with Carmen Electra is almost identical to that of Scream's opening scene with Drew Barrymore. Nevertheless, the Wayans continue to use their wacky humor throughout the whole film. The highlight for me was the offbeat character played by Marlon Wayans and in particular one very well done scene mimicking those annoying "wassup" commercials. With even more surprises that I could mention here and many naughty bits, this film is very funny, even the racist jokes are funny. Spoofing even more recent blockbuster films, there is a surprise ending spoofing The Usual Suspects. If you're looking for a quick laugh and love that Wayans humor check this one out. - John Beck
FEEDBACK
GETTIN' GOONEY
Subject: Alice the Goon

Hello,

Just curious as to when/where they will be selling the new Alice the Goon CD and how much in U. S. dollars it will be?

It will be a normal release from World Serpent, expect to find it in the same shops you currently find their stuff in at approximately the same price.
---
Subject: Guido Da Killer Pimp

Hey,

My name is Jason. I work in radio, the evil business that it is, and my radio name just happens to be Gudio the Killer Pimp. I've been under the name for about 3 years, and I think it kicks ass that someone else is putting the name to good use.

Good luck with your record comany thing, it's a 'Risky Business'.

Indeeed
---
Subject: Gas, Pole, Fridge, Calipers, Canada etc etc etc etc and etc.

Hi.

Well, I'd always rather hear 4 or 5 really good sounds over 45 minutes than 600 different ones I don't necessarily care for, over the same time. But now we're talking taste issues...as opposed to music quality issues. I don't know that these folks sending letters are sympathetic of this. Of course, I am also one of these folks...

I have the first Pole...I'm not rushing out to get 2 or 3...

I love the vibes.
---
Subject: Letter

Hi!!!
Please contact me with J.Dangers
I wanna remix his tracks.
I also want him to produce my tracks.

Get in line.
---
Subject: Identity of female singer in She's Unreal - Subliminal Sandwich

Thank you for your excellent web site for Meat Beat Manifesto. It rocks. I have been trying to find out the name of the female singer in the song She's Unreal from the Subliminal Sandwich album. MBM drives me wild they are such a cool group. I just want to find out so much about their group.

I can't seem to find out the name of this female artist though. Any help you may be in my quest would be greatly appreciated.

It's Jack Dangers' wife, Mrs. Dangers.
---
Subject: you the god !!!!!!!......other dog...

Hello,

Best regards,
Hitfm

Sure
---
Subject: LPD Site

I was checking out the Legendary Pink Dots site & it appeared as though you are one of the people responsible for it's existence... if this is true, I'd like to make a suggestion for a message board. After their concert recently, I thought it would be wonderful to leave messages for the band. I hate bothering Edward directly about mindless thanks and praise, even if he is a lovely fellow & seems to appreciate it. I know the 'Cowboy Junkies' have a fully functional interactive web board that you may want to check out, it's pretty clean...

The band clearly makes their email contact information available in CDs and such, so a web board like that wouldn't be necessary, as there's already an email list that has been on the net for years before there was a world wide web.
---
Subject: Pole-shit

This is in response to all the people who wrote saying how much they agreed with Jon's review of the Pole Cd: lighten up! Okay, so you may not see anything of interest in Mr. Betke's music, but I, as well as many others all across the globe, do (are you paying attention, Joel?).

Why is it that once an artist is proclaimed great by mass media, the campaign to derail that fame begins? A few months after Tortoise's "Millions Now Living..." was released, it became popular to slag them. You put all of your heart and soul into making music, and you end up getting shit on by your once-loyal fans. I guess George Burns is right, fame is a bitch goddess. So just because a handful of you losers may not like Pole (sorry, Jon), doesn't mean the rest of us are being duped by an Emperor's New Clothes-style scam. Some of us have been into his music since before the hype machine started, and probably will long after the racket dies down. Just because Fridge has always bored me senseless, I don't think that everyone who likes them only listens to them out of the misguided advice of rags like NME, like the objective reader from Quebec City so eloquently pointed out. We all get something different out of the listening experience, and just because you don't get the same charge as others from listening to a particular artist, it doesn't make you "right." So the next time you children want to blast an artist and their listener's, either go do it somewhere else, or, to use my favorite Jon Whitney-ism, go pack sand up your ass!

Once again, I want to remind the readers of a couple things: 1 - we still accept reviews, so if you have a problem with a review, start submitting some yourself. 2 - Some people will agree or disagree with a review, the fact they're thinking about music is good, there are sound samples here for people to make up their own mind and as writers, we are allowed to state our own opinions. 3 - as you saw there were people who agreed and disagreed with the opinions of the disc here. 4 - this issue's getting really old and we intend to move on.