SITE
MAJOR LABEL BOYCOTT
Until further notice, brainwashed will actively ignore major label music. This comes in the wake of their efforts to stomp out music trading community efforts. While brainwashed isn't condoning illegally trading music, there are legitimate uses for the exchange of music over the internet. While many artists and labels support it, the rich and expensive ones seem to wish to have it ceased as opposed to combine resources and work progressively. Independent studies have shown that music traders are more likely to become music purchasers, and the distinguishing listener will always know the difference in a compressed MP3 versus a high fidelity CD recording. The point of ignoring major labels is that while the RIAA is staging this battle, it was the lawyers and representatives from the major labels who raised the stink. It's those lawyers and businessmen who decide to focus resources into merging labels, thus laying off hundreds of hard working employees and cutting fledgling artists from the rosters. These people actively take advantage of their singers, writers, employees and fans - so it's ironic they're claiming others are stealing. While it's easy for brainwashed to boycott major label product, the message should be delivered to friends, co-workers and associates who wouldn't be here reading this. Over the past week, there has been a lot of talk on boycotting major labels and a backlash of people voicing their opinions against a boycott. Brainwashed will keep this boycott until further notice. People have said "what about Coil and Meat Beat and the Nothing/Interscope connection??" MBM is no longer affiliated with Interscope and Coil have still not released anything through hem. Not entirely dissimilar to boycotts on coffee chains, soda manufacturers, meat, tobacco or anything else people choose - in the end it's up to you, the consumer to decide what is best for you.
BRAIN IN CMJ
Brainwashed was mentioned in a small article in the College Music Journal's August 2000 issue, sandwiched between articles on loads of craptacular major label bands who get marketed to mediocre college radio across the country and top the Billboard Hot 100 while posing as "alternative." Save the $6.98 at newsstands and read this excerpt:
"21st Century Fan" by Tamara Palmer. - (2nd paragraph)

"The people have taken charge," declares Jon Whitney, Webmaster of the East Arlington, Massachusetts-based Brainwashed.com. "Access is to the world, which includes bands too--they get on these [fan mailing] lists as well." His four-year-old umbrella site is home to more than 35 independent artists and five labels, and receives 100,000 hits per day. Whitney also maintains an array of separate sites for labels and bands, including Thrill Jockey and Kranky, and artists like Meat Beat Manifesto, Cabaret Voltaire, Throbbing Gristle, Aerial M and Wire.

Long established fan clubs now rely on the Web as a primary locus of operation, and thousands are stictly online affairs. "there are mailing lists and newsgroups which act as a forum for all members," Whitney notes. "Legendary Pink Dots, for example, don't have a 'fan club' but would like to consider the e-mail list Cloud Zero a 'friend club'--they're very personal with their fans."

The LPD's site is warm and inviting even to the outsider, augmenting the typical tour and release data with valuable advice for musicians trying to break into the business. "Chances are, there will be an innocuous sentence telling you that the contract is valid for 'the period of the copyright.' Don't sign it!" they caution. "We did, to find out that [former record label] Play It Again Sam's publishing wing (SC Confidence) apparently has us under contract for 70 years after our deaths. We are making trouble about this." Their insight may save new jacks some heartache -- which is one of the most positive outgrowths of fans gathering online. On the best of cases, there's a true mutual exchange that takes place between artists and their audiences.

...

"One of the downfalls, however, is the validity of information," warns Brainwashed.com's Whitney. "Years ago, you could trust anything that came from an authority. Now there are 5000 Web sites devoted to Tori Amos, making is hard for most Web serfs to distinguish what is current, accurate or official." But a little research into the origins and creators of a site can help guide your judgement on the truthfulness of the information. The Rockinfreakapotami, otherwise known as the Red Hot Chili Peppers Fan Club (www.redhotchilipeppers.com), always knows it's getting the premium news and as much direct access to the band as possible, since the organization is run with love by Blackie Dammett, Anthony Kiedis's father.

"The most rewarding think is the feeling that I'm doing something that matters to people," says Whitney, echoing thousands of Webmasters all over the globe. "We're a link between the fans and the bands. We're not a record label site which will only showcase the newest album and ignore a history with other labels and releases. I have met nearly all of my idols and have become somewhat of a friend to many. It's more rewarding than my times working for labels when I was just a number, a cog in the huge industry machine."
Thanks to Dave Piniella for typing that one in!! Note: brainwashed is no longer working with Aerial M or Thrill Jockey.
MUSIC
IN BRIEF
PORCUPINE TREE, "LIGHTBULB SUN"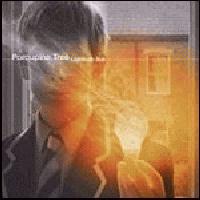 Porcupine Tree is one of several creative outlets for UK multi-instrumentalist Steven Wilson (see also Bass Communion and No Man). The project began in 1987 in Wilson's home studio and by 1993 had expanded into the 4 piece band it is today. "Lightbulb Sun" picks up right where last year's "Stupid Dream" left off with ten more psychedelic and progressive influenced pop / rock songs. Porcupine Tree's sound is lushly textured, pretty and radio friendly, yet it's much better than most anything you actually hear on the radio. Wilson alone plays acoustic and electric guitars, piano, hammered dulcimer, mellotron, banjo, harp, percussion and samples while the rest of the band fills in with synths, organ, bass, backing vocals and drums, as well as some string arrangements courtesy of Dave Gregory of XTC. The album is very well produced (by Wilson) and dynamic as it flows through gentle ballads, Floydian soundscapes and full on rock, all with infectious hooks and melodies and a strong 'sing-a-long' quality. Wilson's light, lilting voice sings some about childhood and the music business, but wayward love is the dominant topic. There aren't any particular parts of the music or individual songs that really stand out, it all works best taken as a whole. It's becoming very addictive. My only complaint is the final song "Feel So Low" seems like an incredibly depressing way to end the album. The artwork is fantastic with a photo of a young boy holding a blazing lightbulb and the inside of the insert is also well done with full color photos and all the lyrics. Porcupine Tree will be opening for Dream Theater in October and the third and final single from this album for "The Rest Will Flow" is due out later this year ... - Mark Weddle
samples:
NWW/ARANOS, "SANTOOR LENA BICYCLE"

Housed in a handmade and painted case, this idiosyncratic release marks the peak of Stapleton and Aranos' creative activity. This is a fantastic album; mature and confident in its' experimentation and the furthest and most complete development of the Nurse 'sound'. Each richly evocative and colourful piece of music is framed and divided by the brief tinkling of a piano; juxtapositions similar in sense to those that constructed "Spiral Insana". Now however, this collaging of sounds is less obvious and obtrusive, the result being that each song is satisfying when listened to either individually or collectively.
The overall sound is far warmer and inviting than the bleak meditation on desolation that was "Acts of Senseless Beauty". The quieter songs- such as "Two from Half's be Cracked" and "Peak of Purified Dream"- have a deeply hallucinogenic quality, inviting the listener to mentally impose sounds and patterns of their own construction on to the piece. The listener switches from passive to active listening to become further immersed in the experience, only to be plunged into the startling kraut-funk paradise of "Sunset Belly Mother".
The most immediate and accessible song is "Mary Jane", which evokes the heavy, slow swirl and sway of a hashish trip, and the descent into quiet absurdity that lies at the heart of it. Indeed, Aranos brings a vivid sensuality to Nurse's surreal visions, exemplified in "Generally Regarded as Safe" whose mechanised and serpentine caress, submerged in a sea of wooden chips, remains remarkably tactile, whilst still evoking the compelling claustrophobia of a David Lynch film. Elsewhere, on "Dusty Bella", Aranos' violin lurches like a drunken superhero alongside his extraordinary vocals. A real treat. - Brian Conniffe
samples:
OVALPROCESS


Oval's "Process" provides something of a meditative environment, meshing static hisses and pops with droning and often soothing washes of noise and whistles. Sounds evolve from ringing bells into long, distorted fits of hysteria and then return to their original nature. The sounds aren't as immediately gorgeous and inviting as "94Diskont," but repeated listens reveal more and more joys in these soundscapes, many of which are extremely visual. There are some stunning moments, especially when the sounds take a back seat in your mind instead of demanding your attention in a noisy manner. Throughout most of the tracks a popping "rhythm" sound is revealed and provides an image of or the feeling of being on a journey, as though you are a part of Oval's process; a process that is strikingly beautiful at times and destructive at others but never overbearing or unlistenable. - Luke Schleicher
samples:
S.E.T.I., "POD" & "LIGHT SHIFT"


Pod, the new proper album from S.E.T.I. is, well, a disappointment. After Knowledge, Above Black, the first live CD-R, and various Various Artist appearances, I was starting to think that S.E.T.I. was the best thing since alien sliced bread. Unfortunately this release appears to be little more than "Here's all the samples I made the other releases with". What is going on? For completists only, methinks.


Also out on Ash R.I.P. is a new CD-R from S.E.T.I. - a live performance from earlier this year. For your money you get: An unlabelled CD-R, a white card sleeve witha sticker on it. On these grounds, you might think the VFM was particularly low - you would be wrong. This release contains Mr Lagowski at his heights. One long beat-free, mixed together track of scariness, aliens, vibrations, um, Carl Sagan, and more show how good S.E.T.I. can be. This is an amazing release, if you liked the previous S.E.T.I. releases, you won't be dispappointed. Definitely recommended. - Nic Doye
BIOSPHERE, "CIRQUE"


Biosphere are similar to S.E.T.I. in that beats are a rare occurrence and that both remind me of the bits inbetween tracks on Richard H. Kirk releases. Neither sound like eachother though. whereas S.E.T.I. sound scary and X-Filesey, Biosphere sound more organic and beautiful. Towards the end of the disc, things start to take a more somber tone, but it still remains one amazing album. Seriously recommended. - Nic Doye
"TOUCH SAMPLER 0"


Yet more weirdness from the Touch stable. Everything from recordings of Salisbury cathederal through world folk music (recorded by the award winning Chris Watson) via a Richard H. Kirk out-take from the marvelous Darkness at Noon (my album of the year) to the full on experimentalness of Menche and Jeck this album (like all 4 Touch samplers) contains something for every Brainwashed reader. I find the People Like Us+ track unlistenable to (I'd rather play the VU orignal), the Frere-Jones track is intellectually stimulating, but similar in some ways to Burning Rome's For David Tudor. While I can't listen to all of this release, I feel I can recommend it because each part of the varied content is valid for many of the Brainwashed readership. - Nic Doye
FREDERICH JURGENSON, "FROM THE STUDIO FOR AUDIOSCOPIC RESEARCH"


If you bought PARC CD1: The Ghost Orchid, then you know what to expect; if you didn't then prepare to have the shit scared of you. The Ghost Orchid at least contained some recordings in English, all of these are in Swedish or polyglot, but are unintelligible to me. This doesn't stop them being scary though - well at least to start with. By the end of the disk, one can't help feeling that some of these may well be hoaxes. It's like alien abductions: you want to believe, but after hearing many accounts you just think, "bollocks". Oh well, another arty release from Ash R.I.P. anyway! - Nic Doye
"COLLISION COURSE"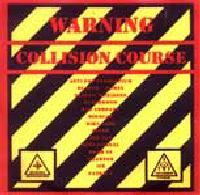 With "Collision Course" Kevin Martin compiles 14 exclusive and/or rare vinyl tracks from the varied sonic wasteland where hip hop, drum 'n bass and noise quite literally collide ... a place he is very familiar with himself through Ice, The Bug and Techno Animal, among others. I like most of my hip hop to be uncompromising and creative and that's what I get here. Anti Pop Consortium, Rubberoom, Mike Ladd and Thawfor let the intelligence of their respective MCs do the work through their complicated rhymes. DJ Scud & Nomex's "Total Destruction" makes for the most challenging listening with ear splitting frequencies piercing the ragga and manic beats. Elastic Horizons and Bad Company are a little out of place with lengthy, fairly run of the mill drum 'n bass tracks. Biomuse, 2nd Gen, Bomb 20 and Patric C lay down slammin' noise and/or sample drenched instrumentals. Fever and Sensational are in dire need of MCing skills instead of the bland and aimless mumbling found on these dreadful tracks. Alec Empire unfortunately transforms Ice's "Trapped in 3D" into one of his typically monochrome hyper speed endurance tests. Don't let the atrocious artwork scare you away because the overall balance is well in favor of dope over whack. I figure the purpose of a compilation is to turn you on to new artists and that's exactly what "Collision Course" has done for me ... - Mark Weddle
samples:
"SCULPTING FROM DRAKE VOL. 1"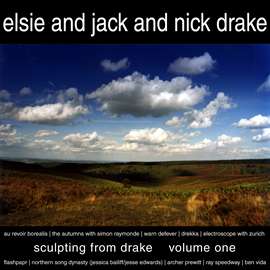 Long before advertisements put Nick Drake on the minds and in the home stereos of European car drivers, Elsie and Jack were preparing a tribute disc. From experience I'm now realizing that compilation discs can take forever to piece together, so the result can be quite rewarding when it's finally materialized. Here's part one of their tribute to Nick Drake, an unlikely release from a label which has previously brought us loads of fun glitchy experimental electronic noisiness, but charming all the same with a special package to boot (see their website) It features interpretations of Nick Drake classics by Jessica Bailiff and Jesse Edwards (billed as Northern Song Dynasty), Warn Defever, the Autumns with Simon Raymonde, Archer Prewitt and others. Drake's influence can be heard with bands like Low, Ida and Red House Painters while his songs translate well through the artists on this collection. Volume 2 will follow eventually and may include Ida, Brent Gutzeit and In Gowan Ring among others. - Jon Whitney
samples:
PLAID, "TRAINER"


Trainer is a compilation—with a few previously unreleased tracks thrown in for good measure—of the early work of the Handley and Turner duo, done mostly, with various aliases, when they were still members of Black Dog Production, whose "Bytes" LP is a classic of the "Artificial Intelligence" post-rave electronic music on the Warp label. Trainer includes also the whole of the impossible to find first Plaid LP, 1991's Mbuki Mvuki. Although far from the euphoric rush of breakbeat madness of 1990-93 english/belgian rave era, Black Dog/Plaid/Balil music in those years showed more rhythmic inventiveness than most of their colleagues in the IDM (Intelligent Dance Music) movement. Really the opening track "Uneasy listening" show close similitude to the sample-based breakbeat hardcore of those days (in this case speeded up vocals included), and most of the tracks from Mbuki Mvuki sound like slowed down, asymmetrical and elusive rave music. In CD 2, who contains tracks from 1992 to 1995, rhythms become more regular and even less frenetic, the music now becoming ambientish and Detroit techno inspired, more in the style of A.I. Warp compilations and related records. While most of the tracks are really enjoyable, a more restricted selection, alas a single CD instead of a double, would have retained a higher quality. Highlights include the oddly brazilian flavoured "Scoobs in Columbia" and the much sought after Balil "Norte Route", really a ninety's update of the Y.M.O. eighty's update of the fifties Martin Denny's exotica. Once upon a time in the future. - Francesco Brunetti
THE SHALABI EFFECT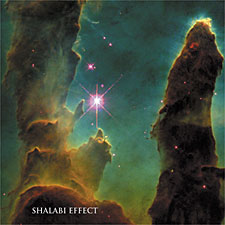 Sam Shalabi's name has popped up on various other records and projects, always with the note that he's of 'The Shalabi Effect.' The eponymous debut double-CD has finally been released through Alien8 in Montreal. In addition to treated guitars, chimes and vinyl record clicks & pops, traditional middle-eastern drones, tablas and scraped metal add color to this aurally rich experience. For a two hour 11 minute journey, atmospheres are constructed, time melts, spaces is manipulated and moved. The production is remarkably clean and rich, and while much of this might have been pieced together from various takes and mix-downs, the sound is very much of a live semi-improvisational group playing off each other. In parts the music sounds like Orb-produced Indian restaurant music, while others sound like audio paintings of space images crossed with space transmissions. I can only think of two other examples of equally ambitious double-album debuts, both of which have become two of my fave albums of all time, so the Shalabi Effect is in good company. - Jon Whitney
samples:
We know that sometimes these CDs are somewhat challenging to find, which is why we have a RECOMMENDED STORES section which can be used to obtain nearly everything available on the site.
NEW
RELEASES
MONDAY
Backworld - Orchids CDEP (World Serpent, UK)
CTI [Chris & Cosey] - Electronic Ambient Music CD [new material based on electronic experiments recorded Chris Carter in the 70s & 80s] (CTI/World Serpent, UK)
Patric Catani - Hitler 2000 CD (DHR, UK)
Death In June - Discriminate 2xCD (NER, UK)
* Death In June - World That Summer CD [on CD for the first time in it's original version] (NER, UK)
Joy Division - Complete Radio 1 Recordings CD [two complete Peel Sessions plus two previously unreleased tracks and an interview] (Strange Fruit, UK)
Midfield General - Reach Out 12"/two CDEPs (Skint, UK)
Thievery Corporation - Focus On Sight 10" (4AD, UK)

TUESDAY
* From Within [Richie Hawtin & Pete Namlook] - From Within 2 CD (Minus, Canada)
King Biscuit Time - No Style 12"/CDEP (Astralwerks, US)
Morcheeba - Fragments Of Freedom CD (Sire, US/Canada)
Nocturnal Emissions & Zoviet France - Energy Exchange CD [ltd to 300 copies] (Syntactic, Austria)
Slumplordz - Slump/To The Face 12" (Stray, US)
Various - Stray From the Pack CD/2xLP (Stray, US)
Voltaire - Almost Human CD (Projekt, US)

FRIDAY
Drift/Black Curtain - split 7" (Jonothan Whiskey, UK)

SATURDAY
Frederik Schikowski - Ich Möchte Mich Zusammenfalten und Nur Noch Eine Mitte Sein 7" (Lux Nigra, Germany)

For a more comprehensive release schedule stretching far into the future, please check out the NEW RELEASES brought to you by Greg and Feedback Monitor.
FEEDBACK
HEY YOU!!!
Subject: (no subject)

Hey, my friend Jeff told me that I have the "hey you" virus. My comp keeps freezing and my saved password is invalid. Can you tell me how to go about excorsing it?

thanks,

Wrong support line.
---
Subject: You have been asked to join the pleasure-seekers of pan

The list owner of:
"the pleasure-seekers of pan"
has invited you to join their mailing list.

YOU MUST REPLY TO THIS MESSAGE TO JOIN THE LIST.

== Simply reply with a blank message to join. ==

I MUST...
RESIST...
---
Subject: (no subject)

Hi!!!
I want 2 prepare polish version ov Brainwashed.
Please contact me with headmaster of Meat Beat Manifesto 'cause I think 'bout music collaboration - IF YOU CAN

'til next mail

There's going to be a next email???
---
Subject: WUOND

I WANT INFORNATION ABUOT THE TETANUS

Just for one week I'd like everything to make sense.
---
Subject: great site

I would like to let you know that the site is awesome. I was wondering if Coil will release work in the US, I have been looking for more of Coil's work and have found it to be VERY rare and in high demand. Why haven't the older (even newer) titles been re-released? Are there record label problems? Any way, keep up the good work!

Thanks for the note. While there has been talk about releasing stuff through Nothng in the USA, there are unconfirmed rumors floating around that Reznor is unsatisfied with the lack of Interscope support for his wishes to release bands like Coil and Einsturzende Neubauten. Of course these albums have been hinted at being released since 1993. Don't hold your breath.
---
Subject: Insect and Individual Silenced

Just wondering if the cdr I have is a sanctioned relese from NWW.
I can't find any info about this release.

The CD has never officially been released, so if you have anything other than the LP, it's not sanctioned.
---
Subject: Broken links on http://www.brainwashed.com/

I would like to inform you that you have 6 broken links on the http://www.brainwashed.com/ website.

We have a winner! Thanks everybody for entering...