MUSIC
IN BRIEF
KIM CASCONE, "PARASITES"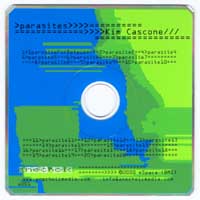 Kim Cascone, formerly of Silent Records, has founded the new label Anechoic and this is the debut release. "Parasites" is, to borrow a few bits from the press release, "a blurring of the line between atomic samples and compositions ... for either listening or constructing new pieces with". Most of the 20 numbered parasites are in the 6 seconds to 1 and 1/2 minute range for a total of about 16 and 1/2 minutes. Each is a mere fragment of heavily processed, digital desktop minimalism. It's not really 'glitch' or any other easily discernible genre, just quick waves and buzzes of sound. Altogether they form a haphazard collection of dreadfully similar and not too terribly exciting, almost offensively dull, music. It's a shame that parasite12 is only 32 seconds long because it's the most intense, unique and interesting of the lot. I'm not normally one to use the "I could do this myself" line but in this case I'd have much more fun making my own in an hour with Cool Edit than listening to these. But maybe that's the point? I honestly don't know what the point is. The disc itself is the most appealing feature as it's a new 3" square shaped cd format known as 'card discs'. Like mini cds you need a player, such as a Discman, with a spindle in order to play it. Ultimately what I'm left with is a $10 piece of eye candy to show to my friends after asking "have you ever seen a square cd?" My mom thinks it's cute. I didn't play it for her though ... - Mark Weddle
FOREIGN TERRAIN, "LP1"
Foreign Terrain is Andrew Diey of Manchester, UK. "LP 1" was originally a very limited cd-r release but now it is the readily available debut for Soleilmoon Recordings. Though indexed as 27 separate tracks, most less than a few minutes, the nearly 66 minutes total is a single uninterrupted sonic journey. Diey's music is a smooth and mellow electro-ambient collage that touches upon dub, techno and hip hop with laid back beats interspersed every few tracks. Sounds found within include many natural environments, snatches of vocals, dialogue, rappers, laughter, rain and running water, footsteps, snoring and the ambiance of a tennis match. The 12+ minute mini epic "Oblique Eccentricity" seems to sum it all up best and adds jazzy bass and keys. The influence of friend and fellow Manchester resident the late Bryn Jones (aka Muslimgauze) is apparent, but not to the point of being derivative, through several of the track titles, a brief remix of "Hand of Fatima" and some of the sounds. In fact, the insert notes "Dedicated to Bryn Jones, Inspired by Muslimgauze". The overall vibe is indeed similar to Muslimgauze, especially the more ominous electronic moments, but Foreign Terrain is also playful and cheery at times. I get a strong sense of motion and travel from this music, almost as if Kraftwerk left the Autobahn, picked up Brian Eno and The Orb then headed for the deserts of the Middle East and rain forests of South America for a few weeks while listening to a Chain Reaction and hip hop mix tape. "LP 1" is easy on the ears and thoroughly relaxing, music for anytime and anywhere and music to take you away from anytime and anywhere. This might just make my top 10 of 2000 list. More releases by Foreign Terrain and another more mysterious Diey project, Black Faction, are to follow. Stay tuned at www.langmanis.com ... - Mark Weddle
samples:
REDISCOVERING CHRIS & COSEY

Thanks to World Serpent, many things are back into distribution across the globe (see more reviews below). Last week I made note of the fact I had very little to compare CTI's "EAR1" to aside from personal memory of older Chris & Cosey material. This week I now have in my hands four reissues from World Serpent and The Creative Technology Institute (CTI) a.k.a. Chris & Cosey.

Four discs have been reissued this round, all of which were originally out on Rough Trade, subsequently released by Play It Again, Sam, WaxTrax! and/or Nettwerk. These four releases are scatterings across the growth curve—represented by 1981's 'Heartbeat', 1988's 'Songs of Love and Lust', and two releases from 1990: 'Trance' and 'Techno Primitiv.'

Through the years, you can hear the exit from the TG days - breaking free from the noise yet holding on to a charming primitivism. With this, they entered a period along with many other cold-war era electronic musicans who used the machines to paint bleak melodies, more eerie and haunting than anything new released in the last 10 years on Cleopatra or Metropolis. Through the 1980s, the techno-pop period holds a lot of fond memories for many of us who experienced these songs on Nettwerk Sound Samplers and WaxTrax! comps, but the sound is incredibly dated.

Entering the 90s, much of the thin pop wash was being slowly let go - grooves became deeper, heavier and more instrumental, all leading up to their current sound which is one of sheer brilliance, audio mastery and maturity. The more I listen to the "Union" concert CD from 1998, the sadder I feel not having been there. If you're near London on September 1st, they'll be spinning records at the old ICA, a favorite stomping ground for their Industrial days. - Jon Whitney
samples:
SALLY DOHERTY AND THE SUMACS, "SLEEPY MEMORY"

Originally released in 1998, the international distribution through World Serpent begins this week. Some might recognize Sally from her membership in both L'Orchestre Noir and Sol Invictus. On this, her first release, Sally's gentle and gliding voice blankets a small ensemble consisting of double bass, cello, violin, harp and most prominently, piano. While I personally hate to drop others names or comparisons, this CD could easily be an comprehensable and vocally trained Elizabeth Fraser fronting The Johnsons. The music is soothing and the production is flawless. It's brief enough at under 45 minutes, but is full enough with 13 shining songs. I imagine Doherty certainly should be a hit with the Serpent crowd, but with any luck it can most definitely cross some genres. - Jon Whitney
samples:
"RGB [an audio spectrum]"

Also re-distributed by World Serpent (from 1998 originally) is the collaboration between Leif Elggren, souRce Research and Matmos. The disc opens with a collaborative effort, "Black," a 10 minute long piece with more silence than noise. At this point I'm thinking "yippee, another minimalistic thing trying to be cool,..."—I didn't get it. The second track is a 44 minute long piece with individual sections of around 15 minutes from each artist, separately. Leif does "Red," souRce research does "Green," while Matmos does "Blue." Things are starting to make sense... The last track, can you guess? "White!" All artists' individual bits are combined together. Anybody who knows how the RGB spectrum might find that cute. Also included in the CD is three separate covers you can choose for the window of your jewel case, Red has Leif's name first, Blue has Matmos, etc,... It's definitely one of the more clever conceptual releases I've seen in a while. - Jon Whitney
We know that sometimes these CDs are somewhat challenging to find, which is why we have a RECOMMENDED STORES section which can be used to obtain nearly everything available on the site.
NEW
RELEASES
MONDAY
* Coil - Musick To Play In The Dark Vol. 1 CD [reissue with new cover] (Chalice/World Serpent, UK)
Deejay Punk-Roc - Spoiling It For Everyone CD/2xLP (Epic, UK)
* Sally Doherty & The Sumacs - Sleepy Memory CD (World Serpent, UK)
Hexstatic - Rewind CD+CD-ROM (N-Tone/Ninja Tune, UK/Canada/US)
Holger Hiller - Holger Hiller CD (Mute, UK)
* Peter Hope & Richard H. Kirk - Hoodoo Talk CD [reissue with bonus tracks] (Mute, UK)
Ordo Equitum Solis - A Divine Image 7" [picture disc ltd to 777 copies] (World Serpent, UK)
Ovuca - Onclements 2xCD/4xLP (Rephlex, UK)
Ozymandias - Karnak CD (World Serpent, UK)
Thievery Corporation - The Mirror Conspiracy CD/2xLP (4AD, UK)
Underworld - Cowgirl two CDEPs [live] (V2, UK)

TUESDAY
Datach'i - We Are Always Well Thank You CD (Caipirinha, US)
Divine Styler - Wordpower2: Directrix CD (Mo'Wax/Beggars Banquet, US)
Jeffrey Fayman & Robert Fripp - A Temple In The Clouds CD (Projekt, US)
* From Within [Richie Hawtin & Pete Namlook] - From Within 3 CD (Minus, Canada)
Hank and Slim - The World Turned Gingham CD (Cacciocavallo/Soleilmoon, US)
People Like Us - Lassie House/Jumble Massive CD (Cacciocavallo/Soleilmoon, US)
Boyd Rice - The Way I Feel LP (Cacciocavallo/Soleilmoon, US)
* Irmin Schmidt - Gormenghast CD (Mute, US)
* Spring Heel Jack - Disappeared CD (Thirsty Ear)
Thievery Corporation - The Mirror Conspiracy CD/2xLP (Eighteenth Street Lounge, US)
Various - Orphee CD (Projekt, US)

WEDNESDAY
Underworld - Everything, Everything CD [live] (V2, Japan)

FRIDAY
Dot Wiggin - Dot Wiggin 12" (Audi Sensa, Canada)

SATURDAY
Immense/El Hombre Trajeado - split 7" (Jonothan Whiskey, UK)

For a more comprehensive release schedule stretching far into the future, please check out the NEW RELEASES brought to you by Greg and Feedback Monitor.
CONCERT
REPORT
THE FALL/BUZZCOCKS
Things weren't quite what I expected at this free festival in Manchester city centre. Went to see two bands from the so called 'punk' era who in many ways are total opposites. Buzzcocks made their name with love songs whilst anti-frontman of the Fall Mark E.Smith ranted about anything else that came to his mad mind - getting arrested for peeing behind a tree, the murder of a pope, elves and hobgoblins, amphetamine psychosis, flabby wings that facilitate time travel... this list is nigh on infinite.
Buzzcocks stormed the charts whilst the Fall sneered at all 'the groups who hit it big', the ones who 'make the Kane Gang look like an Einstein chip. No surprise perhaps, that Buzzcocks charged through a set of greatest hits, a handful of less well known older songs and a trio of new numbers. The Fall, on the other hand, played only four oldies (three from the last album marshal suite).
And whilst Mark E. Smith embodies the ravages of speed and time, hunched, Dickensian and resembling a character fleeing from an H.P. Lovecraft scenario, Pete Shelley and Steve Diggle have chubbied up on beers and resemble a couple of teddy bears.
These days a new Fall line up seems to assemble for each gig, but this lot looked like MES had broken them out of Strangeways. Just one guitar, one bass and a fucking mean looking mountain of a drummer backed the sneering Smith as he unloaded yet another swipe at r'n'r primal scream. Only one song, with throwaway lyrics about 'It's a book, it's a film' stuck in my mind, as did Smith singing a tuneless refrain of 'We plow the fields and scatter the good seed on the land' between songs. On the basis of this set a new Fall album has never seemed a less exciting prospect. The massive contibutions that Steven Hanley, Karl Burns and Julia Nagle have made in shaping the Fall sound were never more apparent, as the new Fall group delivered a set of slowed down psychobilly pub rock. These men looked like they'd been chosen for the job on the basis that they could all hammer the shit out of former drummer Karl Burns. Either that or because they all number anti-student violence as a favourite hobby - the ancient 'Hey Student / Fascist' was the only old 'un. At the end some stage hands tried to prevent them coming back for 'Touch Sensitive'. They failed. How could anyone think of fucking with this crew? Things looked like they were going to turn nasty for a bit and these anti-cabaret routines are becoming typical fall stock. MES left the stage mumbling incoherently and dropping the mic on the floor with a massive 'thunk' which reverberated around the Arena - best part of the gig!
Most glaring difference: The Fall looked like they hated the crowd, Buzzcocks looked like they loved them.
Buzzcocks were on an unashamed nostalgia trip and they pulled it all off seamlessly, looking and sounding like they really love the songs they're playing. The bands enthusiasm was infectious and by the time they wheeled out 'Love You More' I was down the front jumping about like I was sixteen again! Diggle windmilled like the Who but Shelley still looked a most unlikely rock guitarist, his peroxide hair seemed glued on. Everything off side one of 'Singles Going Steady' got an airing, except for 'Happy' and 'Promises' and the version of 'Noise Annoys' they played was a vast improvement on the original. 'Autonomy' still sounded well 'ard and even the new songs weren't too bad. It was a shame they didn't do 'Late for the Train', what with the trains passing nearby on the viaduct above left. They left the stage to 'I Believe' whilst bass and drums thundered long and hard and there was no love in this world anymore... as they returned for the inevitable, I hollered for 'Harmony In My Head' and got it! The only way they could top that was to play 'Orgasm Addict' and 'Boredom'. Being the most consumate punkabaret showmen on the planet, they of course obliged. - Graeme Rowland
FEEDBACK
TORSION
Subject: Tortoise

Hi, I have been reading your site about Tortoise (congratulations) and I want to ask you something. Does the song Lonesome Sound of the single with the same name have lyrics? I got it in mp3 and it made me doubt it was them because it's the only song I have heard of Tortoise with lyrics. If it is true, who is the singer???

Is Mosquito a live song on the single or was it recorded in the studio?

Any new about new Tortoise releases coming soon?

Lonesome Sound does indeed have lyrics, it's a Freakwater cover tune. As for who's singing - it's either John McEntire, Doug or Dan, as in 1993, they were the only members of Tortoise. Mosquito sounds indeed like a studio track on the 7" single. As for new material, an album should probably surface next year. They have been playing around in concert.
---
Subject: Video

I am a new media designer/videographer who is collaborating with some architects for a design competition in Europe that meshes architecture and video together...very amazing visually, we, mainly I, wanted to know if any of the musicals talents our your label would be willing to let us use a track of theirs so the sake of art, electronica/experimental stuff is what we are looking for. I am a huge fan of your label and would totally honored if anyone at brainwashed would consider the idea... I look forward to hearing from you, thanks.

Hi, the brainwashed label is merely an extension of the website and not really a "true label." If you're interested in the artists on brainwashed, you should contact them or their label - most sites will have some sort of contact information or links.
---
Subject: TG Live question

hi

I was just wondering, in your opinion, what is the best TG live album?

The boxed set.
---
Subject: (no subject)

I'm walking on St. Marks place (New York City) and this guy screaming "here is the Crazy girl from the LPD show." This guy also gave me the website address that I can find the article that talks about the show (also, the article describes how loud I was). I looked into the website which first I have to say, thank you for the great & hard work you guys putting into the site to make sure we all have all information we need about the music we love so much.I read all the articles that talk about the show- I'm not there :(
maybe this guy lied?! - anyway, for everybody that been at the show (wetlands NYC) Sorry if I was too loud- this is Edward Ka-spel that was on stage.... we are allowed to get excited... scream and dance (specially when you see somebody you wanted to see for the last 10 years of your life..)
email me if you can find the article.

This article doesn't exist on the web site. It may have been a topic of discussion on the email list, but is definitely not newsworthy. As for wanting to see them for 10 years, I find that odd since they're on tour every year...
---
Subject: Tear Garden tour

I do not know if yhis is the correct forum for this question and if it is not perhaps you could forward it to where it can properly be addressed. I am aware that this fall the Tear Garden will be touring in Europe as well as in the states. Where will information be made available when the venues have been set?

They're not touring. If they ever do, it will be posted on the LPD's website. That's a big big if in my honest opinion.
---
Subject: Tortoise photo

Hi. I'm writing an article on Tortoise for online 'zine and we would like to include a picture of them to accompany the piece. I enjoyed your page on Tortoise and would like permission to use one of the photos from your site for our article. You will, of course, receive credit for the picture listed with the article.

Thanks for asking, if you use a picture on one of our pages, please credit the photographer. Please contact record companies for publicity photos however.
---
Subject: Legendary Pink Dots

Hey,

I was checking out your site it is pretty cool.

We would love to have you register with our Halloween and Horror related search engine. We have an average of 4000 people a day who search for ghosts, werewolves, gothic, Halloween, Horror movies etc...

I think people would dig finding your site.

Go to the beach and play frisbee with a dog.
---
Subject: Use of images from the site

First of all, I'd like to say how great I think the Coil website is. Very easy to navigate, with tons of relevant information, and the entrance page image of the moon reflected in the water is absolutely breathtaking. But on to my question... I am attempting to make a Psychic TV information page, and I was wondering if I could use some of the album covers shown in the Music Section to illustrate the short PTV biography I am writing.

p.s. I was in Paris during July, when the Concorde crashed... do you think that the crash fulfilled Nostradamus' prophecy, the one that "Red Birds..." takes its title from?

Brainwashed isn't the copyright holders for those album covers, so I wouldn't imagine you'd get in trouble with anybody for using them. Regarding "Red Birds," they would fly out of the East. The Concorde was taking off, going West, it didn't destroy Paris and it wasn't at night. Was it???
---
[Please email us below for position of "Brainwashed Fact-Checker" - it's a volunteer position.]