MUSIC
IN BRIEF
MEOW MIX! (THREE NEW CDS FROM TIGEBEAT6)

First up is the release from Dat Politics titled 'Tracto Flirt' which uses glitches, pulses and beats as the tools to bring the rather anthemic melodies across. No titles, just times listed in this tasty electro pop (and click) collection. Dat Politics features members of Tone Rec and this CD release is a reissue of the LP-only version that came out on their own Ski-PP label.
samples:

Next up, Baltimore-based 18 yr old Rjyan Kidwell releases his first full lengther as Cex, aptly titled 'Role Model.' Kidwell's style is bumpy and groovy with charming melodies taking center stage. It might be his first full-lengther, but it's hardly an amateur production. Kidwell's mastery of machinery and understanding of melodic elements and instrumental balance are far superior to most cats twice his age. The disc never gets tedious, predictable and is always enjoyable. Kudos, Rjyan, you're my role model.
samples:

Finally, the release from Medicine frontman Brad Laner and his jump into the laptop musician scene with his full-lengther as Electric Company titled "Exitos." Laner's motives explore the deeper, more subliminial spectrum of electro glitch. He demonstrates that a minimal number of instrument sounds results in the magnified importance of each sound as an individual element. Lost? Well, listen to this on a big set of speakers and you'll understand my point. The style on whole seems to change rather erratically between each song, as if this was a collection of pieces almost thrown together, but every bit has place here on the 60+ minute long gem. Perhaps he's been listening to the likes of Mouse on Mars, Kim Cascone and Ryoji Ikeda and found his own way to create things he likes in each. - Jon Whitney
samples:
LAIKA, "GOOD LOOKING BLUES"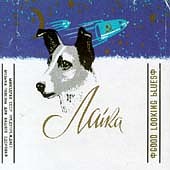 Alas, finally out in the USA, Laika's third full-length release and one of my favorite full-lengthers of the year. Good Looking Blues collects 12 songs Margaret and Guy have been pulling together since 1998's "Sounds of the Satellites." More intense than anything they've released, this album leaves the ambient subtlety of the last album in the dust. The spacey echoey keyboards are still here, but this time a full band backs the group up with rich rhythms and organic percussion. Organic instruments jumping into the mix this time around include trumpet, bass clarinet, congas, turntables, flute and tamborine. Martha's voice never gets buried in an incredible production job pulled together from sessions at home and in various studios. The band should be touring this fall, don't miss it! - Jon Whitney
samples:
THE DAMAGE MANUAL
This is the debut self titled album by The Damage Manual, following up the debut "1" EP from this past April, due out September 5th. The band's output, not surprisingly, draws heavily upon the collective input of the lengthy, intertwining resumes of it's four members - Chris Connelly (Ministry, Revolting Cocks, Murder Inc., etc.), Jah Wobble (Public Image Ltd., numerous solo and collaborative projects), Geordie Walker (Killing Joke, Murder Inc.) and Martin Atkins (Ministry, Pigface, Murder Inc., etc.). A neatly packaged dream come true for many fans of punk/post-punk and modern 'industrial' rock. "King Mob" and "Denial" do it slow and hard with PiL "Metal Box" era slow bass lines and schrapnel guitar, thunderous beats and Connelly's half spoken/half sung and sexy smooth crooner vocals, respectively. "Age of Urges", "Sunset Gun" and "Stateless" explode with guitars and beats while Connelly resurrects his Revco primal screams, especially on the latter one. "Top Ten Severed", an observation on the sad state of affairs in the world of music, alternates between lush, quiet sections and heavy guitar driven sections. "The Peepshow Ghosts", which was originally a solo Connelly love song, is now an even sexier, rockin' love song. "Expand" and "Broadcasting", both fairly tedious, really remind me of the more experimental drum and vocal driven PiL of the early '80s. Some violin, saxophone, sitar, vinyl scratches and drum loops appear here and there, as well as synth work by Lee "Bagman" Fraser of Sheep on Drugs, but almost as an afterthought when compared to what the main members are doing. There are too many hands at the mixing desk for the album's 9 main tracks (Bill Laswell, Atkins, Walker and engineer Jason McNinch) which makes for a strange sounding album as Laswell's mixes are heavy on the bass and the others moreso on the guitar. Laswell, The Orb and Jah Wobble also man the desks on the final 4 tracks, which are simply overkill remixes of album and EP tracks, all of which are good but none better than the originals. "The Damage Manual" isn't perfect, but it's a fine debut and makes good on what the hype promised. The bottom line is this: these guys might be in their mid '30s to early '40s but don't put them out to pasture just yet. They still want to rock and they still do rock. I'm really looking forward to being pounded by this live. A North American tour will hopefully commence later this fall ... - Mark Weddle
samples:
SPRING HEEL JACK, "DISAPPEARED"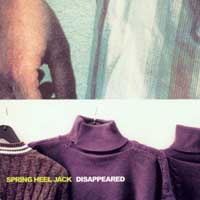 Spring Heel Jack push forward with their fourth release of this year. Disappeared is the first brand new full-lengther with all-new material to surface however. I guess it's taken this time for Thirsty Ear in the USA to catch up to their European output... Regardless, the depths of their music has expanded in range over the last few releases. This CD of all-new material has carried over their fondness of organic instruments (both live and sampled) and jazz rhythms but has left the overused samples and pre-programmed sound synths behind. No longer is this the "drum and bass" band it used to be, with a collection of 4-8 minute songs just tossed together. Conceptually, this album flows and moves like an album should, with songs appropriately placed - mixing up songs of bombastic beats between songs of deep introspection, flowing naturally into each other rather than sounding like a collection of 12" singles. After a few more listens for myself, this will definitely become one of those memorized instrumental albums—where you always know what's coming next. - Jon Whitney
samples:
MARC GARTMAN, "THE HORRIBLE COCOANUT GROVE DISASTER"

Two CDs this week I've pulled from the home-made bin as I think these folks are moving in the right direction. NYC's Marc Gartman has pieced together a one-off ensemble to complete the pictures on his first full-length CD. The packaging that showed up at my door had the disc housed in a painted tyvek sleeve with plastic printing and a hand-printed image of a factory looking thing, a neat fastener was glued onto the back to keep the sleeve closed when not in use, but it sure is uncomfortable in the CD collection next to everything else. The music itself could easily be a session of seasoned jazz musicians playing a tribute to Louisville. Improvisational while introspective in nature, not afraid to play quiet and meaningful. Instruments showcased include violin, melodica and double bass alongside acoustic guitar, drums and piano. Lookout Rachel's! Through more investigation, I find out this ensemble as it exists on this disc will most likely never happen again. It's a shame as I would love to hear this incarnation live. The production is astonishing for a homemade release. Added effects on certain tracks include crickets and possible gunshots in the distance. Hard to believe this is a NYC based collective, as it could easily be music conceived while sitting on a back porch at twilight, staring out into the fields, watching fireflies in the sunset! I'd love to flood this issue with more sound samples, but hopefully three will be enough. For more information (including how to get your very own copy), check out www.pushpinmusic.com. - Jon Whitney
samples:
WILKES LAND, "DERECORDED"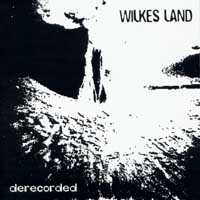 Second home-made release this week comes from Tulsa, OK? Remember listening to what was to be the final Skinny Puppy insult, 'Last Rites' for the first time, and that incredible piece called Download that at the end drifted off into electronic drones you wished could go on forever? Whether they're conscious about it or hate Skinny Puppy, I finally feel like this hope has been somewhat fulfilled with this album. Precious electronic drones and soundscapes wash over this disc, and unlike other discs of drone a'la electronique, these songs start and end without going on way too long. Sublime and dreamy, chimes and echoes play wonderful tricks with your mind late at night with all the lights off. The titles make me curious, however, with all of them sharing titles with popular classic rock hits of the 70s. It leads me to wonder if the originals provided inspiration or sound source... Drop an email to eyeq@telepath.com if you want a copy all your own. - Jon Whitney
samples:
FUTURE BIBLE HEROES, "I'M LONELY (AND I LOVE IT)"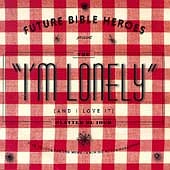 This is the 80's synth pop side of Stephin Merritt - another excellent project by the gloomy sourpuss that everyone now knows and loves. Christopher Ewen creates the wonderful OMD-styled bouncey music, which blends quite nicely with Stephin's hopelessly romantic words and voice. Claudia Gonson is also on this release, adding a nice variety to the EP by singing solo in the song "Cafe Hong Kong" and backing Stephin in the remake of "Hopeless (remix)," which was previously on the last Future Bible Heroes full-length, "Memories of Love." For fans of the Magnetic Fields, or heavily synthesized music, with a humourously depressing twist. Picture the Pet Shop Boys meeting Leonard Cohen, but with smirky lyrics like "There's no use even trying, because it's hopeless. All of our dreams are dying of overdoses." - Daniel McKernan
samples:
CURD DURCA, "ELEVATOR 3"
This is the 4th album by Vienna based artist Curd Duca for electronic label Mille Plateaux, 3rd in the "Elevator" series of 'digitalanalog mood music' and my personal first. The 48 titled tracks range from 6 seconds to a little over 2 minutes for a grand total of under 40 minutes. The album samples an interesting variety of sources such as easy listening swing and jazz records (elevator music), atmospheres and found sounds which he then proccesses and/or adds subtle electronic accompaniments to. The more musically oriented samples are generally messed about with and given new environments while the less musically oriented samples become music through Duca's ability to make them sound appealing and piece them all together. It's not all that much unlike something V/VM would do except that most of this is much more subtle and seems more serious. Munich vocalist Carin Feldschmid also adds hauntingly beautiful and sultry tones to 5 tracks. The result is similar to that of an old film score and is surprisingly cohesive considering the amount of tracks and diversity of sounds. And that is where Duca's talent really lies. He's able to maintain a level of interest and range of moods throughout with evocative sounds in short doses. Random play also seems to be just as effective and lets me extend the total playing time to however long I desire. "Elevator 3" is curiously relaxing and mysteriously entertaining, soothing 'background' music for more than just vertical journeys ... - Mark Weddle
samples:
SONOVAC, "HIGH-ON-TECH" EP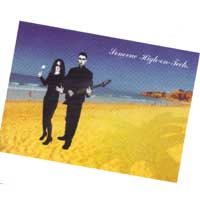 You ever hear a name so much that you really should indeed check them out? You ever trust a label given everything they've released you've really liked? Have you ever come home drunk, checking email and seeing an announcement of new releases from an online store and chose things without thinking much? Well, here's a perfect case. This CD single has me confused whether I think it's the next big thing or it's so fucking awful I think I will start peforming stress and endurance tests on it. Loads of 14 year olds are making music like this in their parents house, although I've heard lots of teenagers making music less weak and cliche than this shit. It has some weird enjoyable element to it, all the same... Maybe I just don't get it. To me,it sounds like discount kitsch, with predictable simple beats and trashy lyrics. Then again, people do indeed buy terrible music. (Cylob fans will enjoy this.) As for myself, more listens and I'm more confused. Listen to the sound samples and decide for yourself. - Jon Whitney
samples:
SONIC YOUTH?, "MUSICAL PERSPECTIVES 5"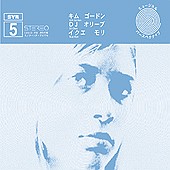 Well, maybe it's not really Sonic Youth, but it does follow along the whole theme of the Musical Perspectives series. Number 5 is a full-length collaboration between Kim Gordon, DJ Olive and Ikue Mori. The chosen language of this series is, of course Japanese, but unlike volumes 1-3, this one comes with translations. (Sell-out!) From the first minutes of the release, it feels as if the magic is back: the noise, the experimentalism that a guitar band always wants to do. 60 second sound samples do this album no justice as each song has a multitude of parts and sounds, all entirely wonderful this time around, utitlizing Gordon's voice and guitar work, alongside electronic Japanese fuckery with environmental sound sources and samples. Leave the pop records behind and explore some Musical Perspectives today! - Jon Whitney
samples:
"INVISIBLE SOUNDTRACKS 3"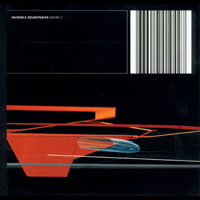 The latest in Invisible Soundtracks collections, volume 3, features Rothko, 310, Bass Communion, Bob Ellis and many many others. Next to each track on the disc, the artist has listed their favorite composer/director/actor/film—whether it is related to their compilation submission is unknown by me at this time. I can hear influence for example in 310's cut on here which gives the nod to Badalamenti/Lynch and the film "The Sheltering Sky." At over 74 minutes, this collection of instrumentals from 16 excellent artists is worth having for a collection and for study-hall time music this year in school. - Jon Whitney
samples:
"L'AGE D'OR (THE GOLDEN AGE)"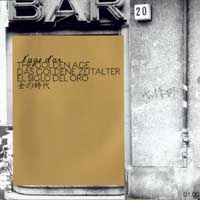 Eleven years of German rock comes together for this medium priced sampler from label L'Age D'or. I can't say I've heard of any of these bands but they sure do rock a lot more excitingly than a lot of the post-kraut-rock to surface over the last couple years. This isn't to say that stuff is bad or anything, but there's more to German rock than noodling at keyboards and bass guitar, keeping your mouth shut. I'm now interested in finding out more about various bands on here like Tocotronic, whose opening song just jumps out of the speakers with a pop style almost ready for prime time and an electronic element faking skipping sounds, all in rhythm. The energy continues with entertaining interpretations of The Jams' "That's Entertainment" and a 7-banjo cover of Kraftwerk's "Autobahn" by Fink. Look for it, hunt for it and if you give up, harass www.lado.de. - Jon Whitney
samples:
DRUMS & TUBA "WATER DAMAGE RE-ISSUES"


Two brand spanking new reissues from My Pal God are the rereleases of Drums & Tuba. Imagine if the tubist and drummer from a high school band got together with a teenage guitarist and decided to record whatever came to mind, and there you have Drums & Tuba. Somehow I get reminded of the KLF's "Fuck the Millennium" ending and three guys running behind them trying to catch up. The tunes are fun and I'm sure this is a great band to see live. Box Fetish collects the original 1999 record plus three new tracks exclusive to this CD release. It starts out high schoolish, but towards the end, the songs become more adventurous with use of trumpets and other percussives.


Volume 2 of the Water Damage Re-Issues is The Flying Ballerina, recorded in 1998. This disc seems to have more of a jazz influence right off the bat while rocking out a little more. The formula's basically the same yet I find it more charming and variable. These discs are ideal for those students who have to commute on busses or trains. Certainly some great morning cup of moccaccino-blast held within... - Jon Whitney
samples:
BRIGHT, "FULL NEGATIVE (OR) BREAKS"

Fans who love to drone on and on and on will love what they'll get from the new Bright record. Bright, formerly (currently?) based in Boston had a release in Darla's "Bliss Out" series a couple years back. Since then, I've often wondered what ever became of them. Being in Boston, I never heard of them playing, but I guess I've simply been missing out. 'Full Negative,' is a solid chunk of a well balanced diet of organic rock instruments working together for the sake of sound, not show, with little need for vocals. From the first song, the sound is inviting and captivating, with dynamics that echo mid 80s Sonic Youth, 70s Wire or even early Mogwai. - Jon Whitney
samples:
FRED GIANNELLI, "TELEPATHIC ROMANCE"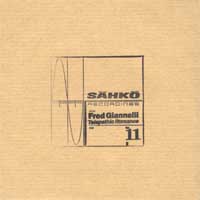 From Sahko in Finland comes this excellent priced CD from that guy who simply goes by Fred. You might recognize his name from the Psychic TV days of the 80s or some remix works he did in the 90s, but try and clear your mind for this release. This time around, Fred's been working with samples and sources, pulling together tremendous soundscapes for release. 'Telepathic Romance' consists of two tracks named Contemplation. Part 1 totals just over 30 minutes and incorporates some uneasy low rumblings blaneted over by comforting lush strings. A perfect soundtrack to a thunderstorm on a Sunday afternoon. Part 2 runs just over 12 minutes and can easily be the stunningly beautiful clearing after the storm. Choral samples, low drones clash with heartbeat-esque pulses. Too bad these sound samples are only 60 seconds. Hunt for this one. - Jon Whitney
samples:
LIVE HUMAN, "ELEFISH JELLYPHANT"


I figure I should get to this release as it's been staring me in the face since June. Some might remember the Live Human release on Fat Cat last year, this is the second full-lengther from San Franciscan trio who's music is somewhat of a mix between improvisational play and break beat scratching. It's a perfect release to bop and groove to on your walkman while walking between classes, but it's not a terribly coherent concept. You can stop it and start it anywhere without missing any feeling. While I think the album's fairly good and they've got a load of talent with the hypnotic use of double bass and fierce scratching, it might have been better with half the songs and twice the amount of development time for each track. I'd love to find out where this band goes as they do have some great potential. - Jon Whitney
samples:
[Next week: look for reviews of new releases from Trans Am, Eleventh Dream Day, Man or Astro-Man?, Simon Fisher Turner, Pram, and many many more...]
We know that sometimes these CDs are somewhat challenging to find, which is why we have a RECOMMENDED STORES section which can be used to obtain nearly everything available on the site.
NEW
RELEASES
MONDAY
Attica Blues - Test Don't Test CD/2xLP (Higher Ground/Sony, UK)
Shirley Bassey - Diamonds Are Forever: The Remix Album CD/2xLP [mixes by Kenny Dope, DJ Spinna, Moloko, Propellerheads, Groove Armada, Nightmares On Wax and more] (EMI, UK)
Blackalicious - Deception 12"/CDEP (Mo Wax, UK)
Patric Catani - Hitler 2000 CD (DHR, UK)
Delerium - Silence 12"/two CDEPs (Nettwerk, UK)
EU - Wienn/Srez 7" (Pause_2, UK)
Crispin J. Glover - Rhythm Graffiti CD/2xLP (Paper, UK)
Joy Division - Live At Bains-Douche Paris CD/2xCD [recorded live in December, 1979 - 2xCD version is limited to 2000 copies, with the second disc featuring CD-ROM material] (Strange Fruit, UK)
Nigo - Kung Fu Fighting 12" (Mo Wax, UK)
Photek - Terminus 12"/CDEP (Science/Virgin, UK)
Recoil - Jezebel CDEP (Mute, UK)
Trans Am - Red Line 2xCD [early Japanese release includes a bonus disc of exclusive material] (Thrill Jockey, Japan)

TUESDAY
* A Guy Called Gerald - Essence CD/3xLP (Studio K7, US)
Gosub - Sordon Escape 12" (Isophlux, US)
Large Professor - It's About Time 12" (Matador, US)
Master Musicians of Jajouka - Master Musicians of Jajouka Featuring Bachir Attar CD [produced by Talvin Singh] (Point/Universal, US/Canada)
Supreme Beings Of Leisure - Strangelove Addiction Remixes 12"/CDEP (Ryko/PalmPictures, US/Canada)
The Wisdom Of Harry - House Of Binary CD (Matador, US)
Various - Isophlux Records 1995-2000 12" (Isophlux, US)

FRIDAY
Cathars - Early Bells + Voices LP [ltd to 500 copies] (Atomic Recordings, Belgium)
The Remote Viewer - Surface Shake off your Cares 12" (Atomic Recordings, Belgium)
Sonar - Remote Assault CD (Daft, Germany)

For a more comprehensive release schedule stretching far into the future, please check out the NEW RELEASES brought to you by Greg and Feedback Monitor.
FEEDBACK
DOWNLOADING COMMUNISM
Subject: Recording Industry Propaganda

Your site is definitely one of the best on the web. I check out the brain weekly and i'm a huge fan of MBM, Coil, and others. So, keep up the good work on that.

On a different note, i've been keeping up with your boycott of the major recording labels and i also feel the same way. so i just got in today from a week vacation and checked out the brain and then proceeded to check into some aphex twin news. so i checked out aphextwin.org and THIS popped up on top of it. Hmm..... I just thought i'd pass this along to you to see what you think of it. Keep up the great work on the site and good luck with the boycott.

Thanks

Thanks for the note and support. That image has actually been my desktop at work for the last few weeks. It's a great one.
---
Subject: Fact Checker.

Hey, I can volunteer my free time (There seems to be a lot of that lately since I've quit my job until school starts) to be a fact checker.

Thanks for the offer, it was a joke actually. Sorry.
---
Subject: Music Websites

Hi there everyone at Brainwashed!!! :-)

I just luv your website. It's soooo bitchin! :-) But I can't find Britney Spears or Hanson on your website anywhere!?!?

Bye!

This is a question?
---
Subject: How to find Nurse With Wound Albums

I'm a relatively new fan and I really seem to be having trouble locating any NWW work. I am hoping to get the early stuff (ie Chance Meeting...) Any album will do, as they are nearly impossible to find. Any info or help you can lend will be greatly appreciated as most other sources lead me nowhere.

First of all you should stop looking for the albums and look for the CDs if it's the music you're after. All the CDs are still in print and carried by many stores, or they can be ordered direct from World Serpent. Check out the stores section of brainwashed for some places we suggest.
---
Subject: Hi

Sorry to bother you - I'm live in the UK and am coming to San Fransisco for a vacation in October this year. Can you tell me if Jack does any dj'ing in the SF area on a regular basis?

Many thanks, Andy

Nothing on a regular basis we're aware of. There are guest appearances here and there but they're all put on the website when they occur.
---
Subject: Coil: This is Moon Music start page

If at all possible I would like to be able to use the image on Coil's start page as my Screen Saver. Unfortunately only the top half of the page is a jpeg and the moving portion is a java program. Copyright notwithstanding is there any way you would be able to send me the start page in some compatible format? It would be Very, VERY much appreciated!!!

If I only knew how to do it,... Sorry
---
Subject: boycott-related stuff

Hi,
Just saw a news story on TV about how Madonna is trying to gain madonna.com for her own use by force through a hearing before a UN group(?!)

Go check out madonna.com for the details - essentially they are donating the domain to a non-profit hospital and are not squatting for cash - not to mention that Madonna's name is not unique enough to claim ownership.

I don't think saying in this forum to boycott Madonna would do any good - does anyone here even KNOW anyone who buys Madonna records?? But perhaps we can send a message to her corporate contacts that this kind of crap won't fly.

This kind of reminds me of the Etoy debacle, but it's even more ridiculous.

By the way. When did the UN start gaining any say about commercial/business interests?

Wasn't Madonna stalking Bjork for years? I can honestly say I'm not surprised. As for the U.N., all I can think of is the phrases "U.N. your dumb ideas," or "U.N. your big mouth."
---
Subject: TG QUESTION

I ordered Assume Power Focus from 2 places - one place couldn't get as hold of it (They also couldn't get a hold of DOA) the other place i have heard no word from yet - is it now very hard to come by???

Perhaps, I don't think there were many made and I doubt it's still being printed up. It does pop up from time to time so keep looking.