SITE
BACK TO SCHOOL SPECIAL PART 2!
Welcome to the mega blowout whammie part 2. GET YR NOSE IN THA BOOKS, STUDENTS! So we set this up last week, with all intentions to review a ton more stuff this week, but time seems to have gotten the best of us. Regardless, we're gonna try and tell you what to stuff in your knapsack this year in addition to the booze and condoms. Books? Studying? Which school are you going to?
CURRENT 93 LONDON CONCERT CANCELLED
Emergency surgery has forced David Tibet to cancel the upcoming Union Chapel show in London - which was to feature Pantaleimon and Antony & The Johnsons. The concert will be rescheduled. All information will be posted both at Current 93 and World Serpent website.
MUSIC
IN BRIEF
TRANS AM, "RED LINE"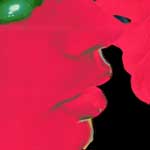 This has got to be one of (if not) my favorite albums released this year. This +70 minute double record (one CD) set marks Trans Am's finest effort. Not too heavy on the rock, not too heavy on the electronics and not to heavy on the vocal tracks this album combines it all. From the very beginning, you know something intense is about to happen. And it does! BANG! The album delivers phenomenal songs from track to track featuring a Blue-Man Group-esque drumming bit, a David Pajo style guitar piece, even a dead ringer for a Suicide tribute! There's loads of distortion, deep electronics and very fun and catchy melodies. While the song styles differ each track, the production is solid and the "concept" (whatever that may be - the jury's still out to lunch) carries strong, flawlessly. - Jon Whitney
samples:
MAN OR ASTRO-MAN?, "A SPECTRUM OF INFINITE SCALE"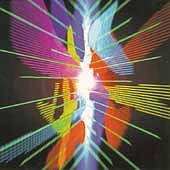 For those still holding onto the summer magic, run to the nearest store to get the latest space-invader surf-epic guitar-noodling electronica rock and roll from Man Or Astro-Man?! Ther new CD (out this week) is alien and furious with the cover translated into many languages for your choice of which one to display! This time around the production skills and sound fuckery have possibly even matured from last year's EEVIAC, electing to go slightly more daring, but keeping a hold on the surf-noise-rock elements as much as they can. A live show (as always) will no doubt be one of the best rock shows when they hit the roads. A fun time guaranteed for all. Just be careful your idiot dorm roommate with no taste doesn't swipe it from you. Should they do this you have full license to break their "Legend" or "Joshua Tree" CD into tiny little pieces. I said so. - Jon Whitney
samples:
MARK SPYBEY/MICK HARRIS, "BAD ROADS, YOUNG DRIVERS"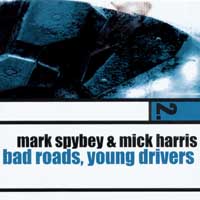 Mark Spybey & Mick Harris "Bad Roads, Young Drivers" This is volume 2 of the 3 part Hushush "Threesome" series of collaborations between Ambre, Mark Spybey (Dead Voices On Air, Propeller) and Mick Harris (Scorn, Quoit). Harris sent material to Spybey, who was residing in The Netherlands at the time, to add to and finish along with the help of friend Niels Van Hoorn(blower) of The Legendary Pink Dots. It's difficult to tell where exactly Harris ends and Spybey begins (or vice versa) here as both share a predilection for a variety of beats, sounds and atmospheres. "Bad Roads.." is literally littered with all the above. Beat and bass rhythms are prevalent throughout most of the 64+ minutes in a range of tempos and styles, from infectiously off-kilter funkiness to deep minimal hip hop to firecracker drum 'n bass. "Good Way to Start a Bad Day" (which takes several attempts to get the motor up and running) and "Dschungel B-216" are top notch while others are good but not quite as interesting. Along the way are a handful of essentially beat-less sound composition speed bumps that combine electronics with other sounds such as a sax blare resembling a car horn and the ringing of a telephone. "Aeper" is a brief, distorted orgasmic scream while "Waaal" gently caresses with a steady sonic ambiance and inaudibly altered vocals. Van Hoorn's sax adds a blare, drone or riff to several tracks, moreso here than on the latest Dead Voices album. "Muffel" and "Misery Gote" in particular sound as if all three men are in the same room jamming. All in all "Bad Roads.." is a fine album that finds and takes advantage of the collaborative sweet spot amongst the talents of those involved. Look for Mick Harris & Ambre next, probably early next year ... - Mark Weddle
samples:
FUMBLE, "FUMBLE"


Fumble is electronic artist Jens Massel (aka Senking, Kandis) and this is the debut as Fumble for Germany's Karaoke Kalk label. Fumble seems to be the more whimsical and playful side of Massel as most everything here is just so gosh darned cute from the cartoon like artwork to the handwritten track titles to the happy tunes. Half of the 8 tracks have me scratching my head as to the difference between Fumble and Senking since they're basically interchangeable with those on Senking's "Ping Thaw" cd. "Saft?" and "Fumble King" are by far the best of those four with their slowly building low end grooves. The other half, however, are different. They too are minimal electronic pieces with a digital dub influence but they're also more loose and fun with an expanded sound palette that includes watery pops, some mechanical samples and simple, almost child-like melodies. "Fumble Valley" is the most structurally accomplished while "Sleepy" is the one most likely to make you laugh or smile. Fumble is not exactly mind-blowing stuff but it is pleasant nonetheless. Though I can't help but think of how I could make just 1 really good disc compiling tracks from "Ping Thaw" and this album, especially when considering the $15+ import price tag for each. Hopefully Massel will do the same next time ... - Mark Weddle
samples:
WHAT'S THE NEW DEAL?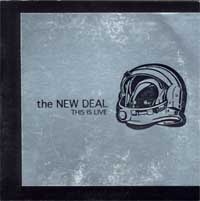 So I call Greg Clow in Toronto because this Toronto group (The New Deal) happens to be in town: somebody else suggested I check the show out but I figured if anybody knows my music taste -and- this band, it's got to be Clow. "Jon if they're in town, check the show out." I did and was quite pleased. The band only consists of three members: drummer, bass guitarist and keyboardist. The music the band makes sounds like techno club style music (live progressive breakbeat house they call it). The tools they're using to create this are not the midi clock sequenced pre-programmed Roland and Korg toys, but the simpler instruments that have graced recordings for years and years. The band improvises mostly but are tight and never seem to lose awareness of each other or the feel of every song. On sale that night was their full-length CD, "This is Live" and their EP, "Live: Portland, Maine".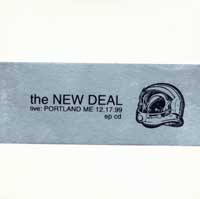 "This is Live" is calculated and varied. It showcases the band's talents to write and play beat heavy music with a jazz conscious mind. Downtempo and upeat tunes make the disc interesting enough to listen to for the entire +70 minutes herein. "Live: Portland, Maine" is their first EP in the live series they're releasing and contains four tracks which total just over 35 minutes. This CD captures the live sound but thankfully it's a short disc and doesn't get terribly monotonous. Here's a band to watch grow and progress over time to find out just what they're planning to do to keep it interesting. - Jon Whitney
samples:
We know that sometimes these CDs are somewhat challenging to find, which is why we have a RECOMMENDED STORES section which can be used to obtain nearly everything available on the site.
NEW
RELEASES
MONDAY
* Autechre - Amber 2xLP [ltd repress] (Warp, UK)
* Autechre - Anvil Vapre two 12"s [ltd repress] (Warp, UK)
* Autechre - Bass Cadet 10" [ltd repress] (Warp, UK)
* Autechre - Chiastic Slide 2xLP [ltd repress] (Warp, UK)
* Autechre - Cichili Suite two 12"s [ltd repress] (Warp, UK)
* Autechre - Envane two 12"s [ltd repress] (Warp, UK)
* Autechre - Incunabula 2xLP [ltd repress] (Warp, UK)
* Autechre - Tri Repetae 2xLP [ltd repress] (Warp, UK)
Badly Drawn Boy - Disillusion 10"/two CDEPs (XL, UK)
Blue States - Nothing Changes Under The Sun CD (Memphis Industries, UK)
Geiom - Cut & Pressed 12" [mixes by Infant, Bauri and Geiom] (Neo Ouija, UK)
Crispin J. Glover - Rhythm Graffiti CD/2xLP (Paper, UK)
Hellfish & Producer - Constant Mutation CD/3xLP (Planet µ, UK)
Joy Division - Live At Bains-Douche Paris CD/2xCD [recorded live in December, 1979 - 2xCD version is limited to 2000 copies, with the second disc featuring CD-ROM material] (Strange Fruit, UK)
Matmos/Motion - split 12" (Fat Cat, UK)
Nigo - Kung Fu Fighting 12" (Mo Wax, UK)
Nigo - Freediving 12"/CDEP (Mo Wax, UK)
PP Roy - You Can't Help Liking... CD/LP (Rephlex, UK)
Luke Slater - All Exhale Remixed two 12"s/CDEP (Mute, UK)
Two Lone Swordsmen - Tiny Reminders CD/3xLP (Warp, UK)
Underworld - Everything, Everything CD [live] (V2, UK)
Upper Rooms - Video Bambino CD/LP (Beatservice, Norway)
Various - Cottage Industries CD [with Clatterbox, Geiom, Phonem, Herrmann & Kleine, Bauri and more] (Neo Ouija, UK)

TUESDAY
Bobby Conn - Singledisc #1 12" (Thrill Jockey, US)
DJ? Acucrack - Sorted CD (Emagine, US)
* Dirty Beatniks - Feedback CD (Wall Of Sound/Caroline, US)
Eleventh Dream Day - Stalled Parade CD/LP (Thrill Jockey, US)
Groove Armada/Various - Back To Mine CD (Ultra, US)
Trans Am - Red Line CD/LP (Thrill Jockey, US)
Twine - Surn/Tonesong 12" (Hefty, US)
Various - New Latinaires 3 CD/2xLP [with Snowboy, UFO, Pathless, DJ Venom, The Amalgamation of Soundz and more] (Ubiquity, US)

For a more comprehensive release schedule stretching far into the future, please check out the NEW RELEASES brought to you by Greg and Feedback Monitor.
FEEDBACK
TURNING JAPANESE
Subject: Trans Am Japanese CD

I have a quick question for you about the Red Line japanese release. On your trans am page it says: "A Japanese version of this release will be a 2xCD set featuring bonus tracks on the second disc. "

I just got the japanese version in the mail today and it was only 1 cd with 1 bonus track.
Is there something you know that I don't?

According to initial pre-release information from somebody, there would be a second disc. Pre-release information can be wrong however. Sorry about that... The page will be fixed.
---
Subject: Travels

Where can I get the full version of Papa M's Travels in Constants thing? I missed out on the subscription series fom temporary resistance. The sample I've heard is great though.

I'm from Hull England.
Can you help?
Thanks

Unfortunately you can only get them by subscribing. Luckily the bands have free choice with their stuff to reissue it on their own in the future. With any luck it should pop up.
---
Subject: Wwatsup

thanx for taking the time to read this eh

im a virgin to video concert trading and i have nada single video of a concert (yet)
but have got a few pj concert bootlegs

Is there any way that i could send u a blank vcr tape or another way we could work out a deal for u to send me a copy of ur favorite pearl jam concert video u got?

Go away, please.
---