MUSIC
IN BRIEF
PIZZICATO FIVE, "THE FIFTH RELEASE FROM MATADOR"


The ever-effervescent Japanese duo Pizzicato Five is back with yet another album chock full of kitschy goodness. Elements of lounge, cabaret, and retro 60s TV-show theme songs abound once again, but what is so impressive about P5's latest foray is the arrangements and orchestrations of real instruments as opposed to the band's usual heavy reliance on samples (although of these there is no shortage!). Horns, strings, piano and woodwinds artfully accompany live drums and guitar, producing a much more sophisticated all-over sound compared to previous efforts. The tempo is upbeat and rousing for most of the songs, and either sexy, funky, trippy, or frenetically paced ("Tout, Tout Pour Ma Cherie" is borderline techno anthem); although the last handful of songs have a much more laid-back vibe. Additionally, two of the songs, "Darlin' of Discotheque" and "A Perfect World (Album Version)" are actually remixes of two other tracks on the album ("Wild Strawberries" and "A Perfect World," respectively). As much as I've always loved Pizzicato Five, one issue with their music has often been the hit-or-miss quality of the albums: one half of the songs on a record will be impeccable, but the other somewhat weak. Fifth puts an end to this trend with consistently good production and songwriting. - Jessica Tibbits
samples:
LUOMO "VOCALCITY" AND UUSITALO "VAPAA MUURARI LIVE"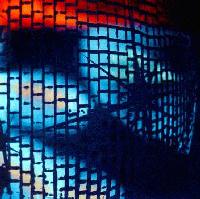 Two new offerings under two new pseudonyms for Finland's Vladislav Delay, the 3rd and 4th full length albums released this year alone (see also Vladislav Delay "Multila" and "Entain"), both under the Force Inc. Musik Werks umbrella. "Vocalcity" collects together all of the tracks from the 3 Force Tracks' 12"s onto one convenient digital platter. LUOMO sees Delay dive head first into house, surprisingly enough. The term 'house music' has always been a bit of an oxymoron to me since it usually conjures up the stereotype of cheesy, unimaginative dance floor shite. Delay, unsurprisingly, does it with much style and skill. The 6 tracks, most of which are in the 12-14 minute range, fuse minimal deep house rhythms with bits and pieces of Delay's trademark sound fragments, diva vocal loops and spacious atmospheres. It's a soulful, mildly deconstructed mix of funk, dub, ambiance and electronic groove in a creatively conventional package. As with everything Delay does, attention to detail is crucial as each track slowly unfolds, changing colors like a chameleon and mesmerizing at great length. "Vocalcity" is primo house that should appeal equally to the discerning IDM elitists and the masses that just want something cool to dance to ...
samples: "Vapaa Muurari Live" picks up where "Entain" left off with 71 more minutes of Delay fashioned electronic explorations. The disc is titled and indexed as 14 tracks but is actually a continuous mix in four distinct, extended movements. Each of these sections draws a bit more of an influence from a particular style, such as dance, dub and jazz. All of the usual Delay elements are here: a churning sea of sound granules, mostly indiscernible human sighs and mutterings (as well as a relatively long dialogue passage from "Eyes Wide Shut"), deep dub and club informed rhythms, seemingly random audio events, dense ambient environments and an overall gradual (d)evolution of sound and groove. This is chaos in expansion. This is the birth, life, death and afterlife of beauty. This is electronic music from the human soul. Can you tell yet that I love everything by this guy? His music is utterly gorgeous. I will continue to joyfully soak these discs in while awaiting the next round. You should too ... - Mark Weddle

samples:

KIRK LAKE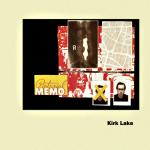 Remember when you'd rush out and buy all the new releases (even by unknown bands) on Factory, Mute, 4AD or some other ultra-cool indie label because you felt they'd earned your trust? Well, may I recommend Dreamy Records? Dreamy is home to the brilliant bands Arco and Tuesday Weld, whose recordings are fragile, understated and almost painfully intimate. And lyrical is a way that seems utterly radical in the face of our current top 40 plastic teen pin-ups and rap-metal cartoons. Like his labelmates, artist/author/musician Kirk Lake can spin an epic poem from the smallest gesture; with this disc, however, he's left his bedsit for a little stroll out into a wider world. If you like your dreampop melancholic and largely acoustic, you'll love the first half of the album—songs like "A Beautiful Ending" and "Nothing to No One" are Glider-perfect. The second half is more adventurous: Fantastic cuts like "The Wedding Song" and "The Adventures of an Abstract Detective" recall The Flying Lizards' brilliant aural hi-jinks and reveal Lake's inner dada; while "Morphology" and "Everyday Lingers" cruise boldly down David Lynch's lost highway. - LD Begtol
DARRIN VERHAGEN, "HYDRA"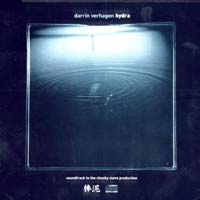 Well-known for his work as Shinjuku Thief/Filth, Darrin Verhagen was commissioned to create the soundtrack to a Chunky Move dance production, and has released the resulting material as Hydra, a limited edition EP on the Australian Dorobo label. A quiet snowfall of digital noise, Hydra is best experienced through headphones. Combining remixed elements from both his previous solo album, Soft Ash, and label-mate Alan Lamb's Night Passage, Verhagen's work on this EP is nearly subsonic: ultra-minimal blips and rumblings with delicate, scratchy ambient atmospherics, only occasionally bursting into barrages of full-on noise. A nice addition to the Dorobo catalogue - grab it while you can! - Jessica Tibbits
samples:
SONGS: OHIA, "GHOST TROPIC"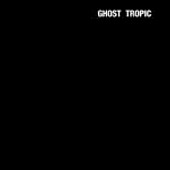 I wish folks like Jason Molina would stop burdening their songs with rogue H's dropped into words that don't want or need them, such as "The bad luh-huck tastes / of the darkS" from the new Songs: Ohia album. It's condescending and annoying -- and we can blame ol' Will Oldham for making it fashionable again. Having typed this, I'm happy to tell you that GHOST TROPIC is mostly engaging enough in its funereally paced way to overcome such a ridiculous vocal mannerism -- less of which is noticeable on GHOST TROPIC than on previous ones. Gourgeous, langorous low-end guitar lines slither through Molina's ballads, here and there touched by shivery organ, leaden piano rumblings and rattling percussion. The horror mounts one lethal beat at a time in songs like "The Body Burned Away," as ritual bells chime in the distance. And though there are too many goofy bird sound effects on the gorgeous instrumental title track, its unexpectedly lush vibes-and-piano duet chases away the gloom. At least for a second. - LD Begtol
SCORN, "GREETINGS FROM BIRMINGHAM"

Remember bringing home Scorn's "Gyral," "Ellipsis," or "Evanescence" and being absolutely in love with the sound? Following the medium-well release of "Logghi Barogghi" there wasn't much excitement with the Scorn name affixed to the product. Mick Harris pursued other avenues of sound sculpture which have all been fairly decent while releases like "Zander" or "Whine" weren't anything you'd pull from the shelves to listen to all that often. But then, almost out of nowhere, Scorn is back through Ant-Zen's ever-growing Hymen imprint. The four-song "Imaginaria Award" EP was released earlier this year giving me faith and hope for something good brewing. When "Greetings from Birmingham" arrived, I was as thrilled as the kid who finally gets his Luke Skywalker action figure he always wanted. "Fuck, yeah!" Scorn indeed does rule again, with powerful hard dub and metal influenced beats screaming from the speakers. "PLAY ME LOUD" the music shouts in my ear. I follow the orders and am not let down. Thanks Mick, we missed you. - Jon Whitney
samples:
"VARIIOUS"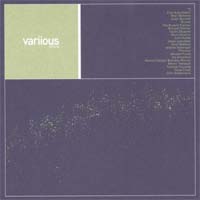 Intransitive Recordings has given us a souvenir of a non-existant wrap-party for the first series of recordings from this discriminating label. "Variious" also functions as the start of series two for the label. Featured recording artists on the set include a Richard Chartier, *0, Pimmon, Mark Behrens and Brume. The music is for serious listeners only with a serene mesmerising headphonic contribution from Taylor Dupree to an aural rollercoaster by John Waterman, cut and processed field recordings by Justin Bennett to a sea of radio waves from Michael Prine. Chicago's own Kevin Drumm's bit sounds like electronic mice scurrying through an underground train station while an improvisational noise track from label-owner Howie Stelzer and Boston-based electronician Brendan Murray was pulled here from a live in-store recording at the local Twisted Village, and that's only the beginning! Exploring various avenues of improvisational and calculated sound textures, Intransitive has essentially been taking audio snapshots of movement. With this in mind, this 2xCD set is much like a photo album featuring some of the photographer's most favorite pictures. With all Intransitive releases, this disc is limited and I'm predicting it will be a much sought after item before long. - Jon Whitney
samples:
CHICKS ON SPEED, "CHIX-52"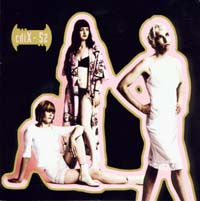 Conveniently packaged on a small extended-play single are four tracks from the best all-girl group since Wham! Contained herein are three B-52s covers, "Give Me Back My Man," "Song for a Future Generation," (both on 'the Un-Releases') and "Strobelight." A fourth track, "The Chixmachine" is original and new. 'Chix-52' is a tribute, from one of today's most enjoyable party bands for the cool hip-kids to a group who functioned in almost the same role nearly two decades ago. The new tracks are okay but they're needing the strength of the two songs previously released. Now that all the songs are available again through the re-releases this EP isn't quintessential. It makes for a great short set but honestly only the die-hard fans really need to concern themselves with it. - Jon Whitney
samples:
DOWNLOAD, "EFFECTOR"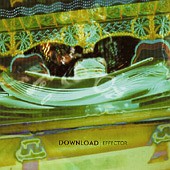 While this is probably one of the better Download releases, nothing with the Download name has made any lasting impressions on me. The first album, 'Furnace' was a rather lukewarm release and is by far my favorite. On 'Effector,' the production job is excellent, very clean and crisp. Unfortunately, while Cevin Key has strongly developed some excellent instrument sounds, the music essentially lacks momentum. In the true sense of going nowhere, by the end of most songs, the melodies haven't varied one bit from the beginning. I've almost completely given up hope until the 6th track, the disco-bass influenced "Chrysanthemum" breaks the theme of post-Autechre drivel. I'm thrown back, rather shocked that I'm actually turning the volume up, trying to get the most out of the experience, but close to the two-minute mark, I'm finding myself bored. Much like the rest of the album the beats are fine, but where are you without a good motive? What's on TV tonight? - Jon Whitney
samples:
We know that sometimes these CDs are somewhat challenging to find, which is why we have a RECOMMENDED STORES section which can be used to obtain nearly everything available on the site.
NEW
RELEASES
MONDAY
Adult - Nausea 12" (Ersatz Audio, US)
Detroit Escalator Co. - Excerpts CD/2xLP [anthology of previously released/rare material with one new track] (Peacefrog, UK)
* Savath & Savalas - Folk Songs For Trains, Trees & Honey CD/LP (Warp, UK)
Jake Subtropic vs. Ben Burns - Never Drink Again 12" (Fused & Bruised, UK)
Andy Votel - Styles Of The Unexpected 10"/CD (Twisted Nerve, UK)

TUEDAY
Chemical Brothers - Music: Response CDEP [includes exclusive live tracks and CD-ROM video] (Astralwerks, US)
Delerium - Poem CD [initial copies include bonus remix CDEP] (Nettwerk, Canada/US)
* Echoboy - Volume 2 CD (Mute, US)
GoSub - A Collection of Mind Frames CD (Isophlux, US)
* Kreidler - Kreidler CD (Mute, US)
* Mouse on Mars - Instrumentals CD (Thrill Jockey, US)
* Mr. Oizo - Analog Worms Attack 10" (Mute, US)
Nobukazu Takemura - Sign 12" [ltd to 2000 copies] (Thrill Jockey, US)
Tipsy - Hard Petting 12"/CDEP (Asphodel, US)
Paul Van Dyk - We Are Alive 2x12"/CDEP (Mute, US)
Various - Plus 8 Classics v3: 95-97 CD (Plus 8/Minus, Canada)

THURSDAY
Analog Fingerprints - Electric City Phunk Vol. 2: Projectors 12" (Plasmek, Italy)

For a more comprehensive release schedule stretching far into the future, please check out the NEW RELEASES brought to you by Greg and Feedback Monitor.
CONCERT
REPORT
VOLCANO THE BEAR
They look like rock musicians, they smell like rock musicians, they even show up to gigs with a guitar, drums and organ - but they're not playing rock music. Their creative and charming blend of improvisational noise and organic soundcraft was what attracted Nurse With Wound's Steven Stapleton along with indie rock label Misra and UK indie Pickled Egg. This evening, the group was gathered in a basement in Allston, MA. The air was musty and damp but the show was most certainly enjoyable. The band begun with Nick bowing a guitar equipped with a wooden dowell, elevating a couple strings way off the fret-board. Other members Daniel and Aaron would make various sounds with their voices and switch off on drum duties. Over at the tapes was Lawrence, who stayed put for the set. The three soon began shifting around, with Nick going to the organ, Aaron playing a pennywhistle, Daniel playing clarinet and miniature accordion, all of them taking some duties with percussive sounds from various sources. Since the space was small and quite tight, the band was literally climbing over each other on various occasions. Perhaps it was a rehearsed part of the show, but I'm guessing much of their choreography is a combination of improvisation and order. The band's winding up their US tour currently and look for them in the future playing bigger venues next time. - Jon Whitney
TYRO/MAN OR ASTRO-MAN?
So I was wondering what the heck Daniel Miller of Mute saw in Tyro. Their original incarnate, Atlanta-based Toenut released two albums on Mute before they lost their bassist. The core team, a brother and sister regrouped as Tyro and released "Audiocards" earlier this year. Tonight I saw exactly what I had hoped to see - an energetic group with low-fi electronics and blasting guitars charging an audience that's gathering for the headliners. If Add N to (X) added some guitars and knew how to write songs and kick ass, this would have been it I think. Everything was top notch from the drumming, guitar work and even rock and roll choreography. If Carl Sagan had a nightmare of The Muppets getting into a car accident with Dick Dale, Man or Astro-Man would be the result. You gotta have the uttmost respect for a group of alien surf-punks who open their show with fire and an OMD sample! Right on! To make the show even more electrifying, their set was accented by cosmic film projections, a dot-matrix typewriter and a Van Der Graaf generator on stage. I don't think they had fire permits for this kinda stuff. - Jon Whitney
BROADCAST/THE SEA AND CAKE
While I like both bands, my opinions of each shifted after seeing this performance. Broadcast opened the show with a performance which sent shivers down my spine. I like the group but honestly, their music has never done a whole lot for me, but seeing them pull off slammin' live jams one after the other was incredible. I'm dying to go back and listen closer to their recorded sound, but at the end of their set, many friends present had agreed that Broadcast can surely pull it off amazingly well live. The Sea and Cake however lost a few points in my book tonight. I considered myself more a fan of TSAC than Broadcast but their show tonight was rather taskworthy to sit through. Sam Prekop's orchestrated guitarwork alongside Archer Prewitt is pleasant and endearing, John McEntire's drumming never falters, but I'm beginning to feel some times that all Sea and Cake songs sound too similar. The chords are almost exactly alike, the pace is almost identical, the vocals don't change much from song to song and they're all nicely compacted into an easily digestible 3-5 minutes. Together as a group, they're heading down the path of being written off as a one-trick pony. With so much talent gathered on one stage I'm almost embarassed that so little is being done to harness the power. - Jon Whitney
FEEDBACK
COMMERCIAL SUCCESS
Subject: I feel weird

If I'm not mistaken, Gap (the clothing company) has been using Low's version of "Little Drummer Boy" in their newest commercials.

I feel wierd.

Weirder than Psychic TV in a VW ad? How about Nick Drake, Stereolab, Lush, The Orb, Spiritualized, and Hooverphonic also in VW ads? What about This Mortal Coil and Tortoise selling perfume? Or Papa M in a Gateway ad? How about the other new Gap ad with Red House Painters? Don't forget that Meat Beat Manifesto was used by Hyundai and The Buzzcocks were in some SUV spot! I wouldn't disagree this is a weird time but it sure as hell beats Paula Abdul, Whitney Houston or Michael Jackson selling products 10 years ago.
---
Subject: Julian from Romania

Hi Throbbing Gristle ,my name is Julian and I'm 29 years old and I liked very much electro industrial and similar music.

Unfortunately,it is very difficult for me because your bands doesn't arrive in my city.

Please help me inconnection wish your band, personal I love you this music. I want you to help me in getting some materials audio on tape or CD (maybe copy), because never listening and I'm very interested in your band.

I don't have the possibility to pay, because in my country the comission for sending money is very big for me. It is bigger than the price of one request of audio materials and the post laws forbids sending money in envelope. I don't have credit cards or cheque book.

I would be pleased if you could help me and thank you very much for your time and I'm waiting impatiencely (eagerly) for your answer.

I hope you won't forget me and I wish you the best musical activity.

Throbbing Gristle split 19 years ago.
---
Subject: web site

Any interest in selling your web site?

You can't afford it, nyeah nyeah nyeah.
---
Subject: no subject

Tarantel is my new fave band!

Tom the Fish

...married and whipped...
---
Subject: [no subject]

It would be useful to those of us who do not have all of the gybe releases (they are difficult to find), to include timelistings next to each track in the "music" section, so that it might be known beforehand whether or not one was downloading the complete track.

While I do agree it'd be nice to have track times on the webpage, partially since that the new album has incorrect times for song sub-sections, I cannot and will not condone bootlegging of official GYBE recordings.

Also, as esoteric a band as GYBE may be, it really isn't that difficult to find their releases, especially given that we're on the Internet. [Andrij Kopytko]
---
Subject: Huh?

Jon, what does this sentence mean?
"While you may have heard other tracks from Ukuphambana on the Boston: Not London compilation on the CFOM label, you most likely haven't."
I'm confused.

Oh, and since when do you review local acts?

Chances are most readers don't own "Boston: Not London" in their collection. I own it. As for 'local' acts, theoretically there is no locality since this is the web, just a home-base. Lots of home recordings do arrive here and frankly, most of them suck serious ass. I don't think some people even read the shit we're reviewing before sending their own collection of basement garbage.
---
Subject: great site

just my kind of aesthetic. how do i get on it? (the site, that is...)

check out my site and tell me if i'm worthy.

live well.

what if i don't tell you anything?
---
Subject: link of the week

Sometimes, when deeply bored, and entering speculative web-page names at random into your location bar, you do hit "web gold" ... in this case, the greatest web page in history. Don't believe it? You still won't after you visit ZOMBO.COM (if you haven't already) - make sure the sound is turned up.

All right all right, BRAINWASHED is the REAL world's best web page - but isn't there room enough for two?

no, charo.com is the best website ever