MUSIC
IN BRIEF
MEAT BEAT MANIFESTO, "ECCENTRIC OBJECTS"

Fucking incredible! Jack Dangers has a clever way of teasing his fans. Once an album has soaked into the culture, imitators spring up and fade away, only shortly after people stop listening to his album, unexpectedly something pops out of nowhere that reminds us all how incredible he really is. "Eccentric Objects" is no exception. The record comes as a 12" single with flexi-disc, orderable through Sputnik7.com only, all four tracks on the 12 are some of his finest stuff, bringing in the crashing breakbeats, organic sounds, thunderous effects and driving basslines that are so damn signature Jack Dangers material. This is the stuff many people dream of while sitting in their rooms, watching mind-numbing television shows and getting fat on cheese. "Hey wouldn't it be great to do music like this...?" Little do they know it's been happening for many many years. The strength of these tracks stand well completely on their own, while making any fan salivate just thinking of a future full-lengther. For a limited time, a flexi-disc with two bonus soundscapes is included. The ever entertaining "Peristaltic Wave" and "My Shorty" use collected sound samples from strange archives of the 50s and 60s. Get this while you still can, while these songs may be compiled onto a future release, the versions will probably be altered while the flexi-disc tracks will probably never resurface... - Jon Whitney
samples:
TINO'S BREAKS VOL. 5 - "DUB"

For the last three years, Tino has been serving up two slabs of hot wax with breakbeats galore and sample tracks collected at the end. It was looking like this year was going to squeak by with only getting one slab, but fear not, Tino's Breaks volume 5 is a two-record set full of dub gems led by one of the best drummers in the world, Tino. Following last year's release of Mambo and Christmas, Dub carries on the style of some fat cuts and breaks, familiar samples, and beats amusing and exciting to listen to and mix in with your favorite breakbeat needs. I don't smoke pot, but if I did, boy would this be a great slab of wax to chill out with. For those not in the know, the core of Tino Corp is Ben Stokes (from DHS and H-Gun), Jack Dangers (see previous review) and Mike Powell (former Meat Beat Manifesto member). Learning the drums is easy and when you like the dub it's fun too! These vinyl-only releases are essential for any MBM fan as well as any fan of dub and latin-influenced breakbeats. - Jon Whitney
samples:
THE LIVING JARBOE "DISBURDEN DISCIPLE"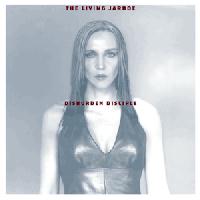 Jarboe returns with her second self-released album, the fifth to date of her solo career. In the past two years she has continued to develop as a person and artist through world travel and numerous new collaborations and projects, such as a live performances with the new The Living Jarboe band and an in depth, interactive web site. This disc is actually volume 1 of an eventual 4 under the "Disburden Disciple" title. Jarboe considers the first post SWANS album "Anhedoniac" her 'disease' album and this one the 'healing' album. Both seem to me to be part of the cathartic, exploratory process of re-birth and growth, a further moving away from the music, image and love/hate issues of her past. Most songs have a guitar/bass/drums band based core interjected with bits of Middle Eastern flavored percussion, loops, piano and strings. And, of course, the voice. The many poetic voices and moody personas that Jarboe conjures and unleashes from within ... from the starkly beautiful to the downright frightening. Overall the album is fairly quiet and restrained, in a good way, save for a raucous rock and roll outro for "Bound" and a blood curdling scream finale for "Scarification". The mid-section of the album (most notably "Kiss of Life", "Under" and "The Seance") veers off into more 'artsy' areas with theatrical lyrical/vocal passages and sound effects - the relative low points in my opinion. "Consume Me", "Scorpion", "Forbid" and "Forgive" provide the more gentle moments with pretty voices and lush guitar atmospheres. "Dear 666" features a slightly acidic voice set against the intriguing slow motion interplay of rough around the edges guitar and bass lines. "Scarification" and "Pure War" are both primal in feel with the vocals and percussion groove at the forefront, the latter also embedded with field recordings from Israel. "Disburden Disciple" is everything you'd expect from Jarboe: a genuinely unique and richly varied listening experience that will take much time to fully digest. This is the result of someone successfully carving their own path and thankfully sharing those results with others ... - Mark Weddle
samples:
BLIXA BARGELD "RECYCLED"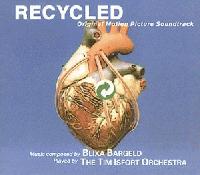 Blixa Bargeld is frontman for Einstürzende Neubauten, member of Nick Cave's Bad Seeds, occasional actor and contributor to various plays and soundtracks. For Maria von Heland's German suspense thriller "Recycled", Bargeld composes nearly all of the soundtrack, as arranged and orchestrated by the Tim Isfort Orchestra. Unlike Bargeld's previous solo work "Commissioned Music" this music is not as minimal and emotionally sparse. Isfort's large orchestra, undoubtedly influenced by classic composers such as Morricone, provides a rich classical palette to paint Bargeld's various moods. "Küss mich wach" ("Kiss Me Awake") begins the disc vocally as Bargeld and Amanda Ooms solo and duet German lyrics over sweeping strings and a light piano and beat rhythm. Ooms also speaks German text on another brief track. The remaining 19 tracks are instrumental pieces, ranging 9 seconds to 4 minutes, obviously meant to correspond with the events and moods of the film. "Mr. Aloha" by Carnival of Souls is unexpectedly tacked on to the end but it's charming waves of pedal steel work well. What's important here for me, as a fan of Bargeld and someone who will likely never see the film, is that the soundtrack holds up on it's own. And that it does, very well. The sound is full and varied and the flow is very comfortable. "Recycled" is a beautiful work completely on it's own and well worth the $15 import price ... - Mark Weddle
samples:
N.U. UNRUH "EUPHORIE IM ZEITALTER DER DIGITALEN INFORMATIONSUBERTRAGUNG"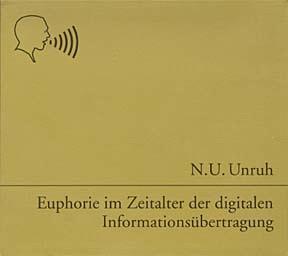 N.U. Unruh is percussionist for Einstürzende Neubauten and "Euphoria in the Age of Digital Information Transfer" is, surprisingly, his first solo album. Unruh's idea was to compose sequences entirely from the sampled sounds of various digital devices to give musical life to everyday items not normally heard in that context. The audio library is extensive: motors, oscillators, alarms, beepers, phones, toys, video games, door bells, office machines, etc. provide all sorts of beeps, blips, tones, drones, lo-fi animal calls and human voices. Each of the 26 tracks, most in the less than 1 minute to 3 minute range, are a whirring din of these audio bits arranged into multi tracked mini symphonies. Cheesy sounds and playful melodies are plentiful and the most promising tracks tend to be the shortest and least developed. The final "Appendix" sample track provides most if not all of the samples one a time in succession. By this point it all seems rather silly, tedious and pointless ... much like a room full of toddlers feverishly banging away at the sound triggering buttons on their toys while others simultaneously play video games. And considering that I'm pretty bored with and/or annoyed by most of these sounds in my day to day life, they don't do much more for me organized into less than interesting 'songs'. "Euphorie.." will be filed away and most likely never listened to again ... - Mark Weddle
samples:
ADD N TO FÜ(X)A


An unlikely combination pairs the British analogue whore, Barry 7 with the blissful Michigan-based soundscapist, Randall Nielman for a 20 minute two-track EP. While it's more endearing than the recent release from Add N to (X), the Füxa contribution can't save it enough to justify the price of admission. Track one starts out promising, even Christmas-sounding, but very little changes throughout the entire piece. It sounds completely out of tune and too repetitious. Once again, the mundane repetition kicks in with track 2. "And Another Thing!" is far too dull and at 13 minutes it carries on for what seems like an eternity. Ow, this is giving me a headache!!! Sorry, I really did have hope. - Jon Whitney
samples:
KIT CLAYTON, "REPETITION AND NONSENSE" / "NEK SANALET"


One of the most accomplished electronic musicians to emerge from the American underground in the last couple of years, Joshua Kit Clayton has honed his deft skills on a series of singles touching on a variety of musical styles, but these two album length releases focus mainly on the minimal, dub-influenced sounds that seem to have become his forte of late. On Repetition and Nonsense, most of the material rides on a nervous tech-house groove, with tracks like "A Choice of Words" and "M-Shape" having an edge of off-kilter funkiness. Overlaying it all is a murky dub filter that inspires mild comparisons to the sounds of Pole and the Chain Reaction crew.


These influences are even more prevalent on nek sanalet (which is fitting since the ~scape label is run by Pole's Stefan Betke). While Repetition is painted with a thin coating of watery dub production, this album is completely submerged in a sea of slightly sinister loops and echoes. Subtle beats flow from side to side as minimal bleeps and stomach-churning bass wrestle in a venue drenched with reverb and washes of ambient sound. If any record deserves the Betke-coined tag of "modern urban dub", this enveloping and addictive disc is it. - Greg Clow
MOUSE ON MARS, "INSTRÜMENTALS"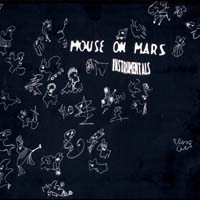 Two of my favorite Mouse On Mars releases were initially released through Thrill Jockey in the USA on vinyl only, this one and 'Glam.' For years now, Glam has been available on CD as an overpriced Japanese import, but it contains some of their best recorded stuff ever along with a few bonus cuts for good measure. Now, after a couple years, 'Instrumentals' is available on CD. With only 7 tracks, this disc clocks in just comfortably over 50 minutes. The tracks are closer to a 4/4 electronic style the group pursued years ago, slick and smooth, serene and delicate, with superb glitchy sounds coloring the beats. At this time, Mouse on Mars was working delicately with songcraft along with developing their own sounds to sparkle the spectrum. These recordings are collected between 1995 and 1997 but are virtually timeless. When the 'intelligent dance music' moves onwards to the next trend, this album will still be one that's excellent every time you pull it from the shelf. If you absolutely must have everything, the Japanese edition has one bonus track. - Jon Whitney
samples:
We know that sometimes these CDs are somewhat challenging to find, which is why we have a RECOMMENDED STORES section which can be used to obtain nearly everything available on the site.
NEW
RELEASES
MONDAY
Boards of Canada - In A Beautiful Place Out In The Country 12"/CDEP (Warp, UK)
Covenant - Synergy CD [live] (Dependent, Germany)
Rob Ellis - Music For The Home CD (Leaf, UK)
Fizzarum - Monochrome Plural CD/LP (Domino, UK)
Knifehandchop - Taking the Soul out of Music 7" (Irritant, UK)
Plus One - Bare Necessities CD/2xLP (deFocus, UK)
Poets Of Rhythm - t.b.a. CD/LP (Quannum/Ninja Tune, US/Canada/UK)
Salt Tank - Eugina 2000 two 12"s/CDEP (Lost Language, UK)
Janek Schaefer - Above Buildings CD (Fat Cat, UK)
Jake Subtropic vs. Ben Burns - Never Drink Again 12" (Fused & Bruised, UK)
Sierra Romeo - Distbra 12" (FWD, The Netherlands)
Various - Lo-Fi Electronic Pop Music 10" [with Frederik Schikowski, Knifehandchop, Plusminusnull, Skanfrom, Printed Circuit and Autoskooter] (Irritant, UK)

TUEDAY
* Boards of Canada - In A Beautiful Place Out In The Country 12"/CDEP (Warp, US)
* Kinder Atom - Mmm! 2xCD [original album plus extra remix disc] (Hypnotic, US)
* Jamie Lidell - Muddlin' Gear CD (Warp, US)
M.R.I. - Rhythmogenesis CD/2xLP (Force Tracks, Germany/US)
Stephen Philips/Ben Summers - Behind The Mirror CD (Dark Duck, US)
Terre Thaemlitz - Interstices CD/2xLP (Mille Plateaux, Germany/US)

THURSDAY
Anodyne/Napalm - Pocket Monster Remixes (Gotta Catch Them All) 7" (Lux Nigra, Germany)

For a more comprehensive release schedule stretching far into the future, please check out the NEW RELEASES brought to you by Greg and Feedback Monitor.
FEEDBACK
WINTER WARMING
Subject: cider shindig music?

hi..

I saw in the brain your excellent recipe and was wondering what music you played at your recent get-together? Is it the "what's in the CD player" list?

And could you recommend any other music for a semi-intimate gathering of good friends?

Well the "What's in the CD player" bit had nothing to do with the gathering. We enjoyed an evening of 'Tino's Breaks volume 5: Dub' along with some Zoviet France vinyl and the 'Brain in the Wire: Disc A' compilation. As for recommendations, it all depends on who you invite. I recommend everybody brings one item to listen to.
---
Subject: Reviewing a CD

I read about the site in The Wire issue 200, and wondered if the Brain webzine would be interested in reviewing our CD (info attached).

If so, please let me know where to mail a copy to

best wishes

I recommend you read our policies at the website and decide for yourself.
---
Subject: Magazine

I would like to get the brain magazine by email.

It doesn't come by email...
---
Subject: feedback

I really love the site, keep up the good work.

Thanks! The beauty is making it look easy.
---
Subject: Low's Christmas

Well, I knot it really is a bit early, but I've been listening to Low's Christmas for a little while now and inside the brief liner notes the band asks that we think of this as their gift to us. I'm not sure anything could be any more appropriate. I am not a religious man by any means, but this collection of songs is magnificent and I nearly tear up every time I listen to their version of "Little Drummer Boy." So I want to thank Low (though they may not read it here) and everyone at Brainwashed (you guys and gals were the ones that reviewed it and without that, I wouldn't have even known it existed) and hope them all the merriest of holidays this coming season.

Thanks for the note. We appreciate all the notes like this and you'd be surprised who actually reads this rag! I hope you can keep that spirit going all year. Be nice this year and don't act like a maniac in shopping mall parking lots. If you must shop, do it online and spend more time with your friends this year.
---
Subject: reaction to wire cd

Someone wrote me from the UK - heard the TC track on the disc, dug it & bought a TC cd..gotta love that!

thanks again!!

best,
ryan moore (twilight circus)

See?
---
Subject: brainwashed recently

Hi, I've just been recently alerted to your site through THE WIRE, so far enjoying all the great band links. One question regarding song samples, I can't seem to access them w/my Mac (using real audio). Any suggestions, or are they only playable using windows?

By the way I work in East Arlington and like the idea that such an important site is based out of this area.

thanks.

MP3 files can be played on Macs, Quicktime or SoundAPP should work fine. Go to www.tucows.com and do some searching for MP3 players and browser plug-ins for Mac OS.
---
Subject: book of poetry

I write poetry and am having some books made around Christmas. Is there a address where I can have the book sent to John Balanca or Peter C.?

By the way, I live here in the states.

Look on your CDs!
---
Subject: RHP

Hello!

I would greatly appreciate any information you could send me of up coming shows with Red House Painters or Mark Kozelek in the New York area.

Thank you!!

There used to be a great site at kdesigns.com/rhp but it looks as if that domain has vanished. Sucks, just in time for them to make their big break with the commercial and all. It looks as if www.geocities.com/slo_core/kozelek.html has some current dates there.