MUSIC
IN BRIEF
THE FALL, "UNUTTERABLE"


The Unutterable comes as a pleasant surprise, that is; two great new Fall albums in a row. 15 new songs. One of them ("Dr. Bucks Letter") is my fave Fall song right now. "Octo Realm/Ketamine Sun" is really great too, as is "Cyber Insekt". The songs on this disc really combine 25 years of Mark E. Smiths experience in a very individual way. Part of Ketamine sun sounds like a cassette poetry reading, while two minutes later the same song has great production and thoroughly modern instrumentation. Mark e. smith has never tried to keep a steady band. The only things he keeps is a steady vision, which he uses players to flesh out. There was such a long period that I considered The Fall to be way past their glory days that I am especially amazed at how great this (and the last) LP sound. In a way Mark E. Smith is like Billy Childish. Their musical visions are in no way the same, but both have remained very much in touch though out their 25 year careers. The title track of this CD is a one minute spoken piece that made me think of the comparison. The song after that track ("Pumpkin Soup and Mashed Potatoes") is pretty different too. It has warped brass and flute in it that remind me of the Boston 'orchestra' Jumbo which provided an outlet for many Boston musicians to play instrumentals they played in High School bands instead of the usual Rn'R instruments they play each night. "Hands Up Billy" is strange too because it has someone singing lead vocal instead of Mark E. Smith. In fact out of the 8 people in the Fall, 3 are created solely with vocals: Mark E. Smith, Steve Evets, and Kazuko Hohki. "Devolute" makes great effect of the multi-vocalists and is on of my 5 fave tracks on the disc as well, along with the aforementioned "Dr. Bucks Letter", "Octo Realm/Ketamine Sun", "Cyber Insekt", & "Serum." - Carl Thien
samples:
COSEY FANNI TUTTI, "TIME TO TELL"

I was excited when I heard this was getting reissued, as I missed the boat on the special 93 edition, unfortunately I was somewhat saddened to find out that the disc was coming without the special packaging with post cards and such. However, when the disc showed up in my box my excitement grew again. The booklet is huge and concise - 40 pages with extensive liner notes, biography, discography, interview from the early 80s, and lots of beautiful nude photos of Cosey Fanni Tutti. As for the music, along with three lengthy instrumental sound journeys, a bonus fourth track has been added, "Such is Life" pulled from tapes of an old performance. "Time To Tell" was originally released on cassette back in 1982, then on CD for the first time in 1993. The disc showcases a time when her music was much like some of the late studio Throbbing Gristle period (Journey Through a Body / In the Shadow of the Sun). Unlike the poppy electronic body music from Chris and Cosey of the late 1980s, the music here is truly timeless. Cosey's musical talents (arguably under-utilized in TG) as a guitarist, cornet player and technician shine through in some of the best spacial drifting soundscapes, long before indie rock kids were fawning over Stars of the Lid. - Jon Whitney
samples:
CHRIS & COSEY (CTI), "ELECTRONIC AMBIENT REMIXES 2"

In my bedroom, behind my bed rests a small stereo which I've owned for approximately 9 years. One of my favorite moments of every day is falling back into a soft pillow with music playing while I fall asleep. Unfortunately the CD player portion of this stereo ceased to work over a month ago. I brought it into a trusted local shop and waited for nearly four weeks before it was returned to me. Unfortunately the CD portion couldn't be saved, but I could attach a portable and still get a good stereo sound behind my ears. Excited to have my player back behind my bed, 'EAR 2' was the first selection chosen to fall asleep to. Utterly blissful. Like 'EAR 1' released EARlier this year, this disc features (alleged) old sources of C&C material re-attacked with a focus on depth and space. 'EAR 2' is a revisitation of Cosey Fanni Tutti's "Time To Tell" release and while EAR1 featured about 15 medium-sized tracks, EAR2 features four long, stretched out drones with echoes and bleedings from "Time to Tell." - Jon Whitney
samples:
MAGAZINE "MAYBE IT'S RIGHT TO BE NERVOUS NOW"


Howard Devoto assembled Magazine within months of departing the Buzzcocks in 1977. More artsy and dynamic than the punk he abandoned, Magazine's 5 piece line-up (the only constants being Devoto and a young Barry Adamson on bass) augmented vocals/guitar/bass with liberal use of piano, keyboards and saxophone and drew influence from punk, post-punk, funk, new wave and rock, as well as the literature Devoto devoured. In less than 4 years they released 5 albums and numerous singles. "Maybe It's Right.." boxes up previously unreleased goodies and the highlights of their influential legacy on 3 fifteen track cds. Disc 1 covers the Real Life/Secondhand Daylight era, including "Shot By Both Sides", "I Love You You Big Dummy", "My Tulpa", "Definitive Gaze", "The Light Pours Out of Me" and the infectiously catchy "Rhythm of Cruelty". Disc 2 is The Correct Use of Soap/Magic, Murder and the Weather era, including "A Song From Under the Floorboards", "Thank You", "Because You're Frightened", "Model Worker" and "Come Alive". Both of these discs feature alternative mixes and recordings, live songs and single A and B sides. Disc 3 is the real treat though with 4 previously unreleased, live in the studio Peel sessions dating between '78 and '80. These sessions, along with the live songs from discs 1 and 2, show just how diverse, tight, edgy, explosive and cool Magazine could be with solid versions of the big 'hits'. There's a lot of really vital stuff here some 20 years on down the road. Other than the simple slip cases for the discs, the ugly turquoise and yellow fold-up box contains a 28 page insert full of archival photos but, disappointingly, no liner notes other than track credits and no mention of re-mastering. Fortunately everything sounds great and the music more than makes up for it ... - Mark Weddle
samples:
SYLVESTER BOY, "MONSTERS RULE THIS WORLD"


Like a mixture of Sigue Sigue Sputnik & The Fast. Totally new wave, as if I didn't just tell you that comparing him to those two. Sigue Sigue Sputnik was Tony James band after he played bass for Generation X. Tony James was responsible for the atrocious mix of The Heartbreakers 'LAMF ReVisited' when he and Johnny took the mix money and played Doctor instead of making that record "big sounding" like they were supposed to. They just washed the masters in reverb and trashed a legendary album until the original mix was reissued several years later. Despite this judgment glitch Tony James was an incredible showmen and creative force. Sigue Sigue Sputnik were reviled for their "Love Missile F1-11", though it became a classic of its genre. The Fast were a way ahead of their time band from NYC that combined a love of Sparks into a punky power pop that predated 'new wave' by a few years. You'd do well to check out another NYC band The Speedies as well. Their "Let me take your Foto" 7" is still 10/10. The Fast and The Speedies were peaking around 1979. The Fast have songs on both Max's Kansas City compilations, plus some great 7"s and an LP. Back to Sylvester Boy. There are a bunch of songs on this disc that are just so fine. Sonovac and Sylvester Boy are doing almost exactly the same thing, and the two of them are my picks of the week from the Other Music section of this weeks gullbuy. This CD is the first non Chicks On Speed release on their label. It is the third release of the label. - Carl Thien
samples:
ALIEN PORNO MIDGETS, "HIGH ALTITUDE..."

A very listenable 7 song EP with a Hawaiian theme. Each side of the bright yellow 7" starts off with a luau-styled instrumental that almost sounds 'easy'. The second song on the A-side is a version of the cliché Hawaiian song "Hula Hula". The third song is a version of Elvis' "Blue Hawaii" that is my fave of the EP along with the first songs on each of the sides. Elsewhere things are warped up a bit in the V/VM fashion, but never to the point that listening to the track is an act of art appreciation. This is a great EP to buy if you don't have anything from them and would like to check them out, though their 2 CD "Aural Offal Waffle" 52 track set remains my favorite and most recommended V/VM disc. - Carl Thien
samples:
BRUCE KAPHAN "SLIDER"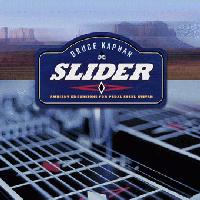 Bruce Kaphan is a multi-instrumentalist and producer who's work has graced albums by American Music Club, Mark Eitzel, REM, The Black Crowes, Love and Rockets, Chris Isaak, David Byrne and John Lee Hooker, among many others. "Slider" is his solo debut for Hearts of Space (www.hos.com), an album properly subtitled 'ambient excursions for pedal steel guitar'. Kaphan successfully removes the instrument from it's stereotypical Country & Western setting and uses it as sound source for a music more akin to "Bitches Brew" than Buck Owens. Each of the 11 tracks, a few minutes shy of an hour total, are primarily the mellow notes and washes of the steel set in reverberated ambiance. "Clouds" sets the tone with lovely steel and fretless bass interplay. "Country & Eastern" and "Back to the Light" mix in tabla rhythms for an unnaturally natural East meets West feel. "Outpost" is an outlying settlement in one of Brian Eno's ambient worlds. "Homage (Pour La Grande Fromage)" has light beats credited as 'purrcussion' to Kaphan's cat Hana. Overall "Slider" is like an audio sedative, not too dull and not too exciting, but certainly relaxing and pretty. Another welcome addition to the 'music for sleepy time' pile ... - Mark Weddle
samples:
STEREO DELUXE, "GLAM-O-RAMA"

Described on the Bungalow website as "style: lofidubhousediskopunknoise, bigbeat, stomping house, absurd samples, looped dialogues, glamour pop. Framed by the beautiful intro and outro you are drawn into a different world." The intro and outro they refer to are mock Holiday Inn style lounge act audience introductions that I prefer to skip over. This is Bungalows last release of 2000. The website tells us "Bungalow will change its structures and start a new partnership from next year on". I wonder just what that means. Bungalow introduced what they called 'clubpop' in the mid-90's. The sound was perfected in Japan on labels like Escalator, Readymade, and Trattoria. The 'easy' side of Bungalow found a home in Spain's Siesta Records, and the offbeat pop in Spain's Elefant Records. That has left Bungalow in some sort of middle ground - a little bit of this, a little bit of that, which I do not believe was the labels intention. I remember their early manifesto stating that Bungalow was to be a style as well as a sound; it was to be a gathering place for a world community of people who love technology, are not afraid of dance music, think Combustible Edison were way ahead of their time innovators, and still thrill to the sound of a good pop song. I'll be curious to see what the 'new structure' they speak of entails... As for this record, nothing on it is as good as their side of the split 7" Bungalow released with them and Ursula 1000. Stereo Deluxe's song from that split ("Groovy Boy") is not on this debut full length. The second song is their current single "Soul Sauce", a horn infested big beat dance instrumental. There is a second version of the song later in the disc as well. Both are competent, but neither offer anything you haven't heard many times before. "Lincoln Continental (feat. Lato)" sounds a bit like Two-Tone ska by The Specials or Fun Boy Three, though not as magical as they are. "Riddle Me This" is one of my faves with it's (Batman TV series) Riddler samples, though they are not used as creatively as even I could imagine. In fact, much of this album to me does not take full advantage of the source samples they've used. Where I really expected to love this album I just find myself thinking that it is O.K. - Carl Thien
samples:
CHICAGO UNDERGROUND TRIO, "FLAMETHROWER"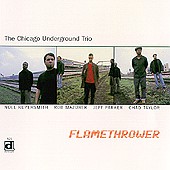 I think they're actually a quartet this time around. This disc is without a doubt my favorite offering from Mazurek and Taylor as the Chicago Underground. With Jeff Parker and Noel Kupersmith, the quartet leaves us with 15 well-defined paintings which are much more matured to the sort of sketchwork sound of the very first releases. Songs are developed, foundations are built and Parker's guitarwork and Kupersmith's electronics complete the picture. I'm afraid to think I'm more fond of this because it steps further away from a more traditional jazz sound the other discs have had. Doesn't change the fact that I can truly say I enjoy listening to this not only at home, but riding the train to work and even in the car. - Jon Whitney
samples:
PEOPLE LIKE US, "A FISTFUL OF KNUCKLES"


Do you ever listen to a full-length album and almost wish it were an EP? Following this year's incredible release, 'Thermos Explorer,' Vicki Bennett waltzes into the Wild West. Here, she samples from only a handful of Old Americana and threads a home tapestry to hang on the wall. Unfortunately the ideas somewhat get old half-way through. Clicks and scrapes of old record become rather grating on the ears and the humor just isn't up to the enjoyable level of the variety of themes served in the Thermos. There are some salvagable funny highlights like the couple times she plays with "She'll Be Comin' Round the Mountain," which is why I said that this could have easily been a nice extended-play single. - Jon Whitney
samples:
NOBUKAZU TAKEMURA, "SIGN"


This indeed is what it should all be about. Side one has three tracks, two different versions of the title track, "Sign" and another track, "COGWHEEL." As expected from the last release, "Sign" harbors Takemura's love for beauty and the voice, coupled with his ability to hack and chop away at sounds and beats electronically. The real excitement happens when you flip the record over to side two. Now, I set my timer to this one as it looked like it was pressed rather tight (the vinyl that is). Experts have claimed that only about 25 minutes would fit comfortably on one side of a 12" record, played at 33 1/3 RPM, right? The improvisational "jam" that takes place on side two features Chicago friends Bundy K. Brown, John McEntire and Doug McCombs (all from Tortoise and related camps) clocks in just over 35 minutes. Right, that's not a typo! The piece is fantastic and might as well be another one of those songs you always wished would appear on a Tortoise record. It starts off with a wonderful showcase of how all four musicians have a keen sense of improvisation and incredible talent to create cohesive noise with each other. It starts off like a jamming rockish jazzish tune, but then something goes awry, glitchiness ensues in a dreamy audio bath of laptop fuckery with live instruments... I'm getting flashbacks and almost begin dreaming that this could honestly be "Djed 2!" Yes, I'm a fan and I love Tortoise music, but this track simply titled only as "Souvenir in Chicago" is a stunning performance, and it's something you knew these guys could do and hoped they would do, but never actually heard. This record only comes on vinyl and is limited to 2000 copies. Tortoise fans, Takemura fans shouldn't pass this one by, you'll regret it for years to come! And vinyl sure makes for a great stocking stuffer! - Jon Whitney
samples:
"EMRE: DARK MATTER"

The second various artist release from Source Research features contributions from Andrew Poppy, Leif Elggren, Coil, Cyclobe and COH. The problem with acquiring a lot of music is finding the time and place to sit back and really absorb an album. Unfortunately a car was neither the right place nor the right time for my first listen to this. Careful attention must be payed to this release, much like the RGB disc reviewed earlier this year. At first, each of these collections seem like a simple gathering of electronic pieces by some of the best in the community. After a short while, patterns begin to emerge and a theme comes into view. Deep listening is much more involved than just reading some liner notes and throwing on a set of headphones. Whereas RGB was a collaborative musical representation of the full color spectrum, this release is basically the antithesis of that, with a focus on darkness, negative energy and the absence of existence in the material/tangible/visible world. Artists seem to have worked in their own space, with very little collaboration or mixing up of the elements at the end. It's a very cold and dark place, solemn and quiet. This disc would make a great listening party soundtrack if everybody plans to sit in complete darkness and silence. - Jon Whitney
samples:
We know that sometimes these CDs are somewhat challenging to find, which is why we have a RECOMMENDED STORES section which can be used to obtain nearly everything available on the site.
CONCERT
REPORT
GODSPEED/WILL OLDHAM & MICK TURNER
I think I can finally put my finger on the characteristic of godspeed you black emperor's music which pulls at the emotions of so many people across the musical taste spectrum. Music listeners will have songs they're very fond of, and instrumentation can strike up an intense emotional response with a strong recurring refrain or chord progression. Something grand and beautiful will always be that one part of a song you just wish would go on longer. The Godspeed folks have taken that idea, the thought of a musical phrase itself and extended it, nurturing the sound. The sound becomes one on its own and has its own living and breathing life. They draw the sound out, let it build, color it with the numerous tools (2 bass guitars, 2 percussionists, 3 guitarits and 2 string players sure help) and let it run its natural course, letting it die perfectly without that sound—the riff or hook—becoming too redundant or repetitious. After all is done, an album of two to three tracks comes to a close, you feel satisfied, satiated and happy. The concert opened up with a performance by what was billed as Bonnie Prince Billy and the Marquid de Tren, the lineup was Will Oldham singing and playing guitar, Jim White (from Palace and other projects) on the drums, a bass guitarist and Mick Turner on guitars, loops, harmonica and melodica. The set was quiet yet gut wrenching. The addition of Mick Turner's layered guitar works on top of Oldham's bluesy heartfelt voice was a fantastic match, the bass took the role of providing the low pulse and the jazz-like improvisational drumwork from Jim pulled everything together quite magically. Luckily fans of the set could walk away with their album along with the two similar and fantastic Molasses discs at the merchandise counter. Godspeed's set was marked by a few stellar new tunes which haven't graced an official album yet along with popular favorites from all their commercial releases. The set lasted over two hours and ended with a beautiful encore with band spokesman Efrim playing the xylophone while drummers Bruce and Aidan walked through the audience playing percussives. The show was held in a rather large movie theater with a seated audience, and was sold out before the day of the show, which leads me to wonder where they'll play next time around. This setting was seemingly perfect, where everybody present could enjoy every single note while being close enough to view everything happening onstage. Any more would be less intimate, any less would be too packed. - Jon Whitney
THE SHALABI EFFECT
Deep in the heart of Harvard Square lies the best record shop in the Boston area, a quiet place known as Twisted Village, where owners Wayne and Kate welcomed the four-piece collective from Montreal to entertain an intimate gathering of current fans of the group. I say "current fans" bearing in mind that after hearing their stunning debut and witnessing the talented display, it won't be long before many others catch on. Of course the loose connections to godspeed will no doubt be somewhat helpful. The 20+ crowd that gathered sat quietly in a dimly-lit store while the group played improvisational variants on tunes and melodies heard on their debut. Those present were Anthony on guitar, Alexandre St. Onge on electrics, Will Eizlini playing tablas, bowl, and other percussives and Sam Shalabi on electronics and an oud (an Egyptian precursor to the lute). The combination of Middle Eastern sounds combined with electronic noises and delayed guitars was hypnotic to say the least. Pleasant and peaceful, this is surely a moment I will never forget. The band was quite excited as this crowd was most likely bigger than the one present at the Knitting Factory in NYC only a couple nights earlier. The band is criss-crossing the northeast US over the next couple weeks, their dates are available at the alien8 website. I'm already planning my journey to Providence to see this show again. - Jon Whitney
FEEDBACK
LEFT IN THE DARK
Subject: no subject

Dear Jon Whitney,

i just wanted to say "fuck you" for the dancer in the dark review you did.

Please, watch your hollywood shit (X-Men, Nurse Betty) and leave good cinema in peace.

thank you and have a nice day,

ps: this is my first attempt at hate mail, hope i did well...

No, you failed, miserably, here's why:
You hid behind an email that wasn't yours, I couldn't reply directly, it bounced back.
You didn't notice I personally generally stay away from Hollywood shit (with the exception of this week's review of course).
You didn't tell me why to fuck off. Am I just a shitty writer or do you simply not agree with my opinion??
You didn't review the movie yourself, perhaps if there were more educated people like yourself (haha) contributing, we'd please more intelligent people (tee hee) like yourself.
Now will you please return to listening to your Bjork albums until you realize that not all non-Hollywood independent film is good film.
---
Subject: no subject

Bow down before the gods of house. DSP will only get you so far.

The Canadian west-coast collective

*Yawn* Please, play me something exciting from Western Canada, for once!
---
Subject: house music

I read your "punish your fucking machine" commentary in this weeks brain, and it struck a chord with me. I can identify with much of the frustration you describe. I work for a high-end audio company, and I regularly speak to people who use our equipment. It can be quite depressing. There are many people out there with amazing tools that they are barely using. On the other hand, I also hear from some very ambitious creative people, and occasionally hear from brainwashed musicians, so it goes both ways.

I did want to say a bit in the defense of house music. There's a good chance that the folks you were talking to were, in fact, lousy musicians wasting their available resources. However, I don't know if this conclusion can be made solely on the genre of music they choose to perform. Granted, there is a ton of shitty house music out there, but I've recently been exposed to some really excellent stuff as well. For all I know, the stuff I like may not technically be house, but rather, one of the many electronic sub-genres out there. Perhaps it was "intelligent techdark" or something like that... Either way, there is some pretty cool stuff out there, some which reminds me of the more atmospheric MBM stuff. What I found especially appealing, was that it was simple electronic music that didn't sound particularly electronic. Some of these artists are very effective at putting a human feel into what should be very mechanical sounding music. Honestly, I'm not even sure who the artists I like are, I just know what I like.

Most of the exposure I've had to the house music that I like (stuff without digital piano chords, and wailing divas) is from a radio show that comes on Thursday nights here in Ann Arbor. It's not strictly house, but it's played quite often. If you're interested in checking it out, let me know, and I'll give you the URL for their webcast.

I should finish by saying that brainwashed is an excellent site, and regularly exposes me to amazing music I would have not known about otherwise.

Sure, kiss my ass while you're at it. Like I said in the last week's feedback, it wasn't necessarily what they said but how they said it. Once again I apologize to any innovative and exciting house musicians. As for the boring ones, please take offense, please take much offense. Please take so much offense that it burns you up inside, forcing you to do something artistically worthwhile.
---
Subject: in response to "punish your fucking machine"
I put a lot of my "music" up online and spend some of my time reading about other bands/artists/people and I discovered that the artists that have the highest ranking (money-wise and download-wise) use the most equipment and make the cheesiest music I've ever heard in my life.
These guys have samplers and keyboards and Pro Tools and tascams and 16 tracks and guitars and the list goes on and on and on and on. And this saddens me to a great degree. I work with three programs: Fruity Loops Pro, Cool Edit Pro, and Sound Forge. I've slowly learned a little bit about each program and have become pretty proficient with Fruity Loops and Cool Edit. Granted, I probably don't use each to their fullest extent but I don't even have a keyboard to pull samples through.
Now, not to toot my own horn or anything, but a lot of people that listen to my music really like it and find it pretty unique. I've had requests from people to put my music to CD so they can use it to fall asleep to (it's rather ambient). What the hell is the problem here? What's wrong with this picture? I have three programs to work with, not a damn instruction booklet for any one of them and yet somehow I manage to create enjoyable music that is apparently unique and distinct from the crap that gear whores on mp3.com are putting out. Give me a damn keyboard and let me see what I can do, damn it!
And the same goes for guys that I work with on music. They have virtually nothing in the way of gear but make some of the most creative and wonderful music I've ever heard.
Anyways, I felt compelled to write.
Thanks for reading, writing and caring. When I read your letter I remember why I liked watching David Narcizo (Throwing Muses) drum. With the tiniest set he came up with some of the most creative rhythms, unlike that talentless Rush guy, Neil Peart who buries himself in hundreds of drum accessories just so he can have more elaborate drum solos. Fuck drum solos, fuck Rush. Ooops, did I mention a major label act? Seriously though, my comment originally was hopefully to rouse people up enough to try to the make the most of their gear.
---
Subject: CDs

I'm curious about the music of Wendy and Carl.

How many CDs have they released?

Where do you suggest that I start?

I'd start at their web page and listen to some sound samples, see what you like. There's also a fairly decent discography there with all their releases.
---
Subject: Winter in July

Do you know if Winter in July is available as background music without vocals? I want to use the music to audition for a show and sing at a recital. It's such a cool song, if you have information or know someone I can write to about it let me know, or do you know if some sheet music is available?

Anything you can help me with is appreciative!

Unfortunately I don't know nor am I in contact with anybody from Bomb the Bass.
---
Subject: Wire article

Just caught the article about you and your work with Brainwashed in October's issue. Congratulations! Hope it's caused more traffic to your site ...

Enjoying the MoM's "Instrumentals" clips you've made available. Gotta pick that one up soon.

Take care and happy holidays

Thanks. While I appreciate the recognition, more traffic to the website isn't something we all necessarily strive for. We still don't sell any advertising.
---
Subject: no subject

julia, recibi tu email, la direccion que me pediste esta incluída...

decime que te parece, tienen precios de hosting _re_ baratos

saludos

(disculpa el inconveniente si este mensaje no era para vos)

¡Oye, Chango tira-palos zanhujanero, aquí no hay ninguna Julia! Ya no chinges y o si no requerdas, aquí no hay ninguna Julia.