MUSIC
IN BRIEF
M2, "KOPYRIGHT LIBERATION"

With almost no down time from cross-continental touring and releasing albums as Panacea and Disorder, Matthis Mootz has released this scarcely limited mini-LP on Ant-Zen. Limited to 680 copies, "Kopyright Liberation" is built from sources from the now legendary Kopyright Liberation Front, a.k.a. the KLF. While this 40-minute mini-LP is rather tributal in nature—with track titles "Trancentral," "Ru Con," and "Reefer Spin,"—a scattering of micro elements have been recycled in an entirely new surrounding. The record strays from the more minimalistic tendencies of the first two m2 [pronounced and sometimes listed as Squaremeter] releases (three if you consider Brasilia). Mootz weaves an intricate tapestry of low end rumblings, NASA beeps, clicks for measure and tempo marks, and speech samples with spacious effects. For a man known in the drum and bass world for his lengthy intros, some of these songs can take up to six minutes before every individual element introduced begin to play with each other. This could possibly be my favorite Squaremeter release to date. - Jon Whitney
samples:
"DOCKING SEQUENCE: BSI CAMPAIGN VOL. 1"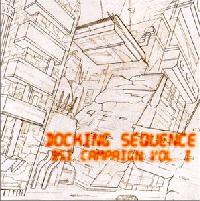 This is what all various artists compilations should be like: 70+ minutes of nothing but solid, exclusive tracks reasonably priced at $12 post paid. "Docking Sequence" is the fifteenth release and first compilation from Portland, OR based label BSI Records. The cd (and double LP which features 4 extra tracks) brings forth just about every flavor of (mostly) instrumental, modern dub imaginable - digital/analog, programmed/live, hip hop, noise, ambient, experimental, whatever - from peoples, places and studios worldwide. Names that will likely draw you in are Muslimgauze, The Rootsman, Twilight Circus and DJ Spooky, but the playing field is evened out by the full roster. Black Faction brings the Afghan front to Manchester with mellow Middle Eastern backgrounds and smooth beats. Sweeping strings and bird calls permeate a brief but stunning untitled Muslimgauze track. He-Man growls ragga styled vocals over string sample stabs and snare rhythm on "Killer". Phase Selector Sound lay down an indelibly deep ambient bass groove with "Sky Cup". Sound Secretion's "Perpetual Next..." is an onslaught of scratching, cut-up rap samples and massive beats. Drifting female sighs are the perfect touch to J-Boogie's laid back "Gemini Dub". Alpha & Omega conjure up King Tubby with generous helpings of melodica in "Wicked Man Drop". Twilight Circus present an even deeper mix of "Depth Charge" from the recent "Dub Voyage" album. Raz Mesinai's (aka Badawi) "Excerpt from The Unspeakable" is a tense stringed nightmare. Onry & Oldominion's "Jezebelian" begins and ends with a hilarious list of shout outs and a super smooth sample and double MC flow sandwiched in-between. Otaku's "Patterns.." slices and dices with serious drum 'n bass fills. And last and least, the oh so over hyped DJ Spooky wraps things up with a rather drab dub collage. Altogether "Docking Sequence" is a crossbred success. As much as I'm looking forward to a 2nd volume, I need to do some catch up on many of these bands back catalogs first ... - Mark Weddle
samples:
KREIDLER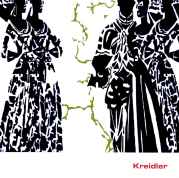 The eponymous third full-lengther from Kreidler is almost a futuristic nod to the innovators of 70s Kraut Rock. The disc is nearly all instrumental, save two tracks with vocal contributions from artful indie clown Momus and Argeninian pop star Leo Garcia (not to be confused with the Dominican baseball player, professor, Wyoming politician, classical guitarist, or Salsa dance instructor). The quartet is down to a trio since their bassist departed as his side project, To Rococo Rot become more of a main outlet. The bass lines are beefier than ever however, and whether the songs are serene throbbing electronic easy listening gems like "Bewitched", a Can-like vocal tunes as "Mnemorex" or a Kraftwerkian hook-based ditty like "Do It", the production is slick and inviting. Kreidler's tunes are pretty damned catchy and their generally jovial feel suggests these Germans are undoubtedly having fun. Put your laptops down and start having fun. - Jon Whitney
samples:
BOARDS OF CANADA, "IN A BEAUTIFUL PLACE,..."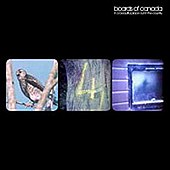 After a year full of unpronounceable non sequiturs masquerading as album titles, Boards of Canada bring us the most aptly named release in ages. "In a Beautiful Place out in the Country" is exactly where Mark Eoin and Mike Sandison intend to take you with this new EP, and they succeed admirably. The material here has the same elements that "Music Has the Right to Children" and "hi scores" did: big, slow, chunky hip-hop beats, staticy synth washes, bittersweet melodies, buried samples of children playing and laughing. But the gorgeous melodies and hypnotic beats that seemed to be verging on childish joy now and then in their two previous releases seem more contemplative, nostalgic, almost wistful if not actually melancholy. These gentle songs are more of a flip through a scrapbook stuffed with pictures of your favorite beautiful place out in the country when you were a kid than an actual visit. "Kid for Today," starts out with a gentle, soothing beat that's reminiscent of rain falling on a roof. Soft, wispy synths and a gorgeous melody, full of that analog goodness. A scratchy voice mumbles something at us. It's like being inside on a rainy summer day, watching puddles accumulate. "Amo Bishop Roden" is a filtered, almost vanishing synth loop with an even more wistful murmur fading in and out above it. Now and then we get a subsonic thump that propels the song forward. The ticking-clock drumline thickens into static, then vanishes into a whirlpool. The title track is definitely the stand-out here. A chilly organ line develops slowly, we hear the sounds of children laughing, and one of those chunky beats comes in to fill the background. A momentary halt, and then a heavily processed voice murmurs something melodic and incomprehensible in the voice of a sedated Speak-N-Spell. Then everything begins blending together...
Finally, there's "Zoetrope." This sounds just like one of those short interlude tracks from "Music..." that I wish went on for a year but stopped after a minute or so. I'm not even sure how to describe it. Gentle chords move up and down a keyboard in rolling waves, not a bassline or beat or synth wash in sight, but it just gets more and more wonderful. It's been much too long since their last release, and at less than 25 minutes, this is not a long EP -- but if everything they do is as achingly beautiful as this, I'm willing to wait for another two years. - Alex Krieger
samples:
THE CLIENTELE, "SUBURBAN LIGHT"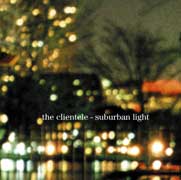 The band that has wowed collectors and critics alike has compiled their first 7" single releases onto one charming compact disc. The disc collects their recordings which stem back to about 1998 but omits the tracks which appeared on this year's earlier CD EP release, "A Fading Summer." It also adds a couple new, previously unreleased songs. The Clientele is one of my favorite new groups to emerge in the last couple years. Their music has a heavy feel of 60s indie-pop. The sound is melodic with a basic usage of drums, guitar and bass. Primitive home studio electronic gear gives a sort of charm that translates well to their original vinyl releases. Subject matters revolving around rain, darkness and love, clearly displaying the group can only be English, almost dreaming of a day when they could have easily filled the opening slot on a mid-60s UK tour of Gerry and the Pacemakers. With songs as sugar sweet as "(I Want You) More Than Ever" and "Saturday," prolonged listens may result in dental work. The instrumental competancy of the group is something that is witnessable in their live performances, while the members can be observed with playing unobtrusive melodies using the entire fretboards of the stringed instruments. Bass lines are melodic and gentle, as James isn't copping out by playing root notes of chords while the drummer has an undeniably talented balance of control and subtle delicacy. Charming ballads and blissful love songs are not a bad thing if they're done with sincerity, and I think the group are doing a fine job of mastering the art. - Jon Whitney
samples:
TROUM, "SEN"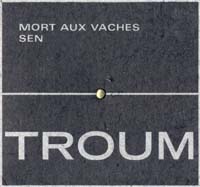 The latest release from Staalplaat's prolific Mort aux Vaches series comes to us from the German drone outfit Troum. Much like their previous incarnation Maeror Tri, Troum are masters of the slow progression, be it in terms of intensity, volume, style, or all three, as in the case of this release. Sen, which consists of one hour-long track, begins quietly with delicate reverberations and soft metallic ringing: sonic architecture so subtle that one might not even notice the gradual accumulation of the duo's trademark sound. Troum's skill as artists in field of drones truly lies in their ability to craft them with such beauty. All too frequently are we besieged with power electronics artists who employ this technique in ways that are either overwhelming or boring. By layering dones with wistful electronic spirals, Troum lends them an undeniable prettiness. It isn't until twenty-five minutes into Sen that these almost gossamer soundscapes give way to the throb of a translucent beat, which in turn melts into rhythmic patches of distortion as the album takes on creepier, harsher textures. These twists and turns are, however, not ungraceful in the slightest, but dissolve into one another with fluid ease. Finally, stripping down to a solitary, nearly inaudible echo, Sen fades to an end just as gently as it began. - Jessica Tibbits
samples:
SAD ROCKETS, "TRANSITION"


The transition has indeed been made from the hip yet relatively obsure Chain Reaction label in Germany to the international powerhouse known as Matador for this, the third full-lengther from Andrew Pekler, a.k.a. Sad Rockets. While the output may be labeled as a medium-paced modern dub hybrid, the inputs are almost completely organic, remeniscent more of the older school masters than many glitchy electronic contemporaries. Tunes range from scratchy spy movie themed bits to funked out game show thinking music with vibes and sampladelic rock steady dub ditties. The Uzbekistan-born, California-raised Berlin resident proudly shows off his talents as a composer, pianist, guitarist and producer, roping in friends to fill out the occasional role of drummer or violinist. "Transition" took almost two years to record and is a solid record album, worthy of recognition as working music, chillout tunes or the perfect soundtrack to a low-key gathering of friends. - Jon Whitney
samples:
MICROSTORIA, "MODEL 3, STEP 2"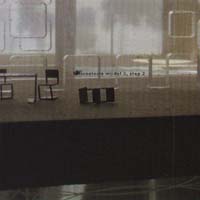 Jan St. Werner (of Mouse on Mars) and Markus Popp (of Oval) have cooked up a third offering of glitchy, cryptic ambience for us, this time without all the rhetoric about music as software and digital revolutions in musical composition. "Nine excursions into the world of downtempo speedcore," as Thrill Jockey's webpage puts it, but to me it sounded like the drones and rumbles that were so fascinating on Mouse on Mars' "Instrumentals" providing an unappreciated undercurrent to Popp's software-generated quirks, bleeps, and glitches. Now and then it resembles a fully realized orchestral work mangled into utter unrecognizability by its composers' computers.
Your reaction to "model 3, step 2" will no doubt be determined by your attitude towards Popp and his studies in computer-generated incoherence. If you're the chin-stroking type who plumbed the fascinating depths of "94diskont," "Dok," and "Ovalprocess" and came back hungry for more, then this will probably prove rewarding after a few listens, or at least briefly interesting. "Dok," the result of another Popp collaboration (with Toyko's Christophe Charles), shimmered with an organic beauty that fails to materialize here; likewise, the weird sonic explorations and occasional thematic coherence that made Microstoria's "INIT DING" worthwhile just aren't apparent. The result is neither compelling nor essential. - Alex Kreiger
samples:
TOSCA, "SUZUKI"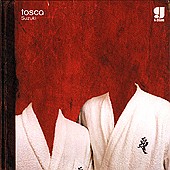 Richard Dorfmeister teamed up with Rupert Huber for a fine selection of loungey trip-hop worthy of prancing around with bell-bottoms in. Sure, something like this can sit very well along with Kruder & Dorfmeister projects like Peace Orchestra, but the difference in this one is more emphasis on a deeper soul. Female vocals are introduced in the form of samples to give it a little more human and less mechanical spirituality than the typical white German electro dubtacular sound. If it were 1992, this would be labelled as "chill out room music." Serene and galactical, this would provide a great soundtrack to lying in your room with your friend or lover, staring up at the glowing stars stuck to the ceiling. Illegal substances optional of course. - Jon Whitney
samples:
We know that sometimes these CDs are somewhat challenging to find, which is why we have a RECOMMENDED STORES section which can be used to obtain nearly everything available on the site.
FEEDBACK
21ST CENTURY DIGITAL BOY
Subject: about Ryoji Ikeda, Digital Music, and Stereo Equipment

I'm 18 years old and, looking back on the music my dad played, I don't ever remember having a really fancy stereo. We had a four speaker system that sounded decent and he really like to play classical CDs on it so that he could eventually make our floor rattle and the room pretty much vibrate. It wasn't that the system was loud, it just did this. I was fairly young then so I don't remember much more than that. But what bugs me is that for some reason we don't have two of the speakers anymore and i've become accustomed to listening to CDs on my dad's player which is running through a Bose Pre-Amp, then a Sony AV Receiver, and then out to two Bose 301's or possibly 501's...I can't remember which, but they're suspended speakers, hanging from the system.

Now, I still think that the system sounds damn good and produces a nice sound, but upon reading your comment about Ryoji Ikeda's new LP, ".Matrix," I became intrigued and wondered: what DOES make a good stereo system? What should one look for when purchasing equipment to set up a stereo system? Now I know brainwashed isn't exactly a Tech TV/Call For Help sort of website that makes reccomendations for stereo equipment, BUT: I thought it'd be interesting for maybe you or another member of the brainwashed staff to suggest optimum stereo equipment.

I download mp3s mainly because most of what I listen to is out of print, can't be found, or is simply too pricey to get a hold of (just trying looking at ebay for Nurse With Wound LPs). However, I also use them to check new bands out and if I like it, I buy it. Long before napster turned into this big political debate between Lars and the college kids, I was using HotlineSW.com's product and using ICQ as a means of hearing rare and wierd music that I'd never had the chance to come across before. In fact, if it weren't for hotline and ICQ, i'd never have had the chance to hear Coil outside of their NIN remixes.

Anyways, i'm ranting now. I know mp3's arent the best way to hear music as quality is lost in the compression: so what is a great environment to listen to music is? What would brainwashed reccomend? I know I could ask Sony or whatever and get one of their guides, but of course they'd reccomend their most expensive products...Anyways...

Thanks for reading that huge rant,

Hi, thanks for reading the rants posted here! Everybody's going to have a different opinion on what is going to be a good system or not, and if you ask somebody who sells equipment, they're obviously going to have different motives. My home system is actually about 12 years old, a Sony receiver with four Mission speakers, nothing terribly expensive or high-tech and no subwoofer. To me, beefy subwoofers and home theater effects can actually change music experiences. While they may enhance things a bit, when you go to listen on something less intense, your experience will be significantly different, possibly flatter and somewhat disappointing. The tricks they use with phase cancellation and other things I can't really comprehend or explain aren't the ways the producers or engineers or masters produced the music. You can honestly get excellent effects by positioning four speakers for a way that you feel most comfortable. Albums like Coil's "Loves Secret Domain" and My Bloody Valentine's "Loveless" are examples of recordings that do magic when listened to on something this simple.

As for my beef with MP3 and computer listening, I do agree with the use of music sharing and MP3 files but it's a tragedy when it becomes the only outlet for listening to music. These people might as well be radio listeners, passengers watching the view, while us music enthusiasts can savor the richness much like a food afficianado or wine taster. Music is a finer art whether it be punk ass hardcore or bumpy techno.
---
Subject: Reel Audio Wave Transfer

Hello ,

I have a Large project on the go with another gentleman. We have been working on this project for the past three years. Our goal is to build an empire of mass, money and media.

The three main components are the studio, in which we do audio, video and web production, the band, which will lead the Canadian intrumental music scene and our interesting perspectives, put to film and plastered all over the internet.

We our now only missing one thing, exposure.
We would love to do music for your show.

What show? Sure you're only missing one thing?
---
Subject: bbc1

Thought you might like to know that Prime Audio Soup is being used as music for BBC1 Xmas film preview commercial. It's a shame his other stuff hasn't been used on it's own rather than as a result of soundtrack status (I think they are showing the Matrix.)

Oddly enough for the TV commercial of that crappy SciFI film about Egyptian gods and time travel(it's name escapes me!) they used Babylon even though it appeared neither in the film or it OST!

I saw an interview clip from Moby tonight which was rather nice actually. His latest album has been licensed for usage over 800 times (a record for one album). This means commercials, soundtracks, other public broadcasts. Now what he said was something to the effect of, "while my gut punk instinct would be to say no to an auto manufacturer, I've instead decided to take the $150,000.00 they gave me and donate that to a non-profit environmental group which protests that particular manufacturer." Right on!
---
Subject: Re: Re: teee

The Brainwashed tee is really fuckin' great! just tell me why there is written TOTOISE instead of TORTOISE on it!?!?!?!?!?!?!

grrrrrrrrrrrrrrrrrrrr!!!!!!!!!!!!!!!!!!

please!!! I WANT TO HAVE TORTOISE on the second (the red long sleeve) tshirt i've ordered....

You will,...
---
Subject: Rob Devlin - Army Brat?

Heyla, weird question.

I'm trying to get in touch with an old friend named Rob Devlin. He and I knew each other in Munich, Germany in the early 80's. If you are he, you'd probably remember Courtney Kramer, Eric Bossi, Andrea Brent, and myself, Heather Tomlinson.

Am I on the right track? If I'm not, sorry to have bothered you.

Wrong track indeed, sorry.
---
Subject: no subject

Hi,

Unfortunately, I've got nothing to add to this really great Tortoise Web page but some questions.

Do you know what is the length of the bonus track Gamera from Japanese release of "Millions Now..."? I've found on the Napster live version of the same song. It's from some live album titled "Live at The Dead Pigeon"?

Do you know something about it? Is it a bootleg or what?

Thanks in advance,

Greetings from Croatia,

There are no officially released live recordings from Tortoise so it must be a bootleg. The original Gamera stretches about 13 minutes.
---
Subject: Possible link?

Hello,

My name is Honey Hellfire & I represent Radio Free Satan-The World's First Satanic Internet Radio Station. Perhaps you've heard of us?

If not- check us out & see what you think.

I was wondering if you would consider linking us from your page.
I also have a banner if you would like that I would be happy to send you.

Any questions/comments?
Feel free to ask.

Thanks for your consideration.

HAIL SATAN!

Bah, Satan's just another fucked-up product of Christianity. Screw that!
---
Subject: Picture

I don't know if this qualifies as Brain-worthy or not, but you'll probably get a chuckle out of it anyway. I took it this weekend in Toronto (this is the front lawn of a church).

www.nowpullyourpantsdown.com/church.jpg

Beautiful.