MUSIC
IN BRIEF
JESSICA BAILIFF/THE.DITHERING.EFFECT 10"

With every new song that comes from this team of people named Jess out in Ohio, my interest grows. Jessica Bailiff and Jesse Edwards have been collaborating on tracks following last year's full-length from Bailiff on Kranky, 'Hour of the Trace.' The result has been quite expansive for only a handful of tunes - Bailiff has almost come out of hiding behind the guitar distortion for singles and compilation appearances, but on this single, more electronic space is being explored. Both sides of this limited 10" single average around ten minutes, each being two songs which flow into each other without distinct traditional breaks. Looking at the titles, the impression I get is that this release might actually be tributal in nature, "Maybe Tomorrow" on the first side is a spacious interplay of echoed voice, guitar wash and drum machine, "Amethyst Depression" isn't a Coil tribute but is instrumental, beat-less, pretty and sweet. Side two opens with a looping guitar riff which could have easily been lifted off of the first godspeed record. "Rene?" is the first time I think I've heard Jesse sing himself and the song is rounded out with a drum machine sounding loop which eerily doesn't sound like it's looping correctly. Rounding out the end of the side is "Your Sounds Make Patterns in My Eyes (for SOTL)," which is undoubtedly a nod to Stars of the Lid. Unfortunately it's all too short and the gorgeous soundscape of that gem lasts around two minutes. If we saw the two expand on this, make it a full 20 minutes long and include it on the next Jessica Bailiff full-lengther, that release is bound to become a classic. - Jon Whitney
MARUMARI, "THE WOLVES' HOLLOW"


According to a couple paragraphs' worth fcof nonsense in the liner notes, "The Wolves' Hollow" is some kind of concept album involving wolves from outer space. I honestly couldn't see the connection with the wolves, except for samples of wolves howling, snarling, or squealing every now and then.
It's a strange listen. All the beats are mutated beyond description into clicks, snicks, slurps, and a very familiar boing that I suspect was plucked from the old Nintendo game Metroid (another featured element in the liner notes). Beautiful melodies weave in out of nowhere and leave just as suddenly -- just as Marumari gets a groove going, it fades out, comes back, reverses itself, speeds up, disappears entirely into the layers of background noise. Towards the end of the album the rough-and-tumble, loping beats fade into hums and drones, strange mumbles and burbles. I don't mean for it to sound like I'm describing Mouse on Mars, though the same feeling is there at times; there are more straight-ahead rock-on moments and less goofy-fun analog twiddling, on the whole.
Sometimes electronic music is so unintelligible or inhuman that even speculating about its motivation is pointless. Despite this album's tendency to wander in strange directions and sometimes get flat-out weird, I never lost the feeling that someone was behind it all, happily (if inexpertly) pushing buttons and twirling knobs. Confusing, maybe, but Marumari brings a brand of playfulness to his music I've yet to come across anywhere else. He's not cheeky or smart-assed like ?-Ziq or Aphex Twin, or gleefully juvenile and iconoclastic like Kid606 or V/VM. Instead, it's the wide-eyed, naive, incomprehensible joy of (I suppose) alien cyborg puppies. - Alex Krieger
"COME ON BEAUTIFUL: AN AMERICAN MUSIC CLUB TRIBUTE"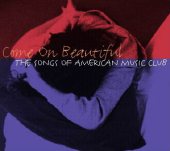 My loyalties are somewhat toward the album, with my pathetic excuse for the album being how often are we (AMC/Eitzel fans) going to have an AMC tribute album come down the track? One could take the view that something is better than nothing. However, that sort of argument grows sour very quickly. Would you rather have the shoddy film "Man On The Moon" or would you rather have no Andy Kaufman biopic at all? This kind of question irks me when it comes to entertainment; I'm guessing that a real answer is hard to find.
That said, for anyone who has yet to pick the album up yet...uh...let's just say that maybe you should put it on the back burner for now. Hearing the first chords of the opening song "What Holds The World Together" done by Ida was in itself one of the best music experiences this year, priming me for an album in which almost every single song sounds the same. For the most part the songs are played and arranged "as is"--no interesting and/or notable departures that usually make the tedious genre of tribute albums bearable. These are hard words to write; I can barely play music myself and applaud the kind of effort that goes into a project such as this, but some of these musicians almost make AMC out to be a parody that so many tried to peg the band as, a sad, mopey bedsit band incapable of rocking or doing anything requiring more than emotion.
But in his defense, Paul Austin cops to so much in the liner notes: "A record aiming to represent the whole sonic scope of AMC would include not only songs of love and hope so heart-wrenching your knees might buckle; it would include also a dose of flailing dissonance, a dollop of honky tonk pun tossing, and the occasional flat out rocker. This, unapologetically, is not that record." Um, then what is it? A showcase of 12 very talented musicians basically covering AMC and not doing it with very much variety? I'm sure we're all tired of the music media pigeonholing AMC and Eitzel as nothing but dour, sad miserablists. Maybe I'm going out on a limb, but it's the hope and beauty that all of their music gives out that make me listen to their music, not what some people believe to be their token "oh isn't the world just unrepentantly shitty" attitude.
But, I suppose, a sub-par AMC tribute album is better than no AMC tribute album at all...and much of this music is quite pretty and soothing to listen to on a cold Northern Ohio night when there's a winter weather advisory, no less. But taking into account that I am a lazy git who applauds the fact that it was put together at all, it could have been better. - Bobby Szozda
"AMERICAN BREAKBEAT"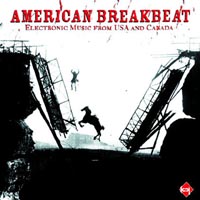 Matmos, Lesser, Kit Clayton, Slicker, Designer, Cex, Hrvatski, Kid 606 and 21 other artists have all exported tracks for this 2xCD release from the German label Klangkrieg. The collection is a fine offering of tunes and will no doubt serve as both a great introduction to some of these noteworthy acts and for current fans an opportunity to collect more songs from the groups. While I love the wide array of styles here, two things stick out in my mind: both revolving around my concerns over truth in packaging. The disc seems rather 606-scenester or San Fran-centric, it almost mimics a collection that would have been all too predictable for the Tigerbeat 6 label. In addition to this, the term breakbeat seems to be used rather loosely as well. Only on about three tracks do I hear a beat that I can particulary identify as a breakbeat. Regardless, for the price it packs a good bang and can proudly be displayed in your collection next to this year's other German compilation of American stuff, Chicago 2018. - Jon Whitney
"KNOW YOUR ENEMY"


The uprise and international recognition in the last decade of music scenes in places like Chicago, San Francisco and Berlin has all been due to a multitude of factors. I attest their success to seemingly fearless efforts made by small startup record labels, releasing as much music as they can, with bands integrating as much as possible. I know from my own personal experience living in Boston that things are tough here despite the few examples of some excellent bands. So few groups actually pay attention to each other, as everybody seems to want to be stars on their own and make it big somewhere else. With that in mind, big fucking congratulations go out to Rick Webb of Archenemy for compiling this collection: 20 tracks from Boston and Boston-friendly artists. In the years I have personally known and worked with Webb, we have had great music discussions, each of us respecting each other's musical knowledge and taste very much. "Know Your Enemy" features Neptune, Mistle Thrush, Freezepop and many other acts you've never heard of, who have never heard of me either however. Whether it's the serene electronica wash of Intelevision or the J-Pop of Freezepop, the 80s retro-trashy tune from The Mourning After, the punchy aggressive distorted homemade metalllic sounds of Neptune, or the embarassing cover tune of "To Love Somebody" by The Boy Joys, the heart-felt delivery is genuine all around. The packaging is such a stunning reflective multi-fold digipack that it can't be scanned properly on a scanner, the production varies due to the multi-genred experience, but it flows quite nicely and I'll stand by Rick even if I'm not crazy about all of these bands! Other past efforts from Boston labels have had a mix almost too homogenous for it to be taken seriously outside of the area: something like this—cleverly packaged and not presented as a "Boston thing"—works perfectly. - Jon Whitney
We know that sometimes these CDs are somewhat challenging to find, which is why we have a RECOMMENDED STORES section which can be used to obtain nearly everything available on the site.
CONCERT
REPORT
NOT BREATHING/INSTAGON/AA23
AA23 opened the night, and I thought they had some really, REALLY nice Moments. But things did seem a bit sloppy and loose at points—especially with the excessive scratching (which when ON - was wonderful. But less is more when it comes to scratching I think). The set was much more active than when I saw them before—they opened for Sol Invictus of all people—and to be honest, I like the minimal, more bleepy side a bit more. I guess comparisons could be made to someone like Ultra Red when I talk of the more "minimal? side. But whatever, it was good, and my ears Were quite happy!
Next was Instagon—continuing onstage with members of AA23, which added a nice flow to the evening. For those who do not know, Instagon is an Orange County project that started some years ago as an excuse of sorts to assault people with A LOT of noise and chaos, with a constantly changing lineup. Since then, Lob (the fellow behind Instagon) has calmed things down a little and seems to have moved things in a more musical "jam session" like direction. This time around Instagon only consisted of a sax player, bassist, and drummer. I liked moments of the set, though it was very repetitive and sleepy. The drums were a tad bit too simple and conventional for my mood. Perhaps someday they will do something without a drummer - especially with the nice bass and sax they have had the last few times I have seen them. Last night's performance was not the best, and certainly not the worst, I have seen from Instagon—just kinda "there."
Not Breathing flowed into Instagon the same way Instagon flowed into AA23, and then they just took things away. The set started with a ton of toy/speak-and-read type manipulation and layers of noise (reminding me a lot of the EAR Data Rape stuff. It wasn?t long before the beats came in, and wow! It was just flat out sick! I really wish more IDM/jungle fans were at the show, because the beats were out of control—yet so damn smooth. I guess the only real solid thing I can say is Not Breathing always put on a sick show, and this time around was one of the best times I have seen them (aside from a New Years show they played at and hated). Didge, fucked up electronic toys, tons of blips, weirded out melodies, washes of noise, odd-hypnotic beats, some cute Furbie mutant thing,? oh what a nice night! - Christopher Bradbury
COMMENT
OUT OF DARKNESS COMETH LIGHT
I want to take the time to wish everybody the best for this holiday season. It's too easy to get wrapped up with bitterness around this time of year with the increasing hostility of shoppers, advertisements, drivers, and other factors which are most peoples gripes about the season. What's remarkable to me personally is a tradition which seems to be part of nearly every religious undertaking during this time, something simple as light. In the Northern Hemisphere these are the darkest days of the year, and if you're celebrating Mithras, Channukah, Jesus or Kwanzaa, something is most likely being lit. Whether it's a tree, menorah, downtown display or front porch, the efforts put into bringing light to the darkest days of the year are a wonderful sight to see when walking through a crisp and pleasant cold winter evening. While watching my generation's definitive holiday film, 'A Christmas Story' on TV yesterday, I was reminded of one of my favorite lines in a film, "Only one thing could draw me away from the warm glow of electric sex in the window." Yes, for me, it's all about light displays. Okay, and drink some egg nog too. Have a great day off, however you celebrate it! I'll be getting Chinese food and watching a film with some Jewish friends on December 25th! - Jon Whitney
FEEDBACK
AND THE WINNER IS...
Subject: Client/Server will sweep the Brainies

Have you ever thought of having an awards show hosted by Billy Crystal? The Brainies! You know it's what you were born for.

No, god no!
---
Subject: happy holidays

As a dedicated reader or The Brain I thought it was my job as a "good-natured" person to wish John and everyone else at Brainwashed a happy holiday's.

Peace.

JJ McGraw

Thanks! Peace be with you too, JJ!
---
Subject: no subject

I would like to start by saying that I think its great what all of you at Brainwashed do. There aren't many people out there that I would think take music as seriously as I do, but I think you all are right close.

So I ask of you, would you ever have some kind of "Reviews" section? I write music and I would like to see what avid music enthusiasts like yourselves think. I don't much care for exposure, I just want opinions. My more comprehensive material is online and my more bizarre material is yet to be heard by anyone other than myself. I'm planning on making that change soon...

If you should find that my music is horrible, please tell me that in a kind way and give helpful, constructive criticism...please...

We don't review music here, what gave you that impression?
---
Subject: exquisite corpse

The many times I have submitted a contribution to the story I reach an error page. Therefore I never make a contribution. Explanation? Miranda

It's definitely on the 'to do' list.
---
Subject: ND

Oooh man. I just checked up on your site today and saw reference to ND!

I thought that was a done deal. The local record store person pointed me towards The Wire, which I like but I would love to have a sub to ND.

Could you please let me know how to contact them? I really miss that mag.

Many, many thanks.