THIGHPAULSANDRA, "I THIGHPAULSANDRA"

The man known as Thighpaulsandra could very well be the definition of a modern musical mad scientist—pure genius with a maniacal manifestation of sound. His debut Eskaton full-length release (don't get all semantic on me, this isn't his first full-length nor first Eskaton release) comes as a double CD of all new material featuring contributions from members of Coil, Spiritualized and Julian Cope's band as well as his mum. The set is incredible yet difficult to swallow at once, with over 2¼ hours of music which can be as non-sequitur within movements as it is between tracks. He has drawn blood from much of his influencors, with elements of modern classical, jazz, art-rock and electronic composers swirled into a magickal mystical audio tapestry. The styles range from lengthy neo-classical half-hour tracks like each disc's closers to angst-filled songs echoing prog-rock masters such as "The Angelica Declaration" or "Home Butt Club." Deep drones provide background for the 13-minute "Optical Black" which features a spoken John Balance bit, sped up without a pitch increase while an intense improvisational-ish piece "Abuse Foundation IV" for clarinet, marimba, violin, percussion and processed electronics follows. Coil fans will definitely hear the characteristics of recent releases shining through electronic drones or glistening piano bits, yet they might be a bit offset by the general underlying free-form aesthetic, loss of congruency, or the creepy uneasiness which has caused panic attacks in one Coil fan from Los Angeles. Don't fear, however, it makes this disc an entirely different adventure from the more frequently travelled roads in the dark series and will prove to be a substantial release once it's completely digested and becomes part of your system. - Jon Whitney
samples:
REPEAT, "SELECT DIALECT"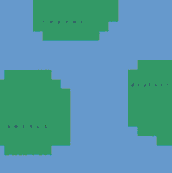 With a name as innocuous as Repeat and a cover as stunningly ugly as the one for "Select Dialect", it's no wonder that I discovered this recording in the "To Be Listened To Sometime Later, Maybe, If At All, Or Perhaps I'll Just Use These as Beer Coasters" pile of CDs at the home of this e-zine's esteemed editor. The cover looks awful. It looks like it was designed with random scraps of construction paper. It's difficult to tell what the band name is and what the album's title is, because of the awkward placement of words on square, green splotches unevenly distributed across a baby-blue (ugh!) scrap of cardboard. If I didn't happen to be turning over and examining every single CD on said editor's table one evening, this fine recording would have gone entirely unnoticed by either of us.
Repeat is the duo of Swiss percussionist Jason Kahn and Toshimaru Nakamura, who plays an empty mixing board feeding back into itself and wired out to a sampler. He tweaks the high-pitched feedback, and samples it in real-time. You may remember Nakamura from last year's fantastic "Four Focuses" CD, in which he performed duos with Sachiko M, Otomo Yoshihide, and the great Martin Tetreault. Both Nakamura and Kahn have been active in the international improvised music community for at least a decade, and Repeat may be their attempt to expand their audience beyond the already initiated.
What is most unexpected is how close this duo resembles the post-techno sound being set forth by labels such as Raster-Music and Karaoke Kalk. Nakamura's mixing desk shimmers with pleasant tones (yes, actual tones!), as well as the expected high-pitched squiggles. Kahn's metallic scraping and occasional synthesizer repeat simple melodic phrases, and his more traditional percussion even keeps a steady beat. In the album's closing track, Kahn's lightly stuck bowls ring and combine with a flute-like sound (the origin of which I will not attempt to locate), for an effect not dissimilar to polite New Age. From two musicians who have existed for years at the outside of the improvised music community, it is certainly novel to hear these song-like forms emerge. There are edgy moments, but not many, so if this is some listener's way into the potentially alienating world of electro-acoustic improvised music, then that's just fine with me. As it is, it's pleasant enough, and if I didn't know who these folks were, I wouldn't think twice about how oddly normal it was. - Tulse Luper
samples:
VLADISLAV DELAY "ANIMA"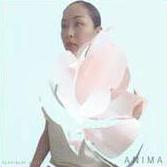 This is the first of surely many for 2001 from the young yet prolific Helsinki based producer Luukas Onnekas. The word 'anima' is a psychological term meaning essentially 'an inner feminine part of the male personality'. Both the artwork, a pastel enshrouded woman, and music, demure and beautiful, perfectly reflect these qualities. The disc is indexed as a single 62 minute track, a continuous organic flow that constantly, unpredictably shifts gears while retaining recurrent themes and coherence. Delay's sound set is a vast, atmospheric sonic sandbox of arctic synth pads, low end blips and throbs, fragments and smears of fractured audio and an expansive selection of percussive minutiae. Melody and rhythm are sometimes more implied than expressed, allowing for your brain to fill in the blanks, and at other times coalesce effortlessly, flawlessly and gracefully all on their own. Stagnation is the enemy as a few notes of wash background are about the only element allowed to loop for any great length of time. The piece ends by gradually, almost unwillingly, dissolving and fading away finally concluding with a crash and sampled dialogue ... "I might never go to sleep again, I might stay awake forever!" Absolutely gorgeous. Pure genius. Yet another masterpiece. I wonder how many other slots Delay will fill in my best of 2001 list? Also out now is the LUOMO "Tessio Remixes" 12" on Force Tracks to be followed by a new full length later this summer ... - Mark Weddle
samples:
MONOLAKE "GRAVITY"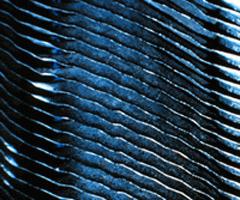 Monolake is German producer/programmer/engineer Robert Henke, apparently now solo as former partner Gerhard Behles is credited only with additional production. Much of their music has long been both dance floor and headphone friendly and "Gravity" is no exception, though as with the previous album "Interstate" techno and digital ambient lovers will have even more to cheer about. Gone are the dub influenced rhythms (which is a shame because they do it so well) but a dense, open and fluid spaciousness remains as a playground setting for clinically precise computer sounds and calm and collected, levelheaded rhythms. Track titles are as deceptively simple as the tracks themselves, most 7 to 10 minutes, as beat patterns shift in gradual increments and backgrounds evolve. "Mobile", "Zero Gravity" and "Aviation" contain the most intriguing selection of liquid, gaseous, metallic and alien melody making sounds. "Ice" tosses about frozen human sighs and hisses over cool future funk. "Frost" is too stagnant due to unduly repetitious beats. "Static" and "Fragile", like "Frost", are also rhythmically repetitious but not tediously so as what lies beneath the beat breathes. "Nucleus" is a steady roar of night air devoid of all beats that simply fades away over the final few minutes. All in all "Gravity" feels like a darker, more streamlined version of "Interstate". I'm pleased. Monolake will be playing shows in Montreal, Toronto, Lithuania and Italy in February and March ... - Mark Weddle
samples:
SHIZUO, "MORE MORPHINE"


Former Atari Teenage Riot sound engineer and current DHR artist David Hammer (a.k.a. Shizuo) presents his first release on his own label. All 4 songs have much more color than DHR stuff usually does, (with the exception of Lolita Storm, who I still love). "More Morphine" was written with DJ Scud (Londoner who runs Ambush Records and in collaborotation with NYC's I-Sound, Full Watts). It is filled with vocals and is like a male Lolita Storm. "Nuerology" is like DMZ, The Twinkeyz, or Lou Reed filtered through The Cramps and then some. "16 Licks" goes extreme at the end of each bar. It starts with the guitar lick from "Keep Me Hanging On". It goes on to sample vocals from Crass and David Bowie. "Dealing Drugs" has spoken samples that provide the feel for the song. It is sparse in spots and has the noise wash in others. It ends with a looped vocal that has to be manually lifted from the turntable (locked groove). This single is actually pretty good if you like life hard. - Carl Thien
SENKING "TRIAL"


"Trial" is the fourth cd by Jens Massel as Senking and the sixth of seven releases to date in Raster-Noton's 'static series', all of which are packaged in anti-static bags. Massel arranges effected electronic sounds into essentially single riff songs with dub, glitch and minimalist qualities. The 8 tracks are aptly titled, most between 4 and 5 minutes. "Flaw" fires up with a snap, crackle and pop of static and submarine sonar pings. "Wind Up" is busy with rolling pops, bass bumps, mechanical winding and steam hisses. "Lurk" and "Trackdown" would make an appropriate soundtrack for cinematic stalking, playing down the beats some for dark drone, hiss and click. "Hide Out" is the center and master piece, an 8 and 1/2 minute pattern of warm, melodic dub. "Pell-Mell" rumbles along with blips, ticks and a short vocoded sample. "Dent" skips along merrily with deep bass under the crackle and buzz of a power line surge. "Lift" caresses with high pitched clicks, swooping tones and watery plunks. "Trial" is pleasant enough with a good bit of stylistic variety but not much of a progression and not too terribly memorable. Once again, I'd be happier with a single or double disc compilation of select tracks from all of Massel's many releases to date as Senking, Fumble and Kandis ... - Mark Weddle
samples:
"PARIS VU PAR"


A compilation from Cherry Orchard's record label in France. Like Bambini's 'Mystery Date Game' and 'Voyage Romanesque' and Invicta Hi-Fi's 'Special Skool' comps this record attempts to create the cool atmosphere that Siesta and El Records have done on their international pop compilations, with just a dash of the electronic pop that J-pop specializes in so well. Every band wrote a song about Paris just for this compilation. For me the 2 standout tracks are the Baxendale cut "The New Parisienne Pop And Soul" and The Cherry Orchard's "We Could Fall In Love". These 2 tracks are classics of each of the bands that are exclusive to this disc. Baxendale remain one of my very fave bands of 2000. Le Hammond Inferno sound very J-pop on the instrumental "Stylostumpt". The track sounds very familiar though I can't place from where. It is very energetic and catchy. Merrick's (from Munich) do a pretty good song "Fur Paris gilt das Nicht" that is nice even though it's not one of my faves. It almost sounds like a mellower Francoise Cactus (of Stereo Total) singing. She even says "Crazy Horse" (the title of a Stereo Total song from 'Juke-Box Alarm') in the lyric of the track. - Carl Thien
PSYCHIC ENEMIES NETWORK "VALIS"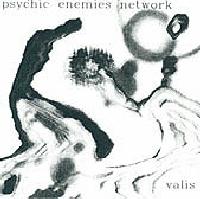 Geographically seperated brothers John and Matt Thorne are Psychic Enemies Network. "Valis" further explores the psycho-sonic territory initially tapped on their 1998 self released, self titled debut. Their music comes from a wide range of world percussion (djemba, toas drum, african kettle, elephant bell, hand percussion, etc.), guitar, bass, trumpet (by David Chapman), synths, sequences and samples. The mix is contained to a point, never allowed to boil over into the red, and a feeling of slightly unsettling transcendence is present throughout. Quite a bit of thought seems to be going in to it all too as track titles reference such varied topics as irregular heart actions, Philip K. Dick novels, henna painting and geographical projections. "Arhythmia" begins as a warm ambient loop later adding exotic rhythms and background samples for a sound similar to late '80s Muslimgauze. "Come Crumbling" is a murky mix of voices and trumpet drone. "Sandfall" perfectly marries shimmering loops with pan melodies, female backing vocals and a deep electro-bass groove. "Tilted Earth" builds a hypnotic wall of sound from trumpet wails, finger cymbals, bells and chimes. "Bowl Cut" is a mildly funky blend of jazz drumming and quirky synth riffs. "Radio Free Albemuth (altman)" amusingly cuts and pastes samples culled from various musical projects the Thornes have been involved in for some Nurse With Wound-like fun. "Valis" beautifully accentuates swirling ambient guitar and samples with light brushed snare and subtle trumpet playing. "Mehendi" swings a little with a jazzy rhythm and moody bass. "8/7/96" rips and tears audio fragments over a few looped notes of clean guitar. And "Gnomonic" concludes the album as it began with a quiet, albeit rhythmic, loop. Altogether "Valis" is varied, flows well and shows a studied progression. Psychic Enemies Network have definitely found their niche! Up next is a series of side projects under the 'Psychic Enemies Network Presents' umbrella including Para!Helion "Midaq Alley" (with John Thorne and David Chapman - more of a straightforward world music project, also recommended) and Fez Dispenser (with Matt Thorne). Info may be found at www.browser.to/psychicenemiesnetwork/ ... - Mark Weddle
samples:
BOYD RICE, "THE WAY I FEEL"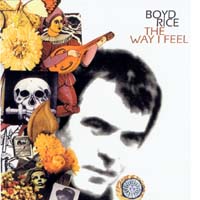 Boyd Rice is no stranger to heated discourse, especially when it comes to much of his heavily spoken releases. This compilation is one of collaboratives, including songs with Tiffany Anders, Shaun Patridge, and Little Fyodor as well as Douglas P, Coil, David Tibet and many others. The irony here is that while Boyd's music as Non can be brutish and aggressive yet completely void of personal interjection, the music on 'The Way I Feel' is full of gentle and serene music as a backdrop for his vocalized feelings which frequently echo a dark side that most people won't admit to having. Songs have been hand-picked by Boyd himself and provide a nice variety with the inclusion of instrumental things like the Sickness of Snakes track "Many Hands" or the "Pearls Before Swine" theme. Music is included from 'Hatesville,' 'Music, Martinis & Misanthropy,' along with various cuts originally only available on 7" and compilation albums. Tactfully absent are diatribes which could be interpreted as Social Darwinistic or fascist. The disc includes all previously released songs, but features some rarities and things you'd never want to purchase in their original surroundings, like "Absence Makes the Heart Grow Fonder" from the 'Grace of My Heart' soundtrack. Boyd is a writer, noisemaker, prankster and poet, undoubtedly an entertainer. Unfortunately music listeners generally don't believe a song can be as fictitious as a book or film. This is where much of the problems of interpreting people like Boyd Rice, Douglas Pearce and even older Coil music comes into play. These music makers should be regarded like fiction writers or impressionistic painters, taking influence from uncountable sources and artfully spitting them out for our entertainment and introspection. Make them into something more and then you've become the entertainment, getting into angry fights over email lists is something these guys want you to do. - Jon Whitney
samples:
DARK STAR, "TRAVELOGUE II"


Nearly seven years ago a CD resembling this one appeared, sharing seven tracks, four of which featured members Edward, Phil and Ryan of Legendary Pink Dots. The main core of Dark Star decided to record a sequel but it never surfaced. In the meantime, the original disc was difficult to obtain and most likely went out of print. This release basically serves a couple purposes. It reintroduces seven songs from the first release, keeping the music available and adds four newer ones, remnants from an uncomplete sequel. For LPD fans who don't already have the original release, this is a great chance to get all the songs as they originally were recorded, fans of the original release can get over a half hour of new music, while people who bought it and don't need to hear any more can easily pass on slapping the money down for it. As for the music itself, the four new songs fit rather well with the rest. The music is generally an eerie mid-paced electronic throb with either a distorted guitar or ballsy bass. Both old and new songs would appropriately score a chilling futuristic horror film. My only issues lie with the tacky lyrics from the non-Kaspel singer. - Jon Whitney
samples:
MAHOGANY, "THE DREAM OF A MODERN DAY"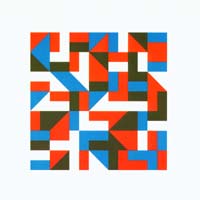 Call it what you will, electro femme vox twee dreampop, this debut album from Mahogany fills emptiness left in your heart when The Sundays stopped recording albums. Indie geeks have been known to sport rods hearing the super-high pitched airy vocals of bands like this or Pram, I find it rather irritating, dull and get damn sick of it before long. Personal preference aside, the vocals are truly poorly mixed, without much depth or clarity. The duets between the female and male vocalist are even more unnecessary. Unfortunately some of the music on this disc is absolutely incredible sounding, an almost perfect match of delayed atmospheric guitars with electronic percussion and effects. In all honesty at the end of the disc, I'm rather fond of it and have a couple tracks stuck in my head. Damn you, damn you, I can't really hate anything from Dearborn, Michigan. - Jon Whitney
We know that sometimes these CDs are somewhat challenging to find, which is why we have a RECOMMENDED STORES section which can be used to obtain nearly everything available on the site.
MONDAY
Nicole Elmer - Beef Bouilion 7" (Planet µ, UK)
Future Pilot AKA - Tiny Waves, Mighty Sea CD/LP (Geographic, UK)
Hamijama - Ancient Cities 2 12" (Beta Bodega, US)
Jowonio Productions - Hands/Birds 10" (Leohtan, UK)
Large Professor - Blaze Rhymes 12" (Matador Europe, UK)
Marble Valley - Sunset Sprinkler CD (Pork, UK)
Minus 8 - Remixes 3: Badman & Throbin' 12" (Compost, Germany)
The Orb - Cydonia CD/2xLP (Island/Universal, UK)
Ostara - Whispers To The Soul 7" [ltd edition picture disc] (World Serpent, UK)
Project Pitchfork - Existence two CDEPs (Candyland, Germany)
Ryu & DJ Krush - Never Too Soon 12"/CDEP (Mo'Wax, UK)
Sol Invictus - Hill Of Crosses LP [ltd to 1000 copies] (Tursa/World Serpent, UK)
Sorrow - Let There Be Thorns 7" [ltd edition picture disc] (Piskidisk/World Serpent, UK)
Surreal Madrid - No More Boom Boom CD/LP (Fused & Bruised, UK)
Thighpaulsandra - I, Thighpaulsandra 2xCD/2xLP [solo project from Coil member with appearances by John Balance, Julian Cope and members of Spiritualized] (Eskaton/World Serpent, UK)
Ultra Red - Plan de Austeridad 12" [mixes by Jake Mandell, Push Button Objects & Otto Von Schirach] (Beta Bodega, US)
Various - Beta Bodega Coalition: Banana Republic Volume 1 12" [with Sony Mao, General Magic & Gerhard Potuznik, Prefuse 73, V8, Safety Scissors and Spike] (Rice & Beans/Beta Bodega, US)
Various - No Watches/No Maps CD [initial 500 copies may include a bonus 7" by V/Vm] (Fat Cat, UK)
Venetian Snares - Defluxion 7" (Planet µ, UK)
Wordless People - Positivity 12" (Compost, Germany)


TUESDAY
Apoptygma Berzerk - Kathy's Song CDEP (Metropolis, US)
* Clare Voyant - Time and the Maiden CD [reissue with 3 new tracks] (Metropolis, US)
Clare Voyant - Time Again CD [remix album with mixes by VNV Nation, Front 242, Covenant, Haujobb and more] (Metropolis, US)
King Britt presents Sylk 130 - Happiness CDEP (Six Degrees, US)
Large Professor - Blaze Rhymes 12" (Matador, US)
Lycia - Compilation Appearances Vol. 1 CD (Projekt, US)
Jake Mandell - Love Songs for Machines CD (Carpark, US)
Mount Florida - Arrived Phoenix CD/2xLP (Matador, US)
Papa M - Papa M Sings (Sea Note/Drag City, US)


THURSDAY
Jannelle's Groove - Over Underville CD (Alleged Iguana, Canada)


This is simply this week's highlights from the NEW RELEASES provided by Greg and Feedback Monitor.
For a more detailed schedule stretching into the future, please check out the site,
since release dates can and will often change.
TRUTH IS OUT OF STYLE
Subject: Honest Opinions

I would be lox in my doodies of critic of all things if I neglected to comment of the new look of The Brain.

I usually designate The Brain as my browser home page, but with all the orange corduroy this last week, I've been forced to switch to the Brainwashed main menu.

If you want to maintain my devotion, use more black.

Damn what looks 'nice'. Damn orange. Damn corduroy.

How about fuscia?

Subject: no subject
you do music appreciation pieces better most. i have enjoyed the austere nature of your site design since 1997 and this straightforward approach would certainly be sorely missed if this new design is to facilitate advertisement.
indeed

Subject: to the brain
yo kids. help us out with a little feedback. we have massive techno crew spreading every vibe allowed through music and we are on the verge of that "new thing" that all of us "beats" are on...waiting for that tilt.
what can we do for you, vice versa, tapes, discs, cynicism of modern rave grave culture. all the latest trends in deprogramming.
You're white, aren't you?

Subject: Please help me :)
Hi, first of all sorry for my poor english, now:
I listen a cd of tortoise of a friend of a my friend, that i met only 1 time and that I can't find (he is gone 'outside' italy).
This CD has got some tortoises on The CD (not on the cover of cd, but on the real cd)
Could u help and say to me wich was this CD?
TNT has tortoises but I think the remix one does too. Shove it in your computer and check the CDDB!

Subject: I love cats!
Thank you for your wonderful website. Before i discovered it thought that i was alone in the world. I now know that loving cats is a beautiful and natural thing. I had even contemplated suicide, but your site saved my life. Thanks again. I am going to go love my cat now.
Love.
Turn the computer off and go outside.

Subject: no subject
i was just digging around on brainwashed.
i still marvel at the amount of time and effort you put into it.
so do i, i need a life, seriously