a weekly digest from the staff of brainwashed
V04I04 - 02042001
Click here for other issues
SITE
DOWNTIME
All apologies for the downtime that occured Sunday and Monday. Things should be back up and running just fine now!
COIL DIRECT ONLINE
Rufus Pool has informed us that www.thresholdhouse.com is up and running with secure online ordering. The site plans to carry special editions on a limited basis each. Stuff is available now however.
OFFSITE MUSIC NEWS
IANNIS XENAKIS DEAD AT 78
The world-renowned composer, mathematician and engineer died on Sunday in his home in Paris 78. Before any writer here butchers any of his life events or accomplishments, we'd rather point you to a couple obituaries from the LA Times.
SOFT CELL REUNION
Marc Almond and Dave Ball will reform as Soft Cell to perform live on March 16th 2001. The event will be the launch of a new venue, 'Oceans' in Mare Street, Hackney, London, E8. Tickets are priced at £17.50 and went on sale on Wednesday 31st January. The box office has a 24hr booking line (tel: 0207 314 2800), or you can pick them up in person from the venue (Monday to Friday 10am-6pm) as well as various music shops in the area. The doors will open at 7pm and Soft Cell will be on stage at 9.30pm. The information line for the venue is 0208 533 0111.
PANASONIC WORLD TOUR
Pan Sonic will tour the world in 2001. The tour was conceived out of invitations received from an advertisement placed by Pan Sonic in the UK music magazine, The Wire, asking for "interesting out of the way places to play." The first leg of the tour will start in February 2001 and will take the group through Maylasia, Australia, South and Latin America as well as Western Europe and the United States. In the fall of 2001, Pan Sonic will begin the second leg of the tour, playing in Eastern Europe and the Middle East. September dates will include Poland, Slovakia, Hungary, Croatia, Serbia, Turkey, and Israel. For the specific dates, check out www.tonesanddrones.com.
MUSIC IN BRIEF (SAMPLES DUE SOON, HOPEFULLY)
LOW, "THINGS WE LOST IN THE FIRE"

The sixth full-length Low CD release comes after a year of releasing enough music for three CDs and one baby girl. Like the last one, this one both appears on Kranky in the US, Tugboat in the UK, two bonus songs on the vinyl edition, and production by Steve Albini. While Low's songwriting skills get amazingly stronger and stronger, I'm finding more problems with Albini's production. To their credit, songs like "Sunflowers," "Dinosaur Act," and "In Metal" carry on their own style of somewhat abstract lyrics matched with breathtaking vocalizations, unchallengable synergy with a fondness of dissonance. To experience Low in person as a collective entity, you'll find that each of the three members create a triangular symmetry. Albini however completely disregards this with songs as "Black Like a Forest" (as he did with "Will the Night") by retiring Mimi's vocals to the background, ignoring the vocalists' harmonic set up. I'm also confused with the album's opener where the hell the strings came from as the music's going, going, going, flowing nice, but then a harsh fade up of strings from out of nowhere almost makes no sense without setup. Perhaps I'm being entirely too picky but after a while these things become out of place threads in a carpet. Disregard these things and you've got a perfect slab of wax, suitable for framing. - Jon Whitney
samples:
CALLA "SCAVENGERS"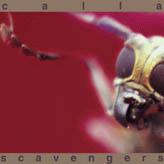 Calla is the Texas-bred, NYC-based trio of Aurelio Valle (vocals, guitar), Wayne B. Magruder (programming, percussion, drums) and Sean Donovan (bass, keyboards, programming). "Scavengers" is their second full length in as many years and the first for Michael Gira's Young God Records. The sound is somewhat minimal, always stark yet spacious, centered around husky hushed vocals, cleanly plucked guitar with mild Americana overtones and a seriously deep bass guitar groove. Add to that adequate rhythm and a very slight amount of subtle electronics and programming for atmosphere. Most lyrical passages are morphine drip slow while musical passages are allowed to repeat and crescendo, to a certain point. The image of crawling is expressed lyrically in two songs and in the title of a brief instrumental third, "A Fondness for Crawling". The last track is an utterly beautiful cover of U2's "Promenade" presented as if it were Calla's own ... and it is now as far as I'm concerned. "Scavengers" has an honest and deep sense of vulnerability, longing and heartbreak throughout. It makes you want to listen to it over and over again and revel in it rather than immediately shut it off and slash your wrists. A remix 12" for "Fear of Fireflies / Slum Creeper" is in the works ... - Mark Weddle
LESSER, "GEARHOUND"


This week's mad scientist is a Californian named Jay. Starting off on this journey, the breaks are very disjunct and the transitions between tracks are so choppy, it's even confusing to me when new songs begin or if there are indeed different songs. It almost seems like he's making a conscious effort to avoid anything semi-conventional like establishing a rhythmic base or a bass foundation. But then SMACK! The track with Blectom from Blechdom and the "Gearhound Suite" provide that important plot twist, this guy is actually going somewhere with this! It's almost as if this disc is a physical journey up a mountain, hard steps and unclear paths on the way up, many choices and much on your mind, the sweat beads down and you fall short of breath and tell yourself how much you need to get out more. You reach the peak, have a nice look around, enjoy a refreshing bottle of water and begin your descent, looking down on the beautiful planet from high up, as you encounter various attractions on the way down. Keeping this analogy in mind, the remainder of the disc sort of heads down a rather soothing path, without giving up the digital choppery however. Three-dimensional visions burst into my head, giving the impression of lying on a soft waterbed that keeps shifting around, or running my finger on a densely-filled helium balloon, ready to burst. The end of the disc is the end of our journey, back on the earth with a sense of accomplishment behind us. Lookng back up the mountain we just climbed the whole picture seems clear but we're glad the heavy legwork is over. Lesser has successfully navigated a flight in the face of convention on many levels here. First off, he placed the peak in the center as opposed to most albums throwing a killer bang-up opener and a memorable fade for the closer. Then, consciously or unconsciously, he threaded a certain congruency between rather abstract and disjointed pieces. A disc which I originally thought would make more sense to me in the distant future has become much clearer with the proper attention. We, the listeners can be far more guilty of attention defecit than what many critics will accuse the musicians of. - Jon Whitney
FLUX INFORMATION SCIENCES "PRIVATE / PUBLIC"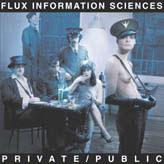 Tristan Bechet of Portugal and Sebastien Brault of Madagascar formed Flux Information Sciences in NYC in 1996 and with the aid of a revolving door membership have released 4 full length albums to date, "Private / Public" being their debut for producer Michael Gira's Young God Records. The duo abuse guitars, bass, keyboards and samplers and are further augmented here by drummer Derek Etheridge. An explosive percussive onslaught drives most of the songs, many 2 minutes or less, with occasional breaks for sample blitz, menacing soundscapes and even some genuine tender moments. A delightfully bizarre fun house/show biz humor prevails as lyrics are generally simple repeated slogans yelled in English over and under the sonic fury. Imagine if you can something that borrows a bit from early SWANS, Suicide, Big Black, The Monks, Devo and James Chance ... it's simultaneously ugly, quirky, chaotic, energetic and fun with a thoroughly lo-fi DIY punk attitude. Some comments on a few of my favorites tracks: "Adaptech" dances like a mechanical monkey on crack. "Sit Down, Silly!" is the best Big Black song they never wrote. "Love" seems sincere with lovely organ and backwards guitar melodies, straightforward drums and the single word lyric, "love". I have a single word summary for all of "Public / Private": FUN! - Mark Weddle
JELLO BIAFRA "BECOME THE MEDIA"


Biafra's crusade continues with his 6th spoken word album in 14 years. Like the previous album, 1998's "If Evolution Is Outlawed, Only Outlaws Will Evolve", this one is a lot to take in at well over 3 hours on 3 discs (for the price of 1) of live material from various shows and conventions throughout 2000. And now more than ever Jello, always one to expose corporate, religious and political conspiracies, has a lot to talk about: the presidential election and his brief Green Party candidacy, the World Trade Organization, the Columbine shootings backlash, online networking, censorship, the drug war, mp3s and Napster, his court case with the other Dead Kennedys, reports from the Republican and Democratic Conventions, etc., etc. He successfully conveys this massive amount of information with a mildly comedic delivery ... George W. Bush, Jr. becomes 'King George the II' and Al Gore 'Prince Albert', Newsweek magazine 'News Speak', overbearing corporate dominance 'corporate feudalism', genetically altered food 'Frankenfood', etc. The recurring message throughout is for you to actually care and do something about it - become the media through pirate radio and tv, 'zines, online and offline activism and protest and simply communicating to those "on our side who don't yet know it". Jello makes you think about important issues that effect everyone, regardless of whether you agree with him or not. And though the 'truth' is an ever elusive impossibility, I tend to think his well informed version is closer to reality than most 'traditional' media. Four full length mp3s are freely available at alternativetentacles.com. Biafra is currently doing a few shows in Canada ... - Mark Weddle
LEMON JELLY, "LEMON.KY"


What else would you expect from a group called Lemon Jelly - in a few words: it's mellow, kinda fruity, bright and tasty. The CD on the chopping block is a collection of tunes from three previously released 10" singles from a duo who consists of Fred Deaklin and Nick Franlen (both graphic designers by trade). Fred's got some credit to his name as a unique DJ, as his 'Wheel of Destiny' club nights are set up to decide the musical style every 30 minutes with a spin of the wheel! Nick on the other hand has provided keyboards and drum programming for the Spice Girls and All Saints as well as Primal Scream's recent 'Xtrmntr' and a future slab from overrated Britpop wankers, Pulp. People have tagged Lemon Jelly as bringing renewed interest to "nu-lounge" sound. It's got a fondness of dub and an eye on cheery electronic interplay, not entirely unlike Kruder & Dorfmeister and associated side projects or Arling & Cameron. Yeah, these groups always come in the form of duos! Guitar samples, horn stems, organ-imitating keyboards, and rhythmic percussives are all elemental to each song which could easily provide a backdrop to doing your taxes on a Sunday afternoon. - Carl Thien with Jon Whitney
HIM, "5 & 6 IN DUB"


Mighty Doug Scharin has a new sound for Him once again for the latest release. Last year saw the release of two full-lengthers, one with a modern electro-jazz feel, the other with a pure force of improvisational mayhem. This 32-minute three-tracker dives into the deeper, cooler side, known simply as dub. The opener, "Five" clocks in at over 14 minutes with long delays, hypnotic bass loops, trickling guitar, latin percussion, warm organs, and an unobtrusive sax. Track two's the shortest of the three tracks and a nice stop-gap which explores sound almost through entirely synthesized by analogue electronics - a primitive drum machine, older keyboards and tons of delay. The last track, "Six" takes an approach completely void of the standard drum kit - electronic or organic, with the group taking a sort of plugged-in "unplugged" mentality, all members grooving together without anything clocking the beat. Sure, these are remixes, meaning the originals have been tampered with, but where are the originals? This release is wonderful but it's a tease, it's way too short and the remix aspect gives me the impression their next album didn't start out this far into dub. Who knows except for Him? - Jon Whitney
We know that sometimes these CDs are somewhat challenging to find, which is why we have a RECOMMENDED STORES section which can be used to obtain nearly everything available on the site.
NEW RELEASES
SUNDAY
Raiders of the Lost A.R.P - Electric City Phunk Vol. 3 12" (Plasmek, Italy)


MONDAY
D.J. Food - Quadraplex 12"/CDEP (Ninja Tune, UK/Canada/US)
D.J. Shadow - Dark Days 7"/CDEP (MCA, UK)
* Depeche Mode - The Singles 86-98 MD, The Singles 81-85 MD, Violator MD and Songs Of Faith And Devotion MD (Mute, UK)
* Erasure - Pop! The First 20 Hits MD and The Innocents MD (Mute, UK)
Fauna Flash - Fusion CD/2xLP (Compost, Germany)
Future Pilot AKA - Tiny Waves, Mighty Sea CD/LP (Geographic, UK)
Hood - Home Is Where It Hurts CDEP (Domino, UK)
Low - Things We Lost In The Fire CD/2xLP [vinyl edition includes two bonus tracks] (Kranky, US - Tugboat, UK)
John Tejada - The Remixes 12" [mixes by Syke and CiM] (deFocus, UK)


TUESDAY
Brassy - Got It Made CD (Wiiija/Beggars Banquet, US)
Chris Connelly and the Bells - Blonde Exodus CD (Invisible, US)
Delarosa & Asora - Agony CD/2xLP (Schematic, US)
Laurent Garnier - The Man With The Red Face 12" (Mute, US)
h3llb3nt - Hardcore Vanilla CD (Invisible, US)
John Hughes - Scarlet Diva CD (Hefty, US)
* Kinder Atom - MMM! 2xCD [reissue of original album with extra disc of remixes] (Cleopatra, US)
Ladytron - 604 CD/LP (Emperor Norton, US)
Spahn Ranch - Closure CD (Cleopatra, US)
* Tricky - Mission Accomplished CDEP (Hollywood, US)
Various - Knottel Remixed 12" [original track by Zorn, remixed by Multipara, Geiom, Artificial Duck Flavour, Arovane, Frederik Schikowski, Biochip C. and Thaddi - first 50 copies include CD-R with exclusive remix] (Lux Nigra, Germany)
X - 2X CD (Dark Duck, US)


THURSDAY
Aranos - Sunlight Reaches Spring Rock/One Live Duck Budges Surf 7" [ltd to 100 copies] (Klanggalerie, Austria)
Ku-ling Bros. [Stephen Mallinder of Cabaret Voltaire] - Space Junk/Octagon Head 7" [ltd to 100 copies] (Klanggalerie, Austria)
Rapoon/Black Faction - Your Cheating Lies/Caucus Burial Tape Part 1 7" [ltd to 100 copies] (Klanggalerie, Austria)
Substanz T - Tripped Experiences CD (Hymen, Germany)


This is simply this week's highlights from the NEW RELEASES provided by Greg and Feedback Monitor.
For a more detailed schedule stretching into the future, please check out the site,
since release dates can and will often change.
LABEL CORNER
CROUTON
| | |
| --- | --- |
| URL: | www.croutonmusic.com |
| Owner/Operators: | John Mueller, with help from Chris Rosenau (musician, recording) and Scott Kawczynski (designer). |
| Experience: | Mueller was a musician in Pele and after making contacts in both press and distribution, he decided to try things himself. |
| Founded: | 1999 |
| Artists: | John says, "For the most part, it is music involving either myself, Chris Rosenau, or both, and also many various collaborations with others that we are involved with or interested in. These include Jarboe, Hal Rammel, and a forthcoming project with Asmus Tietchens." |
| Location: | Milwaukee, WI |
| Notes: | John continues, "There will also be a 3" series starting in the next few months called "folktales" and will feature three 3" cds in each release. These recordings will be from three individual artists and presented as personal stories and will also include accompanying fictional text. The first volume of this series will feature Hal Rammel, John Kannenberg, and Chris Rosenau. Writing plays a certain key role in some of the other releases and I will possibly be releasing non-musical publications at some point too." |
LINK OF THE WEEK
ATTENTION BUDDING FILM PRODUCERS
So you wanna jump into filmmaking but are stuck for ideas,... Why not take a stroll over to Mad Dog Production's tools for some help? Over there, you can check out the Plot-O-Matic and for those jumping into the "adult" film world, check out the Porn-O-Matic instead. Both will provide you more hours of entertainment than Viva Rock Vegas!
THE WEEKLY CHART
SOME COMMON ENGLISH FIRST NAMES UNCOMMONLY USED OUTSIDE OF ENGLAND
Alasdair
Clive
Colin
Gareth
Geoff (as opposed to Jeff)
Graham
Hamish
Nigel
Roland
Trevor
FEEDBACK
GRISTLE ON THE MIND
Subject: TG Tribute LP?

I purchased a tribute to TG a while back, titled "entertainment through pain", the same title as their best of record. It features Merzbow, skullflower, and 7000 dying rats, those are about the only bands on it who are not completely obscure to me. I was wondering if you could tell me anything about its origin, print run, or potential value. It's on a label called RRR records it's their 19th release according to the sleeve. Was it even authorized?

RRRecords is in Lowell, MA and the disc isn't out of print nor deleted, so its rarity is probably low. As for the "officiality" of the release, well, many RRR releases have had quite a debatable "officiality" so unless you call them (there's no website and the owner doesn't have email) you may never know.

Subject: TG Question
Does Genesis P-Orridge provide the slightly-speeded-up voice at the end of Cabaret Voltaire's 'Western Mantra'?
Doubtful

Subject: lyrics
Hey dude,
I was wondering if there's any way you could possibly help me get a hold of the lyrics to Hrvatski's DSP remix of Kid606's Catstep/My Kitten/Catnap.
I tried so hard to learn them by listening to the song over and over again.
I know it's silly, but the song is silly too! I hope you can help me out, thanks a ton; and even if you can't, enjoy laughing at my pitiful attempt! :)
So there's this kid, he mash it up all over the place
With the dub plate pressure all up in your face
Go tell that Kid 6 0 6 do that ruff-neck soldier thing
with the DSP, gwan have to modulate the ring

we talking Cubase V S T, with the hyperprism mods
make the kids go crazy you can see it in their nods
now mister 6 0 6, 6 0 6 with the hybrid gabber-core
no more dub plate pressure make the girls scream, 'give me some more'

so me say: gwan mister peace officer gwan take me down-town (beh)
know the dubplate pressure's now the hottest thing around
now hear this: kid starting to sweat the technique, man he look like he gwan trying way too hard at not a thing, while the selector spin down...

ganja man you gwan, put up your spliff
get the T H C pumping in your veins, then others take a whiff (selector)
so that kid, he gwan putting up a scene
man it real hard to believe that he's only nine-teen (feh!)

[something like that.]

Subject: sonic boom
hello brain,
I was informed that through brainwashed.com I could find instructions on how to build a 78rpm flicker lamp.
The url is printed on the back of Sonic Boom's collaboration with Sunray, "Music for the Dream Machine."
Has the site been modified to exclude the files h30/dreamachine?
Nope, you're reading it wrong. Hafler Trio is h3o ("o" not a zero). But I'm sure you would have figured that out in weeks without looking at brainwashed's directories from the top level.

Subject: personal favorites
Dear Brain,
I'm a big fan of the site, but I have to wonder just how you manage to keep it up when there is absolutely no advertising.
I suppose it must be a labor of love, which is fine by me because it keeps me up to date on all the "out-there" recordings currently in circulation. Keep up the good work.
Thanks for the note, sure it's a labor of love, we do accept donations, however.

Subject: BJÖRK FANS UNITE!
In Dancer in the Dark, Björk gave one of the year's most daring and moving acting performances. But historically, The Academy has turned its nose down at the musician/actor. Courtney Love in The People vs. Larry Flynt, Tupac Shakur in Juice and Madonna in Evita were all snubbed by The Academy. Their performances were either neglected or unfairly criticized. We want to make sure this doesn't happen to Björk and Dancer in the Dark!
Visit our website and sign our petition to help us let The Academy know that they have to begin taking performances by "non-actors" seriously. Especially this year when the finest performance by a leading actress was clearly Björk in Dancer in the Dark.
Shit, one lousy review of a hated movie and we end up on some Bjork shit-list by obsessive fans. Aren't there more important things to complain about in the world? My personal response to this email was simple, "fuck off, sicko."

Subject: Boyd
Thanks for putting the Boyd stuff up! I've been waiting to find that record. Is it available on CD yet? I know it was on vinyl first, but Soleilmoon seemed to be saying they'd do a CD eventually. Yet still, it appears in catalogues I receive as only on vinyl.
If you use this in your letters section, please don't call me an idiot for not doing the research. :-)
Yes it's available on CD now. We'll only refer to you as an idiot if you do something idiotic.

Subject: peel sessions
What are Peel Sessions?
John Peel is a DJ on BBC Radio One in the UK. Since the dawn of time, he has had bands come down and perform sets on the average of about 20 minutes. Some go much longer, some shorter, but many of these live in-studio recordings have been released either by the bands' labels themselves or a label affiliated with the BBC (like Strange Fruit).
WHAT'S IN YOUR CD PLAYER?
GAZEUNDHEIGHT!
Pan Sonic: Aaltopiiri (!)
Leonard Cohen: Greatest Hits
Novy Svet: Faccia a Faccia, Cuori di Petrolio
Der Blutharsch: The Pleasures Received in Pain
Wire: Chairs Missing
Coil: Constant Shallowness Leads to Evil
Add N to X: Avant Hard, Add Insult to Injury
ABBA: Waterloo
Motorhead: Greatest Hits (Vol.II)
The Residents: Meet the Residents

Joe Choo, SF Bay Area.

feedback and submissions:
Brainwashed Wheat Gluten
PO Box 7 / Arlington MA 02476 / USA

© 2001 Brainwashed, all rights reserved.
Click here for other issues