a weekly digest from the staff of brainwashed
V04I05 - 02112001
Click here for other issues
MUSIC IN BRIEF
FRANCISCO LOPEZ, "UNTITLED #104"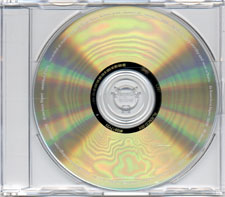 Premiered first at Sonar 2000, this release could very well be an impressionistic aural painting of a thunderstorm which gets closer and closer, unleashes its wrath and then breaks. For over two minutes it (a 43 minute-long one-tracker) is completely silent. At the 2:10 mark, a stab of a guitar riff, ten seconds later another seemingly identical one. After a succession of twelve almost equally spaced apart stabs they begin to arrive more frequently, spaced apart now only by five seconds of silence. The frequency of attacks increases before long as it's now down to two seconds. 5½ minutes into the disc the storm arrives with a barrage of guitarrorism from heavy metal riffs all played simultaneously. Layers upon layers appear to flow in but for all I know it might have been done all on a four-track. I remember doing recordings like this as a teenager on a four-track recorder, so I can safely say it is quite possible to trick the listener into believing they're hearing more than what's really there. If your ears haven't bled dry by the 32½ minute mark then congratulations! You're rewarded by silence again. The silence continues through the end of the disc, without surprise stabs thrown in to scare you. At the end I'm left with a few issues with this disc. Are we, the listener supposed to question the purpose of this CD? I am having a hard time trying to figure out what type of person would actually enjoy this and listen repeatedly over time. I'm also wondering if this was a knock-off for Lopez or did he spend years making this absolutely perfect. For me, this recording could be very handy at stop lights when some chump in the next car is blaring tacky rock-rap, tired classic rock or unbearable pop. I'm sure it could also possibly into uses like voice mail or promotional radio spots down at the station too. - Jon Whitney
sample:
CHRIS CONNELLY AND THE BELLS "BLONDE EXODUS"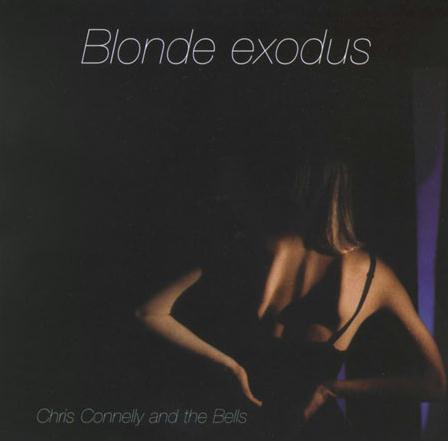 Scottish born, Chicago based singer/songwriter Chris Connelly is often compared to David Bowie, Scott Walker and the like but he has truly come into his own over the past decade. "Blonde Exodus" is the 5th album of his solo career, the second to be credited with his new band The Bells. And unlike the previous album "The Ultimate Seaside Companion", here The Bells live band (Mark Henning - guitars, mandolin, backing vocals, timpani; Henry Polk - bass guitar; Kim Ambriz - drums, percussion; and others) serve as the studio band too providing a solid live band sound throughout. Dramatic, poetic pop song craft is Connelly's forte as he takes great care in marrying his expressive lyrics, mostly relationship adventures, to lush and melodic arrangements of acoustic and electric guitars, piano, harmonica, keyboards, female backing vocals and strings. "Generique" opens the curtains of this play with a gorgeous, swirling theme and French text reading. Most of the songs to follow are mid tempo pop rock in the 3 to 5 minute range, save for the title track which comes in two near 8 minute mini epics, the former detailing the doomed journey of a model from 'Chicago to Milano'. "Diamonds Eat Diamonds", dedicated to fellow Scot singer Billy Mackenzie of the Associates, begs 'if I could will you sweet angel, back to the front, I would force my doors open, kiss you like diamonds eat diamonds'. "Blue Hooray!" is a bitter condemnation of a former lover with the repeated line 'you were always hoping that I'd immortalize you in a song'. "Magnificent Wing" and "The Long Weekend" are fantastic bits of travelogue, the former with rolling tides of timpani. "Julie Delpy" is by far the catchiest and up beat tune, infectiously so with gorgeous piano work and a declaration: 'and I want you, most sincerely, to acknowledge, right of place, when all your life appears to be a waste'. The "Closing Titles" cleverly deliver a spoken cast of those responsible, bringing the album to a curtain call close. Brilliant! Chris Connelly is simply one of the finest living songwriters today as far as I'm concerned, a woefully unsung artistic treasure, and "Blonde Exodus" is once again sure proof of that ... - Mark Weddle
samples:
BILL RIEFLIN & CHRIS CONNELLY "LARGO"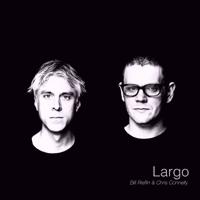 Bill Rieflin and Chris Connelly have been friends and collaborators for nearly 15 years beginning with Revolting Cocks/Ministry albums, tours and side projects. "Largo" is the 15th album they've appeared on together, a series of 'writing experiments' literally a decade in the making and finally recorded this past year. The stark b/w cover photo of the pairs' stern faced floating heads gives a good indication of the slow and quiet, minimalist aesthetic of the music. Most of the 13 tracks are centered around Connelly's voice and guitar and Rieflin's piano then further embellished with drum machine, keyboards, basses (Fred Chalenor) and strings (Caroline Lavelle and members of The Alexandria Quartet). The title track is the lengthiest at near 8 minutes and immediately sets the tone with spacious chords and lovely melodies intermittently set to metronome. "Pray'r" is more compact with an aching vocal, steady guitar strums and bass groove, flirtatious keys and a simple rhythm. "Strayed" and "Salt of Joy" update past solo Connelly album songs, the former with an additional verse and double bass, the latter with a newly penned call and response vocal. "Close Watch" and "Sea Song" are strong, reverent and fitting covers, John Cale and Robert Wyatt respectively. "Wake" is a poem in 3 brief parts: the first a cute lullaby, the second a more straightforward vocal and piano exercise and the third a barrage of rapid piano notes and melodramatic singing. "Rondo" is a wonderfully light and breezy, cinematic instrumental theme. "The Call Girls" features the most abstract poetry and an elegant swan diving cello part by Lavelle. "Prayer" serves as a solo piano bridge to "Y", a song devoid of repeating parts and with Connelly's voice reaching it's highest possible register. Altogether "Largo" is a beautiful piece of work, powerful in it's genuine emotional honesty and intensity rather than instrumentation and volume overkill. The composition is tastefully spare throughout and the mood varies from outright somber to fun. This is a crowning jewel in both mens' careers and I'm certain it will be in my top 10 of 2001 list. The duo plan on touring later this year, piano in tow ... - Mark Weddle
samples:
FREEZEPOP, "FOREVER"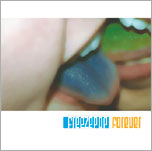 This young, well-coiffed fashion savvy Boston trio reminds me why I prefer why Pizzicato Five sings in Japanese, as it's far easier to enjoy superficial lyrics when they're in an incomprehensible language. The music is simple, full of predictable progressions, pre-programmed sounds and beats, with a flat vocal delivery derived from overdosing on Laurie Anderson, Kraftwerk and Liz Phair. Melodies aren't complex and harmony isn't in their vocabulary. Don't be fooled by catch phrases like "80s Retro" or "Electro Lounge" however as the tunes closely resemble those of many a teenager's terrible demos sitting in the trash buckets at Mute Records. "Kinder-pop" might be more appropriate, however, as I've heard of 5 year olds with a better sense of composition. To their credit, there's a lot of local support for the group, and I personally feel they have the potential to become something of note. One song on this disc jumps out, their Japanese-titled song (which appeared on the Arch Enemy 'Know Your Enemy' comp) shines head and shoulders above the rest of the tracks, with an actual effort placed on writing a multi-part song. These trust fund babies obviously have access to the equipment and recording facilities, now it's time to work on those writing skills, fellas. - Jon Whitney
samples:
HEIŠA, "SVARIŠ"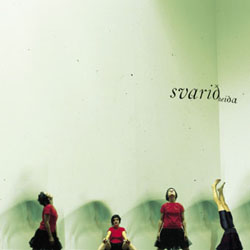 As a North American it's tough to listen to an Icelandic female singer backed with an adventurous rock band without remeniscing over the Sugarcubes. This debut solo album from former Unun singer features a wide spectrum of styles over ten captivating songs, from the rock-based opener, "Hugsjór," a pleasant tune with a dark aggressive side which rears its head from time to time to the surf-epic hit single "Loftborg," winding down to the slow "Sé Žig Alla Leiš," which could easily be interpreted as a tribute to the smooth jazz vocalists of the fifties. The disc may be filed under Heiša's name but props are in order for a backing group who have successfully pulled off the dynamic stylistic demands with a remarkable precision, skill and feel. If this girl continues on outside of her homeland with touring and the label can succesfully export, there's no doubt in my mind the dull roar of an industry buzz would be terribly far away. Unfortunately I have yet to see this for sale anywhere outside of the Bad Taste website, badtaste.dk (the people who brought you Sigur Rós). - Jon Whitney
samples:
We know that sometimes these CDs are somewhat challenging to find, which is why we have a RECOMMENDED STORES section which can be used to obtain nearly everything available on the site.
NEW RELEASES
SUNDAY
Andrea Benedetti - Electric City Phunk Vol. 4 12" (Plasmek, Italy)


MONDAY
* 2nd Gen - And/Or 12"/CDEP (Mute, UK)
Lindberg Hemmer Foundation - Brazilian Architecture CD (April, Denmark)
Matmos - California Rhinoplasty 12"/CDEP (Matador Europe, UK)
Joseph Nothing - Dummy Variations CD/LP (Planet µ, UK)


TUESDAY
* Shirley Bassey - Diamonds Are Forever: The Remix Album CD (Nettwerk, US)
Funker Vogt - T 2xCD [anthology release with new tracks and remixes] (Metropolis, US)
Mentallo & the Fixer - Return to Grimpen Ward CD (Metropolis, US)
Salvo Beta - Abrasive Stuttering (Some Odd Pilot, US)
Various - Knottel Remixed 12" [original track by Zorn, remixed by Multipara, Geiom, Artificial Duck Flavour, Arovane, Frederik Schikowski, Biochip C. and Thaddi - first 50 copies include CD-R with exclusive remix by Zorn] (Lux Nigra, Germany)


WEDNESDAY
Morgenstern - Cold CD (Ant-Zen, Germany)
Christian Morgenstern - Hawaii Blue CD/2xLP (Forte, Germany)
Styrofoam - A Short Album About Murder CD/LP (Morr Music, Germany)


THURSDAY
Machine Drum - Now You Know CD (Merck, US)


FRIDAY
Miro - Subtidal CD (Varunee, US)


SATURDAY
Bochum Welt - In Fashion CD3" (Hymen, Germany)


This is simply this week's highlights from the NEW RELEASES provided by Greg and Feedback Monitor.
For a more detailed schedule stretching into the future, please check out the site,
since release dates can and will often change.
LINK OF THE WEEK
ARNOLD MAKES SOME PRANK CALLS!
Somebody decided to sample Arnold Schwarzenegger one liners from various movies and make some prank calls. Well, somebody decided to store them somewhere but there's really no web page. So check out the sound files in this directory while you can before it's removed!
THE WEEKLY CHART
VALENTINE'S DAY MIX TAPE
A mix tape from a random brainwashed reader with songs that say "I Love You" when words just aren't enough:
Kid 606, "Juvenile Hall Roll Call"
Autechre, "Recury"
Crass, "Systematic Death"
Add N to (X), "Metal Fingers in My Body"
Whitehouse, "Worthless"
Godspeed, "Dead Flag Blues"
Panasonic, (anything from B)
Yo La Tengo, "Let's Save Tony Orlando's House"
Nurse with Wound, "Coloorta Moon"
Parliament, "Chocolate City"
Ryoji Ikeda, "1111011111"
Pisstank, "The Babysitter Touched Me"
FEEDBACK
REMIX RESARCH
Subject: labradford remixes

hello,

I think I'm not going mad when I say that a bit ago now The Wire gave away a Labradford remix by Matmos on one of their CDs, which claimed it was from a forthcoming remix album. I can't find anything on it anywhere, and I'm just wondering if you know anything about it.

Cheers

To the best of our knowledge, the project was started long ago and hoped to involve a host of people, even including Coil. Unfortunately songs were sent out and remixes came back very late if at all. The Matmos and Harold Budd remixes both popped up on Wire compilations but nothing's been announced in terms of the status of this "remix album." You're not going mad.

Subject: Subscription
Can I receive the magazine monthly?
If so, send it now. thankyou
No, it's weekly and it's here.

Subject: BRAINWASHED t-shirts
I'm a huge fan of brainwashed. Awesome shit. I read The Brain every Monday. It seems to be an integral part of my week, so keep up the good work.
I am writing to inquire about the status/availability of the brainwashed t-shirts. They're still listed under merchandise, but all the info is from last year.
So if you could please clear this up, I'd greatly appreciate it.
thanks
There are plans for a new tee shirt so if people send money it's held until the new pressing of the 2001 edition tee shirt. Colors and styles will be announced when the plans come closer to reality.

Subject: a question from poland
Hello! I am also writting to you from Poland, I love your music very much and I am waiting forward your next concerts here. When you wiil come here? But,the right question, I would like to ask you, is about your music. I know, maybe I shouldn't try to compare your music to other groups, but I try to find some connections, to undarstand some things. I found some similar sounds in Pink Floyd, have you ever inspired the music of the old pink floyd? well, anyway you are one of the best group I listen to and I greet you very very much!
Who are you talking to?

Subject: Gurdjieff???
Dear Brainwashed,
On the NYX page of the Hafler Trio website you say: "We have had.... G.I.Gurdjieff playing his harmonium..." (among many other names).
So I wonder, can I buy a cassette from you which features G.I.Gurdjieff playing his harmonium? I have been looking all over the world for this for a long time. Any suggestions you can give me would be much appreciated!
Thank you
Check out h3o/NYX/nyx_yep.html
WHAT'S IN YOUR CD PLAYER?
MODESTY IS SO OUT OF STYLE
Nobukazu Takemura - Milano and Finale
Robert Ashley - Automatic Writing
V/A - Love, Peace and Poetry-Asian Psychedelic Music
Pita - Get Out
Kinks - Something Else
Outkast - Stankoina
Tortoise - Standards+2
Thomas Lehn/Markus Schmickler - Bart
Cornelius Cardew/Scratch Orchestra - The Great Learning


Brendan Murray, Self-Proclaimed Talent-Free Button Pusher, Boston, MA.

feedback and submissions:
Brainwashed Coiffeurs
PO Box 7 / Arlington MA 02476 / USA

© 2001 Brainwashed, all rights reserved.
Click here for other issues