a weekly digest from the staff of brainwashed
V04I06 - 02182001
Click here for other issues
SITE
NEW RELEASE WEEK IS HERE
New releases hit the stores this week from various Brainwashed-friendly groups. You can find most of them reviewed below. Among them, Labradford return with their first all-new album in two years. They'll be on the road with Low for this coming week, tour dates are at the Kranky website.
BIBLEOPOLY GETS ANOTHER CHANCE
Steven Mallidner of Cabaret Voltaire's Sassi and Loco album which was recorded three years ago will finally get a public airing. Sassi and Loco's "bibleopoly" was the first Offworld release, although the rest of the tracks were recorded around the same time the album was never completed. The original 8 tracks will be supplemented with new remixes and released on-line. It's allegedly slated for a February release on Klanggalerie as a limited edition of 500 CDs. Also available is the Ku-ling Bros 7" featuring 2 tracks from Creach (limited to 100). Bastards!
MUSIC IN BRIEF
TORTOISE, "STANDARDS"

Nearly everybody reading this weekly electronic magazine has heard Tortoise by now and has already made up their mind one way or another on Tortoise's music. It's almost pointless to review the disc here as fans will most likely buy it and non-fans will most likely pass. If there was one rule to always believe in when it came to Tortoise's music is that the rules change every time. This time around the group pulled almost a complete 180° from 1998's TNT. While TNT took several months to record and loads of post-production perfectioning time, Standards was perfected live on the road (while the band opened for The Eternals as 'Woodcult') and recorded within a couple weeks. TNT was a cold-calculated exercise in recording technology while Standards is the result of a true rock band in action, bringing many influences and backgrounds to the easel and almost spitting them up on to the canvas without lengthy hesitation. The album explodes at the start with much louder than expected teeth-gnashing rock riffs, beefy drums, chunky bass and a nasty organ. Thus the concept is established - a simple rock concept of ten songs, five to each side of the record, almost the anti-concept of 'Millions' and even 'TNT' to some extent. The rest of the songs bounce around from slow to mid-tempo numbers balancing a somewhat familiar mix, as the group hasn't really changed. It's still the same people - the same paintbrushes are being used but the painting is of a rather new style. Familiar sounds include the counterpoint between low guitar and vibes, grumbling basslines, colorful percussion and a perfect amount of electronic manipulation. Perhaps this is the album which will unite fans of the old debut with the fans of TNT. Look out for the proverbial overpriced Japanese edition. This one's got 2 bonus tracks which total about 11 minutes. - Jon Whitney
samples:
TERRY RILEY "YOU'RE NOGOOD"


Terry Riley is one of the founding fathers of '60s 'minimalism' and this is the fifth release in an archive series from the Cortical Foundation. The 2 disc set presents for the first time live improvisations by Riley as 'Poppy Nogood' from an all night long concert at a Philadelphia art school in November of 1967. Disc 2 documents over an hour as Riley plays soprano saxophone through his self-made 'time-lag accumulator'. The short phrases are delayed and fedback, allowed to mingle, layer, drone, build and fade. The result is often beautiful and always relaxing. I wouldn't mind listening to this from 9 pm to dawn, as the audience did, possibly as background aura for much of that time. One of the attendees of the show was an owner of a Philadelphia disco who commissioned Riley to create a 'theme' for the club. Disc 1 is that theme, Riley using the obscure R&B song "You're No Good" as source material. The 20+ minute track begins with a few minutes of Moog synthesizer climax and then one relatively untouched run through of the original tune, which in itself is a funky and catchy dis on an ex-lover with female and male vocals. Riley then applies his tape loop manipulation techniques, first looping the title/final line and then feeding other parts of the song through delays. By the 14th minute Riley introduces some delicious line signal noise and then continues to thoroughly deconstruct the song for much of the remainder of the track, speeding it up beyond recognition by the end. The Cortical Foundation have once again done an excellent job of sound production and packaging (though I'm not quite sure how the atomic bomb explosion photos relate) to archive another worthy piece of Terry Riley's influential work ... - Mark Weddle
samples:
IBM, "THE OVAL RECORDING"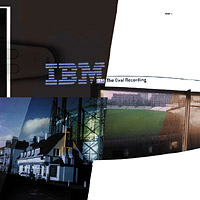 Bruce Gilbert met up with Ilpo Väisänen and Mika Vainio of Pan Sonic during the Disobey nights where they performed individually. Since then, they've both played out together live and processed analog emanations for a John Peel session. Although the title is an acronym for their three foremnames, it is also obviously a continuation of their interest in the intersection of art and law.
Bruce seems to steer Pan Sonic away from cleaner tones and into the rougher more distorted textures they tend to save for climactic moments. IBM falls somewhere between the title track of Gilbert's phenomenal 'Ab Ovo' & the onslaught of nis noise opus 'In Esse' in terms of (un)easy listening, but maintains more of a semblance of continuous rhythmic structure. It makes the excellent new Pan Sonic CD 'Aaltopiiri' seem somewhat genteel in comparison. If fellow Wire and Dome man Graham Lewis' Ocsid project sometimes summons the sound of rampaging elephants then this is a mammoth stomp to the end of the tusk jousts. They are not just fiddling about, that's for sure! This will not go down well with the pop tone zone, but is probably easier to chew than the forty minute 'Soli' from 'In Esse'. It could be useful to compare it to the live Pan Sonic / Gilbert tracks on the 'Rude Mechanic' CD (Piano) - good as those tracks were, IBM is more focused and effective.
The 7" has two faster beatier tracks whilst the LP has three extended noise workouts which are really too dense to be described as drones. Parts sound like Pan sonic munched by grunge pedals. That Gilbert electric saw sound which seems like the death cry of CD's mangled by endless layers of distortion is alive and kicking and kicking and kicking. Who needs titles anyway?
The collaboration was recorded in 1998 at Vainio's London flat overlooking the Oval cricket ground. (Presumably the thwack of rubber on wood was heard between takes, but you'd never guess.) Perhaps due to Pan Sonic's opinion that "Too much digital processing 'eats' the sound" this release appears only as a pair of lavishly packaged 12" and 7" vinyl records on the ever eccentric and essential Mego label. Words of warning - if you get it by post be careful which way you open the sleeve (it has a kind of reversible gatefold design) as the 7" might fall out on the floor like mine did! No audible damage done - its so noisy you'd probably never notice anyway! - Graeme Rowland
samples:
BURNT FRIEDMAN "PLAYS LOVE SONGS"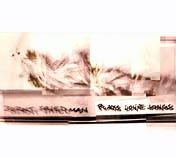 After three years of label delays and metamorphosis this album finally sees the light of day on Bernd Friedmann's own Nonplace imprint. "Plays Love Songs" fits comfortably among other recent releases "Con Ritmo", "Just Landed" and Flanger (BF w/Atom Heart) "Midnight Sound". Friedman weaves together performance and numerous samples into latino/jazz tinged electro grooves full of space and warmth. The major difference here is the central themes of love and sex, from the innocence of an eager adolescent to the blatant vulgarity of sex workers, as bits of spoken text and samples pepper the album with 'love' stories. The title of "Fucking Long Time" duly expresses Friedman's frustration with the album's delay. In "It Hurts !" a young man speaks of his beloved job and reluctant girlfriend over gentle rhythms and dramatic chords. "I've Got My Love to Keep Me Warm" rides a handclap and mild dub synth wave into bliss. "I Go With You" is bright and truly swings with some nice female and vocoded Friedman vocals. In "Tongs of Love" a man tells the poetic tale of his unwarranted advances upon a stranger on a boat, accentuated by slow and subtle guitar and the sounds of the sea. Borrowed Lennie Tristano piano passages and a field recording of a building being destroyed comprise much of "Conjoined". "Sex Working Class" is out and out raunchy and funky with sex toy talk, an explosive rhythm and cut-up human-isms. Altogether "Plays Love Songs" goes by rather quickly (about 40 minutes total) and is a bit disjointed, probably due to the changes it underwent for so many years. But, it's also very intriguing nonetheless. I think I prefer "Con Ritmo" though for some reason I've been spinning this one more instead ... - Mark Weddle
samples:
THE NEW YEAR, "NEWNESS ENDS"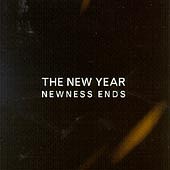 After much anticipation, the first release from the group formed from the ashes of Bedhead has finally materialized. While it quite clearly sounds like the Kadane brothers playing together, this indeed is a new group that almost follows a sort of progression built from the last full-length Bedhead album, 1998's 'Transaction De Novo'. The songwriting core of the Kadane brothers have become more experimental in both time and key signature, whilst surprisingly at the same time being more direct. Unlike the frequent Bedhead appearance of lengthy intros, the New Year takes little to no time getting right to the point, resulting in an album of ten solid songs totalling under 35 minutes. This is a great example on how important the mixture of musicians can change a sound despite the writing core remaining the same. Included in the group is former Come, Codeine and cuurent Pullman guitarist Chris Brokaw on the drums, who does a remarkably impressive job keeping up with weird time signatures and subtle changes which take place on the entire record. It starts off with a kick and ends with a bang as well, the quiet moments are kept in the middle — almost the exact opposite of Transaction. I must admit that at first listen I was rather caught off-guard as it wasn't that next Bedhead record I had been so longing for, but it changed for me. What began as catchy tunes became songs stuck in my head all day long, shortly after that I found myself singing along. Can't wait to finally see the show. - Jon Whitney
samples:
LABRADFORD, "FIXED::CONTEXT"

Similar to the Tortoise and New Year albums, the newest Labradford audio document also heads down the path of re-examining older concepts through current methodology. (And like the New Year, this was also recorded with assistance from Steve Albini in July of 2000 in Chicago.) The trio return to a certain purity of earlier albums with the absence of additional players which colored the last few. 'Fixed::Content' could be the most personal recording a group like Labradford can get while remaining completely instrumental. The album is an excercise in patience, symmetry and impressionistically represents the group as the trio they are. Side one is completely filled by "Twenty," which reintroduces the interstate trio with a warm sub-bass frequency pulse combined with two guitarists paying careful attention to each other. It's the establishment of foundation and order, of which the rest of the album is to follow. Bobby Donne has put down the bass this time out and has become the strong force of the left channel as guitarist throughout the entire CD. Mark Nelson's guitar work predominates the right channel while Carter's organic cushion and foundation spans both. Taking its time, "Twenty" appropriately passes into different phases, starting with a long play of guitars and drones, then adding slow, glitchy electronic beats and graceful lead notes emerging from the organic keyboards, finishing with a static-esque hum through fade out. Side two follows a similar formula of both guitarists playing complimentary melodies on each side while breathy electronics take the foundation. Side two is also notably broken up into three songs of relatively equal length, which can also be interpreted as representational of the trio. - Jon Whitney
samples:
PAPA M, "SINGS"


David Pajo is quite arguably the indie scene's most versatile musician and artist. His guitar work has been integral parts of Slint and Tortoise while guest appearance and accessory roles have been filled for Matmos, Stereolab, Royal Trux and Will Oldham's Palace. Those close to him can also attest to his brilliance as a visual artist as well, but we will just have to take their words for now. 'Papa M Sings' is quite an unexpected trip, but not completely foreign given his geographic location on the planet. David Pajo exercises his vocal chords for every song on this 20-minute six-tracker. For the first time I think I can actually hear the Kentuckian guy behind his music, as the style is heavily soaked in a midwestern country influence. Absent are the looping melodies, electronic processing, lengthy delays and electronic percussion. It's all been replaced by Dave's acoustic guitar, slide guitar, bass, drums and banjo. Vocally, he's got a heartfelt delivery of somewhat comical lyrics, dropping references to his record label and Bob Dylan in "Pissing in the Wind," and longing for his home, (probably written on one of his many trips through the UK) in "London Homesick Blues." The disc is amusing and should appeal to most Will Oldham and Molasses fans, but I doubt many Europeans would quite fully 'get it' having not grown up over here. - Jon Whitney
samples:
"LUME LUME"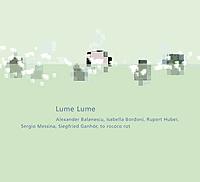 Romanian-born, Julliard-trained composer and violinist Alexander Balanescu assembled an 8 member group to create a 57 hour live soundtrack, with additional live performances, for the Austrian Ars Electronica festival this past September. The event took place for 15 hours a day at the Klangpark, a large public listening space created by 4 loud speaker towers near the Danube in downtown Linz. Each of the 4 days focused on a different song by popular Romanian singer Maria Tanase as inspiration, "Lume Lume" being one of those. The invited musicians: Isabella Bordoni, Rupert Huber, Sergio Messina, Siegfried Ganhör and members of to rococo rot are a diverse group of mostly electronic artists from different musical backgrounds, styles, production methods and generations. The 17 pieces edited for the disc by Balanescu range from 2 to 10 minutes (72 total) and seamlessly flow into one another, most titles referring to the status of the weather (too much rain apparently) and different times of different days. Electronics dominate with fluid environments, deep bass and simple beats (and somewhat surprisingly there's not a glitch to be found) and are further broadened by Bordoni's spoken voice and Balancescu's violin on a handful of tracks. And it's these in particular that are the highlights, where the violin meshes beautifully and effortlessly with the others. I've never been to Austria or experienced such a sound event firsthand but "Lume Lume" does clearly evoke for me the chemistry of the musicians and the place. Much like Brian Eno's "Ambient 4: On Land", this disc puts me right there where the music was conceived. This must have been truly remarkable for those who actually were there ... - Mark Weddle
samples:
PAN SONIC, "LIVE 1995"


Here's another seemingly pointless review as the Pan Sonic fans will have already ordered this so as not to have missed out on the limited run while the others would have passed. This overpriced underpackaged item is the first release on Mute's little secretive sub-label Jenny Drivers. It features two concerts from New York in 1995 by what was then called Panasonic. The sounds here are remeniscent of their current (at the time) 'Vakio' LP combined with some non-beat noodlings similar to solo efforts form both members. Oddly enough, the music also drops heavy hints of what was to come for the beefy beats used on 1999's 'B' 12" EP. There's no division of tracks within each show's recording - the disc is two tracks and over 76 minutes long. Is it worth it? Consider it's 20 bucks for a slab of cheap plastic that barely holds the CD in place, another 'conceptual' idea - perhaps to put these all into a nice binder when done... I, of course, feel like a class A sucker for buying it but it is fun to listen to and to its credit is much more linear and connected than any LP they've released as Panasonic. - Jon Whitney
samples:
2ND GEN, "IRONY IS"


The irony is that Panacea has already done releases as Disorder 2nd Gen! Just kidding really, but this disc isn't that far off. The electronic unlubricated sandpaper screams through the speakers as if something Panacea would have been attempting in the older days with much different gear. Behind the knobs of 2nd Gen lies a young British-residing Indian chap, Wajid Yaseen, whose former projects included Fun-da-mental. On this disc, his debut as 2nd Gen are appearances by Techno Animal and rapper Dälek as well as some Mark E. Smith-like spoken word of his own (I'm guessing), but I would much rather prefer the music with a different lead instrument than the voice. Sure, he does seem a little angry and he's got a lot to say, but that's where sleeve notes and liner notes come in quite handy! Seriously I love the music on this disc and intend to carry it with me in those cases where I need to let some aggression out. - Jon Whitney
samples:
MOUNT FLORIDA, "ARRIVED PHOENIX"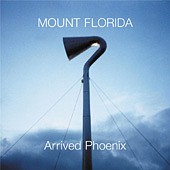 So I've been staring at this disc for months despite its release being in late January. This Glaswegian duo has released three EPs over the past year, none of which I have mentioned, but I feel the urge to write about this, their debut full-lengther. I'm really enjoying their tackling of various genres and styles of instrumental rock and electronics, their style jumps around from spacey techno dub bits through abrasive rock chords, but it seems rather unfocused, bipolar and somewhat lacking. The group seems to rely on their production almost entirely as they're clearly 'building songs' (as opposed to 'creating artwork' or 'making a statement' or 'sending a message') which need more compelling hooks. They've got a clean sound and execute with a certain degree of professionalism, however it doesn't really have the bite of other genre-crossing instrumentalists like Tortoise nor the emotion of groups like Fridge or Mogwai. Not that the music sounds like any of those, but for an instrumental record within a generally accepted definition of electronic/rock, it comes up rather bland. Worth mentioning is the fact that I have found good uses for this on the radio and with guests over at the house. Songs like the guitar-punchy "Postal" and the tripped out blissful "Space, echoes" have drummed up some interest from curious listeners but I simply don't get what's so special about it. While this is nothing I would personally recommend dropping everything for and running out to get, Matador does have a track record of releasing music which similarly does not speak loud to me yet reaches many others in its path. Boards of Canada, Console and Wisdom of Harry immediately come to mind — while I generally think of these as fair, average, and vanilla-esque, they seem to have gained a lot of interest with others. Anyhow it's up to you, there should be some sound samples here soon! I really need to sleep now. - Jon Whitney
samples:
We know that sometimes these CDs are somewhat challenging to find, which is why we have a RECOMMENDED STORES section which can be used to obtain nearly everything available on the site.
NEW RELEASES
SUNDAY
Andrea Benedetti - Electric City Phunk Vol. 4 12" (Plasmek, Italy)


MONDAY
* Download - Effector CD (Nettwerk, UK)
Labradford - fixed::context CD/LP (Kranky, US - Blast First/Mute, UK)
Joseph Nothing - Dummy Variations CD/LP (Planet µ, UK)
o9 - No Delay for Days 7" (Planet µ, UK)
* Sigur Rós - Svefn-G-Englar 12"/CDEP [reissue] (Fat Cat, UK)
Skanfrom/Brioche Kretzaal - split 7" (Awkward Silence, UK)
* Tear Garden - Crystal Mass CD (Nettwerk, UK)
Tortoise - Standards CD/LP (Warp, UK)
Wagon Christ - Receiver/Bend Over 12" (Ninja Tune, UK/Canada/US)


TUESDAY
2nd Gen - Irony Is CD/LP (Mute, US)
Bossacucanova & Roberto Menescal - Brasilidade CD (Six Degrees, US)
The Bullet Proof Space Travelers - Built To Last CD/LP (Stray, US)
D.M.T. - Electric Avenue LP (Stray, US)
Foreign Terrain - Internal Dissident Vol. 1 CD (Soleilmoon, US)
* Kinder Atom - MMM! 2xCD [reissue of original album with extra disc of remixes] (Cleopatra, US)
* Martijn de Kleer [member of Legendary Pink Dots] - Flow CD [reissue of indie CD-R] (Soleilmoon, US)
Mouse on Mars - Actionist Respoke CDEP (Thrill Jockey, US)
Muslimgauze - t.b.a. CDs [two seperate releases] (Soleilmoon, US)
The New Year [ex-Bedhead] - Newness Ends CD/LP (Touch & Go, US)
Nortec Collective - Tijuana Sessions Vol. 1 CD (Palm Pictures, US)
Vidna Obmana - Subterranean Collective 2xCD (Projekt, US)
P'taah - Decompressed CD/LP [remix album] (Ubiquity, US)
Tortoise - Standards CD/LP (Thrill Jockey, US)
Various - Center of the Earth (soundtrack) CD [with Bebel Gilberto, Laika, DJ Cam, dj Cheb i Sabbah and more] (Six Degrees, US)
Moreno Veloso + 2 - Music Typewriter CD (Hannibal/Palm Pictures, US)
Voicecrack - Knack On CD (Atavistic, US)


WEDNESDAY
The Boredoms/DJ Krush - Rebore Vol. 3 CD [tracks selected and mixed by Krush] (Warner, Japan)
Nobukazu Takemura - Sign CD [with two bonus tracks] (Tokuma, Japan)
The Orb - Cydonia CD [with exclusive bonus track] (Universal, Japan)
Veruschka - The Secret 10" [ltd. to 454 copies] (Ant-Zen, Germany)


THURSDAY
Baracuda - Smell That Noise CD (Hybrid Structure, Canada)
Cenik - Secret 12" (Isophlux, US)
Iyunx Productions - How To Make A Explosive CD (Isophlux, US)
* Lexaunculpt - Oh Here's Some Noises 12" [repress on clear vinyl] (Isophlux, US)
L'Usine - Surface 12" (Isophlux, US)
Mad Max Product - Squeeky Wheel CD (Hybrid Structure, Canada)
Oper8tor - Press 0 CD (Hybrid Structure, Canada)
Pheek - Pheekology 101 CD (Hybrid Structure, Canada)


FRIDAY
Somatic Responses - Augmented Lines CD/LP (Hymen, Germany)


This is simply this week's highlights from the NEW RELEASES provided by Greg and Feedback Monitor.
For a more detailed schedule stretching into the future, please check out the site,
since release dates can and will often change.
CONCERT REPORT
LOW / PEDRO THE LION
Things have changed in Low's world in the past couple years, past couple months and even the past couple weeks. The Valentine's Day show at the Somerville Theater in the Boston area was a perfect example of the changing times. In a word, it was odd for me to witness. The venue is large, with a balcony, bright lights and a big stage - somewhat uncommon, yet not unheard of in the group's history. Opening this night was Pedro the Lion, who seem to have a lot of cute 17 yr old belly-ring and backpack wearing fans. Rightfully so, as the singer is sensitive yet buff, the music's slow yet distorted and the group hails from Seattle. The three piece band were charming and the music isn't something I would say I dislike, but it was easy to spot their fans versus Low's fans (as Pedro's fans cleared out shortly after Low started, leaving gaps all over the seated venue). Low's latest album was released earlier this month, with reviews in multiple places, even GQ! The Gap ad which aired over the Christmas time also set the stage for an industry buzz surrounding this three piece group from Duluth, MN. Subsequently, the crowds throughout this tour have been drawing large numbers of people due to what Alan Sparhawk thinks is the "curiosity factor." People hear the buzz, hear a song, show up but then get preoccupied with thoughts of being awake tomorrow morning for work or school and head out. Watching from a place close to the back I was rather annoyed at the loud swinging door which slammed shut every time somebody left. So Low begin and play some new material, but the band's positioned on a high stage and probably can't see the audience well with the bright lights. Their set and playing takes on new dimensions I'm not terribly familiar with - aggressiveness and possibly uneasiness. While I'm becoming more fond of Low's evolving writing skills, the current attention is something new and rather odd. It will be interesting to watch how this changes over time. - Jon Whitney
LABRADFORD / PAN AMERICAN / HRVATSKI / MARUMARI
Metro Boston residents were fortunate to be treated to two area performances including the first from Pan American and the latest incarnation of Hrvatski. On Thursday night at Brandeis University's Rose Gallery Museum, Keith Fullerton Whitman (known to the world as Hrvatski) began the three-act show, sitting behind his laptop, guitar in hand, creating a film score-like experience. His set progressed between various movements, building sound upon sound, introducing various well-constructed musical themes, rhythm saturation and absense. It's a new area for this composer as he in his own words is "leaving the aggression behind." Rhode Island's Marumari was second on the bill at the museum (but not at the club the next night) and played a very punchy, fun yet very white set. At this point all the raver-esque hippie looking girls got up and danced, lending more evidence to the theory that chicks dig bass. Of course by the time Pan American started it was back to being an art museum performance, the dancers sat back down, many of them drifted off into unconsciousness as the ultra-low bass frequencies and pulses were perhaps a bit outside of their realm of interest. The Pan American experience resembled the music of his singles more closely than the album releases as the tempo was up but the pitch was somewhat low and there were no 'lead' instruments as guests have provided on the albums. He went on for a good 45 minutes but ended rather abruptly at the art gallery, the following night's set was similar but the beats were knit tighter and he had a much more smoother landing. Worth mentioning too was that during the rock club performance on the second night, Hrvatski wasn't cursed with a power outage and his set too also ran much more smoothly. Around 12 midnight the low rumble from the keyboards and sound effects began, chatty club guests probably didn't stop to notice there was a band starting. The chatter went on pretty much through the first song but little by little people became captivated by what was happening on stage. Tonight was Labradford's night as their music has evolved into a symmetric unit with two guitarists on either side (see review above). While the music is great to hear at home on a stereo, it's something special to see these guys peform the act live, filling every inch of the club's thick air with a beautiful sound. Before long the crowd chatter dulled into almost complete silence until local sound experimentalist Brendan Murray knocked a table over. Thankfully it didn't interrupt anything, the band smiled, the music blissfully continued. They'll be on the road with Low this coming week. Jon Whitney
LINK OF THE WEEK
JESUS VS. D&D
I never thought Dungeons and Dragons could ruin my life and career. Thankfully I have Jesus now. You can be saved too if you read this cartoon. Okay, so it's lame, so what? Think we'll have a great link every week now? Come on!
HOW ABOUT THIS ONE?
I sincerely hope for the sake of all humanity that this website, www.rubberburner.com is a joke.
WHAT ABOUT THOSE DAMNED RAVERS?
You'll go blind if you stare too long at this raver's website. Looks like the guest book has already filled up with its share of nastiness.
THE WEEKLY CHART
ANNOING E-TRAITS
Some mildly annoying yet entirely meaningless prefixes (used as titles however in the real world) found before peoples names in signature files on newsgroups and email lists:
Rev.
Dr.
DJ
MC
Capt.
St.
Lady
Princess
FEEDBACK
THE SEARCH BEGINS
Subject: !!!

Any hints on how to search for "!!!" in either file sharing programs or on the web?

no no no

Subject: Sputnik 7
This is just to let you know that I've ordered Eccentric objects through Sputnik 7 and the record did not arrive. They just did not care about it.
These guys stoled my money.
It's a shame that you promote on a official MBM's site Companies like this.
I just received the 12" in the mail this week, my order was processed November 15th however. If we had known the lameness of Sputnik 7 before putting it on the website, we would have warned people.

Subject: CD creation
Hi. William in London here. - big NWW fan. also in band. I was wondering if anyone out there knows a good/recomended place in or near London to get CD's pressed in limited runs of 500 or 1000. thanks a lot.
Well, the only place I know where Brits get CDs done is in the Czech Republic. V/Vm swears by somebody over there, but you'll have to get the info from them.

Subject: Gloria
Hi,
It seems that you're the only reliable source for the Tortoise bio/discography. I've got one question, hope you don't mind. I've found supposedly Tortoise's song called "Gloria" on Napster. I'm not sure if this is really Tortoise's song although it sounds like them. It sounds like "Tortoise meet Air" 'cause there's vocoder vocal and it's like outtake from "TNT". Do you know something about it?
It's not Tortoise

Subject: some thoughts to share about LPD
Greetings,
I've had a wonderful time looking at your web site, and my deepest sympathy for your dear friend Mike.

I have been a fan of LPD for a number of years now (as well as Skinny Puppy...and the Tear Garden). I have had the opportunity to see LPD live, and it was a night I'll never forget, listening to their haunting melodies and stories, even thinking about it chills me to the bone! Since high school, I've tossed around the idea of making illustrations for my favorite story by Legendary Pink Dots, "Princess Coldheart," from "The Crushed Velvet Apocalypse." (almost like a children's book for adults) Your web site was helpful for me in checking my lyric translation with the translation you have listed. Thank you! If and when I get to creating some illustrations for this song, I hope to be back in touch!

You are welcome to write me as well, or if you have any suggestions for my picures! :)

Thanks again
I think you're not alone, there's been a book project in the works for a while (details should be somewhere on the website), plus I seem to recall seeing other artwork somewhere for "Princess Coldheart." Have you thought about perhaps doing a whole Lisa series? Lisa's Party, Lisa's Wedding, Lisa's Christening, Lisa's Funeral, etc,...
WHAT'S IN YOUR CD PLAYER?
A BRIS FROM BRISSY
diamanda galas - malediction & prayer ( also : diamanda galas live @ sydney opera house last week )
boards of canada - in a beautiful place out in the country
touch 00 - touch various
julie london - nice girls don't stay for breakfast
blacworld (richard h kirk) - subduing demons in south yorkshire
french paddleboat - conversions in metric
laurie anderson - talk normal (2 cd)



jeff ward, brisbane, australia, who's shift key seems to be completely non-functional.

feedback and submissions:
Brainwashed Lobbyists
PO Box 7 / Arlington MA 02476 / USA

© 2001 Brainwashed, all rights reserved.
Click here for other issues