a weekly digest from the staff of brainwashed
V04I07 - 02252001
Click here for other issues
SITE
¡HELLO FRIENDS!
Jack Dangers (Meat Beat Manifesto) plays the records of Tino Corp on a brand new CD titled "Hello Friends." Included are tracks by Tino, DHS, Meat Beat Manifesto, Loop Finder General, and Bo Square. Two previously unreleased tracks also make the release: "Shave My Head" by Loop Finder General and "La Tino Beat" from Tino. It's also enhanced with a special music video, "Tino's Factory," directed by Ben Stokes. The disc is out now on Shadow/Instinct Records as part of their Shadow Mix series and was released Feb 13th.
PASSING THE PINK BATON
The staff is shifting for the Legendary Pink Dots web page. Greg Clow is stepping down from maintaining the new release news and discography he started years ago while Alan Ezust is stepping down from maintaining Cloud-Zero archives. Jon Whitney will still assist in any design and architecture issues but the tasks of maintenance will become sole responsibility of Lars Tängmark of Sweden.
GERMAN RE-ENGINEERING
Panacea plans to release a remix album of "German Engineering" soon on Position-Chrome. Remixes include contributions by Cativo and Panacea. Other upcoming releases for Mathis include a new Squaremeter and a 12" split with DJ Scud as Rich Kid.
CABARET VOLTAIRE REMIXES
Also on the remix horizon is a CD compilation from EMI featuring Cabaret Voltaire remixes from the period between Code and Groovy, Laid Back and Nasty. It includes the entire bonus record originally released with initial vinyl copies of Groovy, Laid Back and Nasty along with some other previously-released remixes.
CURRENT 93 SELLS OUT
The upcoming Current 93 show in London featuring Antony and the Johnsons and Pantaleimon at the Bloomsbury Theatre has sold out! There still might be tickets left for Friday's show, April 6th, but only the Bloomsbury box office will have them if at all. World Serpent has sold out for both nights.
CHALK AND HEEMANN COME TO CHICAGO
Andrew Chalk and ,a href="/heemann">Christoph Heemann bring their Mirror performance to Chicago. The concert will take place over two nights, Friday March 30 & Saturday March 31. The venue, 6ODUM is located at 2116 W. Chicago Ave. Showtimes are scheduled for 10pm.
OFFSITE NEWS
rec.music.experimental
A formal proposal for the creation of Usenet newsgroup rec.music.experimental is currently underway. If you're interested in reading or posting to this group, you may wish to vote. You can find the ballot and group charter on news.announce.newgroups under message subject "CFV:rec.music.experimental" or by clicking here. If the link doesn't work, go to www.deja.com (which is now Google Groups) and search for "group:news.announce.newgroups". Then look for the "CFV:rec.music.experimental" subject, which should be 4 or 5 messages down on the page.
Please do not distribute the ballot to anyone, as it is grounds for vote fraud! If you want to inform or remind someone about the vote, please just send them a pointer such as the link.
Votes must be received by 23:59:59 UTC, 6 Mar 2001.
IN MEMORIAM
JOHN FAHEY DEAD AT 61
I was mainly drawn to the album by its title, Womblife. At that point I'd not yet crossed over from his early acoustic works to his later, more outwardly avant, records. This was in the early stages of my wife's pregnancy, around the time when I'd first heard the sound of the placenta through a crazy old fashioned ear-horn.
We listened to it the night of his show at the Empty Bottle. Neither of us had yet seen him live. Actually sharing a room with this genius, hearing that open ring, the melodies and non-melodies and bass vibration of the acoustic, the resonating and lingering electric tones.this was to be a pretty major event. As it turns out though, the show was nerve-wrackingly close to my wife's due date so we stayed home in front of the stereo. With my ear to her stomach I had a hard time distinguishing the guitar drone from the placenta. They seemed to embody the same tonal and emotional space.
Womblife grounds me to that time in a way that no other record was able to do during those nine months. When it's played today and my daughter glances over at the speakers I can only wonder what she thinks of this new unmuffled version with no heartbeat or placenta drone, but I'm certain she knows it. And a place of beauty opens between her birth and his death. - Charles Wyatt [of Charles Atlas and Dart]
[Legendary blues guitarist and record label owner, John Fahey died on Thursday following sextuple-bypass surgery.]
MUSIC IN BRIEF
COH, "IRON"


"Iron" is the third full length from COH, aka Ivan Pavlov, follow-up proper to 1998's "Enter Tinnitus" and the second release from his own Wavetrap Records. It comes in a thin foldup with cover art created by hot iron pressed to media, the 'wavetrap' logo inside beneath the disc curiously misspelled 'wavecrap'. Past COH albums have been presented as 'pop' and 'disco' while this one is literally dedicated to 'heavy metal fans all over the world'. How serious are we to take this? Some track titles are obvious tongue in cheek takes on various 'classic' metal tunes: "Love Mites" ("Love Bites" by Judas Priest), "For Whom the Dell Falls" ("For Whom the Bell Tolls" by Metallica) and "Rubbing Free" ("Running Free" by Iron Maiden). Others seem to reference other things: "Annum Per Annum [Pärt 2]" pays homage, at least in title, to the organ work of Estonian composer Arvo Pärt while "Now! [4'19" into 2000]" serves as sequel/reaction to the raster-noton "20' to 2000" series which COH took part in. Obviously Pavlov's wry sense of humor and irony (pun intended) are, as always, at play here too. Regardless, I do think that much of this is indeed influenced by metal music. The 8 tracks are within the 4 to 7 minute range and are undoubtedly songs with refined structures. Layers of computer derived clean/distorted tones, drones, static, squiggles, pops and plunks replace guitars and double bass drums with buzz saw vibrations and rhythmic pulsations. It certainly sounds and feels more like COH than Slayer ... quiet and playful in some places and quite ominous and 'heavy' in others. The joke may be on me, but either way I love it. Pavlov is currently expanding "Netmörk" from the "emre [dark matter]" compilation into a full length album to be released by souRce research recordings later this year ... - Mark Weddle
samples:
ESG, "SOUTH BRONX STORY"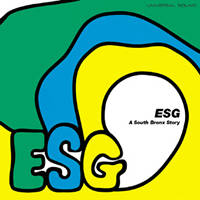 Between the end of the 1970s and the beginning of the 1980s, the 'No Wave' movement surfaced, combining art-funk, punk and dance music into a mix which was not a commercial breakthrough, but was revered by many in the music community to be of great influence. One of the acts, ESG was comprised of four sisters from South Bronx, NY, and through many shows including gigs with The Clash, Public Image and Grandmaster Flash the group gained some attention across the water. Soon the group had a single produced by Martin Hannett, released on Factory Records, a gig at the opening night for legendary Manchester club, The Hacienda and more gigs with groups like A Certain Ratio and Gang of Four. Songs like "Moody" went on to become popular favorites in various night clubs while the b-side, a very 'Unknown Pleasures' Joy Division-sounding "UFO" went on to be sampled by rap acts including Public Enemy, Big Daddy Kane, LL Cool J and Doug E. Fresh. After a few singles and years of playing out a full-length album was released in 1983, but the interest waned, hip-hop was in and nobody was paying for the samples. The group still plays around occasionally and even released a track in 1993, "Sample Credits Don't Pay Our Bills." This collection, from a division of Soul Jazz Records (UK) reintroduces to the public songs from their album and singles along with some other early tracks. Listening to the music, their influence on early Beastie Boys, Luscious Jackson and early Salt -N- Pepa can clearly be heard. While it's arguably primitive in parts, the soul and energy is present throughout the entire disc, songs like "Erase You" are feverishly catchy while the Spaced-Out album version of "Moody" are hypnotizing. - Jon Whitney
samples:
JAN JALINEK "LOOP-FINDING-JAZZ-RECORDS"


German Jan Jelinek has recorded since 1998, also as Farben and Gramm, and this is his debut album for Stefan Betke's (aka Pole) ~scape label. According to the press release Jelinek feeds '60s and '70s jazz records into his sampler to glean single seconds for source material. These micro loops are then cut and pasted into a sonic collage with aid of the sampler's modulation wheel. The result is not so much jazz but something similar to Chain Reaction styled wash techno and, not surprisingly, the minimized glitch dub of Pole. In fact, if it weren't for the press release, I would not have known that jazz was involved in this at all. Jelinek's ear for melody and depth is verily apparent in that he shapes the appropriated warm and fuzzy digital bits into eight pleasant 5 to 8 minute head nodders. "Moiré (Piano & Organ)" and "Moiré (Strings) create the shimmering pattern for which they're named through, apparently, piano, organ and string notes. "Rock in the Video Age" and "Tendency" are the most dance oriented tracks. That's about all I can say. Nice stuff. Oh yes, the digipack is a lovely shade of peach ... - Mark Weddle
samples:
LADYTRON, "604"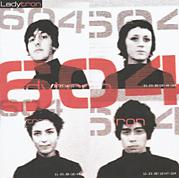 While browsing the website of a local record store, I happened to come across a soundfile clip of Ladytron's song "Discotraxx." This 90 second fragment was so impressive that I didn't hesitate to run out and pick up the Liverpool quartet's debut full-length, '604'. Slick, sexy, and well-produced tracks chock-full of synths and drum machines dominate the album, replete with absurdly contagious hooks. '604' opens with the erotic dissonance of sleazy instrumental "Mu-tron" and subsequently provides club anthems for the ebony-haired, black-clad sombre youths straight out of the Saturday Night Live skit "Sprockets." The vocals lend a dark side to the unadulterated electronic bliss: the icy, detatched lyrics, Ladytron's tongue-in-cheek salute to 80s materialism, are sung by the two female members of the group; one with a sugary-sweet voice which serves as an excellent contrast to the lyrics, and the other with a heavy Bulgarian accent contributing to the album's pervasive mock-Eurotrash aesthetic. '604' runs the gamut from Morodor-esque disco in tracks such as the brilliant "Playgirl" to the stripped-down pop sensibilities of Kraftwerk (Ladytron's "He Took Her To a Movie" bears a suspicious resemblance to "The Model"), yet manages add more unusual elements like bongos and a squeaky violin sporadically on various tracks. Despite all its marvelous melodies and decadent basslines, the one small disappointment of '604' is its anti-climactic finish: the two weakest and least interesting tracks on the album are the ones to close it out. Nevertheless, after it's all said and done, Ladytron does not fail to deliver a quite delicious release that hasn't left my CD player since I bought it. - Jessica Tibbits
samples:
THE STICK MEN "INSATIABLE"


I admit that up until a few weeks ago I'd never heard of The Stick Men, an early '80s Philadelphia 5 piece that specialized in the same sort of no/new wave/punk/funk as NYC's infamous James Chance and the Contortions. The Cuneiform Records press blurb promised an even more energetic version so I had to hear it. They're right. The Stick Men kicked out the jams like James Brown on PCP. "Insatiable" collects the band's entire recorded output, 2 LPs from 1982-83, plus some live tracks and 22 minutes worth of live Quicktime video. Of the 22 songs, most are firecrackers less than 2 minutes apiece, though "Funky Hayride" and "Do Get Down" approach the 5 minute mark. The opening track "Legend of the Stick Men" probably best declares their mission: "we had a vision of dots and spots and synthesizer people modulating in knots, so here we am trying to do what we can, express yourself, we're Stick Men!" With 2 guys and a gal on vocals plus guitar, bass, drums, organ/synth and trumpet, the rhythm is solid and tight but thoroughly convulsive with many well timed riffs and breaks. The live tracks and video make it even more evident the amount of energy being exorcised by this silly lot. It all looks and sounds like a lot of fun. This is music for when you really, really need to be very, very awake ... - Mark Weddle
samples:
We know that sometimes these CDs are somewhat challenging to find, which is why we have a RECOMMENDED STORES section which can be used to obtain nearly everything available on the site.
NEW RELEASES
MONDAY
M.C. Paul Barman - Cock Mobster 12" (Matador Europe, UK)
Coil - Moon's Milk (in Four Phases) 2xCD [compilation of tracks from the deleted solstice/equinox releases released throughout 1999, plus new material] (Eskaton/World Serpent, UK)
Coil - Musick to Play in the Dark Volume 2: Special Edition 2xLP [signed and numbered limited edition on coloured vinyl in special packaging with orignal artworks included] (Eskaton/World Serpent, UK)
Current 93 - The Great In The Small CD/LP [mysteriously described as "the complete studio recordings of Current 93, and those of David Tibet and Steven Stapleton, on one CD"] (Durtro/World Serpent, UK)
dZihan & Kamien - Re-Freaked CD/3xLP [remix album with mixes by Herbert, Fauna Flash, Hefner, Mum and more] (Couch, Belgium)
Goldfrapp - Human 12"/CDEP (Mute, UK)
Ladytron - The Way That I Found You CDEP (Invicta Hi-Fi, UK)
* Nurse With Wound - Automating Volume 1 CD/LP [re-release with bonus track] (World Serpent, UK)
The Orb - Cydonia CD/2xLP (Island/Universal, UK)
Project Pitchfork - Daimonion CD (Candyland, Germany)
South - From Here On In CD (Mo'Wax, UK)
Max Tundra - QY20 Songs 7"/CDEP (Domino, UK)
Third Eye Foundation - I Poo Poo on Your Juju CD/LP [remix album] (Domino, UK)
Various - Snow Robots Volume 1 CD [compilation of several out of print vinyl releases from 1997 plus new mixes and exclusive tracks] (Suction, Canada)
Various - Snow Robots Volume 2 CD [compilation of several out of print vinyl releases from 1999 plus new mixes and exclusive tracks] (Suction, Canada)
Various - Snow Robots Remixed 12" [tracks by Solvent, Lowfish, D'Arcangelo and Tinfoil Teakettle remixed by Adult, Skanfrom, MAT-101, Isan, Perspects and Lali Puna] (Suction, Canada)


TUESDAY
Biowire - Disparation (Kindercore, US)
Hanna - Scarlet Manifesto CD (Shadow, US)
Ikon - On the Edge of Forever CD (Metropolis, US)
Tadd Mullinix - Winking Makes a Face CD (Ghostly International, US)
* The Orb - Cydonia CD (Universal, US/Canada)
Retina - Volcano Waves 1-8 CD (Hefty, US)
Various - Comin' From Tha D: Blueprint CD (Intuit-Solar, US)
Various - Ninja Tune: The Shadow Years 2xCD (Shadow, US)


WEDNESDAY
Thread - Abnormal Love CD (Middle Pillar, US)


This is simply this week's highlights from the NEW RELEASES provided by Greg and Feedback Monitor.
For a more detailed schedule stretching into the future, please check out the site,
since release dates can and will often change.
CONCERT REPORT
TOWN & COUNTRY, TIM HOWARD, JOEY MEYER
Town and Country practice a deliberate and non-improvisational form of the type of post-everything music usually associated with their Chicago brethren. In between tour dates in Boston and New York, and relying mainly on material from their most recent LP, 'It All Has To Do With It', the quartet on this night might have been providing a lesson in how to coax inorganic melodies and structures out of decidedly acoustic and organic instrumentation (double bass, harmonium, guitar, and bells). Josh Abrams, Liz Payne, Ben Vida, and Jim Dorling are at their best when they let themselves give in to groove or harmony, such as on their twangy, toe-tapping opener, "Hindenburg" which, like its namesake, is as light as hydrogen (although the explosion never comes). They are at their worst when they rely on the repetition of incongruous phrases to get by, as on "That Old Feeling." The composition in the latter comes off as dampened and deadened, stubbornly sticking to the rhythm, unable to take off. It might as well have been recorded onto harddisk and looped from there. Trumpet and saxophone (courtesy Dorling and Vida) were used delightfully but sparingly during the relatively short set, which ended up sounding at times bright and engaging, and at other times too preconceived.
Opening the show were two Boston-based acoustic singer-songwriters, Joey Meyer and Tim Howard (the latter a.k.a. Soltero). Meyer's music is heartfelt and earnest without being at all sappy, drawing from artists like the Mountain Goats with his text-heavy lyrics and at times energetic volume and pace. Howard's lyrics tell of loves lost and (more often) unattainable, paired with innovative yet easy-to-love chord changes and dynamic guitarwork which makes you think there's no need for a band (or even a drummer) behind him. He started with a Camper Van Beethoven cover (complete with a guest violinist), and ended with " Kentuckyland," an explosive crescendo of a song in an alternative tuning which surpasses its origin as an ode to Slint. Both Meyer and Howard are emotive but not overly melancholy or melodramatic, and thus would be greatly out of place at a typical acoustic open mic. Which I mean in a good way. They both have self-released CDs which are more than worth checking out. - Charles Monaco
LINKS OF THE WEEK
RAMEN CENTRAL
"Ramen (rah-men): A noodle phenomenon. Ramen has become the accepted standard college snack/meal food of choice. Whether you are tired of cafeteria food, or you need a quick snack, Ramen is the perfect food. It is cheap, easy to make, and it tastes good." - this has been quoted from the Ramen Home Page. Check out the great resource filled with links, FAQs, images and many recipes!
ALL YOUR BASE ARE BELONG TO US
Make sure your Flash plugin is enabled and just watch the amusing places these people have decided to include the phrase All your base are belong to us.
THE WEEKLY CHART
INDIE ROCKERS WHO PLAYED D&D IN JR HIGH SCHOOL
And their character names!
Dave Pajo - A warrior named Plato
Nick Saloman - A wizard named Tempest
Sue Garner - A halfing thief named Rowlie Appledor
David Tibet - A half-elf archer named Arlingwe
Jeff Mueller - A dwarf warrior named Throm
Jennifer Rogers - A ranger named Ranger Smith
M. Gira - An elven sorceress with no name
Dan Bitney - himself
David Grubbs - a half-orc barbarian named Uugh
Alan Sparhawk - the priest formerly known as Asokanasa
Niels van Hoornblower - a mishevious bard known as the Flying Hoorn
that midget that follows Kid Rock around - a Dwarf named Carlos
Submitted by Tom the Fish.
FEEDBACK
BACKLASH
Subject: bastards

It needs to be said that you're website is unfair and malicious. Introducing broke-ass people like me to more brilliant music than they could possibly afford is downright cruel.

Sorry

Subject: labradford
Please empart to your readers that I did not knock over the table out of anger or disgust. I knocked over the table because I am a clumsy idiot. And thanks for printing that, really, it helped me get over the supreme embarassment a LOT faster.
brendan
Sheesh, you'd think a sound artist would be proud of making sound...

Subject: Prime Audio Soup
I am part of a drama production in Canada and we were wondering if we could get the phone number from someone we could conact to get the rights to one of Meat Beat Manifesto songs.
According to the Library of Congress Web Site on Copyright Law:
Notwithstanding the provisions of sections 106 and 106A, the fair use of a copyrighted work, including such use by reproduction in copies or phonorecords or by any other means specified by that section, for purposes such as criticism, comment, news reporting, teaching (including multiple copies for classroom use), scholarship, or research, is not an infringement of copyright. In determining whether the use made of a work in any particular case is a fair use the factors to be considered shall include-
(1) the purpose and character of the use, including whether such use is of a commercial nature or is for nonprofit educational purposes;
Interpretation: if you're part of a school using any song for nonprofit educational purposes,
you don't need to talk to anybody - it's covered under 'fair use.'

Subject: ???
Hi Brain,
Would you know how I could get a copy of Contemporary Passive Trashcan (Dead Culture Recordings) ???
We don't but maybe our readers do.
Anybody?

Subject: Hello
Hello I am currently handling the online promotions for [insert generic Sony Music alterna-artist here] and I was wondering if you would be interested in helping out. What I had in mind was possibly a review of the album and maybe running a contest to do a give away. Not sure what the prize is going to be but it is going to be pretty cool. Let me know what you think and I look forward to talking to you soon thanks a lot.
Sorry but the boycott on major label music is still in effect.

Subject: tender magic
I'll be your best friend in the world if you'd send me Tender Magic by Signs Of Chaos. I can't find it anywhere. I can't even find any place to buy it. Ummm... yeah, so go on ahead and send it to me!
Thanks?
It's on the album "Departure" which is still relatively available
through some mail-order places out on the web...

Subject: Unknown Territory
Hello:
You have a great Bomb the Bass site! After 10 years or so, my Unknown Territory tape has worn out. It is very tough to find the CD in the states. Do you know where I can get one?
Sorry, no, it was difficult enough to get when it was in
print 9 years ago, even more difficult now.

Subject: Monte Cazazza
hello,
I was just writing to see if you knew of any resources on the internet on monte cazazza. For the most part the axis archive section of your site is the only place I have found, and I'm interested in finding more. Also do you know of any way to contact monte? Any info you could send would be apreciated. Thank you.
There's a section in the Industrial Culture Handbook from RE/Search publications
but that's about all I know of for resources outside of what we've got at Axis and TG.

On Monte's CD "Power Versus Wisdom, Live" (1996, Side Effects) it is listed:
Monte can be contacted through M&M Productions, PO Box 170415, San Francisco, CA 94117

Hope this helps.

Subject: Hey
does this site have techno in it? if so can you send an mp3 ?
go away

Subject: Simple Headphone Mind
I'm looking for a copy of Nurse with Wound's collaboration with Stereolab - "Simple Headphone Mind" on 12". Do you have any ideas about where I might find it, or if I could possibly order it over the internet?
You're about 3 years too late by now. The single was ultra-limited and you can
probably find it at on-line auctions going for anywhere from 10-100$
WHAT'S IN YOUR CD PLAYER?
JEFF WARD WHO?
David Jackman - Sol Mara
Mimeo - Electric Chair & Table
Diaspora - The Unknowable
Pimmon - Assembler
Cyclobe - Luminous Darkness


Lloyd Barrett, Brisbane, Australia - wondering who this Jeff Ward guy was last week.
Sorry, Lloyd, his email address was deleted.

feedback and submissions:
Brainwashed Crackers
PO Box 7 / Arlington MA 02476 / USA

© 2001 Brainwashed, all rights reserved.
Click here for other issues