a weekly digest from the staff of brainwashed
V04I09 - 03112001
Click here for other issues
SITE
RYAN MOORE DEPARTS LEGENDARY PINK DOTS
A letter received from Ryan Moore:
After nearly 10 years of intensive recording & touring activity, I have left the Pink Dots. The reason is that I really feel the need at this time to move on to new experiences & challenges in life and music. I'm pleased with the significant body of recorded and live work we accomplished over the past 10 years & I can think back on some great moments which were had in the studio, onstage, travelling on some distant highway / sonic tangent etc - none of which would've been possible without the support of YOU, the fans of the Pink Dots. All in all, it has been a life enriching experience.

So, thank you!

My departure shouldn't have an effect, other than the lineup change, on upcoming LPD european tour plans & you can bet, in one form or another, the Pink Dots will continue to keep making their unique music for some time to come.

For anyone who is interested, you can check on my upcoming projects as they arise, most likely at: www.twilightcircus.com

kind regards

ryan moore
DISCUSSION BOARD
After many requests, Brainwashed has decided to open a message board, it's now located at brainwashed.com/board. Currently there are no ads on it, but this will most likely change as it's being hosted on another server. With any luck between now and then we'll be able to find a simple free message board script that'll work on the Linux box here.
LITTLE ANNIE PERFORMANCES
Little Annie Anxiety Bandez will be appearing at The Slipper Room in NY every Friday in April, 8:45 pm sharp. Profits from all shows to go to the LOWER EAST SIDE HARM REDUCTION CENTER'S WOMENS PROGRAM. A minimum donation of $5 is appreciated. More info on the program and the Lower East Side Harm Reduction Center at Annie's website. A new single, "Diamonds Made of Glass" is due in April on Streamline Records through Drag City. The song was recorded with Joe Budenholzer of BACKWORLD and Larry 'Super Model' T, and the single features a Christoph Heeman remix.
EXQUISITE CORPSE
Once again, the Equisite Corpse of Sorts, over at the Nurse With Wound website has been reactivated, with any luck this should be up for a while too!
TIME IN NEW ORLEANS
Cole I. Bernstein and Mikko present "TIME" - a play at Le Chat Noir, a cabaret located at 715 St. Charles Ave. in New Orleans, LA. Set design and artistic & musical consulting by brainwashed's own art school posterboy, Daniel McKernan. "TIME" opens Friday, March 9th, and runs the following two Fridays (March 16th & March 23rd) at 11pm. There will be some use of Coil's "Time Machines" throughout the performance (credit given, of course), a dream machine, and possibly a clock made of pudding.
MUSIC IN BRIEF
NURSE WITH WOUND, "AUTOMATING VOLUME ONE"

Twenty years ago these songs began to surface on various compilation recordings. By the end of the 1980s, Senior Stapleton began collecting tracks together on 'Automating' collections volume one and two. Finally, the first volume is available on CD for the first time. The tracks here span the years from 1981 through 1984, a pivotal phase in the the NWW timeline as the music became less improvisational noise-based and more compositional in nature. All of the original tracks are here from the LP release plus one bonus, "Automating (Again)" from the 1984 French compilation 'Born Out of Dreams', which has never appeared on a NWW release. Listening with the LP and CD back to back, the differences are few but prominent: there's nearly one minute missing (a squealing intro) from the first track, "Duelling Banjos", plus the end of "I Was No Longer His Dominant" has a repeated loop of the last spoken phrase cross-fading into "Ciconia." One thing I can't decide on is whether all the sounds have actually been enhanced or if my vinyl version of this is just old with the grooves worn thin! That aside, the sound quality and mastering job are very pleasing to the ears. It also helps that are also some of my favorite NWW songs, with the downright silliness of "Duelling Banjos" (a different version than on 'The Ladies Home Tickler') through the spacious atmospheric "Fashioned to a Device Behind a Tree" and the severe annoyance of the looped girl singing "Na Na Na Na, Kiss Him Goodbye" in "Nana or a Thing of Uncommon Nonsense." Couple things to note: consult the website for a tracklisting as it's unlisted and excuse the catalogue number (as it shares the same number with Santoor Lena Bicycle!) - Jon Whitney
samples:
ALVA NOTO "PROTOTYPES"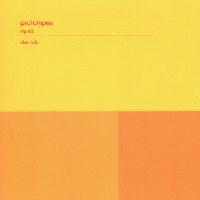 Alva Noto is digital sound and visual artist Carsten Nicolai, aka Noto, head of the Noton half of Germany's Raster-Noton cooperative label now known simply as Raster Music. This disc is brought to us by fellow German electronic label Mille Plateaux and is referred to by them as being of the 'digital processing' style. The 10 untitled tracks are a continuous suite of minimalist compositions constructed of the familiar sounds that seem to naturally emanate from everyone and everywhere in Germany these days. For nearly 50 minutes Nicolai precisely codes structured, layered loops of clicks, pops, artifacts, 'beats', waves, tones, pulses, static, silence and noise into pleasant and listenable mini(mal) symphonies. The active evolution of each piece is both on a macro and micro level and the stereo field is fully explored ... attentive headphone listening ensures the full effect. And though the sounds are similar throughout, there's plenty of variation in how they are presented within each track and from track to track, this along with sharp composition skills are the keys to maintaining my interest. Nicolai is simply one of the most talented in the field. The title literally means 'an original model on which something is patterned' so I can only assume that these prototypes will spawn more in the near future ... - Mark Weddle
samples:
KILOWATTHOURS, "STRAIN OF POSITIVE THINKING"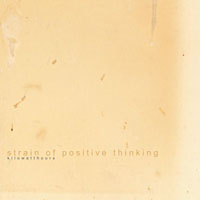 Kilowatthours' debut album is a solid set that should please rock fans of all persuasions. Something like emo-pop that dabbles in post-rock, theirs is a stream of sound with a gentle drift, deliberately channeled so that even at their noisiest, the songs are still melodic and sensitive. Tracks like "Kayla," "Run Home," and "Elipses" follow the tradition of dark pop a la Bob Mould: energetic rock with a sparkling sharp edge. Other songs vary in their inclination. Opening the album, "That You All Played" starts off with orchestral ambience soon brightened by a repeated lick and then a surge of warm guitars. Even when the song really starts to churn, the grind is flavored by a mellow sweetness. "Strain of Positive Thinking" begins like a more hopeful Red House Painters with hushed, overlapping vocals, and bursts into a thundering wave of guitars and cymbals. A paradoxically playful and hopeless cover of "Candy Says" stays fairly faithful to the original version, though it turns the ringing guitar arpeggios of the first into a twisting music box tinkle. Guitarist Chris Renn's dissonant off-key vocals are an affectionate parody of Doug Yule's ever sharpening pitch on the Velvet Underground recording. Though the overall production is clear, it can sometimes seem a little flat, with vocals frequently buried in the background. Another complaint is that the Kilowatthours' carefully constructed songs can sometimes seem a little restrained. Still, more intricacies become audible with every listen, and it's hard not to admire the amount of conscious control with which Kilowatthours has apparently shaped its songs. - Diane Lewis
samples:
"LOW END RECON"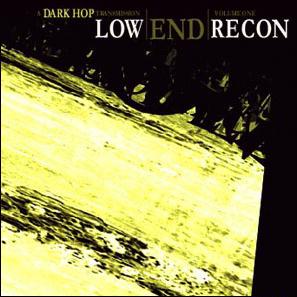 Emptylight and Hed Nod/Hushush gather 15 exclusive 'dark hop' cuts for this 75 minute compilation. Artists include several names I was already familiar with - Mick Harris, Ocosi, Su8m3rg3d, NOS, Dijislov and Not Breathing - and others that are new to me: The Dustmite, Zero ID, Shinitaika, Olivier Moreau, Silk Saw, I-drik, Montagnn, Larvae, Turn and Alien Radio Station. Most all of them do relatively the same thing, here at least, with beefy Scorn styled head nodders. No surprise there, but how do all these artists stack up against Mr. Hed Nod himself, Mick Harris? The shit doesn't really hit the fan (like I want it to) until the 10th track when Montagnn buries the preceding 9, including Harris' brief and squelch-y opener, with a more powerful and gritty attack. Larvae then ups the ante again with an even heavier duty, militant rhythm. Turn go ultra low and slow with seriously phat hip hop. Dijislov and Not Breathing thankfully go well out of their way to *not* sound like a Harris protege/tribute/rip-off with a wider and thus more interesting array of sounds. And that is exactly the issue I have with "Low End Recon" ... the 5 or so artists that aren't afraid to change it up some or get seriously low end really stand out amongst the others' lackluster to average tracks. There are no bad tracks per say, but certain ones you're really tempted to skip directly to and repeat. Harris' Hed Nod LP volume 4 and the final installment of the 'Threesome' series are due out later this year ... - Mark Weddle
samples:
EDWARD KA-SPEL/LEGENDARY PINK DOTS CD-Rs

Two brand new CD-Rs are now available from Terminal Kaleidescope in the EEC and Beta-Lactam Rings Records in the North America. First up is the third installment of needles from Edward Ka-Spel. The disc includes more songs from old vinyl releases "Dance China Doll" and "Perhaps We'll See Another Thin Blue Line" left off of 'Down in the City of Heartbreak and Needles' volumes one and two. Also included here are rare tracks like "The Colour Xhine" from 1993's 'Tape a Break' cassette-only release, "Fuse," the B-side from 'The Man who Never Was' and some previously unreleased cuts "Charlotte! Stop Climbing the Curtains" and "Mosquito Munch Full Glory" (an alternate mix of from 'The Blue Room'). While it's great to have these classic songs available on CD finally, the various sources tossed together in this CD-R makes for an unclear listening only a rabid fan would really love. I'm also somewhat disturbed by the choice of throwing transition music between a couple of the tracks on here, as a purist of sorts, I'd rather re-assemble the albums in their original running orders. Due to destroyed masters and various other problems this wasn't possible however.

Next up is a gathering of stuff hinted to for years, 'Kollabris' features ten songs from friends and family of Legendary Pink Dots, including the gorgeous acoustic gem "Bring the Rain" from the 'Artwork' album, the haunting "Pretty Something" from Lydia Tomkiw as well as a few Tear Garden outtakes and unreleased LPD jams. Once again the die-hard fans would find these songs excellent to have like the alternate versions of Tear Garden's "Bump" and "Georgie" as well as the amusingly titled short but sweet album closer, "The Bomb Bomb Loopa Tribe Go to Swansea (and eat it)" or the 14+ minute extract from the Empathy session. Similar to the other collection, the artwork is simple and inexpensive while the price is rather steep. The rewards are high as a large percentage of these songs have never been available to the public. With the help of BLRR in the USA, these two along with the first three TeKa CD-R releases are now much more easily available for those who don't have access to Eurocheques and would rather not pay pricey shipping costs. In the end, the cost works out rather even, so if you were gonna buy them, you would have bought them anyhow. - Jon Whitney
samples:
HAZEL WINTER, "PUT AWAY THE SHARP KNIVES"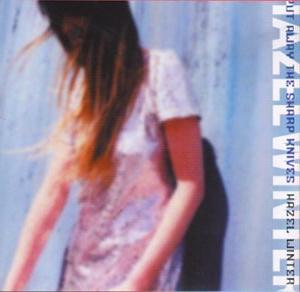 The debut album of ex-Blue Airplanes member Hazel Winter is a blues-tinged, distortion-wracked set of ruminations on bad times and uncomfortable intentions. Winter's voice shifts from cracked whisper to murderous wail, evoking Portishead's Beth Gibbons and PJ Harvey. Coincidentally, perhaps, Put Away the Sharp Knives features the contributions of Portishead guitarist Adrian Utley and Harvey producer and collaborator John Parish. Despite the stellar line-up and absolutely vicious, fuzzed-out, and totally tasty mixes, song after song on fractured relationships and dangerous attractions can wear a little thin. That is, like the rantings of any perpetually angry and disturbed person, Winter's material comes on with seductive force, but gets a bit grating on the nerves. That criticism aside, several songs are standouts in this set. "Skin" seems to simmer with deadly quiet compared to the clamor of surrounding tunes. "It's hot as hell in here / You'll burn up on entry, burn up if you come near / It's hot as hell in here / Need a heat seeking missile to penetrate this atmosphere...Watching me undress / Can you see you're wearing one skin less?" Winter coos suggestively, though her voice is ice. "Running on Empty" opens with clawing guitars and reaches a rumbling howl with groaning guitar distortion. Simplicity wins again on "Slidedown," where subtle circling guitars are used to devastatingly desolate effect. The vocals seem their most intimate here: breathy, hushed, and breaking. The lyrics on "Dreamtime" are so exaggerated they're kitsch. "The lights are on and no one's home And there's breathing down my telephone / How did all that happen without me seeing/ How did all that blood get on my ceiling ... Dialing 999 I feel my face drain / The operator knows me by my first name." Overall, though the sound isn't completely fresh, the album occasionally has the power to drag you in-or under-with it. - Diane Lewis
samples:
WINDY & CARL, "CONSCIOUSNESS"

It's been nearly three years since the last full-length album from the Michigan-based Windy & Carl, but the duo have hardly been inactive in the meantime. Along with the album released in 1999 as 5 Way Mirror with Greg Gasiorowski and various performances including every year's Terrastock, the couple have also been operating their own Stormy Records music store full-time. Thankfully a new album manages to surface capturing their signature sound of drifting guitar effects, drones and occasional low-volume mix vocalizations from Windy. I'm almost left wondering where the missing album is as their evolution from 1998's 'Depths' is an incredible leap. 'Consciousness' begins simply with a beautiful swirling glistening guitar melody from the opener "The Sun." The album continues on with a mesmerising "Balance," a sligthly altered version of "Trembling" which appeared first on 'Brain in The Wire Disc A.' Here, the almost indescribable shaking hum combined with warm undertones conjures images in my mind of traveling on a train through autumn foliage with the sun strongly blaring in my eyes. I'm nearly floored by the almost real string sounds both in that song and the album closer, "Resolution", that once again I regret not being into illegal substances! The rest of the songs show an impressive display of space and composition, molding the sound into a serene daze, building them up and then letting them fade at the perfect time. Songs like "The Llama's Dream" are almost too gorgeous for words to even describe, with an intense wash of sound blanketing the warm bass tune driving the song forward. 'Consciousness' might be one of those albums which could be used as ambience for many low-intensity activities, but the duo's mastery of subtleties results in a blissful experience from listening at loud volumes in dark rooms. - Jon Whitney
samples:
We know that sometimes these CDs are somewhat challenging to find, which is why we have a RECOMMENDED STORES section which can be used to obtain nearly everything available on the site.
NEW RELEASES
MONDAY
Home and Garden - Innocent 12" (Nordic Trax, Canada)
Matmos - A Chance to Cut Is A Chance to Cure CD/2xLP (Matador Europe, UK)
Penumbra [member of :zoviet*france:] - Skandinavien CD (Iris Light, UK)
Roni Size/Reprazent - Dirty Beats two 12"s/two CDEPs (Talkin' Loud, UK)
Venetian Snares & Speedranch - Making Orange Things CD/2xLP (Planet µ, UK)
12 Hans Weekhout - Hang On To The Body 12" (NovaMute, UK)
Various - Related Textures Vol. 1 CD [with Mara's Torment, Chocolate Grinder and more] (Modanti, Canada)
Cristian Vogel - La Isla Picola 12"/CDEP (Mute, UK)


TUESDAY
* dZihan & Kamien - Re-Freaked CD [remix album with mixes by Herbert, Fauna Flash, Hefner, Mum and more] (Six Degrees, US)
Frolic - to dream, perchance to sleep CD (Projekt, US)
King Britt presents Sylk 130 - Re-Members Only CD (Six Degrees, US)
Matmos - A Chance to Cut Is A Chance to Cure CD (Matador, US)
Steve Roach - Early Man 2001 2xCD (Projekt, US)


THURSDAY
Stimulus - Program Music 10" (Beta-Lactam Ring, US)


FRIDAY
Whitehouse - Cruise CD (Susan Lawly, UK)


This is simply this week's highlights from the NEW RELEASES provided by Greg and Feedback Monitor.
For a more detailed schedule stretching into the future, please check out the site,
since release dates can and will often change.
LABEL CORNER
PENUMBRA
| | |
| --- | --- |
| URL: | www.penumbramusic.com (due soon) |
| Owner: | Hal Rammel |
| Experience: | Hosted radio shows for years, performed live in various odd places around the Milwaukee electo-acoustic scene. |
| Founded: | 1994 |
| Artists: | Hal Rammel, John Corbett, Fred Lonberg-Holm, Torsten Müller, Lou Mallozzi, Matt Turner, Michael Zerang, Raymond Strid, Peter Zummo, Tom Hamilton |
| Location: | Milwaukee, WI |
| Notes: | The packaging is simple - black and white covers with simple text on the backs. The music is improvisationally based, both electric and acoustic, incorporating a unique combination of performers for each release. Look for reviews hopefully due soon on The Brain. |
PERFORMANCE
CIRQUE DU SOLEIL
After spending last week in Las Vegas (and winning *BIG*, thanks for asking), I caught my third unique production of Cirque du Soleil, "O" (named for I assume, the French word for water "Eau"), the "water-themed" version of Cirque du Soleil.
For those who have yet to catch Cirque du Soleil (either from one of the traveling shows they used to have more often years ago, the two Las Vegas productions, the Disneyworld production or the many times they air one of the performances on the Bravo Channel) you're missing out on a treat. To call it a circus is far from the truth, yet not at all false. Acrobatic, agile, flexible performers show off on the ground, in the air, and as in "O", in the water in a Fellini-esqe atmosphere. Each separate show has a unique story.
Imagine Dead Can Dance's "The Circus is Over" video come to life. Even the music is breathtaking, atmospheric. Costumes are beautiful and whimsical. I have known a few friends scared off by the price (O was starting at $96), but I have never felt my money more wisely spent then at a Cirque du Soleil show.
I understand that they are once again travelling this summer. If you've caught the Bravo channel's airing of one of the shows, and was as underwhelmed as I was, let me assure you that it's the difference between between throwing a bullet and shooting it. If you are within 300 miles of a Cirque du Soleil production, don't miss it! If you're planning a trip to Disneyworld or Las Vegas, you can make reservations for the show 3 months in advance, which I recommend you do. It's extremely popular and sells out fast. The show we went to went on sale the day we reserved tickets and we were still stuck with "obstructed view" tickets (which were still excellent thanks to the fact that most of the theatres they perform in now were made specifically for the show). - Thomas Guttadauro
LINKS OF THE WEEK
FOR THE VEGETARIAN CANNIBALS OUT THERE...
Eat People, Not Animals! It's tasty, especially with the help of www.manbeef.com. Products, recipes, tips, information, they've got it all! Yum yum yum...
THE WEEKLY CHART
LOVE IS IN THE AIR
Our favorite superstar couples
Colin Newman and Malka Spigel
Alan and Mimi from Low
Margaret and Guy from Laika
Simon and Steven from Cyclobe
John and Peter from Coil
Drew and Martin of Matmos
David Tibet of Current 93 and Adria Degens of Pantaleimon
Mira Calix and one of them dudes from Autechre
Martha and Lawrence from Bowery Electric
Windy & Carl of Windy & Carl
Those two fucked up people in Royal Trux
FEEDBACK
WORSE WITH NOUN
Subject: NWW "Devices"?

I've got a question which i think you might be able to answer: I know a guy who owns a cassette by Nurse with wound called "devices" it hadn't got any extra info like label etc.

A few weeks ago I come across the same cassette for the second time (for sale).
But I never saw it in any discography and have never heard about it apart from the two I've seen.

Is this a bootleg an early release or....?

It is apparently a bootleg tape. Bets are that it came from Inner-X, the Sleep Chamber label people, who also made an unofficial Nurse With Wound video for "I've Plumbed This Whole Neighborhood", in addition to releasing at least a couple different compilations with legitimate NWW contributions.
I can't confirm it's Inner-X (and I doubt they'll talk), but that seems to be the general consensus.
- answered by Skot Kirkwood

Subject: another NWW question
NWW - "I didn't know he was dead until I started washing the blood off my hands."

What song is this from??? I know it's from
Sylvie and Babs

Subject: no subject
VERY JOKE..! SEE PRESIDENT AND FBI TOP SECRET PICTURES..
?

Subject: Music Downloads
Visited your site today - 10/10, very attractive and simple - please excuse ignorance but are there any full length music downloads or are these just samples to not infringe copyright etc?
Also do you have any info on squarepusher and or thrill jockey?
Brainwashed isn't the copyright holders of these songs, so giving away 60 second samples falls under "fair usage" and it keeps us in good standings with the bands and the labels.
Squarepusher's a guy from a place in the UK named Chelmsford.
Thrill Jockey's a label in Chicago - www.thrilljockey.com
hope this helps!

Subject: bomb the bass
Sorry to bother you, but I have recently bought the Bomb the Bass CD 'Beat Dis', and noticed that he did a version of the theme to the film "Assault on Precinct 13" (I think).
If you could tell me anything about this song, if it was ever eleased etc, I would be very grateful.
I think he did a song for a video game but there was also the theme oversampled in a song on his debut CD 'Into the Dragon' titled "Megablast (Hip Hop on Precinct 13)"

Subject: Are you interested in doing a link exchange?
My friends and I are building a new electronic music site and are wondering if you might be interested in doing a link exchange. We've already built a link directory of electronic music sites and will be promoting these sites within the next month or two. Your site is currently listed in the Ambient section of the directory.
What we're asking people to do is to place a small link button on their site which will point back to their directory category. This will help us build traffic to all the directory sites and should help with search engine rankings.
We'd really appreciate your help on this and want to do everything we can to make it worth your while so here's what we're offering in exchange for your link:
If you decide to include our link button on any page of your site - just email us the URL of the page and we'll use it to submit your site to all the major search engines.
If you decide to go one step further and place the link button on your homepage [index.html] we'll submit your site to all the major engines, but we'll also email you an article telling you how to improve your site's rankings in the search engines.
I'm the author of the article and I'm also a professional Search Engine Optimization Specialist. I do contract work for Fortune 500 companies like Compaq, Adaptec, and Transamerica to help get their sites top ranked search engine listings. I've been doing this for two years and I'm something of an expert on the topic. These companies pay me thousands of dollars for this information, but I'm willing to give it away to help promote our site and the electronic music scene at large.
If you decide to participate in this link exchange I'm sure that you'll be very happy with the results. I hope to hear from you soon.
The code for the link button is included below.
Blow me, cocksucker. Small button link on our web site which needs no traffic and sells no ads?? Two years and you know shit. Learn to read a web site before sending shitty junk ads to them, fuckface!

Subject: LOCI CD1 Numbered CD
Hi, many thanks for the very useful Coil discography on brainwashed.com.
Do you know what is a fair price for the first numberd edition of Coil's Gold is the metal CD? I have not seen in for sale anyware so I don't know the right price.
A fair price would be whatever someone is willing to pay for it. Or
whatever you're willing to sell it for. Or somewhere in between.

Sorry, but we don't really keep track of these sort of things. Even if we
DID try to come up with a price guide for Coil rarities, the increased popularity
of online auctions has made set prices a pretty impossible thing to predict.

-answered by Greg

Subject: Question
Dear Webmaster (Brainwashed),
I write for one of the largest music magazines in Holland and would like to make an article on Tortoise. Can you give me an e-mail address where I could arrange an interview (or e-mail interview?)
Try their record label, Warp in Europe, Thrill Jockey in North America.
WHAT'S IN YOUR CD PLAYER?
THE BIG LIE
Geinoh Yamashirogumi "osore-zan"
La STPO "les explositionnistes"
Hermann Nitsch "56. Aktion"
Black Sabbath "paranoid" [the new audiophile lp issue!! : ) ]
Sun Ra "calling planet earth"
Debussy "the composer as pianist" [new cd releasing the works of Debussy with him playing the piano. brilliant harmonies!]


Chris McBeth, of Beta-Lactam Ring Records in Texas who we're sure is really listening to The Electric Slide, Macarena and other horrible wedding music. Congrats Chris!

feedback and submissions:
Brainwashed Technology Partners
PO Box 7 / Arlington MA 02476 / USA

© 2001 Brainwashed, all rights reserved.
Click here for other issues