a weekly digest from the staff of brainwashed
V04I10 - 03182001
Click here for other issues
SITE
CARTER DOES AUSTIN
Our roving reporter, Carter Adams has just left Austin, Texas where he spent the last few days representing his own Grinnell College at this year's South By Southwest. We were going to print a SXSW wrapup but the kid has left for Iceland without much time to do anything other than give his full reports on his website. So, we encourage you to take a peek at his diaries over at his site as he comments on Red House Painters, Mogwai, 606 and others. Stay posted as he'll be in Europe this week and hopefully updating the site with new reports.
COIL DOES EUROPE
Coil have four live dates on the horizon starting this coming weekend. Shows are taking place in France, Germany, Holland and Belgium. More live installations are planned to follow in the UK over the spring and summer. A new compilation is out with an exclusive track, all this and more at the Coil site.
THE YEAR OF THE MATMOS
Along with their latest album being released this week, look for in depth articles from Matmos in the upcoming issue of The Wire (April). Also check out the song-by-song guide on the web site in the news section as well as new updates and an exclusive new photo of Bjork with Drew Daniel!!! OOooooOH!
WAGON CHRIST NOW ON NINJA
This past Tuesday, a brand new full-length album from Wagon Christ was released on Ninja Tune. "Musipal" follows one week after the release of the single "Receiver," also released on Ninja Tune. A North American tour is currently being assembled, details will be on the website when available.
MUSIC IN BRIEF
MATMOS, "A CHANCE TO CUT IS A CHANCE TO CURE"

Kid 606 wasn't far from the truth when he claimed that "Matmos are the A-Team of electronica" — the new full-length album is a triumph for this San Franciscan duo. Their fourth album follows along the progression taken with 'The West,' moving even further away from random technological fuckery on their first two to create a cohesive, conceptual, organized result. The sound sources and concepts here all involve various surgical/medical practices and procedures, beginning with liposuction and continuing with eye surgery, acupuncture, and ending in plastic surgery. Surgical instruments have become musical instruments and have been carefully interwoven with organic and electronic musical instruments and sound samples recorded directly in the medical offices. The two head surgeons Drew Daniel and Martin Schmidt have also pulled in specialists like Cyclobe/Coil's Stephen Thrower on clarinet, spoken contributions from instrumentalists Kid 606 and Hrvatski, plus various other friends scattered around the album. While the medical theme is global on this release, the styles and moods change impressively between the seven songs. The group has turned liposuction into a beefy bass-heavy post-kraut jam on the album's opener, "Lipostudio". On "Spondee" the duo have morphed various spondees (look it up in the dictionary) and combined them with corresponding sound effects with hearing test tones and cranked out a compelling butt-shaking house tune. "For Felix" (first exhibited on tour last year along with nearly all of the songs on this disc) is an intricate 5+ minute piece crated from bowing and plucking a rat cage, dedicated to their late rat (and all the caged lab rats across the world who die in the name of medicine). Ambient low-end sounds created from connective tissue provide a warm foundation for the percussive sounds of human skull and artificial teeth on "Memento Mori", and the brilliant head-nodding classic "California Rhinoplasty" closes the disc with a ten minutes of plastic surgery samples in an evolving multi-themed epic. 'A Chance to Cut,...' is quite an accomplishment as the group has brought the term 'album' back into the phrase 'concept album' - the recording easily graces two sides of a record totalling a comfortable 46 minutes. Matmos has also once again brought a bold amount of personality and enthusiasm to their flawlessly competant mix of electronical sorcery, something the Euro electronica elite seem to be lacking after all these years. It's not minimal, it's not abstract, it's a damned good solid record. - Jon Whitney
samples:
THE RESIDENTS, "ASSORTED SECRETS"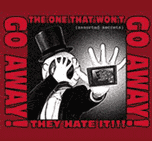 The band that made a name for themselves by loudly invoking their own anonymity and obscurity since 1972 is not really about secrets anymore. Many of their projects from the late 1990s up until now have been very high-profile, with backing from large software companies, international tours, and tons of product ranging from the typical t-shirts to little statuettes and build-'em-yrself model kits. Even the faces and identities of the band members — once the carefully guarded secret around which they based their marketing — are apparent enough to the fan who does a little bit of research. 'The Residents' has become, quite deliberately a brand that is applied to a range of product. That's why the group wants to be sure that the product with their brand name on it is up to their quality standards. When it isn't, as in the case of this CD reissue of the "Assorted Secrets" cassette of rehearsals from 1984, when they lose a bit of that control, is when the music gets the most interesting.
The band is obviously very interested in its appearance, not just with regards to identity-obscuring costumes, but in the release only of concept albums of the highest technical sound quality. Ideas that never made it into album form are hardly ever made public or even discussed, and rehearsal tapes are almost unheard of. Their material from the 1970's is perpetually being re-recorded on newer electronic instruments, remastered according to their ever-higher standards, in five-speaker surround sound. The Residents immediately regretted releasing something that was as unfinished and poorly recorded (the tunes were, after all, only for their own rehearsal) as these tunes from "Fingerprince", "Mark of the Mole" and "Tunes from Two Cities". These songs would eventually become overdubbed, EQ'd, and edited and cleaned up, but the imperfection evident on "Assorted Secrets" links the songs more to the post-punk and DIY bedroom-electronic music that was happening at the time. One complaint about the Residents' post-1979 output is that it's too sterile. That is certainly not the case here. Thus the reissue exists due to massive pleading by their fans, and not because the band is proud that it exists. The original tapes were scrubbed as much as possible for the reissue, but hidden in a cardboard wrapper printed with warnings like "Please go away" and "They hate it!". The band's name does not even appear on the wrapper, but their eyeball-in-a-tophat logo does, albeit with the iris covered with a large black bar of the type that government informants use to protect their identity on TV news programs. The reissue is printed in a relatively tiny pressing of 1200, perhaps with the hope that only that the die-hard fans will hear it and stop asking about it, and the general public won't even know of its existence.
The last thing the band probably wants is for some reviewer to suggest to his readers to run out and buy this CD, one of the most exciting documents of the band yet. The low recording quality and the rawness of the playing makes the Residents sound like a performing band comprised of real people, as opposed to the slick and streamlined, high-tech hi-fidelity group that the band wants you to hear. Four distinct players can be heard making mistakes, standing too close to the microphone, saturating the tape at times, sounding rough and alive in a way that's been uncommon for the last two decades of the Residents' recorded career. After all, the Residents are a band that printed a warning right on the back cover of their debut CD, "Meet the Residents", to not buy it if you hadn't already heard the subsequent albums! Clearly, they shouldn't be the ones to judge. In most cases, I prefer the versions of the songs on "Assorted Secrets" to the ones that made it onto the records. The reason they don't want you to hear "Assorted Secrets" is the same reason why it's great. It contains the passion of a band that's playing simply to hear themselves, not caring about what their audience will think. When the band started out, they laboured under their "Theory of Obscurity", which stated that an artist's best work was done without an audience in mind. Their attempt to downplay "Assorted Secrets" proves that they don't really believe that anymore. Available only at their website, www.ralphamerica.com. - Howard Stelzer
samples:
V/VM TEST RECORDS PRESENTS "NEGATIVE NORTH"

Somewhere way up north, an Opera is coming together featuring Stockport's finest. V/Vm was there in secrecy at the scene of the crime: the Crown Inn, MD in hand, stealing the sounds coming from the stars. Little did they know that their secret revolutionary plans were to be documented, exposed, reproduced and distributed. Four contributions from five of the stars have fit on this slab of thick black wax, seven inches in diameter (where would the music community be if everybody turned to metric, huh?) Meatgrowth, Miss Bill Apauling, Mrs. Attitude, and a stunning duet between White Sox and Sandals have all made their appearances. Select audio transition periods have been carefully inserted with little intervention from the V/Vm Test Records label. Listening, I think I've heard Sandals before on the AuralOffalWaffle - recording originally as CC White, this stellar singer is now performing duets under a sneaky new guise. I don't know what the full opera is going to sound like but it's destined to become one of the year's best of the worst. - Jon Whitney
samples:
THREAD, "ABNORMAL LOVE"


Thread is essentially James Izzo and "Abnormal Love" is his debut for Middle Pillar. Izzo has obviously put much effort over the past year into making this album dynamic and diverse with a strong sense of continuity. Each song flows into the next, several with the aid of brief segue tracks, to make one cohesive whole out of all the pieces. We shift naturally through passages of sample collage, electro/ebm, orchestra, dub, piano arrangement and ambient soundscape. Three songs have vocals. Izzo's are a bit pallid on their own, as on part 2 of "The Horror of the Undeserved Gift", but more functional alongside those of former SWANS member Jarboe. "Biomechanical Intercourse / The Malformed Heart" gets things pumping with a steady electro heartbeat rhythm. "In Sweet Sorrow (Duet Version)" differs from the single version (see Thread "In Sweet Sorrow") in that it's shorter and adds Izzo's low pitched masculine voice as counterpoint to Jarboe's light feminine vocals. "Blue Darkness (Orchestral)" blurs unintelligible voices amongst foreboding orchestral synth melodies. "God's Morse Code" is a groove-y 9 and 1/2 minute live jam of underwater alien dub featuring the help of two extra players. "Contours" is a bizarre and somewhat difficult mix of percussion and duet vocals, Jarboe especially taking on a more devilish persona. "Saudade" (Portuguese for 'homesickness') is a beautifully sparse solo piano piece. And "Skyscrapers and Sand" and "New Horizons" bring the album to an optimistic close with over 8 minutes of mellow ambiance. Altogether "Abnormal Love" is Thread's most accomplished and impressive work to date. This is not merely a haphazard collection of random tracks, but instead a carefully thought out and arranged album ... - Mark Weddle
samples:
DUMB TYPE, "MEMORANDUM"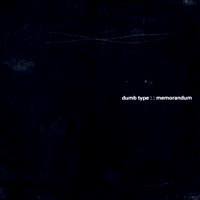 Part experimental community theater and part Ryoji Ikeda, this disc is the studio version of what has been performed around the world since October, 1999. From the start, much of the music seems to be built on sounds and concepts which appeared first on Ikeda's "Time and Space" CD set. Rhythmic patterns are constructed from a small collection of electronic bytes, on top of this are added various other drones, squeals and abrasive noise, along with the occasional spoken word from Simon Fisher Turner and Rene Eyre. Much like a disc from Ryoji Ikeda, special attention is paid to sound depth and spacial conceptions, but there's a magical, almost human element of surprise. Unexpected jolts of energy strike like a flash of lightning, bringing almost completely unbearable white noise sounds. Subsequently, other tracks move away from the familiar Ikeda sound, incorporating drum-machine generated beats and true musical compositions. Short pieces provide atmospheric yet sonically challenging aural matrixes, weaving patterns perhaps constructed for infinite repeats while well-crafted light displays illuminate post-industrial backdrops so artspotters can scratch their chins in silence. Keep in mind, this disc could very well be somewhat souvenir-like of the live installation, something of which I haven't seen and can't really comment on, but there's diagrams available of stage setup and requirements listed at the Dumb Type website. - Jon Whitney
samples:
EXHAUST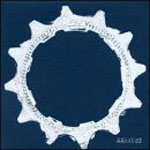 I must admit that I honestly don't remember this record being this good when I got it on vinyl two years ago, but now that it's on CD I feel it's worth a mention. The Montreal trio known as Exhaust consists of Gordon Krieger on clarinet, bass and guitar, godspeed's Aidan Girt on drums and various other things and Mike Zabitsky in control of reel-to-reel tape cut-ups. Their first release from 1996 was only on cassette, three songs from that were remixed and appear on this eponymous release. The trio not only know how to interact well with each other on this disc, creating moderate tempo grooves and spacey cuts from improvised sessions and limited sources, but they know when to quit and start the next track. The ten tracks on the disc just barely squeak in over 30 minutes, which is perfect for something as enjoyable yet somewhat thin as this. On each track it seems as if the recordings are going straight to the tape without overdubs of more instruments and effects. Aiden's rhythms are simple yet beat-box influenced and hyper-manipulated in parts, Gordon's musical contributions change from track to track and can be a dub-sonic bass loop, squelching guitar or calming clarinet. Almost taking center stage are the samples and tapes, which unlike in the godspeed setting carry no profound message and seem to be used for the sole sake of their sound. Godspeed fans shouldn't jump into this release expecting to hear something similar to A Silver Mt. Zion or Molasses, this - Jon Whitney
samples:
MIRO, "SUBTIDAL"


The debut release from Joon Hong and Varunee co-operator Chokdee Rutirasiri and has materialized as the third release on the young Boston-based label Varunee. Miro's first full-lengther was co-produced in Chicago with Matt Lux (of Isotope 217) and features contributions from Lux and a few other area players. The disc opens up with an enjoyable Mouse On Mars-influenced instrumental bit, a moderate-paced melodic yet glitchy piece, from there the disc becomes somewhat sour and repetitious. The following eight tracks are good starts, but seemingly underdeveloped and homogenous. What works on here is the experimentation of sound: the collective has found great uses for their gear, plays it well and has made the sound work for them in a great environment. The charming organ sounds and analogue keyboards mixed with digital processing is somewhat of an accomplishment. Unfortunately the production is a bit muddy and rarely allows the instruments to really stand out with their own identity. What doesn't work on this disc is the overly dramatic yet flat vocals: this album should have been either entirely instrumental or only had voice on two tracks. (Which ones I can't decide on because I'm not terribly fond of the singer or context.) On the up-side of things, I'll be interested to hear how this group progresses, as this start certainly has quite a bit of unrealized potential. Hint of advice for new bands: start with singles, get experience, work your way up. A debut album is an ambitious undertaking, both financially and psychologically, rarely is somebody going to make a stellar debut. Even if you do, chances are you'll always be compared to that debut or kill yourselves trying to top it. Create a buzz and leave short but powerful impressions on the listeners. - Jon Whitney
samples:
We know that sometimes these CDs are somewhat challenging to find, which is why we have a RECOMMENDED STORES section which can be used to obtain nearly everything available on the site.
NEW RELEASES
MONDAY
Chris Bowden - Beautiful Nasty 12" (Ninja Tune, UK/Canada/US)
Crane A.K. - Pink Eyed Pony CD/2xLP (Force Tracks, Germany)
Fatboy Slim - Star 69 12"/CDEP (Skint, UK)
Modern English - Life In The Gladhouse CD ["best of" anthology] (4AD, UK)
Andrea Parker - The Dark Ages 12"/CDEP (Quatermass, Belgium)
Mikael Stravöstrand - Reduce CD/2xLP (Force Inc., Germany)
Tetris - Tetris CD (Pork, UK)
Andreas Tilliander - Ljud CD/2xLP (Mille Plateaux, Germany)
Windy & Carl - Consciousness CD/LP (Kranky, US)


TUESDAY
Black Faction - Internal Dissident Vol. 2 LP (Soleilmoon, US)
Gonerville - The Freak Brothers CD/LP (Stray, US)
ohGr - Welt CD [first 2000 copies in special package] (Spitfire, US)
* Polygon Window -Surfing on Sine Waves CD [reissue with two bonus tracks] (Warp, US)
* Recoil - Hydrology plus 1 + 2 CD [reissue] (Mute, US)
Nobukazu Takemura - Hoshe No Koe CD (Thrill Jockey, US)
Miles Tilmann - Miles Tilmann CD (sub:marine, US)
Various -Warp:Routine CD (Warp, US)


This is simply this week's highlights from the NEW RELEASES provided by Greg and Feedback Monitor.
For a more detailed schedule stretching into the future, please check out the site,
since release dates can and will often change.
CONCERT REPORT
MICE PARADE, KID 606 AND FRIENDS IN NOLA
Friday, March 16th, at the Mermaid Lounge was an odd combination of music that was almost accidentally placed together. Mice Parade alone were originally booked for that particular night, and then, somewhat out of the blue, Kid 606 and Blectum from Blechdom started slowly showing up on the flyers and lists of events as playing on this same night. There was some confusion as to the validity/truth of this amongst New Orleanians, but it turned out to be an interesting show.
First up on stage was local act, Nocturnal Transmissions, which is one guy who fiddled with a 303 for about 20 minutes, making some really nice waves of melodies despite the drunken idiots who danced in mockery amongst the crowd. He stepped off, and then Kevin Blectum (from Blechdom from Blectum from Blechdom...), took to stage with her Wesley Willis-esque styled mock cabaret tunes. She started with a song in which she screamed her love of "BAD MUSIC, BAD MUSIC!" in a truly horrible voice, while her backing laptop kept shutting off at wrong moments and she seemed a little distressed. Despite this, though, her show was highly entertaining and she definitely woo'ed the audience and sold more merchandise than the others because of her hilarious performance skills. Her shining moment was her "love song" to boyfriend, Kid 606, in which she sang lyrics such as "... and it's only getting better, cuz my pussy's getting wetter! ... this sexual sensation is rockin' the nation!" and kept making references to her love for some Kid named Miguel.
Her set ended at about 12:30am, and it took Mice Parade a while to set up, as they had a wide array of unidentifiable instruments that seemed difficult to cram all onto the Mermaid's small stage. They managed, though, and their set began at about 1am, with 6 people on stage, including Adam Pierce and Him/June of '44's Doug Scharin. The instrumentation was beautiful just to look at, with electric violin, a dulcimer looking thing, something that could have been a bouzouki, along with drums and keyboards. Unfortunately, the audience was torn between being really intensely entranced by the nice music, talking about the latest sales at JC Penney's and the new Tortoise album, and wandering out as it got really late.
They ended at a little after 2am, and at 2:20am — late even for a Mermaid encore — Kid 606 finally brought his two apple laptops up on stage to rape the audience's eardrums with killer beats which morphed in and out of flowing sinsister noiseS (note: not noise). The sounds seemed surprisingly tame (much less glitch-oriented) for Kid 606. Although, considering it was about 3am, the audience seemed somewhat appreciative of the slight change. He ended at 3:20am, and all was quiet. The night was over and the audience was worn - but in a good way, like comfortable shoes or sleepiness after a hard night of listening to awesome music for over four hours. - Daniel McKernan
LINK OF THE WEEK
INSTA-GOTH KIT!
Tired of blue jeans and flannel? Not enough black in your wardrobe? Have you outgrown the Banana Republic gear by now? Thanks to the alt.gothic.fashion designer folks at Sykospark the online guide for new goths is available at www.sykospark.net/goth. If you get bored with that, you're always invited to check out their Rivethead, Raver and Punk kits too.
THE WEEKLY CHART
TOP TEN RYAN MOORE REPLACEMENTS FOR LPD
This past week, Ryan Moore announced his departure from Legendary Pink Dots. Here's our top picks for replacement for bass guitarist:
Tony James (Generation X/Sigue Sigue Sputnik/Sisters of Merci) - image
Shana Elmsford (Jem and the Holograms) - images
Lemmy (Motorhead) - image
Blackie Lawless (W.A.S.P.) - image
Rjyan Kidwell (Cex) - image
Peter Hook (New Order/Revenge/Monaco) - image
Kim Gordon (Sonic Youth)
Bootsy Collins (Parliament/Funkadelic) - image
Derek Smalls (Spinal Tap) - image
Bjorn Ulvaus (Abba) - image (obviously the one on the left without a microphone in his hand)
FEEDBACK
WIRE TAP
Subject: Wire

Does Wire or any of its members still produce music or any other sounds or words ?

Even sites I visit do not really give me an answer to that question.

They never stopped really. Last year, the band reformed and toured North America and the UK. Aside from that, Colin Newman has been releasing albums as Colin Newman and Immersion as well as operating the Swim label, Graham Lewis has been doing stuff as He Said, with Omala and Ocsid, and Bruce Gilbert has been doing stuff on his own and most recently with the Pan Sonic guys as IBM.

Subject: hey there
Re: letter page
Whoever told that stupid fuck trying to link his sausage to Brainwashed to "blow me, cocksucker," made my morning.
I just loved it.
Love the site.
No sausage for me this morning, thanks for your love.
We just love the music and worship the music-makers here!
We don't like the smarmy capitalistic sub-moronic pigs.

Subject: No Subject
I thoroughly enjoyed your incineration of that smarmy idiot requesting a link exchange this week. A million thanks for being the site I return to week after week.
I didn't really enjoy it, in fact I wish people would think before they hit "send."
One of my hopes is that future boneheads would read some of these examples and be considerate.
Unfortunately I think I'm giving the entire human race too much credit.

In an interesting post script to this email interaction, the site was investigated
only to find broken pictures everywhere, sloppy layout, broken links, no links to
brainwashed and reviews on the main page of things approximately two years old!

Subject: remixes
I was just wondering how I would go about releasing a personal remix I have made of "it's the music", I am really proud of how it sounds, and i would really like to show meat Beat Manifesto it. If there is anyway of doing so, please let me know.
thank you, a fan and fellow musician
Mail it to them, their address is on their CDs.

Subject: enquiry
dear brainwashed
could you give me an actual email address if possible for genesis p-orridge and peter christopherson
this would be a great help as i am doing project on Industrial music at university
Natural selection dictates that somebody who's not adept to finding answers that are there will probably fail. Best of luck on your assignment, Einstein!

WHAT'S IN YOUR CD PLAYER?
BLAME IT ON FLORIDA
Faust - Faust/So Far
Naked City - Absinthe
Ogre/Atkins - Bedside Toxicology
Throbbing Gristle - Once Upon A Time
Soft Machine - Third
Black Sabbath - Paranoid
Current 93 - Thunder Perfect Mind
Eno - Taking Tiger Mountain (By Strategy)
Scorn - Vae Solis
Carcass - Symphonies Of Sickness
Psychic Tv - Force The Hand Of Chance
Pink Floyd - Ummagumma

Travis Johnson in St. Augustine, FL, who claims his CD player is empty, but these are things he's been listening to lately. He then boldly continues by claiming it would be wise to run his list as his tastes are "more interesting than anyone else's in the world." When will those people from Florida get a clue?

feedback and submissions:
Brainwashed Business Machines
PO Box 7 / Arlington MA 02476 / USA

© 2001 Brainwashed, all rights reserved.
Click here for other issues