"no watches. no maps"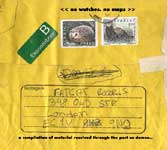 While the Fat Cat people boast about their committment to introducing fresh new artists, they've played the game relatively safe for their entire existence. A successful record label has to establish themselves pretty much before they can make bold moves like this one, releasing a CD comprised entirely of demos received by the label from complete unknowns. Fat Cat established themselves by releasing an assortment of buzzworthy 12" split singles, sneaking in a relatively unknown act on one side with an established act on the other side. In sales it's called the "foot in the door technique" — now that we've got your attention, try this! The label's intentions are well and this technique sure paid off.
Conceived over two years ago, this collection gathers 74 minutes of people you most likely have never heard of, many of which will probably not surface again. While Fat Cat have pointed out that they love all of these songs, limitations of the label have only allowed them time, budget and manpower to do full releases of a couple, two of which Com.A and Duplo Remote have tracks appearing here. The collection is surprisingly impressive, starting off with the brief abrasive noise of QT?, continuing on with glitch electronica Autechre worshipping sound of Phluidbox, the sci-fi death theme sounds from Jetone and pentatonic Asian taste of Zooey. By the time it reaches the slick production of the instrumental Fridge-ish jam, Ukiyo-E's "Val Doonican," the grand scope of the collection is shifted, transforming it from a collection of random electronics to something more. At this point, the compilation of unknowns begins to strangely mirror a well-constructed soundtrack or an 80s-era cassette-only comp. Changes continue when the pounding abrasive head nodding track from Moneyshot bursts in, a melancholy piano piece from Beans arrives a few tracks later, followed by more electronic and organic contributions including the gorgeous low-tempo submission from Cytokine.
While each of the 19 songs on here are quality work, it's easy to tell that all of these artists are still in the infancy of their careers, with much more to learn about originality, composition and production. Much like releases like the "Rising from the Red Sand" comps for example, I'm predicting this disc will become one of those collectable references on discographies popping up years from now. On the horizon for the label is a section on their website with exchanges of music like this and hopefully more collections. - Jon Whitney
samples:
NOBUKAZU TAKEMURA, "HOSHI NO KOE"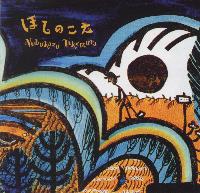 It isn't until the fifth track of 'Hoshi No Koe' that you hear music strongly resembling the majority of Nobukazu Takemura's previous work. In and of itself, this isn't such a bad thing. To continue to rely on the same reverb-laden, scratched, looped, and manipulated CD sounds which have come to be so closely associated with Takemura (as well as his "Child's View" alias) would have been redundant, if still quite pleasant to listen to. With the release of the "Sign" 12-inch a few months back, Takemura signaled a shift away from the avant-garde indulgence of 15-minute tracks of skipping digital beats, and towards an almost danceable mix of vocoder-enhanced vocals, 4/4 rhythms, and catchy melodies - and which kept his trademark sound as cool ornamentation to what was his most single-y track yet.
On 'Hoshi No Koe', Takemura shifts back into the avant-garde, which again, in and of itself, isn't such a bad thing. Unfortunately, the manner in which he does so is. Gone are the so fresh, so clean compositions, walls of sound, and floods of echoes perfected on the likes of 'Funfair' and 'Scope.' Instead, here we hear a handful of well-constructed and intriguing tracks separated by what comes off very strongly as nothing but filler: throwaway Casio noodling on "One Day," "White Sheep and Small Light," and "A Theme For Little Animals"; wanna-be clicky minimalism on "Honey Comb" and "Trampoline"; and slow meticulous beatless repetition on "Stairs In Stars" and "In The Room-Roof-Wood". Some of these tracks are less offensively not-thought-through than others, but all display a startling lack of cleverness and ingenuity, and what is most vexing, a seeming lack of effort on the part of Takemura, who plays all instruments and produced all tracks on the album. It is one thing to not exactly "get" the new direction in which a musician wants to take you, but it is another thing to not understand at all why he wants to take you there. This is the case with 'Hoshi No Koe' - there is a clear lack of direction throughout the overly lengthy 78 minutes that would probably surprise anyone who has tracked Takemura's work to this point.
This is not to say that his genius doesn't manage to shine through at least a few times. "Sign" is on the album (the aforementioned track 5) and its the obvious winner of the bunch, and "Anemometer" is a similarly terrific (if unnecessarily lengthy) melding of bouncy beats and trademark Takemura sounds. "A Chrysalis" starts out sounding like experimental wanking, but slowly and beautifully evolves over its 17 minutes into a downtempo exploration of rhythm and tone that wouldn't be out of place on 'Scope'. Finishing the CD is the wonderful "The Voice Of A Fish," which is similarly subdued, subtle, and complex - all characteristics which are in short supply on most of the previous ten tracks. For whatever reason, these traits - which made Takemura so exciting on previous efforts - are anomalies here. - Charles Monaco
samples:
THE ANGELS OF LIGHT "HOW I LOVED YOU"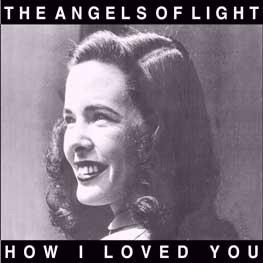 The Angels of Light are the current song writing device of Michael Gira of Young God Records. "How I Loved You", follow-up to 1999's superb debut "New Mother", commits to tape many of the songs from the now legendary first tour and others written since. It is a collection of love songs of sorts with references to various women and Gira's parents, whom grace the front and back cover of the digipack. Each of the ten songs begins with Gira's inimitable voice - from whisper to caterwaul - and acoustic guitar and are then tastefully embellished by the band with lap steel, percussion, organ, bass, electric guitar, piano, accordion, melodica, female and male backing vocals. "Untitled Love Song" sways gently and lovingly with perhaps the most beautiful melody and straightforward, heartfelt lyric of Gira's career to date. "My True Body" gallops like a wild stallion in double time, Gira vehemently declaring "I can see the footsteps of Jesus!" "Song for Nico" is reminiscent of SWANS with warm female 'la la la's. "New City in the Future" and "Two Women" are the epics, nearly 12 minutes apiece, both deeply moody with passages of mantra and crescendo. "My Suicide" swaggers like a Johnny Cash spiritual, Gira confessing "I hate you for your love, and I hate you for your sex" in a droll croon. "New York Girls" quietly assesses the qualities of the feminine urbanite, culminating with several minutes of instrumental expedition. Overall "How I Loved You" is relatively soft and restrained save for a few moments, Gira's songs capturing and conveying a pure and natural emotion that's truly beautiful. It's yet another masterpiece. The Angels of Light will likely tour later this year. Check the new Young God site (younggodrecords.com) for information ... - Mark Weddle
samples:
scratch pet land, "solo soli iiiii"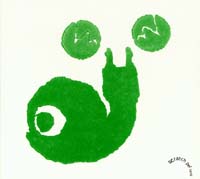 The debut full-length from Belgium's Scratch Pet Land resembles what an audio Rorscharch Test might sound like. Fans of the quirky Sonig sound from groups like Vert, Mouse On Mars and Wang Inc. should be warned that the proverbial happy blippy sounds don't really jump in until the fourth track and don't stay very long as this German duo seems to have an amazingly short span of attention. Given the chance however, this full-length debut is quite pleasing, with creative crack addict-like melodies and noisy audio scribbles. There are spots where the sounds appear to be strange mutated samples of kids hiccuping in a playground, short tunes of randomized aural splotches, or a musically impressionistic walk across a stained glass carpet crunching between your feet. When the melodies do arrive they stand as shining moments of an almost Kraftwerkian tributary nature. Forty-two minutes of random test tones, pots, pans, circus animals, babies and flying saucer sounds later I'm left somewhat confused, but rather satisfied. - Jon Whitney
samples:
THOMAS BRINKMANN "KLICK"


Thomas Brinkmann is a prolific producer of numerous minimal/experimental techno platters, both digital and analogue. His tools here are simple but unique: a knife, a pile of old records, 2 turntables, a mixer, an isolator and an effects unit. If I'm to understand the process correctly, Brinkmann literally cut the locked grooves into the records and then played and mixed them to create the 10 4-7 minute, binary titled tracks. A circular rhythmic shuffle of thuds, thumps, scratches, static pops and clicks is not only the foundation, it's the entirety of each track. The first and last tracks also contain minute vocal tidbits. Brinkmann seems intent on culling music from where there is no music to create a sort of 'techno'. "0011" becomes increasingly abrasive as the revolutions increase. "0100" playfully plasters high RPM skips. "0101" manages an almost dub resonance with reverberated pops and a gentle energy hum. "1010" simply declares "Berlin" a few times in a boisterous voice amidst the clutter ... perhaps an unnecessary reminder of the most likely place on Earth that such music would come from. Altogether "Klick" is rather clinical but surprisingly varied and enjoyable. There's plenty of groove to be found and enjoyed within the grooves ... - Mark Weddle
samples:
tied & tickled trio, "ea1 ea2 rmx" / console, "yourself"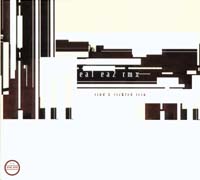 Taking a break between albums, the Tied & Tickled Trio have released a brief 8-song collection of remixes from last year's "EA1 EA2" album. The disc is released through Morr Music in Germany and features remixes by Console, Kandis, Max.Ernst and others. For the most part the remixes basically go one of two ways. Some of the tracks are pumped up discotheque versions of the songs while others take a route accenting the more jazzy elements. The Max.Ernst cuts are quite watery with obnoxiously repetitious horn loops while the Console mix flows nicely with an element of technological mastery.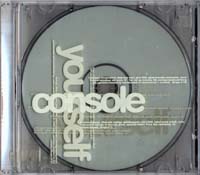 Console, a.k.a. Martin Gretchmann a.k.a. 'that guy in the Notwist who -isn't- in the Tied & Tickled Trio' has also released a disc of remixes, but this one's from the other side of the mixing board. 'Console Yourself' is eight tracks of other peoples songs remixed by Gretchmann, over the course of three years, including an overlap from the Tied & Tickled remix disc. Also featured on the disc are remixes of Isan, Barbara Morganstern, Ammer/Hage and even a Console song remixed by Console. Gretchmann's mixes stand out as he's got a keen ear for when to keep a loop going and when to kill it. While both of these discs are good to have for collectors, they're nowhere to start for people who aren't existing fans already. I personally recommend the most recent full-length albums from each of the three, Console's "Rocket in the Pocket", Tied & Tickled Trio's "EA1 EA2" and of course the Notwist's "Shrink." With any luck at least one of these entities will release something excellent later on this year. - Jon Whitney
samples:
Phill Niblock, "Touch Works, for Hurdy Gurdy and Voice"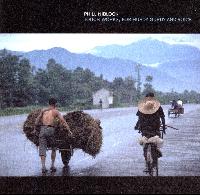 Phill Niblock is a drone specialist. Everything he composes pursues the same drone idea but he varies the textures drastically by utilising different musical instruments. His pieces are supremely mind altering, and this release on the continually engaging and intriguing Touch art label is the most hallucinogenic dense and intense recording I've heard from him, or anyone else for that matter.
The CD opens with 'Hurdy Hurry', a stunning hurdy gurdy piece constructed from samples of Jim O'Rourke's playing, recorded in New York at Robert Poss' studio (Band of Susans). This medieval stringed instrument played by cranking a resined wheel seems tailor made for droning, and O'Rourke has been known to drone on himself a bit in ages past. This makes his own early droneworks 'Remove The Need' and 'Disengage' seem like mere practice, but that practice has certainly paid off handsomely. At a cursory listen 'Hurdy Hurry' might seem like fifteen of continuous drone, but Niblock weaves together held tones with exact mathematical relationships to each other, and there is a constant slow evolution and almost imperceptibly gradual increase in mass as the piece unfurls.
It continues with two different versions of what could be Niblock's masterwork, a vocal piece 'AYU'. The letters A, Y and U are hummed by baritone Thomas Buckner and arranged into a continually shifting corridor of sampled sound twenty four voices thick. The second version adds a live throat singing performance from Buckner, pitch shifted one and two octaves down and multiplied fifteen times over. Imagine massed temples of Buddhist monks humming universal nirvana alphabet keys condensed by a sampler into the digital cyberlanes.
Niblock is described as 'the forgotten minimalist' in the extensive and illuminating sleevenotes, which include an interview discussing his sound reproduction techniques. After hearing this, it's all the others that'll be more likely to slip from memory. - Graeme Rowland
samples:
PIGFACE "THE BEST OF - PREACHING TO THE PERVERTED"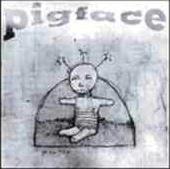 Ah, the obligatory 'best of' album! Chances are you've sampled something from, but perhaps not something from each era of, Pigface's decade deep oeuvre. The history of Pigface is inextricably tied to drummer / ringleader / Invisible Records head honcho Martin Atkins with some 100+ members (as listed in the insert) having passed through the revolving door. The talent amassed on stage and in the studio is staggering and includes most everyone in the rock and 'industrial' rock underground. The musical result is varied and impossible to pigeonhole, taking in elements of punk, funk, noise, dance, etc. Disc 1 collects 20 (!) re-edited, re-mastered tracks representing the 4 studio albums, emphasis on "Fook" and "Notes From the Underground", and a few of the remix/live EPs and albums. The editing merely tightens up everything for maximum disc capacity and the remastered sound is most clearly evident on the most dated studio material, "Suck" and "Point Blank" from "Gub". It all sounds great and flows well through the years with a fine track selection courtesy of fan submissions. Disc 2 is the real incentive for long time fans with 9 of the 15 tracks being previously unreleased nuggets: brief interviews (Atkins, Ogre, William Tucker), songs either aborted or in an infant form ("Dribble", parts of which became "Empathy", "Taiko" which became "Asphole"), re-mixes (including new versions of "Chickasuarus" and "Hips, Tits, Lips, Power"), and an amusing radio ID. These include Dirk Flanigan, Astrid Welz, Jim Marcus, Andrew Weiss/Ween, Black Francis and Robert Santiago of The Pixies ... some accomplished pieces and others spontaneous, fun and loose jams. "Preaching to the Perverted" does just that but does it with style. An incarnation of Pigface will likely tour later this year ... - Mark Weddle
samples:
pan sonic "live in london, 1995"


The second release in the over-priced under-packaged series of live discs on Mute's Jenny Divers label is another concert from Panasonic recorded in 1995. This recording however was from one show in London, (as opposed to the two-show in NY release reviewed a few weeks back). The sound is much different as the group knows how to cater to the differences in fans and concert goers in both cities. While the NY show was full of meaty bass-heavy beats, this disc is littered with more introspective art-school class "A" electronica, with much aim to please the stuffy London chin-scratchers searching for irony in an electronic concert. The disc is considerably shorter, totalling only 53 minutes but thankfully is indexed track-by-track. Once again, only the serious fans need to worry about shelling out the stupid cash to pay for this slab of black plastic accompanying the CD, each without artwork. - Jon Whitney
samples:
We know that sometimes these CDs are somewhat challenging to find, which is why we have a RECOMMENDED STORES section which can be used to obtain nearly everything available on the site.
A LONE CAVE IN NEW ORLEANS
Nick Cave is just about to finish his nine-date, seven-city solo tour of the US. It seemed odd that Nick would have started off the US-dates at a place most known for the New Orleans' Symphonies: the Orpheum Theatre. After arriving and seeing the set, though, it was obvious that Cave was going for a very much more sleek, less rock-n-roll atmosphere. Too bad much of the crowd could not grasp this distinction.
Arriving at the show, which was the only date in the country that did not sell out, I was faced with an extremely eclectic crowd: from teenaged goths to swanky yuppies to drunken 40-something assholes. The show started with Kelly Hogan, who had a strange country-esque shoe-gazer style. The highlight of her show was her performance of the Magnetic Fields' "Papa was a Rodeo," though even that was overlooked because everyone wanted Nick Cave.
The stage looked simple: grand piano, drums, electric violin, electric bass, and an accordian. And hanging from the ceiling were four glowing stars set to nice blue curtains. The mood was definitely not hardcore Birthday Party/Bad Seeds rock'n'roll.
Finally Nick Cave came out, put his cigarette out, and sat at the piano. Someone shouted the question "Can we smoke too, Nick?" and he replied "Absolutely not-this is a NO SMOKING venue," and afterwards chain smoked throughout his whole performance. He opened with an assaulting version of "West Country Girl," which he played alone.
Soon he was accompanied by Jim White (drums) and Warren Ellis (accordian/violin) of the Dirty Three and Susan Strenger (bass) of Big Bottom, and played mostly recent Bad Seeds material very low-key styled, though he did throw in an old Birthday Party song, "Wild World," which picked up the pace on drums and electric violin, while Nick pounded harder at the keys and shouted a bit. My highlights were definitely "Stagger Lee," set to a cabaret-style beat with the harsh, shrill ending sounds being replaced by electric violin. The line "I'd crawl over fifty good pussies just to get to one fat boy's asshole." definitely threw aback the uptight old men serving as ushers to the rather unpredictable crowd.
Throughout the whole show you could hear Nick Cave's mental tempo being tapped out by his foot below the piano. With that known, no one could really understand why some fucking asshole kept talking loudly during the first half of the performance. Eventually security was called to deal with him, and to deal with the massive amount of people who ignored the "NO SMOKING" signs because of the "NO RE-ENTRY" signs. It was a strange show.
Along with classics like "The Mercy Seat" and "Into My Arms," he played a few new tracks from the new album, I Sat Sadly Beside Her, including "No More Shall we Part" the great "God is in the House," which is a mock-Christian anthem about a town where they "bred all our kittens white so we can see them in the night, since God is in the House." The crowd responded with a "Hallelujah!"
It was definitely a great performance. Nick Cave's amazing stage presence shined during the encore, where he played "Henry Lee," "the Ship Song," "Loom of the Land," and "Straight to You." Lastly he performed "Little Emtpy Boat" from King Ink II to end the night with a "fuck you" to the audience that left everyone laughing their ways to the exits. - Daniel McKernan
read before you write....


Subject: promotional parties and dj list

Hello,

I am a dj in NYC. I would like to find out if it is possible that I may be put on your dj servicing list. Also, if you are interested in doing any promotional/release parties in NYC, let me know.

cheers

Can't figure out what's more obnoxious, idiots like you who don't read our website to find out we're not a label or Americans who say "cheers."

Subject: (no subject)

I just want to let you know that I love this site. I am an avid fan of Legendary Pink Dots and have seen them three times in Cleveland, OH.

Each time I found out about their tour dates from brainwashed.com. Keep up the good work!

Thanks for the note, all official concert dates for our bands get posted or liked here so next time you hear a rumor of somebody touring, we won't have the dates until they're official!

Subject: lpd

I'm in Vermont USA and recently respect these bands;legendary pink dots, throwing muses, and xtc. I want all of LPD catalog but I'm unsure I want to listen to more than one song at any one setting.

I like the few songs I have and I'm happy that they don't seem to have a drummer in them. Are they always without a drummer?

I also think LPD are legendary and this fact makes me feel things I'm not sure how to express to others. It's the one band I know of right now that I feel I can trust the most.

Well, that's very kind of you but here's a couple points:
1. Their drummer, Ryan Moore only left two weeks ago. He was in the group for 10 years.
2. They are legendary indeed, hence their name
3. I'm sure the band would appreciate hearing how you feel,
you should send them a post card from Vermont!

Subject: CV

Came across the Cabaret Voltaire site by accident (I was actually looking for some info on the Dada group altho' I'm a Cabs listener too).

Well.... I hate frames normally and complex backgrounds but I take all that back with the site.

It's:
- quick
- informative
- totally in keeping with the "industrial" feel

I spend half my life coping with brain-damaged sites so encountering the odd good (even great) is a relief and worth the effort of a mail.

Thanks for taking the time for the note! The designers love hearing that.

Subject: when will we floridians get a clue?

never.

Yes, we thank your County of Fools for the asshole CEO of the USA.

Subject: Moon Musick

How can I download the "Moon Musick "(as viewed at Gallery->former web page splash pages) applet source code?

It's a generic code out there called "lake" so do some web searches and you'll get it.

Subject: Florida CD Playlist

Greetings, Brainwashed. The site is great. Congratulations.

I was reading the Feedback message in this week issue of The Brain and was disturbed by the "In My CD Player" list from a reader in St. Augustine, Florida. Travis Johnson claims that his musical taste is "more interesting" than anyone else's in the world. His list, however, leaves a little something to be desired.

Happily, I can report that I am from Orlando, Florida, and my musical taste is officially, without a doubt the most interesting in the entire world. Really. I took a vote and everything. You can imagine the kind of worship and adulation I receive from those who strive to have the most interesting musical tastes but must lay prostrate at my feet when faced with the pure, unadulterated INTERESTING-NESS of my musical tastes.

Since you have no choice but to print this letter, here's my name...

Letter printed, list rejected, name omitted.
Throwing Judas Priest on a list with Antony & the Johnsons doesn't earn you bonus points.