a weekly digest from the staff of brainwashed
V04I13 - 04082001
Click here for other issues
SITE
BRAINWASHED NOT CLOSING ITS DOORS
Last week's news item on brainwashed shutting down was an April Fool's Day joke. We hoped the inclusion of Nell Carter in the fictitious story would be sufficient enough to clue most people in on the silliness of the entire article. I mean, Gimme a break! Sorry to put fear into the likes of many of you. Brainwashed isn't going anywhere. Y2K+1 shirts are being planned right now.
COIL'S SCATOLOGY OFFICIAL RELEASE
Finally this groundbreaking album gets the reissue it so richly deserves and is remastered by Coil & Spiritualized member Thighpaulsandra. Scatology is one of the most inventive, ambitious, intelligent & disciplined "Avant" albums ever. A remarkable record that sees accessibility meet surrealism in an orgy of Emulators, chants, high technology and low anti - technology. Scheduled for release April 23rd.
NWW'S FUNERAL MUSIC FOR PEREZ PRADO
Music from the deleted NWW EP's Yagga Blues & Soresucker, coupled with the unreleased full version of Funeral Music For Perez Prado. Yagga Blues, Yagga Blues (instrumental), Funeral Music For Perez Prado (full version), I Am The Poison, Journey Through Cheese. Mixed by Steven Stapleton and remastered by Denis Blackham with cover artwork by Babs Santini. Release comes in a digipak. Also scheduled for release April 23rd.
PINK DOTS ANNOUNCE NEW TOUR DATES
Legendary Pink Dots are about to embark on a European tour, dates appear to still be rather tentative so stay posted to the website as more dates and locations are announced and confirmed. Also keep your eyes open for a new solo release from The Silverman along with another LP-only Edward Ka-Spel release.
PAWS ACROSS URANUS
Kid 606 plays out a few dates starting next week, starting on April 19th in San Fran with Chicks on Speed, and continuing the following few nights with Cex. Dates included are in Iowa, Boston, Baltimore and a special show in NYC with Matmos.
FRIDGE ON MIXING IT!
Last week we told you that the Jah Wobble, Evan Parker and Fridge show on Thursday the 26th of April at Ocean in Hackney, London was to be broadcast on the "Mixing it" BBC Radio 3 show which plays on Saturday nights. This was another malicious April fool. "Mixing it" is now on Sundays. Unbelievable!!! The shit we put you through...geez. You can hear it online at www.bbc.co.uk/radio3. Tickets for the show may still be available. They are free. The number to call is 08700 100300.
MUSIC IN BRIEF
Organum, "Ikon"


David Jackman, the man behind Organum, has for the past several years made a nice name for himself by ripping off the people who might want to hear his music. Whether by charging $20 for new 7" singles, publishing obscenely limited releases, or releasing CDs at full price with no packaging (there were two or three CDs that arrived in shops for $12 + in intentionally empty jewelboxes), Jackman's gall has become the focus of conversations much more often than his music. This CD, the latest in a series of informationless reissues of older recordings, is a full-priced CD that contains 15 minutes of noodly New Age.
Apparantly, Jackman owns a delay pedal. He must be damn proud of it, because he's smothered all the wordless chanting (I'll bet he spells "magic" with a "k" at the end) and breathy woodwinds in reverb and delay. Perhaps this was intended to convey space, atmosphere, or dramatic weight. Sorry, but it just sounds like a flute and a delay pedal.
I was stunned by the amateur-ness of the music, since Organum has produced many fine works before and since this recording. There have been plenty of New Age-like moments in the Organum oeuvre (much of "Veil of Tears", for instance), and his style of bowed-metal drone does have the tendency to induce sleepiness, but this is the lightest music I've heard from him. And I know that he isn't an amateur: he's played with Eddie Prevost of AMM, Steven Stapleton of Nurse With Wound, I believe he was involved in Cornelieus Cardew's Scratch Orchestra, plenty of heavy folks. But this may be strictly for the fans who didn't get the limited-edition cassette version of "Ikon" when it came out in 1987. If another EP was tacked onto this CD in the same manner as the two previous Organum reissue CDs, it would have justified the price and might have made the CD better by adding some darker or more challenging material after or before it.
Remember the old joke: two men are on line at a cafeteria, and one says to the other "The food in this place is awful!". "I know," the second man responds, "and the portions are so small!" - Howard Stelzer
samples:
WAGON CHRIST, "MUSIPAL"

"Musipal" is Luke Vibert's fourth album as Wagon Christ and debut for Ninja Tune. I've always been a moderate fan of Vibert, I don't listen to his music all that much but I buy everything he puts out, listen to it for a week or so, file it away and pull it back out on occasion. This album is much the same as past ones with lots of goofy easy listening mid tempo dance for the party. Super crisp and clean beats set the electro-hiphop-soul-jazz-funk foundation for numerous sample anecdotes and melodies. "The Premise" sets the agenda with plentiful spoken samples - 'the premise of this album is, well, the dance actually, dance business, the highest definition ever achieved in recording'. "Bend Over" features the sped up tale of a young Brit who's certain he will have to 'bend for it' to get what he wants. "Thick Stew" is quite serious at first, that is, until the animal sounds come in. The spoken mantra that gives "It Is Always Now, All of It Is Now" its title is damn near satanic in its distorted repetition. "Boney L" has an extra thick bass line for its mere 2 minutes. "Tomorrow Acid" intensifies the bleep factor while "Perkission" ends the album on a more up-tempo bossa nova tinged rhythm and even more jungle sounds. Yep, "Musipal" is pretty cool. Vibert will be DJing all over the world throughout June ... - Mark Weddle
samples:
mice parade, "mokoondi"


After two full-length albums, one of collaborations and loads of remixes and other appearances, Mice Parade is no longer a 'side project' of Dylan Group member and Bubble Core founder, Adam Pierce. The man is musically a one-man powerhouse, multi-talented multi-instrumentalist, collecting influences like a world traveller picking up intereting souvenirs wherever he finds them. On the business side of things, his work with Bubble Core shows a seemingly undying love for music and desire to share and exchange others' music from all over the world. [note: Americans can thank him for making Sigur Ros and other Fat Cat releases available in this country along with a select few of other odd labels and artists.] Be jealous, be very jealous of his incredible amounts of talent, but respect his hard work and skill. Mice Parade's third full-length disc once again is another maximalistic groove-ride: a joyful adventure down a bouncy instrumental post-tortoise-rock path with jazz, beatbox, South American and Asian influences bleeding into the mix. The disc opens up with two 'jams' of Adam essentially playing with himself. On these songs (spread over six tracks) Adam displays flawless mastery of drums, vibes, guitars, synth and cheng (chinese harp). His relentless skills are perfectly complimented by his talent of making great songs: to clearly distinguish his music from a music performance college final project - to make it enjoyable. While the rest of the following tracks feature various ensembles, Pierce remains the centerpiece. The music surprisingly maintains a linear and sensical flow, evolving with guest players on strings, sax, drums and voices, keeping up the same emotioanly charged groove and feel established from the start. Every song on here is a new adventure in modern music. At the end I'm stunned, appreciative and wondering where he finds all the time to write, practice and play. - Jon Whitney
samples:
movietone, "the blossom filled streets"


Former member of Flying Saucer Attack Rachel Brook has turned to a lighter touch with her current project. Far from the murky feedback drenched, distortion driven soundscapes of FSA, Movietone barely peeps with the sounds of subdued Latin jazz, post-rock minimalism, and the wispy coo of Kate Wright. While the result succeeds in inclining the ear, the album never really arrives. With a scant range of sparse and slow to deliberate and detached songs-and hardly an emotional register-the songs build an impassive tension that never releases. The sustained mildness, the still and dreamy stroll of Movietone can be suprisingly...oppressive. When "The Blossom Filled Streets" finally hits a gallop, it's as if the band has stopped holding its breath. What has been missing becomes startlingly present: change, direction, attitude. Though many critics have described Movietone as morose and even "emotionally draining," it seems The Blossom Filled Streets has more to do with paralysis than emanation. If there's anything depressing about this album, it's the lack of expressiveness rather than the expression of lack. The core of most songs is a heavy stillness pushed about by varied instrumentation (including clarinet, acoustic and electric guitar, piano, bass, drums, viola, and guicello). Often, the delicate colors added by each instrument seem to gesture towards the many spaces and silences on the album rather than communicate in themselves. Some might enjoy this band's impressionism. Me, I'm not too impressed. - Diane Lewis
samples:
DANIEL WEAVER, "PULSE"


Improvising cellist Daniel Weaver is best known as a former member of that rum bunch of plunderphonic organ transplanters Stock, Hausen and Walkman. 'Pulse' is a dance work for six women, performed by Echo Echo Dance Theatre Company of Derry, Northern Ireland. The music Daniel composed for it displays a more serious side, and unlike the frequent jump cuts of Stock, Hausen and Walkman is comprised of mostly fairly long pieces which shift and evolve relatively slowly, running into each other at walking pace for the seventy minute duration.
His brief from the choreographer was simply to allow him to mark a walking beat throughout the piece so he had a pretty free hand to indulge his eclecticism and create a unique piece of art which, even down to the bubble pack cover, bursts out of any generic bags.
The short 'Hangover' blasts off with Seamus Cater's happy harmonica playing drowned in traffic noise recorded during a walk. An easy listening jazzy piano loop looms up halfway through 'Polygamy' only to seep into elephantine wind howls and hoots. Cater's harmonica strolls back over the hill of string strangled tussles.
'Bendover' centres on a beautifully simple acoustic guitar riff reminiscent of the second instrumental from Colin Newman's 'Provisionally Entitled The Singing Fish' album, but Daniel counterpoints it with lazy tropical sundown melodies that sound Hispanic to my ears. However this piece actually evolved from a Malian / Senegalese model. There's a definite late summer atmosphere shimmering between the speakers.
Beats appear and disappear. The penultimate 'Pullover' begins with a jovial beat construction that initially wouldn't have sounded out of place on Stock, Hausen & Walkman's 'Oh My Bag!' but obliquely lets an eastern snake charmer out of the sample basket, before diving into choppier waters.
'Pulse' ambles off over the horizon with an extended ascending 'Sulphur Bath' coda, underpinned by some gut rumbling cello groans and wails - a chimingly steamy end to an charmingly dreamy stride.
Pulse is available from Pelicanneck in Manchester, who are distributing it. It is also available directly from Daniel Weaver alectro_ecoustic@hotmail.com - Graeme Rowland
samples:
"SR:AMPLE - A SOURCE RESEARCH RECORDINGS SAMPLER"

It's a little odd that UK based 'experimental sound based project' label Source Research Recordings felt it necessary to produce a label sampler at this time considering that they've only released 3 CDs to date: Leif Elggren/souRce research/Matmos "RGB", v/a "Emre [dark matter]" and Andrew Poppy "Time At Rest Devouring Its Secret" (all of which are recommended - see past issues of The Brain for reviews and mp3s of the former two). But for the uninitiated, this is a perfect place to begin. Limited to a 1000 copies in a purple vinyl slipcase, "sR:ample" collects excerpts from those discs - including Coil, Leif Elggren, Cyclobe - and about 50 minutes worth of previously unreleased/forthcoming tracks by Source Research, CoH, Cattivo, AphasRia and Ovum. This music is best absorbed through very attentive deep listening as much of it is quite mysterious and minimal, though never static or dull. I will concentrate on the new material. Source Research's 6 tracks drastically range from quiet contemplation, "Dark Start" being especially so, to violent sonic chaos. CoH's "menuet max." (possibly an homage to Erik Satie) rumbles and dances through computer forged squiggles not unlike those on his own full lengths. Cattivo cut and paste gentle female vocal bits with static on 3 eerie tracks, "neither-neither" being the most accomplished with additional male sobbing and a ghostly guitar (?) melody. AphasRia's "Fckd:mx" gracefully blends a beautiful ambient drift with stereo panned electric discharge. And Ovum's "Lavin" is barely present with 6 and 1/2 minutes of murky drone. Altogether the new and old material mesh well to showcase the recent past and recent future of the label's very respectable output. Future releases are planned for Steinbr¨┘chel, Cattivo, CoH and Andrew Poppy ... - Mark Weddle
samples:
loren mazzaCane connors, "the little match girl"

Loren MazzaCane Connors has made a career of serene guitarwork: ambient, atmospheric, sparse, spacious, or whichever word you feel would classify it best. The latest disc pulls together fourteen new guitar melodies for a collection just shy of 40 minutes. While there is a time and place for Connors' music: like having tea and reading a book before going to bed, I personally am feeling rather unsatisfied, almost as if there needs to be something more this time around. I've heard this entire formula before from Connors on previous releases. On top of that, I can't shake the thought that I feel I'm listening to a Mark Knopfler soundtrack the whole while. Connors knows all about making a rich and beautiful sound out of one source, treated guitar, but it's growing tired and the guy needs to start working with some people again to get some fresh ideas and external sounds going. Having one CD like this in your collection is encouraged, having 20 is excessive. - Jon Whitney
samples:
ilpo vÄisÄnen, "asuma"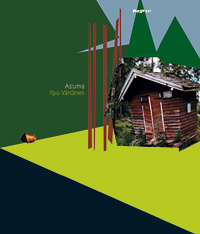 Also to be filed under the "just not enough" category this week is the latest solo release from Pan Sonic member Ilpo Vaisanen. The disc also clocks in under 40 minutes with eight tracks which seem almost heartless/soul-less when listened to alongside Pan Sonic releases. While it started out rather promising, on the whole the disc feels bland, thin, repetitive, thoughtless and unfinished. The disc is short and rather sketchwork-esque in nature. The "songs" utilize the same types of electronic sounds and styles that can be heard commonly on Pan Sonic releases, yet comparitively speaking, the songs here are lacking in depth. While I'd like to be able to separate the different entities, it's hard to listen and not compare the them as the sound sources are pretty much the same. The low-end drone/low-tech pulse combo of "Vallitseva" for example sounds achingly familiar, almost as if it was practiced live but discarded for album releases. The stereoscopically phased-out "Jaett" also echoes grounds covered in previous releases. I'm left somewhat confused, wondering if this was something Ilpo had promised to Mego or whether it was something old and kicking around, perhaps rejected by previously issuing record labels like Mute or Raster-Noton. - Jon Whitney
samples:
SLICK IDIOT, "DICKNITY"


Slick Idiot is En Esch and Guenter Schulz, the other half of KMFDM that didn't become MDFMK, and this is the mail order debut from their own Itchy Records. Surprise! It sounds an awful lot like KMFDM and that's fine with me. And goofy band name and album title aside, it sure is good to hear these guys again. The basic formula is the same: Esch's distinctive deep growl, Schulz's metal riffage, dance beat and synth programming (less flashy and complex than KMFDM/MDFMK), some female co-/backing vocals and sing-along choruses. Lyrically Esch foregoes the sociopolitical rabble rousing of his former band in favor of more emotional and interpersonal topics. "Lazy" is the most humorous with Esch and a female trading off old school rap styled boasts such as "yeah I'm En Esch and you can't fuck me - I got my shit on your record and shiny CD". "Forgive Me" drops the guitar while the following tracks "Idiot" and "Get Down - Give In [Sex Song]" provide the heaviest and sexiest riffs of the disc, as well as the barely adequate rapping of one Middleman on the former. Pretty good, though I know they're capable of more judging from Esch's superb '93 solo album "Cheesy" and Schulz's remixes for KMFDM. Full length mp3s and video clips are available at slickidiot.com ... - Mark Weddle
samples:
clicks & cuts volume 2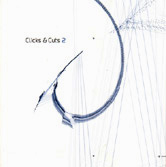 I cannot tell a lie, this collection is seriously bordering pointlessness. Pointless to a rabid music fan like myself and pointless for just about anybody other than a coffee shop or convenience store owner. Yes, this is truly elevator music for Generation Y. Even Amanda Palmer commented that the packaging and the cleverly typeset tracklist (which separated artist from song title) "reeks of pretention." And it is quite pretentious. According to the booklet, all of these 39 artists are part of a "new movement in music" (not a genre) where they're all worshipping glitches, expanding on the concept of a mistake. Does Panacea, Kid 606, or Ryoji Ikeda consider themselves as makers of glitch music, exploiting mistakes, eager to be lumped in with Alva Noto, Vladislav Delay or Fennez? If I were any of these artists I would seriously question Mille-Plateaux's motives. Reading onwards in the booklet, one would interpret this collection as a concept of mistakes. Disc one is truly a mistake with an abhorring mastering job which jumps in volumes from track to track, clumsily unbalanced tracks haphazardly whipped up on a computer. By track 10, the cleverly named Random_Inc. makes me almost cry to realize there's another couple hours of this left to go. Disc two luckily is a different take, but unfortunately the take wears weak shortly. The artists here like Brinkmann or Kid 606 are big disco fans who don't want to pay for or lug around a keyboard. It's littered with thumpy bumpy artificial bass drum kicks, tacky cheap drum machies, and songs absent of concept, melody, or structure. Unfortunately these "artists" generally end the track two minutes after it becomes completely unbearable. Disc three has the most musically-oriented pieces on here, with contributions from Matmos, Pansonic, CAT Politics, M2, Cyclo (Ryoji Ikeda with Carsten Nicolai) and Kit Clayton. Not only is the collection on the third disc musically charged, it sounds like serious, calculated tunes as opposed to accidental sounds over the last couple hours. I'm impressed with the opener from Twerk, as well as the warm sounds of Fennesz, and the comical album closer from DAT Politics. Matmos of course are the A-team of electronica. As far as I can tell these tracks are exclusive, which is good for fans as the disc does come at a very reasonable price, easy to skip over the crap. Okay, so maybe I was harsh at first, but if this were reduced to the last CD only in the set, I'd be behind it 100%. - Jon Whitney
samples:
danielson famile, "tri-danielson iii (alpha)"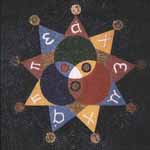 A family group that includes five actual siblings (actual surname Smith) and three "adopted" members, Danielson Famile was originally the college senior thesis of oldest brother Daniel. Their bizarre mix of folk and gospel influences, cacophonous circus-clowns-gone-amok toot and squeal, and Christian message enchants and unnerves listeners of all and no faiths. Think vocals like Frank Black at his most unhinged and music like the psycho-psychedelic lurch of Captain Beefheart applied to merry-go-round tunes. Its heavy dosage of sweet and surreal silliness may make it more of a novelty than a standard in my cd player, but the Secretly Canadian re-release of 'Tri-Danielson [Alpha]' includes songs that everyone -must- hear. In fact, I've played "Pottymouth" for just about everyone I know. The majority of the song is a spoken conversation between two girls, in which one of them relates an unsuccessful first date. Apparently the bad boy is also a bit of a klutz — while changing a flat tire, the car falls on his foot... which he later drops a bowling ball on. After each incident the unfortunate suitor speaks in a "strange language" (cursing represented by emphatic gibberish in the background of the track, of course). What's a girl to do when, at the end of the night, the loser tries to steal a kiss? The screeching sing-song tell-off is: "WON'T KISS NO POTTYMOUTH! AWAY WITH POTTYMOUTH! ZIP UP THAT POTTYMOUTH!" Other highlights include "Rubbernecker," a rollicking indictment of lecherous men, and "Between the Lines of the Scout Signs," which reclaims the middle finger from its social stigma. Yup: "Shake hands with that middle finger! Put 'em up right now, you heard me! Put 'em up right now! I SAID PUT 'EM UP!" If you're not yet enthused, check out a Danielson Famile show, in which the band regularly sports homemade nurse uniforms that symbolize "the spiritual and emotional healing taking place" and Daniel has performed from within a 9-foot-tall, homemade papier-mache tree. - Diane Lewis
samples:
TETRIS, "TETRIS"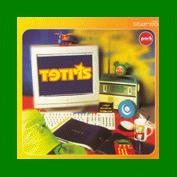 England's Pork Recordings is home to many a mellow, pleasant and polished, jazz inflected electronic downbeat. Tetris are a trio from Russia, also home of the inventor of the addictive game from which they take their name, and there's nothing remotely Russian about their music. It fits well within the Pork mind-set with shades of techno, funk, latino, disco, big band, swing, easy listening, porno soundtrack and kitsch. The programmed bass and beats are bright, clean and peppy and are dressed up throughout with horns, organ, female vocals and vocal samples, jazzy guitar licks and vibes and synth stuff. The 9 tracks are between 4 and 8 minutes with the exception of the more spacious and slower paced "Recordsman" which lazily sprawls for over 11 minutes. I don't feel compelled enough to go into any more track specifics, it's not really necessary, suffice it to say it's 'same-y' but with variation. This is happy-go-lucky dance music. "Tetris" is fine but too streamlined, predictable and a bit bland for my personal tastes. I need something more daring, deep and soulful. Or more amusing. Perhaps the most amusing item is the instructions for making a White Russian drink on the jewel case spine ... - Mark Weddle
samples:
We know that sometimes these CDs are somewhat challenging to find, which is why we have a community section which can be used to obtain nearly everything available on this site.
NEW RELEASES
MONDAY
Electric Company - Slow Food CD (Planet Á, UK)
Mental Destruction - t.b.a. 7" (Ant-Zen, Germany)
Joseph Nothing - Just One Fix 7" (Planet Á, UK)
Roni Size/Reprazent - Dirty Beats (remixes) two 12"s (Talkin' Loud, UK)

TUESDAY
Bourbonese Qualk - Moscow 7" (Klanggalerie, Austria)
Couch - Profane CD (Matador, US)
Eat Static - Crash & Burn CD (CyberOctave, US)
Ko-Wreck Technique - Ko-Wrecktion Remixes 12"/CDEP (Chocolate Industries, US)
* Laika - Sounds of the Satellites CD [reissue] (Too Pure/Beggars Banquet, US/Canada)
Loquate - Miracles 12" (Ubiquity, US)
Mokira - Kuket 7" [ltd to 100 copies] (Klanggalerie, Austria)
* Lemon Jelly - lemonjelly.ky CD (XL/Beggars Banquet, US/Canada)
Frank Lebel - Live at Walter & Katja's cassette [ltd edition in special package] (Syntactic, Austria)
No Forcefield - The Hard R/John Rocker Redemption Clause 12" (Stray, US)
Of Montreal - Coquelicot Asleep in the Poppies CD (Kindercore, US)
People Like Us - Swing Largo/Going Out Of My Head 7" [ltd to 100 copies] (Klanggalerie, Austria)
Scarecrow Willie [DJ Disk] - Platinum Lobster Breaks CD/LP (Stray, US)
Sunday - Universe City/Afternoon 7" (Chocolate Industries, US)
James Taylor Quartet - Tough Chicken 7" (Ubiquity, US)
Various - House Of Distraction CD/2xLP [with Delarosa & Asora, Jake Mandell, Freeform, Push Button Objects, Takeshi Muto, Matmos, Otto von Shirach, Richard Devine, Mannequin Lung, Phoenecia, Radio Boy & Dino Felipe] (Schematic, US)
* Andy Votel - Styles of the Unexpected CD (XL/Beggars Banquet, US/Canada)

THURSDAY
* Lexaunculpt - Oh Here's Some Noises 12" [reissue ltd to 500 copies on clear vinyl] (Isophlux, US)

SUNDAY
Aranos - Whilst Your Gaiety Melts 10" (Beta-Lactam Ring, US)
Edward Ka-Spel - Evidence of Absence LP [ltd to 300 copies] (Terminal Kaleidoscope, Netherlands - Beta-Lactam Ring, US)
Noise-maker's Fifes - Morfogenesi CD-R [ltd edition of 50 copies in wooden box with handmade inserts] (Beta-Lactam Ring, US)
Rick Reed - Music for the Rothko Chapel 10" (Beta-Lactam Ring, US)
The Silverman - State of the Union CD-R (Terminal Kaleidoscope, Netherlands - Beta-Lactam Ring, US)
Stimulus - Program Music 10" (Beta-Lactam Ring, US)

This is simply this week's highlights from the NEW RELEASES provided by Greg and Feedback Monitor.
For a more detailed schedule stretching into the future, please check out the site,
since release dates can and will often change.
CONCERT REPORT
MIRROR live in CHICAGO
6Odum is one of those places they call a "performance space", obviously not a rock club and obviously not being used for it's original purpose. A one-story building that must have been a business of some kind at some time, the main room looks like a run down church recreation room; with four cinderblock walls, linoleum floors and sagging ceiling tiles. Christoph Heemann played his second ever American show here with Mirror partner Andrew Chalk and an unannounced Jim O'Rourke twiddlin' knobs alongside.
With speakers set up in four corners and one row of chairs against one wall, the venue exuded a certain utilitarian charm. The crowd was small, with no more than 40 people. Lights were set up in the corners and candles were on the tables the group had their equipment set up on, which resulted in a semi-comical set up period as the musicians attempted to see just what the heck they were doing. Things got off to a fine start as a low hum began and field recordings added chirping birds and vague hints of rural and urban settings. The whole performance was one long drone, Chalk played some farfisa organ and guitar while Heemann and O'Rourke manipulated some CDRs and tones. Folks sprawled out across the floor and more than a few dozed off, testament to the effectiveness of the music. The sprawl of the music was thick and sounds slowly came to the forefront, then retreated into the background. Other than the field recordings and some ominous organ tones, the sound sources were more or less beyond identification. While I missed hearing Heemann's orchestral swipes and mutations, there was no arguing with the results, especially when the trio built up to a roar and then stopped on a dime. As soon as the music stopped, the collector dudes moved up to the tables to fondle the selection of oh-so limited vinyl and CD offerings. - Bruce Adams
CURRENT 93/ANTONY & THE JOHNSONS/PANTALEIMON IN LONDON
Both shows were, in short, blinding. A welcome surprise on Friday was the appearance of Backworld; I had only heard one or two of their songs prior to the event — they were utterly fantastic, IMHO. A soulful, musical performance which led me to buy their new CD, which is similarly fantastic.
Pantaleimon, on Saturday night, were good — the music's a little too simplistic for my liking, not really going anywhere in particular, but the performance was decent nonetheless. The last song (if memory serves) was very touching — I don't know what it's called, but it's about a "magical boy" — Tibet? — and extols the virtues of loving and being loved. Spine-tinglingly good.
Antony and the Johnsons followed Backworld and Pantaleimon respectively; I'd not seen them live, before, and they were much as expected — that fantastic voice accompanied by lovely music. There was a good deal of new material played on both nights, and on Saturday in particular. The only issue I have always had with them is that the songs, despite being essentially very different, still manage to sound alike. Nonetheless, for the most part it was breathtaking stuff — I found myself sighing deeply after a number of songs. I particularly enjoyed the new song — not sure of its name — about a young bird fallen from its nest; I've seen that happen, which meant the song had a particular appeal to me.
Antony was on fine, camp form — it's really amazing to watch him in his funny clothes and witness the sheer pathos of it all. I think most people will agree that one of the things that makes these bands great is the fact that they're clearly not just going through the motions, but rather have a profound belief in what they're doing.
And the same applies, of course, to Current 93. Wonderful as always. Tibet seemed incredibly moved by the occasion — he seemed to be actually crying on-stage, on both nights; the music highlighted the more Christian-related aspects of the Current of the past few years, with an (unfortuately) very similar set on both nights drawing from the last couple of albums and slightly on Of Ruine.. and Thunder Perfect Mind. This was a much more subdued affair than the last Current 93 show in London, and even than the shows in NYC; nothing especially noisy, here, and nothing even slightly cheerful. I'd have liked "Christ and the Pale Queens" or anything a little more up-tempo — "Oh Coal Black Smith" wasn't even played on the Friday, despite the fact that the audience clearly wanted it (singing the famous riff at various times on both nights).
Rose McDowall joined Current 93 on both nights, and her voice was as lovely as ever. On Saturday I was in a real rush to catch the last train home; thankfully, I decided to stay for the encore, in which everyone joined Tibet and Maya (who, regardless of what Tibet may think, is not as lovely as _my_ Maya :P) for a brilliant Coal Black Smith — precisely what the audience wanted. For a further treat, Antony joined Tibet for a splendid duet of Gothic Love Song. Great stuff. Nonetheless, Tibet overall seemed unhappy, drained, meditative, crossing himself at many times on both nights. And indeed, I felt that the thunderous applause following each song was somehow slightly out of place — these were performances to be followed by awed silence.
There was really far too much going on to cover it all; my intended brief review has already extended further than expected. Karl Blake came on for a song and for Coal Black Smith. A young kid, whose name eludes me, performed with the Current (and is featured on the absolutely lovely picture disc that was sold at the event); he too provided a (rather staged) comedy moment in which he announced Current 93, and then was told to go back on stage to apologise since they'd not be on for another half-hour. Steven Stapleton was hanging around and was polite and charming, even going out of his way to find a pen with which to sign my CD when I gave in to trainspotterdom. Mind you, something funny was going on with the new Nurse CD — packaged within dissected pieces of Steven's artwork: on each night a sign, that increasingly became obviously untrue, proclaimed that there were only twenty five copies remaining. Ah well -- still unique pieces, and I'd not unsurprised (although rather disappointed) if a few of these started appearing at exorbitant prices on ebay.
Antony too was around for a chat on Saturday evening; no sign of Tibet, though, which was also a change from past shows. Lovely merchandise, as ever. Oh, and a very polite, friendly and diverse audience who, rather annoying and incessant camera flashes notwithstanding, did the bands proud. Cheers to all of you. - George Carless
LINKS OF THE WEEK
Hyakugojyuuichi!!!!!!!
It literally means, you will pee your pants laughing. Possibly one of the funniest things you will see in a while. For those who checked earlier this week, it's working now actually.
Kozelek tech support
In his down time between albums, it seems as if Red House Painters' front man, Mark Kozelek has been getting involved with comptuers. He's now got an advice column for young women who need computer help.
karate kick my balls
Possibly one of the oddest singles ads comes from a young gentleman in Austin, Texas. Take a look at his personal-ad like site and see if you're up for the challenge!
THE WEEKLY CHART
the ghost of april fool's past
Some classic April Fool's day pranks:
Arnold Schwezengear Makes Some Prank Calls
The Brady boys fool the Brady Girls into believing in UFO's
Frankie Goes to Hollywood answers every question on an MTV interview with laughter
Tom the Fish switches the Sandwich song with the Macarena on Jon Whitney.
Chuck Knoblauch fools the umpires in the 1999 ALCS twice.
Boyd Rice schedules five-date mini tour with Dido
Schindler's List of 10 Things I Hate About You
V/Vm announces collaboration with Scanner and Spooky
Stomp Tokyo's "Star Godzilla"
FEEDBACK
APRIL FOOL'S!!!
A collection of the mail we received after last week's April Fool's Day joke:
Subject: I think I might cry
I'm physically saddened by your pending departure. I hope something comes of this real soon. Now I'm actually going to have to think for myself to know what to listen to.
Daniel

Subject: thanks

Thanks a lot, I'm glad to be part of The Brain. You did a good job on re-editing and correcting my bad english grammar.

Now is it true you're going to stop everything and sell it to corporates ??? No more Coil site, LPD site, C93 site ?..... We've got to do something ! What can be done ? I want to help !

Bruno

Subject: NOOOOO!!!! You can't shut down!!!!

April Fools! You can shut down whenever you want!

Just like my ISP did... the bitches.

Now I have to get a cable modem to run my servers on.

Jeremy

Subject: bye bye

After the dozens of times I've seen you dismiss corporate structure.Dismiss advertising.You end it all by saying nobody was good enough except for Miramax?

Thanks for the warning, cuz.

You couldn't have ended this run on a more sour, distasteful note.

Hope all dat cash enables you to keep on purchasing that import vinyl.

Here's to seeing David Tibet on Oprah!

Thanks for everything until today and then thanks for nothing.

Matt

Subject: leaving...?

NONONO!

Say it can't be true!!

If only I had server space....;(sigh

So really, this can't be totally goodbye can it?
Can't you just up and move?
All that talent....down the tubes?
What's uh the deal?

concernedly yours
][oyd


Subject: brainwashed closing

hope this is another one of your patented wind-ups, as i would be extremely disappointed to see brainwashed disappear. the site is about the only thing making monday mornings in the office just about bearable.

what would be doubly tragic is if you decide to close the site on the basis that you couldn't find anyone you like to advertise with you. to be honest, such a principle is admirable if you can afford it, but to deny your audience your service just because you don't fancy having a couple of multinationals taking up about 5% of your screen space is just being plain stubborn. personally, i couldn't care less who advertises where, because i never look at 'em.

brainwashed is a pretty damned valuable resource and shouldn't be allowed to vanish as a result of such wrong-headed utopian hippy idealism. as long as you can retain your absolute independence and commitment to underground music, i couldn't give a shit if pepsi, mcdonalds, coors or, for that matter, emi, bmg, wea or sony ads appeared on the site. just don't expect me to visit their sites or buy their product.

think about it.

gavster

Subject: HAHA, you make funny joke.

April fools.

CRT


Subject: brainwashed bs

Are you being forced to retire Brainwashed? if so there are ways to fight
(many to lose, but...)
or have you decided this was just a good ending point?
Do you have further plans afterward?
MY GOD WHAT WILL I DO WITHOUT BRAINWASHING EVERY MONDAY?

justin

sorry lost my composure for a moment there...


Subject: RE: brainwashed closing

oh, good one. you swine.

gavin


Subject: RE: april fool's joke

"and Nell Carter"

Now if that right there doesn't give people a damn good laugh, then I guess they don't know the joys of 80's US s(h)itcoms. Probably the best laugh I have had all day. And for the life of me, I cannot even remember the show she was in.

erik


Subject: brainwashed.com closing?

Brainwashed is closing? What's going to happen with the LPD and other sites you guys run?
Is the LPD site going to be moved to cloud-zero.org?

Vanessa

Subject: brainwashed.com

yo is this true?

kid 606

Subject: no subject

I hope you've been keeping well -
I was very sorry to learn of the imminent demise of brainwashed - I'm sure I can speak for all the readers/users/bands that we will miss you -
I always wondered how on earth you managed to do it without any financial backing at all - Are you going to be doing anything else in the musical domain? - Its kind of weird it's happening now as I was just considering writing some reviews for you as I have a bit of time on my hands - I just went to see a few really good bands down in here in southern France & I thought a few reviews with a provencal flavour would be nice -
well, must be off - internet in france is stupidly expensive & disconnects itself quite frequently - If you ever can afford it please feel free to come & visit me down here - food is amazing as is wine & very cheap not to mention the weather & countryside - Take care & all the best with whatever you set yourself to next - if it's remotely public I look forward to it

James

Subject: brainwashed

It's a truly sad day. I'm sorry to see brainwashed go. If it's a matter of $$, I would be more than happy to donate what I can to the cause. Either way, thanks for doing the work, and for providing a great service for so long.

love

jim

Subject: fuck brainwashed

good. fuck a brainwashed and fuck a jon whitney.

asshole. sorry, feeling bitchy this morning.


Subject: i can't believe it!

hello brain!

i was very surprized to read that brainwashed will no longer exist. that`s very sad, because it is the best site on the net, and i will miss it. of course i understand the money problem...

will the anounced brainwashed release nr.4 still see the light of day, or not?
what about the cyclobe-site, where will it go?

thank you for these final answers,
and thank you for years of excellent brainwash!!

good bye,
martin


Subject: So sorry to see you go...

Very sad, so sad... Best of luck in your next endeavours.

Karl


Subject: closing?

Is this the latest in a line of situationist pranks, this one 24 hours beyond April Fool's day?

Todd

Subject: It's an April fool, right?

Please don't go! No really, suck as much corporate cock as it takes, sell advertising space to the most evil corporations out there, sell your souls to satan even - the world needs you.

With masses of appreciation for all the hard work you've put in over the years,

Simon.

Subject: NO!

Say it isn't so!

You guys are the only reliable music site on the Web.
Oh well, thanks for the great recommendations.

If Jon or any of the other reviewers decide to keep it going elsewhere, please let me know.

Thanks-
Robert

Subject: advertising

maybe you should look into asking lars ulrich and his lawyers to take out ads championing the death of napster. what a horrid discrace that program was, good thing that we shut it down. who needs ways of finding new music? not me! but that might allow you to stay open and with a clear conscience. haha

-jon

Subject: thank you for existing!

crew,

This may sound like BS but I would not be the person I am today without you.
All of your websites tought me endless lessons about music, art, information, and all that jazz. I am.... furious, livid, saddened to learn you are closing down. You made a difference. Don't be too sad, realize you were a massive help to this music community, and you changed peoples lives. I love you Brainwashed.

peace,

nick

Subject: I will never say goodbye to My Beloved Brain

The famous April 1 demise of Brainwashed-- april fools prank or not-- has just been touchingly eulogized by Charles at Soleilmoon!

Before I start smearing my liquid eyeliner, will you please spill the beans and fess up whether this was holiday fun or cause for real despondence!

Love,

Thomas

Subject: Brainwashed R.I.P.

Whoa.

Jon and everyone else involved... thank you so much for the wonderful resource. I think the next few days will be everyone's last chance to check out all of the discographies and band pages on this wonderful site.

Chris

It may have started out as a joke, but after a week of emails of support and such, it's really shown how much our efforts are appreciated. For that, everybody at brainwashed sends out love and appreciation to everybody who makes this labor of love so rewarding. Sorry if we scared you.
WHAT'S IN YOUR CD PLAYER?
philly cheese steaks aren't made with philly cheese
The House of Love - "audience with the mind"
V/A - "The Northern Soul of Swan", Goldmine Records
Screamers - "in a better world"
Hedfunk - s/t
Harry Partch - "The Bewitched"
Mimir - "Mimyriad"
Rolling Stones - "London Years - Singles Collection"
Brad Laner & Kraig Grady - "music from the island of anaphoria"
Gallon Drunk - "in the long still night"


Todd C. Zino, Ithaca NY, who's probably never made a lace in his life.

feedback and submissions:
Brainwashed Zen Motors
PO Box 7 / Arlington MA 02476 / USA

© 2001 Brainwashed, all rights reserved.
Click here for other issues