red house painters, "old ramon"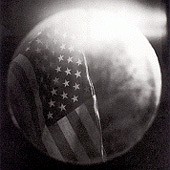 How long after an album is completed does it take to be released? A few weeks? A few months? Red House Painters' sixth full-length album came out earlier this week - three years to the month of its completion, tied up in major label buyout limbo and searching for a worthy new home. Thanks to the folks at Sub Pop for realizing this record, a warm welcome after years since "Songs for a Blue Guitar". To put this into chronological perspective, step back a few years, before the John Denver, AC/DC tributes and compilation appearances, drop the needle or hit play and it seems like almost no time has passed since 'Blue Guitar'. Make fun of singer/songwriter Mark Kozelek all you want for his taste in music (Yes, Wings, Cars, Genesis and Kiss covers to name a few) but the man has written some of the most poetic lyrics and memorable melodies in the last ten years. RHP albums go through a few phases when they enter my collection: first there's the embryonic period, where it's a very personal thing - listening late at night and alone. Shortly they begin to accompany car trips and walkman usage, and only after a long while do they become introduced to a select few close friends. Years later, the songs become memorized classics in my mind, and this album is really no exception. Unlike the preceeding 'Blue Guitar...' and the second eponymous release, this disc is entirely made up of original songs, totalling over 70 minutes with only ten tracks. From the time the needle drops (or the CD player starts to whirl) until the end, RHP is a coherent band, executing with precision the wishes of Kozelek. The album's opener uncontrollably forces a smile when half way through the first verse you realize this is a song about missing his pet cat while on tour. By the fourth track, the Painters are in full rock band mode, with the distinct brand of distorted guitar-driven slow tempo oomph, sorta like a slow-moving Mack truck, similar to the sounds created on 95's 'Ocean Beach.' Throughout the course of the disc includes familiar stories of traveling, memories and bad music references like Hanoi Rocks and Social Distortion. The sweet sustained guitar up against a slow motion last-call melody on "Smokey," a song written in tribute to John Denver shortly after his death is something one of Kozelek's biggest idols would be proud of. "Kavita," closes the album with another endearing, personal, heart-wrenching song of devotion, which in the last few seconds includes in-studio sounds like the ones that opened the album. Was it all done live to tape? Perhaps that's the impression we're supposed to get. Kozelek's writing style has progressed from the first releases on 4AD, where most of the tracks were introspective first-person tales of life, love and childhood. In the period between 95 and 96, it seemed many of his songs were written for people, addressing them (basically using the second person), while here on 'Old Ramon', his lyrics have evolved to paint pictures, relaying stories that have affected Kozelek's life. Now that it's finally arrived, many RHP fans can breathe a sigh of relief and absorb the lastest batch of songs to learn and sing, but unfamiliar folks interested in a starting point would probably be best served by the 'Retrospective' collection. As for me, I can already count about four times in the week since I've had this that I've started the music again right after it ended! - Jon Whitney
samples:
morgenstern, "cold"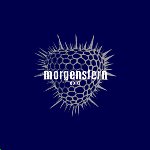 Although firmly rooted in the realm of power electronics, Morgenstern's latest release tends to use this footing more as a springboard for other ideas and actions, rather than as an end in itself. Unlike Slogun and Control, just to name two others who use power electronics, Morgenstern is using this framework as the building blocks that enable the exploitation of rhythm, distortion, tribal trance and other, darker, elements. Atmospherically, 'Cold' is all about opposites; aggression vs. meditation (or loud vs. quiet).
The first track, which gives the album its name, is a good example of the quiet side of this release. Calm, brooding, trance-like, but in the end very unsettling. This trance atmosphere, with the help of some background voices, ushers in the second track, which uses similar techniques to heighten the sense of disquiet. The electronics are also intensified, so while this is not an assault of the type Whitehouse might produce, the sense of serenity is now missing. This bridge between the two tracks also a microcosm of the overall release. Works slowly build and fade, forming a unique texture and flow. It is the third song "Hypnotized," however, in which the potential of the first two is in bloom. The distortion is way out there, the rhythm is pounding, driving, and the vocals are handled in such a way as to leave any goth fan speechless (that and the constant church bell in the background). This track is a marriage between power electronics at their finest, and all the best of Muslimgauze's later distortion, with the fourth track takes expanding on this theme. Thundering, pounding, weaving in and out, the harsher elements are actually somewhat diminished here, yet the distortion and rhythm are magnified. Furthermore, whatever is being done with the vocals, both in the foreground and background, is a flowering of pure evil. After a rather ghostly ending, an even harder song, the centerpiece of the album's aggression, "Insight" begins. Here the power electronics are at their most impressive, the distortion is constant, and the droney elements are turned way down, which allows the vocals to take center stage.
The unique flow of this release is then restored on the next song, aptly titled "Interlude." Near playfulness a la Nurse With Wound over a heavy undercurrent. Here we are given time to rest and collect ourselves, yet when we become aware of our sonic surroundings, they are no less disturbing than everything that has come before this. On the seventh song the slow build starts again. By the ninth track, after a succession of builds, the intensity subsides again. Swirling and dreamy, the rhythm resembles the beat of a human heart, and one gets the sensation of gaining entrance to another realm. The last piece, "Over," brings the listener back to the mood created by the one with which Cold began. More rhythmic than the first, but is no less paradoxical, and just as its title suggests, that is how Morgenstern leaves us. - Ed Lightner
samples:
james plotkin: trifid project and atomsmasher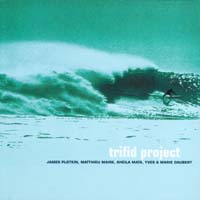 While listening to the Trifid Project EP, it became known to me that a number of email list members have been wondering what Jimmy Plotkin has been up to lately. While the man hasn't been releasing material on the bigger indie labels, a few things have managed to surface. The Triffid Project is a collaborative effort with members of Ant-Zen superstars Celluloid Mata and Ultra Milkmaids which takes the form of a short six-track CD and clear 10" record (limited to 400 copies). It's been released through the young Vacuum label through some unknown agreement with Ant-Zen. The music is abrupt and attention-grabbing, with quirky samples, spinning tapes, distorted aggression, processed vocals and chunky beats. While it only stretches about 22 minutes, these are some of the finest electronic manglings I've heard recently — combining a wonderful atmospheric makeup with unobtrusive guitar, live bass guitar and coldly calculated, crunchy, intelligent, overprocessed beats.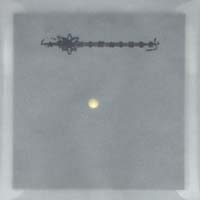 Atomsmasher is a new group which features Plotkin, DJ Speedranch and David Witte on drums. While we wait for a full-length release, a pre-release CDR-EP has managed to find its way into a small number of shops, courtesy of the Boston-based noise-loving label, Hydrahead. Atomsmasher, unlike the Triffid Project, is almost pure aggression, with speed-metal resounding riffage, drilling distorted vocals, and tons of computerized electronic reprocessing. Strangely approaching jazz-like in the way everybody wished Praxis would pursue following their 'Sacrifist' LP. This disc is fairly short too, three tracks and under 10 minutes, but for the sticker price, it's a must-have. Unfortunately its scarcity (limited to something absurd like 100 copies) has given this release the potential to become inflated far beyond the musical value on future online auctions. A new full-length should have these tracks. Speaking of the full-length album, when I looked at this label's website I find nothing on this release or a full-length. What gives, guys? Now you know what Plotkin's been up to. - Jon Whitney
samples:
V/A, "SUBSTANCIA 3"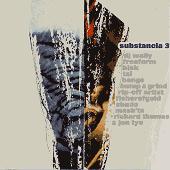 "Substancia 3" gathers mostly exclusive/forthcoming tracks from 11 artists on Belgium's Quartermass roster: DJ Wally, Bisk, Benge, Freeform, Shudo, Fisherofgold, Mash'ta, Bump & Grind, Rip-Off Artist, Richard Thomas & Jon Tye and Tal. Now I know why I don't own anything from the Quartermass roster. There is variation - illbient, electro funk, breakbeats, sample mania (think Coldcut, only nowhere near as cool) - but not much of anything of interest. Just tired and tedious sounds, samples, effects and sequences and songs that go nowhere. Freeform's "Cantho" wins the coveted 'sucks the least' crown by trading off atmospheric thumps with cacophonous outbursts of pots and pans percussion. Benge and Fishertogold's space techno offerings grow dull quick. Shudo's "Bringing Together the Best" fails to do that in its mess of drum loops, drone and cliche scratch sample. Richard Thomas and Jon Tye do something a bit more experimental with various samples, but in the end it sounds like a funeral march through a pet store. That's it. I can't take anymore. I want to wash my ears out with something good now. - Mark Weddle
samples:
JURGEN DE BLONDE, "HIDDEN RABBIT"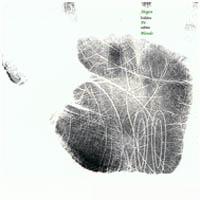 Belgian resident J┘rgen De Blonde steps out from behind his K¨hn (Flemish for 'rabbit') electronica project to reveal more pop proclivities for Germany's tomlab label. Here he successfully blends the sounds of his bedroom machines with vocals, electric bass and guitar melodies to craft odd pop songs (which are no less oddly titled) on his minidisc recorder. This is much closer to Pavement and Sean Lennon than Oval. "Reincanary (for the dead birds)" sets the tone with De Blonde's innocent voice and rapidly plucked notes set against programmed beats and synth gurgles, leading into the pretty ambient shimmers and bells of "Spinning dream of a Japanese boy". "Order Now !" is one of a handful of instrumentals, this one being a pleasant bass and arpeggio guitar groove. "Shady Brain" and "Maniac" are dubiously dedicated to Britney Spears and Meredith 'I'm a Bitch' Brooks, respectively, the former driven by breakbeats and grunge-y guitar, and the latter a strange but amusing sung list of self declarations ("I'm a nigger on a cactus, I'm a nazi killing Brutus, I'm Popeye the sailor man, I'm Clark the Superman") with acoustic guitar backing. Good stuff. "Hidden Rabbit" is a testament to both De Blonde's abilities and tomlab's variety, both producers of interesting, quality music. - Mark Weddle
samples:
CRUNCH, "nullpluze.nz"
In most places where this is listed for sale, it is called "1", not "nullpluze.nz"; just so you know if you're looking for it. Michael Fakesch (Funkstörung) wrote a glowing review of it, and that is what most folks post as a blurb. And why not? Fakesch (and Deluca) released it on their excellent Musik Aus Strom, and one can see where it crosses lines with their music. Where Funkstörung just cant seem to help themselves in the "I'm-not-gunna-let- this-beat-run-in- straight-meter" tomfuckery, Crunch lets the beats run in straight meter. He picks some highly digitized sounds and builds with that, none of the 4000 samples per 3 minutes here. There are changes, great changes, sweeping changes within each track even, but it seems more within the scope of the track. If you've ever thought or said, "this funkstörung record is great but i wish they'd keep a beat and stop showing me how many millions of samples they have stored", then this is close to what you asked for. Most of the record is decidedly downtempo, either head-noddingly slow, pulse beat or beatless; synth washes are generally on the somber side, with melodies subtle and often quite beautiful. Most of the programming sounds pretty complex, if controlled. Headphones are recommended for occasional use. Overall, this is very nicely varied electronic music, really one of the best in recent months I've heard. Somehow original sounding enough in a genre fast becoming homogenous. If you get the chance, get it on thick slabby double vinyl, in the great sleeve Fakesch got gooey about. I don't have anything bad to say about this record and I'm really looking forward to other stuff from this anonymous outfit. If you want a comparison beyond Funkstorung, none of this would sound out of place on a Schematic Music Company compilation. Very recommended. Thank you for your time. - Damian Cote
hank & slim, "the world turned gingham"


A fictitious bio describes Hank & Slim as a 60+ year old duo from Texas who collaborated and then had a falling out, moved their separate ways and never spoke again. In actuality it's Robin Storey (of Rapoon) and Nigel Ayers (Nocturnal Emissions) and the fictitious story is the most entertaining aspect of this disc. 'The World Turned Gingham' is a somewhat sparse and limited version of KLF's timeless monumental classic 'Chill Out'. It's laden with old western tunes twanging away in gated echoes, meshing in with a sparse Angelo Badalamenti-wannabe keyboard background, mixed with radio broadcasts which could be real, but probably fictitious. While the disc worked for unobtrusive background noise while filing taxes and recovering from a fattening Easter dinner, I honestly couldn't stop thinking of how I'd rather be listening to "Chill Out." - Jon Whitney
samples:
couch, "profane"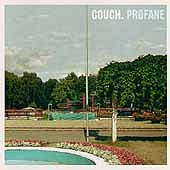 I must admit at the first few listens I wasn't quite blown away by the latest release from yet another instrumental rock band of Germans who refuse to admit they're influenced by Neu! 'Profane' is their fourth full-length album, and first release to be issued in Europe, North America and Japan simultaneously (as opposed to 'Fantasy': out on Kitty-Yo in 1999, surfacing on Matador USA and Japan in 2000). In its defense, the beats are quite meaty while the production allows each member's contribution to be well-defined. Unfortunately most of the tracks are entirely too repetitious, often lacking a strong 'lead instrument' such as a trumpet, voice, organ or even guitar melody to carry the songs. My excitement perks up by the third track, "Was alles hält." Directly translated as 'Which Everything Holds,' this gem is a compelling electronic bubblebath with sounds and tunes to satiate any To Rococo Rot fan anxious for a new release. Following that, "12 Sind Nur 4" (12 is only 4) is an upbeat, energetic jam that opens strong, builds nicely and basically rocks out, displaying the group's performance talents as a cohesive element. The rest of the disc actually builds well on this foundation, following a pattern of bringing an instrument to the foreground, coloring the background with horns and cello from special guest musicians including Marcus Acher (The Notwist, Lali Puna, Tied and Tickled Trio). All in all, it's a fairly decent record, which makes me anxious to see the group perform live rather than satiate me 100%. - Jon Whitney
samples:
Mothboy, "Raw Loops And Numb Breaks Vol I"
Simon Smerdon has got the funk. It's come up from out of nowhere, bitten him on the ass and he's all the better for it. Recently seen on compilations like 'Economi$ed' and Low-End Recon,' Simon was one of the progenitors of the 'Dark Hop' movement in former project Ocosi, but here has moved on sonically, passing on the trance-inducing, minimal beats and bass of previous Mothboy releases to create something entirely new. 'Raw Loops...' sees the Moth branching out into some of his finest, most fucked up work yet; the Eno-esque piano motifs of 'Your Fingers Pt 2.' wouldn't be out of place in the sets of most ambient DJs, while 'Safe As Houses' amps up the funk to Guru- and Premier-type levels. The liquid guitar work of 'Midnight Funk Associates' is one to listen for with its rattling hi-hats and stoned urban cowboy kinda drawl. It sucks you in and never lets go. With such quality beats afoot, it's not surpising that certain heavy beat-oriented labels are already coming a' calling, so here's to another volume's worth of sick beats and deconstructed funk. - James Graham
panacea/cativo, "the hardest tour on planet earth"

Following their recent European tour, label mates and friends Cativo and Panacea have decided to release a small collection of remixes and revisits of their tracks done by each other. Unlike Panacea's full-length albums, this disc is very straight-up, without the transition periods and lengthy intros that have become expected from him. While Cativo's songs in the past have sounded to me like they needed a bit of compelling driving underlying force, Panacea has filled in any gaps with his retouched versions Cativo's tracks. The disc should be an instant hit with the fans of the live sets these two have been performing, yet listening from start to finish can get somewhat tiresome as the songs have no transitions. Thus, the set works far better as a double 12" set, primed for club play. I must admit however, the two CD-bonus tracks, Panacea's own "Prince of Darkness '98" and Cativo's "Variation (original master)" are my two fave tracks on the disc, indeed leaving me with an overall positive view of the record. - Jon Whitney
samples:
We know that sometimes these CDs are somewhat challenging to find, which is why we have a community section which can be used to obtain nearly everything available on this site.
MONDAY
Backworld - Of Silver Sleep CD (World Serpent, UK)
* Coil - Scatology CD [official remastered reissue] (World Serpent, UK)
Depeche Mode - Dream On 12"/two CDEPs [mixes by Bushwacka, Dave Clarke, Octagon Man and Kid606] (Mute, UK)
* Echoboy - Volumes 1+2 2xCD [ltd boxset of two previously released albums] (Mute, UK)
Fatboy Slim - Star 69 12"/two CDEPs (Skint, UK)
Grain - untitled 12" (Fat Cat, UK)
Imitation Electric Piano - Imitation Electric Piano 12"/CDEP (Duophonic, UK)
Marcus Intallex and ST Files - Universe 12" (Metalheadz/London, UK)
Ltd. Noise - About Eight Minutes CD (Multicolor, Germany)
Metamatics - Dope for the Robot CD/LP [selected tracks from the now deleted A Metamatics Production CD on Clear Records] (Hydrogen Dukebox, UK)
Nurse With Wound - Funeral Music For Perez Prado CD (World Serpent, UK)
Mogwai - Rock Action CD/LP (Southpaw, UK)
Mouse on Mars - Idiology CD/LP (Domino, UK)
* Neu! - Neu! CD/LP, Neu! II CD/LP and Neu! 75 CD/LP [official reissues] (Gr¨nland, Germany)
Le Triste Sire - Exorde CD (World Serpent, UK)
Andrea Parker - The Dark Ages 12"/CDEP (Quatermass, Belgium)
Ruby - Short Staffed At The Gene Pool CD/LP (Wichita, UK)
The Railway Raver - You'll Never Get Anywhere 12"/CDEP (Rephlex, UK)
Shudo - Shudo CD (555, UK)
The Soft Pink Truth [Matmos side-project] - t.b.a. 12" (Soundslike, UK)
Sorrow - Let There Be Thorns CDEP (World Serpent, UK)
TLM - Electrastars CD/LP (Hydrogen Dukebox, UK)
Vita [Mikael Stavostrand] - Vita 1 12" (Force Lab, Germany)
Votel, Andy - Girl On A Goped 7" (Twisted Nerve, UK)
Zorn - The City's Collapsing (But Not Tonight) CD/2xLP (Lux Nigra, Germany)

TUESDAY
All Natural - Second Nature CD/LP (Thrill Jockey, US)
Azeem - Craft Classic CD/LP (Stray, US)
Bardo Pond - Dilate CD/2xLP (Matador, US)
Jerry Bonham/Various - Spundae Presents: Interpretations II 2xCD (Mute, US)
Elite Force - Godfather 12" (Leftwing, US)
Michael Franti & Spearhead - Rock The Nation 12"/CDEP [mixes by DJ Spooky and Bassnectar] (Six Degrees, US/Canada)
Bob Holroyd - Drumming Up A Storm 12"/CDEP (Six Degrees, US/Canada)
Luke McKeehan/Various - Lazy Transmissions CD (Nordic Trax, Canada)
Mouse on Mars - Idiology CD/LP (Thrill Jockey, US)
Ruby - Short Staffed At The Gene Pool CD (Wichita/Thirsty Ear, US)
Scarecrow Willie [DJ Disk] - Platinum Lobster Breaks LP (Stray, US)
Various - No Categories 4 2xCD/2xLP (Ubiquity, US)
Various - Traveller '01 CD (Six Degrees, US/Canada)
Vert - 9 Types of Ambiguity CD/LP (Sonig/Thrill Jockey, US)
Otto Von Schirach - 8000 B.C. CD/2xLP [vinyl version includes bonus 7"] (Schematic, US)

This is simply this week's highlights from the NEW RELEASES provided by Greg and Feedback Monitor.
For a more detailed schedule stretching into the future, please check out the site,
since release dates can and will often change.
moving forwards...
Subject: COIL
Hi i was just wondering what the latest news is with Coil's Backwards. The recent Wire Tapper CD (from The Wire) included the song A Cold Cell "from the forthcoming album Backwards" yet Nothing Records have made no mention of it on their website, or the band at all.
Who cares at this point? The Musick to Play in the Dark series has been quite astonishing as well as Constant Shallowness, Astral Disaster and the Thighpaulsandra double. Honestly the group has released over 20 things since the "Backwards" announcement was made in 1993, get over it, it'll happen when it happens and you won't fucking miss it.

Subject: radio

My preset radio station 1260 music of your life it plays 570 instead?
I would apprecate if you tell me why.

Please start making sense.

Subject: no subject

anyone who really thought you were closing the site is an idiot. you were too kind to them, thanking them for their kind thoughts/oprah-style paranoia. you fucking softy.

How rude, but I guess I'd rather be Oprah than Rosie.

Subject: nothing too important

... just thank you and much love for the rocking site...

I'm so pleased to find so many people who have not only heard of Current 93 (among others), but who actually like them, too.

So are we!

Subject: ow my eyes.....

Guys,
just been doing my weekly look through your web site (one that I never get sick of and quite enjoy by the way) on my new notebook and have gotten an almighty headache from the display on my IBM stinkpad due to the orange and black background constantly "moving" on me.

Should i lay off the brown acid for a while or can you guys maybe look to swap the background to something else so i don't get flashbacks and headaches when visiting the Brain site?

There's something on your computer that should deal with screen resolution and settings that deal with contrast. Learn them, for your own benefit.

Subject: Neuengamme

Very nice site. Well done. I am sourcing a compilation called Neuengamme on Remote Control Records. Have you of this? Band like Whitehouse & P16D4 are on iy. I really need a copy of this.

Try the message board!

Subject: Reviews!

Dear Sirs

Let me first introduce myself. I am a revewer for four e-zines. The first one is has articles, reviews, news, tours and more on the page. Currently the page is number 5 out of more than 12.000 music web-pages in Denmark. The next e-zine is mostly a zine featuring reviews, but also a few interviews from time to time /currently between 400 and 500 reviews (in all geners). The third is a pretty new zine which has already climbed to number 40 on the Danish music website chart. There are reviews, news, interviews, debate forum, quiz and more to be found on the page.

I also recently became a guest writer for one of the most popular hardmusic zines in all of Denmark. This zine is currently number 3 on the danish music website chart.

All four e-zines are in danish, so it can probably only be understood by people comming from Denmark, Norway, Sweden, Faroe Islands, Greenland and perhaps Iceland.

To get to the point. I have heard a lot about in the Opus zine, which is why I decided to find out if you guys are interested in having us reviewing some of your material.

Time to cull the herd. 12,000 music pages in Denmark? Imagine how many there are in countries that are larger than a postage stamp.
- response submitted by somebody who wishes to remain anonymous!