kristin hersh, "sunny border blue"


The brand new full-lengther from former Throwing Muses vocalist/lyricist/boss is undeniably her greatest solo achievement. The rocky road Hersh has endured over the last few years has surfaced into an explosive collection of gut-wrenching songs. After fifteen years of hearing her voice, I can safely say there is absolutely no comparison to this one-woman powerhouse of skill and talent - her voice, playing and writing styles are all part of the package deal. As a writer, both alone and with the Muses, there are volumes upon volumes of songs she once claimed are just "floating in the air," that she only pulls out. While this is her fifth solo full-lengther, it's the most complete to date in terms of instrumentation — with piano, bass guitar, drums, acoustic and electric guitars — all played by Hersh herself. "Sunny Border Blue" includes ten originals and one Cat Stevens cover tune (which oddly enough appeared in last week's 'ER' episode). As captivating as her electric blue eyes, the songs almost always begin in a sincere, vulnerable and painfully direct way, then build to a lashing out with none of her personal feelings held back. From the first track, "Your Dirty Answer" when she cries out with the scathing "It's not my fault you don't love me when I'm drunk" through the last story, "Listerine" where she recounts "How did I sleep through a kidnapping?", these tunes depict bleeding personal interpretations of relationships, experiences and fictitious stories. Kristin Hersh is a national treasure and deserves to be regarded much higher as one of our times' most impressive singer/songwriter/performers. - Jon Whitney
samples:
mogwai, "rock action"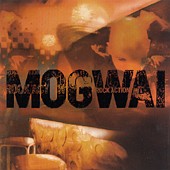 Mogwai are back, but are they better than ever? Fans of these Scottish lads and their music tend to be rabid, so this is one of the most eagerly awaited CDs of the year. Much more concise than their other releases (read: shorter), Rock Action is Mogwai's most musically ambitious release in terms of arrangements and their finest effort to date, warts and all. Gone are the 16 minute epics that marked "Young Team" and later releases; here to stay are killer melodies and lovely arrangements. Yes, there are a few let downs. The opening track, "Sine Wave," while scary and malicious, sounds a bit too much like "A Warm Place" by Nine Inch Nails/"Crystal Japan" by David Bowie. And "Robot Chant" sounds like what Mogwai ends their shows with: distortion pedals on stun + volume on 11 = fuck the audience! The high notes leave these missteps in their dust. The finest track, "2 rights make 1 wrong" will thrill fans everywhere with it's melodic beauty, and "you don't know jesus" sounds just like the title suggests, destroying your faith at its basic levels. There's even vocals on four tracks, including a fine guest appearance on "dial:revenge" by Gruff Rhys from Super Furry Animals singing in his native Welsh. On "Take Me Somewhere Nice," it's clear just how much guitarist/vocalist Stuart Braithwaite's delivery has improved, and the lyrics are far more understandable this time. All in all, a great release for them and you. Earplugs are recommended, even with your headphones on. - Rob Devlin
samples:
MOBLIN, "CPROMPT"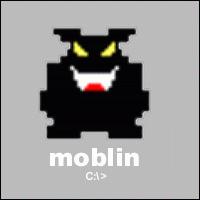 Moblin is Chris Ragnar Bergen, multi-talented artist and apparent proprietor of thistownisdoomed.com. Bergen has an obvious predilection for old school computing and gaming, namely Dos and 8 bit Nintendo, as evidenced from the moniker (a character from the NES "Legend of Zelda" series), title and artwork. Perhaps it's this love of fun and engaging interactive machines that provides his penchant for likewise electronica. The 11 cute and/or oddly titled tracks that make up the 38+ minutes of "CPrompt" draw upon the playfulness of those classic video game themes and the influence of fellow modern electronics wizards such as Kid 606 and Matmos. Moblin's sound set is predominantly warm tones, bass and beats with similar samples and the occasional outburst of static or noise. At times it's a chaotic barrage of spliced samples and at others a markedly restrained ambient walk in the park. But it's Bergen's skill in data sequencing and attention to precise detail that makes these tracks special ... test tones, rippling glitches, minuscule loops, fuzzy melodies and appropriated rhythm bits seemingly fall into place rather effortlessly. This is really high quality stuff that bears repeated listening. Judge for yourself with mp3s of four full tracks at thistownisdoomed/moblin. Next up for Moblin is 2 tracks on a 7" for the Itcfwak label and a new EP entitled "The War On Drugs is a Joke." - Mark Weddle
samples:
The Rip Off Artist, "Brain Salad Surgery"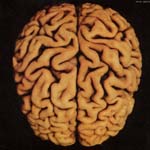 Bumped into Matt Wand of Stock, Hausen & Walkman as he was hawking the new Rip Off Artist CD to the Manchester shops. Opening his box of Hot Air to reveal brains aplenty: "You can have one for a fiver if you write a good review!" Thus bribed I went home to ruminate on whether this Rip Off Artist was some kind of scam since my first impression was that this could feasibly be a follow up to Stock, Hausen & Walkman's wry techdance appropriator 'Oh My Bag!' Hot air has never been proven magnetic so maybe it's just a case of like attracting like. Whoever he's ripping off, the bribe was not necessary. The Rip Off Artist is said to have recorded this in Southern California. There are some quirky Matmosian shuffles in there, or am I just hearing this because I played this right after the 'California Rhinoplasty' EP? The Rip Off Artist, or Matt Haines as his mum probably insists on calling him, uses a smaller range of sounds, or at least his sources seem less dramatic, mostly relying on good old frazzled bleepery, but he has a lighthearted foot shuffling fluid beat organisation technique which is exactly what you might expect from Hot Air, if indeed you expected anything at all from this slightly odd and idiosyncratic label. The Rip Off Artist is alleged to have helped out Uwe Schmidt with recording and has thus been accused of ripping off Atom Heart. I haven't heard enough Atom Heart to know if that's so, but this is certainly a rapid motion melodic addition to the ever expanding quirky sampled cut up beats glut. Is the cover picture of a brain just a ploy to get a glowing write up on this Brain? No, it's not, but how can an album that opens with a track about how 'Asparagus Spears My Artichoke Hearts' possibly be less than soupy?
Hot Air website: www.simplesampling.com - Graeme Rowland
samples:
AU REVOIR BOREALIS, "TIENKEN"


Au Revoir Borealis (clever name, eh?) are a four piece band from Detroit who have played live with Jessica Bailiff, Windy & Carl, The Autumns, LN and the like. They appeared last year on volume 1 of E+J Recordings "Sculpting Nick Drake" tribute and "Tienken" is their self produced and released debut EP. Six tracks, half of which are titled songs and the other half untitled instrumentals, make up the 25 minutes. Points of reference for their sound, besides those they've played with, might include Cocteau Twins with a dash of Sigur Ros and a pinch of My Bloody Valentine. "Heavens Downward" poeticizes a nighttime snowfall against a lush electric guitar/synth cloud and gentle bass/drums pulse. Stephanie Halpert's heavenly voice repeats 'I could lose myself in this' as I think the same thing to myself, though I'm referring to the music rather than the precipitation. "Waldorf Theft Song" is a tad more upbeat with more of a synth pad presence and guitars restrained to non distorted tones. Lyrically it centers around the mysterious lines 'falling away into the waiting field' (or is it 'into the way you feel'?) and 'the Waldorf is something I might like to steal'. After the rhythmic synth gurgling of interlude track 4, the deeply moody "Monolith" slowly takes shape out of the atmospheric aether. Here the words are more personal and full of longing, Halpert begging 'hold my heart in your heart, say I can stay, can stay'. The final track gracefully closes the disc with pretty de-tuned guitar notes in an effected wash. A wonderfully emphatic and impressive debut. Here's hoping the next disc gives us much more. Be sure to play with their fun to navigate web site aurb.org. - Mark Weddle
samples:
"re:kusaki, michiko kusaki remixed"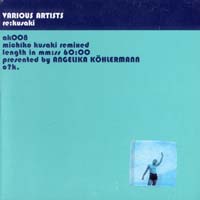 Come on baby, let's rock baby. With all the different mega-buzzworthy amusing modern electronic artists collected on this one CD, all I can think of after hearing 17 remixes of and tributes to "Come on baby, lets rock baby" is exactly that. The disc starts out with an instrument-free spoken word track from Chicks on Speed and continues with contributions from American, European and Japanese electronicists like GD Luxxe, Console, Adult, Pita, Sylvester Boy and DMX Krew. It's the eighth release from Angelika Koehlermann, an Austrian label formed by people from the Cheap and Mego labels. I suppose it would make more sense to me if I actually owned the 1999 release from the fragile and feministic Osakan singer Michiko Kusaki, whose album released by AK allegedly had 8 top ten singles from, of which the hit "Let's Rock Baby" was born. Since everybody apparently missed all these hits from Michiko Kusaki, Angelika Koehlermann felt it their duty to compile a tribute to the record. Whether it's the blippy Adult, cute Japanese styles of Shinto, the horn-stem-funk friendly Mixmup, noise onslaught of Obscurum, children's tv show theme-esque Bodenständig 2000, Casiotone tunage of Yoko Tsuno or the New Order-worshipping GD Luxxe, these tracks never get tired or worn, old or uncool. Summer is on its way and this disc provides a great soundtrack for a trip to the beach. I'm now itching to hear what the hell the hoopla is all about from the original release from 1999. - Jon Whitney
samples:
JAH WOBBLE & EVAN PARKER, "PASSAGE TO HADES"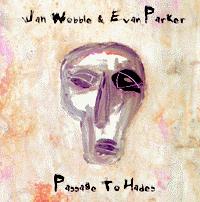 Over the past few years bass maven Jah Wobble has collaborated with a number of varied artists including his own Deep Space ensemble, Molam Lao members, a brief stint in post-rock outfit the Damage Manual and here virtuoso saxophonist Evan Parker. "Passage to Hades" consists of four 9 to 14 minute tracks combining trademark Wobble band hypnotic world-dub groove with Parker's circular breathing, free jazz abstract soundscaping. The title track settles into a smooth, lumbering bass line and sticks with it as Parker gently drones in tenor and Deep Space members Clive Bell and Jean-Pierre Rasle add flirtations of Thai pi saw flute, harmonica and bagpipes. "Giving Up the Ghost" varies the tempo more by fading Wobble and drummer Mark Sanders out a few times and back in at a different pace. Parker flutters and squawks in soprano, taking on a shimmering quality as notes are swallowed up and fed back through the mix. "Full On" features the most aggressive bass workout but Bell's stereo goathorns are a bit too overbearing thus, unfortunately, dominating the track. And on "Finally Cracked It", Sanders lays down a mildly funky rock rhythm for Wobble's rigorous bass line to lock into. Parker is in exceptional form here layering tenor drones and darting in and out with pretty reverberated riffs. Altogether, "Passage to Hades" is another successful collaboration for Wobble with predictable but beautiful results. It seems that most anything and everything works well with Wobble's low end led liaisons. Jah Wobble and Deep Space will tour major U.S. cities in May - Mark Weddle
samples:
monster movie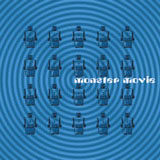 First of all I want to say how much of a thrill it was to see that somebody else from Slowdive is finally releasing music again. Slowdive was possibly one of the best components of the shoegazing movement that trickled out of the United Kingdom in the early 1990s, before the group split, they released a departure from the blurry guitars and buried vocals, 'Pygmalion', which despite being a fucking incredible release, was nowhere close to the charm and happiness experienced with 1993's 'Souvlaki'. So the group called it quits and the singer went on to pursue Mojave 3, which was decent in my opinion, but never something I would pull from the racks and listen to on a regular basis. Now this shows up at my doorstep - a five-track EP from former Slowdiver Sean Hewson with somebody I'm unfamiliar with, Christian Savill. From the first blurry guitar chords, it's refreshing to hear notes from a soul behind a three of my favorite albums of the last decade. When the vocals start, however, it becomes painfully apparent that these chaps are neither good singers nor lyricists. To its defense, the EP has grown on me very very very slightly over the time that it's been in my possession. Plus, these songs will probably be able to muster up some good press and a decent amount of attention from college radio. At the end of the 20 minutes, however, I'm left unsatisfied, but all the while waiting to see if they can get their shit together for a decent debut album. - Jon Whitney
samples:
We know that sometimes these CDs are somewhat challenging to find, which is why we have a community section which can be used to obtain nearly everything available on this site.
MONDAY
The Abrasion Ensemble - Music For the Same 500 People CD [first 50 copies in wooden box with bonus CD] (Beta-Lactam Ring, US)
Natacha Atlas - Ayeshteni CD (Mantra/Beggars Banquet, UK)
Autechre - Confield CD/2xLP (Warp, UK)
Coldcut - Re:volution 7"/CDEP (Ninja Tune, UK/Canada/US)
Freeform - A.T. Home 12" (Quatermass/Sub Rosa, Belgium)
Funckarma - Solid State CD (DUB, The Netherlands)
Future Pilot AKA - Beat Of A Drum 7"/CDEP (Domino, UK)
Gimmik - Rythmus Der Stadt LP [ltd to 750 copies] (Toytronic, UK)
Edward Ka-Spel - Evidence of Absence LP [ltd to 300 copies] (Terminal Kaleidoscope, Netherlands - Beta-Lactam Ring, US)
Leafcutter John - Zeagma 7" (Planet µ, UK)
Tim "Love" Lee - Super Rappin No 5 12" (Peace Feast, UK)
Mogwai - Rock Action CD/LP (Southpaw, UK)
Noise-maker's Fifes - Morfogenesi CD-R [ltd edition of 50 copies in wooden box with handmade inserts] (Beta-Lactam Ring, US)
Orbital - The Altogether CD/2xLP (ffrr/London, UK)
Ovuca - Wasted Sunday CD/2xLP (Rephlex, UK)
Penfold Plum - t.b.a. CD/LP (Wichita, UK)
Projectile - Pug Times LP [ltd to 750 copies] (Toytronic, UK)
Rick Reed - Music for the Rothko Chapel 10" (Beta-Lactam Ring, US)
Rip Off Artist - Kids Are Alright CD (Quatermass/Sub Rosa, UK)
The Silverman - State of the Union CD-R (Terminal Kaleidoscope, Netherlands - Beta-Lactam Ring, US)
Stimulus - Program Music 10" (Beta-Lactam Ring, US)
Ticklish/Fizzarum - split 12" [ltd edition of 500 copies] (Textile, France)
To Rococo Rot and I-Sound - Music Is A Hungry Ghost CD/LP (City Slang, UK)
Tom Tyler - Singles Collection 1998/99 CD (DC Recordings, UK)
Venetian Snares - Soungs About My Cats CD [ltd to 1000 copies] (Planet µ, UK)
Volcano The Bear - Volfur CD-R, Volve CD-R, Volseptor CD-R [ltd edition live releases] (Beta-Lactam Ring, US)
The Bill Wells Octet Meets Lol Coxhill - untitled 12" [ltd edition of 500 copies] (Textile, France)

TUESDAY
Attrition - Hidden Agenda CD (Invisible, US)
* Chris Clark - Clarence Park CD/LP (Warp, US/Canada)
Dead Voices on Air - Live CD (Invisible, US)
Orbital - The Altogether CD (Warner, Canada)
Phoenecia - Brown Out CD/LP (Schematic, US)
Mikael Romanenko - To Let Go LP (Benbecula, Scotland)
* Turin Brakes - The Optimist CD (Source/Astralwerks, US)
Various - Messages: Modern Synthpop Bands Cover OMD CD (Ninthwave/Oglio, US)

This is simply this week's highlights from the NEW RELEASES provided by Greg and Feedback Monitor.
For a more detailed schedule stretching into the future, please check out the site,
since release dates can and will often change.
the pleasure
Subject: numan
Yhanks for the righteous plug for Numan this week. I actually saw him on the pleasure principle tour in 79 and it remains one of the best shows I've seen.
Hopefully I'll catch him on this leg.
The man is a great showman and his shows are excellent, despite my dislike for his recent albums.

Subject: simenon dj set

hi there

you heard tim simenon dj recently? -what are his sets like?

Nope, we get no information from anybody from the bomb the bass camp...

Subject: exquistite nurse with wound

I simply ask this: are there any plans to publish AN EXQUISITE CORPSE?

No plans, sorry. The irony is that the Exquisite "Corpse" is a living thing while published material is printed on to dead materials.
How would it continue if the book just ended, right?
It never ends.

Subject: Searching for CDs

Hello,please can you help me?
I have been trying to buy two Cabaret Voltaire CD albums for ages with no luck. They are 'Code' and 'Groovy, Laid Back & Nasty'.

Do you know of anywhere i can get them?

Thank you

Unfortunately both of those are their EMI releases, and both are out of print. Strangely enough, EMI found it fit to release an album of remixes from that era.
Keep looking on auction sites and various stores that sell used CDs, as they turn up fairly frequently.

Subject: Background site

If you check the site with a mac (IE 5), the background changes automatically to gray.

Due to the fact that a mac display it's fonts 2 pixels smaller, it becomes totally unreadable. This problem can be solved with another color combination or an extra stylesheet for the mac (+javascript check).

The site was tested on a Mac and PC, with both major browsers, so I would check your own computer's settings as in the proper environment, it looks fine.