hrvatski, "21:30 for acoustic guitar"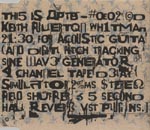 Generally speaking, a great organic musician has the potential to be a great electronic musician. This is exactly what I think of when listening to music from Mr. Keith Fullerton Whitman, somebody most people know from writings, remixes, compilation appearances and one album as Hrvatski. The second release from Lucky Kitchen side-label Apartment B is a 21+ minute CD from Whitman recorded a few years ago (yeah, it's actually listed as Keith Fullerton Whitman but I figured who'd read the review if they didn't know he was Hrvatski?). This disc is the essence of what somebody can do with minimalism. Each 10+ minute track makes the most incredible usage of one source - acoustic guitar, processed in real-time through 4-track and other unlikely gear. I can't fully explain everything used without quoting the entire cover, but I can say with 100% confidence that Whitman has a lot to teach the European and Japanese laptop clickers about composition, form and structure. The first track starts off with a simple, searing, high-pitched melody, other octaves get added in, first lower then much lower, then much much higher, yet remaining simple, subtle and captivating. More and more replicas are added to the blissful progression, resulting in a stellar cosmic mix. Track two is another ten minute piece in which Whitman exploits tones and relative tones meshing with each other, this time most likely toying with guitar harmonics (if he is indeed using the guitar again). After the half-way mark, the overlapping tones are greeted with more energetic, melodic, shimmering, glistening notes, building up into an aural bird sanctuary, then quelling down with newer droning tones. Wow. Perhaps I've explained this all wrong, but boy does it sound tasty. - Jon Whitney
samples:
"Folktales no. 1"


The latest release in the Crouton catalog is perhaps there most ambitious to date. Jon Mueller has collected the works of three musicians — Chris Rosenau (of Pele fame), Hal Rammel, and John Kannenberg — and placed them on 3 3" CDs, packaging them in a beautiful quadruple gatefold sleeve complete with an exquisite corpse text written by the three artists and Mueller. The first piece is "Two Ice Fields of the Exact Same Size" by Chris Rosenau, a beautiful and stark nineteen minute electroacoustic piece inspired by a trip to Iceland. "Two Ice Fields" begins with the haunting wail of an acoustic guitar and a wine glass and slowly disintegrates into a juxtaposed collage of acoustic guitar, heating vent, dry ice, and egg shells among other instruments. Ending abruptly in its 19th minute, the first cd of this collection leaves you stranded in a cold, but beautiful wilderness of organic sound. The second disc, "Three Days from Anywhere" by improvisor and composer Hal Rammel begins with the sound of what appears to be a single fly recorded by a stereo microphone. The microtonal sound bounces from structure with faint electronics fading in and out of the piece, the fly continuing until it encompasses you, only to disappear and give way to found sounds arranged by Rammel. To fully appreciate the second disc, you have to listen to it on headphones to experience the isolation and aural textures of the music. The final disc of the series is by John Kannenberg. "Lave" compiles bass and synth along with field recordings and shortwave frequencies. The loudest of the folktales, it's also the most dense, creating a thick blanket of sound that surrounds the listener and washes over him or her in ambient fields. Interspersed with minimal electronics, "Lave" creates an alien landscape of shimmering minimalism. Created to document specific moments captured during a particular time by the artists, Folktales succeeds in offering beautiful stories of sound that offer passage to distant emotions and captured moments. - Carter Adams
samples:
rollerball, "trail of the butter yeti"


As multi-instrumentalist improvisational rock-based music becomes more popular with the emergence of groups like Volcano the Bear, Jackie-O Motherfucker, Pele, and others, Rollerball's music pursues a more structured, orchestrated environment on their current release from Roadcone. "Trail" sees this Portland, Oregon-based quintet adding more blocky beats, electronic processing and effective use of not playing to the mix. In addition, there's more focus instruments as various members often take the lead with horns, clarinet, vocals or stringed instruments. The band has certainly lost no ground with their increase of focus material; in fact there seems to be more colorful noisemakers added this time around including two members who listed 'painting' as an instrument and one including a letterpress. Fans of the improvisational sound of Ryan Moore and Neils Van Hoorn heavy LPD/Tear Garden would most likely find themselves bobbing their heads to the ten-minute "Butter Fairy". Even Meat Beat Manifesto fans would be charmed with the album's openers which almost organically mimic some of the experimentation going on with something like "The Thumb" from Actual Sounds + Voices. An unexpected vocal track, "Narcisse", alarmingly jumps out of nowhere with a refrain whose lyrics I'm struggling with, reminding me that it's always those songs we -almost- know that get stuck in our heads, as they circle around furiously until we figure out what in the world they're saying. Oh, Rollerball are damn good at that! Fans of the more improvisational noise will get a charge from some of the other offerings like "White Death" but for the most part this disc is a much more constructed, cohesive element than what has surfaced before from the band. This month sees the group embarking on a European tour including dates in Italy and the United Kingdom, with any luck shows across the USA will follow. - Jon Whitney
samples:
THE EXPERIENCE, "ONE AMAZING DAY"


"One Amazing Day" is the result of field recording trips to Greenwich's gargantuan (physically and financially) Millennium Dome structure, the official celebratory site of the new millennium. Prior to its closing a few hours before 1/1/00, visitors could come and trudge through 14 interactive zones of futuristic themed exhibits and view a sort of three dimensional, mid-air ballet live show. For 32 minutes you walk around with the V/Vm lads to take in the truly ambient sounds: large crowds of people (complete with crying babies, clicking cameras, chatting, bitching, heckling, etc.), kiosk recorded voices and music, loud speakers, event music and, ultimately, site construction. And, surprisingly, it seems that all the source sounds are unadulterated. Of the 14 seamlessly meshed tracks most are a minute or less but 2 at near 9 minutes apiece offer an extended document of specific events with cheesy narrations and/or contrived soundtracks. There's an obvious contempt here for the lottery funded, pre-packaged 'experience' offered by the New Millennium Experience Company and the British government and, of course, an inherent silliness to the whole project, but it also makes for interesting listening. I enjoy these sort of audio travelogues that take me to some place I've never been. Your mileage may vary. There is an accompanying, yet to be completed, Experience web site as well: http://www.theexperience.8k.com/. This disc is just one of many from the V/Vm camp as of late. Check the Brainwashed site for the slew of other 7" and 12" vinyl and 3" and 5" cd releases. - Mark Weddle
samples:
bip-hop generation 1 & 2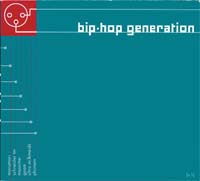 In less than a year's time, the highly ambitious French-based Bip-Hop collective has launched a webzine and fairly hip label with 4 releases readily available and more on the way. Unafraid to flood the market, the first two releases, "Bip-Hop Generation" volumes 1 and 2 gather various tracks from some of their favorite electronic acts from all over the world. Luckily these folks have good taste and great connections. Marumari from the USA, Massimo from Italy, Phonem from the UK, Goem from Holland and Ultra Milkmaids from France and Schneider TM from Germany only contributes tunes for Volume 1. Here, the spectrum ranges from beat-organized cuts from Marumari to shrill sonic substructures and medical sounds from Massimo and Goem.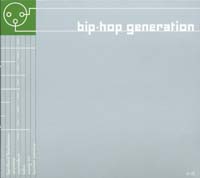 Volume 2 features 20 tracks of contributions from Bernhard Flaishmann, Arovane, Warmdesk, Köhn, Wang Inc., and Laurent Pernice. On this disc, the music explores more incidental melodies, letting the electric clicks sort of fall to the background. Standout tracks include the emotive pieces from Köhn and the twittery pulsing dissonant ambience of Wang Inc., allegedly due for a full-length release one of these years! Both volumes serve a multitude of purposes. First off, many people reading this could have heard of Scheider, Ultra Milkmaids, Arovane or Wang — people who have become listeners of these fine groups might find a collection featuring others interesting to pick up to experience some more music from a collective who obviously has similar tastes in music. Next up, each disc comes with a short bio, selected discography and website of each artist providing helpful reference points. Finally, it benefits the Bip-Hop fellas as they're already starting to roll out full-length albums from new and upcoming electronic acts. Unlike releases like Clicks and Cuts, these compilations aren't out to prove any point or lump a bunch of groups into one definable genre, they're simply sharing in some of the cooler future electronica names. My only issue is simply getting sick of seeing the word "bleep" in association with music. - Jon Whitney
samples:
Anja Garbarek "Smiling & Waving"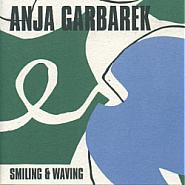 The sophomore release by Anja Garbarek, daughter of Norwegian saxophonist Jan Garbarek, will be poorly compared by many an unimaginative writer to Björk. But, I guess it's easy to make that sort of leap when dealing with female artists who record outside the mainstream - just like writers who compare every trumpeter to Miles Davis. Garbarek seems to have inherited the "less-is-more" aesthetic her father used in helping to define the "ECM sound" by infusing sparse chamber-jazz with false electronic ambience, creating a personal warmth rarely captured in the studio. Of course, with help from such legends as Robert Wyatt (providing incindental vocalisations on "The Diver"), ex-Japan-sters Steve Jansen and Richard Barbieri, and Talk Talk's Mark Hollis (who, along with collaborator Martin Ditcham, contributes bass and melodica, as well as some arrangements, like on the, uh, Björkish ur-jungle fuzz of "Big Mouth"), capturing genius isn't hard. Garbarek's voice floats gently over swelling strings and staticky glitch eruptions on "Her Room", like a lucid Beth Gibbons of Portishead, pouring sweet lullaby melodies in your ear. Garbarek's "Smiling & Waving" approaches the sublime beauty of the recent electro-acoustic jazz of "Bodily Functions" by Matthew Herbert, as well as latter day Talk Talk or the mellower aspects of Lamb, but still stakes a claim to a lush musical landscape that is all her own. - Jason Olariu
samples:
KURT RALSKE, "//AMOR. 0+01"


Kurt Ralske is a NYC-based artist, composer, producer and engineer aka Cathars and former head of late '80s/early '90s indy popsters Ultra Vivid Scene. These days Ralske composes entirely upon a g3 Powerbook with the Max/MSP language. "//amor. 0+01" is the debut under his own name and it is very similar in sound to the Cathars album "", both of which are from 1999. The title track, as the title seems to suggest, briefly expresses love with digital bits: a melodic loop, a tidal cloud of sound, intermittent glitches and bass swells. "new kyrie" does much the same for nearly 14 minutes, minus the glitches and loop and plus a constant thump that sounds much like a steadily dribbled basketball. The final track "forgiven" takes up the better half of the disc at just under 30 minutes and proves to be the most minimal and rewarding. Here the only sound is long swathes of deep drone and drifting ambiance. Whereas the first two tracks leave me somewhat indifferent this one is purely captivating, either as foreground or background soundtrack. There is also a ROM video for the title track, but unfortunately none of the 4 computers I've tried were able to read the disc - audio or data - so perhaps there's an error with the discs. I'll be e-mailing Sub Rosa soon to find out. - Mark Weddle
samples:
current 93, "cats drunk on copper"

One of the most memorable nights in my adult life now has a soundtrack companion. The night on that summery evening at the Union Chapel in 1997 is still fresh in my mind. I got to spend time with one of my best friends Andrew, as we met Coil for the first time in person on the way in, and sat in a crowd pointing at various WSD-celebs like Steven Stapleton and other supporting cast members like Mika from Panasonic, Ivan Pavlov of COH and John Everall of Sentrax. The concert opened with readings from John Balance and a couple others (one of them lives in NY I think) and subsequently continued with the current cast of Current 93: Rose McDowell and Michael Cashmore on guitar, Karl Blake on bass, Joolie Wood on violin and James Mannox on drums. Special other guests on hand that evening included Bill Breeze, Martin Stone and Big Bucks Burnett, all joining in the big "Christ and the Pale Queens" closer. The unobtrusive audience gives me the impression it was recorded straight from the sound board, but unlike many similiarly recorded shows, I don't feel there's any loss of depth here. Put the music on in your livingroom and it feels like you're actually there. "Cats Drunk on Copper" was initially made available to the audience at the recent return to the Union Chapel, and now it's available through World Serpent. For a track listning, some photos and other specifics, check out the Current 93 page special page on this particular show right here. - Jon Whitney
samples:
richard devine, "lipswitch"


The downfall of the modern age is that any 19 year old with rich parents and an arsenal of computer software can record an album in their house. But what do these vicious young upstarts really know about melody, composition and structure yet? Richard D. Vine's current 40-minute EP opens with one of the most overused cliches in the last few years of electronic albums - open with a boring, brooding dark ambient track. More excitement jumps in with the second track but it's entirely too thin and mimics an Aphex or Autechre track tossed to the Windows 98 Recycle Bin. Track three is another quick ambient interlude, big surprise! A 4/4 two-bar intro starts number four and boom — another 1996-era Autechre-influenced tuneless chopped up drum beat predictable as the 6:15 MARTA leaving from Candler Park. Honestly if this kid is the piano prodigy or computer science wizard as the press often describes, then I'm entirely missing the entire point of this record. Okay, so it'll please the 20-nothing girls and the NIN fans who recently discovered Aphex Twink, but I'm not fooled. This 40 minute offering isn't essential, noteworthy nor exciting, the limited sound palette of Devine comes about five years too late to the scene and just reminds me Warp needs to consider the future more so than the past. - Jon Whitney
samples:
We know that sometimes these CDs are somewhat challenging to find, which is why we have a community section which can be used to obtain nearly everything available on this site.
MONDAY
Air - Radio #1 7"/12"/CDEP (Virgin/Source, UK)
Atmos - Shock Therapy 12" (Mo'Wax, UK)
* Autechre - Incunabula 2xLP [reissue] (Warp, UK)
* Autechre - Amber 2xLP [reissue] (Warp, UK)
* Autechre - Tri Repetae 2xLP [reissue] (Warp, UK)
* Autechre - Chiastic Slide 2xLP [reissue] (Warp, UK)
Badly Drawn Boy - Spitting In The Wind 10"/two CDEPs (XL Recordings, UK)
Benge - Baud & Unary 7" [ltd to 400 copies on white vinyl] (Expanding, UK)
cLOUDEAD - cLOUDEAD CD/2x12" (Big Dada/Ninja Tune, UK)
Funckarma - Solid State CD (DUB, The Netherlands)
Manual - Until Tomorrow CD/LP (Morr Music, Germany)
* Oval - Wohnton CD [reissue] (Ata Tak, Germany)
Phluidbox - These Found Habits CDEP (sp.ark, Spain)
Rip Off Artist - Kids Are Alright CD (Quatermass/Sub Rosa, UK)
Slag Boom Van Loon [µ-Ziq & Speedy J] - So Soon 12" [remix EP with mixes by Boards Of Canada, Tipper, Four Tet, MuM and µ-ZIQ - MuM mix is exclusive to the 12", CD with other tracks and more follows in three weeks] (Planet µ, UK)
South - Keep Close 10"/CDEP (Mo'Wax, UK)
Various - The Complete Death of Cool CD (Leaf/Noodles, UK)
Various - Where Walks The Sandman CD [with Kim Cascone, Steven Wilson, Don Falcone, Karen Anderson, Monocaine and Praxis] (Noh Poetry, US)
V/Vm - Snooker Loopy 7" [ltd to 147 numbered copies on each colour of vinyl - white, red, yellow, green, brown, blue, pink and black] (V/Vm, UK)
Andrew Weatherall/Various - Hypercity CD (Force Tracks, Germany)

TUESDAY
Natacha Atlas - Ayeshteni CD (Mantra/Beggars Banquet, US/Canada)
* Das Ich - Re_laborat CD [reissue with bonus track] (Metropolis, US)
Eddie Def - The Last Kreep #1 12" (Stray, US)
Die Form - AKT: Best Of The Side-Projects 2xCD (Metropolis, US)
Eblake - Limit CD/LP (Deluxe, US)
Electric Birds - Panorama CD/LP (Deluxe, US)
* Brian Eno & J. Peter Schwalm - Drawn From Life CD (Virgin, Canada)
Foetus - Flow CD (Thirsty Ear, US)
Grand Tourism - Grand Tourism CD (CyberOctave, US)
Khan - No Comprendo CD (Matador, US)
Le Syndicat Electronique vs. Patcha Kutek & V8 - Miami Internal Affairs Mass Transit 7" (Beta Bodega, US)
Proem - Negativ CD (Merck, US)
Techno Animal - Dead Man's Curse 12"/CDEP (Matador, US)
To Rococo Rot and I-Sound - Music Is A Hungry Ghost CD (Mute, US)

THURSDAY
Monokrom - Monokrom LP (Ant-Zen, Germany)
Rich Kid [Panacea] - Bad Man 7" (Mirex, Germany)
Steve Roach/Vir Unis - Blood Machine CD (Greenhouse, US)
Somatic Responses - Tlooz 7" (Mirex, Germany)

This is simply this week's highlights from the NEW RELEASES provided by Greg and Feedback Monitor.
For a more detailed schedule stretching into the future, please check out the site,
since release dates can and will often change.