a weekly digest from the staff of brainwashed
V04I21 - 06032001
Click here for other issues
SITE
Coil wows the crowd in Amsterdam
Coil performed in Amsterdam on Friday night. The pictures from the event are simply incredible, so we had to link them at the top of this week's issue. Thanks to Robin Heemstra for sharing his pictures online, which can be found at his website at www.hfos.net/coillist/amsterdam.html.
Gettin' busy with Matmos
Greg Clow finally got off his ass and updated the Matmos news section including loads of new information about the People Like Us co-release, Richard Devine and "-Ziq remixes, Drew Daniel's solo 12" project, the upcoming performance at Sonar, plus new pictures with Bjërk.
MUSIC IN BRIEF
raymond scott, "manhattan research inc."


Long before children of the 70s and 80s were blipping and bleeping on laptops in the 90s, people were building large walls of gear just to create the simplest electronic melodies. While many contemporaries were experimenting with music concrete, Raymond Scott was making a commercially viable living composing music for advertisements and short films, along with manufacturing equipment like custom doorbells, telephone rings, burgular alarms and ambulance sirens. Collected on this 2xCD set issued last year from Holland is over two hours of incredible music — most never before available to the public — including many commercials, short film scores and collaborations with muppetteer Jim Henson. It's simply amazing to think that melodies here from the 1950s and 1960s are almost exactly replicated by folks like Microstoria decades later. Scott wasn't about making random noises, however, he was a true composer, a bandleader, a pianist, electronic engineer, inventor and entrepreneur. The set takes the form of a hard-cover book, including many old photos of various setups, device diagrams, and interviews with folks like Robert Moog and Scott's third wife, Mitzi. Modern electronic music fans need to educate themselves on stuff like this before they jump down somebody's throat who finds their biggest idols derivative. - Jon Whitney
samples:
BIOSPHERE, "SUBSTRATA 2"


Geir Jenssen's 1997 Biosphere album has been remastered and nicely re-packaged with a bonus disc for Touch. Disc 1 is "Substrata" proper and disc 2 is a new, previously unreleased, commissioned soundtrack for the 1929 Russian film "Man with a Movie Camera", plus the 2 beat infused bonus tracks from the Japanese edition of the album. Both discs, nearly an hour apiece, offer a continuous, deep ambient jigsaw puzzle - disc 2 being the noisier with a more urban/industrial aura. We slowly, willingly drift along through chilled out spaces and cityscapes, natural hums and environmental residues, electronic pads and blips, the clutter of metals and trinkets, disembodied voices and appropriated musical passages, synth strings and plucked/strummed strings ("Kobresia" in particular settles into a beautiful stringed stasis), softly malleted tones and some subtle rhythmic pulsations. Very soothing, very calming, very Arctic. Jenssen's reclusive Norwegian locale undoubtedly influences the vast, dark and cold nature of his music. But what's surprising to me is how emotionally cold much of it also seems despite it's surface beauty ... a sort of depressing, lonely void. That feeling overwhelms me here at times, but sometimes you want to feel that way, know what I mean? - Mark Weddle
samples:
Amenti Suncrown, "Zenith Pitch"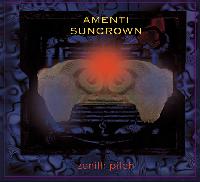 The band's name makes striking reference to the Egyptian underworld, and for those non-Egyptologists who didn't get that this would be a dark and ghost-filled album, its provocative title also paints a pitch-black sun. Fluttering and nervous, brooding and cinematic, Zenith Pitch is a nebulous animal which changes it shape & color from moment to moment, like a panicked octopus. With the exception of a few very catchy tracks, like "Blue Khepra" and "Broken Cone," the album tends to focus on the more difficult margins of the dark ambient genre. My favorite track, "White Nine", is pretty representative, although just a fragment at 1:44: An ominously swelling organic drone flips into electronic sparks, while in the distance the music of a circus is slowly enveloped by darkness and abruptly fades into silence. Out of a constantly shifting sea of bleeps and burps, interrupted themes, muttered samples, voices fractured & barely audible, distorted & restless tones, beautiful drones, and bursts of awkward rhythms, this technically polished album somehow manages to evoke a sense of attentive stillness, of a quiet restraint and sparseness behind all the protean activity.
Zenith Pitch has a few weak spots: despite my sense that there's some order to all this restless movement, it leaves me struggling now and then with a feeling of aimlessness, and its musical antecedents — Coil, Scorn, Lustmord, Zoviet France, Nurse With Wound, even Eno — seem at times to weigh in a bit heavily. The trio has a canny ear for samples & lays them down well, but I also think the work suffers from a lack of vocals: without lyrics, the album as a whole, whatever its virtues, remains something of an indecipherable message. If this showed up in my mailbox, it would be an ornate and meticulously crafted envelope, inlaid with gems and crystals, sent from a country of dreams, but with no letter inside. However, since Khryst takes credit in the liner notes for backmasking, perhaps all the real communication only happens when it's played backwards!
The other night I was playing the beautiful fifth track, a chilly travelogue called "Fractured Diadem", when a friend — a Tibetan Buddhist monk, actually — stopped by. He stopped at the door and listened, and said "Cool, you're watching Forbidden Planet, I love that movie!" With that the whole album fell into place for me. For all its borrowings and references, Amenti Suncrown are so distinctive because they're the Krell Musicians from Forbidden Planet: "Ethically, as well as technologically, a million years ahead of humankind!" Although the latter may certainly be true, it is a quirky alien sound that seems to me to be emerging from the heart of this musical project: difficult to get a handle on emotionally, but hauntingly suggestive of strange landscapes of pure thought, of which this often enigmatic music is the sole remaining artifact.
I like this album, and I like what Amenti Suncrown seem to be striving for. I also like that out of a print run of 1000 individually numbered copies of an obviously expensive CD package, they've already given away — as in for free! — the majority of the pressing to people online who'd expressed interest. If by the time you read this there is a single copy left anywhere, I'd suggest acquainting yourself with this promising trio — sooner or later I expect we'll all be getting to know them much better. If you've missed your chance at Zenith Pitch, you won't have long to wait for a sequel: I'm told that ZP's darker twin Golden Nadir is due from World Serpent in late June on amber vinyl only, in a numbered edition of 333. - Thomas Olson
samples:
plaid, "double figure"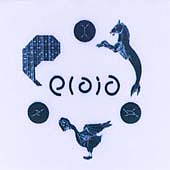 Rather than taking the fresh step forward from the hip hop and cosmically influenced varieties of 1999's 'Rest Proof Clockwork,' Plaid have returned to a style much closer to 1997's '333' release. While they're making no leaps and bounds for electronic music as a whole, they succeed in making pleasant, peaceful and easily digestible melodies, using the equipment and styles of 1993-era Orbital, Autechre and Aphex with hints of The Shamen and 808 State circa 1991. 'Double Figure' opens with a pretty guitar melody, and while it's a warm welcome to the glitch and cut and paste plaguing the current world, it's all too easily primed for advertisement consumption. Further tracks utilize mid-80s fairlight synth sounds and rigid 4/4 techno beats with loads of electronic rhythmic accents comfortably laid over long delayed stretches of spacey keyboards. Comfortable is a good word to describe this whole disc, as it's something I wouldn't offend my mom with. Ignoring software chauvenism, breakbeats or spaghetti structures, Plaid have chosen to take an approach more man than machine. The duo aren't technologists, they're songwriters, with songs like "Sincetta" standing far above its dull surroundings as a luscious cinematic theme. Something like this clues me in that Plaid still have the potential to realize something great. Unfortunately, I'm finding the filler is just a little too thick to wade through to make 'Double Figure' truly excellent. Instead of 70-minute 19-track albums, bands seriously need to consider weeding out the noodly crap and concentrate on a good 8-10 songs that'll make a lasting impression. - Jon Whitney
samples:
TECHNO ANIMAL, COLDCUT, SQUAREPUSHER SINGLES


Three of electronic's most popular acts have released short preludes to their forthcoming highly anticipated full-length albums. Just when you were starting to miss the aggression, Techno Animal blasts back with two bombastic new tracks (and one instrumental). Fans of last year's collaboration with Dalek would appreciate the raw energy of "Dead Man's Curve" combined with an aggressive rap provided by Anti-Pop Consortian Roger Robinson. "City of Glass" is more subtle but at loud volumes this dub-based abrasion can be equally as compelling. My only complaint however is that last year's vinyl-only release didn't turn up here - 15 minutes including an instrumental version is kinda weak for a CD single: this could have easily been a 7" only. Those too anxious to wait for the full-lengther however shouldn't hesitate on this release.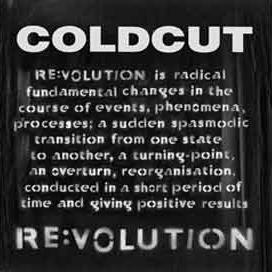 Coldcut also have reintroduced the aggression on their three-track CD "Re:Volution," coincidentally also featuring an instrumental mix of the title cut. The duo have picked up the pace, dropped some heavy riffage and let the samples run wild. My preference here lies more towards the instrumental version as the samples are a bit goofy. "Space Journey" on the other hand is punchy jazzy number, originally on the 'Let Us Play' LP, the version here is the internet competition winner. Once again I recommend waiting for a full-length, as the three tracks (of two songs) don't even total 12 minutes together.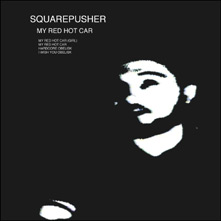 Finally, Squarepusher's return to aggression takes the form of the cleverly mis-titled "My Red Hot Car" (upon listening, it's obvious something completely different's being said). The two versions don't differ that greatly, the first being the exact version from the forthcoming full-lengther, "Go Plastic" due in July. I'm somewhat pleased Mr. Jenkinson has reverted to his more electronically processed fast breaks circa Big Loada & Hard Normal Daddy — the organics of the last couple releases did grow a little tired after many listens, perhsps the album will be a nice balance of everything. At the time I got this EP I was working on modifications of the Nurse With Wound website, listening to some old gems. Track 3, "Hardcore Obelisk" strangely enough bears a striking resemblance to "Swansong" from the CD edition of 'A Missing Sense' in its sparse dronescapes. Squarepusher's experiment however is under five minutes and is absent of a certain 'flow' which would work nicely. The fourth track, "I Wish You Obelisk" goes breakbeat silly but ends with one of those irritating silences (this one runs over 20 minutes) followed by a rather enjoyable bass-drone heavy beat-less piece which at the right volume shakes the speakers and floors. Once again, while I do enjoy the music, I'm going to have to recommend waiting for the full length. - Jon Whitney
samples:
deltron 3030, "the instrumentals"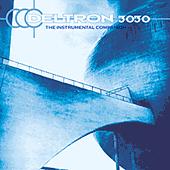 There's a certain amount of irony in releasing an instrumental version of an existing hip hop album. I have always liked the sounds that came from both the Automator and Kid Koala but when I saw Deltron live last year, the rap somewhat turned me off of the collective. Thus, I was excited at first to hear 75 Ark were releasing an instrumental version of the debut full-lengther. I was blown away immediately at the start of the album's opener, '3030', the production is seamless and combines a healthy blend of orchestral samples to some pretty fine hip hop breaks. The sad yet grand themes could easily provide the underlying score for a film crew's survey of the post-apocalyptic remains of a fallen society. As the album progresses, the production never weakens, mixing a whole host of other styles and influences. When the patterns and sequences repeat too many times within a song, there is a sense that there is indeed something missing. I thought I was taking the easy way out by only sticking to the instrumental version, but I find myself thirsty to uncover the original myself. - Jon Whitney
samples:
We know that sometimes these CDs are somewhat challenging to find, which is why we have a community section which can be used to obtain nearly everything available on this site.
NEW RELEASES
MONDAY
Alejandra & Underwood vs QT? - split 12" (Fat Cat, UK)
* Another Fine Day - Salvage CD (Six Degrees, UK)
Basement Jaxx - Romeo 12"/CDEP (XL, UK)
Vince Clarke & Martyn Ware - Spectrum Pursuit Vehicle CD (Mute, UK)
Coldcut - Re:volution 7"/12"/CDEP (Ninja Tune, UK/Canada/US)
DJ Wally - The Creepy Crawlies CD (Quatermass, Belgium)
Fort Lauderdale - Traces Of Places Until The Morning 12" (Memphis Industries, UK)
Goldfrapp - Utopia (Genetically Enriched) 12"/two CDEPs (Mute, UK)
His Name Is Alive - Someday My Blues Will Cover The Earth CD (4AD, UK)
Kid 606 - PS I Dub Ya 12" [mixes by Atom Heart, Rechenzentrum & Posterboys of the Apocalypse] (Force Lab, Germany)
Robert Normandeau - Sonars CD [ltd to 500 copies] (Rephlex, UK)
* Pet Shop Boys - Actually 2xCD [reissue with expanded booklet of photos and new liner notes, plus a bonus 2nd disc of remixes and rarities] (Parlophone, UK)
* Pet Shop Boys - Behaviour 2xCD [reissue with expanded booklet of photos and new liner notes, plus a bonus 2nd disc of remixes and rarities] (Parlophone, UK)
* Pet Shop Boys - Bilingual 2xCD [reissue with expanded booklet of photos and new liner notes, plus a bonus 2nd disc of remixes and rarities] (Parlophone, UK)
* Pet Shop Boys - Introspective 2xCD [reissue with expanded booklet of photos and new liner notes, plus a bonus 2nd disc of remixes and rarities] (Parlophone, UK)
* Pet Shop Boys - Please 2xCD [reissue with expanded booklet of photos and new liner notes, plus a bonus 2nd disc of remixes and rarities] (Parlophone, UK)
* Pet Shop Boys - Very 2xCD [reissue with expanded booklet of photos and new liner notes, plus a bonus 2nd disc of remixes and rarities] (Parlophone, UK)
Printed Circuit - I Heart My Jen Sexy 7" (Irritant, UK)
Radiohead - Amnesiac CD/2x10" (EMI, UK)
Stendec - Avro/Feint 7" [ltd to 400 copies on grey vinyl] (Expanding, UK)
Jonatan Svčrd - t.b.a. 7" (Irritant, UK)
Vert - Moremooseicform 12" (Sonig, Germany)
Susumu Yokota - Grinning Cat CD/LP (Leaf, UK)

TUESDAY
Deltron 3030 - Instrumentals CD/2xLP (75 Ark, US)
Deltron 3030 - Time Keeps On Slipping 12" (75 Ark, US)
Karsh Kale - Realize CD (Six Degrees, US/Canada)
Mira - apart CD (Projekt, US)
Radiohead - Amnesiac CD (EMI, US/Canada)
Springheel Jack & The Blue Series Continuum - Masses CD (Thirsty Ear, US)
Various - Cosmic Funk CD (Quango/Palm Pictures, US/Canada)

WEDNESDAY
Spies - Notinism CD (Flatline, Germany)

THURSDAY
Synapscape - Positive Pop CD/box-set [box-set includes CD plus bonus 3x10" vinyl with mixes by Converter, Silk Saw, Imminent, Savak, Asche, Hell-G, Somatic Responses & NTT] (Ant-Zen, Germany)

This is simply this week's highlights from the NEW RELEASES provided by Greg and Feedback Monitor.
For a more detailed schedule stretching into the future, please check out the site,
since release dates can and will often change.
CONCERT REPORT
Antony & The Johnsons
Try as I might to demonstrate my critical distance with some clever jab, I just can't find a single bad thing to say about Antony & the Johnsons. I've been going out of my way for quite a while to catch his every appearance, and after well over a dozen performances I continue to be stunned by what he's doing.
Even so, his performance at Joe's Pub Thursday night, with guests Little Annie & Dr. Yasuda, was a surprise for me. It wasn't the show itself — anyone who's seen him perform knows what to expect — some exciting new songs, all fantastic, new arrangements and development of older works, increasingly skillfull performances from the band members, flawless presentation and constant innovation that keeps the audience returning and growing, to invariably sold out shows. The real surprise came after he left the stage. After enthusiastic applause he returned to the stage, and gently launched into one of the most intense musical experiences of my life. Nearly all of Antony's material is his own, composed on piano. But he does a number of covers as well: his selections, always startling, are given distinctive treatment, and songs which may have been familiar suddenly speak an entirely new & vibrant language, saying things which had somehow never been audible before. Sometimes his covers are playful, even mischievous, and sometimes they are markedly rearranged. But his cover of Billie Holliday's "Strange Fruit" last night was nothing less than brilliant.
I suppose from the stage he couldn't hear the rumble of gasps in the audience when he started into the first recognizable parts of this radically transformed song. One man above me (I was squatting on the floor as the room was so packed) actually said "oh my god." I've without question never been among a more hushed and riveted audience! I've no reverence for Billie Holiday, but I had the most incredible feeling of exhileration, as if I were being witness to history being made. And I can only think that this is the gift of truly great and important artistry.
You may have seen him perform this song, but no one's heard him perform THIS song before. I won't attempt to describe what he's done, but suffice it so say that Antony has thoroughly digested this standard and given miraculous birth to something entirely new: a profoundly moving and heartfelt homage to an original which has been enhanced and ennobled by a respectful but radical translation. My hair was literally standing up from beginning to end, through wave after wave of applause, and even now as I think back on it...
The applause was thunderous, then stopped, then spontaneously began again with cheers and shouts, and he actually had to ask them to stop after several minutes. Once again Antony confirms my belief in the importance of his work. And as always, he and has meticulous band do it with the most effortless elegance and grace.
Antony enthusiasts will be pleased to know that a new album is forthcoming, as well as contributions to the long-awaited new Nature & Organization release. And New Yorkers wil be treated on August 9th to a tremendous double bill at the prestigious Summerstage series in Central Park: Antony & Bebel Gilberto. Show starts at 7:30 — come early or be left out in the meadow! - Thomas Olson
FOUR QUESTIONS

Kid 606

Do you snowboard?
No
Did you ever snowboard?
No
Do you have long hair?
No
Did you ever have long hair?
Yes
Kid 606 lives in the San Francisco bay area and operates the tigerbeat 6 record label. His next album, "P.S. You Love Me" is a remix CD and comes out on June 28th on Mille Plateaux. Kid is scheduled to play that night in NYC at the Brooklyn Anchorage.
Thanks to Fakejazz.
LINK OF THE WEEK
i picked this one for you
Whoever said "you can pick your friends and you can pick your nose but you can't pick your friend's nose" never saw this website.
THE WEEKLY CHART
10 things i hate about your driving
Biking in the city sucks!
You can take a right turn on a red light if there isn't a sign there saying you can't.
Directionals aren't just a good idea, they're the law.
Eye contact doesn't immediately revoke right of way.
You can't take a left turn from the right lane.
This isn't a fucking race.
Look before you open your door into the bike lane.
You don't have to believe everything you read but "Stop" and "Yield" are worth considering.
Get off the phone.
There's no need to speed to a red light.
Owning a Volvo, SUV, Audi or Saab isn't your license to drive like an ass.
FEEDBACK
scammed

Subject: V/Vm help who?
Just a quick word on VVM recs. Just got HAT 01 and 02 and must say was quite unimpressed: filtering aphex tracks what a brilliant idea. No one else would have thought of such a thing.
Getting aphex's blessings is good but if the product is uninspired he can only nod for any nicely well packed advertising for a cheap 9 quid.
You paid Ł9 for it?

Subject: You might just be able to help me

Don't worry I ain't going to ask you for any old Bomb the Bass singles or contact details.

I have been a fan ever since I saw the Beat Dis video on a music programme when it was first out.

The one thing that I really want to be able to do though is jump around my flat playing Bug Powder Dust on my guitar (well, the bassline at least), I have looked for this on the net but it proved to be a fruitless exercise.

Do you know how to play this incredible bassline?, do you know anybody that does or maybe there is a website that could help me out?

Just listen over and over again.

Subject: Keiji Jammer
Hello
I have a question for you.
I came across your website and wondered if you have ever came across a CD by Kenji Jammer called A Few Years Since? It was an EP CD. I am trying to track this down. Any clues?
thanks
No clues, try the message board, maybe one of our readers can help you out.

Subject: for NWW
hi,
got a friend who does great collage work, would love to see his work on your covers, if you would like to see his work please go to his online gallery
he does great stuff over the edge / way over!!, he's the one who turned me on to you, he doesn't know about my e-mail to you, please check him out,you won't be disappointed!
thanks for your time..all the best!
Your intentions are genuine but NWW have no email access, use the postal address on the CDs if you want a response.

WHAT'S IN YOUR PLAYER?
american-born canadian citizen in amsterdam
Haujobb '99'
Jean-Michel: New Medium Softpack
Shpongle: Are you shpongled?
The Orb: cydonia
Scorn: ellipsis
Solar Quest: Orgship

Alan Ezust, former brainwashed staffer, now living la vida loca.