a weekly digest from the staff of brainwashed
V04I22 - 06102001
Click here for other issues
SITE
tour dates for windy & carl
The Dearborn Duo begin a short road trip around the north eastern USA starting Thursday, June 28th. Dates are scheduled in Pennsylvania, New Jersey, New York and Massachusetts. For more details, check out the web site.
coil on dutch radio
Monday, June 18th is the day, Coil will be featured on a four-hour special. More details are posted at www.omroep.nl, but they're all in Dutch. If you're in the area, tune in!
new richard h. kirk album announced
The new Kirk CD on Die Stadt should be out around mid-July. It's not the already mentioned new Sandoz release, but is Kirk under a new moniker Orchestra Terrestrial the title of the CD is 'Here and Elsewhere'. It will be available from the label by mail order as well as being in the 'usual' shops.
OTHER MUSIC NEWS
album cover exhibit in nyc
Carlo McCormick of Paper Magazine has put together an exhibit of interesting 12" LP covers - The LP Show. You will recognize contributors David Garland, Joseph Lanza, Peter Principle, Jim "Foetus" Thirlwell and Jack Fetterman, among others. Special Artist Surveys include the work of Jim Flora, Foetus, and Genesis P-Orridge.
The exhibit runs June 9 - August 17, 2001, at Exit Art - 548 Broadway (between Prince and Spring) in NYC. 212-966-7745 for directions. The LP Show features over 2,500 innovative album covers, beginning with illustrated record packaging from the late 1940s to contemporary graphics that endure, even as the medium gives way to the digital age of the CD. The LP Show is part of Exit Art's celebrated design exhibition program, a series that explores the intersection between visual art and graphic design. For more information visit www.exitart.org.
the clientele are back in the usa
That dreamy pop band from London who have been raved about on Brainwashed for over a year now have once again touched down in the USA and will be making their way around the US and Canada. This time around, dates include Toronto, Philly, Detroit, Chicago, NYC, LA, and San Francisco. For their tour dates, check out the www.theclientele.co.uk in the "gigs" section of the news.
CREATIVE TIME IN THE ANCHORAGE, 2001
Massless Medium: Explorations in Sensory Immersion runs from May 30 - July 29, 2001 at the Brooklyn Bridge Anchorage. Artistic contributions include multimedia exhibits by Masamichi Udagawa and Sigi Moeslinger, Erwin Redl, Marco Brambilla and Francisco Lopez.
Music in the Anchorage 2001 takes place on Thursdays June 7th, 14th, 21st, and 28th. Performers this year include Thomas Brinkmann, Jorg Burger (aka the Modernist), Phill Niblock and Guitar Army, Kurt Ralske and Lukas Lysakowsi, and a Mille Plateaux/Force Inc. night featuring Porter Ricks and SND, Kid 606, Panacea and Thomas Heckmann. For more information on all the action, check out www.creativetime.org.
MUSIC IN BRIEF
JOHN CALE, "SUN BLINDNESS MUSIC"


Concurrent to his viola, keyboard and bass guitar duties with the classic early line-up of the Velvet Underground, John Cale was also very busy experimenting by himself and with like-minded associates in NYC lofts. "Sun Blindness Music" is the first of three volumes from Table of the Elements under the "New York in the 1960s" heading. The label is releasing a wealth of heretofore unheard minimalist music from the era, beginning with last year's "Inside the Dream Syndicate Volume I: Day of Niagra (1965)". But where that disc was much more important for its historical context over listening pleasure, this one is better balanced between the two. The title track is nearly 43 minutes of Vox Continental organ recorded in October of '67 - passages of discordant or beautiful drone created with stuck keys, flurries of notes and subtle fluctuations in volume. It's undoubtedly an endurance test both for performer and listener, but the piece does manage to be entrancing once you're acclimated (similar to the effect of a Merzbow track). "Summer Heat", recorded in the summer of '65, is comprised entirely of a massive wall of nasty guitar sound. Cale strums away on the 6 string more as a percussion instrument, the thundering, electric metal tones creating a rhythmic pattern that relents only once in its 11 minutes. The final track, "The Second Fortress" from late '67 or early '68, is also done via organ. Here Cale drones, flutters and wavers in quieter, higher pitched tones for over 10 minutes. Interesting, though I still find the story and history more interesting than the actual result. It's like William S. Burroughs ... I'd rather read about him than actually read him. Fortunately this disc features several things The Dream Syndicate disc was sorely lacking: clarity of sound, an elegant design and sharp liner notes. Discs 2 and 3, "Dream Interpretation" and "Stainless Gamelan" respectively, will further explore Cale's collaborations with The Dream Syndicate. - Mark Weddle
samples:
brume & artificial memory trace, "1st encounter"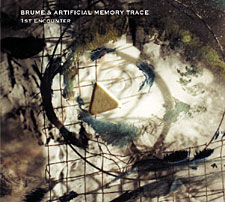 Five years after its completion, Montreal-based Alien8 Recordings have finally issued this collaborative work between Christian Renou (Brume) and Slavek Kwi (AMT). The music is divided nearly equally with the first 36 minutes being Brume's de/reconstruction of recordings supplied by AMT and the last 40 minutes being AMT's de/reconstruction of Brume. While both entities are well-respected on their own — with numerous releases on labels which include RRR, Intransitive, Relapse and Korn Plastics — on '1st Encounter' the sound has reached a new level, sounding almost more complete than before. Environmental, organic sounds are mangled with an almost surrealistic approach on the first half, as Brume brings pulse, rhythm, movement and cut-up analogue sounds to the table. There's never a dull moment as the motions and sources are constantly in a state of change. On the second half, AMT takes a much different approach, stretching the sounds into a powerful and rich score of a futuristic journey on an alien insect-infested planet. At the risk of sounding redundant, the result is truly other-worldly. I can imagine fans of early cut-up improv-based Nurse with Wound immediately attaching onto the first half, while fans of Graeme Revell's 'Insect Musicians' would find pleasure in AMT's half. Sadly enough, Alien8 has announced that '1st Encounter' is limited and won't be re-pressed or reissued. - Jon Whitney
samples:
kristian, shalabi, st-onge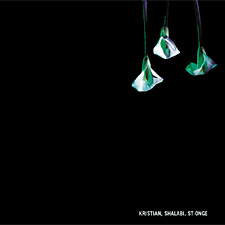 You might imagine that if you combined the twisted electronics of David Kristian, the virtuoso playing of Sam Shalabi and demented avant fuckery of Alexandre St-Onge, the result would be an insane soup of aural mayhem. The first commercially available release of this Montreal-based improv supergroup is actually quite the opposite. Taking the low-end route, the album's first tracks feaure nearly subsonic rumblings from Kristian while Shalabi and St-Onge — on oud and upright bass, respectively — are almost having a contest to see who can out-quiet each other while still tactfully coloring the music. Continuing on, the electronics seem to shift into a more vibrant mode, taking center attention as opposed to underscore, with a repetitious crescendo, almost like waves crashing while the stringed players do their best to keep up. This stops for a bit while the electronics take the wheel completely, but it soon returns to a clearly observable interactive trio, as the stringed instruments are bowed and plucked while the electronics return to a grumbling sub-bass hum. Fans of improv and Shalabi Effect, Kristian or St-Onge's stuff will most likely have this record already but those new to the scene wouldn't suffer having this in their collection. - Jon Whitney
samples:
CANNIBAL OX, "THE COLD VEIN"


Harlem-based duo Vast Aire Kramer and Vordul Megilah have just joined the ranks of Intelligent HipHop with their debut long player. Under the tutelage and gritty production of Company Flow's EL-P, Cannibal Ox represent both the avant-garde and the streets of NYC with raw beats, angular rhythms, osmotic synth/sample atmospheres and pure inner city knowledge. The opening track "Iron Galaxy" (first unleashed last year on a split EP) drops enough stream of conscious science in its 6 minutes to almost make the remaining 68 minutes unnecessary. Observations such as "And if there's crack in the basement? / crack heads stand adjacent", "you were a stillborn baby / your mother didn't want you, but you were still born" and "I rest my head on 115, but miracles only happen on 34th" speak truths only some truly know with utter conviction. The lessons continue throughout, plus clever boasts and various other tales: "Ox Out the Cage" - "I grab the mic like Are You Experienced? / but I don't play the guitar, I play my cadence"; "A B-Boys Alpha" - "my first fight was me against five boroughs / I lost my first wish / but remembered every detail of my first kiss / that's that Bronx Tale bliss"; "Real Earth" - "this ain't a space race so why you rushin' / to be the first to catch a concussion from EL-P's percussion?" Musically and lyrically, "The Cold Vein" is the real deal. I'll be surprised if I hear a stronger hiphop album this year - Mark Weddle
samples:
We know that sometimes these CDs are somewhat challenging to find, which is why we have a community section which can be used to obtain nearly everything available on this site.
NEW RELEASES
MONDAY
Abfahrt Hinwill - Logatech 10" [picture disc ltd to 1000 copies] (Toytronic, UK)
Abfahrt Hinwill - Testprogramm 2 7" [blue vinyl ltd to 250 copies] (Toytronic, UK)
Appliance - Imperial Metric CD (Mute, UK)
* Euphoria - Sweet Rain 12"/CDEP (Six Degrees, UK)
MUM - Sincerely Yours 12" (Klein, Austria)
* Oval - Ovalcommers CD/LP+7" (Form & Function, Germany)
Poets of Rhythm - Guiding Resolution 7" (Big Dada/Ninja Tune, UK/Canada/US)
Prefuse 73 - Vocal Studies & Uprock Narratives CD/2xLP (Warp, UK)
Tim Tetlow - Cyrenic 7" (Planet µ, UK)
Various - EGO Live 1998-2000 CD [with Sutekh, Kit Clayton, Khan, Jammin' Unit and more] (EGO, Germany)
Various - Nuggets: Luke Vibert's Selection CD/2xLP [collection of rare 1970s electronic music compiled by Luke Vibert] (Lo, UK)

TUESDAY
Mira Calix - Prickle 12"/CDEP (Warp, US/Canada)
Kevorkian Death Cycle - Relax CDEP (Metropolis, US)
Prefuse 73 - Vocal Studies & Uprock Narratives CD/2xLP (Warp, US/Canada)
* Phil Ranelin - Time Is Now! CD/2xLP (Hefty, US)
* Phil Ranelin - Vibes From The Tribe CD/2xLP (Hefty, US)
Soulo - Soulo CD (Plug Research, US)
Starfish Pool - Illusions of Move: The Golden Cycle CD (Hymen, Germany)
* Stereo MCs - Deep, Down and Dirty CD (Island, US)
Takeshi Muto - Expect More From a Past Life CD/LP (Schematic, US)
Sebastien Tellier - L'Incroyable Verite CD (Record Makers/Astralwerks, US)
Various - Dublab Presents Freeways CD [with Languis, Daedelus, Dntel, John Tejada, Mannequin Lung, Divine Styler and more] (Emperor Norton, US)
Various - RKK-13 CD [remixes of tracks from the Attention Cats 12" EP by Jim O'Rourke, Thurston Moore, Push Button Objects, Kid 606, Cex, V/VM, Fennesz, Pimmon, Pita, Suetsu, Alejandra & Underwood, Solvent, Kim Cascone, Chessie, Eoss, Cathars, Drusca, A. Solo, Adrien 75, Blitter, Electric Birds, Airlock, Farmer's Manual, Bubblewrap Being, Cartesian Faith, ESP, Config.sys, Jayrope, Lord Muta, N/A, Rupture, Sister Sunshine featuring DJ Planar 78, Antenna Farm and Wheel] (Reckankreuzungsklankewerkzeuge, US)
Wolfsheim - Spectators CD (Metropolis, US)

This is simply this week's highlights from the NEW RELEASES provided by Greg and Feedback Monitor.
For a more detailed schedule stretching into the future, please check out the site,
since release dates can and will often change.
CONCERT REPORT
Sonna/Chris Brokaw/Explosions in the Sky/27/Tigersaw
It was a good 45 minut drive to Gloucester on Thursday evening but it was well worth the trip. A relatively out-of the way place called The Fishtown Artspace had a night of some very stylish rock music. Unfortunately I showed up too late to catch Tigersaw, but I do like the members and their CD is pretty sweet. 27 was playing when I walked in, also a local Boston-based group, rocking out with a strange blend of Louisville-influenced rock combined with pre-programmed electronics to accent the mix. Chris Brokaw of Come, Pullman and the New Year got up to do a short set of guitar and voice, but what knocked me off my socks was the performance from Austin-based Explosions in the Sky. The group of four begun quiet with shimmering three-guitar melodies which cut through the night. This is one of those bands any musician just sits back and watches with their lower jaw on the floor wondering "why can't I come up with melodies like this?" The group continued and with a style not entirely unlike Mogwai or Godspeed, the levels and energy built, higher and higher and higher. Taking steps back between songs, the motion of the night never ceased, with a blaring ending as their drummer loses his sticks, uses his fists and collapses over the entire set. Baltimore-based Sonna headlined the night and in a similar fashion was a instrumental act with four amazingly skilled musicians who observedly have an uncanny ability to pay perfect attention to everybody else. The writing style of Sonna could very well be much more skilled and original than Explosions but the energy and drive of the Austin boys more than made up for any of those differences. Fans of godspeed, Mogwai or Tarentel shouldn't avoid this show - tour dates are posted at www.temporaryresidence.com. - Jon Whitney
FOUR QUESTIONS

Stephin Merritt

Do you snowboard?

Did you ever snowboard?

Do you have long hair?

Did you ever have long hair?

the answer to all four is no
You can catch Stephin Merritt and his Magnetic Fields on the Wotapalava tour this summer in the USA, which will also feature performances by Soft Cell, Pet Shop Boys and Rufus Wainright.
Thanks to Fakejazz.
COMMENT
This Just In! Erection!
Tonight on John Peel it was Sick Love Tearing Us Apart, introduced as V & VM & described by codger John as 'the sound of nausea'.

If elected
I'd get a law in to have anyone who didn't have a hand in writing that song who described it as 'nausea' publicly flogged. Not whipped, you understand, but flogged to Collectors on Ebay...
All daytime DJ's would be executed by guillotine and their heads displayed at branches of HMV which would then all be exploded with bombs made by Thorn EMI in an interactive Duchampian installation.
Gilbert & Lewis would be given the sounds of the explosions to remix. The public would all be fed the results via Radio 1-4 for a week solid.
They'd be quite free to call it 'boring' we can't be having fascism now can we not unless we lie like a Blair!
Next I'd ban fox hunting and have all former hunters chased thru the hills by naked Asian youths from Oldham astride honking elephants, whilst tree huggers blast 'Dearth of the Cold' by Ocsid from ghetto blasters amongst the leaves. Once run to ground the red coat scum would be slowly eviscerated and left to rot, Brian Ferry especially. The government would make a coat from his pelt and present it to Eno with an MBE in loving respect of his devotion to lost cause moneyspinners like James & U2.
Then I'd have a Dome installation at 'The Dome' and invite everyone from this list for free at the 'expense of the tax payer' (sic).
MacDonalds would be forced to distribute lentils to the homeless, and all their shops would be converted to drop in centres for junkies and others in need of excess fat.
Copies of the first Killing Joke album would be given to everyone in preparation for the coming apocalypse.
Work would be abolished by automation, and a tape loop robot installed at 10 Downing Street.
VOTE for the SHEER WILL SPIRIT party

We don't promise anything but the best!

"The best what?" said kids on TV.

The country went to the dogs. - Graeme Rowland
LINK OF THE WEEK
this clown for hire
Have a party and need an extra special performance? Need an added bonus at the next company outing, wedding, Bah-mitzvah or First Communion? How about a pro-dom disc jokeying clown who also performs as a meeting facilitator? Your prayers have been answered now that Ouchy the Clown is available!
THE WEEKLY CHART
least effective ways to get into a sold-out show
Things that won't work:
Claiming to be somebody's "plus one".
Just plain being Omar from At the Drive in.
Show off your belly.
"I do the label's web site!"
Hiring two hookers and dressing like a pimp.
Bring a camera and laminate.
Attempt to bribe the doorman with CD-Rs of your terrible band.
Copping a feel.
Say you're friends with Jon Whitney.
FEEDBACK
who was that masked man?

Subject: Tortoise in Vancouver
Just a quick easy question: I recently saw Tortoise w/ Nobakazu Takemura in Vancouver, and the opening song featured someone distorting the house music (Santana!) into an dizzying 10-15 minute set. The stage was empty, and there was no introduction; the only accompaniment was the video presentation (not the singing/dancing robots of Takemura).
Here's my question: am I right in assuming this was Takemura? Or was this Casey Rice?
Thanks for any help.
Indeed it was Nobukazu Takemura.

Subject: godspeed website
do you masturbate?
Who doesn't?

Subject: from your mom
Jon,
How come you never call? You should visit more. How are your cats?
Have to run.
Love,
Your Mom
Err, nice try, but Italian mothers are usually referred to as "ma".

Subject: godspeed
love godspeed!!!!!!
Why?

Subject: aphex what?
I just purchased two CDs put out by your site the Help Aphex Twin series. I found them under the Aphex Twin heading at a nearby Newbury Comics.
I would like some info on these CDs, like who is really doing the music on them?
Depends on what how you define "music".

Subject: Great!
Love the philosophy of Brainwashed. This is exactly how the Net should be used (collectives like this). Strength in numbers for the indies! Whee!
School must be out.

Subject: Brainwash
Hello! Chinese language has a new borrowed word from the English "brainwash".
I'd like to know when the word "brainwash" showed up in English. Better along with other related information on the word.
Thank you very much.
Have you tried the dictionary first?
WHAT'S IN YOUR PLAYER?
been caught chewing gum
1. Love - Forever Changes
2. Pan Sonic - Aaltopiiri
3. Tortoise - Standards
4. John Fahey - America
5. Pink Floyd - Piper At The Gates Of Dawn
6. Electric Wizard - Dopethrone
7. Labradford - Fixed : Context
8. Melt Banana - Teeny Shiny
9. Ilpo Vaisanen - Asuma
10. Boris - Absolutego

Harold, from sunny Singapore, who thinks people get a kick out of asking dumb questions just so they can get walloped by Jon Whitney.