neu!, neu! 2, neu! 75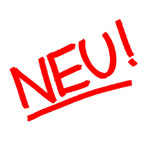 There's two types of people reading this electronic magazine: those who have heard of Neu! and those who actually own the bootleg CDs. If you're one of those who have heard of them and claim you don't know their music, you're most likely already familiar with their sound as it can be heard quite clearly in Stereolab, Echoboy, Legendary Pink Dots, Einsturzende Neubauten, Nurse With Wound, OOIOO, Couch, OMD, Wire, even early Smashing Pumpkins and the Blue Man Group, etc,... After two decades of compact disc technology, the timeless original three studio albums are finally officially available on CD. For those who own either the boots or the original LPs (heh), the treatment on these issues is well worth the wait.
Like any genre-defining musical term, at first 'Kraut Rock' got tagged to groups who shared members and ideals, but over time it became an overused catch phrase. (Consider other sub-rock genres like post-rock, math-rock, industrial, techno, gunge and how much Front 242 have in common with Throbbing Gristle!) It wasn't so much what similarities the original Krauts had with their music, but the similarities of what was absent: during the 60s and 70s chart-toppers like Led Zeppelin, Rolling Stones, the Beatles, Cream and Elvis Presley were all ripping off black rhythm and blues singers, while Krauts like Can, Kraftwerk, Faust and Amon Duul stayed far away, with a soul-less, almost faceless exploration of psychedelics and technology, tone poems, Stockhausen and Moog synths. The term Krautrock soon became the tag to anything both German and rock oriented, Xhol Caravan for example completely embraces soul elements and emotive singing.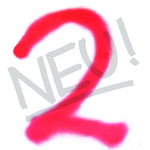 The eponymous debut is probably my favorite: the duo established their sound and developed it into six legendary, solid tunes of varying lengths into a wonderful 45 minutes. It was punchy beats, wakka-wakka rhythm guitars and backwards tape-manipulated long humming lead guitars experimenting with both consonance and dissonance, faceless and distant. Listening, it's easy to start singing Stereolab's "Jenny Ondioline" or "Simple Headphone Mind" and if you're new to Neu!, it hits you this predates the 'Lab over 20 years. The follow-up, '2' however wastes a chunk of time playing with their records on different speeds. "Super" gets the treatment at 16, 45 and 78 (hmm, ever hear of the Duophonic Super 45's label?) '75' comes in a good second as they expanded their sound to include piano melodies and encompass beauty without compromising their edge. By now the group, now a quartet, have become able to do some soul bearing and quiet reflection while still keeping a decent amount of distance from stadium-rock wankery. While a swirly guitar and flange effect begins to creep into a very dated sound of the 1970s, the influence of a song like "Seeland" can be heard clear as day in Neubauten's "Stella Maris" from 1996, Trans Am's "Motr" from 1997, and even Macha/Bedhead's "Hey Goodbye" from 2000! - Jon Whitney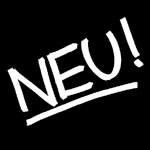 For those of you who own the bootlegs and are wondering if the upgrade is worth it, there are noticeable differences to consider. The overall sound of the reissues is much brighter and a lot of subtle nuances are more perceptible: voices and instruments are now apparent that weren't before. There is a greater dimension to the sound than the relatively-flat bootlegs. Of course, the price for greater clarity of the original analog source material means some audible hiss in spots, but I think the improved quality otherwise outweighs this minor annoyance. The new CDs also offer more music on each disc — about 20 seconds apiece for the first and third albums, and 41 seconds for Neu! 2. Some of this disparity can be be attributed to the fact that the bootlegs were taken from inadequate source (I have heard they were made from the best vinyl copies available). In remastering, Neu! brought back in some skips and pauses that had been errantly "fixed" for the bootlegs. Some tracks are also broken slightly different than on the bootlegs. As for the packaging, it's slightly more aesthetically pleasing than the bootlegs, and borrows a bit from the big foldouts that accompany Dinger's releases on the Captain Trip label. And although the promo material promises "new liner notes," don't expect any further insight into the music itself. Having owned the bootleg versions for several years, I can say that the quality of the official reissues is definitely worth the investment. - Jesse Niemenen
samples:
The Moldy Peaches


Some call it skank rock. I call it lo-fi fucked-up laidback slacker rock. And it's brilliant. The Moldy Peaches are the best band you've never heard. This album made me elated beyond all hope of coming back. It was a journey I'll gladly repeat if I should ever find my way home. Like the lo-fi Belle and Sebastian, Kimya Dawson and Adam Green craft juvenile songs that are strangely catchy with great melodies and twisted lyrics. And they're fun-filled, too! Mostly acoustic guitar and drums with vocal trading and intertwining between Dawson and Green, all badly recorded with lots of static, the Moldy Peaches' album is chock-full of youthful exuberance, adolescent angst, and bizarre happenings. Songs end abruptly because the recording just stops. It's just a strange listen. There's even a ridiculous rap moment. And they cover "Little Bunny Foo Foo." It's just plain great. Often I laughed, because of the ridiculousness of the lyrics, but it's all incredible. It's a bit like the car accident you can't help looking at, but more entertaining. There's really not much more to examine than that, though psychologists would have a field day with those lyrics. Here's a sample, from the album opener "Lucky Number Nine": "Bloody Mary Mother of God/Grampa's on the hobby horse again/Dampened broken pants chaffing/I'm running out of ethnic friends." Even when they approach offensive material, like on "Downloading Porn With Davo," it just comes off sounding like people singing about things just to try and provoke a response, or nonsensical gibberish set to music. Either way, you'll love the result. If you don't, then who cares? These burgers are crazy. - Rob Devlin
samples:
Alec Empire and EL-P, "Shards of Pol Pottery (The 2001 Remixes)"

Teutonic riotmaster Alec Empire rears his ugly head again on this release, throwing down a new bag of tricks far removed from his best known work as titular head of teen-noise-pop-sensations Atari Teenage Riot. Here he dips into a grab bag pastiche of studio tricks to produce a 62-minute slab of chunky hip-hop beats, some atypical noise guitar and the vocal stylings of MC El-P. Then again, since this release is 12 mixes of the same song, it's better geared towards completists and DJ's than the general consumer public. The track itself is hard hitting as expected - funky, menacing keyboards reminiscent of ATR's 'Waves of Disaster', a nice cold feeling permeates this track even as unidentified electronic squee warms the brain and much head bobbing is induced. The other tracks are all variations on this one theme: 'Accapella mix', 'Hard Beats', 'Hard Beats and Voice' - you get the idea. The only real remix here would be the excellent 'No Wave Mix' - a subdued bit of tone generations, casio-style drums and squiggly 404 action; and the 'Black Moon Mix' which is an excellent fucking mess - both of which would be great for those 3AM crank burnouts I'm sure you're so fond of. Released in both the UK and the US so buy domestic. - Maurice Underwood
samples:
mitchell akiyama, "hope that lines don't cross"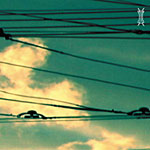 Newcomer Mitchell Akiyama is the first release of Alien8's new sub-label, Substractif. On this, his first 'proper' album release, the Montreal-based Akiyama has assembled a library of field recordings, and provided a complimentary score, at times with sampled, rhytmically and tonally restructured manipulations of the recordings. It's an excercise in a laptop-driven ambient dub soup, and at times the sounds have been so far removed from their original state, that the toil in the process is almost entirely unnoticable. Don't take that the wrong way, however, it's a wonderful disc which has certainly grown on me incredibly. There isn't a piece of work on this album that doesn't take a fair amount of time to evolve, however, so patience is essential to a listening. Akiyama is another case for my argument that greatness in electronic music can come from a understanding of organic music and composition, in that he allegedly comes from a jazz background. 'Hope' could easily be like what a Pole album would sound like if Stefan Betke changed some of the stinking preset sounds for every track. It plays mind tricks on tracks like "Concentrate On One Leg" when the established beat breaks up at random places while a hypnotising throbbing tone never backs down. Its unobtrusive beats, lengthy delays and a keen sense of composition combine to make for a charming listen late at night with the lights off and windows open while a cool breeze passes through on occasion. - Jon Whitney
samples:
The Fall, "Live in Zagreb"


This is the latest in a series of CDs presenting one live performance from each stage of the Fall's more-than-25-years-long career. Most of the tunes on "Live in Zabreb" come from the "Extricate" album of 1990, a point in the Fall's life when they were past the angular, percussive post-punk scream of their classic albums (such as "Hex Enduction Hour") and were moving ever-closer to repetitive techno-rock. Smith's lyrics are mostly bitter rants about his ex-wife (a tune which might about her then-new solo music career is pointedly titled "Sing! Harpy"? yikes?), but that unhinged quality that made the early 1980s albums unique is gone, replaced by bitter grumbling over dance beats.
The music references funk (as in the overblown wah-pedal exercise that is "Telephone Thing") and disco ("I'm Frank", supposedly a tribute to Frank Zappa, though you'd never know it), yet it bears only a hint of the full-blown Manchester dance-party that would be "The Infotainment Scan" album a few years later. The high point of this Yugoslavian concert is the overexcited organ solo which ends their cover of the Monks' "I Hate You", a beautiful minute of sloppy exuberance that only reminds me of what the band used to be like.
In older days, the band would nervously fight onstage, improvise lyrics, rewrite songs while they played them; songs could be half their recorded length or twice as long; poems were read over some songs, other blurred by tapes of fragmented noise. By comparison, "Live in Zagreb" contains music by a professional group, well rehearsed. The tunes are good, catchy pop, but this is not the place to start if you want to hear what the Fall are all about. It's fine, but ultimately not essential. - Howard Stelzer
samples:
the b-sides, "Yes, Indeed, the b-sides, Quite!"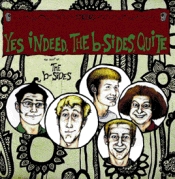 What a great influence Weezer have had on the youth music scene. Their fun-sounding geek rock was almost revolutionary to most kids (who unfortunately had heard nothing like Weezer before) when "Undone: The Sweater Song" hit the radio and television airwaves. And now the kids influenced by Weezer and the like are starting to record music. Take the b-sides, for example. From the first notes of "The theme song," you hear the Weezer influence. You immediately wonder: can they sustain this for a whole album? No. Can they show us that there is a maturity in the other songs, mixing the poppy moments with sober rock songs that are well-crafted and hooky? Yes, they can. This first release for the band, sub-titled their greatest hits from their next four albums in the liner notes for the CD, is the first full-length release from the b-sides, whose members are no older than 21, except bassist Ken Mosher of Squirrel Nut Zippers fame. The CD is a pop gem. Vocal harmonies and hummable melodies abound, backed by rhythms that will make your toes tap on their own. The b-sides try hard on this release, showing off a great range of styles and sounds. They also show competent proficiency with their instruments for their (seemingly) tender ages. Independent geek rock has new saviours in the b-sides. Yes, indeed, quite. - Rob Devlin
samples:
squarepusher, "go plastic"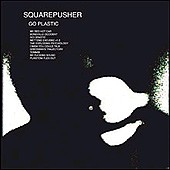 The first track on Tom Jenkinson's new album, 'Go Plastic' seems to do just that. "My Red Hot Car" begins like a soft-core porn featuring raver-style actors. The stars would spend a lot of time fucking with the compostition of naked break beats, use a lot of pitch bending for flair, and maybe even show blatant disregard for melodic structure that pleases one's ears or even that which exists at all. This disc is rife with thin beats and whack bass sounds (that's right acid basslines reprasent in 2001!! yea-eah. no). When listening, watch out for unfulfilling "break" sections and boring melodies that sound like the portamento-style hijinx of DR. Dre a la 'The Chronic', minus the "it being good" part. A few tracks on the CD are decent, like the third track, "Go! Spastic". Tommy gets into a really nice breakbeat mashup but you may end up turned off as I was by the acid bass that begins the track and the thin, icky breakdown at around the two minute mark. I'd like to dance to this track at its finest moments but around four mnutes, there is a gross reverb used and it detracts from me really feelin the track as a whole.
A lot of places on the album turn me off because the sounds mimic those ripped off any old groovebox or Roland synth. I guess there's something to be said for old school sounds but I am not going to say it nor will I hear that. Most of the tracks can be broken down like this: they have their kind of nice places, then more bad parts, and then the awesome atonal composition that seems to be taking electronic music by storm!! I guess my issues with this album is that the chosen sounds could have been better and the melodies could have made sense or shown an emotion present on the any other full-length releases by Squarepusher. - Matt Howell
samples:
We know that sometimes these CDs are somewhat challenging to find, which is why we have a community section which can be used to obtain nearly everything available on this site.
MONDAY
Abfahrt Hinwill - Logatech 10" [picture disc ltd to 1000 copies] (Toytronic, UK)
Abfahrt Hinwill - Testprogramm 2 7" [blue vinyl ltd to 250 copies] (Toytronic, UK)
Arovane & Phonem - Aer [valid] CD/LP (Vertical Form, UK)
Banco de Gaia - How Much Reality Can You Take? 12"/CDEP (Six Degrees, UK)
Beta Band - Broke 12"/CDEP (Regal, UK)
Goem - Disco CD (Fourth Dimension, UK)
Christian Morgenstern - The Future Is On Fire 2: More Kanzleramt Years CD (Kanzleramt, Germany)
M?m - M?m Remixed CD (TMT, Iceland)
Niederflur - Niederflur 3 12" (Minus, Canada)
Robotman/F.U.S.E. [Richie Hawtin] - Hypnofreak/NT 12" (Minus/Plus 8, Canada)
Tarentel - The Order of Things 2xLP (Static Caravan, UK)
Tennis - t.b.a. 7" [ltd to 400 copies on coloured vinyl] (Expanding, UK)
Tricky - Blowback CD (Anti/Epitaph, UK)
Various - Output 64 Vol 1 12" [tracks from the Input 64 compilation of Commodore 64 computer game music remixed by Plundersonics, Chazam & Jean Jacques Perrey] (Enduro/Ladomat, Germany)

TUESDAY
Orton Socket - 99 Explosions CD/LP (Moikai/Drag City, US)
* Pet Shop Boys - Actually 2xCD [reissue with expanded booklet of photos and new liner notes, plus a bonus 2nd disc of remixes and rarities] (EMI, US)
* Pet Shop Boys - Behaviour 2xCD [reissue with expanded booklet of photos and new liner notes, plus a bonus 2nd disc of remixes and rarities] (EMI, US)
* Pet Shop Boys - Introspective 2xCD [reissue with expanded booklet of photos and new liner notes, plus a bonus 2nd disc of remixes and rarities] (EMI, US)
* Pet Shop Boys - Please 2xCD [reissue with expanded booklet of photos and new liner notes, plus a bonus 2nd disc of remixes and rarities] (EMI, US)
* Pet Shop Boys - Very 2xCD [reissue with expanded booklet of photos and new liner notes, plus a bonus 2nd disc of remixes and rarities] (EMI, US)
Triangles - Triangles CD (Moikai/Drag City, US)

FRIDAY
Silex - Stark 12" (Vibrant, US)

This is simply this week's highlights from the NEW RELEASES provided by Greg and Feedback Monitor.
For a more detailed schedule stretching into the future, please check out the site,
since release dates can and will often change.