a weekly digest from the staff of brainwashed
V04I27 - 07152001
Click here for other issues
SITE
Coil in NYC?
The organizers of Convergence 7 have announced Coil will be performing as part of this year's *choke* Gothic Industrial fest. While there's been no announcement from Threshold House, it's worth noting tickets are available and Coil's performance is scheduled for Saturday, the 18th at Irving Plaza. Bright colors are encouraged.
MUSIC IN REVIEW
Bonnie Billy, "More Revery"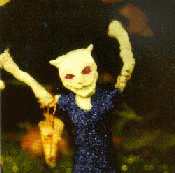 Will Oldham is an odd fellow, and a bit of an overrated one, if you ask me. He's the musical equivalent of Miramax: releases a bunch of product, hopes that one connects with an audience, but if it doesn't, so be it. At least Oldham has some artistic integrity, though, as he's displayed in the past. And you'd know it from "More Revery." This EP of covers shows some interesting choices by Oldham, and an honest attempt to keep things like the original. What's interesting is how these songs make Oldham sound like someone else entirely. The first track, "Someone's Sleeping," sounds like Roy Orbison singing a Van Morrison tune, where the second, "Sweeter Then Anything," still sounding too much like "All Along The Watchtower" to suit my taste, adds nice textures to accompany Oldham's already rich voice. And there are a few triumphant moments, as well, such as the guitar solo on "A Dream of the Sea." That's about all on this one, though. A few great moments, but it still didn' hit me all that hard. I've seen Bonnie Billy live, opening for Godspeed You Black Emperor!, and was interested in some of his influences, and where he comes up with some of the bizarre things that fuel his music. This release gives us an indication of some of that, and shows us that Oldham is great with other artists' music, as well. But it is rather unfulfilling. It holds your interest for a few bars, but then you feel like you want to trade back the magic beans for your cow. "I See A Darkness" from Bonnie Prince Billy was a musical tapestry and the kind of release every artist should strive for. If you're a fan, you'll probably want this "More Revery." If not, it won't change your opinion. - Rob Devlin
samples:
Chicago Underground Quartet


This self titled release is the first official Chicago Underground as a quartet, although Tortoise/Isotope 217 guitarist Jeff Parker has appeared on previous trio discs including last year's 'Flamethrower' as the fourth member within what was described as shifting trios within the quartet. With Parker's guitar contributions being much more prominent this time around, the overall vibe is very cohesive. The disc's nine compositions contributed from Parker, cornet player/leader Rob Mazurek, bassist Noel Kupersmith and drummer Chad Taylor vary from polyrhythmic orchestrations, beautiful ballads, free jazz and a touch of electronica. The opening track, Mazurek's "Tunnel Chrome", grabs the ear with it's 6/8 arpeggiation, cycling structure and subtle polyrhythmic drumming and burns right through to the end. Parker's "Three In The Morning" is one of the most graceful pieces of writing I've heard, with melodic lines and pleasing changes. The group's orchestration really enhances the composition. Taylor's "A Re-Occurring Dream" and the synth and 808 augmented "Total Recovery" are notable not only for the interesting writing, but that there are no drums present. Kupersmith's "wo ist der kuchen, mein frau" alternates from lilting guitar to heavy diggin' lines with unison bass and cornet with Taylor taking over on the vibes. Recorded tastefully by studio ace John McEntire at his SOMA Studios and mixed with the band, the overall sound is, as mentioned, very cohesive. I can only hope to see the quartet in a live situation, having seen the duo of Mazurek and Taylor produce a big sound on their own. Oh yeah, beware the disc's surprise ending on "Nostalgia". - Gord Fynes
MICHAEL GIRA, "UNTITLED (ACOUSTIC/SOLO CD)"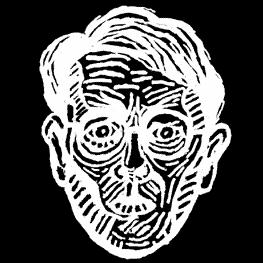 At the heart of much of Michael Gira's songs with SWANS and The Angels of Light is the bare essence of Gira, simply the voice and guitar. On this Young God Records web site exclusive, that's about all you get. Recorded alone at home, often as they were written, the 13 songs are new save for 2 SWANS reworkings ("Love Will Save You", "Remember Who You Are"), a fully orchestrated studio leftover from the first Angel's album sessions ("God's Servant", previously released on the "Praise Your Name" 7") and a live performance at Tonic NYC ("Irish Queen"). Gira unabashedly intones to the basic, often quiet, accompaniment of his acoustic guitar plucks and strums. The sound is, somewhat surprisingly, full, rich and complete. But then again, it's not a surprise if you've ever heard or seen Gira perform solo as I have, his emotional involvement with each song transcending the need for instrumental adornment. Simple and simply perfect. Lyrically Gira draws upon many of his trademark subjects: love, longing, loss, sex, betrayal and bitterness, as well as the influence of artists and authors (Madison Smartt Bell, Paul Theraux). The disc is signed and comes in a heavy vinyl folder with lyric sheet and self portrait cover assembled by Gira for $17. Gira will headline the opening night of the Neurot Sound Series: Beyond The Pale August 16th in San Francisco and an Angels of Light tour will likely take place in September. - Mark Weddle
samples:
VERT, "MOREMOOSEICFORME"
No, your stereo speakers did not just get thrown into a pool of water. Your CD-player is not being soaked in a pit of acid. You're just listening to Vert, the newest to join the gang on Mouse On Mars' German label, Sonig. This four-song EP, available exclusively on vinyl, pushes the envelope of far-out space-rhythms in a manner similar to MoM's style circa Niun Niggung to the point where it sounds as if they may have borrowed each others' sample bag. Aside from the overlap in sound, it is truly enjoyable in that there is not much else that can only be described zany dance dub or country-western Atari-esque samba music. The reverb is way up, the grooves are kickin with an extra pep, and yet there is a nice primitive feel to this music that is so completely drenched in digital. They recently toured with Mouse on Mars and Tortoise, so if you for some reason missed that show and it seems that melting beebop is your cup of tea, I'd recommend this. What is Vert? - Daniel McKernan
samples:
lightning bolt, "ride the skies"


Following in a long, long line of angry young men who like to bang on things, Lightning Bolt take noise-rock into new territory. Where the Boredoms look back to Sonic Youth and Television, Lightning Bolt have taken on Kraut Rock and No Wave in their sound. The band, a duo, is made up of drummer/vocalist Brian Chippendale and bassist Brian Gibson. On "Ride the Skies," their sophomore effort, they have attempted for the first time to capture the powerful essence of their live sound, adding much improvisation and ending several songs with wild walls of sound. "Forcefield" opens the album with a four-minute frenzy of distortion and drum fills. The only somewhat intelligible vocals on the album appear on "13 Monsters," which opens with a wild tribal rhythm that leads into bass arpeggio by Gibson that sounds like it would be at home on the first Suicide album. With "The Faire Folk," the band shows their softer side by combining a Michael Rother-influenced disco groove with a light bass harmony and hummed vocals. The highlight of the album, though, is "Wee Ones Parade" (which should be titled "Dueling Dolphins") which opens with a short introduction featuring Gibson playing against.. himself, but shortly breaks into the most aggressive piece of music on the record. As a whole, the album is very cohesive and manages to maintain a live feel without losing sound quality. Fans of Ruins and Crash Worship alike should check this one out. - Andrij Kopytko
samples:
The Pilot Ships, "The Limits of Painting and Poetry"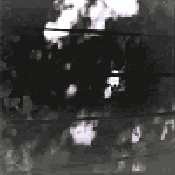 To anyone who wants to give Radiohead's "Amnesiac" the prize for most disparate, disconnected release of the century: "The Limits of Painting and Poetry" has it by a longshot. This, the second release by The Pilot Ships, follows their brilliant 1997 debut album. It's familiar territory for the Ships, as nothing here is really very shocking from a sonic palette perspective. What's interesting is the variation of song structure and instrumentation. It's as though, at times, the Ships cannot decide what kind of music they want to make. Piano starts the song, but then it's interrupted by processed and delayed guitar. And what is that buzzing, exactly? "The Limits..." is an amazing release, however, as each song, as disconnected as it is from every other on the CD, is a full and complete listening experience. For the most part it's cinematic in tone -- this release could easily be the soundtrack to a fine movie about the dissolution of human relationships or the decay of the land around us -- and the combination of unrelated sounds is a joy to minnow through and pick apart. Listening to this release on headphones is a special treat. A song like "Knotted," for instance, has so many sounds present that when one appears, randomly, and is then never heard again, you have to rewind the track and make sure it wasn't a noise outside your window or in your room. Then the static fades directly in to "Sides," the next track, but it's changed, somehow. A fascinating listen, and no one who hears it can honestly justify why it's taken this long to release. - Rob Devlin
samples:
KATE MOSH, "DYNAMO"

I'm awake already! Kate Mosh is a new alias for the twenty something German producer best known as Panacea. "Dynamo" is the debut release from Killer Pimp, one of two new labels (the other being Turbo Pimp) under the Brainwashed umbrella. K-Pimp's motto states "There is no such thing as love, only varying levels of obsession". Kate Mosh is obsessed with overdrive. Most everything is intentionally in the red: synths, samples and beats for over 73 minutes of dance floor hardcore. A pounding thud is the rapid heartbeat of most tracks as layers of electronics blister and peel on the surface. Part 1 of "Crawford's Theme" drops the beat for ambient noise while part 2 dabbles in drum 'n bass. "The Fire This Time" injects some explosive hip hop attitude. The aptly titled "Manic" dances with synth notes and an onslaught of rhythm. And for "Across the Universe" (no, not a Beatles cover as far as I can tell), "Kate Mosh", "Genesis", "Solar Death" and the title track, think dramatic rave techno dipped in white noise. Alec Empire wishes he was having this much fun. Next from Killer Pimp is a full length CD version of Noise Girl's "Discopathology" - Mark Weddle
samples:
We know that sometimes these CDs are somewhat challenging to find, which is why we have a community section which can be used to obtain nearly everything available on this site.
CONCERT REPORT
MARK EITZEL (Dallas, Austin)
You never really know what to expect at an Eitzel show. It could be a religious experience or quickly deteriorate into self deprecation, or a bit of both depending upon Mark's mood.
Fortunately for these two shows, Mark was affable and tolerated himself and annoying audience members, for the most part. Mark is backed by a 3 piece band on this tour: Kristin Sobditch - keyboards and occasional bass guitar, Brian Gregory - bass guitar, guitar, pedal steel guitar and backing vocals and Andrew Clark - beats, electronics and mixing.
The sets drew mostly from the latest CD, "The Invisible Man", plus some American Music Club classics and two yet to be released new songs. Songs I'm sure were played at both shows: "The Boy With the Hammer", "Can You See?", "Sleep", "To The Sea", "Shine", "Steve, I Always Knew", "Bitterness", "Anything", "The Global Sweep of Human History" (nice drone finale), "Seeing Eye Dog", "Proclaim Your Joy" (very rocking, with customized anti-George Bush lyrics in Austin), "Greeting Cards" (new) and "Soap Opera Star" (new, solo). The band leaves stage during the solo songs where Mark plays with electric guitar. In Dallas the solo AMC songs were "Last Harbor", "Western Sky" and "Blue and Grey Shirt". I can't recall what they were in Austin, but it was only 1 or 2, plus "I've Been a Mess" (on acoustic guitar) at the very end. They played between an hour and hour and a half total.
Mark really gave his all vocally, moreso than on "The Invisible Man", and is quite animated while playing. Not to disrespect the band as they were solid and sounded great, but it's when Mark plays solo that I'm totally enthralled. He completely loses himself in the songs (the only other person I've seen like that live is Michael Gira of SWANS/The Angels of Light). He closes his eyes and tends to wander back away from the mic during instrumental sections and will begin singing again oblivious that he's off mic. But it doesn't matter because the audience is perfectly silent, entranced. I think he came close to crying during "Last Harbor" in Dallas. I felt all tingly during most of "Soap Opera Star". Just stunning. It must be difficult to draw upon that much emotion night after night. Surpringly, Mark announced on stage that he'd be selling CDs after the show. There were 2 for $10 apiece: "Eitzelsuperhitsinternational tour CD" (unreleased studio demos from 1999) and "Mark Eitzel - Live on WMFU NYC Solo/Acoustic 4/16/01", both of which will be available on an Eitzel web site after the tour. - Mark Weddle
MOUSE ON MARS/VERT/HRVATSKI
I hesitated to write this review last week since the US tour was over by the time the issue appeared, but it must be said that the group sounded incredible this time around. Local gig whore, Hrvatski introduced the night with a usual schtick coupled with minor modifications. Keith Fullerton Whitman gets better nearly every time I see him but tonight he decided to pick up the punchiness over the last time (which was obviously subdued while sharing the bill with Labradford and Pan American). Vert was next up and while his albums have usually passed through the ears pleasantly, his live set made more statements about his background as a pianist and performer. MOM's set began with a loud punch — a guitar, drum and bass jam with loads of distortion — the group wanted to basically get your attention and let you know this is going to be a seriously fun show. What followed was the group continuing as a trio, most commonly configured by bass, keyboards and live drums. For nearly two hours, the group bombarded through a hand-selected assortment of their most fun, upbeat and bouncy tracks — and it never got stale! - Jon Whitney
THE YOUNG GODS
After taking several years off from the road - except for the occasional performance in their home country of Switzerland, or nearby France - The Young Gods returned to European stages to do a short tour. I went to see them on their stop in Hamburg.
The concert was poorly promoted, the only poster announcing the show was put up in front of the venue while we were waiting to be let in. Regardless of that, quite a few people showed up, I would say about 150 to 200 give or take a few. This was a good amount of people for the size of the venue, it wasn't too crowded, but neither too empty.
When listening to The Young Gods' music, they may at first sound like your typical Industro-Metal band, with distorted guitars and everything. The bigger is the surprise when you see them live, and the only guitar used on stage is an acoustic one used to generate some feedback. Everything else is sampled and put to good use by keyboard player Al Comet. Add a drummer and singer Franz Treichler with his irresistible french accent, and you end up with The Young Gods.
I kind of pity the people who live next to or above the venue, the Westwerk. The amount of volume and noise The Young Gods put up on stage for the next 90 minutes was just insane. One of the loudest concerts I've ever been to. You wouldn't think that three guys can pull off noise like that and enjoy it. Apparently they do, as you could see that they were having an excellent time up there on stage.
During the show, the emphasis was on their current release "Second Nature". They played most of the songs from that album, mixed with some old classics. The slower songs like "In The Otherland" or "Laisser Couler" definitely benefited from the intimacy of the small venue. I can't imagine these songs would come across that well when being played in a big concert hall. Highlights of the concert were "Skinflowers", the stomping "Astronomic" and "Kissing The Sun". The performance was well received by the audience, so the band had to come back on stage twice before the lights finally went on. The show ended with one of the Kurt Weill cover tunes they do so well, which put a nice end to a fantastic show. Make sure you catch them live if they ever play a show near you. - Nils Winkler
ADD N TO (X)
I might dog them on their recorded releases, but boy can these guys put on a great show. It's seemingly a simple formula - three folks with analogue synths and an occasional bass plus a live drummer. The feel however is far more punk rock than they have ever expressed on any record. Sure they play all the hits and new songs, but they also end the night with a cover of the Stooges, "I Wanna Be Your Dog." It's furious, sexual and powerful, and don't miss them if they're in your town. - Jon Whitney
LOW/BREEDERS (CHICAGO)
I think Low was somewhat uncomfortable opening for the Breeders crowd (the fact that it took the sound engineer two songs into the Low set before he realized there was a band on stage playing and he switched on the house sound to a very mild 70 dB didn't help). Alan made a couple of comments. Alan said that usually during their own shows they weren't forced to wear laminated stage passes to be able to get on stage (he proudly showed the audience his). He also expressed how surprised and flattered they were to open up for a reunion show like the breeders. Finally, he mentioned after playing a couple of the slower songs that they would play a few more up tempo songs shortly - which raised a large amount of laughter from the audience.
There was probably around 5,000 people in attendance. I was standing 30 ft from the front and some people around me were talking through their entire set. However, most heads were facing forward and people seemed at least interested. The crowd definitely reacted positively with their applause after each Low song. They especially liked the upbeat songs. I didn't recognize 3-4 of the songs that they played and those were probably the same new ones that were played at their Minneapolis show.
The Breeders were somewhat interesting. I had Pod and Last Splash, so I recognized maybe 50% of the songs played. The Breeders were introduced by Steve Albini, friend to both Breeders and Low, as well as parents of the Deal twins. Kim and Kelly seemed to have a lot of fun on stage and were able to laugh at their nervousness and quirky mistakes. Kim would start each song by either saying "what chord do we start with" or "I don't start this one do I?" They often exchanged conversation with the audience as if they were comedians at a comedy club. I ended up leaving after they took a short break since I was somewhat bored. - Ron Holohan
CHRIS CONNELLY AND THE BELLS
This was the 6th time I've seen Connelly solo. There wasn't anything particularly exceptional about the show - just me, one of my favorite singer/songwriters of all time and 3 or 4 dozen others in the same room - which for me is exceptional in and of itself. Chris and company were in great spirits, Chris telling a few short stories inbetween songs and thanking people. This was the stripped down, road version of the band with Chris on acoustic/electric guitar and vocals, Henry Polk on electric bass and MaryDee Reynolds on electric and acoustic guitars and backing vocals. And Chris' old drum machine. They played 10:30 to 11:30. The set covered over a decade and five albums:
Heartburn, Diamonds Eat Diamonds, The Early Nighters, Blonde Exodus, Ghost of a Saint, Twilight Shiner, Model Murmur, London Fields, Blonde Exodus II
All of them were faithful to the original/studio versions with the exception of "Ghost of a Saint" which had a new musical backing and slower, almost bluesier feel. The band played and sounded great, but Chris seemed to struggle a bit vocally on a few songs. The female backing vocals are a welcome addition live. Henry is always solid. Chris had a cool liquid-y effect on his guitar for a few songs. The merchandise table was wells stocked, most importantly with the limited (100 copies) "Confessions of the Highest Bidder" spoken word CD which will be available soon from chrisconnelly.com . - Mark Weddle
NEW RELEASES
SUNDAY
if.then.else - Pause CD (Emanate, US)
Noise-Maker's Fifes - t.b.a. 10" (Beta-Lactam Ring, US)
Stimulus - A Motion Signal CD (Beta-Lactam Ring, US)

MONDAY
David Axelrod - David Axelrod CD/LP (Mo Wax, UK)
Beta Band - Hot Shots II CD/LP (Regal, UK)
Blue States - Elios Therepia 12"/CDEP (Memphis Industries, UK)
Depeche Mode - I Feel Loved two 12"s/two CDEPs [mixes by Danny Tenaglia, Thomas Brinkmann and more] (Mute, UK)
Dykehouse - Dynamic Obsolescence CD (Planet µ, UK)
* Bob Holroyd - Drumming Up A Storm 12"/CDEP (Six Degrees, UK)
Human League - All I Ever Wanted CDEP (Roadrunner, Germany)
Knifehandchop - Dancemix2000 7" (Irritant, UK)
Math - Forces Combined Remixes 10" picture disc [mixes by Funckarma and EOG] (Musik Aus Strom, Germany)
Ruby - Beefheart 12"/CDEP [mixes by Deck Wrekka, Wauvenfold and Solex] (Wichita, UK)
Truby Trio - High Jazz 12" (K7, Germany)
Two Lone Swordsmen - Further Reminders CD/2xLP [remix album] (Warp, UK)
Wagon Christ - Ataride 12" (Ninja Tune, UK/Canada/US)

TUESDAY
Appliance - Imperial Metric CD (Mute, US)
Beta Band - Hot Shots II CD/LP (Astralwerks, US)
His Name Is Alive - Someday My Blues Will Cover The Earth CD (4AD/Beggars Banquet, US/Canada)
Lesser - Mensa Dance Squad CDEP (Tigerbeat6, US)
Mere Mortals - Universal Code CD (Interchill, Canada)
Ruby - Altered & Proud: Short Staffed Remixed CD [mixes by Dot Allison, Kid 606, Schneider TM, Console, Max Tundra and more] (Thirsty Ear, US)
Paul Van Dyk - Columbia 12"/CDEP (Mute, US)
Various - Karl Marx Stadt LP (Lux Nigra, Germany)

FRIDAY
Ruby - Altered & Proud: Short Staffed Remixed CD [mixes by Dot Allison, Kid 606, Schneider TM, Console, Max Tundra and more] (Clearspot, Germany)
Solvent - Solvent City 12"/CDEP [with mixes by Skanfrom & Lowfish] (Morr Music, Germany)

This is simply this week's highlights from the NEW RELEASES provided by Greg and Feedback Monitor.
For a more detailed schedule stretching into the future, please check out the site,
since release dates can and will often change.
FOUR QUESTIONS
Chris & Cosey

Do you snowboard?
No.
Did you ever snowboard?
No.
Do you have long hair?
No.
Did you ever have long hair?
Yes.
On the way is EAR Three, the third part in the critically acclaimed Electronic Ambient Remixes series. The next one will feature modifications on Chris Carter's rhythmic TG contributions. Cosey on the other hand has been busy with art exhibitions and various appearances. Keep up to date on all their happenings at www.chrisandcosey.com.
Thanks to Fakejazz.
LINK OF THE WEEK
Straight Edge: Compassion or conspiracy?
While it generally appeared that the Straight Edge movement in punk was an overprotective mother's dream come true, some are now believing that Minor Threat was indeed working on forms of mind control. Have a look for yourself on the Straight Edge Conspiracy at free.freespeech.org/shockingtruth/sxe.html.
THE WEEKLY CHART
frequently bought, rarely heard
You know you own some of these things, chances are you rarely listen to them however:
The Merzbox
20' to 2000
Psychic TV, "Live in *blank*"
Panasonic, "Live in *blank*"
The Fall, "Live in *blank*"
Slint, "Tweez"
Beastie Boys, "Aglio E Olio"
post-"Systemich" Oval
post-"Pre Millennium Tension" Tricky
any Stereolab side project
anything by Aube
that Nocturnal Emissions thing packaged in salt
those Hafler Trio 10" singles sold for $75 each
"Queens of the Circulating Library"
"Kid A"
FEEDBACK
is it winter yet?

Subject: Winter In July
Hello there
Saw your Bomb The Bass discography. Nice work, mate.
Do you know who did the Cosmic Jammer Club Mix of "Winter In July". I read that Shem McCauley & Simon Rogers (aka Slacker aka Ramp etc) had done a remix of this tune, so I just thought that Cosmic Jammer Club Mix might be their production. Please let me know. Thanks in advance.
The only thing it says on the disc regarding remixer is "Remix engineer: Q, Additional mix: Alan Moulder".

Subject: can you cut down the pretentious snobbery
will you quit letting thomas olson do reviews
i never have a clue what the fuck he is talkign about
blah blah big word blah blah.
While we appreciate the feedback, it'll mean more from somebody who can actually write complete sentences.

Subject: Box of Meat
Is there such a thing as a MBM Box set and if so where can I purchase it?
None we're aware of.

Subject: Bell is a what?
In last weeks addition of "The Brain," someone asked a question about the group, WIRE. After searching the site you have for them, I noticed they have an album called, "A Bell Is A Cup Until It Is Struck." Never having been lucky enough to hear this release, I was wondering if it had any connection with the BATA-LACTAM RING RECORDS compilation release, "A Bell Is A Bowl Till It's Struck?" Making every effort to read "The Brain" each week, I don't recall it having any reviews of BLRR releases like, TEAR GARDENS, "For Those Who Walk With The Gods" and EDWARD KA-SPEL'S, "Evidence Of Absence." Is there any special reason for this?
There's much debate whether or not BLRR's compilation title is truly original, you'll have to take this question up with them however, not us. It's worth noting Wire's album was released in 1988 while Beta Lactam's compilation surfaced twelve years later.

Subject: Re: sukia
Hey, nice review of the sukia album on brainwashed... I picked it up when it came out and have turned alot of people on to it. I especially like the add n to x comment...so true.
Maybe sometime soon we'll have a chance to put up sound samples for that review so others can discover the wonders themselves.

Subject: Brain in the Wire
Noticed the mention of Brain in the Wire Disc B being released later this year; is that when the set of both discs will be offered through brainwashed recordings? I ordered that Wire 200 issue and was severely dissappointed when it was sold out. Will disc A be sold through brainwashed?
Yes, both discs will be sold here as a set. As for the hold-up, we're still waiting on tracks from contributors who said they'd give something.

Subject: The Stairs
Who were The Stairs? I bought one of their CDs for 49 cents.
They were a wanky little group of jangly popsters from somewhere in the United Kingdom. I had a couple things given to me from go discs! cos they did an in-store at Tower Records when I worked there. They were cute, they were fun, but I think they only ever had one full-length record, "Mexican R'N'B". Go Discs! had so much success with the La's that they thought they found a new sound. Guess not. 49 cents is the going rate for their used stuff.
WHAT'S IN YOUR PLAYER?
we can make sandwiches
electric wizard - come my fanatics
fushitsusha - withdrawe, this sable disclosure ...
him - interpretive belief systems
mogwai - come on die young
blonde redhead - fake can be just as good
brise-glace - when in vanitas
tortoise - millions now living ...
ui - lifelike
transglobal underground - psychic karaoke
dark magus (richard kirk) - night watchman

Mark Schlipper, who says, "keep up the killer work, you make my lunch break." Bon appetit, monsieur.