MARC ALMOND, "Stranger Things" & "Glorious"


After various collaborations, guest appearances and the spectacular Soft Cell shows here's finally the new album by this remarkable Artist who's always somewhere over the rainbow, caught between pop stardom and the underground around midnight. The second release on his own label Blue Star but with proper distribution settings now hopefully more widely available.
"Stranger Things" has a more light and polished production, compared to the preceding "Open All Night" and provides an overall glossy feel as the Trevor Horn produced "Tenement Symphony" did.
No cover versions of well known songs he's so famous for are included this time, instead two songs are taken from an album by Johann Johannson; "Love In The Time Of Science" and "Come Out" which seem to be written exactly for him.
Surprisingly only four songs are co-written or feature his main collaborator since "Fantastic Star" - Neal X (of Sigue Sigue Sputnik ?fame'), all the others where co-written with his Icelandic Team; mainly J.Johannson who also produced the album, Siggi Baldurson (of "Sugarcubes" fame) and Sara Gudmandsdottir (Backing Vocals).
The opener and single "Glorious" is a fine piece of Almondesque optimism, but the non album pieces "Fur" and "Give In" which give his voice more room to illustrate the lyrics hit the listener between the ears and are the real bonus - as so often with his singles. There are no techno remixes of "Glorious", just a radio edit included, if you want to hear him more discoid there's "Soul On Soul" with System F. around, nearly simultaneously released in various versions.
The album itself demands to be heard completely, it's one flow of all his tasteful and well known obsessions; love, desire, dark sinful longings, haunted loneliness, melancholy and the will to survive. The groove of "Dancer" reminds me pretty much of Elvis' "Fever" and is besides the hypnotic "Love In A Time Of Science" and the heart tearing epics "When It's Your Time" and "Under Your Wing" a bit outstanding, but there are no misses, maybe some songs could have been longer or shorter, the lyrics (not included this time) a bit more twisted but who cares if it's Marc Almond and the "feeling's wider than the sky".
There's a beautiful 1st edition of the CD with engraved Cover, also featuring as bonus cut the duet "Amo Vitam" , sung with the German kitsch duo Rosenstolz (some might recall the cover of Klaus Nomi's "Total Eclipse" he did with them lately), which is a fine addition and ending for "Stranger Things". - Carsten S. (6 9 N & F)
samples:
Migala, "Arde"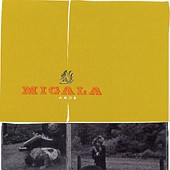 I'm a sucker for cowboy films. The kind of south of the border, gun-running, robbing banks, poor luck, cactus and tumbleweed epics that Sam Peckinpah and John Wayne used to make. Migala, though they may not know it, write perfect soundtracks to modern westerns. I picture a band of cowboys, running from the law and some grave mistake, staking it out in some dirt town everytime I put on "Arde," their first US-released full-length. It's like Latin post-rock, but that's generalizing, and I hate to generalize. Easily the greatest thing Belle and Sebastian's Stuart David is responsible for (he championed the band to Sub Pop), Migala create gritty soundscapes with twangy guitars and, sometimes, Leonard Cohen-esque vocals. "Arde," meaning "it burns," has a tragic flair to it, as each song seems to highlight some tragic moment in time. The album cover even features the end result of a tragic car wreck. As flavorful as this music is, what makes it stand out and grab the listener is the sextet's use of ambient noise. Static, distorted guitar, xylophone/vibes, and keyboards add great range and depth to what may easily become a tired sound after a few tracks (I love westerns, but do I own the soundtrack to "Stagecoach"?). Migala don't stay too long on any one idea, and they don't ram their music down your throat. As dark as it may be, these songs have a playful quality to them, bringing forth an inherent dichotomy I love to listen for. Let there be no doubt: Migala are magical, and "Arde" is a wholly worthwhile listening experience. - Rob Devlin
samples:
Bochum Welt, "Fashion" EP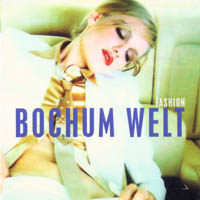 Errr... hmmm. Italian electronic musician Bochum Welt's latest offering is quite a departure from the usual Hymen fare. Although Hymen is billed as the "technoid" subdivision of Ant-Zen (little difference between the two these days), "Fashion" fits right in with all the other C64/Sidstation/Amiga "videogame" music that seems to be coming in droves out of Finland these days. Clocking in at somewhere around ten minutes (four two-and-a-half minute songs), this 3" CD offers little in the way of content or length. If you're familiar with the new wave of "retro IDM" that's popular these days, you've heard this CD before; if you're not, it's basically light techno constructed from very simple "bleeps and bloops" - you know, Amiga, Gameboy, etcetera. The inclusion of atrocious "vocals" by the Italian-accented "Andy" only makes everything worse, and removes any possible enjoyment that may have been had. I can't recommend this at all, honestly - it's short, boring, and the whole "retro video/computer-game" thing has been done several times before with much better results (8 Bit Rockers, Atom Heart, etc.) - Chris Zaldua
samples:
FANT?MAS, "Director's Cut"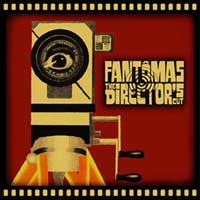 Mike Patton's band, Fantomas, has released another album, this time a collection of theme songs from various movie soundtracks. The majority of the movies are in the suspense/thriller/horror genres, which fits Fantomas' schizoid attention span. I liked this record a lot more than the first Fantomas album ("Amenaza al mundo!"), it seems more cohesive, and it seems like the band is getting more comfortable with itself. The songs' veer into the familiar, such as "Theme from Godfather" and the obscure, such as the excellent "Der Golem" although even those familiar with these songs will find something surprising in the band's interpretations of them: "Godfather" starts off with the accordion (played on melodica, I think,) motif so familiar from the movies and suddenly breaks into a full on assault of crashing drums and pounding electric instruments. Drummer Dave Lombardo's (ex-Slayer,) playing is a highlight of the whole disc. Patton's yelps and screams are still present, though not as annoyingly or pervasively as on solo material; here he's using his voice as an instrument, with a lot of melody. Some of the material has got me intrigued enough to look for some of these films (still trying to find "Der Golem"). So what's the disc sound like? A jazz-metal band doing covers of movie themes while trying to branch out from jazz and metal to avant-guarde noisescapes, with some "California"-esque vocals. All 39 minutes are highly enjoyable and recommended. - Dave Piniella
samples:
JARBOE, "DISLOCATION"


As if 4 separate volumes of the "Disburden Disciple" album weren't already enough, here is an extra CD-R's worth of 'work in progress' tracks to tide the more rabid fans over in the downtime between the 1st and 2nd installments. Jarboe has long made her unfinished work available to the public to further reveal her creative process over time and, perhaps, to help finance her life and future projects. What immediately strikes me about the music on this disc is how well produced the tracks are even in a demo form. And though the instrumentation is somewhat skeletal - some guitar, drum/bass loops, keys - it's not too terribly far off from finished product. Backworld guitarist Joseph Budenholzer and James Izzo, aka Thread, help provide musically while lyrically Jarboe continues to heal and grow. "To Forget" and "Lost" couple sweet vocals with pretty guitar melodies split across the stereo field. On "Feral" Jarboe unleashes several lengthy, cathartic bellows over spooky piano chords and atmospheres. "Angel" and "Real Life" feature the electronic bass and beat programming, presumably by Izzo, that works so well with Jarboe's voice. "Penance" specializes in gorgeous breathy vocals, outstretched bass notes and pretty piano twinklings. "Notebook Fragments" and "W/out Words" are a bit more 'artsy' and dramatic, the latter expressing itself vocally with no words. The next "Disburden Disciple" looks to be very promising judging from these supposedly rough sketches, possibly better than the first album which was also very good. "Dislocation" is available from The Living Jarboe web site for $15 signed . - Mark Weddle
samples:
"a rocket girl compilation"


For the last few years, an amazingly dedicated girl with great taste in music has been building her London-based operation Rocket Girl into a small empire of a label and mail order shop. "A Rocket Girl Compilation" collects tracks from the first handful of 7" single releases along with an entire second CD of unreleased and rare tunes. Contributors include Silver Apples, Windy & Carl, Fuxa, Roy Montgomery, Experimetnal Audio Research, and the precious collaboration between Low, Piano Magic and Transient Waves, "Sleep at the Bottom." While it's a great addition to a collection of anybodys who includes the aforementioned artists, it serves as a fine introduction to newcomers Loopdrop, PS. I Love You, and Pluxus, all who have other releases on Rocket Girl. While styles vary from quiet rock, dream pop, instrumental bliss and electronic ear candy, the quality remains high. The flow from track to track is perfect, and it makes me personally ache to hear the full-length releases from Loopdrop and Pluxus. Fans of Darla, Kranky and Bedazzled labels be warned, you may become hooked if you aren't already. - Jon Whitney
samples:
Radio Birdman, "The Essential (1974-1978)"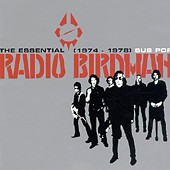 I had never heard of Radio Birdman before hearing this CD. In fact, before I read the liner notes, brilliantly written by David Fricke of Rolling Stone fame, I thought that Radio Birdman might be a new band trying to create that hype machine around them by getting a whole bunch of people to say "No, they were contemporaries of the Ramones and the Stooges. Yeah!" It all had a very Spinal Tap backstory to it. Then I put on the CD. All I can say is it ate my words and thoughts right up. David Fricke says it beautifully in the notes: there hasn't been since, and there probably never will be, another band like Radio Birdman. So it's good that Sub Pop is releasing this "Essential" collection, most of which hasn't been available in the United States in 23 years. Their first EP, "Burn My Eye" is included in its entirety, plus songs off both their studio albums, and a few live tracks to give the listener an idea of what this band could pump out live, as many in America never got a chance to see that. From the opening notes of "Aloha Steve & Danno," which follow the sounds of the waves flowing in to shore, you know you're in for a treat. This is almost surf punk: highly energetic, with snaky guitar lines and driving drum beats, and forceful, commanding vocals. It's all incredibly ahead of its time, from the teen revolution cries of "New Race" to the sheer majestic glory of "Descent Into The Maelstrom." It's a shame they didn't release more. It's also a shame I've never heard of Radio Birdman. The time is now to spread the word, as Radio Birdman deserve their rightful place in the annals of Rock history. - Rob Devlin
samples:
MARTYN BATES, "DANCE OF HOURS"


Martyn Bates is a founding member of the eclectic '80s duo Eyeless in Gaza and a prolific collaborator and solo artist. "Dance of Hours" is a 27 minute mini album that is essentially a continuation of his solo work "Letters Written" begun in 1982. Bates plays most everything here: piano, organ, bass and electric Hawaiian guitar plus additional vocals on 2 songs by Elizabeth S. and co-production by former Gaza partner Peter Becker. But, most importantly, is the voice. To say that Bates' voice is heavenly is still an understatement. It is undeniably the focal point of these richly melodic, poetic songs. In fact, the more minimal the musical accompaniment, the better. "Poems Pennyeach" and "Alone Reprise" (which are pretty much the same James Joyce piece, both less than a minute apiece) and "The Heart Song" showcase only Bates' golden throat within a reverberated cloud or intermittent background vocalizations. The rest effectively couple the voice with flickers of notes and drone. Though this album is brief it's still a very welcome addition to Bates' catalog. And the insert thoughtfully contains all of the lyrics, pure poetry in and of itself. - Mark Weddle
samples:
Synapscape, "Positive Pop"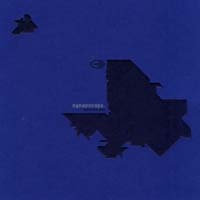 The latest offering by seminal Ant-Zen "powernoise" favorites Synapscape is an interesting one. Although "Positive Pop" is more technoid than anything released recently on Ant-Zen save for PAL's last Rebirth-rife album, it manages to sound quite fresh and interesting within the constraints of the genre. The first track, "Ammunition," is a test of your patience, however - atmospherics accompanied by a piercing frequency which slowly raises makes for an interesting introduction. The track that follows, "Thirsteater," is classic Synapscape, while "Smogue" is a beatless piece with a few high-frequency injections like the first track. "Dubforce" is aptly named, using reverb and a slower tempo to create a very interesting, dub-like feel for a Synapscape track. Reminds me of Nine Inch Nails. The album continues as expected, not varying much from Synapscape's tried-and-true (or not?) formula. If you acquired the box set, you're in for a very special treat - three (yes, three!) ten inch slabs of vinyl accompany the album, and the remixes and extra tracks featured on these records are (for the most part) golden. Disc one is new Synapscape tracks, whose standout is "Bizarre Vinyl Junky," with its skittery, up-tempo beats. Discs two and three are remixes, and here are where things get interesting. The remixers are varied, and while several of the remixes are formulaic and predictable (Converter, Asche, Somatix), some of the results are downright surprising: Savak's reconstruction of "Thirsteater" begins with melodic synths straight out of your favorite IDM track. Hell-G's "Notorious" is a dancefloor breakbeat track reminiscent of good-ol' Position Chrome, and Imminent Starvation's remix borders on glitch-techno, with miniscule hypnotic beats ripped right from Panasonic. Yes, the box set is most definitely worth your money. Overall, not a bad album, but "Positive Pop" only reinforces Ant-Zen's latest direction: to be the next "stepping stone" for those getting tired of EBM and looking for something just a tad bit less friendly. - Chris Zaldua
samples:
27, "Songs From The Edge Of The Wing"


There are times, when listening to a particular release by a particular band, you feel very sorry for the musicians. Not because they aren't playing their music well, mind you. The music is luscious, hypnotic even, and they play it with fervor, energy. But it seems no matter how hard they try, they are a vessel for the voice that sings over them. Luckily, 27 doesn't really have that problem. The music is compelling enough to keep you there before the voice comes in, and then it improves. Sparsely arranged, and melodically playful despite a slower tempo on the majority of the songs, "Songs From The Edge Of The Wing" is an excellent first release from 27, defining in its beauty. These songs are captivating, even without Maria Christopher's sensual vocal lines, but her presence is what takes 27 to the next level. She weaves in and out of the songs with the skill of a siren, singing about the troubles and trappings of human relationships. And the variation of styles not only speaks well for future releases by 27, but also gives a hint of their influences and pasts. With ex-members of Dirt Merchants and Spore present, one might not be expecting music of this subtlety. Loud moments of guitars are present, but they are few and far between. Mostly, these songs are lush, languid, the soundtrack to a dream you wait every night to have. The only seemingly awkward moment (no, the Neil Young cover of "Danger Bird" is brilliantly executed, thank you) is the latin-flavored "Lone Mariachi," where Christopher's vocals are intermingled with spoken word by someone else, who sounds frighteningly like Mark Sandman of Morphine in areas. What do you expect from a band from Boston, though? A fine release, and I wait for more... - Rob Devlin
samples:
orchestral manoeuvres, "navigation: the omd b-sides"


While CD singles can be interpreted as collectable, tradable fun little things, they arguably killed the art of the b-side in the late 1980s. After much pressure, Virgin finally honors OMD with a collection of tracks from the other side of the hits. With two-sided singles, groups often went wild since their albums were scrutinized by the press under a microscope and their singles had to grab enough public attention to sell. Some of OMD's finer moments can be heard within the earlier grooves, now collected for the first time on compact digital audio. I'm thrilled mainly because I had all of these songs on crummy-quality vinyl, and now can listen to a beautifully restored mastering job. Thankfully for people who were never impressed by the watery pop phases of OMD, this comp is heavy on the early classics. Vocal songs like "Sacred Heart" and "I Betray My Friends" showcase an undeniable mastery of songcraft, while instrumentals like "66 & Fading" and the uber-anthemic "Wheels of the Universe" are emotionally charged masterpieces, years ahead of their time. The group pays tribute to influencors Velvet Underground with their cover of "Waiting for the Man" and Neu! (in title alone as far as I can hear) with "4-Neu" while the inclusion of early alternate versions of "Almost" from the first album and "The Romance of the Telescope" from Dazzle Ships are certain to please the completist fans. If you avoid the expensive chain retailers by buying direct from omd.uk.com, you'll get an autographed booklet and additional booklet of more extensive liner notes. My only beef with this and the web site is the incomprehensive 'Brit-centric' qualities of each, which ignore the fact most people only know OMD by "If You Leave" outside of their tiny little island, omitting it from the booklet discography. - Jon Whitney
samples:
We know that sometimes these CDs are somewhat challenging to find, which is why we have a community section which can be used to obtain nearly everything available on this site.
MONDAY
Banco de Gaia - How Much Reality Can You Take? 12"/CDEP (Six Degrees, UK)
Eardrum - Deadbeat 12" (Leaf, UK)
Radiohead - Knives Out 12"/two CDEPs (EMI, UK)
Roots Manuva - Witness (1Hope) 7"/12"/CDEP (Big Dada/Ninja Tune, UK/Canada/US)
Universal Indicator - Innovation in the Dynamics of Acid CD (Rephlex, UK)
* Various - African Travels CD (Six Degrees, UK)

TUESDAY
DJ Assault - Jefferson Ave CD (Intuit-Solar, US)
Electric Company - 62-56 CDEP (Tigerbeat6, US)
Two Lone Swordsmen - Further Reminders CD/2xLP [remix album] (Warp, US/Canada)
Various - Plastic Vol. 5 CD (Nettwerk, Canada/US)

FRIDAY
Cenobita - Neomilenio CD (Trisol, Germany)
Ruby - Lamplight CDEP [mixes by Bench, Kid 606 and Wauvenfold] (Clearspot, Germany)
Various - Sonar 2001 2xCD [with Yonderboi, XRS Land, Plaid, Jazzanova, Louie Austen, Ccamping Gaz & Digi Random, Tr?by Trio, Isol?e, Mathias Schaffh?user, Lemon Jelly, Khan Feat. Julee Cruise, Squarepusher, Aphex Twin, Sigur Ros, Maw Feat. Liliana Chachian, Frankie Knuckles, Luomo, Glissadro Bros. Feat. Clair Dietrich, Laurent Garnier, Phuture 303, Circulation, The Youngsters, Jeff Mills, The Minifunkateers, Fuse] (Sonar, Spain)

This is simply this week's highlights from the NEW RELEASES provided by Greg and Feedback Monitor.
For a more detailed schedule stretching into the future, please check out the site,
since release dates can and will often change.
reality check

Subject: Real Audio
I miss the real audio files. MP3 files take way too long to download and nobody wants to wait just to hear a clip of a song.
I know that MP3 is better quality, but who is going to waste the time downloading something for 10 minutes for 20 secs. of gratification?
I love the site, please bring Real Audio back!
Don't think we ever -had- Real Audio on The Brain. The quality sucks for the most part and it's a pain in the ass to encode plus Real Players love to report back your vital information to their marketing offices.

Subject: Gracias
I wanted to write to all of you and tell ya' how great your efforts are in promting your friends and the music you like and I admire your elegant "in your face attitudes". I really don't think I would have been able to see and some of the bands that have made such an outstanding effect my life with brainwashed.com and all of its slashes (.com/band).
Anyways, I know you don't have time for sap, requests, or garbage so have fun and take the time out of your busy schedules to smell a rose.
busy? us? never!

Subject: Cex
this message isn't about cex
but i did see him play and meet him here in tokyo when he did his japan tour last monthish, and he fucking rocked my fucking world, fuck.
no, this is more of a, "get to know me" kind of message... i am an artiste. no satire, please.
i found a mac in the trash in the tokyo streets and i makee the bad bones.
wanna see? i'll show you my pussy... (no, i won't)
yeah, uh. yeah. i wanna, like, uh, like, do, like, uh, like record covers and shit. yeah.
love me,
fcb
hmmm, we only deala thee good bones here

Subject: queen slagging
All my friends slag 'queens of the circulating library' and last week you did too. Sure it's repetitve and gradual but then again, aren't the best screws? Also, eLph's contribution to the 20 to 2000 series was absolutely fantastic. I was totally unaware that both recordings were generally dismissed as buyable but not listenable, as if marketing gimicks and coil have anything in common (ahem). Great site, by the by, certainly one of the best music forums anyway.
p.s. I heard that coil was supposed to tour the states around the same time that 'backwards' and the 'time machines box set' were to hit stores (ahem).
Well, Elph's contribution is certainly the exception as the thing actually changes actively over 20 minutes, but can you honestly say you listen to the entire series?
As for the Coil tour, Backwards album or Time Machines box set, your guess is as good as ours.

Subject: Wire in The Brain
Sirs,
I am now quite convinced that last week's letter was written by WIRE themselves.
Oh really?

Subject: RRRecords
Hallo, i found on www.brainwashed.com/rrr the rrrecords site but no e-mail adress. maybe you arranged that i became an actually cataloge of rrrecords.
if yes you can send it to me
No. No email address, no computer. Just telephone and typewriter.

Subject: People of godspeed
PLEASE visit Spain. Here you?ll find a large number of fans who, like me, are desperatly willing to see you perform live. We will be gratefull to show you our monumental works, our history, and of course our excellent food.
Don?t think about it, just come and visit us
Ehm, wouldn't they have to think about it to come?

Subject: Un solo p?rrafo
Si quer?s de una vez escuchar nuestras canciones nuestras ?cidas canciones el momento ha llegado es este S?bado 21 de julio que tocamos en el Bar Beckett un bar muy bonito de esos que hay por Palermo aunque este es un poco m?s bonito que los dem?s y adem?s la entrada es totalmente libre y gratuita sin ninguna obligaci?n de tomarte nada pero si quer?s hacerlo no solo se bebe sino que tambi?n se come y muy bien, nosotros tocamos a las 11 PM y el bar queda en El Salvador 4960 entre Thames y Serrano as? que ya sab?s ?ste es tu plan para el s?bado comer y beber en Beckett o no comer ni beber nada pero en Beckett as? escuchas todas estas cancioncitas que hicimos para vos los dos Alina y Tweety tambi?n conocidos como ?CIDA.
No habla Espana.