reconnecting the dots
The first four reissues of Legendary Pink Dots have surfaced on Soleilmoon's Caciocavallo imprint. For those who have the entire PIAS back catalogue already, it's unnecessary to buy these again, as the music is exactly the same, but for the few who never had the chance, your time has come as they're now readily available again. The discs are packaged with a little extra special care with notes, layout, and artwork while mid-priced for your convenience. Unlike other Soleilmoon reissues, these feature the original covers and also include an inside tray card with artwork from 12" singles whose tracks appear on the albums.
'Asylum' (their first deliberate Tarot card reference) first materialized in 1985 and was considered by the group to be a troubled time. The group's lineup had been fairly steady since the early days but their home base had recently moved from the UK to Holland. Songs with titles "Prisoner", "The Last Straw" and "This Could Be the End" symbolify the sentiments of a writer feeling trapped and a group on the verge of calling it quits. Steven Stapleton of Nurse With Wound was brought in to perform various production and editing duties. Popular favorites include the violin-heavy "Fifteen Flies in the Marmalade," the epic multi-part madness of "So Gallantly Screaming" and the classic signature LPD sound of "Golden Dawn."
samples:
'The Golden Age' was originally released in 1989 and was the first long player to feature guitarrorist Bob Pistoor. While many LPD fans don't consider this one of their fave releases, it did give clubs the popular hits "The More it Changes" and "Blacklist" (included as a bonus track from the 12" of the same name). The album features a couple of their recurring themes with the gorgeous "Hotel Noir" and swirling neo-classical signature LPD style of "Lisa's Separation". The album was produced with Hans Myre and primarily featured a stripped-down lineup of the core three members at the time: Edward, Phil (the Silverman) and Patrick Wright on violins. Thus the sound was completed more by electronics than conventional rock instruments. Rarely throughout the 90s until now has the group performed any of these songs in concert.
samples:
The recordings for Crushed Velvet Apocalypse began in 1989 with the album surfacing in 1990. Between 'The Golden Age' and this disc, the Legendary Pink Box surfaced too, a 3xLP set with 2 LPs worth of new material. The Dots were on fire! Bob Pistoor, now a full-time member opens the album with the familiar guitar work of timeless LPD classic "I Love You in Your Tragic Beauty." On other tracks Pistoor gracefully adds sitar and wonderful bass lines. Saxophonist, clarinet and flute player Neils Van Hoorn is also now part of the full time lineup but the violin virtuoso of Patrick Wright has departed from the group. This didn't inhibit the Dots from turning out what many point to as their favorite full-lengther. 'Crushed Velvet Apocalypse' showed a matured sense of writing ability, coordinated musicianship, and a stellar production which can conjure emotions of love, awe and horror within seconds of each other. Songs like "Green Gang," "Hellsville," "Just a Lifetime," "The Death of Jack the Ripper" and "Princess Coldheart" are often played live to very warm receptions. The back of the CD features a newly surfaced image, a stunning tribute to Pistoor (by means of a beautiful live picture), who died the following year after a short battle with cancer.
samples:
Recorded in 1990 and released in 1991, the lineup remained constant from the year before and the group's bonds had grown stronger through various tours all over the world. Initially released as a single LP, double-CD (70+ minutes and a limited edition w/a bonus 3" CD single), this album went on to become their most successful release ever. Popular favorites include the tear-jerking surrealistic dark ballads "Third Secret" and "Belladonna", the pretty yet spooky "Charaderama" or sax and sequencer filled "A Space Between," which has given way to many email signature files with the popular EKS lyric, "we all have names." The apocalyptic nightmare of "The Grain Kings" has become a frequently used last song or encore number on recent tours and even "Disturbance" rears its head occasionally. The Maria Dimension was the first album released on the newly forged partnership between PIAS and Caroline. Guilty only by association, the releases that were co-issued by WaxTrax! may have gained the LPDs some cred with the goth post-industrialists but with the new deal on Caroline the space rockers and indie rockers now had better exposure to the crew. One of the magical things about the Dots is going to a concert and seeing all sorts of fans present. This period the Dots seemed to be flying high, 1991 saw the US-release of the Pink Box and the recordings of 'Four Days' took place. The passing of Pistoor later in the year shook the band's foundations, the band soon recruited Martjin de Kleer and the legendary Ryan Moore as they entered a new phase and called up old friends (Steven Stapleton and Patrick Wright) for the subsequent Shadow Weavers. - Jon Whitney
samples:
DEAD VOICES ON AIR, "LIVE"


How's that for a concise title? Culled from five shows in the U.S. and Europe between late 1999 and mid 2000, Mark Spybey and friends were committed to digital tape by Michael Rother (Kraftwerk, Neu!), amongst others. The bulk of the ten tracks are drawn from the last two DVOA albums "Piss Frond" and "Frankie Pett..". The basic structure of these mostly instrumental songs is about the same, the sequences sometimes extended or edited, then embellished upon by Spybey and collaborators Niels Van Hoorn (The Legendary Pink Dots), Dave Wright (Not Breathing), Ryan Moore (LPD at the time, Twilight Circus Dub Sound System), Darryl Neudorf (Abintra), Darren Phillips (Hellen Keller), Mark Gunderson (Evolution Control Committee), Frank Verschuuren (also LPD at the time) and Aimee Lane. All those extra improvised horns, keys and beats perk up many a song and help give DVOA a sturdy and fun live band feel and sound. "Sulphur" is the only one that Spybey really steps up to the mic while Van Hoorn adds flute to the cello part. "Lost in Deming, NM" is apparently new, essentially Spybey solo on bass and sound debris loops with longing wails from Van Hoorn. "Muffel", originally found on the recent Spybey/Harris 'Threesome' series disc "Bad Roads, Young Drivers", explodes again here with sax squawking and Moore's heavy live drums. "Redkerre" is extensively drawn out for nearly 17 minutes as electro blips and beats skitter about like firecrackers beneath dense padded loops. "Puppet Show" is the finale and something tells me it needs to be seen rather than heard to be fully appreciated - it wasn't a feature of the 2 shows I saw on that tour. Unfortunately, for whatever reason, Spybey chose not to include his celebrated d 'n b renditions of the Download instant classics "Sidewinder" and "Base Metal". Darn. Otherwise, it's a fine document of live DVOA circa the end of the 20th Century . - Mark Weddle
samples:
THE DOUBLE LIFE OF VERONIQUE, "AVEC UN PESSIMISME LUCIDE"


Krzysztof Kieslowski's film "The Double Life of Veronique" has been described as a romance about moments when we think we see ourselves at a distance; could there be more than one me? Well perhaps that's what was at the back of the mind of David Bennet of the heavily Sonic Youth influenced Stray Light when he chose the name, because this project gives vent to his other persona, of e-bowed guitar dronescapes. Of the five long, immersive yet spacious tracks, two are scored for bowed guitars and dedicated to minimalist painter Mark Rothko, whilst the other three are guitar improvisations that give a nod to Rafael Toral and Jim O'Rourke albums like 'Disengage'. The titles suggest that each piece could be a synaesthetic reflection on a particular colour. Each track takes a constant drone as it's base and gradually unfurls drifting harmonics like watching the first rays of light creep over a misty morning horizon, until light engulfs the senses. It's a calm, reflective and beautifully blurred music that ought to appeal to fans of the less anchored members of the Kranky roster, particularly Stars of the Lid. In live excursions TDLV is augmented by a second drone guitar and violin, but for this disc it's all guitars. Hopefully this will be just the first step in a long and fascinating trip from deepest darkest Manchester to head expanded eternal orbit around the planet Jupiter. Available from: www.nameless-records.com - Graeme Rowland
samples:
k, "new problems"

The distinct writing, singing and playing styles of Karla Schickele first appeared in the trio Beekeeper, where Karla played alongside her brother, Matt. The next step was in Ida where she joined the group, already in progress, and rounded the group out quite nicely with a lower voice and a pianists touch. Finally, with the project known as K, Karla is in complete control and the results are breathtaking. "New Problems" collects 12 tracks totalling just over 30 minutes, including most of the songs from the first CD-R that was being sold at last year's K concerts (the remaining one appeared on the split EP with Low) as well as a demo version of the now classic Ida tune "Poor Dumb Bird". Karla's a multi-skilled performer/player, with her fingers plucking guitar and bass strings, tinkling the ivories and even wrapped around an oboe for the song "Figther Dove." On the disc, Karla is joined by some of her closest friends including Tara Jane O'Neil of Retsin, Rodan and solo fame, Cynthia Nelson of Ruby Falls and Retsin, Michael from Ida and Ida Pearle, who's violin playing has graced Low, Ida, Magnetic Fields, Retsin, Naysayer and many others albums. Rose Thompson joins Karla on the vocals for a couple tracks, and if you've seen the K show in the past few months, you'll know Rose is another top-notch multi-instrumentalist, a force to reckon with and possibly the next person to surface from the scene with her own material. The songs range from the gracefully subtle, melodic, minimal instrumentation of "Got a Feelin'" (a Mamas and Papas cover) and the album's openers, "*"/"Not Here", to the jam-rockin "Knoxville" (which sounds like it had to be faded, else it'd go on forever), the four-track charm of the "Poor Dum Bird" demo and "Telegram" to the bang-up production jobs on the infectiously catchy "Reminder" and "Regular Girl" tunes. I wish they hadn't faded so many songs out however, as I love to hear songs truly 'end' without being cut short. Fans of any of the aforementioned bands should already have this, and if they don't they're truly missing an essential piece of the picture. Karla Schickele is truly one of my favorite contemporary rock/pop writers. - Jon Whitney
samples:
PHIL WESTERN / TIM HILL, "DARK FEATURES"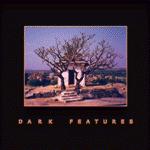 Phil Western has at least a decade of experience in electronic music and is currently a member of Download and platEAU. "Dark Features" is the debut release from Vancouver based The Record Company and it picks up right where Western's 1998 solo album "The Escapist" (co-produced by Tim Hill, who has also played with platEAU) left off. This is premium textured techno: a thick mesh of synth and sample ambiance and programmed beats with additional organic elements like voice and guitars. Phil's vocals appear on half a dozen tracks - they're more unnecessary than they are annoying, ditto for many of the numerous, seemingly random spoken samples. "Fight No More", "Dirty" and "DMT" ride strong bass and guitar grooves, the latter one being as active as the psychedelic substance it is named after with Western singing the word 'dimethyltryptamine' over a bright and bouncy pop riff. Gorgeous ambient moments endure in several tracks, most notably the tail ends of "Embryo" and "Duke". "Bring That Home, Buffalo" is downright peculiar by throwing banjo playing into the mix. But the most surprising and stunning track of all, the one which will surely confound many a listener, is "Be the Fool". Here Western sings and plays acoustic guitar solo for an emotional and atmospheric song that approaches the sound of late '80s American Music Club. Great stuff. I hope Western further explores these heretofore unrevealed singer songwriter and pop proclivities. Act now and three more techno oriented tracks are available on a bonus orange marble 10" with the first 300 orders direct from the label at colourspeaks.com . - Mark Weddle
samples:
BERKOWITZ, LAKE & DAHMER, "CONTRACEPTION OF THE GODS"


Not to be confused with the similarly moniquered old prog group, Berkowitz, Lake & Dahmer are certainly a bit noisier, and probably don't stop at sticking knives in keyboards. Lord Pendro and Mr Oleum of Fflint Central have been afflicted by channeled rumblings from these disembodied ectoplasmic entities for some time, and the only way they know how to exorcise the Satanic power of the drones and loops that take hold of their recording sessions when this trio of restless spirits holds sway is to bung out a CD-R packed full of seventy minutes of what really went on there at the haunted red house from another dimension. Of course Lord Pendro has been known to become restless when imbibing vast quantites of spirits of a different kind, but that is another story.
The door to the frightening red and black world of BLD opens on a not particularly merry-go-round eight note chime whilst the nasty ones gurgle and gargle for a bit. Next all hell breaks out with a bone shaking drone monster on the loose in the form of 'Tones in Red', and bubbling rhythmic turmoil and rubble strewing simple cement mixer loops keep revolving in nightmarish ecstasy. In the haunted red house live the likes of the bawling baby headed Foetor with his abominable shuntings and the creepy big nosed Norbert H. Conduit who is damned for all time for trying to knock some sense into the Celestial Hives of Honshu...
Either that or these guys have been listening to way too much Non, Coil, Throbbing Gristle and Muslimgauze whilst reading back issues of Fortean Times. Available from: www.fflintcentral.co.uk - Graeme Rowland
samples:
ukiyo-e, "inland"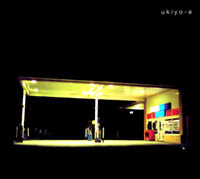 While it's not my practice to review things nearly impossible to get, this CD deserves a mention. My first exposure to this Australian quintet was through their song on Fat-Cat's "No Watches.No Maps" collection of demo songs from bands they weren't going to pursue anything with at the time. What I heard can be described as somewhat derivative from an Aerial M/Tortoise/Fridge sound but their mastery of musicianship, songwriting and production skills are quite appealing. Inside the disc there was contact information listed, so I wrote to them and said I wanted to hear their album, with possible interest to send it to some friends at labels/distributors but I had no intention of writing about it. After hearing their 37-minute six-song LP I can safely say I'm not surprised at the sound but pleasantly impressed with their abilities. It might still have that derivative quality which will most likely keep them from being picked up by any label outside Australia for a while, but there's something hard to put your finger on that you can just sense. It's the sense that these people are actually going somewhere and are off to a great start, and I'm interested in what's to become of next, even interested enough to possibly try and release this here myself if I wasn't so damned busy with everything else in my life. If you couldn't guess from the comparisons already, the music itself is instrumental, composed of conventional rock instruments with the occasional vibrophone. It's rock-based with an occasional nod to jazz, but never to the point of wankiness nor with over-the-top production. I don't know how you can obtain it, but there is a website listed at www.trifekta.com.au, or you can try to bug your record stores to carry it and perhaps their distributors will become interested. In my experience however, the web site doesn't work and record stores and distributors are pigs. Stay tuned however, as more developments on this band will be noted here as they're made. - Jon Whitney
samples:
NOTE:
We ran the Múm review last week prematurely, the album's not out until September 15th. Sorry for any inconveniences.
We know that sometimes these CDs are somewhat challenging to find, which is why we have a community section which can be used to obtain nearly everything available on this site.
MONDAY
Amenti Suncrown - Zenith Pitch CD (World Serpent, UK)
Bjork - Hidden Place two CDEPs/DVD (One Little Indian, UK)
Brothomstates - Qtio 12"/CDEP (Warp, UK)
* Current 93 - Imperium CD [remastered reissue] (Durtro/World Serpent, UK)
Depeche Mode - I Feel Loved (part 2) 12" (Mute, UK)
Eardrum - Deadbeat 12" (Leaf, UK)
Human League - Secrets CD (Papillon, UK)
Kolar Goi [formerly Aedena Cycle] - Space Ballade 12" (Beatservice, Norway)
* Mr. Scruff - Get A Move On/Ug 12" [reissue with new b-side] (Ninja Tune, UK/Canada/US)
Piano Magic - Son De Mar CD (4AD, UK)
Radiohead - Knives Out 12"/two CDEPs (EMI, UK)
Ruby - Altered & Proud: Short Staffed Remixed CD [mixes by Dot Allison, Kid 606, Schneider TM, Console, Max Tundra and more] (Wichita, UK)
Slowpho - Dial 12" (Beatservice, Norway)
* Sol Invictus - The Blade LP [reissue ltd to 1000 signed copies] (Tursa/World Serpent, US)
Thighpaulsandra - Michel Publicity Window CDEP (Eskaton/World Serpent, US)
Various - Arctic Circles 3 sampler 12" (Beatservice, Norway)
Various - Artist & Computer Vol. 3 CD [with Lilienthal, Accelera Deck, Gosub, Gamers in Exile, My Selfish Desire, Goodiepal, Multicast, Colongib, Mik at Home, Crix Madine and more] (Safety in Numbers, US)
Various - Karl Marx Stadt LP (Lux Nigra, Germany)
Volcano The Bear - Yak Folks Y'are LP [ltd to 200 signed copies] (World Serpent, UK)

TUESDAY
Arling & Cameron - We Are A&C CD (Emperor Norton, US)
Mira Calix - Prickle 12"/CDEP (Warp, US/Canada)
* Goldfrapp - Utopia CDEP (Mute, US)
S.I. Futures [Si Begg] - We Are Not a Rock Band 12"/CDEP (Mute, US)
Uberzone - Faith in the Future CD (Astralwerks, US)
Uberzone - Bounce 12" (Astralwerks, US)
Various - Tigerbeat6 Inc. 2xCD (Tigerbeat6, US)

WEDNESDAY
Zorn - Ekkehart 7" (City Centre Offices, Germany/UK)

This is simply this week's highlights from the NEW RELEASES provided by Greg and Feedback Monitor.
For a more detailed schedule stretching into the future, please check out the site,
since release dates can and will often change.