a weekly digest from the staff of brainwashed
V04I37 - 09232001
Click here for other issues
NOTE
a letter from the editor
The "entertainment industry" often becomes the target for politicians trying to win brownie points for a voting segment or parents who need a scape goat other than themselves. The lifestyles of those who chose to be in this field are often frowned upon — the pay is shit and it's an expensive trade to be in. "Why don't you want to be a doctor or lawyer like your cousin?" There's even that pathetic amount of ridicule that goes on when people tend to disagree on something as personal as preference. Over the last week, amongst many things on my mind is how important entertainment really is.
When I woke on September 11th, one of the World Trade Towers was on fire — nobody could confirm whether it was a bomb or fire. Minutes later, I, along with millions of others witnessed live an airplane crashing into the second tower, shortly thereafter a plane crashed into the Pentagon. What the fuck is going on in our world? What is next? Is this armageddon? It was the most terrifying day I have ever lived through. It didn't help that in these very tense hours, our selected leader was nowhere to be found, flying all over the country, in what seemed like a surreal chess game where the king is the most protected yet comparitively helpless piece.
Panic was taking over where shock was giving way. I tried to phone friends in NY and one in Washington who works for the government but all lines were overloaded, jammed. Soon, the towers crumbled, and the feeling of panic and everything just sunk into an indescribable feeling of void, sadness and emptiness. The pictures had clearly shown loads of rescue workers and volunteers scrambling to save thousands of people, many of them didn't have enough chance to make it out to safety. Towards the end of the day, contacts were made, all friends and family I knew who were in these places were safe. Contacts were made later with close friends and family just to say hi and how much we care for and love each other.
Over the next few days, the news reports were filled with much sadness and despair. The loss is catastrophic and the amount of love and support shown across the world was comforting in a time of great pain. (Heck, I even cried when the Brits played our national anthem.) However, tensions were high everywhere. From my own personal experience, many people on music-related electronic forums I either read or subscribe to engaged in heated arguments, finger pointing and name calling. If anything, these experiences have reinforced my feelings in the necessity for people to listen and try their hardest to exercise a bit of understanding. This goes for -ALL- sides: I'm hurt, sad and angry when I hear about people spouting their mouths off about killing people of various nations as well as when I hear people automatically assume my government is about to take part in the murder of innocent civilians. I have spoken my mind, but have been accused of being a bully, a stupid yank, intolerable, and siding with the opposing side of whoever I'm disagreeing with. All because I probably have not properly communicated that I wish people would try to be more understanding, considerate and less bigoted. Maybe Greater Than One were really profound when they wrote back in 1988, "Ignorance is the Agent of Fear"; "Fear is the Agent of Violence."
There comes a time where you feel that you can't take it any more. The TV shows you images nearly everybody has seen over and over and over again, the arguments get so fierce and personal that you begin to lose ability to focus properly on work, life, personal interactions, etc,... Now, more than ever, I'm finding how important music is in my life. To have the luxury of turning everything off for a bit of introspection, whether it be for the new Lali Puna, a comforting old Cocteau Twins, Beatles, Pixies, Nurse With Wound or Bjorn Again, is truly magical. Some may consider it escape, some may consider it solace, some may consider it spiritual or inspirational, but it is yours for consideration.
With that, I'm proud to have such a minimal part of "this industry" and an important role in a team who is helpful and sharing, caring and listening. We need this. We need to continue on. We need music and we need to continue sharing and listening.
With love,
Jon Whitney
SITE
CANCELLATION OF CURRENT 93 SHOWS
David Tibet has decided, with great regret, to cancel the 2 shows by Current Ninety Three at Joe's Pub in NYC. He feels that the political situation is at the moment far too serious and volatile for him and the group to be travelling and performing.
Tibet sends his apologies to all of those who have made plans to attend these shows. He hopes that everyone understands the reasons behind this decision, made in a uniquely difficult and dangerous time.
Details will be posted soon about ticket refunds/rescheduled dates after these matters have been discussed with the promoters and vendors.
Coil live audio and video
Coil have stated on their website:
The NYC show was supposed to be filmed with multiple cameras for a full scale video release, but in the end the Irving Plaza wanted to charge us to film with more than one camera, so we decided against it.
The Moscow concert WAS filmed professionally with multiple cameras and in that venue the layout, deranged lighting and smoke were all the way we like them (by comparison Irving Plaza was not really the 'full show'). FeeLee of Russia will be releasing the concert in full as a video - we will get copies for mail-order.
We intend to release two DVDs (by Christmas if possible), one of which will include the full Moscow show plus the best bits of Irving Plaza, Amsterdam and Royal Festival Hall concerts, and one featuring a studio 'ideal' recording of all the songs we played live on that tour accompanied by the graphic animation projected during the performances.
We are desperately seeking video and audio of the Antwerp concert, video and audio of Leipzig, video of the Barcelona concert, and any good quality audience tapes of any of our live shows.
Time Machines will be released soon on double vinyl in a gatefold sleeve packaged with stickers. Also due soon is a 7" featuring a live version of "Blood From The Air" recorded at the Moscow concert, with another live track (probably "Amythest Decievers") on the b-side. It will be limited to 1100 copies.
Autechre and Surgeon are now confirmed as the remixers on the bonus 12" to be included in the upcoming boxset of the vinyl reissues of Scatology, Horse Rotorvator and Love's Secret Domain. There may be a couple more remixes/remixers as well.

OTHER MUSIC NEWS
Carl Crack: 1971-2001
We are sad to report that Carl Crack, best known as MC and frontperson for Atari Teenage Riot died on September 6th, after years of struggling with psychiatric problems. In reaction, Alec Empire has said, "People like us can?t even imagine how hard it must have been for him to deal with those (psychotic) attacks, to record and perform, and on top of that to take care of his personal life and relationships. I just wish we had talked in person one more time, even though we cleared things in the letters. I will miss him. Carl, we'll never forget you."
MUSIC IN REVIEW
fridge, "happiness"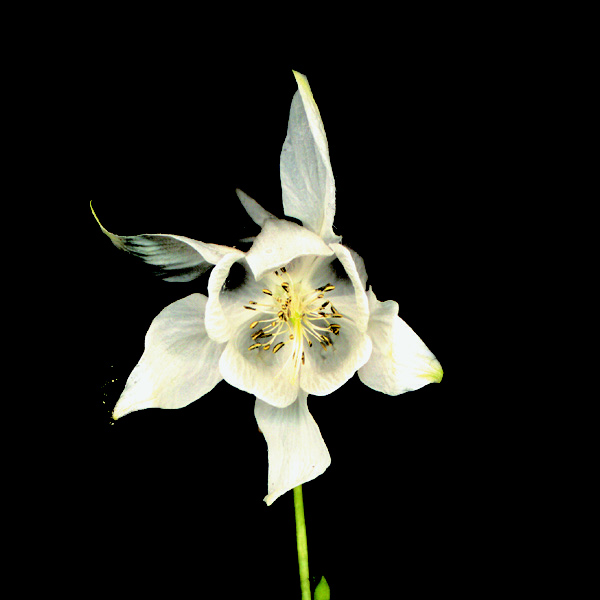 While some may feel it's in poor taste to review something I'm actually co-releasing, I also feel it's in poor taste not to share my opinion on something I love so incredibly.
This story actually starts over three years ago. Fridge's drummer, Sam Jeffers and I both were on the Pure-Impure mailing list. I had never met nor talked to the guy but liked the first couple releases from the band. He had pointed people on the list to the website he created for the group and made some hint at perhaps "that web guy Jon Whitney" might be able to help them out with advice or something. Flattered that this guy across the ocean in a cool band knew who little ole' me was, I began talking to him and as the 'Sevens and Twelves' compilation was released, I had offered to do a website for the group on brainwashed. At the time (1998) I had a fairly good rapport with Thrill Jockey and Kranky, when the group released 'Eph' by 1999, I had built relationships in Matador, Merge, and Mute. All of these people I begged to give Fridge a chance. Just listen to them, perhaps pick up their stuff and bring them over here to the USA! The general word on the street was positive but the labels had other priorities at the time. I went to the UK with my friend Nick on a vacation and happened to be able to catch Fridge in a show with To Rococo Rot and was not let down in the least. Sam sent me a CD of 'Happiness' back in February or March of this year I think, I don't believe his intentions were of anything else than to gauge my opinion. This time around the album was -too- good to give to anybody else. I had to release it myself, and thankfully with the collaborative efforts of Temporary Residence, it has finally materialized.
Fridge are a group, a trio of friends who grew up together in London and have been recording together for many years. Try to remove yourself from the other reviews and blurbs which call this Kieran Hebden's "other project", as this is clearly something quite different. [If you're looking for the catchy electro hooks and sampled riffs which litter Four Tet records, forget about this release all together.] It's a remarkable output of three talented musicians who are completely unafraid to try their hand at electronics, beats, emotional guitar melodies or improvisation. Tactfully they succeed at bending genre definition and deliver a solid and graceful album. They have learned their instruments enough to get the sounds and melodies swimming around in their heads out — but never distort the songs with mathematical solos or over-the-top post-jazz wankery. 'Happiness' is nine songs which don't lie to the listener, as their song titles adequately describe the center stage elements of each song, "Melodica and Trombone," "Cut Up Piano and Xylophone," "Five Four Child Voice", "Harmonics", etc...
Months after hearing it for the first time, I still get emotionally caught up if Other Music happens to be playing it in the store or the radio station happens to be playing one of the cuts. Three weeks from today I'll be greeting them as they arrive for the first time as a group to the USA and I would lie if I said it won't be an emotional moment. Thanks to the band for one of my favorite albums of the year and the opportunity to share it with so many. Hope those who are able can come out and see them live next month. Tour dates are on the website. - Jon Whitney
samples:
LUSTMORD, "METAVOID"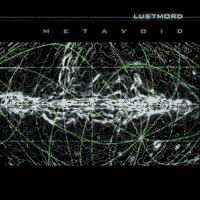 For many years now I've gone without a Lustmord disc in my collection despite many people trying to convince me I should have some. What little I've heard of Brian Williams' 20 years to date project failed to impress me and now that I have this disc in my possession, well, I'm still unimpressed. The 64 minutes of "Metavoid" rely heavily upon the sound design skills Williams has put to use for dozens of films the past 7 years, including "The Crow" and "Strange Days". Dark ambient currents and growls, padded with strings and angelic voices, are interrupted by effected voices and often clumsy tribal/industrial percussion and sound effects. Drab, clich? and predictable with equally drab, clich? and predictable track titles. I feel as though I'm partaking in some sort of pagan funeral dirge. Yuck. It's simply trying too hard to be dark with little subtlety, always the key to superior atmospheric music as far as I'm concerned. That said, there are a few redeeming qualities such as the climactic build of the nearly 12 minute "The Eliminating Angel" and the pure ambiance of "Oblivion". But overall, I think these sounds would be better relegated to cinematic backdrop . - Mark Weddle
samples:
? + NOTO, "WOHLTEMPERIERT"


One of the more recent releases in Raster-Noton's clear series, "Wohltemperiert" ("Probably") is another collaboration between ? (Mika Vainio of Pan Sonic) and Noto (Carsten Nicolai, founder of Noton). Primarily recorded during the winter of 1998 in New York City with gear borrowed from Larry Seven, the disc comes in a transparent flip top Trimpak inside a card sleeve jacket. Nicolai's contributions are seemingly minimal as the high pitched tones and glitches that are his usual auditory signature are used here economically. It's the sparse hum and pulse which are Vainio's forte that make up the bulk of these 61 minutes. Of the 15 tracks, the lengthiest, the 4 to 8 minute ones, are the most rewarding as steady/wavering tones, compressed air, static and oscillating rhythms form meditative jet streams of sound. It's all rather stark, chilly and undefinable save for moments reminiscent of a dental water pick, a chirping cricket, clanking bottles, etc. (and if fabric could literally breathe, "Mur" would be its snoring). The final 3 tracks, about 2 and 1/2 minutes total, break away with a chatter of squiggles and the unexpectedly cute "Zwielichtmelodie" ("Twilight Melody"). "Wohltemperiert" offers little in the way of surprises but it will all make perfect sense to collectors of Raster-Noton's austere minimalism. - Mark Weddle
samples:
NICK PARKIN, "ENTROPOLIS" & "GEOMORPHIC RESONANCE"


With a pair of new discs for Soleilmoon Recordings, both limited to 500 copies, British sound artist Nick Parkin explores and simulates the processes of decay, geological and chemical, upon cities and landscapes. Feeding field recordings, samples and instruments (percussion, flute, keyboards) into a Macintosh for additional processing, he creates about 2 hours worth of slow moving, but generally busy, textured sound glaciers. It has become difficult for me to get really excited about these sort of works, having heard so many of them in recent years, but together the two discs offer up much worthwhile ambiance. When Parkin takes the tried and true 'less is more' approach on the "Entropolis" disc, he strikes gold. Strip-mining away the extraneous sound debris leaves tracks such as "Pulvial", "Residues of Night" and "Eurus" with more ambient breathing space, making for moving pieces.


But it's the sounds of nature that permeate the "Geomorphic" disc that are more interesting, giving it a distinctly comforting and earthly feel. The elements shape the land throughout, "Talus" and "Moraine" in particular being a fascinating jumble of water and ice soaked pebbles and boulders. Nicely done mate . - Mark Weddle
samples:
windy + carl/landing "Tour" split CD single

I love ambient guitar music. I am a sucker for it. If a band has guitar chords being played at a respectable volume, with all sorts of sounds swirling in and out, surrounding it, and playfully caressing the guitar line throughout, it's a relatively sure thing that I'll love it (even if it seems to go on for an extraordinarily long time). Drone music, as it is often called, is amazing to me for this very reason. Those familiar with the works of both of these bands will find lots to like on this release, available now via mail order through The Music Fellowship (see www.musicfellowship.com for more info). This split single, released on Music Fellowship to commemorate the landing/windy + carl tour, features the newest recordings by both bands, recorded specifically for this release. It also features hand-painted covers by windy (they have a band, they run a record store, and she paints -- is she busy enough?), which are quite lovely. windy + carl's contribution, "untitled," is classic windy + carl, all epic guitars and chimes. It's soothing in its simple beauty, and leaves you wanting more, despite its near 16-minute running time. The other three tracks on this release are landing creations, and I must say I was extremely pleased after "circuit" to hear their work here. This is what I was talking about in my landing review two weeks ago when I said I wanted to hear the band try something new. On "along," landing work their own drone magic, still using the delay effects, but minus the distortion. It's exquisite in its stirring majesty. When the drone fades, and the clean guitar tones take over, playing a playful yet somber line, you're already hooked, unable to turn away. Simply gorgeous. In fact, all three landing contributions are pretty amazing. "Where the leaves no longer grow" is spacy and dreamy, and "passage to sleep" is the whispers of a nymph joined with the sounds of the sea over a bed of acoustic guitar and delayed drone guitar. In fact, it seems almost as if, in places, landing and windy + carl are becoming one. What a dream that would be. Pick this release up and never let it go: it's that good. - Rob Devlin
samples:
astrobrite, "8 candy" ep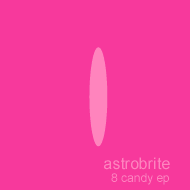 From the Connecticut-based label Sonic Syrup comes an 8-song EP of material recorded between 1993 and 1997 by Scott Cortez, the instrumentalist behind Lovesliescrushing. With Astrobrite, Cortez espouses much of the same blissfully noisy guitar layers as he has with his other project; however, '8 Candy' takes a contrastingly more pop-driven approach, reflected in the sugary-sweet titles of tracks such as "Sucker", "Jawbreaker", and "Sweettart". Comparisons to My Bloody Valentine's classic album 'Loveless' are inevitable, although Astrobrite descends a step or two further down the lo-fi ladder, being a touch more texturally abrasive. The liner notes themselves tout "the best in lo-fi four track aural pleasure -- listen at extreme volumes". Despite its pretty, uncomplicated song structures, topped off by Cortez's winsome vocals and indecipherable lyrics, Astrobrite lacks the innovative edge and sonic diversity of Lovesliescrushing (whose forthcoming album on Sonic Syrup is eagerly anticipated). This release will, in all likelihood, still appeal to fans of MBV, unless they are slightly put-off by its uncanny resemblance to the latter. - Jessica Tibbits
samples:
SUSUMU YOKOTA, "GRINNING CAT"


Though this release came out back in June of 2001, I thought it deserved some mentioning here. And although Susumu's last album, "Sakura," gained him amazingly good press, including "Best Electronica Album of the Year" from The Wire magazine, this newer album struck me as being more progressive and subtle than his previous recordings: pure electronic bliss when at its best moments. Other times it can fade into the background but such is the nature of much ambient music. This album has apparently gained him "genuis" status amongst many of his contemporary artists and critics alike, comparing him to other such electro-luminaries as Aphex Twin and the legendary Brian Eno. The airy layers here can be truly beautiful, branching to anywhere from an oddly jazzy improv feel with fuzzy, minimalistic piano melodies, down to droney samples, trip-hop-esque beats and spacey (yet quite homely) instrumentation. The emotions here tend to leave me a bit on the bland side, but it seems more about the production and sound quality with this release - and it certainly is precise. This album was released on The Leaf Label in conjunction with Skintone. - Daniel McKernan
samples:
We know that sometimes these CDs are somewhat challenging to find, which is why we have a community section which can be used to obtain nearly everything available on this site.
NEW RELEASES
LAST WEEK
2nd Gen - Musicians Are Morons 12"/CDEP (NovaMute, UK)
Abfahrt Hinwil - Links Oben 7" [ltd to 400 copies on marbled green & white vinyl] (Expanding, UK)
Alio Die/Amelia Cuni - Apsaras CD (Projekt, US)
As One - Problems 12" (Ubiquity, US)
Axiome - Ca ne nous rendra pas le Congo CD (Ant-Zen, Germany)
Basement Jaxx - Just One Kiss 12"/two CDEPs (XL. UK)
Brothomstates - Claro CD/LP (Warp, UK/US/Canada)
DarkLeaf - Eclectic Storm 12" (Ubiquity, US)
Foetus - Blow CD [mix album with mixed by Kid606, Amon Tobin, Coldcut and more] (Thirsty Ear, US)
Richie Hawtin - DE9: Closer to the Edit CD/2xLP (NovaMute, UK/US)
Kill Switch Klick - Organica CD (Invisible, US)
Anita Lane - Sex O'Clock CD (Mute, UK)
Money Mark - Change Is Coming CD (Emperor Norton, US)
Vidna Obmana - Tremor CD (Release, US)
The Other People Place - Lifestyles Of The Laptop Caf? CD/LP (Warp, US/Canada)
Pointy Teeth - Cinema-Tech CD (DivaNation/Invisible, US)
Pole - R CD/2xLP [reworkings of the early single Raum, with contributions from Burnt Friedman & Kit Clayton] (~scape/EFA, US)
* Roots Manuva - Run Come Save Me CD (Big Dada/Ninja Tune, Canada/US)
S.I. Futures [Si Begg] - The Mission Statement CD (Mute, US)
* Sigur Ros and Hilmar ?rn Hilmarsson - Angels of the Universe OST CD (Fat Cat, UK)
Solar X - Chanel No. 303 12" (Hymen, Germany)
Telefon Tel Aviv - Fahrenheit Fair Enough CD/LP (Hefty, US)
David Thrussell - The Voices Of Reason CD (Ant-Zen, Germany)
To Rococo Rot & I-Sound - Pantone CDEP (Mute, US)
Tweaker - The Attraction to All Things Uncertain CD (Six Degrees, US/Canada)
Paul Van Dyk - Columbia 2x12"/CDEP (Mute, US)
Various - Dub Selector CD (Quango/Palm Pictures, US/Canada)
Various mixed by DJ Spooky - Under The Influence CD (Six Degrees, US/Canada)
Jah Wobble & Bill Laswell - Radioaxiom: A Dub Transmission CD (Palm Pictures, US)

MONDAY
Appliance - Land Sea and Air 12"/CDEP (Mute, UK)
Kit Clayton - Lateral Forces (Surface Fault) CD/LP (Vertical Form, UK)
Fridge - Happiness CD/LP (Text, UK - Domino, Europe - Brainwashed/Temporary Residence, US)
Anita Lane - The Next Man That I See CDEP (Mute, UK)
?-Ziq - Tango N'Vectif: The Complete Archive 2xCD [reissue with lots of bonus material] (Rephlex, UK)
Marco Passarani - Phonok Remixes 12" (Skam, UK)
Dean Santomieri - The Boy Beneath the Sea CD (Foundry/Hypnos, US)
Team Doyobi - Cryptoburners CD/2xLP (Skam, UK)
Paul Van Dyk - Columbia 2x12"/CDEP (Mute, UK)
Various - Vertical Form CD/2xLP [with Isan, Monolake, Funkst?rung, Kid 606, Vladislav Delay, Smyglyssna, Thomas Fehlmann, EU, Bola and M?m] (Vertical Form, UK)

TUESDAY
* Die Form - Poupee Mecanique CD (Metropolis, US)
* Die Form - Archives & Documents CD (Metropolis, US)
* Four Tet - Pause CD (Domino, US)
T. J. Rehmi - Invisible Rain CD (Shakti, US)
Steve Roach/Steve Lazur - Time of the Earth DVD (Projekt, US)
Techno Animal - Brotherhood Of The Bomb CD/2xLP (Matador, US)

This is simply this week's highlights from the NEW RELEASES provided by Greg and Feedback Monitor.
For a more detailed schedule stretching into the future, please check out the site,
since release dates can and will often change.
CONCERT REPORT
ex-girl
It's not very often that I ask myself "Is this happening? Am I REALLY seeing this?" On the night of September 9th, when the Japanese trio Ex-Girl took the stage at the Shim Sham Club in New Orleans, LA, those doubts were the first things to enter my mind. The Girls entered bearing inflatable frogs and wearing costumes whose colors are most often found in the 80's. When they began a choreographed dance routine apparently inspired by robots, they resembled fuchsia, lime, and yellow whirlwinds of energy. After the opening song, Kirilo, Chihiro, and Fuzuki gave a brief speech, telling the audience about their origins on the planet "Kero! Kero!", then seemed to practice idol worship on the inflatable frogs. When eX-Girl eventually resumed playing music, they quickly won the audience over with a combination of heavy rock guitars, bizarre acapella vocals, and catchy, pop synthesizers. The standout song was by far the fittingly quirky cover of 80's one-hit-wonder M's "Pop Musik." eX-Girl's stage presence was an interesting blend of innocent Japanese coquettishness, incredibly quirky B52's-esque weirdness, and rock-vamp sex appeal. How refreshing to see a band achieve the difficult balance between playing live music well and keeping the stage show interesting. - Sam Houston
MOVIE REVIEW
Ghost World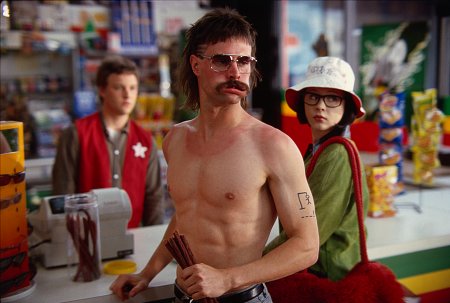 Thora Birch, Scarlett Johanassen, Steve Buscemi, and Illeana Douglas star in this indie comic turned indie film. Ghost World follows a recent high-school graduate Enid (Birch) and the strange things she does to pass the time including: taking a summer-school art class, harassing people from Personals Ads in the newspaper, harassing the employee of a convenience store, and tracking Satanists. Writer Daniel Clowes and director Terry Zwigoff have managed to craft the most genuine and touching film I have seen this year. The wonderfully honest performances from the stars combine with the creators' skills to present the sort of character and story a viewer could easily identify with. The realistic (and sometimes depressing) sets and costumes create a strong sense of reality while making the film's satiric qualities all the more humorous. The talented cast sometimes accurately depicts everyday people and sometimes hacks them apart with the ugly and oftentimes funny truths of humanity. Sarcasm and satire usually numb an audience, distance them from the film, and therefore prevent them from taking the story seriously. Ghost World expertly avoids this with sporadic displays of genuine warmth and emotion. Buscemi, Birch, and Douglas have never been funnier, and the dryness of Johanassen definitely has its moments. Over time, I can definitely see Ghost World becoming a cult favorite as the coming of age film for people who would roll their eyes at the term "coming of age film." - Sam Houston
LINK OF THE WEEK
thank you
A picture may be worth a thousand words. All of them seem to get choked up, however, when looking at this collection of amazing pictures taken throughout the world in the wake of the tragedies. http://public.yahoo.com/~dballing/coldleaf.org/.
FEEDBACK
LETTERS FROM US

The past days where a horrible experience - discussing music never seemed more out of place after facing those painful facts over and over again.
Overshadowed by sorrow and the insecurity of what might come next the people of Europe suffer with you ? if not physically (yet) then mentally.
I think the personal freedom of beliefs is important but there is a definitive border ? the freedom of others to live their lives as they wish.
Punishing innocents will never change anything for the better.
Let`s hope for justice, not for a pointless war between religions. There is nothing holy in war and terror.
Deeply concerned,
Carsten S., contributor

Hello
I hope your friends and families are safe. For those of you who have lost someone close, my deepest sympathy. I do not think anyone could have imagined an event so violent.
I feel the world has changed in one morning. We are living in a fragile time in history. Please remember the past and fight prejudice in order to ensure the safety and protection of our neighbors and friends.
Jack Dangers, Meat Beat Manifesto

All i have to offer is peace and love. I feel a war coming on and that scares me to death. My heart goes out to all those who died and their families. We must remain strong and fight the inner evil. That is the real terrorism. The evil within one's self.
Garth MacNeil

Yesterday, walking across central campus, I was looking around at the beauty and sense of normalcy that seems to permeate my midwestern liberal arts school. One of the things that I've lamented is the "bubble" that I live in along with my peers. Burdened with long hours of studying and our infinite activities, endless crusades to save the world, and our own personal problems, it's very easy to lose sight of the rest of the world. But as I crossed central campus the image of melted candle wax reminded me of all of the events that we as a nation, and a world, have been swept up in during the past week and a half. This image brought back the memories of the vigil that was held the night of the bombings, a much-needed time to gather together and be reminded that we are all affected by this, even if nothing in our immediate environment had changed. Even now, more than ten days later, I am thankful that each time I see the melted wax from the hundred of candles that burned that night to show our solitude with those from all over the world, I am reminded of the brotherhood and kinship that exists between those of us who have nothing in common--culturally, politically, racially--but a shared grief and a common hope.
Carter Adams

It seems we've all had a big truth thrown in our faces with the events of Sept. 11; how naive (or ignorant, or over-confident) most people in our country have become. Blame it on the lack of a large-scale war for our country lately, I guess. Many thought it was impossible for an attack to occur on our own country's soil after Pearl Harbor. I never thought it was an impossibility, but I guess I never really thought I'd be witness to it (at least not until I was much, much older).
Not a single person can be removed from this. If you don't already know someone who was in D.C. or N.Y.C. that day, you'll know someone that will be called to service in what seems to be an inevitable war. Your sister's new husband, who happens to be the right age, might be drafted (without any prior intent to hold a gun, let alone be in the military), or your uncle's only daughter who is in the reserves could be called upon and never return. It's also very likely the U.S. economy will be seeing darker days; you will not be able to buy whatever you want whenever you want if you are out of work. You just might even think twice now about that trip to New York, or anywhere via plane, for obvious reasons.
This is a very real and very unfortunate situation. And I really hope that, outside of all that is beyond our control, each and every one of us in this country can at least learn something. We've been very fortunate this far to have certain freedoms (speech, thought, travel, choice of vocation, etc). Many of us have taken those freedoms for granted. Many of us have also taken many relationships with friends and family for granted. Maybe we can come out of this with a better appreciation for life in general, and a better understanding of the world around us.
Thanks for reading my rant,
Jessica Bailiff

I work nights, so I came home from work and checked e-mail and was just logging off and about to hit the sack at 9am when I heard the news on NPR. I rushed to tell the housemates and family and click a t.v. on.
To see people pushed to such desperation that they would jump 100 stories to escape the flames, or to hear the ragged voice of a father, brother, son, sister, husband, wife, friend, begging to be told that the person they are looking for is not dead, is devestating and brings me to tears.
The real tragedies -- plural -- are the lives of those already lost and those that will be lost, as well as the shattered lives of those left behind, holding a photocopied paper, asking and begging for hope. I feel real grief for those who have pieces of their lives missing; family, friends, coworkers, peace of mind, our civil liberties and security are things the citizens of the United States will not see again. Without a doubt, every single American has been changed, permanently.
I feel ashamed of the jingoism that will bring hate crimes to innocent Americans of Arab descent, or American muslims, and have a hard time controlling the rage and sadness. I'm sorry. We're just scared. Please forgive my countrymen for their mistakes. Sorrow changes people.
I know we're baying for blood, and I know this will not bring anyone back, or prevent this from happening in the future. And still, I want to raze this moment, and it's cause -- whatever it may be -- from my planet. It's really hard to fight this reaction. I don't want to think this way. And still I want to blame someone, to point the finger and make them suffer like we suffer. I'm still trying to fight this.
Religious extremism has been a bane to mankind's history and continually reaffirms itself as such. There's an old joke: 'Intolerant people should be shot.' Someone doesn't get it, in a big way. My gut reaction is to say "let's drop so many bombs on Afghanistan that in twenty years, people won't even remember what used to be there." I hope that doesn't happen. I hope we can rise above baser instincts. But I learned early that the only way to stop bullies is to fight back, and here we're in a bind: each party sees itself as being unfairly picked on.
Media-hating is old hat for politicians and people of controversy, and while I do feel it is important to be wary of the tone of American media now, the coverage of this crime against humanity has helped bring a broken country together. Assuming that the coming conflict (God, I hope it doesn't become WWIII, or go nuclear,) doesn't kill us all, I hope Americans remember the few moments when we all came together, amid pathos and compassion, to keep us all together.
Tell the people that you love that you love them.
Life is short and unpredictable.
Dave Piniella, contributor

The events of last week were without a doubt the most horrible sights I have seen so far in my lifetime and my heart truly goes out to all who have been forever changed because of this, particularly those who lost someone directly in this ungodly loss of lives.
From this, though, has come an immense wake up call that has opened many of us up to the concept of complete and total unity - not only the patriotism and heroism shown within the States here, but the concern and grief expressed by the ENTIRE WORLD. The photos I have seen from across the globe, such as those in the featured link this week, are so amazingly intense that they are truly overwhelming and utterly touching beyond words.
This catastrophy has brought the world to its knees, but if we remain active - if we overcome our fears and live in hopes of justice and peace - I honestly believe that with the state that the world is in now between being so interconnected via communications & media, and particularly at this moment being "united against terrorism" - we as humans could easily be on the path to the most pure state of WORLD PEACE that our planet Earth has ever known.
Sincerely,
Daniel McKernan, artist & contributor.