orchestra terrestrial, "here and elsewhere"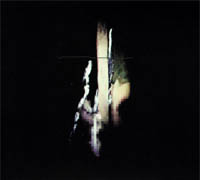 Leaving the rigid beats behind this time, Richard H. Kirk introduces a new alias through a new (for him) label. The first Orchestra Terrestrial release comes from Die Stadt and is packaged exquisitely with a fold-out CD case and six prints of digital artwork representing six of the eight songs here (three by Naked Art, three by Designers Republic). While Kirk has has contrasted his usual style by creating an atmospheric soundbath with lengthy delays heavily absent of drum machines and thumping beats, his signature style of long buildups, heavy repetition and lengthy songs is noticably present. For the first time in many releases, I can actually clearly hear distinct treatments for each sound present. Each piece of the tapestry has its own life and identity without getting wrapped up in a grey muddiness. In the blurb going around, Kirk is said to have created this disc after his recent rediscovery of classical composers like Wagner, Debussy and Mozart, but I'm honestly having a tough time finding the connection. The progression is amazingly linear: beginning with a whisper, slowly and patiently adding beats and more layers with each track until the end, where "Uniform Spaces" breaks down, being chopped up into little bits, threaded and looped. (It's this ending that is the key that links both releases together for those RHK fans who weren't sure whether the following item reviewed was RHK or not!) At the end of the disc, I'm finding myself anxious to listen again before shelving it like many of his releases over the last ten years. The disc is limited to 1000 numbered copies. - Jon Whitney
samples:
digital terrestrial, "aural illusions"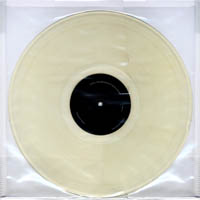 Mysteriously enough, a 12" single surfaced on the same day as the Orchestral Terrestrial release, bearing no explicit indication that it's also a Richard H. Kirk project aside from the amazingly similar name and fonts used. There's no illusion in the music here, however, as 'Deconstructed Trance Anthem' parts 1 and 2 graces each side with none other than repetitious butchered remains of a generic trance anthem. I question the usage of the term 'deconstructed' however, as to me, the record's really a series of looped and threaded excerpts, or as they claim, "a locked groove record without the locked grooves." In theory it's a great concept, but in actuality this would work best around the five minute mark on each side. Unfortunately, each side stretches over 19 minutes. Future plans are to revisit these themes using an orchestra in a Steve Reich sort of minimalism, which might be exponentially more interesting than this. Fans of looped-and-spliced repetition of techno sounds would probably eat this all up but at best I find the 12" rather mediocre. - Jon Whitney
samples:
COH, "LOVE UNCUT"


Four deviant love songs make up the latest EP by COH (Ivan Pavlov) with collaborators Peter Christopherson and John Balance of Coil, Steve Thrower of Cyclobe, Frankie Gothard and Louise Weasel. The disc comes lovingly packaged in a clear slip case with amusing cardstock inserts, color illustrated and Spanish captioned, for each song. As with some of the previous EP "Vox Tinnitus", "Uncut" pairs the guests' vocals with Pavlov's precisely programmed, laptop generated chaos. "My Angel [Director's Cut]" and "Fffetish" are reinterpretations of mid '80s pop tunes, Soft Cell's "Meet Murder My Angel" and Vicious Pink's "Fetish", respectively. On "Angel" Christopherson's (and possibly Gothard's) vocalized hums, sighs, moans, movements, watery slaps and thumps could be construed as sexual overtures more overt than anything suggested in the few lines of softly spoken/sung lyrics. "Fffetish" is as danceable as the original with driving electronic pops and hi-hat as Gothard vehemently insists "when you're near me my whole body aches" and "you are my fetish!" Thrower's "Prayer For Russell" (Moore, a gay porn actor) is more restrained and tone/drone based. His effected voice recites a barely decipherable, possibly double entendre series of lines such as "come into the waves of time" and "come beneath the waves of time". But it's Balance, unsurprisingly, who delivers the most vibrant and vigorous vocal of all. In "Health & Deficiency: Love's Septic Domain" he passionately decries the humiliation and horrors of "dirty hospitals" and daily medical methodologies: "I take 27 pills before 9 a.m. in the morning / another 35 by 9 in the evening / I have 3 intravenous injections a day / one in the thigh, two in the eye". Meanwhile, Weasel deadpans spoken lines here and there, perhaps summing it all up best with "I'm confused between sexual, murder, magick and medical ... is the difference metric or imperial? septic? fertile? furtive? or sterile?" The song reminds me of the themes explored in Coil's rendition of "Tainted Love" and the soundtrack to Derek Jarman's "Blue" and proves to be the most powerful of these cuatro canciones. Out next for COH will be a collaboration with visual artist D42 entitled "Netmýrk" for Source Research Recordings. - Mark Weddle
samples:
Greg Weeks, "Awake Like Sleep"


Greg Weeks is just plain weird. One look at the album cover for this, his second release, can tell you that. He's got that bloody knife lying there in the snow, and on the back of the release, he's lying in the snow with a pool of blood by his head. Is he killer, or the killed, or both? It's incredibly fitting, as "Awake Like Sleep" sounds like the soundtrack to your favorite dream, worst nightmare, or a combination of the two. All songs feature synthesizer of some kind, usually mini-moog or omnichord, and half have no drums whatsoever. This gives the whole release a very eerie feel, that you cannot escape. Not that you'd want to. It's very lush and beautiful, "Awake Like Sleep," even if a little languid and depressing, but it's magnificently arranged. Weeks and his primary collaborator Jesse Sparhawk make wonderful music together, particularly on the tracks where it's just the two of them playing all of the instruments. It's a very simple release in terms of arrangement and style, but very affecting, as Weeks has immense talent as a songwriter and musician. A few of the tracks grew a bit monotonous on repeatedly listens, but overall it's a gem, driven by the creepiness of the music and Weeks' voice, mixed with an interesting dash of altar boy nuance due to the sound of the organ on several tracks. A challenging listen, but overall worthwhile. - Rob Devlin
samples:
jackie-o motherfucker, "liberation"


Walking the line between the improvisational and the organizational, chaotic and orderly, the Portland-based collective known as Jackie-O Motherfucker has released the second full-length CD for Road Cone (their seventh full-lenther in the grand scheme of things). It's a collision of opposing forces, as cold-climate bluesy rock meets a freestyle electronic assemblance, and would appeal to the Volcano the Bear, Molasses, Boxhead Ensemble and Shalabi Effect fans of the spectrum. The album starts off with a heavy dosage of disorder with the ten+ minute opener, following through with a guitar-heavy 14 minute long tune driven by an 808-imitating drum machine. Through the following few numbers the collective display their ability to mesh all instruments without making too much of a mass. However, by the time it reaches "Something On Your Mind," I'm thankful most of the tunes are instrumental. It's not that the singer has a bad voice, it's just that the lyrics aren't as profound as the singer might be thinking and needn't be repeated as laboriously over the course of three minutes. By the time it reaches the last two tracks: "The Pigeon" and "Pray", ther the vibes, strings, guitar and wind instrument interplay is executed well enough to paint an aural landscape of both beauty and sickness. The first of the two tracks builds from a quieter opening into a bold roar while the second calms everything down into a serene and cool ending. - Jon Whitney
samples:
ANTI POP CONSORTIUM, "SHOPPING CARTS CRASHING"


Why oh why was this only released in Japan?!? "Shopping" quickly followed up, followed in and flattened out the footsteps of the 2000 full length debut "Tragic Epilogue" on 75 Ark. Anti Pop's trio of verbally proficient vocalists - Priest, Beans and M. Sayyid - are augmented by co-producer E. Blaize. It seems as if they belong to a sub genre of hip hop entirely of their own devise. The production is clinically precise and somewhat minimal, the bass and beats crisp and clear with electronic overtones. The rhymes are often tongue tying blurs of abstract dictionary data (the lyrics are thankfully included). The first stanza of the first vocalized track "Angular" is one of many examples: "unto itself it's incomplete / but made complete by my connection / the effervescent vestige of decimation / the decimal point seven thousandth of a percent / possession with intent to make bent / I break bread with tack heads / in flight unflawed with sight unseen / strongly configured with wire inside of a womb the size of an entire planet born of fire". That all flows by naturally in about 18 seconds flat. And there's another 46 minutes after that. Meticulous mind funk. Oddities along the way include the bizarre future drama of "Excerpt from the forthcoming epic: Dogland", the android vocals of "Technocracy", a few brief instrumentals including the city noise collage of APC's home base "New York" and the surprising guitar sample and female MC enhanced "Lazarus Pit" and "Verses", respectively. "Shopping" was well worth the $24 it took to bring it Stateside. Anti Pop have since signed with Warp Records (!) and their new EP "The Ends Against the Middle" should be out this November. - Mark Weddle
samples:
isan, "lucky cat"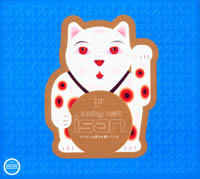 The most recent full-lengther from the English duo ISAN was released earlier this year on Morr Music in Germany. You might be familiar with their name from various remixes like the two on the Morr compilation, 'Putting the Morr Back in Morrissey' and their Seefeel remix on the Warp 10th anniversary remix disc or various other compilation appearances. The sound is simple, blissful and serene, consisting almost entirely of analogue synth sounds and the occasional punchy Kraftwerkian percussive sounds. Many of these tunes actually remind me of those occasional songs which crept up on side B of an OMD or Depeche Mode 7" single from the 1980s. Perhaps it's an intentional tribute to those particular 3-6 minute gems that weren't the popular hits on the radio, but that personal gift those of us who were collectors got to enjoy over and over again. ISAN's not one of them deep-listening experiences that commands attention at all times, nor will you remember most of the song titles by the end of the day, however it's very effective for working on homework, reading or relaxing at the end of a hectic work day or orbiting the earth in a space station. I want a bowl of soup. - Jon Whitney
samples:
MERZBOW, "DHARMA"
Apparently 50 discs worth of Merzbow just isn't enough for me ... I had to go and order another one. Silly, especially considering that I've barely scratched the surface of my Merzbox. Dharma is a universal order tenet of Buddhism. It is the essential function or nature of a thing. Masami Akita's way to enlightenment has always been 'noise' and the four tracks that make up "Dharma" are no exception. "I'm Coming to the Garden .... No Sound, No Memory" starts off innocently enough but by the third minute thick textures consume the stereo field. A single looped shard of electrical current defiantly blasts through the backdrop. "Akashiman" marches on with prototypical tangled sound, mostly in higher frequencies. That's the first 10 minutes. The next 8 is "Piano Space for Marimo Kitty". Here Akita loops a short and odd piano melody while weaving in restrained waves, that is until the mid point when he can no longer resist the urge to bury everything in swirling sonic chaos. The final track is the near 32 minute zen monster "Frozen Guitars and Sunloop/7E 802". By the latter half of the piece, the mass is reduced to a dulled roar that feels like it's descending and ascending simultaneously. It's as deceptive as the digipack packaging: simple white and black on the outside with panels of pastel colors hidden within. Now to delve into that daunting Merzbox while my ears and brain are still acclimated to the noise - Mark Weddle
samples:
hilmar Örn Hilmarsson (& Sigur RÓs), "Angels of the Universe"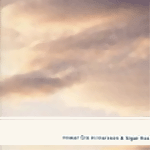 After being in print for nearly two years, the soundtrack for Fri¶rik ˇ—r Fri¶riksson's critically praised film of the same name ('Englar Alheimsins') has had titles translated into English and is finally being issued worldwide from Fat-Cat. By now, however, the Icelandic pressing has circulated enough for the most die-hard Sigur Ros fans, plus their two tracks were already featured on the Ny Batteri CD EP. HÖH should be no strange name to brainwashed readers, as his past includes works with Current 93, Psychic TV and Hafler Trio but having Sigur Rós in the title of the album is a slight misnomer (and a huge selling point), as they only contribute two tracks. The film has been referred to by many critics as the best Icelandic film ever made. Hilmarsson's entirely orchestral score is quite short and features quiet, simple recurring themes. Out of context, the music is simply okay and doesn't do much for me. While it's truly emotional, the recurring themes are a bit too repetitious for my liking outside of the context of the film. I suppose if I ever get to see the film, my opinion will most likely change, but for now most people will be buying this for the Sigur Rós tracks which are currently no longer in print anywhere else. As for the two tracks, the first is an adaptation of an old Icelandic lullaby, "B'um B'um Bambal—". Like much of the music on their last album, it's both delicate, soothing, but never dull, it barrels right into the next track, the thunderous "Dŗnarfregnir og Jar¶afarir" (Death Announcements and Funerals). This tune is Sigur Rós' arrangement of an organ tune played on Icelandic radio during obituaries. I personally wouldn't consider this disc essential, but those mildly interested can now purchase it now for probably around $15 whereas that Icelandic import was a bit steep, stretching to $30 in many places. - Jon Whitney
samples:
the tear garden, "for those who would walk with the gods"

The latest in the trend of Russian-released collections has taken the form of a new comp from the Tear Garden. While every album from the group is still in print, this collection is worth mentioning for a few reasons. The type is entirely in Cyrillic, so it should be noted that there are two previously unreleased songs included, "Good Evening Houston" and "Good Night Little Lights" (unlike the last Tear Garden compilation, 'A Bouquet of Black Orchids' which came with nothing extra). It's also limited to a numbered edition of 2000 for those who might be interested. As a compilation, however, it doesn't really pull together -my- favorite tunes nor do I feel it provides an accurate representation of the range of Tear Garden material. Congratulations to the collaborators for including "You and Me and Rainbows" which could easily be one of the greatest songs recorded in the 1980s, yet I'm always picky when it comes to comps, preferring that songs are assembled in some sort of chronology to show a nice progression, this one just seems haphazardly tossed together. New fans looking to experiment with Tear Garden stuff probably shouldn't bother with this collection. The two new songs are a bit of a departure, with the first being an upbeat heavily electronic number, while the second is is more of an experimental downtempo percussively chiming piece. If you can't live without every release, by all means pick it up. The artwork with all these pictures of moss is actually pretty interesting and it's always neat to have a CD in your collection with completely different writing. That plus collections always seems to get me more familiar with songs I might not have been keen on before, as they're taken completely out of context with the rest of the albums they were originally released with. - Jon Whitney
samples:
We know that sometimes these CDs are somewhat challenging to find, which is why we have a community section which can be used to obtain nearly everything available on this site.
MONDAY
4 Hero - Les Fleurs 12"/CDEP (Talkin Loud, UK)
Greg Davis - Clouds as Edges 7" (Grounded, US)
Daft Punk - Alive 1997 CD/2xLP (Virgin, UK)
Eardrum - Side Effects CD/LP (Leaf, UK)
Vincent Gallo - When CD/LP (Warp. UK)
Goldfrapp - Pilots CDEP (Mute, UK)
Christian Kleine - Beyond Repair CD/LP (City Centre Offices, Germany/UK)
Lamb - Gabriel CDEP (London, UK)
Low - Last Night I Dreamt Somebody Loved Me 7"/CDEP (Tugboat, UK)
* Mogwai - Kicking A Dead Pig 2xCD [reissue] (Chemikal Underground, UK)
Mogwai - EP+6 CD [reissue of three EPs on one disc] (Chemikal Underground, UK)
Ian O'Brien - A History of Things to Come CD (Peacefrog, UK)
Quench - Exclude CD (Eat This, The Netherlands)
Realistic - Private Moments CD (Illegal Art, US)
Solvent - Solvent City 12"/CDEP [with mixes by Skanfrom & Lowfish] (Morr Music, Germany)
Telecognac - Memory CD (Crouton, US)
Wauvenfold - t.b.a. CDEP (Wichita, UK)
When - The Lobster Boys CD (Jester, Norway)

TUESDAY
Vincent Gallo - When CD/LP (Warp. US/Canada)
Jackie-O Motherfucker - Liberation CD (Road Cone, US)
Phoenecia - Odd Job Discrimination CD/LP [mixes by Matmos, Adult, Dino Felipe, Prefuse 73, Otto Von Schirach and Jeswa] (Schematic, US)
Push Button Objects w/ Del the Funky Homosapien, Mr. Lif & DJ Craze - 360 Degrees Remixes 2x12"/CDEP [mixes by El-p, Kutmasta Kurt, DJ Spinna, The Herbaliser and Prefuse 73] (Chocolate Industries, US)
Various - Nude Dimensions Volume 3 CD (Naked/Astralwerks, US)

FRIDAY
PSI Performer - Art is a Division of Pain Remixed 2 CD (K2O, Germany)

This is simply this week's highlights from the NEW RELEASES provided by Greg and Feedback Monitor.
For a more detailed schedule stretching into the future, please check out the site,
since release dates can and will often change.
return address

Subject: no subject
I've been an avid Brain reader for some time, and while I've always been amused by Jon Whitney's pithyness (whether I agreed with him or not), his letter at the beginning of this week's Brain very eloquently addressed the issue of how to deal with music, the arts, and entertainment in the face of the WTC tragedy.
Living in downtown NYC, and having to deal with the problem of returning to normal life amidst chaos and grief, I've felt the need to reconcile these things, which seem so frivolous when compared to everything else going on. Jon has summed up quite nicely why we must continue - to work, to listen, to play and to love music.
thanks. keep it up.
Thanks for the letter. We'll continue on, but I can't say we've "returned to normal" as many places around the world, 'normal' is being redefined.

Subject: Simple Headphone Mind
Why can't I find this anywhere?
It was extremely limited (3000 vinyl / 800 CD) and only available through Duophonic and Rough Trade mail order.

Subject: address
Hi. I would appreciate it if you could send me the address of Brainwashed, so I am able to post a letter. Thanks.
scroll down

Subject: brain in the fridge
hey, i know you're busy and stuff, what with the tour, but while looking through the commerce section of the site, i ran across the note 't-shirts are out but soon we'll do more' (paraphrase) and was wondering if you're doing any for the tour. it'd be nice to have brainwashed.com/fridge t-shirts (maybe a pic of a fridge filled with brains? sorry, mental pic just wont let me stop giggling.)
Don't think they'll happen, thanks for the idea though.

Subject: why no hollyfeld?
I'm writing curious as to why I cannot access the hollyfeld.org coil list archives.
I jumped off the list about a year ago due to an expanding mailbox and felt like having a look at what i've been missing - it claims access is "forbidden"
Any Ideas?
Hollyfeld is in the process of getting new software. Dan, who runs the site works a full-time job with much overtime hours required so things might take a while before they're online again.

Subject: returning
I'm sincerely glad to see brainwashed return to, well I won't use the word NORMAL (as if ANYTHING is normal right now), but I'm glad to see brainwashed simply RETURN today.
These Fridge clips you put up with your review...BEAUTIFUL...I thank you for that this Monday morning.
Thanks a bunch, hope you come check them out live in a few weeks.