nurse with wound, "chance meeting" special edition

21 years ago Steven Stapleton was invited to swing by BMS Studios in London late one night by resident engineer Nicky Rogers. Stapleton gathered up friends John Fothergill and Heman Pathak and made some recordings with a few goals in mind: very long tracks and no vocals - they hated songs. With the eye catching infamous artwork a classic was born, pressed in a limited quantity of 500 (probably because there weren't enough fans or enough money to make more). It was actually quite buzzworthy around London and reviews did pop up around town (maybe not the most favorable) but people were interested in the wack cover artwork at least. In retrospect, it's a bunch of sloppy noise made by three drugged-out naive kids who were frustrated doing boring jobs of making signs for example, bringing a ton of noisy toys into the studio. Do I hear a Merlin in here? Loads of wanky guitars color the first side of the LP while the second side consists of more non-conventional noisemakers and randomness. The beauty is that these guys weren't taking themselves nearly as seriously as modern improvisationalists, there was indeed an element of purity apparent. None of the tracks really end up where they started, and might serve the purpose of being a great soundtrack to a drug-influenced evening. This album provides an excellent reference point, and the newly released repackage has a complete booklet with old photos of the original trio, a restored front and back cover and even a letter from an A&R Rep at Epic Records in NYC asking to hear some more NWW records. (Imagine a world with NWW signed to Epic!) Anyhow if that wasn't enough, the music's been cleaned up from the analogue tapes and there's a bonus 15+ minute track recorded in September with Tibet and Colin Potter. What's a new track doing on an old reissue? In a strange justification it belongs, as the track consists of Tibet reading that famed list of influencors from the original sleeve, over a minimal amount of sound. It's nothing too impressive but mildly amusing and neat to have an archive of (pretty much like the rest of this record). While the new edition is a nice thing to own, if you're not all that concerned with new packaging or a new track, this might not be worth your cashola. On the other hand if you never picked it up, there's no better time than the present. Once again I must state that I would personally like to see 'Insect and Individual Silenced' and 'Automating Vol. 2' surface on CD before more reissues like this and 'Thunder Perfect Mind' materialize. - Jon Whitney
samples:
PAN AMERICAN / KOMET / FISHEROFGOLD, "PERSONAL SETTINGS"

Mark Nelson (Pan American), Frank Bretschneider (Komet) and Joe Kingman (Fisherofgold) are given only one restriction for this project: approximately 15 minutes apiece to subjectively express themselves. I wonder why only 48 minutes total when most discs and players can accommodate 75-80? That question aside, volume 1 of this artist friendly series from Quatermass is a solid collection of complementary tracks. Pan American's "Train Station" and "The Passage" continue laying track beyond last year's delicious "East Coast Bugs" 12" on BSI. The latter in particular builds up a strong, pulsating head of dub steam with no time to pick up passengers 'til the end of the line. Komet specializes in economic titles, sounds and structures. His 3 tracks - "Stab", "Eist" and "Pass" - repetitively but progressively pop, click, boom and hiss, much like the digital 'pop' of his own "Rand" and "Curve" discs on Mille Plateaux. Fisherofgold uses nearly all of his allotted time for a single track. "Lapis Lazuli" (a semiprecious gemstone in varying shades of blue) evokes more of a golden than blue feel for me. Tiny ball bearings tumble around in a cement mixer as delicate rips and tears of audio are smeared about and a 7 note bass line loops. A languorous trip hop beat kicks in but is snuffed out within a few minutes. By the 9th minute it has slipped into a very comfortable and pretty groove adding a strummed accompaniment. And in the remaining time Kingman carefully strips away the elements 'til it comes to a sudden stop. I bought this disc for the Pan American and Komet but the Fisherofgold is best, though only marginally so as they're all quite pleasant. Now I wonder who will be on volume 2 ... - Mark Weddle
samples:
tara jane o'neil, "in the sun lines"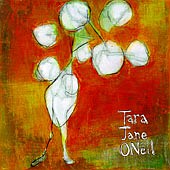 After listening not nearly enough times, I find myself returning over and over to the same conclusion: amazing. Tara Jane's one of those musicians where those 'in the know' will already have everything she has been a part of. Her multi-instrument playing and singing can be heard on Retsin, Rodan, and Sonora Pine records as well as her fabulous debut solo release last year, 'Peregrine.' It's inevitable you'd miss who she is if you were also a fan of Rachel's, Ida, or Shipping News as she's bound to be making an appearance at a show here or there or share musicians. There's something almost magical in nearly anything she touches. I know it sounds queer but if you've ever paid witness to one of her shows, the amount of bleedingly direct and honest charm which eminates from her shines really bright. People at her shows can't help but be captivated and completely swept up. The recorded sound is a much more intricate woven tapestry, however, with a mishmosh of unplugged instruments and varying arrangements. 'Peregrine' was such a bold statement, as Tara Jane collected some of her best friends in and around NYC and created a solid album of intricate instrumentation, a scattering of styles and an honest production which makes the musicians sound like they're in your livingroom. There's a lot of similar faces still around, like Dan Littleton of Ida, Rachel Grimes of the Rachel's, Cynthia Nelson of Retsin and Ruby Falls and Ida Pearle, but guest contributions seem much less prominent than last time. Tara's come home. This year's album sees her moving away from the urban setting, with more production in Louisville than NY, subsequently the music is more vocal and the subject matter appears more personal. It almost seems to me as if she proved her point last time around — that she is an accomplished arranger and skilled instrumentalist. This time she's got more personal stories to tell as a developing songwriter, who's often being compared to the likes of Joni Mitchell and Cat Power. Recently I bought a new pair of higher quality headphones and deep listening has taken on a new meaning, this disc has not let me down. - Jon Whitney
samples:
loscil, "Triple Point"

There's a lot of electronic music out there that either plain bores or annoys the absolute piss out of me. So much of it sounds the same, and what it sounds like is something so pedestrian that it was all created using standard ACID loop libraries. That's why it's so refreshing when something like loscil comes around. "Triple Point" is a fantastic release just based upon the rather unique palette of sounds here. But there's so much more going on in the mix. Sampled sounds so buried you really only hear them faintly, and treated keyboards that sound hollow and distant have such an eerie effect. Each track starts of easy enough, but builds to amazing heights as more sounds are added and volume increases. Scott Morgan, who is loscil, has an amazing ear, as these songs are dense and droned-out but you never lose sense of this music and Morgan never lets you stray from the path long. "Triple Point" is reportedly based on the concepts of thermodynamics, and that couldn't be a more appropriate analogy for the effect this music has on the listener. It soothes, it relaxes, it resonates with a warmth that almost defies description, and it propels you in the same instant, willing you to create or submit to its will. Never has an artist's debut on a label impressed me more. loscil has obviously just begun, and there's great promise for the future. - Rob Devlin
samples:
amp, "saint cecilia sinsemilla"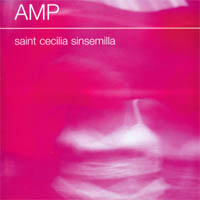 It has been three years since the last Amp (proper) full-lengther, the phenomenal 'Stenorette' release on Kranky (produced by Robert Hampson of Main). Since then, there have been a couple releases as A.M.P. Studio (but don't ask me to describe the distinction between entities). While the world awaits another full-length masterpiece, the group has decided to collect recordings made on the road during their 1998/99 European tour, from in-studio performances at AJZ radio in Switzerland and the famed VPRO in the Netherlands. Of the ten songs included, four I can recognize from both 'Stenorette' and 1997's 'Astralmoonbeamprojections'. In addition to the older tunes, the group has provided somewhat of a rough blueprint for the next recordings. Amp's sound has always been rather difficult to categorize, whether they're making an attempt at dreampop, a blissful wall of sound, or gritty and abrasive guitar wash with samples. While the group are considerably limited to both gear and production due to the nature of these recordings, it's no easier to sum up the sounds. Common characteristics include earth-rumbling bass, disconnected looping drums and heavily distorted guitars underneath the caustic vocals of miss Karine Charff. From a low rumble to blood curdling shrieks, it's almost puzzling how dark and almost goth-like this can get while incorporating old sounds of primitive gear and effects — think early 1970s Pink Floyd noodle-roni — while their main crowd tends to be the more peculiar indie rock kids. Have they played at Terrastock yet? Tom the Fish is calling this the best record of the year, while I'm now salivating for the next fully realized Amp (studio) album. - Jon Whitney
samples:
solex, "low kick and hard bop"


The Amsterdam-based CD shop owner Elisabeth Esselink has delivered another bopping poppy soda-jerking sound-clashing long player as Solex. The new album is full of 15 peculiar yet captivating songs and is not your regular haphazard clumsy mess. According to Matador's website, 'Low Kick and Hard Bop' won out the title of this album, which also had 'A Cross Between Cyndi Lauper and Early SPK' in the running. (You can guess which one would get my vote.) Esselink is a singer/multi-instrumentalist and clearly has a huge record collection which probably dwarfs the one of Four Tet's Kieran Hebden. Bizarre, obscure samples combine with her playing and singing in a remarkably demented world of tv game shows, Incredibly Strange Music collections, Hank Williams, Nancy Sinatra, Don Ho, and Herb Alpbert. Picture a crowd of awkward Dutch kids in blue jeans dancing messily around a 1950s burger shop. It's a world of big bright lights and loud colors, hair tossing and skirt twirling. Esselink proves she's not just another sampladelic diva, but she is a pretty face too! I'm sure she takes her jovial art quite seriously and I can't wait to see her live again this November where I ask her to be my wife. Check out www.solex.net for a really cool site and tour dates. - Jon Whitney
samples:
terrorists, "forces 1977-1982"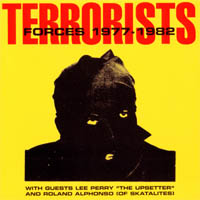 Living in Boston I have become quite jaded towards ska. As a teenager, I was into the Two-Tone scene but after moving to a scene flooded with obnoxious punks, skins, plaid clothing and Doc Martens, I found myself extremely agitated and had to distance myself. Hearing a slice of one of the originals years later is very refreshing and I've found myself actually coming around to the style again. Terrorists were originals in a few respects - first off they predate the Specials, the Beat and Selecter by a couple years. Next up, while you can kind of/sort of/almost but not quite hear the reggae and punk influences on most of the more popular acts, it's clear as day with the Terrorists. The quartet was based in NYC, played the punk circuit, were confined to a rough sound due to their financial position and often played behind vocals from Lee "Scratch" Perry and Roland Alphonso of the Skatalites. This collection, out now on ROIR will probably be faced with a difficult time entering record stores due to the group's name, but we need to try to rest the hypersensitivity, especially when it comes from a group who hasn't recorded anything in nearly twenty years. - Jon Whitney
samples:
POLE, "R"

Two of the earliest Pole tracks from 1996 are reissued here along with 4 pairs of reworkings by Stefan Betke (aka Pole) and contemporaries Burnt Friedman and Kit Clayton from his own ~scape label. Do "Raum 1" and "Raum 2" warrant ten versions? Somewhat surprisingly the answer is yes. "Raum" is German for "Space" and these guys are experts in the field, each taking the source in different directions. The originals are murky dub affairs with washes and crackles aplenty and steady, deep bass lines - much like everything that has followed to date on Poles "1", "2" and "3". While they're fine in their own right they do pale in comparison to the updated versions. Betke's variations (and two more new tracks spawned from them) feature first time collaborator D. Meteo, guitarist for Submission. Everything is much more bright, clear and spacious as truncated guitar notes and riffs are abruptly weaved into the new mixes, sometimes adding a sort of dub strum to the groove. Friedman takes the tracks into his own personal ambient jazz trajectory by dressing them up with latin flavored percussion, sliding bass and more ambiance. The Raum 1 Variation all but erases the original by the final few minutes of its graceful decay. And last but not least, Clayton's cut and paste treatment clutters up the static and rhythms over time making for the busiest mixes of all. Nice variety. Perhaps "R" is a precursor of new ideas for the next Pole album proper? I hope so ... - Mark Weddle
samples:
The White Stripes, "White Blood Cells"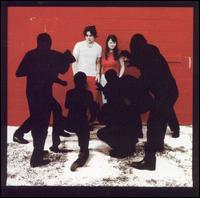 It's really sad when you read about these amazing bands, and all the press can seem to talk about is whether or not the members of the band are all they say they are. Meg and Jack White, who make up the White Stripes, claim to be brother and sister, but everyone loves to speculate as to whether there's something else going on. What does any of this have to do with the music they create? Nothing. It's just yet another clever attempt by the mainstream media and the government to make you think that malls are good. Sorry, gratuitous Bill Hicks reference. Seriously, the White Stripes make some pretty amazing music for numbering only two. Meg plays drums, Jack destroys the guitar and adds piano or organ flourishes here and there, and the music sounds very full. But what really grabs you and says hold on for dear life is the lyrics. On "White Blood Cells," Jack sings mostly of affairs of the heart, both real and imagined, and he drives the point home with a cigarette-torn caterwaul. On "Union Forever," he actually shrieks "It can't be love/For there is no true love" and it hits you right where it hurts. On the same song, he opines "Well, I'm sorry but I'm not interested in gold mines, oil wells, shipping, or real estate/What would I'd like to have been? Everything you hate." It's abrasive, yes, but you're drawn to it, with all its blues/rock swagger and in your face tales of woe. And there are a lot of tongue in cheek moments, like the greatly amusing "I'm finding it harder to be a gentleman." Some members of the music press say the White Stripes are one of the few bands in the US still making vital indie rock music. Try it out for yourselves, but I agree wholeheartedly. - Rob Devlin
samples:
We know that sometimes these CDs are somewhat challenging to find, which is why we have a community section which can be used to obtain nearly everything available on this site.
MONDAY
23 Skidoo - The Gospel Comes To New Guinea/Coup 12" [new release for these two classic tracks] (Ronin, UK)
Atlatl - Pzlon Vent CD (Cloaca, US)
Einsturzende Neubauten - Strategies Against Architecture III 2xCD (Mute, UK)
Flanger - Inner Spacesuit 12" (Ninja Tune, UK/Canada/US)
Anita Lane - The Next Man That I See CDEP/7" (Mute, UK)
Mollusk - Accretions CD (Foundry/Hypnos, US)
Roots Manuva - Dreamy Days two 12"s/CDEP (Big Dada/Ninja Tune, UK/Canada/US)
Various - Barry 7's Connectors CD/2xLP [collection of 1970s electronic music compiled by Barry 7 of Add N to (X)] (Lo Recordings, UK)
Various - Solid Steel Presents: DJ Food & DK CD (Ninja Tune, UK/Canada/US)

TUESDAY
* Aereogramme - A Story In White CD (Matador, US)
Jack Dangers - Tape Music Vol. 1 10" (Tino Corp, US)
Front Line Assembly - Epitaph CD (Metropolis, US)
loscil - Triple Point CD/LP (Kranky, US)
Set Fire to Flames - Sings Reign Rebuilder CD (Alien8 Recordings, Canada) Stars of the Lid - The Tired Sounds Of Stars Of The Lid 2xCD/3xLP (Kranky, US)
Various - Colapsus CD/2xLP [with King Honey, U.N.I., Mental, King Ghidra, John Tejada, Creature, Timeblind, MF Doom, Suphala, Heat Sensor, Max Bill, M Sayyid, DJ Mutamassik, Kurious, Torture, and Divine Styler] (Sound Ink, US)
:wumpscut: - Wreath of Barbs CD (Metropolis, US)

WEDNESDAY
ENE - Cost Vs. Consciousness CD (Mad Monkey, US)

SUNDAY
Azure Skies - Azure Skies CD (Ant Zen, Germany)

This is simply this week's highlights from the NEW RELEASES provided by Greg and Feedback Monitor.
For a more detailed schedule stretching into the future, please check out the site,
since release dates can and will often change.
Skinny Puppy, "Ain't it Dead Yet?" & "Video Collection" DVDs
I struggled for a non-hostile way to start this review, but I eventually caved in:
In software circles, the term "Shovelware" refers to a piece of media (usually CD-ROM) that is full of whatever free software the publisher could find to fill up a disc. Nettwerk definately drew inspiration from this concept when releasing these piles of trash.
First a history lesson: When Nettwerk/Capitol released "Last Rights" in the US, there was a pressing error causing the entire disc to be shifted 39 seconds... Well, masters of ineptitude, Nettwerk has managed to do it again with their DVD release of "Ain't it Dead Yet?", completely skipping the entire intro and starting the video well into the song "Anger"... Nettwerk has admitted the error and recalled the defective discs. In addition, the cover art for the disc is stolen directly from the video, INCLUDING an error ("God's Gift Maggot" is REALLY "One Time, One Place", funny that they remembered to fix it when they reissued the CD...)... Beyond these clear examples of quality control mastery, this disc is as bare-bones as they come... Nettwerk literally pressed play on their VCR, and record on their DVD Mastering software, and added a menu screen. The video quality is less than superb, with definate compression artifacts and no attention to cleaning up the masters at all. The audio is two channel, and I am not even sure if it is up to par with the CD release of this show... Very disappointing.
The Video Collection disc is just that, 8 SP videos, shoveled onto a disc with a single menu as the "Special Feature". Again, this DVD is identical to the VHS release of the same name. Both the DVD and VHS are missing the video for "Worlock", but that is probably due to the fact that the video was almost entirely comprised of clips from various horror movies, and Nettwerk couldn't afford/didn't feel like expending the effort to acquire the rights. It also would have been nice for them to get the videos from "The Process", that aren't that difficult to get ahold of, but would have definately rounded out the disc. The video quality isn't too bad considering the age of some of these videos, and the sound is stereo, but a decent stereo...
Christ, even shoveling some video of their performance at Doomsday last year would have been throwing a bone to their consumers. But Nettwerk has again shown that they really don't care about their consumers or their artists... If you own the VHS versions of these two videos, don't waste your money on the DVDs unless you want to eliminate the scourge of VHS from your collection... - Sean Graham