a weekly digest from the staff of brainwashed
V04I41 - 10212001
Click here for other issues
SITE
cyclobe pay a visit
Cyclobe have announced the completion of their forthcoming full-length album. "The Visitors" is scheduled for release on Halloween of 2001 and is being disributed by World Serpent Distribution. More info is on their website.
Fridge in the radio
Fridge were recorded live on Wednesday, the 17th at the WFMU studios for a show to be broadcast on November 5th: Sunday Night (Monday Morning) at 12 midnight, after which the show should be archived on the site.
V/VM website changes
Something's been happening to the V/Vm website recently. The site has been undergoing some massive reconstruction with plenty of promises due, including some live visual clips and completely updated and modified discogrpahies, et cetera. Stay tuned as the spot will change.
panacea back in the u.s.a.
Panacea has a string of new dates in the USA, starting on October 24th in California, ending on October 28th in Florida. Also announced isa brand new EP called "Chartbreaka" due in January. Date and EP specifics are available at the website.
Tortoise visit the far east
Tortoise are playing a string of dates in Australia, Japan and New Zealand. Full tour itinerary can actually be found on Thrilljockey.com.
MUSIC IN REVIEW
jack dangers, "Tape music"

Picking up from where we last heard from him, Jack Dangers has continued his analogue audio explorations through his latest release, a 10" released in cooperation with the Science and Education division of Tino Corp. For four tracks on the 10", Dangers avoids the usage of samplers, resorting to analogue tape manipulations, resulting in a very 50s horror film soundtrack/early Stockhausen-esque musique concr&edim;te type of sound. If you're expecting punchy sampled and live drum breaks and hefty basslines, this record will be a surprise, as it more closely resembles the experiments on the original 'Sounds of the 20th Century' flexi-disc that came with 'Eccentric Objects'. While it's essentially neat to hear Dangers try his hand at pre-digital ambience, classic sci-fi and horror sound effects, a record like this probably won't be getting much rotation in my player. Fans of the campy experimentation with old radio broadcasts and instructional records would be happy to hear that the first 1000 copies of 'Tape Music' comes with a bonus 7" flexidisc: number two of 'Sounds of the 20th Century'. Side one experiments with various types of analogue sound manipulations, with introductions lifted off of old audiofile records while side two is a collection of layered experiments on the human voice coupled with old instructional recordings which sound like military - Jon Whitney
samples:
THE SILVER MOUNT ZION MEMORIAL ORCHESTRA & TRA-LA-LA BAND, "BORN INTO TROUBLE AS THE SPARKS FLY UPWARDS""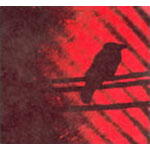 A Silver Mount Zion are the band formed by Efrim, one of the three guitarists in Godspeed You Black Emperor! although here he often plays piano. Bassist Thierry and classically trained violinist Sophie also moonlight from Godspeed, but A Silver Mount Zion has extended its name presumably to denote the arrival in their midst of a further trio of string players on second violin, cello and guitar. Their friends Jonah and Eric also play trumpet/trombone and drums to further fill out the sound. The extra instuments bring a depth and climactic momentum that surpasses that record and the songs seem more fully realised than the sparse piano led songs from the first album. Whilst the sound might have moved closer dynamically to Godspeed, the most obvious difference is that on some songs Efrim sings in a wavering voice similar to Jonathan Donahue of Mercury Rev or Wayne Coyne of Flaming Lips, but saddened by far weightier lyrical concerns. A key track is 'Take These Hands and Throw Them in the River', which rises in intensity as strings swell in dark desperation until Efrim's voice almost cracks as he sings the heartfelt tearful refrain. Melancholy and hope are the two words that instantly spring to mind in describing this music. Most tracks start quietly and slowly build up a beautiful layered emotionally hotwired intensity. The standout track for me was the penultimate instrumental 'C'mon Come On (Loose an Endless Longing)' which builds slowly with drum and guitar led visions of the first rays breaking through after the storm clouds, then falls back, and then the strings seem to reach for the sky and just won't stop there and the big band unleashes its full Tra-La-La glory, godspeed to silver planets, climbing up above the hand chopping megalomaniacs and soaring above the misery and the starvation and the war and the superweeds and the depleted uranium and the rotting corpses and babies too starved to scream and...
The album ends with Efrim singing, "We will find our way," on 'The Triumph of Our Tired Eyes' a hopeful ode to beauty rarely felt that has an atmosphere of aftermath and new beginning.
As their friend Mischa recites on the poetic interlude that opens 'Built Then Burnt (Hurrah! Hurrah!)' as strings swirl up beneath, its time to speak, "Good words, strong words, words that could've moved mountains, words that were never said." - Graeme Rowland
samples:
mirror, "islands"

I've got good news and bad news: the good news is that now you can finally afford to buy a Mirror album! This German 2xLP set costs about $15 less than any of the single LP "limited" releases on the US labels Robot or Anomalous. The bad news however is it'll be quite easy to get hooked on Mirror after buying this. Record #1 features an all new studio album from the trio (Andrew Chalk, Christoph Heemann and Andreas Martin). The recording is like an aural painting of a journey in a small boat as day turns to night. What appears to be recorded sounds of oars gently hitting the water can be heard faintly as the ominous musical sounds suggest the impending nightfall. While other ambient recording artists recently have been recording the wind or the elements, Mirror have impressionistically created something original, both captivating and inviting. Through guitars and electronic processing, the trio's journey has a clear beginning, journey and reaches its destination as the rain begins to fall. The second record features a live performance from Austin recorded last year which revolves around the same concept. Like the studio recording, the journey both starts and ends in a similar way but the nature of the bulk is a different improvisation with the same tools. If you're quick and lucky enough, the first copies ordered from Die Stadt come in blue vinyl with a bonus 7", unfortunately you won't get that in the stores. - Jon Whitney
samples:
Lali Puna, "Scary World Theory"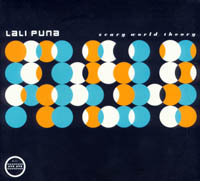 One thing I think I've learned over the past couple years is to always trust something which shares members of the Notwist, Tied & Tickled Trio, and Console collectives. Couple that with the fact that Morr Music has become an industry leader for superb electronic pop challengers. Elsewhere in the world, I'm also coming to the realization that I've been so sour to the last two Radiohead albums is not because of the genre they're experimenting with, but the fact that at the cost of their transformation, they have completely sacrificed the art of songcraft - and have been subsequently praised for what is essentially sloppy, whiny messes. Lali Puna's debut preceeded 'Kid A' by almost two years, but this, their second album follows both that and 'Amnesiac' and blows them each out of the water. At the core of this group is a quartet which features Portuguese singer Valerie Trebljahr, electronic wizard Marcus Acher (Notwist/Tied and Tickled Trio) plus a live bass guitarist and drummer. The album comfortably eases into pace with the opener, "Nin-Com-Pop" which builds at a cold-calculated pace, adding in each instrument gradually into a fine mix of pure prototypical pop. The sonic mastery continues over the rest of the first side as the collection is colored by a Portuguese speech and football match tune, "Contratempo", another worthy pop classic, "Bi-Pet" and the side's closer, the itimate title track. Side two opens with the instrumental "50 Faces of" and continues on with a very pumping Japanese pop-esque decadance of "Lowdown" (not a Wire cover). The rest of the side takes a more free-form attitude as the group can be described as pushing improvisation while remaining in the confines of rigid beats and pretty melodies. Not a bad thing at all. This album is multifunctional - it works well on long car trips, exhilirating bikerides or at home at very loud levels on the hi-fi. I also can't argue with the fact that people are always phoning the station when I or my friend Brian Cleary plays a track from them. Lali Puna are proof that electronic music can indeed be both well-crafted and super-enjoyable. - Jon Whitney
samples:
"SWIM TEAM 2"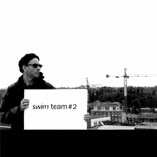 An album great enough to play seven times in a row is quite a rare thing and a compilation at least seven times rarer. But that's what happened when I got this second sampler from Colin Newman and Malka Spigel's Swim label into tbe machine. There are nineteen tracks and not a dud amongst them. Even the previously released tracks from Silo and Symptoms are edited versions, and there is some degree of rarity - the Immersion remix of Flying Saucer Attack is about five years old and appears here for the first time and is quite similar in feel to Immersion's Bowery Electric remix. Colin's sped up remix of Silo's 'Prime Movers' appeared on the flipside of a 7" that you might have missed and another short 'Low Impact' style Immersion track previously appeared only on a CD-R compilation 'genuine particle'. However most of Swim Team 2 comprises brand new tracks. A couple of cuts show off the progress Colin has made towards his follow up to 'Bastard', and the driving infectious instrumental 'Tsunami' in particular suggests that he might eclipse that fine album. However work on new Wire recordings is taking priority at Swim studios, so it might be a while until the next Colin Newman album. Maybe his son Ben will get his debut out first? Recording under the name Bumpy he also gets a couple of tracks which display his upbeat inheritance of the Newman rhythm. 'Blokey' and 'Bumpy on the Beach' are just as bouncy even catchier than his track from 'Swim Team 1', but display a phenomenal progression. Bumpy's mother Malka Spigel makes a welcome return to singing in her native Hebrew with one of the most joyous pop songs she's sung, although I say that without understanding a word of it. She also collaborates on a more understated and haunting track with new artist Dictaphone under the name of Host, which is the aegis under which collaborations between Swim artists will appear in future. Dictaphone's Oliver Doerell lives in Berlin, a city awash in atmospheric beat mongery and his 'esc. Meetings' doesn't disappoint. It's a squiggly little number that clicks away melodically and prepares the way for the dark vortex of Symptoms in the middle of the disc. Poetess Leonie Heyes-Cercio of Beat Kitten is another new Swim artist who watches a man melting on the pavement in a way that recalls former Swimsters Pablo's Eye but is perhaps a little lighter in mood than their cinematic 'All She Wants Grows Blue' album. Manchester based tunesmith Dave Scattergood aka Toucaen is another new Swim signing, and like the other newcomers his infectious and emotive offering leaves me eager to hear more. Toucaen and Lobe seem to share quite a similar aesthetic, and a new Lobe track bodes well for the next album, as does the exclusive 'Root' from Denmark's premier machine rock trio Silo. The CD doesn't hit the shops until early November but you can get it online now at www.posteverything.com, and for the price of a 12" single you'd be silly to let it pass you by, unless of course you hate emotive insistent inventive melodic music that displays several interesting modes of forward propulsion. - Graeme Rowland
samples:
DHS & Bo Square


Lingering around San Francisco with Jack Dangers can be found video production guru Ben Stokes and multi-instrumentalist/instructor extrordinaire Mike Powell. Together, the trio form Tino Corp., but separately Stokes' and Powell's musical projects are respectively DHS and Bo Square. DHS follows up his last 12" (the House of God 10th anniversary) with the spacey psychically suggestive 'Mind Control' ep. Side 1 features three variations: unseparated upbeat dance tracks which are more of a nod to mid-90s techno crossed with vintage spoken word record samples on hypnosis. The thumping beat is rather thin for my tastes but would probably be intense on a super powered DJ system. Side 2 is noted as both 45 and 33 rpm and features only two tracks, also unseparated - "Telephone Sounds" which hijacks many analogue beeps, clicks and voices from the receiver and "Subliminible" where Stokes enlists a small arsenal of sampled analogue drum beats over an artificial robotic bassline.


The first Bo Square release came out last year but shouldn't go unmentioned any longer. 'Outer Space Suite' is available on 12" and is comprised of two faster-than-average techno future classics. Fans of the jazzier Meat Beat sound would appreciate the feel brought into the mix, as guests Jack Dangers (on vcs3) and Marshall Allen (on sax). Powell, whose guitar and theremin skills coupled with a whole jazz affinity flavors the first side on a delicious 9+ minute long three part beat suite. The speed makes it almost considerable to be drum and bass but the track really stands apart from the crowd. "Numbers" on the b-side is comfortably slower and in an almost Kraftwerkian tribute is colored with various numbers spoken in foreign languages. Both tracks are on the full-length debut from Bo Square, 'Sizing Things Up' but there's just something magical about having the tunes on vinyl. Look for a review of the full-length soon. - Jon Whitney
samples:
christian kleine, "beyond repair"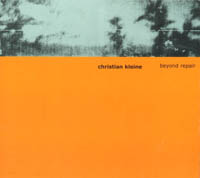 The debut solo release from Christian Kleine features eight amazingly pleasant electronic tunes. Kleine's work has been featured on Aerovane recordings and in various performances around Europe last year as half of Hermann & Kleine. The songs here are smooth with the grace of something like a Boards of Canada release yet the excitement of an Aerovane album. Kleine tries his hand at a variety of electronic flavors - the echo chamber of the album opener, "Guitar Interrupt", punchy repetitive beats of the title track and "Today's Mark," and a rumbling beat-less 'ambient' tuine "Kritzel." While it's nice to hear somebody making the attempt at pleasantness, this disc isn't really something worth your undivided attention. 'Beyond Repair' could easily win brownie points from Scrabble guests as it lies in your disc changer in between other relatively uninvolved classics, but at best this album only gets a minor amount head nods at the most exciting bits. - Jon Whitney
samples:
AUBE & ELSIE & JACK, "REWRITING THE BOOK"


A disc with the potential to infuriate idiots before they've even heard it is a rare thing, and Lord Almighty, Father of Toads, here are two of the damn things! Having already made a recording of noises sourced from that famous old book full of bloodbaths and boils, the bible, prolific Japanese sound artist Aube has allowed the Elsie and Jack label to assemble a cast of thousands to hack and chop digital crosses on which to hang the pages of the book.
A relatively low key track from Brume opens the unholy proceedings with the kind of bleak soundscape that reminds me that it is written that no man should look upon his uncle naked! This is followed by relatively low key tracks from polite beat merchants the Remote Viewer and Sirconical. The first track to actually sound like it was made from book noises is the page shuffling 'Papyrus' from Super Massive.
The big noise erupts eventually on the seventh track when Princess Dragonmom says let there be digital cement mixers. And lo! There were digital cement mixers! Merzbow ups the stakes with some real tweater fucking nastiness that would have jolly ol' Jehovah reaching for the ear plugs if he heard it on the eighth day. Damn, cursed the one true god, forgot to create ear plugs! Now if only evolution actually happened the likes of Flutter and V/Vm might actually have us all mutating closable earflaps or eardrum off switches, but as it is we'll just have to settle for the somewhat asinine observation that these are all the kind of satanic gobblers that would disobey the commandments of the mad old god of retribution himself and feast upon the flesh of birds such as the bat and the pelican.
Some folk just can't get enough of the good book and Super Massive, Wheaton Research and Disco Operating System all drop multiple metaphorical turds in the font. Wheaton Research, aka Brent Gutzeit, whose drone collaboration on Kranky with James Plotkin was quite good, throws up a suite of ear fucking minimal high glitch-pop crackles that make the likes of Hood and Volcano the Bear, who actually attempt to work Aube's bible bashing into weird songs, sound like clean cut kids that went to Sunday school and trembled at the mere mention of buring bushes. The Volcano the Bear song works better, as it displays more humour in the way the Aube noise is deployed. Disco Operating System offers three tracks entitled 'Jimmy', 'Page' and 'Hamilton', presumably in some kind of punning tribute to Led Zeppelin and Helmet; after all Anton LaVey did call heavy metal 'the last burp of Christianity'. And the 'Jimmy' track is quite a burping quick loop cut affair, whilst 'Page' does a bass throb and 'Hamilton' combines the two approaches presumably using different samples.
Some references are made to the themes of the book, and Phosphene gets a mention for using the word 'Nebuchadnezzar', a king we don't hear enough of with a name like that. However, I was saddened that no one mentioned or attempted to emulate the parting of the red sea or the plague of frogs. And it must be said V/Vm missed a golden opportunity in not trying to simulate the cacophanous menagerie of Noah's ark. Then again, they'd probably only have let the pigs on board! - Graeme Rowland
samples:
We know that sometimes these CDs are somewhat challenging to find, which is why we have a community section which can be used to obtain nearly everything available on this site.
NEW RELEASES
MONDAY
2nd Gen - Musicians Are Morons 12"/CDEP (NovaMute, UK)
* 23 Skidoo - Seven Songs CD [reissue] (Ronin, UK)
* 23 Skidoo - Urban Gamelan CD [reissue] (Ronin, UK)
4 Hero - Les Fleurs 12"/CDEP (Talkin Loud, UK)
Aphex Twin - Drukqs 2xCD/4xLP (Warp, UK)
Appliance - Land Sea and Air 7"/CDEP (Mute, UK)
Birds of Tin & Ene - Key Ray CD-R (Mystery Sea, Belgium)
Daft Punk - Harder Better Faster Stronger two 12"s/CDEP (Virgin, UK)
Funki Porcini - The Great Drive By 12" (Ninja Tune, UK/Canada/US)
Mogwai - My Father My King CDEP (PIAS, UK)
New Order - 60 Miles An Hour two CDEPs (London, UK)
The Silver Mt. Zion Memorial Orchestra and Tra-la-la Band - Born Into Trouble As the Sparks Fly Upward CD/2x10" (Constellation, Canada)
Smyglyssna - Departures 12" (Vertical Form, UK)
Various - Hate You CD/LP (V/Vm, UK)

TUESDAY
Aphex Twin - Drukqs 2xCD (Warp/Warner, US/Canada)
Atlatl - Assortment of Rounds CD (Cloaca, US)
Beatless - Life Mirrors CD (Ubiquity, US)
BT - Rare & Remixed 2xCD (Nettwerk, Canada/US)
Dabrye - One/Three CD/sampler 12" (Ghostly International, US)
Funker Vogt - Code 7477 CD (Metropolis, US)
Godflesh - Hymns CD (Music For Nations, US)
* Goldfrapp - Felt Mountain 2xCD [reissue with bonus disc of remixes and CD-ROM material] (Mute, US)
Interfearence - Take That Train CD (Ubiquity, US)
Anita Lane - Sex O'Clock CD (Mute, US)
Lovesliescrushing - glisseule CD (Sonic Syrup, US)
Mogwai - My Father My King CDEP (Matador, US)
Mr. Len - Pity The Fool CD/2xLP (Matador, US)
* Pilote - Doitnowman CD (Certificate 18/Domino, US)
Various - 10x CD (Dark Duck, US)

WEDNESDAY
Human Greed - Consolation CD (RE:, UK)

FRIDAY
Peaches - Set It Off 12"/CDEP (Kitty Yo, Germany)

This is simply this week's highlights from the NEW RELEASES provided by Greg and Feedback Monitor.
For a more detailed schedule stretching into the future, please check out the site,
since release dates can and will often change.
LINK OF THE WEEK
dancing bush!
Hours of entertainment with a dancing dubya!
http://www.gopfun.com/dancingbush/dancingbush.swf
MOVIE REVIEW
L.I.E.

At first, I thought this film was a history of the company that makes the jeans. I was curious to find out why their sizes that are stated are always smaller than they really are. However, I was doomed to find out that this film was nothing about the jeans. Instead I sat through a decent yet unfulfilling film about a homosexual child who falls for an older man. The overall story isn't really that bad. It may seem original to some and average to others. It looks like a teen angst film for the modern world. The story of a boy whose mother has passed away and father has no interest in him. Oh wow, as if that hasn't been done before. What they try to make interesting is the romance between the boy and an older man. It just doesn't go anywhere. After sitting through this film for almost two hours waiting for something to happen you're left disappointed. The film builds up to this climax which just leaves you waiting for more. You sit wondering is that what I waited 2 hours for? It could have went in much better directions, it just chose not too. I suppose the filmmakers thought that the subject matter was daring enough and not to make a daring film about it. I can't say that it was a waste of film, but i can say that it's no show stopper.
- John Beck
CONCERT REPORT
Back To Nature - Frank Tovey Reshaped
Cologne, 9/26/01
Whatever motivated him to reappear this spring under his original moniker, it's definitively more than the upcoming best of collection as he's back full-heartily not compromising in any means, even in front of 16,000 people longing for Depeche soulful Mode.
Starting off with the sinister "State Of The Nation" he leaves few doubts that he's not smoothened out over the years. "Ricky's Hand" follows and the solid upbeat gets more people moving, stripped down to pants and boots he continues with "Collapsing New People," his semi mega hit which paved the way for the success of "People Are People" and then "Luxury," his most accessible single which earns the least response. All the time he jumps across the stage like a tortured artist in a cage, attracting all of the attention of an mainly astonished public, before he surprises everyone with a heavy technobeat version of "Chasing The Blues Away" and goes stage diving while singing. Then he continues kicking ass with gorgeous versions of "Love Parasite," "Fireside Favourite" and as final, "hands in the air - show me you are there" track, the very suitable "Coitus Interruptus."
Just 40 minutes something and a relatively poor mix compared to the following act but I'm drowned in sweat and euphoria. The way he uses his body and voice to illustrate the songs is just amazing, today's music needs more performers like him.
- Carsten S.
FEEDBACK
stars of the desktop

Subject: sotl
Any chance we could get the covers of "Per Aspera Ad Astra," and/or "Gravitational Pull..." as Windows wallpapers?
Scan them in reeeeeally big!

Subject: opera functionality
At present I test new version of Opera - 5.5. Beta will be available soon for public download.
While testing I browse my lovely sites and see whether they display correctly or not. It turned out, Brainwashed has some minor errors, which previous versions of Opera just ignored.
Those errors are in main '.css' file and concern color declarations: you use hexadecimal values but forget to place '#' sign before. New Opera 5.5, unlike 5.12 distinguishes values starting with letter as color names, fully according with specification. Of course, there is no name like FF9900 and Opera uses default value for links - the blue.
Uhm, okay, thanks, we'll get to that.

Subject: web designs
In november I will be out with my first EP. I would like to make a web page but not costing stellar money. Tepted to try myself but willing to have a pro-design. It would be a simple web as you can see at www.loscil.com. (6 pages??) Can you xpress you about costs ?? Tks in advance
No time + no interest = no cost. Sorry.

Subject: radio
Hi people,
I'm the music director at a college radio station and I'm interested in playing some of the albums off of your label (you were the contact person for United Dairies, am I right?). Is it possible for you to send me some of your recent releases? We prefer experimental, obscure, odd, weird, etc.
We are a 40,000 watt student run radiostation located in Atlanta. We're committed to playing the most adventurous music that you can't usually hear on the radio. It is my wish to develop a continual relationship with record labels that share our ideals for challenging music.
We're just a website. I'm pretty sure there is information for press/publicity stuff at the World Serpent website however. Check to see what their policies are.

Subject: contributing
Can i become a contributor or staff for the brain / brainwashed?
I like the site a lot and i'd like to volunteer some time / reviews / skills.
thanks, let me know.
We encourage people to share what they think about music, films, books, etc,... in a presentable way. We just don't remind everybody every week. This is a community effort and not a profit-based magazine and we'd love to have more contributions from more readers. Thanks for your enquiry.

Subject: Trans Am live UK
I noticed on the Trans Am website that they are playing Newcastle in the UK on the 25th October, but the venue is still to be confirmed.
Any ideas on that venue confirmation yet?
Pretty desperate to see em live.
I've emailed Thrill Jockey n'all.
Keep up the good work.
Usually when a date's not confirmed yet, there's details being worked out which prevents the information from being officialized. Emailing the band's label won't get you far as they don't do the booking, they know as much as you do and when they find out from the band when/where the date is, they'll let you know immediately. Incidentally that show has finally been confirmed now.
WHAT'S IN YOUR PLAYER?
keepin' warm as the weather gets cooler
Low - things we lost in the fire
New Order - substance
Fly From August - the distance light travels
Trans Am - red line
Kool Keith - black elvis/lost in space
Neil Young - dead man

Luke, Illinois