vincent gallo, "when"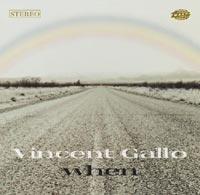 The life expectancy of a good record label with a strong identity is approximately ten years. Warp has certainly experienced a substantial amout of success but with the mismanagement and poor decision-making that resulted in this particular release, their days are truly numbered, if not completely over. The word on the street is that Warp was interested in Cex, a fine musician of outstanding merit and incredible talents. Not only does he do a superb job of both original and derivative cut-up fuckery, but he's an amazing entertainer. Unfortunately when Warp finally saw young Mr. Kidwell perform (most specifically rap), they pulled their offer. Four Tet was approached by Warp as well this past year, but after a mysterious Warp field trip to NYC, that offer was pulled too. Incidentally, the latest Four Tet full-lengther, 'Pause' came out on Domino and is not only already strongly poised for top ten critics and fans choices worldwide (for best release this year), but Nike has even paid for music to be used in their advertisements in the USA. So what did Warp end up sinking their money into? The superstar power of Vincent fucking Gallo—you know, that guy who was a model for some clothing company and directed/acted in "Buffalo 66"? [Reality check, boys: to test the true mark of a cash-cow superstar, ask your mom who they are.] At most this disc is a really sad attempt at retrospective late 1960's Velvet Underground demos with a weak man-bitch shamelessly trying to emulate Jimmy Scott. The album has undeniably horrific production, untuned guitars and dreadful lyrics. What the fuck is up with words like "honey bunny my baby girl friend / sweet heart my sugar girl friend...oh darling you're my darling"??? At 39, Gallo's writings skills are exponentially worse than somebody like Ben Lee's circa 16 years old. Unfortunately unlike albums by William Shatner and Leonard Nimoy, this disc isn't even pathetically humorous enough to be considered irony. It's not even sincere enough to be a "Warp release for girls." It's plainly an embarassment on all parties involved. At this point, the best Warp can hope for is to sell their company and become absorbed into the A&M/Island/DefJam/Mercury group, ditch their managing staff and call it a day. I'll bet every penny in my pocket that at least when the inevitable happens, Gallo's 'When' will surely never be pressed again. - Jon Whitney
samples:
Hood, "Cold House"


Inevitably, this UK band must be prepared for (superficial) comparisons to their better-known countrymen Radiohead, especially as this release dares to combine Brit-pop/rock with very experimental electronics in the same vein as the Aphex/Warp Records roster. Soundwise, there's nothing in common with Yorke and crew, as Hood mine a cooler, more laid-back, jazz-and-groove-influenced territory. Beginning with the crunchy and glitchified 'They Removed All Trace That Anything Had Ever Happened Here', HOOD dives into a melange of IDM-ish programming, dub effects, and more traditional acoustic vocal/rock styles. HOOD use the electronics sparingly, accenting their songs with the alien sounds but never forsaking their penchance for actual songwriting. 'This Is What We Do To Sell Out(s)' sounds exactly like an Aphex Twin outtake, which is used as a foundation track for the band's incongruous acoustic melodies. And it works. The sensitive and melodic male vocals are unmistakably English, and the band shows a great mastery over their instruments, while rhythmic beds of IDM-ish grit and groove bring up the foreground. 'Cold House' is simultaneously challenging and familiar. This is 'post-rock' taken in another direction, brimming with sonic inventiveness and (gasp) real human emotion. Very, very strong work from a band that's not afraid to fuck things up and take chances. Refreshing and brilliant. - Todd Zachritz
samples:
locust, "wrong"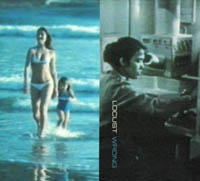 The release of 'Wrong' not only marks the first release from Locust in five years, but also a rare foray into the realm of pop music for its record label, Touch. Mark Van Hoen, the driving force behind Locust, has remained prolific despite the lengthy gap between this and the band's previous album, the critically acclaimed 'Morning Light'. Van Hoen released numerous side projects (including Scala, Aurobindo and Autocreation), solo albums and has done production work for artists such as Mojave 3 and Sing Sing. 'Wrong' is a twin disc set, but "not a double CD," as the notation printed on the second disc explains. The two are intended to be experienced synchroniously: the first disc contains the songs proper, while the second is comprised of tones and drones. Van Hoen has stated that his motivation in creating the album was to recapture the essence of the 70s British electronic pop music of his youth. He succeeds in his effort, especially in terms of the accessibility of the songwriting, but adds an entirely new dimension to the unadulterated pop melodies through his typical lush production and, on 'Wrong', through the use of analogue synthesizers as the albums only source of instrumentation. The electronics on the record are superbly crafted and meticulous in their detail. Beautiful beats and swirls carefully folded around one another and densely layered on each of the nine tracks. Played along with the background drones on the second disc, Van Hoen creates a profound sonic depth. Accompanying the electronics are the vocal stylings of of Holli Ashton, who appeared on Locust's previous release. Her voice is pleasant and and versatile, infusing the mostly uninspiring lyrics with a nevertheless subtle grace. Other artists making guest apperances on background vocals are Sarah Peacock, Tara Patterson, Lisa Millet and Vinny Miller. The songs on 'Wrong' run the gamut from warm ballads like "Heal" and "Separate" to the hook-laiden centerpieces of "Sweet Sky" (a slightly different version of which appeared as a b-side on the "All Your Own Way" single) and the album's most stand-out track, the phenomenal "Make a Difference." The broader array of instrumentation found on 'Morning Light' such as guitar, trumpet and violin may be lacking on 'Wrong', but yet it manages to combine the best elements of all Van Hoen's past works: smartly-constructed pop songs and highly sophisticated electronic instrumentation. This well-rounded and thoughtful assemblange of songs may have been a long time coming, but in the end has been well worth the wait. - Jessica Tibbits
samples: (for these samples we have strategically assigned the song on the left channel and the background on the right channel)
trans champs, "double exposure"

New levels of ironica are reached on this extended play single when retrofitted 1980s heavy metal and analogue techno rock collide. Thinking back a couple decades, I recall that fans of both camps would despise each other. Take a look at Heavy Metal Parking Lot for clues. Today, however, the music is being warmly embraced by indie rock hipsters. Two groups of three members: the Fucking Champs (who I swear are the pawns in a diabolacal plot from Yngwie Malmsteen to stage a crossover attack into the sweater-clad Buddy Holly glasses-wearing indie crowd) versus Trans Am (who confuse me to this day whether they're paying tribute to or parodizing ZZ Top and Kraftwerk). What the collective appears to have agreed on is having two songs featuring double-soloing guitars a'la Joe Satriani, two mid-tempo tunes heavy on the electronic low-end, and one drum-free easygoing acoustic thing smack-dab in the middle, containing violin and flute, sounding the most remotely distant from what each group has released on their own. I must admit I wasn't really digging this at first but after many many listens I can safely say this is an awesome release - abstract enough to be cool, cliche enough to be funny and short so it never gets irritating! - Jon Whitney
samples:
WHEN, "THE LOBSTER BOYS"


Lars Pedersen is the main man behind When and this is his 8th full length album since 1983, 2nd for Jester Records (not counting the 2 disc retrospective "WriterCakebox"). 1999's "Psychedelic Wunderbaum" greatly impressed me with it's curiously fun collection of eccentric avante pop and just plain avante. "The Lobster Boys" has done the same. The back cover wallpaper of oldies children's, educational, jazz and classical records presumably gives a good clue to the source of some of the sampled passages and sounds that Pedersen grafts to his own vocals, organ, guitar, bass, xylophone and drum playing. And many other sounds find their way into the cut and paste mix, some thanks to a few other players: piano, sitar, guitar, flamenco guitar, viola, melodica and industrial rhythms. There is an indelible happy-go-lucky spirit and late '60s pop vibe throughout When's songs. "Flower Jam", "Sunshine Superhead" and "Instant Flute" have an uncanny similarity to recent Ween while "The Greatest Sorrow on Earth" and "Puff Pipe" make the best use of mellow jazz loops. It's all fun and games up until "Ruin Yourself" takes a decidedly darker turn, repeating the increasingly creepy mantra "all together now / all together now / all together now my friends / together we ruin ourself". There really should be a single for this one. I can't get it out of my head and I don't want to. An unlisted 16+ minute track is the finale, eventually settling into a hypnotic distorted mass that cleverly concludes with a woman's voice softly approving "what a pretty tune, please play it again soon". "The Lobster Boys" is one of those albums you can play anytime, anywhere for anyone. It refuses to be pigeonholed and refuses to be boring. Just like everything else from When and Jester. - Mark Weddle
samples:
black eyed snakes, "it's the,..."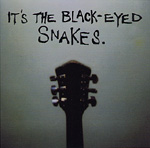 Low fans beware, the full-length release of Alan Sparhawk (as Chicken-Bone George) in his psychobilly outfit is now available. It's got a thumpin rockabilly beat, distorted voice, squealing guitars and harmonica. Of the ten tracks here, two are new takes on older things. "Lordy" was first recorded with the Dirty Three for the 'Fishtank' EP and performed frequently by Low alone on the most recent tour and "Honey" was made popular by Moby only a couple years back. Here, both get a deep south blues overhaul, a'la New Orleans-stylie, matching the style of the rest of the disc. Although it sounds like many of these songs were spontaneously tossed together, they're executed with an amazingly authentic sounding precision, subject matter aside. "8 Inch Knife" is from the perspecive of a wandering man coming face-to-face with his wife's kitchen knife, "Mannish Boy" needs no explaination and "Cheerios on the Floor" is dedicated to Hollerin' Hollis Mae (a.k.a. Alan and Mimi's young daughter). The Black Eyed Snakes is nothing short of fun, and sounds like it was as much making it as it is listening in. The debut is ideal for playing while barbecuing ribs and fixin' some collard greens along with hush puppies. You can catch the group on the road with Man or Astro-Man across the USA right now. - Jon Whitney
samples:
THE DAMNED, "GRAVE DISORDER"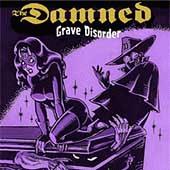 The common misconception about punk is that no one knew how to play. Truth is, many a band were solid from the start and became all the more accomplished with time. A good example is the turbulent, many membered, up and down, off and on again run of The Damned (which I'm a longtime fan of). And here we are a quarter century later, five years after the last album, with 13 new studio tunes. Finally, something new to add to the live set lists. Alongside vocalist Dave Vanian, fellow founding member Captain Sensible is finally back in the fold. Vanian's rich voice sounds as good as ever as he indulges in his gothic silver screen fantasies while the good Captain indulges in his own Floyd meets Hendrix guitar stylings. Monty Oxy Moron adds plenty of keys and bassist Patricia Morrison (Vanian's wife, ex-Gun Club and Sisters of Mercy) and new and improved drummer Pinch provide a strong rhythm section with backing vocals by all. "Grave Disorder" not only sounds fresh and new, it sounds like The Damned - that colorful mix of silly fun, romantic horror, melodic pop and punk rock. They sound great and every track is thumbs up. Lyrically they once again take the piss out of politicians, including barely elected Bush in "W", and religious fanatics, as well as internet junkies, John Lennon and Michael Jackson. "Democracy?" and "Would You Be So Hot (If You Weren't Dead?)" are instant classics with irresistible melodies. "Song.com" features some mean organ soloing and "Absinthe" some theremin atmosphere by Vanian. "Amen" winds down nicely with several minutes of beach side samples and synth. Captain's "Neverland", originally from his '96 solo album "Mad Cows & Englishmen", is re-recorded with Vanian on vocals. "Beauty of The Beast" is a classic Vanian piano ballad circa "Phantasmagoria", a fitting conclusion. It was worth the wait! Get the gold logo embossed digipack version with 12 page lyric insert if you can. The Damned are on tour in the States through early November then on to the UK for the rest of the year. - Mark Weddle
samples:
mogwai, "my father my king" ep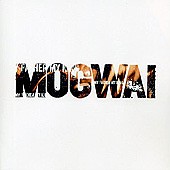 When I heard talk about this, I was rather excited. It seemed to be part of a collaborative effort — perhaps with four contributors all basing music around selected Hebrew prayers. Arthur Baker was allegedly at the helm of this project, with a superstar team which included engineer Steve Albini, and a completion to be mastered at Abbey Road. But what happened in the meantime? Some plug must have been pulled somewhere and us, the consumers are left with this $6 remnant which mimics a dangling participle. Mogwai's one-track single here stretches about twenty minutes, and if you've seen them live at all in the last year, you've heard it already — it's the very last track they've been doing in concert — you know, the one that gave me hearing damage in my left ear in Boston and set the PA on fire in Baltimore. The song is instrumental and starts off quiet and peaceful, with a repeated theme and builds and builds and builds, to a blurry, gritty climax. Strangely enough, however, there seems to be so much compression performed on this in the mastering process that it feels like it came in on the same volume it goes out in. It's not -bad- per se and it sure as hell rocks out, yet on it's own, I'm rather disappointed. I feel it's sort of missing something. This song would be great at the end of this year's "Rock Action" LP or on a compilation with four other remotely anthemic 20 minute-long pieces. I'm going to suggest this item only for the big fans who can't live without a recording of their concert finale. - Jon Whitney
samples:
VOTE ROBOT, "IN MEORM NA"


Vote Robot are Canadian duo Scott August and Kevin Rivard and "In Meorm NA" is their second album, first on CD, for Scratch Recordings. Thirteen mostly 1 to 3 minute tracks, all with seemingly non-sensical titles, provide about 33 minutes total of sparse glitch-flow. A little sticker on the jewel case proudly declares "NO laptops, sequencers, samplers, drumboxes, etc." so I'm assuming these are improvised pieces. What's more pretentious - declaring what you do use or what you don't use to make music? Judging from the disc's cute and cuddly animal themed artwork, I don't think Vote Robot take themselves all that seriously, unlike, say, the Rastermusic posse. The sound palette is varied but maintains an anonymity. It sounds like line noises, forever echoing input/output pops, dismembered tones/drones/notes, morse code blips, the gentle shuffling of small objects, etc. It's very warm and easygoing and Oval-like at times, only more 'musical' and, ultimately, listenable. A few tracks are a tad noisier than the rest but certainly not enough to disrupt the pleasantness of it all. - Mark Weddle
samples:
Mira Calix "Prickle"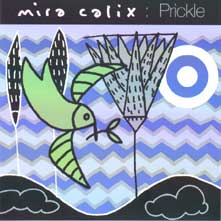 The new EP from Mira Calix comes with 2 tracks. One by Mira Calix herself, and one Andrea Parker remix from her first album. The Mira Calix track is divided into four parts, and starts out with rough machinery sounds and a dark static flowing from side to side. A saw wave and beautiful voice then coats these sounds, accompanied by a slow classical piano melody. The machinery and static morph into a complex rhythm at the very top of the sound range, with a low bass beat in the center. The soft voices make sounds that compliment the saw-wave synth melody very nicely. They warmed my heart. After the beat ends, a flute melody and a dirty resonance (much like a storm or crickets) arrives. This is coupled by sounds of flapping water, like a seal clapping. Weird stuff. This track is very, very, very peaceful, and could bring me up when I'm at my lowest low. Parker's remix is darker and more beat oriented, and while it's ok, it doesn't evolve over the course of the track and gets old. - Brad Payne
samples:
NAM JUNE PAIK, "WORKS 1958.1979"


Korean born artist Nam June Paik is widely credited as the founder of video art and for over 40 years his work and performances have crossed paths with the Fluxus group and such experimental luminaries as John Cage, Karlheinz Stockhausen and Joseph Beuys. "Works" is the first CD release of Paik's music and it contains 5 tracks spanning 21 years and ranging from 20 seconds to nearly 29 minutes. The first, "Prepared Piano for Merce Cunningham" from 1977, is the lengthiest and is much more atmospheric than melodic. Paik (rhymes with 'cake') improvises on and moves about a de-tuned piano, the majority of the piece composed of dampened lower register notes with an eerie timbre that resembles that of gently struck steel drums. From the 1958-61 period, "Hommage A John Cage", "Simple" and "Etude for Pianoforte" are all short hand spliced tape collages. 'Samples' of varying length - prepared piano, sped-up songs, crying babies, Paik screaming - seem to be randomly, yet skillfully, juxtaposed. "Duett Paik/Takis" is just that, about 26 minutes worth of Paik improvising on piano while Greek kinetic artist Takis performs on his sculptures. By 'perform' I mean sporadically slamming pieces of metal while Paik softly, non verbally hums/sings and quietly plays a pretty but sad song, never breaking concentration despite the very jarring interruptions. It makes for a very strange effect in that an austere beauty is forced to cohabit a space with industrial noise, neither apparently mindful of the other. Oddly enough, for the final 6 minutes Takis audibly bows out and Paik switches to what I'm guessing is a harpsichord for a much brighter conclusion. While the 3 shorter pieces are yet another reminder that someone else has already done most everything that's being done today many years ago, the 2 longer pieces are truly, curiously compelling works of music/art that bear repeated listening. - Mark Weddle
samples:
We know that sometimes these CDs are somewhat challenging to find, which is why we have a community section which can be used to obtain nearly everything available on this site.