a weekly digest from the staff of brainwashed
V04I45 - 11182001
Click here for other issues
SITE
brain in the wire disc b tracklisting completed
Brainwashed Recordings officially announces that all the songs for "Brain in the Wire" disc B have finally been received. Special packaging and pre-order details will be announced in an upcoming issue once all the details have been confirmed. Stay tuned for some surprises.
current 93 limited release
Durtro, on the other hand have announced "Hypnagogue-A Hymn to the Hypnagogic Christ," by Current 93, a paramusical meditation on the recent manifestations of The Hypnagogic Christ to David Tibet. With hand-printed booklet containing Tibet's hymns to The Hypnogogic Christ; signed and numbered full colour art print on art card; 220 gram vinyl record. Limited to 300 signed and numbered copies. Purchasing details have not yet been disclosed, however. World Serpent have announced that they have sold out of the last 300 copies of the "Santoor Lena Bicycle" collaboration between Aranos and Nurse With Wound.
downtime expected
Systems administrators have informed us that there might be some downtime in the upcoming week. They will be installing some new software which will hopefully allow us to do many things with brainwashed we always wanted to do! Sorry for any inconvenience this may cause.
IN MEMORIAM
Michael Karoli, 1948-2001
Can's guitarist, Michael Karoli, died early Saturday morning unexpectedly at the age of 53. Karoli and Holger Czukay met in 1966, two years before they formed Can (Czukay was a music teacher and Karoli was a student in his class). Despite numerous lineup changes, the two worked together throughout Can's lifespan and remained in contact through the end. Can's influence can be observed on more bands than can be named. Karoli will be missed. More information can be found at Holger's website's news section at www.czukay.de/news.
COMMENT
v/vm reacts to being blocked by scanner
Whilst it would be easy to be upset about another musician stopping you from performing, it is something which we all know goes on. In this day and age people are not free to speak their minds and express opinions especially when it is a strong opinion. I'm not surprised by recent events as I'm sure Scanner is surrounded by "yes" people—those who will not criticise—and this is dangerous for him. The reaction from my criticism is here for all to see.
I feel sorry for those who organised the festival in Portugal who were put in an impossible situation by Scanner. He basically refused to play if we were also on the bill. Therefore I am not disappointed by their decision to have him play at our expense. This is their choice but one they shouldn't have had to make. I also feel sorry for the people who were expecting to see us perform over there. It's also interesting to note that Scanner himself told the organisers specifically not to inform me of why I was being pulled out from the show. Hopefully this should tell you something about the man who is Scanner (and should be considered when purchasing future works).
I think that this just emphasises what is going on in music today and it's something I outlined in the sleeve notes with the "Hate You" CD. Music is rotten, opinion is not tolerated.
Despite this and the so called "power" that these musicians hold, my position remains unchanged. I'm happy to speak my mind and if that means that I don't recieve reviews in certain magazines and also get less invites to play festivals then so be it. I'm sure people who buy V/Vm stuff and support the label will be glad to hear that there will be no compromise, we're in for the long haul.
The "test" continues.
- James Kirby, V/Vm Test Records, Stockport
MUSIC IN REVIEW
"The Tired Sounds of" Stars of the Lid

What more can be said about this band that doesn't sound like stuffy, overt over-praise or the ramblings of someone who really doesn't understand or really hasn't listened to the music? Stars of the Lid make the finest drone-rock around, and everyone knows it. I remember hearing them for the first time and turning to a friend and saying "Who needs drugs when you can listen to music like this?" Listening to their records, one does achieve a state of complete relaxation and calm that cannot be compared to any other feeling on this Earth. Fans who are no stranger to this music know that part of this magic is achieved through their intense deception: a lot of the time, you are unsure what is making the sounds your speakers are desperately trying to reproduce accurately, so heavily manipulated are some the sounds. And their bio is just as confusing a read as the music can be a listen. But if you just give in to what you're listening to, it doesn't really matter if it is identifiable or if it makes sense. It just is. And you feel that as it all comes together to greet you. On a more technical and less ethereal note, "The Tired Sounds of Stars of the Lid" marks the first time strings, horns, and piano have been added to SOTL's repertoire, and the results are astonishing. It is their finest, clearest, most well-conceived effort to date, their "Messiah," if you will. Because those are the images that pop into your head listening to this work: visions of heaven and what lies beyond. It all plays out like different people's visions of an afterlife. Strings mix with dog whimpers and chains dragging, and Eno-esque keyboards reflect a warmth that Brian wishes he could find. It's just plain beautiful, a natural progression and a triumph any band should be immensely proud of. The only thing you're left with when it's all over is a thought: "Where could it possibly go from here?" And isn't that going to be wonderful given what you've just heard? - Rob Devlin
Tired? Of hearing Stars of the Lid? Oh my, no. Upon experiencing them live and then hearing "Gravitational Pull vs. the Desire for an Aquatic Life" a few years ago, SotL redefined for me the aesthetic of 'ambient' music and just how beautiful it can be. Now Adam Wiltzie and Brian McBride (and others, including previous collaborator painter Jon McCafferty and film artist Luke Savisky) return with 124 more minutes of sleepy soliloquy. Perhaps more so than ever they have shaped their signature sound clouds into orchestrated song structures, many being multi-part suites with readily identifiable movements. Loops and swathes of pure auditory warmth, often ingrained with or gradually overcome by the sweet strains of cello, wax and wane slow (e)motion melodies. Atmospheric location recordings, found sounds and a few obscured piano passages are also scattered throughout, not to disrupt or detract, but to help occasionally bring the heavenliness back down to Earth. This music engages, engulfs and expands the conscious and unconscious alike. This music is for rapid eye movement dreams, waking dreams and walking dreams alike. This music is ... simply gorgeous, nearly perfect. Stars of the Lid are set to tour Europe with Loscil next January. - Mark Weddle
samples:
set fire to flames, "sings reign rebuilder"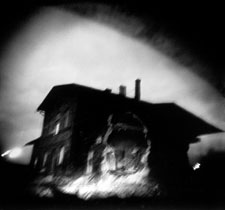 And the gybe! side projects continue to grown in number. It's almost as though they're becoming more of a commune of musicians, a collective whose parts are ever-changing and ever-growing. This release features a lot of the same components and dynamics we've come to expect from gybe! and A Silver Mt. Zion: field recordings, strings, chiming guitars, loud-soft variations, solid drumming. It is at once foreboding and punishing while maintaining a lovely undertone. But it also contains sounds and elements you would never hear on a gybe! record. There are moments of high-pitched squeals and over-distorted beats, almost with a trip-hop shuffle to them, and then almost free-form jazz drumming a few tracks later. Voices are manipulated with hisses and pops in a completely fresh manner. Plus, the majority of the tracks are under the 5-minute mark (!). As records go, it has a lot to offer, particularly given the talent involved in making it. So why then is it all so underwhelming? Don't get me wrong, there are some fine pieces of music here. Some haunting, some lovely, all original. But because they're based on largely improvised recordings, it lacks some focus. Tracks begin and end without really getting anywhere, and the structure on some is either not there at all or just plain odd. The band state "things worked out somehow and we got lucky." Yes, but a little more concentration and a little less luck might have taken some of these tracks much further. As it stands, this release is a hint at the power these musicians can capture, a power that is fully realized and explored on other releases by this band's members. I'd like to hear more from this formation, as "sings reign rebuilder" doesn't feel like the complete release I'd wanted so badly to hear. - Rob Devlin
samples:
hox, "it-ness"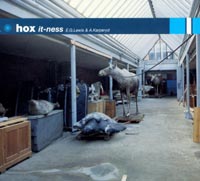 Although this release came out first in 1999 through Origin in Sweden, it has only been picked up by Apollo (an R&S sub-label) earlier this year. Graham Lewis (Wire/Dome/He Said) and Andreas Karperyd (Omala) have teamed up again, but not as He Said Omala this time. While I have been a Wire fan for nearly two decades, the Graham Lewis material can always be hit or miss, yet when he's paired up with a good collaborator, the results can be incredible. Fortunately, the collection of ten songs deftly combines the strengths of the Karperyd's undeniably hypnotic electronics and the super sexy voice of Lewis. The musical bonds have grown stronger between the two after experience working together as He Said Omala, and the proof is in the songs. Luscious head-bobbing instrumental triumphs like "Rekalm Reclaim" sit side-by-side with catchy proto-pop vocal tracks like "Spring." While the album's opener, "Knot" throws the fan a curve-ball with its instrumental abrasiveness and atypical Lewis vocals, the album's closer, "7f's" echoes back to the electronic repetition of classic 1980s Wire tracks like "Over Theirs," and "Illuminated." As the Wire Mail Order service has been closing down, I thought it best to try to grab a hold of one of these CDs before they're impossible to find. Unfortunately they're all gone from the Chicago-based location and stores in North America have found it unnecessary to stock the item. If all avenues fail you to find this disc, try Wire Mail Order UK. In the meantime, you can always bitch out your favorite shops for ignoring something as great. - Jon Whitney
samples:
edward ka-spel, "caste o'graye skreeËns"

LPD's frontman has delivered his solo release for 2001 rather late, but the wait (if you consider it a wait as the volume of material from LPD and related projects exceeds everyone else) was worth it. 'Caste' is a one-track CD with a multitude of songs or 'movements'. The phases evolve over the course of 50+ minutes from pulsating drum machine and vocal plays, creepy ambient horrorscapes, cut-up samples and distorted noises, familiar Ka-Spellian anthemic calliope music, and the occasional playful keyboard ditty. Various points seem to either hark back to the more sound-based (as opposed to song-based) LPD or pay tribute to Neu!, Residents, and the more experimental Pink Floyd era. Thankfully, there isn't a weak link in the chain: unlike many of the solo Ka-Spel discs, this one is absent of the occurance of a nerve-grating piece which goes on way too long. I haven't counted the amount of movements in the disc yet, but it's safe to say that if there's anything on here you're not getting into, just wait a couple minutes and it'll all shift gears again. - Jon Whitney
samples:
ANITA LANE, "SEX O'CLOCK"


Anita Lane first came to music circa the late '70s via the Nick Cave-led posse The Birthday Party and later as a founding member of his solo band The Bad Seeds. Since the mid-80s she has recorded some singles and the solo album "Dirty Pearl" and has collaborated with Die Haut, Bad Seed Mick Harvey, Barry Adamson, Einst?zende Neubauten and Gudrun Gut. In particular, Harvey is her longtime musical guru and is once again responsible for production and much of the instrumentation for this 10 song album. Everything about Lane oozes sexuality, from the packaging photos to the girlish yet 'been there, done that' voice and words. Unsurprisingly, a Bad Seeds and Serge Gainesbourg shadow is cast over much of the album (even going as far as to borrow tape loops of mid '90s Bad Seeds jams for a few songs) plus string arrangements are provided by Bertrand Burgalat. A handful of songs - "Do That Thing", "Like Caesar Needs a Brutus" and "Do the Kamasutra" - are a bit too much, a bit too goofy or garish lyrically, approaching porn movie soundtrack musically. The rest find a better balance between sex appeal and song writing. Three impressive covers include Gil Scott-Heron's tell it like it is tale "Home is Where the Hatred Is" and the traditional "Bella Ciao". "The Next Man That I See" is the single and rightfully so, Anita invitingly cooing "and I think that I'll just make love to the next man that I see". In "A Light Possession" horns, keys and strings copulate under the sheets of a sweaty bass groove. I could go on but, well, you get the idea. This is Lane's most fully realized solo work to date, about half of which is really good. - Mark Weddle
samples:
Beulah, "The Coast Is Never Clear"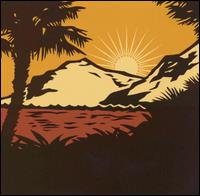 Part of the Elephant 6 collective (Neutral Milk Hotel, Olivia Tremor Control, etc.), Beulah craft clever pop with intelligent lyrics that bite and chew at the witty edges, all with less spacey dreamscapes than their brethren. After releasing two albums on as many labels, Beulah were set to make their "major label debut" with this, their third record. Then the label, Capricorn, went away in the Unigram merger. And Beulah were left out of the deal. Some former employees of Capricorn formed Velocette Records — also the current home to Jack Logan, Vic Chesnutt, and Jucifer — and now they are releasing "The Coast Is Never Clear." And it's worth the wait. The album is different enough from Beulah of "When Your Heartstrings Break" to be considered artistic growth, but enough of the same to please any Beulah fan. The production seems a little smoother and clearer, and the mix more well-rounded, but the songs contain that great full-fledged pop sound and the ironic lyrics you've always loved. On "A Good Man Is Easy To Kill," Miles Kurosky's lyrics reach their finest hour, as he sings about the fears of love and the beatification of the desired: "Give up give up your love/I promise it's not gonna kill ya" and "And when they cut out your lung you said we could all breathe easy." The imagery is what's important, as anyone can sing songs about the trials and tribulations of love. It takes the special ability to paint the picture for you so you can see it for yourself to make the grade. There are a few minor disappointments. "Hello Resolven," though short, has all of the charm of a Beck b-side, which, given some of his a-sides, can't ever be pretty. And in some places it seems almost as though these songs were intended for a major label debut by an indie artist: water down their trademark sound so that the average listener can stomach it. Overall, though, a strong release from these architects of fine pop music. - Rob Devlin
samples:
kings of convenience, "versus"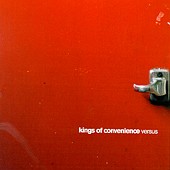 No matter how much they kick and scream, sometimes you just have to rip that acoustic guitar out of the hands of the sissies. Maybe that's what Astralwerks and Source were thinking when piecing together the 'remix' album of Norway's answer to black metal. I have to admit I'm a little jaded about the concept of remix albums, and while it's rare I even like an entire remix disc, I can safely say I enjoy this one far more than the originals. Nine songs (three of them twice) have been plucked from the group's 'Quiet is the New Loud' album and have been transformed by collaborations, remakes, rearrangements and remixes. Most of the time, the songs actually sound more 'complete', with additional instruments added in cases like David Whittaker's string arrangement enhanced version of "Toxic Girl", Riton's remix of "The Girl Back Then" or Andy Votel's remix of "Winning a Battle, Losing the War". Evil Tordievel does a punchy brass-heavy cover of "Leaning Against the Wall" while Alfie goes bass, percussion and distorted guitar overboard with their cover of "Failure." Ladytron skillfully leave their muddy analogue synth sounds and chunky beats all over their remix of "Little Kids". The most impressive contribution, hands down, would have to be the virtuoso sampling and playground antics of Four Tet's "The Weight of My Words" (so good that an instrumental version was included). Fans shouldn't worry, however, as through all of these alterations, however, the overall sense of sensitive new-age white guy-ness prevails. Thankfully this time around, the coupling music isn't nearly as sappy. - Jon Whitney
samples:
We know that sometimes these CDs are somewhat challenging to find, which is why we have a community section which can be used to obtain nearly everything available on this site.
NEW RELEASES
MONDAY
310 - Downtown and Brooklyn Only 2xCD [reissue of two pre-Leaf albums] (Leaf, UK)
Bonobo - Animal Magic CD/2xLP (Ninja Tune, UK/Canada/US)
Delerium - Odyssey: The Remix Collection 2xCD (Nettwerk, UK)
Erasure - Singles Box Vol. 3 5xCDEP (Mute, UK)
Erasure - Singles Box Vol. 4 5xCDEP (Mute, UK)
Minotaur Shock - Chiff Chaffs and Willow Warblers CD (Melodic, UK)
Sandoz [Richard H. Kirk] - Afrocentris CD (Intone, UK)
Various - Sincerely Yours CD (Klein, Austria)

TUESDAY
Delerium - Odyssey: The Remix Collection 2xCD (Nettwerk, Canada/US)
* Laurent Garnier - Shot in the Dark CD [reissue] (Mute, US)
Speedy J - Krekc 12"/CDEP (Mute, US)
Suspicion Breeds Confidence - Nyugodt CD (Frozen Media Empire, Germany)

SATURDAY
Biochip C - 2001 CD (Lux Nigra, Germany)
Biochip C - Sunblocking EP (Lux Nigra, Germany)

This is simply this week's highlights from the NEW RELEASES provided by Greg and Feedback Monitor.
For a more detailed schedule stretching into the future, please check out the site,
since release dates can and will often change.
CONCERT REPORT
soft cell, live in cologne
Wow, what a night. Never ever thought I'd see them in concert (ok, I hoped since this spring I would) and then they appear as they've just took a short break between two albums and have never been busy with anything different ? and get away with it! Sure, there was a bit of nostalgia floating around: all the fishnet tights, leather pants & mascara-clad people dressed in red, black and gold. Memories of the best parts (and parties) of the 80's immediately came back, when Soft Cell were around and always added to the celebration atmosphere. Cologne has always been a Marc Almond stronghold, therefore it wasn't a surprise to see the hall well-packed. However, there was just enough space for everybody to dance, scream and sing along.
Cheekily, Soft Cell opened with "Memorabilia," and continued with "Mono Culture," and "Heat," before gliding through a healthy mixture of classic hits "Youth," "Bedsitter," and "Torch." New (yet unreleased) songs included "Divided Soul," "Last Chance," "Somebody, Somewhere, Sometime," and the gorgeous "God Shaped Hole" from the latest Some Bizarre compilation. Marc Almond even forgot some lines to this one, but the band played on as he tried the best to catch up with Dave Ball under bursts of laughter about his messing up.
The audience was thrilled and overwhelmed to see these songs performed so passionately even if most failed to sing loud enough when Marc gave them their chance to. The show was accompanied by cool lightning and perfect mixing desk duties. Soft Cell easily managed to keep themselves distanced from dependence on yester-year's glorifications or beloved memories. Of course they played "Tainted Love/Where Did Our Love Go?" (the ticket even stated this as 'The Tainted Love Tour') but for attendees still not knowing more about Soft Cell, they made it not easy. "The Art Of Falling Apart" and "The Best Way To Kill" (which Almond said "probably reflects best how I really felt during the eighties") were welcomed nearly equally enthuiastic. The first encore ?naturally- had to be the unforgettable "Say Hello, Wave Goodbye," while a second included "Martin" and "Sex Dwarf", thus ending the concert with loads of screaming fans and the promise to return next year...
All the difficulties Dave Ball had in the early days performing live seem to be blown away through his experiences with The Grid and it was a pleasure to see them both performing and enjoying it at least as much as the audience. As both of them waved goodbye with a big smile on their faces they had once more underlined that Soft Cell always stood on their own terms. It was a perfect night out and I wish I could share some of the power and the passion it gave me with you. - Carsten S.
MOVIE REVIEW
the man who wasn't there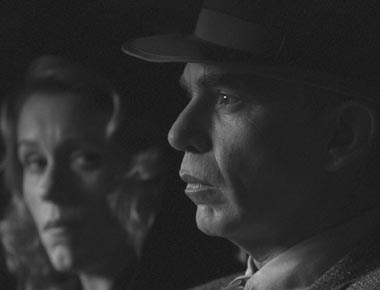 Following last year's 'O' Brother Where Art Thou', the Coen brothers deliver another remarkable story about unremarkable people. The film takes place in the late 1940's, shortly after World War 2, shot in black and white with wonderful cinematography by Oscar-nominee Roger Deakins. Witty and intellegent dialog are the strongest parts about this film, however. Ed Crane (Billy Bob Thorton) is a quiet low-key barber whose wife Doris (Frances McDormand) is cheating on him with her boss (played by James Gandolfini). Aware of this, Ed finds a way to blackmail her boss for $10,000. Ed is a simple man but from that moment on his life is forever changed. There are many surprises in the film, not including a crazy invention called "dry cleaning" (which is why Ed needs the $10,000). 'The Man,...' earned Joel Coen a Best Director award at the Cannes Film Festival beside David Lynch for 'Mulholland Drive'. Expect to see another Academy Award nomination for Best Screenplay. - John Beck
LINK OF THE WEEK
gothick baby names
Are you and your goth lover expecting? Can't find the right thing to write on the kick me tag they'll be wearing all their life? Fear not, somebody's written a web page for you with numerous choices of names goth parents can be proud of. http://www.cris.com/~jeniphir/babynames.html
FEEDBACK
the staff gets hard

Subject:
whats the "hardest" album you guys ever heard? im talking cold, harsh uncompromising badness... i usually think of the stooges or merzbow or something, i'd like to hear what you kids listen to when you just dont take no shit.
"I had an MRI scan recently and it sounded like a Disinformation concert - I wish I hadn't put the earplugs in!" - Nic Doye
"I find 'what's THIS for...!' by Killing Joke to be effective. It's cold, harsh, and uncompromising, but highly restrained. "Exorcism" from their 'Pandemonium' album also does the trick, though the record as a whole is not up to that standard." - Mark Kolmar
"Generally I don't get in the mood really angry noise stuff anymore. I know I'd get mocked by the indier-than-thou crowds on some lists I'm on, but when I was in my teens I'd crank NIN's 'Broken' (and 'Fixed') and play guitar along to it really really really loud, but it's been at least 5 or 6 years since I listened to that album, and generally, I don't listen to music to get psyched for something anymore." - Dave Piniella
"Coil, 'How to Destroy Angels'" - Mark Weddle
"Prince's 'Batdance'" - Jon Whitney
"Hmmm... Mogwai. Mogwai. More Mogwai. Yes, Mogwai. I like the punishing instrumentation on most of their longer instrumentals from the earlier releases (Ten Rapid, Young Team) for this kind of "take no shit" attitude." - Rob Devlin
"For my money, it's gotta be Rage Against the Machine's self-titled album." - Ty Hodson
"Igor Stravinsky's "Le Sacre du printemps" (as presented on the 3CD recording called "Stravinsky - L'Oiseau de feu - Le Sacre du printemps - Pers?hone"; San Francisco Symphony, conductor: Michael Tilson Thomas)" - Garth MacNeil
"Steve Reich, "Pendulum Music" (though not an album I guess)" - Andrij Kopytko
"Ministry, 'The Land of Rape and Honey'" - Jessica Tibbits
"Big Black, 'Atomizer'" - Carsten S.
"Nowdays when kids would like to be even more bad they are listening to CoH, 'Love Uncut' & Atari Teenage Riot." - Andrei Bakhmin
"My vote would have to go to something by Diamanda Galas ('Schrei X' is a good choice)." - Todd Zachritz
"I go for heroin-era Iggy Pop with The Stooges, 'Fun House'." - Brad McLaughlin
"Fugazi, 'Repeater'. "You say I need a job? I've got my own business! Want to know what I do? None of your fucking business!" - Graeme Rowland

Subject: Dido with Nurse with Wound
On the Second Pirate/Rock n Roll digipak CD, I noticed in the credits the name Dido. Was this the same popular artist who recently had hits on the radio?
"Dido" has been a nickname for Diana Rogerson (Steven's wife) for years.

Subject: Hi Ho
So glad you want to come visit. I think you work way to much. Monday through Friday is one thing, but Saturday and Sunday should belong to you, especially if you're working for someone else. Unless I hear otherwise, I'll be expecting you, so get with me for directions to our humble abode.
Love,
Sal
Don't know who you are but don't ever call me a ho again.

Subject: Lyrics request
I just heard the song "Circles" By the mighty meat beat manifesto. I was wondering if you could e-mail me the lyrics to that one song. It has been running in my head ever since I've heard it. I 1st heard it on my Winamp radio Techno Industrial station and I never heard anything quite like that song by them.
If you can find it...thanx, if you can't don't worry about it.
Also please don't include any cuss words in your response, At work here they have a filter for any kind of words that we all know and love. So, I know you have a very big mischievous grin on your face... but I wont get the e mail at all if you do.
Thanx for your help if you can find it.
Listen up, you cum-belching twat, I'd rather you go out and buy the fucking disc than sit here and type the lyrics to you.
j/k

Subject: Hiya!
I just visited your 'brainwashed' site and found it very interesting! We're a newly formed unsigned Toronto based industrial alternative techno band.
Hope you'll visit our website!
Thanks!
Sometimes not replying is easier than saying "give up."

Subject: (no subject)
I have been looking for this song for a long time now and having found it on this site has made me smile loads!!! Please can you return this email as soon as possible so that I can find out how to get hold of this song A.S.A.P.
Thank you so much.
What song?

Subject: yr comments about fans=fanatics reminded me of a funny episode in my past i thought i'd share
in 1996 as a lark my friend and i created an 'anti-Sting pro-Police' website where we facetiously badmouthed Mr. Sumner for his post-Police music and lifestyle, particularly his super-pretentious rants about his Tantric sex with his dopey wife (we threw in some nice info about Stewart Copeland and Andy Summers too). Somehow we managed to get the site listed under the 'Police/Sting' category section of Yahoo and got thousands of hits. You wouldn't believe the amount of hate email we got about it - death threats, grammatically incorrect ALL CAPS messages attacking our assumed sexual preference and such (i.e. 'YOUR A COUPLE OF FAGS!'), etc...we used to post the best hate messages on the page too.
It all came to a head when I got 700+ emails one day on my college email account with all my personal info (name, address, ss #, phone #, etc) and a threat that this was just the beginning (of what, who knows?). So we took the site down, because who really gives a fuck about it?
Just thought I'd share my crazy fan story.
If you've never seen that girl's website where she honors the Hanson Sisters, it's located at http://egomania.nu/hanson.htm. She's also got a historic "Feed Celine Dion" campaign too.

Subject: Four Tet
You're a great guy Jon and I love Brainwashed. I read your review of the Vincent Gallo release since it had caused such a unanimous response from Brain readers. I was a little worried however when you mentioned that Fourtet had agreed to let Nike use their music in a commercial. I had heard great things about Fourtet and was all set buy a record of theirs. However I won't go near it now because they have associated themselves with exploititive corporate bastards. Skateboarding used to be cool but now even that has been sucked up and sold back to us by the fucking swoosh. I know this is not a political site and you guys are interested in music but brainwashed and the bands it is involved with are largely underground. Lets try to keep it that way. What is your view point on this subject?
Brainwashed doesn't want to get political. Our non-corporate stance is to ignore major-label music releases for many reasons. If you feel that you don't want to support somebody's music who has been used in an advertisement for a company you don't support, then don't buy their album. Your money's entirely up to you. Bands that we support generally don't make the millions that major acts do and we're not going to stop supporting people like Low or Red House Painters for being used for clothing, Tortoise for perfume, Papa M for computers or Cat Power for life insurance.

Subject: my latest web page
Did you change your hairstyle? You look much different since your trip with Fridge.
And what's with the clowns?
Three weeks in a van with Brits does weird things to you.

Subject: You're a bad man Jon Whitney.
There I was being all proud of myself for dating an ex-Yank football player (oh yes!) and not stupid sensitive indie boys anymore, and you make fun of them!! At least my ex-jock doesn't like Slipknot (he worships the goddess Kate Bush like me, which a G-O-O-D thing).
I can't say I'm surprised queer ex-jock/ex-Yanks like Kate Bush.
It's just that clown stuff that creeps me out.
WHAT'S IN YOUR PLAYER?
brain dancing
1.wobble/laswell- radioaxiom
2.sofa surfers- cargo
3.miles davis- in a silent way
4.jon hassell- dream theory in malaya
5.23 skidoo- urban gamelan

Mr. S. Powar (U.K.)