CYCLOBE, "THE VISITORS"

Anticipated and found were: the visions of beauty in the blindness of chaos, the sound of confusion to adore, the overlapping of panic into sensuality, and the questioning angels in the shadows. The setting - a subterrenean sunset still from Orphee. So if it's good enough for Cocteau then it's good enough for me - listless beauty and all that. What I hadn't anticipated was to find that Cyclobe have embraced even further the peripheral vapour-trails left by Luminous Darkness, their debut, and created a stunning and completely unique take on what I call ectoplasmic music: it feels like the sounds are leaking out of the speakers and seeping into the listeners ear-drums. It has taken form, if that's the right expression, and unfolds over the seven tracks of 'The Visitors'. Or it could also be the little specks of chaos only hitherto peeked at in Sun Ra moog solos, LSD-period Coil, early Throwing Muses and The Fall.
'The Visitors' is a constantly evolving, shape-shifting work that moves elegantly (or uncomfortably) between a state of grace and the struggle to hold onto that grace. "Brightness falls from the air" makes this notion explicit from the outset, the unsettled rumbling giving way here and there to gentle swathes of melody and hideously warped keyboards. It shudders and vibrates at the same time, and is a devastating combination: the celestial is both welcomed and feared. Similarly for "The body feels light and wants to fly"; the sounds are so subdued, the structure so viscous and arrested, that once it breaks free and actually flies, the listener is tempted to gulp for air.
"If you want to see that nothing is left" wraps its pulsing, subdued electronic textures around a spiralling string section, each struggling to overpower the other. In the end though, its the organic, bodily aspect — the strings — that win. "Replaced by his constellation" literally replaces itself over and over, in an endlessly building serenade that could be mounting orgasm or encroaching panic; and when it suddenly breaks free into a shimmering set of harmonies you realise it is the former.
The apprehension and threat of Luminous Darkness is replaced by a barely restrained infra-music that seems constantly at the brink of metamorphosising onto a new plane that Cyclobe themselves can't forsee. The Visitors vibrates and crackles. - Terry McGaughey
samples:
dntel, "life is full of possibilities"


On first listen to Dntel's new album, you want to swear that it's European; yet another brilliant out-of-nowhere young German making beautifully skittery electronica on their laptop. But the first of many surprises on this breathtaking record is that it's a product of Los Angeles native Jimmy Tamborello, with the magical help of a whole slew of friends.
The disc glides along with gorgeous vocal accompaniment from Mia Doi Todd, Benjamin Gibbard (Death Cab For Cutie), Chris Gunst, Meredith Figurine and Rachel Haden (That Dog). Thrown into the mix are also Brian McMahan of Slint/For Carnation fame (offering about two chords worth of guitar on a track) and Paul Larson of Tamborello's former band, Strictly Ballroom, on guitar. So what does all this do for the sound? A whole hell of a lot, apparently. Tamborello expertly chops efficient phrases of vocals, guitars and keyboards into nearly flawless pop songs that rival anything to come out this year. This is at the moment in my Top 10 for the year, just for the Mia Doi Todd and Benjamin Gibbard contributions alone.
It's fitting that most of the lyrics are in some way or another about love. When Mia Doi Todd sings "How can you love me if you don't love yourself / I love you," you just want to tear what's left of your heart out and hand it to Tamborello because you just know at this point that he's going to make something better out of it. If you give a shit about Radiohead, Four Tet, Lali Puna or Boards of Canada, then you can rightly have your heart crushed and your mind blown for about $14 at your local record store. Just look for the ambulance. - Juan Croucier
samples:
boxhead ensemble, "two brothers"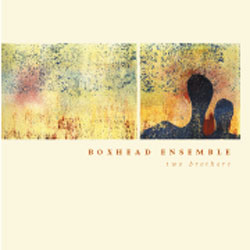 I will never forget the night of December 14th, 1998. It was a Monday evening downstairs at the Middle East in Cambridge. An unusually cold, desolate scene from what is typically packed and overbearingly hot. The attendees got to sit down on chairs for a change and witness a large screen with incredible black and white images of the trecherous seas off the coast of the Aleutian Islands (Alaska). The film was 'Dutch Harbor' and the Boxhead Ensemble were improvising the soundtrack as we watched. Three years and three album releases have passed and the ensemble has finally released something that doesn't have anything to do with 'Dutch Harbor', but I can still feel the chill. I stepped in the car earlier this week late at night with the crisp, cold New England air numbing my face. As I popped the disc on, everything clicked into place. The dark drive wasn't so bad, there was nobody else in the car and nothing to say but just sit and listen, watching my breath in front of me, waiting for the heater to kick in. The recording opens with a short violin, drum, acoustic guitar and background noise intro, then moves onto a second track with familiar sparse guitar, strings and drums. It's hard not to sound like the Dirty Three when both Jim White and Mick Turner are involved, despite them being credited on the 'secondary' list of ensemble members. Boxhead Ensemble has always been loose enough to sound improvisational, but collected enough to sound composed. Bit by bit, other instruments are introduced to the mix, including double bass and more bowed strings. Over the course of the next few songs, the focus moves from empty and alone-sounding bits to a much warmer sound. Drones, chimes and bass sounds eventually fill the space by the time the car heater has kicked in. By the time the sixth piece, the gorgeous "Requiem" comes on, the drummer and guitarists have been silenced and the strings have completely taken over. Gentle guitar and drums return on the next tune and an elegant interplay continues through the end of the disc. The feel returns to the earlier sense of chilly solitude, but at this point, the sound is majesitc enough to be an aural impression of a gorgeous snow-capped Vermont mountain. It ends with a short epilogue, the instruments mimicing a bitter, cold wind blowing. Although they may not have done it to somebody else's movie -this- time, the ensemble has once again created an appropriate soundtrack for the cold, outdoor experiences of the northern hemisphere in the wintertime. - Jon Whitney
samples:
Bovine Life, "Social Electrics"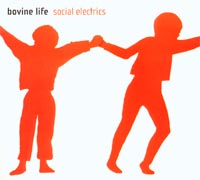 Chris Dooks, the musician behind Bovine Life, understands that post-techno electronic music need not be a dour affair with art-gallery justification. His debut full-length CD is thoroughly fun and enjoyable, proudly home-made and full of inspired musical ideas, while sitting within that strange gray area between dancable electronica and contemporary computer music. One-finger melodies and concise compositions (averaging two and a half minutes long) dominate the album, which is a nice touch. That Dooks uses very few elements in each song is to his benefit as well; he establishes an open and engaging atmosphere that persists even on the darker, more abstract pieces. The most interesting aspect of "Social Electrics" is the home-made nature of the recordings. The album makes remarkable and inventive use of the technical limitations of DIY home recording; a Dr. Sample makes its presence known many times, as does the factory pre-set hand-clap keyboard sound, the telltale rise-and-fall swoosh of a ring modulator, and the unmistakable stutter of computer time-stretching. Evidence of human interaction with the sound-producing materials is present throughout in the form of manually turned knobs and punched keys, quite the antithesis to the faceless and flawless sheen of Raster-Music or Mille Plateaux. I suppose it's similar to the raw sound of DAT Politics, so a fan of one artist would do well to check out the other. Pretty damn fun stuff. - Howard Stelzer
samples:
ulrich schnauss, "far away trains passing by"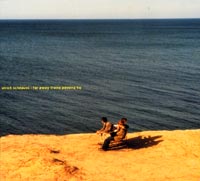 Peaceful, serene, warm and endearing. I wonder if there's a farm where Thomas Morr harvests all the prettiest electronic music composers. Although Schnauss' album is actually released from City Centre Offices, Morr Music (you remember, that Lali Puna album you keep meaning to pick up) handles the worldwide distribution outside of the UK. Herr Schnauss has allegedly been doing music for years, yet this is his first major release. Thankfully, he has chosen to use only his six best songs, keeping it under 45 minutes. While the piano melodies, long delays, breathy synths, fluid beats and electronic bass lines are basic, there's something undeniably uplifting about the mix. I sense a strong underlying theme of motion throughout the disc, gently propelling the listener through topographic soundscapes, using some of the most key elements of sound creation and manipulation. Shimmering guitar sounds bring back memories of Cocteau Twins tricks, lush keyboards can easily sink the Boards of Canada and crisp beats are tasteful and never oppressive. 'Far Away' is absent of clicky glitches and is an incredibly clean recording, one which always prompts callers to my radio shows when being played. The perfect setting for a listening would probably be a long bus ride on a sunny day through changing autumn foliage. - Jon Whitney
samples:
Starlight Mints, "The Dream That Stuff Was Made Of"


Every once in a while a record comes along that is so avant garde, so different, so completely not like anything I've heard, that it almost defies description. Starlight Mints almost do that. This music is obviously not aimed at radio, not aimed at any one test market, not even classified by one genre that it's almost impossible to determine who exactly would listen to it. I would recommend it to anyone who likes the Flaming Lips and Mercury Rev (no brainer there - Hellfire Marketing represents all three bands in different capacities), but does it really sound like any of them? No, not really. In fact, if I was going to describe this, the best I could come up with is Spiders From Mars-era Bowie fronting an art-rock guitar band with a small string section, occasionally intermingled with interesting noises for maximum confusion and effect. Which is funny, since I read ther bio after forming that opinion, and it name checks Bowie, as well. I mean, it's a really confusing listen. The music grabs you immediately, and it won't let go. But where some bands sound like they're confused by their own music, not quite sure how to focus, harness, or direct it, Starlight Mints aural confusion is completely MANUFACTURED. That's right: Starlight Mints WANT you to be confounded by this noise. And it is confounding, but utterly listenable. I mean I CANNOT TAKE THIS CD OUT OF THE PLAYER, it calls to me so much. But I don't know why. Is that strange? Yes. But so be it. The only complaint I have is that as the album goes on, some songs use similar chord progressions or structures and dynamics as earlier ones, so it almost sounds gimmicky compared to earlier tracks. But it is always fresh. The lyrics are equally as odd: "sir prize" features the line "Shaking hands with the cats in the mirror." And I don't think he means "cats" in that "Hey, that guy's a pretty hip cat" sense. He means cats. With four legs and tails. "sugar blaster" says "Follow me to the echo machine." Weird. Try it out, as it is the strangest release you'll hear all year. And that's a good thing, really. - Rob Devlin
samples:
Tagomago, "ASAP"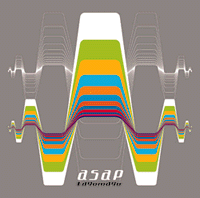 The signature sound of Tsyoshi Nakamaru's Tagomago project is a strangely clipped sample, looped against the beat as if the song and the loop exist in two different pieces of music played simultaneously. This peculiar trait makes its appearance on nearly all of his albums and gives his otherwise almost-innocuous techno-pop an edge that, at first, is difficult to place. A funky upright bass and a looped chunk of violins kicks off "On the Upper Level", the first tune on Tagomago's seventh solo album, with the urgency implied by the album's title. The energetic pulse that drives the album's first half makes occasional nods to mainstream drum n'bass or to lazily paced trip hop, though most tracks keep to a slightly stuttering and repetitive groove which calls to mind the band whose magnus opus Nakamaru borrowed his moniker from. The latter half of the disc slides into drumless analogue synthesizer drift, several tracks of low throb punctuated by sci-fi squeals and airy feedback. Previous Tagomago albums have featured lovely instrumental pop molded from looped sitars and other conspicuously "psychedelic" ingredients, but this latest CD draws mostly from shimmering orchestral hits and instrumental flourishes (think: 1970s television themes). "ASAP" is a fine set of understated, upbeat tunes that never gets too sweet, though it's closer in spirit to Nobukazu Takemura and the Childisc crew than to Nakamaru's much stranger project, the great Nerve Net Noise. - Howard Stelzer
samples:
Tomahawk


Tomahawk is Mike Patton's newest project on Ipecac, featuring Patton on vocals, Kevin Rutmanis (Melvins), John Stanier (ex-Helmet,) and Duane Denison (Jesus Lizard). It's Good Stuff. Stylistically, it reminds me of the other band-work Patton's done — specifically Faith No More — because the music does have a certain "rock" or "punk" vibe about it, mixed with a certain eclecticness that keeps it from being just plain rock or punk. There are no writing credits, lyrics or any extraneous information and all liner notes are kept to an absolute bare minimum (seven short lines, including the tracklisting.) The recording quality is excellent and although the Patton's vocals are the center of attention, the music does play it's part and balances out the forcefulness of the vocals. The music itself is part humor and part noir (e.g. "POP 1" and it's screamed bridge of "This beat could win me a grammy!"). Patton's vocal abuses are a highlight of the record, especially the screams and nuances of infliction he does so well. A great release for fans of vocal gymnastics, and a pretty good album in general. - Dave Piniella
samples:
CAVENDISH SANGUINE, "VITRIOL CRUSTS"


Cavendish Sanguine is an ambient alias for one half of Fflint Central Recordings, Barry Williams, who also records as Oleum and helps channeling in productions from the mysterious Berkowitz, Lake & Dahmer. This is the sound of one man who went to mow Wotan's lawn. My guess is that he used a big sharp scythe.
A looped deep dark voice underpinned by unintelligible high pitched reversed chatterings comprises the door opener "Halzaphron". "Plague" seeps mournfully in flanged droning, like Eno in hell chased by the gong bashing ghosts of Plotkin and Null because they want their rare Throbbing Gristle bootleg tapes back. There are phantom organists and fiery rumbles a plenty here!
Cavendish Sanguine reveals another grey world flecked with reflecting metallic mirrors where odd looking hermetic explorers summon tendrilled beasts from tombs and set them looming in places where Coil's attacking Sennapods left a trail of ectoplasmic spittle. On the penultimate "FerroCello" virtual hell breaks loose with strings attached, rising to a mutant crescendo of sonic cyber splurge. This track is all the more impressive when it's revealed that rather than heavily effect laden bowed strings, it's actually all sourced from a short short wave radio transmission minced through the digital grinder. These crusts o'vitriol would be ideal soundtracks for some horror flick set in dripping dank caverns where foul demons lurk.
The entire CD-R can also be heard online at a well known MP3 site which you can find via Fflint Central. - Graeme Rowland
samples:
American Analog Set, "Know By Heart"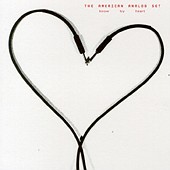 Hardly "Punk As Fuck" as the tongue-in-cheek title of the first track off their fourth album, the American Analog Set could actually be more accurately described as creating music in the vein of Neu!. 'Know By Heart' unites the psychedelic jams of the Austin-based band's earlier material with a soothing pop sensibility. The warm sounds of vibraphones and farfisa organs mesh with heavy bass lines and pungent percussion on the tracks "Gone to Earth" and "Million Young," the latter of which screams Stereolab circa "Revox" (if Laetitia's vocals had been replaced by those of an American male with a honey-coated voice). Fortunately, the album is not overrun by kraut-rock musings. The balladry of "Slow Company" and the title track, plus the jangly rock of "The Only One" and "Aaron & Maria" allow for the band to exhibit not only their stylistic versatility, but their broad instrumental capabilities as well. "The Postman", a sweetly rhythmic, yet melancholy tune about a mail carrier's crush on someone on his route is among the standout tracks. The American Analog Set fortunately never suffer from sounding overly self-conscious in their music, and retain a distinct sense of humor evident in both their song titles and lyrics. 'Know By Heart' is certainly a piece of ear candy, but at the same time, it skillfully avoids falling into a saccharine trap. - Jessica Tibbits
samples:
chessie, "overnight"


Self-described as "a ghostly meditation on the aesthetics of late night train travel", 'Overnight' is the third album by Chessie, a one-time solo project of Stephen Gardner which has grown to a duo with the addition of Ben Bailes. Perhaps it's the addition of a second set of ears that has reined in Gardner's tendency on previous releases to flit somewhat disconcertingly between fragile ambience and restrained aggression. The nine tracks on 'Overnight' flawlessly swirl and flow together, creating an engrossing and abstract sonic landscape of abstract samples, ambient electronics, guitar, piano and more. Fans of artists like Labradford and Stars Of The Lid will very likely find much to appreciate here. - Greg Clow
samples:
Superdrag, "Greetings From Tennessee"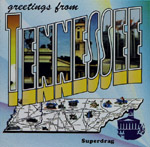 Following a successful US tour, Knoxville, Tennessee's Superdrag went off for Japan, one of those countries where people are capable of being utterly more popular than they are here. Like Sweden. And while they were there, they released this, a tour EP of new songs, old songs, and a few cover songs. The intention was to release it on their label's (Arena Rock Recording Co.) website so fans could order it. That took awhile, due to dissatisfaction with the initial release. New mixing was done, the release was delayed, and now a limited number are available on the website. And what do we have? Kind of a mixed bag, which you'd have to expect from Superdrag. The new songs, like "Baby Goes To Eleven" and "Take Your Spectre Away" are good, but you get the feeling that Superdrag is getting more emotional with age. Where is the balls-out shrikeing rock we've heard before. And I'm not really fond of "bass guy" Sam Power's lead vocals on stu. I've grown accustomed to John Davis' wail, thank you, so give me more of it. And two tracks, "Bloody Hell" and "Liquor," first on their independent release "The Fabulous 8-track Sound of Superdrag," are missing the power of those early recordings. In fact, "Liquor" is even missing the first verse! The only thing that made this release worthwhile for me was the covers. Any chance to hear Superdrag cover The Replacements ("Bastards of Young," no less), and I'm there. But then, just to keep those comparisons ever-present, they cover the Kinks classic "You Really Got Me." Now here's the band that Superdrag most reminds people of, and for good reason. At their best, Superdrag are just as hook-laden, just as rawking, and just as cohesive musically. "Greetings From Tennessee" is not Superdrag at their best: it's for the diehard fan only. And for those last two songs, it's worth it. Can't wait for LP4 in Spring 2002. - Rob Devlin
samples:
v.v., "Things Collapse In On Themselves"


Ven Voisey, a Californian composer with a most dubious name (do you think he was born with "v"s for initials? My bet's on "not likely"), has been quietly self-publishing some of the most stunning and disarmingly unpretentious DIY computer music in America with little to no fanfare? so far. To correct that, here's a bunch of fanfare for his new 17-minute piece. "Things Collapse?" begins with a patiently growing cloud of soft hiss. A masterful moment occurs in which the hiss metamorphoses suddenly into a blurry acoustic guitar (in the electronically-enhanced hands of Voisey, it takes on a lovely cello-like quality) and is finally overtaken by churning white noise and room sound. But to simply describe the linear events of the piece is to miss the assured, seemingly effortless meaningfulness somehow imbued into each sound element, a quality which involves the listener right away and commands attention for the duration. I could compare v.v. to vaguely similar composers (Roel Meelkop and the THU20 folks spring to mind), but comparisons are a cop-out, so I won't bother. Certainly this EP is a fine piece of electronic music which I highly recommend tracking down. - Howard Stelzer
samples:
SINGLE UNIT, "FAMILY OF FORCES"


Single Unit is a single man, Are Mokkelbost, and he is entirely responsible for the music and visuals of "Family of Forces". The artwork features very curious black/white drawings of abstract shapes and human/animal characters framed in Macintosh styled screens. And much like the music, it's difficult to make heads or tails of it all. The 16 oddly titled tracks, most less than 2 minutes apiece, are cleverly laid out in a grid on the back, each with it's own progress bar giving you a relative idea of how long the track is and how far along you are into the near 33 minutes total that make up the disc. Mokkelbost's musical mission seems to include that of merging metal/hardcore with electronica, believe it or not. Appropriated snippets of guitar/bass/drum onslaughts are painstakingly re-assembled alongside electronic and organ-like melodies into new songs. Imagine Slayer playing carnival music, then having Kid 606 remix it, and you'll get a rough idea. It's mostly noisy and schizophrenic, but also refined, making for a confusingly natural fusion of playful and menacing sounds and moods. Fun! - Mark Weddle
samples:
Organum and New Blockaders, "Pulp"


As has become expected for Robot's CD reissue series of rare, out of print, and previously vinyl-only or cassette-only albums by David Jackman (the only constant member of Organum), "Pulp" comes with no more information than the song titles and the names of the artists involved. Gone is the artwork that might have accompanied the original releases. Nowhere in this package do we find any information that would hint that "Pulp" is in fact a reissue (I happen to recognize the names of the tracks). No further information is provided to tell the new listener background about the recordings. The disc is also only 33 minutes long. But I'll stop complaining because the music is quite good, if not particularly surprising (does it need to be? Probably not). Though the CD includes all of the music from the "Pulp", "Raze" and "Wrack" EPs and one otherwise unreleased piece, one might have removed the spaces between the tracks and called this a single piece of music; there is not much change from track to track. The cyclical scraping metal and piercing, high-pitched bowed cymbals (I'm guessing, but that's what it sounds like) are aggressive and unrelentingly noisy, more typical of New Blockaders' work than Organum's. The palpable presence of actual humans manipulating actual metal objects brings "Pulp" a step closer to improvised instrumental music, and a step away from Merzbow-like human-free screech? it's not a huge step, but it's an important one which separates it from the derth of noise albums one can choose from these days. It's really quite nice, if metallic shriek is your thing; it happens to be mine, sometimes. - Howard Stelzer
samples:
to rococo rot & I-sound, "pantone"


Following a string of European dates, To Rococo Rot & I-Sound supposedly got together and reworked some of their collaborations previously released on the full-lengther earlier this year, 'Music is a Hungry Ghost'. This EP was intended for sale at North American shows, but a cancelled tour left the disc to linger around in limbo and unexpectedly make its way into stores. "Pantone" has been extended and expanded, with a live bass guitar, less prominent abrasive noises, and a more natural melodic development that would please fans of their 'Amateur View' album. "The Trance of Travel" on the other hand has been ever so slightly trimmed but has also added much-appreciated melodic and rhythmic elements. "Brett Zwei" has been lifted off 'Kölner Brett' and has been colored with acoustic guitar, bass guitar and various keyboard twitters but still remains exactly at three minutes. Two additional tracks appear, most likely recorded during the 'Hungry Ghost' sessions, but just too maximalistic to fit in to the album. "I Wanted to Meet Him" perfectly describes my sad feeling when I learned Pisstank was in town last weekend. It's got beats that are rather punchier than those TRR's used to using. "Fishermen Dressed Like Joseph Beuys" on the other hand is completely absent of drum machines and pleasantly glitches a simple acoustic guitar. Pleasant and refreshing, if 'Hungry Ghost' was a little too much, the EP should be just right. - Jon Whitney
samples:
KIM KOSCHKA, "BELLA MANIERA"


In the liner notes of "Bella Maniera" (Italian for the "Beautiful Way"), Japanese born composer Kim Koschka explains her Renaissance-era manierist approach for this album. Simply put, it's a de-contextualization of disparate styles which are then juxtaposed in new ways. One listen and it's obvious that Koschka knows a thing or two about composing, from traditional to avant-garde, so the task is easily within her grasp. The seven tracks range from 6 to nearly 13 minutes and they busily mix and match all sorts of modern styles - drum 'n bass, ambient, dub, classical, hip hop, etc. - and sounds - piano, harpsichord, mellotron, organ, mini-moog, synclavier, synths, samples, spoken texts, etc. - that might not normally go together. The results are mixed, always coherent and dynamic, but sometimes a bit cheesy while at other times quite brilliant.
The three with subtitles happen to be the most striking and make the disc worth owning. "Allegro Vivace", 'drum 'n bass for grand orchestra', is just that, a clever explosion of d n' b rhythms laced with piano, horns and other orchestral instrumentation. "The Terminal Beach", 'permutazione for chamber ensemble', is of course based upon (and borrows lines from) the book of the same name by science fiction writer J.G. Ballard. Here Koschka conjures up a dramatic amalgamation of beats, break downs, piano flurries, dancing bells and woodwinds in varying tempos. "Homage a Morton F.", 'ambiento con una frase for chamber orchestra', is obviously an homage to legendary NYC based composer Morton Feldman. Slowly piecing together piano chords, strings, harpsichord strums and a slow jazzy rhythm, the highly cinematic track is a fitting conclusion. - Mark Weddle
samples:
We know that sometimes these CDs are somewhat challenging to find, which is why we have a community section which can be used to obtain nearly everything available on this site.
Subject: Hello. Brainwashed people!
Just let me ask you a quation. I am a member of a russian experimental electronic band. We are writing music since 1995 and now we have got some pieces to show to the ouside world. I decided to talk to you because I'm your regular reader and I'm fairly interested in materials you publishing at Brainwashed. (Sorry for probably incorrect English :)) The decision to talk to you is not unconcidered action. I just don't know where to go, and I speak to you because I think that people at Brainwashed may be interested in modren musical experiments. Please tell us if you find it possible where we should to appeal. If you want more details please let us know. We can send you some music material if you want. Please don't throw this message away, because we won't write these words again. If you can help us we'll be gratefull.
We hope for your response and further comunication.
People are always welcome to send things, but whether we have the time, interest or ability to write about your band is completely unpredictable. We all have our own lives, jobs, school, etc, and don't get paid for this. My advice is to play as much as you can. Send your CDs out and play as many shows as possible. Get as much practice as you can and do your own CDs yourself for now. We're not trying to be impersonal, but we have to keep a check on reality.

Subject: Radio Request
Any chance we could get an electronic-only Brainwashed stream? Sometimes, I'm just not in the mood for guitars (obvious ones, anyway) or vocals.
Sissy.

Subject: hard?
I was surprised that in "the hardest albums" section. No one mentioned Cryptopsy's "none so vile" album. The hardest album ever. I love Godspeed & mogwai. The deep grooves, but hard is Cryptopsy!
Noted, thanks.

Subject: Kate Mosh & Fridge
I never thanked you for sending me the two CDs a little while back. The Panacea was over the top, but the Fridge album is definitely one of the year's best. I wish I wasn't out of town that night they played in Brooklyn. My friend Peter, who reviewed it in the Voice, said it one of the best he's seen in ages. Good work.
Thanks for the note, unfortundately it'll probably be a while before Fridge tour the East Coast again.

Subject: labradford links
Of the (roughly) 10 links I tried to go to from the Labradford site, not a single one was "alive".
I mean, it actually got quite funny after a while. It was as if someone had just made the whole lot up!
Thought you should know anyway...
Oops, we'll dispatch a team asap on that one!

Subject: Nurse with Wound Discography
I have a cassette edition of "Homotopy To Marie" (UDT13.) Unfortunately there is no information about the tracks on the tape. Your discography indicates only CD and 12" formats for this title. Do you know anything about the cassette edition? Most importantly could you tell me what the actrual track titles are? I played the MP3 of "I cannot feel..."; it doesn't sound like anything on the tape I have.
Thank you.
Every tape edition is different than the LP (or CD). Many times there's completely different tracks, while some times it's simply mixed differently. Unfortunately if the information's not in the discography, somebody hasn't provided it yet.

Subject: v/vm reacts to being blocked by scanner
huh? what's the background on this? I'm not a big fan of either, but if what V/vm seems ot be saying is true, Scanner is a being a child, - though I don't have all the facts here, so...
Nor do we, we simply just print our people's letters. Perhaps you should consult V/Vm for his side...

Subject: I Don't Need God
I first heard the track "I Don't Need God:" a year ago on a local college station ~~ it was awesome , I'll never forget it. I called them later to ask who the artist was , and I asked them to re-play it and I taped it. I played the tape repeatedly and I wrecked my car while your song was on! I can't find the "I Don't Need God" single anywhere, I've researched the web, music stores, and offered to buy it from the station. So if you know where I can buy a copy , I'd really appreciate it , thank you , rock on
While it's been out of print for a while, it does pop up in many used places from time to time. Keep your eyes out and do a bunch of web searches. It won't be expensive.