Funckarma, "Solid State"


Solid State is, without a doubt, the best IDM album released in 2001. Now, them's fightin' words, I know - but let us consider the contenders. Brothomstates' "Claro" was an excerise in derivativeness which went absolutely nowhere. "Drukqs"? No, thank you, 1996 was five years ago. "Confield"? Very interesting and pushing experimental boundaries, but not something you listen to often. "Double Figure"? Now, there's a contender, but.. anyway, Solid State rules. The two Dutch brothers known as Funckarma have singlehandedly tapped into that amazing Tri Repetae-style of IDM, added some real instruments, and made an album that sounds brand new while feeling delightfully familiar. What I'm trying to say is that Solid State is clearly influenced by the masters, Autechre - but never so much that it sounds like a ripoff or something unoriginal (*cough* Funkstorung). What really sets it apart, though, is the beautiful (and real) instrumentation - upright bass in "Lolala," sighing violins in "Bace"... lush sounds that give it an organic edge the likes of which you only find in something like, say, Plaid's latest album. But electronic-noodling fans, fear not, since Solid State delivers those goods too: just listen to "Nuncas" and feel the way the synth squiggles between your ears.... it's classic. Truly classic. These guys clearly aren't getting the recognition they deserve. - Chris Zaldua
samples:
v/vm, "whine and missingtoe"

Just in time for the holidays is the reissue of V/Vm Test Records' very first Christmas single! Included on the new 3" are all six tracks from the original 7" single plus a brand new Christmas treat for 2001: a timeless terrible Paul McCartney tune that time forgot, "Pipes of Peace". Sure, we all know that the Stockport crew are a bunch of hacks, but there's something amazingly charming about the sounds of deformed classics threadded through hosts of effects, banks and glitches along with creepy new takes on irritating joyous songs unavoidable like that Salvation Army guy with the bell who won't stop. After a long day of avoiding grouchy drivers, pushy shoppers and everything else that comes along with the holiday season, it's nice to throw on something haunting like Animal's "Oil Come All Ye Industrial" or the chopped-up audio collage of Prof. Broxburn's "Christmas Fractions and Brandy Snaps" at unbearingly loud volumes. I think that's even James and Andy singing karaoke on the V/Vm live show 1997 track! And to think these guys claim to have never heard of Nurse With Wound! - Jon Whitney
samples:
BARRY ADAMSON + PAN SONIC, "MOTORLAB #3"


You know those collaborations you read or hear about and you think to yourself 'now that's gonna be cool' but then you finally hear it and are completely underwhelmed? Ok then, lets file this one in that bin.
Iceland's Kitchen Motors label has been unifying and challenging different artists with their commendable Motorlab series, this being the 3rd installment. They approached Adamson and Pan Sonic to compose a vocal piece for Iceland's HljĐmeyki choir and that they did this past April in Reykjavik. For about 12 and 1/2 minutes, "The Hymn of the 7th Illusion" aimlessly treks through windy terrain, simple vocal 'ahhhs' and bass reverberations being somewhat of a guiding light. It's a minimal bore that never achieves any sort of tension or serves any sort of purpose. After a silent 24 second interlude, an even more dull 23 minute glitchified remix by The Hafler Trio only adds insult to injury. A tremendous waste of potential all around that doesn't even begin to tap the talents of those involved. Me, I semi-patiently continue to wait for the new Adamson album, "Nothing Hill", due out early next year. - Mark Weddle
samples:
"immediate action" CD release

Before you fill out that brainwashed poll's category of "best compilation," make sure you own this collection. If you are still unconvinced the Chicago-based Hefty Records is one of the strongest modern electornic music labels, then this compilation will surely change your mind. 'Immediate Action' was first reported on The Brain about a year ago, as a series of limited 12" singles which suddenly popped up in record stores and clubs all over the world. The premise was to manufacture and distribute all the records quick, sinking little or no money into artwork and promotion. The result was an assortment of fine singles from Tortoise's John Herndon's dub guise A Grape Dope, the organic live jazz and post-production electronic manipulations of Samadha Trio, the hypnotic electornic Retina from Italy, the deep echoes of Twine, and Savath + Savalas - the now legendary and much sought after project from Prefuse 73/Delarosa and Asora mastermind Scott Heren. Along with these came a bit of remix work of John Hughes from the 'Scarlet Diva' by people like the Scott Heren and the undisputable Telefon Tel Aviv as well as a Slicker collaboration with the Aluminum Group. For the most part, all records were gone as quickly as they came in. For the CD release, the song collection has been noticably truncated, missing A Grape Dope's "Time Makes You Suffer"; Retina's "No Escape from Paradise"; plus "Hour 36" and "Loki" from Samadha Trio. Consequently, 'bonus' tracks are included like unused remixes and tracks from Bogdan Raczynski, Beneath Autumn Sky, and Retina. The end result is a fine assortment totalling over two hours of some of my favorite depth-penetrating electronics which never get boring, predictable or mundane. Those music fans who have addictive collector tendencies should act soon if they want the bonus 12" that's available to accompany the comp., I don't know what's on it yet but years from now it'll be a fine, much sought-after prize in your collection. - Jon Whitney
samples:
MISS KITTIN & THE HACKER, "FIRST ALBUM"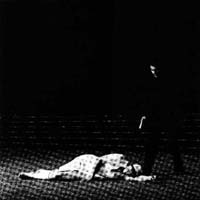 Time travel the easy way: just follow the beat and dive into nostalgia. The early 80's are present just like Vicious Pink Phenomena (Vicious Pink later on) or Ensemble Pittoresque never went away. As hommage, The Hacker (Michel Amato) incorporates parts of Memorabila (Soft Cell) and I Feel Love (D. Summer / G. Moroder), but that`s about it with wellknown reference points.
Cheap sounding drum boxes, syn-drum effects, synthetics that don't pretend to be anything else but a synthesizer, minimal sequencer lines and the deadpan vocals of Caroline Herve make up a charming difference to all the 'greatest hits' stuff everyone gets confronted with too often from that period.
The irony in the lyrics and song titles like "1982", "Frank Sinatra" or "DJ Song" makes it more believable this French duo took a sidestep from current music to follow their obsessions. The result is a sleazy new wave disco tech noir album, danceable, enjoyable and if you get the drift - nearly pnotizing. - Carsten S.
samples:
International Airport, "Nothing We Can Control"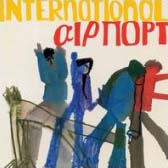 Doing a search for this band on the internet is frustrating for obvious reasons. But what I can gather is that the band is the brainchild of Tom Crossley of Appendix Out fame and Annabel Wright (Aggi from the Pastels, of which Tom is a more recent member). It is also the work of a rotating group of musicians working with Wright and Crossley at his home, and mixed with nice studio help from John McEntire. Fitting, since the music has a very Tortoise-like vibe to it, but with more vocals by Crossley and Wright. It's loungey, it's relaxing, and it all has a nice groove anyone can fix on for a time. About half of the record is instrumental only, and it is on these tracks where most of the power of International Airport lies. The tracks with vocals are fine, but tend to be more of the basic pop song structure through the International Airport kaleidoscope. This tends to make them a bit more structured, where this music works best without that sense of definition. The exception to this being the second track, "moving water," which is just plain beautiful. Wright has a section of the song all to her voice, then Crossley gets his counterpoint, singing parts all his own. The end of the song pares back down to instruments only: majestic, solitary, magic. As a whole, the album possesses a quiet passion that makes it a worthwhile listen. Is it the best record I've heard this year? No. But there's plenty of potential here... - Rob Devlin
samples:
JAZZKAMMER, "ROLEX"


Jazzkammer are the Norwegian duo Lasse Marhaug and John Hegre. After two albums they've opted to make the third a collection of remixes for the Smalltown Supersound label. This means they have more time for snowball fights or whatever it is they do to keep themselves amused when they're not creating collages of glitch, noise, pop, static and those little pasta stars that are good in soup. Although this is a collection of remixes, it holds together pretty well as an album taking in candle flicker glitchscapes from relatively unknown Norwegians, big loping looping international laptop noise eruptions from Pita, Zbigniew Karkowski and Merzbow and some deep haunting ambience from Francisco LĐpez and Reynols. The biggest name amongst mixers is Thurston Moore (didn't he used to play kazoo for the Butthole Surfers or something?) and after I picked up a great little free jazz freak out Schneider remix of his from a bargain bin, I was curious to hear what he'd get up to here. He basically hacks up a lot of noise skree with cackhanded scratch attacks on jazz and disco cheese and the effect is like quickly tuning a radio dial whilst all the stations are broadcasting competitions for the worst DJ on the most fucked up turntable. Some people in very popular rock bands obviously don't take themselves as seriously as Radiohead, for which I'm grateful!
Most of this has the aura of Mego-like laptop feuds, and Pita of Mego is present and incorrect. Sometimes Jazzkammer gets cranked up to full on aural assault, at others it crackles away to itself in the background. Perhaps the most curious of the Norwegian tracks is the silly 'I Hate Cars (Super Chicken Floppy Willy in a PPP Swimsuit)' from Maja S.K. Ratkje during which she splices up maniacal laughter with grinding soundcard flotsam and rapid peak and trough tough noise edits. It rises to a succinctly effective crescendo that puts the more well known noiseniks in the shade.
Latterly TV Pow slowly builds up subtle eerie drones under a canopy of grasshopper leg crackle, until suddenly the hum shifts to the foreground. J└rgen Traeen changes the mood with a rapid cut up 'Dupermix' which stutters and splurts like clipped mute firecrackers.
Two tracks stand out a mile from the rest. The closing epic of slow seeping high tones and stretched glitch pitches from Francisco LĐpez is the most involving, evolving and enjoyable thing I've heard from him, and if there aren't recordings of icey winds howling on this then it really is even more uncanny in its glacial eeriness. The similarly reflective deep droner from Argentinian trio Reynols is beautifully assured enough to have me keeping an ear out for them in future. Towards the end of it some indecipherable vocal noises are pretty unsettling, sounding like some struggling lost soul trapped in the machine. - Graeme Rowland
samples:
"Anti NY: Rare Music from the Early 1980s New York Underground and Some Contemporary Versions"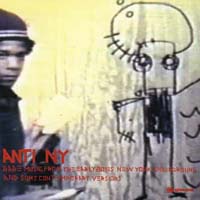 The "Anti NY" compilation gathers seven songs by bands from the early 80s scene that centered around the New York City's Mudd Club (perhaps best known these days for its invocation in the negative by Talking Heads, i.e."This ain't no..."). The sound stems from the collision of punk, disco and electronic noise that coincided with No Wave (bands like the Contortions or DNA) and the beginnings of rap. While the songs are certainly fantastic, I can only offer a qualified recommendation for this comp due to the needless inclusion of five "remixes" at the end that do little more than take up space.
The groups' names might not be instantly familiar to you, but several of the players should be. The percussive noise trio Gray is actually painter Jean-Michel Basquiat and early hip-hop promoter Michael Holman. The electro-funk blast of the Del/Byzanteens was led by future director (and member of John Lurie's Lounge Lizards) Jim Jarmusch. Industrial noises and proto-hip-hop collide on a track by graffitti artist Rammellzee and Death Comet Crew, aka filmmaker and future creator of club hit "The Dominatrix Sleeps Tonight" Stuart Argabright. A song by the writer Vivien Goldman includes contributions from improvising pianist Steve Beresford and PiL guitarist Keith Levene. Of particular note is the sexy-as-hell "If I Gave You A Party" by the approriately named Sexual Harassment, which calls to mind the Manchester industrial street-party sound of A Certain Ratio. Every track on the CD's first half is remarkable, a fantastic portrait of the dancier facet of No Wave NY. At the time that these bands existed, reactionaries decried the invasion of an "art school" element into DIY punk rock, but history more than bears these folks out as fearless and creative musicians. New York must have been an exiting place then!
However (here it comes): the disc includes only one song by each of the seven bands, and then (note the last few words of the album conspicuously lengthy title) five remixes by contemporary producers. The remixes seem to imply a connection between the early 80s scene that the CD documents and current house music and techno. Whether or not this is a valid point being made by the compilers (it may well be), the effect as a complete album is jarring, unnecessary, and not particularly illuminating. First of all, the mixes (by Funkstorung, Paul Mogg, and others) are dull compared to the originals. Second, the geneological line that I assume is being drawn would have been far more effective by an essay or two. Instead, I'm left wishing that an additional tune by each group was present, rather than the superfuous (and by now clich│) remixes. It seems as if "Anti NY" wants to be two things at once, both a document and a tribute. By presenting not enough document and a half-assed tribute, it fall short of both. www.gomma.de - Howard Stelzer
samples:
funkstÖrung, "viceversa"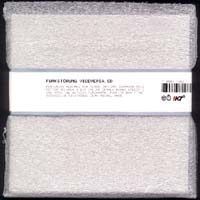 Sorry, it's not a full-length album of all-new material, it's their second collection of remixes bearing Funkstörung's name. This time around, the range of inputs is varied beyond expectations and usual suspects. The charmingly timid yet curiously infectious Jay Jay Johanson imediately springs to mind, as most electronica purists roll their eyes or make motions with their fingers in their throats. Look out, however because word on the street is that the Funkstörung duo of Michael Fakesch and Chris de Luca are producing the Swedish crooner's next album. The track on here, "I Want Some Fun" is as cheesy as the title suggests, but the production is undeniably top-notch. Beans from the Antipop Consortium joins the German duo for an exclusive track, "Salt" (which samples a classic laid back Jay Jay Johanson organ riff) while A Guy Called Gerald's track with Louise Rhodes gets a stylistically d'n'b finishing touch which would make any Lamb fan tremble. Other remixes include those from the post-post-kraut popsters The Notwist (hey, when's that new fucking album coming?) and a previously-released remix of Tocotronic. My personal friend and soul mate, Speedy J gets doused with annoying repetition on "Something For Your Mind," however no-age decomposer Jean Michelle Jarre pleasantly gets more beef than he's ever used to hearing. The packaging's cool yet slightly irritating as it will certainly rip at some point. On top of that, it has graphics printed on the inside of the glued cardboard, but it sure as hell gives any Funkstörung fan the opportunity to avoid spending their money on things they probably normally wouldn't get. Indulge. - Jon Whitney
samples:
"BARRY 7'S CONNECTORS: 21 RARE LIBRARY TRACKS"


This unusual specimen of audio exotica is a collection of 21 ultra-rare library and production tracks from some huge and bizarre cultural repository in Southern England, chosen and sequenced by Barry 7 of Add N to (X). This compilation is drawn from the same musical repository as Luke Vibert's recent collection of "Nuggets", but the artists represented here seem to have been chosen with an ear towards more low-key, eerie synthscapes. Barry 7 provides us with a pleasurable and adventurous journey through science fiction soundtracks, Moog-heavy pop tunes, Ennio Morricone-style exotica and pure experimental sonic playfulness. The artists here run the gamut from pretty obscure to REALLY obscure. Standout tracks include Cecil Leuter's Stereolab-esque headphone odyssey "Electro Sounds No. 8" and the melancholy space-age groove of Sven Libaek's "Solar Flares." Nurse With Wound fans will appreciate the insane whimsy of The Johanna Group's "Hors Phase" and Anthony King's demented pop stylings on "Maladjusted Moogie." This stuff is like crack to me. More, please! - Jonathan Dean
samples:
(the real) tuesday weld, "Where psyche meets cupid"


This is not an album by the 60's "it" girl but is the debut full-length release from crafty Londoner Stephen Coates. His brand of audio pastiche includes a combination of polished beats, Coates' own whispery vocals a'la Momus, and an array of melodies sampled from 1920s and 30s recordings that will unfailingly give you the urge to get up from your chair and do the Charleston. Tracks like, "Am I In Love?," and the irrisistably catchy, "L'amour et la Morte," are both funny and charmingly eerie — something on par with being pitched into the absurd vaudevillian silliness of an episode of The Muppet Show. Although Coates seems perfectly at ease with this silliness, the two instrumental tracks, "At the House of the Clerkenwell Kid," and, "Close Your Eyes When You Read This," which show the more serious side of Tuesday, are some of the standout pieces, seeming to draw heavily on film noir score. The overall cinematic quality of Coates' work is hard not appreciate, even on a first listen. For the most part, however, his sense of humor and wit prevail, especially evident in the song title "Terminally Ambivalent Over You," but never lapses into an undesirable childishness. - Jessica Tibbits
samples:
MSBR, "ULTIMATE AMBIENCE 2"


The Molten Salt Breeder Reactor has been noisily unleashing untamed harshness on the world for around a decade or so. It first reached my ears via the excellent Ash International compilation "Chiky(u)u" in 1997, and has collaborated on ludicrously limited split discs with an endless parade of noisesmiths, including Daniel Menche, Cock ESP, K2 and Steve Roden and Brandon Labelle. Koji Tano is a Tokyo noisician who is perhaps predictably rather prolific and has made museum installations exploring the interface between art and trash heaps. Here he blasts eardrums, courtesy of the 20 City label, with two long studio cuts of 'spherical electronics', and a recording of an assault on a probably quite suspecting Chicago audience, which is a slightly more frantic but less well defined affair. The first chaotic spherical rumination opens with a looping skree shard which soon fractures into feedback squeals and some low messy quakes. A stuttering synthly keyboard seems to be rapidly losing it's tuning as occasional shadows of lost keys flicker between the bright gulfs of distortion. MSBR seems to be able to tweak endless vortices of well defined entropy from his gadgets, and the noise shifts constantly and eddies endlessly, headlessly and leglessly. Patterns emerge but are quickly blown apart; MSBR kisses the noise as it flies. I find it all quite relaxing at low volume and at higher volume it's an ideal obliterative to obtrusive commercial radio crap. - Graeme Rowland
samples:
Survival Research Laboratories


The idea of a play-it-in-your-home soundtrack to the massive robot-destruction performances of Mark Pauline's Survival Research Laboratories is ultimately a ridiculous and excessive one. But that may be the idea. As the uncredited writer of the liner notes explains, "The whole point behind the SRL soundtrack is not so much to accompany the sounds of the machines, but to fill in any lulls in the noise level as the machines start breaking down and falling apart." The performances are frequently deal with the idea of excess and violent extremes, with giant mechanical robotic things sent shuddering toward each other and toward various objects (houses, ugly metal structures of all sorts) with missile launchers, blades, various weapons, any damn thing. The performances, typically held in empty parking lots or any large areas some distance from people's homes, are chaotic and seemingly dangerous. The sound is part of the intended perception of a loss of control, though one must trust that the robots' operators know what they're doing or else they wouldn't knowingly endanger the lives of their audience. Or perhaps they would. Who really can say.
The soundtracks on this CD, then, are not about dynamics or subtlety, but brute din. They are done by G.X. Jupitter-Larsen, whose work as the Haters celebrates entropy by creating noise out the sounds of things (like tires, calculaters, paper) falling apart. The music here isn't so much different from his Haters albums, though a slightly different conceptual element entwines them into the SRL performances. For example, a performance at a race track used the sounds of car crashes and motor-racing to "fill in any lulls" in the machine demolition derby. In order to highlight the humor of the SRL productions (what is a display of absurdly grandiose self-directed violence but essentially funny?), Larsen used the sounds of children's cartoons. And on and on. These concepts are secondary to the unchanging grey wash of high-volume noise, punctuated by clanging metal, presumably coming from the machine performances themselves. Yes, it's ridiculous. But it couldn't have been anything else! www.subrosa.net - Howard Stelzer
samples:
Music From The Motion Picture, "Series 7"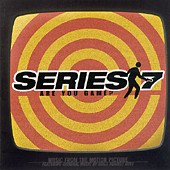 Anyone remember Girls Against Boys? Their funk-soul-sex-rock music on Touch & Go was tearin' up the college music charts in the mid 90s, and the major labels came running. After signing with Geffen, Girls Against Boys -- GVSB -- released their major label debut "Freakonica." To mild acclaim and almost whole ambivalence. No one cared who they were or what music they were making, it seemed, because the record did not sell well. And when Geffen all but dissolved in the infamous Unigram merger, GVSB were done. No fear, however. Where some bands decided to call it quits or sell out to another major, GVSB still record together and make some amazing music (look for a new album on Jade Tree in early summer 2002), despite the band members' projects (New Wet Kojak, for one). This soundtrack to the critically acclaimed movie "Series 7," a mockumentary-like spoof on reality television where contestants are given guns and made to kill to win, is a perfect example of why this band is in it for the long haul. What a perfect setting for GVSB. And they make the most of it. The music is as aggressive, sexy, and fresh as it ever was, perfectly conveying, I would think, the urgency of said television program. I will admit, not having seen the film, I cannot say how this music works for it. But on its own it stands up just fine. The song that reportedly plays over the credits ("One Dose of Truth") is GVSB gone New Wave, and it is precious. It's also the only part of the score that has lyrics, so basically this is a chance for the band to make an instrumental impression. There are also a few other songs by other bands on the album, included for posterity due to their inclusion in the film, like the Joy Division classic "Love Will Tear Us Apart." But this is GVSB's soundtrack, and a great hint at things to come. - Rob Devlin
samples:
"NOTES FROM THEE REAL UNDERGROUND"


A couple weeks ago, I had a lot of time on my hands on the highway to Austin for a Pigface show. I figured it would be a good time to take in the entirety of this various artists collection handpicked by Pigface and Invisible Records head honcho Martin Atkins for Underground Inc., an affiliation of 15 or so indy labels including Invisible. "Notes.." showcases 52 tracks over 3 discs by 28 artists, none of whom I'd previouslyheard of. I kept a simple 'thumbs up' vs. 'thumbs down' tally as I listened and 20 tracks got the thumbs up. Not bad considering the single disc price tag. It's a diverse lot that represents both genders and many facets of pop, punk, rock, industrial rock, dance, rap, etc. (but you won't find a single glitch) and, of course, the unavoidable Skinny Puppy/Orgy/Leatherstrip imitators. My bias lies more towards the original and weird stuff rather than the cookie cutter refuse. Some of the highlights: Louie Fontaine's Foetus like swagger, Tub Ring's cut and paste carnival punk on acid, Kill Pop's explosive Big Black meets Minor Threat sound and Livesexact's "You Must Get Down" amusing samples and raps. And the cream of the crop: Mistlethrush's utterly delightful melodic rock gems "Heavy Set John" and "Jody Stone" ... they will be huge given proper exposure). Volume 2 was recently released with 2 more discs packed with another set of artists. I have it on order. - Mark Weddle
samples:
"GALLERIES 4-6"


The slipcase for this disc offers little info beyond 3 artist names, track titles and label url in a somewhat difficult to read font. A little online research reveals that the artists - Doe, Eso Steel and Birchville Cat Motel - are from New Zealand and the label, 20 City, is based in Japan. They specialize in the "production and release of manipulated sound: experimental, soundscape, ambient, noise, improvisation, textural, drone" and these 3 offer differing but complementary examples over 72 minutes. Doe's "Maylar" (maybe they meant "Mylar"?) and "Polymer" quickly achieve a quiet and compelling, nirvana like state of layered hum. Eso Steel's "A Scratch" ups the noise ante a tad with more sound tidbits and "Ircania" goes one further with stretches of mild noise and furnace hum. And finally, Birchville Cat Motel's 3 tracks bet the whole pot with nearly unlistenable, feedback drenched guitar and clutter. "Crystal Freighters" in particular would warm Caspar Br¨tzmann's cockles. Doe receive the blue ribbon here and 20 City have been added to the always growing mental list of labels to keep track of. - Mark Weddle
samples:
Portastatic featuring Ken Vandermark & Tim Mulvenna, "The Pefect Little Door"


Mac McCaughan writes pops songs. He writes them well, whether they be for Superchunk or for Portastatic. So, when he was invited to perform as part of an 'original collaboration' with Ken Vandermark as part of the Noise Pop festival in Chicago, he was a bit worried. And I can see why. Writing pop songs doesn't usually lend itself well to improvisation. While McCaughan writes music that is structured, melodic, and full of hooks, Ken Vandermark plays (not even writing it) music that is unstructured, improvised, and spontaneous. Fortunately, McCaughan realized that improvisation would be a bit of a stretch and he and Vandermark decided that it would perhaps be best if they were to do a set which included a few Porstatic songs, a Caetano Veloso song, a 're-working' of a Vandermark tuen, and an original composition written by McCaughan and then elaborated upon by Vandermark. To add some texture to the tunes, Vandermark 5 percussionist Tim Mulvenna was invited to play with them. While the execution of each song is excellent and the mastery of each musician's instrument is obvious, the songs seem to lack the electricity that usually results from collaborations. Although each player is playing beautifully, they aren't playing off of each other and a lack of interaction can be heard. It's almost as if Vandermark was playing along at home to a recording. You can definitely see why this is being called a Portastatic release. Not that it's a bad thing, but it's unfortunate to find that a collaboration that had such great potential fails to deliver. - Carter Adams
samples:
Bad Sector, "Polonoid"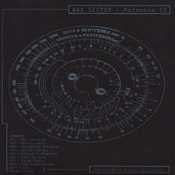 Bad Sector is becoming awfully prolific. Of his recent material, one item I've enjoyed greatly is the "Bad Box" - which isn't actually new - but rather a reissue of an older album, "Polonoid," and an extra CD-R with two great songs on it. (Sadly, the box is now sold out, but Polonoid is available by itself, so if you've never heard of Bad Sector before, snag the un-boxed version.)
Let's get off on the right foot: this album fucking rules. Bad Sector have existed since 1993 but only recently has he gotten the press he deserves. Part of what makes him so good is the fact that his music is pretty much unlike any other: it's noisy, it's ambient, it's amazingly emotional, and it's amazingly creepy. All at once. It's like Farmer's Manual meets Anenzephalia meets Autechre's "VLetrmx21."
"Polonoid" is a prime example of his work. Originally released as a very limited CD-R on Germany's Vuz Records, it is now more widely available (yay!), and features all his trademarks: shifting walls of feedback, droning, melancholy synthesizers, and bizarre cut-up voice recordings. Sometimes, as on "Open Universe," the music resembles power electronics in sheer intensity or volume, and yet it retains melody and a certain digital aspect that other music of this nature lacks that really sets it apart.
In summary: Bad Sector is amazing. To quote the artist himself, his music is "deeply emotional dark ambient noise," and he is really damn good at what he does. Don't miss out. - Chris Zaldua
samples:
Plankton, "Y"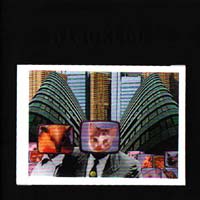 A 5-track EP of analog lo-fi electronica from Berlin, presented on thick white vinyl with variable artwork. White labels wich give no further clues except one to check the details first as both sides play at different speed.
Impressions from shady sideways of the datastream appear, titles like "Sentimental Elevator Bits" and "Monomental Intercourse" nearly say it all. Plankton provides a lost futurism a la early Kraftwerk and Numan with today's tools. "Soleil" would even work in a Metropolis Score - but in a rougher style.
A promising debut which raises expectations. - Carsten S.
samples:
THE RIP OFF ARTIST, "THE KIDS ARE ALRIGHT"


The second Rip-Off Artist album, "Brain Salad Surgery", was reviewed on the Brain back in summer around the time it was released. This is actually his first album, which was released by Quatermass only a month before the second due to label procrastination, and after a time warp caused by a huge pile of promo CD's and not enough ears to go round, this one is getting reviewed so late that the prolific Matt Haines has already got a third album out! I can't comment on "Pump" on Mille Plateaux as I haven't heard it yet! His Rip-Off Artist persona is a comment on his plunderphonic compositions. He steals bits of other records, even their titles, but hopes that people won't actually steal this CD. Presumably it's OK to sample his records though. He's sampled children's toys and sing-along records to make this funky stew which is a little more obviously humourous than his more streamlined second album. However he doesn't want this regarded as a comedy record, which is probably just as well when the best joke is a bunch of kids blowing out birthday cake candles shouting, "123, blow!" before a particularly slick keyboard break. The Rip-Off Artist is perhaps at his best when he makes wierder noises, as on the appropriately titled 'Something Strange'. There always seems to be a fractured and skewed electro pulse trying to flex, but it usually gets jittered up and slung on its head. 'Gizmo' adds some daft sexual innuendo to a Kraftwerk like vocoder voice that sings, "I like to play with my gizmo, I like to play all day long." Subtract the ribbits and the odd lyric about being a frog wanting a kiss, and 'Cream' is a pretty straightforward electro-funk work out with a lascivous hopped up rap from Crescent Raye Born. Kids records should educate with amusement, and thanks to the Rip-Off Artist I now know that Tater Tots are hot, and that they're not a tomato, but I'm not sure exactly what they are. If anyone wants to advertise them there's a ready made jingle here that could earn Matt Haines a few pennies. "Would you like a slice of cheese?" asks a chirpy looped woman on the very short track 'Silly'. There's plenty of that to go round too! The second album on Hot Air is more convincing but this is quite an enjoyable dose of daft disco diving. - Graeme Rowland
samples:
FAUST, "RAVVIVANDO REMIX"


Faust are set to a issue a complete remix album of 1999's 'Ravvivando'. This will feature the likes of Funkst¨rung, Residents, Mark Spybey, Daniel Miller, Surgeon, Dave Ball with Ingo Vauk, Howie B., Sofa Surfers a.o.
The first glimpse on this, sold on the recent UK tour and via mailorder features the original track and 3 mixes by Dave Ball & Ingo Vauk.
Their versions develops the original "Wir brauchen Dich #6" into a groovy hallucinogenic mixture with added slices of psychedelic feedback. The first version being the most consumer-friendly with a bouncy guitar line, but all of them share an irresistible drift away feeling like Carlos Peron's Brainticket remixes or some Chrome (with less harshness). The two non-album mixes could have been titled "Dub" and "Club" but are actually called "Ellapropella," and "Processors Of Elimination" mixes and are sadly shorter than stated on the cover.
Nonetheless, this serves as a good taster and if all participants will be allowed so much input of their own, the album should turn out really interesting. - Carsten S.
samples:
We know that sometimes these CDs are somewhat challenging to find, which is why we have a community section which can be used to obtain nearly everything available on this site.