adult, "resucscitation"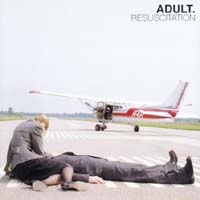 Now is the time we go digging around some of the albums we neglected to talk about over the last twelve months. Adullt's debut full-lengher has placed this duo at the top of my list for most the overrated group of the year (sharing of course with White Stripes and The Strokes). I actually liked Le Car so I really, really wanted to like Adult, but I'm left with a sour, sour taste in my mouth. If I didn't like the 1980s analogue synth style of music they're attempting, I probably wouldn't still own my Gary Numan, OMD, Soft Cell or Fad Gadget records. If I was tired of the retro-analogue sound, I probably would have no appreciation for Joy Electric, I Am Spoonbender, G.D. Luxxe, Ladytron, Fischerspooner, Gold Chains or a zillion others who recently won analogue drum machines and synths on eBay auctions and decided to form a band. Strip away the kitch and the irony from Adult and you're left with nothing but 14 very boring songs. The lyrics are fucking horrible, many repeated way beyond tolerable levels, while untrained monkeys very possibly could have programmed more interesting drum machine patterns. At least other horrible groups like Freezepop have a certain charm about them which make them mildly tolerable. Naive indie kids, however, claim Adult are "fun" but I actually find Chicks on Speed and Peaches (ironically enough, based in Germany) hundreds of times more "fun" than a couple dull Americans acting out German prejudices popularized by Mike Meyers' "Sprockets" skits on Saturday Night Live. Maybe it's a jaded view because the same people who hear of, buy and enjoy Adult are more than likely the same people who probably think Radiohead are "innovative," or Richard D. James is "original." There's much more entertaining, better crafted music we've mentioned all year long and you don't need to waste your money on this shit. - Jon Whitney
samples:
WINDSOR FOR THE DERBY, "THE AWKWARDNESS EP"


Prior to Windor For the Derby's forthcoming fourth album, Aesthetics have released this five-track remix EP. It's always strange to hear the remixes before the originals, but in this case, Windsor's previous unadulterated material — mostly mellow guitar-based tunes — struck me as rather bland. So I hoped that the remixers would make a little more out of it. Carnival Wave certainly do, enveloping "The Emotional Rescue" in atmospheric swirls and some (presumably added) female vocals. Pulseprogramming give "I Change.C?" a nice electro-dub treatment while I-Sound go a little too over the top with gritty beats and electronic blips in "Ice Age Blues". Calla, who share a member with Windsor, bring cymbal heavy rhythms, big bass booms, clean guitar loops and shiny ambiance to "Awkwardness". And finally, Windsor themselves join in the fun with a heavily effected "Now I Know the Sea" complete with computerized vocals. Carnival Wave and Calla tie for the blue ribbon here. I wonder, will next year's "The Emotional Rescue" LP better these? I'll take a chance on it. - Mark Weddle
samples:
hrsta, "L'Éclat du ciel Était insoutenable"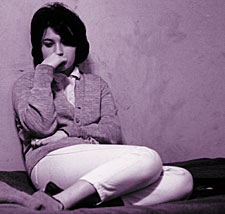 At the front of this Montreal-based collective (pronounced "hursh-tah") is Mike Moya, founding memeber of godspeed, Molasses, and Set Fire to Flames. Other members of the group include godspeed/etc. members Bruce and Norsola as well as Molasses members Fluffy Erskine and Scott Chernoff. The 55+ minute collection of 13 tracks would more likely find better appreciation among Nick Cave, Boxhead Ensemble, Thalia Zedek and Leonard Cohen fans who appreciate a good score to a murder scene rather than godspeed fans seeking the next rock and roll messiah. The music somewhat follows a progression Molasses could have taken, with vocal — but not vocally drowned — pieces, blending the heavily emotional, bluesy guitar melodies delicately with strings, occasional loops, a frequent appearance of a skillfully played bowed-saw, droney effects, and the rare amount of percussion. Moya's vocals provide a perfect companion in an already appropriate soundtrack to a cold, bleak, wintery evening. With this album, I can honestly say that the collective has effectively harnessed their improvisational experiences into an elegant, carefully-constructed full-length concept studio album. If the Molasses releases can be perceived as taking snapshots of a band known for their live performances, Hrsta's album is the flipside, presenting the intricate feature-length production. - Jon Whitney
samples:
Adrian Sherwood, "Zero Zero One" 10"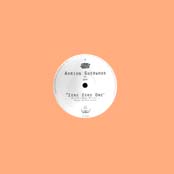 Finally hereÍs the first solo outing of the On-U Sound mastermind and mixer supremo himself. I paid a horrible amount to purchase a copy of this single, limited to 3000, which come in a dancehall-style plain standard soft-sleeve.
"Zero Zero One" (co-written with C. Oglive) is a fine piece, remeniscent of early Tackhead, with added subtle rasta flair and "found" voices. If it was missing only one thing, it would be the precise beats of Keith LeBlanc. "Pass The Rizzla," (co-written with Skip Mcdonald and Sunjay) dives into the realms of heavy bass lines and Dub he's most famous for. On this, he features the golden voices of both Bim Sherman (R.I.P.) and Prince Far I (R.I.P.), two great singers Sherwood both worked with extensively and started On-U Sound with.
Both tracks are of course technically excellent but I must admit I hoped for something more challenging. On the other hand, the two sides of this single nicely exhibit two styles he developed and cultivated over the years. In addition, it's good to see him return from the more roots-orientated stuff he seemed to draw all of his attention to lately. - Carsten S.
samples:
sandoz [richard h. kirk], "afrocentris"


'Afrocentris' is different from other Sandoz LPs, especially the reggae-based last release 'Chant to Jah' It does have however, similarities with his other Sandoz work too.
The beats seem more up front and although very afrocentric most of the time, they sound latin influenced too to my ears on occasion. A lot of Kirk's work as Sandoz, seems to be tracks seperate from each other, with everchanging patterns within each track. However, this release features tracks which are more simplistic in design, and something that I like, is that they seem to have a logical continuity to them ie each track leads into the next one.
It's 71 plus minutes long, got a delightful purple cover and is as far removed from 'Here and Elsewhere' as could be possible, testimony to Kirk's genius to be able to produce such diverse works. Its a darn sight better than the recent EMI / Virgin re-hashes, agreed to, presumably, to generate some cash. If that cash goes into producing more stuff like 'Afrocentris' and 'Here and Elsewhere,' I, for one, will be well chuffed. - Jean-Marc Lawton
samples:
"RINGTONES"


So you've wrapped up all the crappy mobile phones and put them under the tree. They all start ringing before Christmas, so everyone knows what their presents are. Worse than that, they all play bleeper versions of Eminem and Goons & Poseurs wack. What you need: CD of ringtones to program your chip! Pre-empting the advent of programmable mobile phones, Touch asked lots of artists to make their own ideal ringtones. There are as many tracks as a CD can deal with encoded here (99) and a wide variation of noises that'll get you odd looks when Robert Hampson calls to ask in cryptic drone cyphers, "Where the fuck are you?"
Be careful to avoid an embarrassing social faux pas at granny's on Boxing Day by not programming a Swedish actress huskily breathing in mock orgasmic frenzy. More fun when people call you at the bank to the tune of Bruce Gilbert's 'Robbery' or when you're visiting the local very safe nuclear meltdown reactor and a mini 'Air Raid' siren goes off in your pocket. In the park you could choose to confuse avian and canine breeds with various bird and dog calls recorded by Chris Watson. Alternatively, you could choose to be awakened by many shades of electronic noise, the googling of a baby, a swift blast of Evan Parker's transcendent circular sax blowing or the shortest Phill Niblock drone ever recorded. CM von Hausswolff employs some uncomfortable pure tone pitches which could turn a few heads if the phone went off in public spaces as they usually do. The funniest selections have to be the little professor voice that says, "Pay no more attention to me than if I were a machine, I am not much else!" and Leif Elggren's robotic rasps for help! "Help! Help! Help!" I don't think I'd want to hear Gilbert and George discussing buying a vase every time someone rang, but there's a lot here to choose from! I find myself gravitating towards the hooky poptone rhythms of New Order and Scala as the noises I'd like to herald happy talk. Actually I'd use 'Gob of Spit' by Naked City, which isn't on this. However, I vowed long ago never to get a mobile phone as I didn't want to grow an extra head. Now it seems that the mania for these gadgets is causing the regrettable Central African Coltan crisis, which you can find out more facts on via the Touch website (www.touch.demon.co.uk). Merry Christmas! Put a ringtone in your stocking and sample it all to hell! "The first god knew the evil of the phone!" (MES in garden circa 1983). But the last ringtone alert should go to ghost voice explorer Raymond Cass; "Hello everybody on the other side." - Graeme Rowland
samples:
CYLOB, "CUT THE MIDRANGE, DROP THE BASS" EP & "MOOD BELLS"


Whether you love Rephlex or hate it (or perhaps even fall somewhere in between), you can't deny that the label has progressed nicely from it's birth a decade ago — as a home for the acid techno experimentations of Richard D. James (and soundalikes) — to become one of the more eclectic imprints around. This is proven quite nicely by this simultaneous pair of releases from Cylob that have absolutely nothing in common save the artist responsible.
'Cut The Midrange,...' is a three-track EP that follows in the same cute electro vein as Cylob's "Rewind" single from a couple of years back. The title song features a Stephen Hawking-style computer voice crooning early 90s rave cliches like "everybody is in the place", "rock the house", "gonna take you higher" and "jack to the sound of the underground" over a simple breakbeat and computerized plink-plonks & squelches. The middle track, "With This Ring", is short and forgettable, but the electro cover version of the hoary old sea shanty "What Shall We Do With A Drunken Sailor" that closes the disc is a hoot.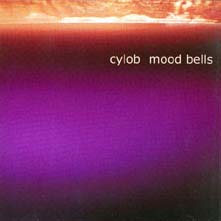 As for Mood Bells, it's something else entirely. Inspired by a two week visit to Japan, Cylob's Chris Jeffs describes the work as "Japanese traditional music that doesn't exist". As the title suggests, it is a mellow and relaxing work composed almost entirely of bell and gong sounds with very little in the way of electronic manipulation or processing. A beautiful and exotic work that caps a year of remarkable variety from the Rephlex contingent. - Greg Clow
samples:
Jim O'Rourke, Michael Prime, Eddie Prevost "Alpha Lemur Echo Two"


First of all, the title for this disc is misleading; it implies that this is a trio recording by everywhere-at-once guitarist O'Rourke and two members of the UK's (perhaps the world's) greatest improvising ensembles, Eddie Prevost from AMM and Michael Prime from Morphogenesis. What it actually is is one recording of a trio performance by the three aformentioned folks, and one quartet performance by O'Rourke, Prime, Andy Hammond (guitar) and Adam Bohman (also from Morphogenesis). Having Prevost's name in the title doesn't really make sense, as O'Rourke and Prime are the only constants on the two tracks.
The music on the first trio recording is strangely polite, with O'Rourke and Prime providing unobtrusive electronic gurgles while Prevost plays the insistent (and unusually straight) improv drummer, constantly in a hurry to propel the music forward. It's Prevost who is most disappointing here; his impatience to build momentum is the mark of boring, predictable improvisation. But since Prime and O'Rourke don't make any bold moves to give the music any other shape or take it in a different direction, Prevost doesn't have much room in which to work, so he runs through his bag of tricks. The result does not sound like a coherent musical statement to me.
More successful is the quartet track, which is built upon a thick, not unpleasant drone. The drone vacilates around one chord, but remains in place for the entire 17 minutes of the piece. Some scraping metal which sounds like Adam Bohman's contribution gets nicely abrasive after about 13 minutes, and reminds me of how much I enjoy Bohman's solo albums. Even though the metal overtakes the drone for almost a minute near the end, it cuts out abruptly and the drone finishes off the track just like it started. I found myself wishing that the piece would move into a different area, but that damn pleasant loop anchors the music so thoroughly that it doesn't have anywhere else to go. Again, I felt like the particpants were too polite; with so many interesting sounds (not to mention immense talent!) at thier disposal, they sound like they haven't played together before and do not wish to offend each other. Obviously, that is not the case, so I wonder why it sounds like it is. A steadily growing drone and a predictible improv, while not terrible in and of themselves, are not terribly exciting; I expect more from these guys. - Howard Stelzer
samples:
American Analog Set, "through the 90s: singles and unreleased."


Though the American Analog Set has only been around since 1996, they have managed to release a steady flow of albums and singles that, though not incredibly revolutionary or ground-breaking, are gorgeous, hypnotic, and beautifully melodic. "Through the 90s: singles and unreleased" makes an attempt at gathering their best singles and b-sides together on one album while adding unreleased treats and live cuts for long-time fans. If you're not familiar with AmAnSet's sound, try imagining Stereolab and "Another Green World" era Brian Eno getting together and making the most of their guitar, bass, keyboard, and drum-set. Though certain tracks like "living room incidental #2 / the corduroy kid" and "it's all about us" feature reversed tape effects and vibraphone parts, the band's best qualities lie mainly in the cohesiveness of the member's sharp playing skills and excellent production values. While "Magnificent seventies" and "on my way" showcase just how catchy this band's composistions can be, unreleased cuts like "don't wake me (meow mix)" and "where did you come from (reprise)" seem unncessary and can spoil the flow of the album. The last two tracks are live performances of some AmAnSet's best songs and these alone are worth the $11.99 price tag. This may not be the best introduction to AmAnSet ("From Our Living Room To Yours" fits that bill), this is a great collection of tunes from a great band with plenty of new material to satisfy any long-time fan. - Luke Schleicher
samples:
solvent, "solvent city"


It's 1983, and Yazoo (or Yaz if you live in North America) has split up. Alison Moyet just didn't want to sing with peppy, happy, robotic synth-pop behind her any more and wanted to pursue a more "soul" avenue. (Yes, I realize using the word "soul" in the same sentence as Alison Moyet is like using "dub" in the same sentence as Pole.) A saddened Vincent Clarke is left holding the songs without a singer, tries out Paul Quinn and Fergal Sharkey but nothing seems right. Defeated, Clarke destroys all recordings and gives up, of course, until he is put in touch with his inner homosexual and launches Erasure. Sadly enough, all recordings in between the biggest productive times are gone, lost, destroyed, never to be seen again. Clarke never looks back. Fifteen years later, a young boy in Toronto named Jason Amm is struck by lightning and by divine decree begins reconstructing the lost recordings. Piece-by-piece songs begin to surface, through various singles, albums, compilation tracks, remixes and collaborations. Over the next few years, an enterprising record executive (and huge Vincent Clarke fan) residing in Germany by the name of Thomas Morr manages to collect the right amount of songs and has now made that collection available to the world. Okay, so maybe it didn't happen like this, but Amm's third full-length as Solvent (and first for Morr Music) is a collection of nine impressively melodic instrumental tunes from various releases, performed on vintage equipment, recorded by modern gear. 'Solvent City' is a collection varied enough to give a good glimpse into the world of Solvent without being long enough to wear out its welcome. - Jon Whitney
samples:
Surya "Music to Watch"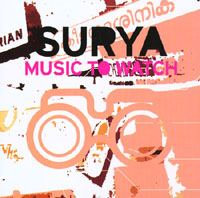 A thoroughly satisfying mini-album of groovy beats, originally intended as soundtracks for dance performances, theater and video installations. A steady dub-like bass guides all five of these mellow, mid-tempo tunes, with spare keyboard accompaniment and airy, repetitive melodies. Some tunes remind me of Fax-era Tetsu Inoue or Atom Heart, but "Music to Watch" stands on its own. The compositions are full of rich sound elements which hold up under intent listening (especially the bass sounds, which are just great) and also unobtrusive enough to be innocuous background noise. It makes me wonder about the nature of the visual element that the songs were created to supplement. Perhaps a video component on the CD would have been a nice addition. - Howard Stelzer
samples:
SETH NEHIL, "UVA"


Seth Nehil is a late twenty something artist, now based in Portland, who has worked in sound since 1990 by himself and with electroacoustic trio Alial Straa. "Uva" (a small fruit such as a grape) is a single 20 minute found sound oriented track on a 3" CD from Japan's 20 City label. The piece begins with a rolling mass of hollow objects and shimmering glass interjected with electronic currents. But by the 6th minute, the noisy tide recedes leaving just the gentle twinkles to carry on. These very, very gradually fade away, but not completely, over an extremely calming stretch of 10 minutes. It reminds me of wind chimes that, no matter how calm the day, refuse to stop singing. In the final minutes bits and pieces of ceramic clutter re-emerge amidst very, very subtle strains of wind and water. Did Nehil record or imitate what I think I'm hearing? Does it matter? Though the connection between title and work is lost on me, the piece (which is perfectly suited for the 3" format and bedtime) is a stunning example of what can be done with found sound. Another winner from 20 City. - Mark Weddle
samples:
the delgados, "The Great Eastern"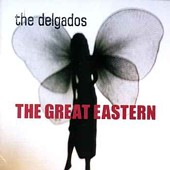 As this year draws to a close, I thought I'd review a great release or two from last year that I felt got no respect whatsoever. The first is this release by the delgados, a band whose members also run the famed Chemikal Underground label based in Glasgow Scotland — present or one-time home to Mogwai, Arab Strap, Aereogramme, and bis. Previous releases by the band showed a strong sense of melody and fantastic interplay between guitarists/vocalists Alun Woodward and Emma Pollock. "The Great Eastern" was recorded by the band in Glasgow, but when time came to mix the record, they travelled to rural New York to work with famed producer and member of Mercury Rev Dave Fridmann (who also produced the last two Mogwai full-lengths — apparently the lads said good things about Mr. Fridmann). The results are simply stunning. Fridmann brings out the true promise of this band, and puts it on display for all to cherish. From the opening track, which sounds like the sound Radiohead was trying for but never quite captured on "Kid A," to "Accused of Stealing," which Pollock OWNS, the delgados shine like never before. I swear anything Fridmann touches turns to gold. His love of vocal effects and creative editing makes each song sound like a whole new delgados, and good for them. While their last two records won them critical acclaim, it seemed possible that this record would win over the audiences like never before. Sadly, this didn't happen, but more critics responded, naming "The Great Eastern" as one of their favorite albums of 2000. The band are in the studio currently, working on a new album that Fridmann will also produce for release in early 2002. Expect greatness. Until then, try out the sound samples and give this band a chance. - Rob Devlin
samples:
New Wet Kojak, "Do Things"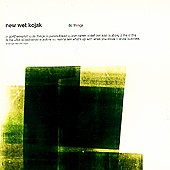 Last week, GVSB. This week, their side project New Wet Kojak. Johnny Temple and Scott McCloud of GVSB record with other local musicians in their hometown of Washington, DC, to create music very much in the GVSB vain, but with horns and a broader, sexier sound. Ever-present, though, is the appealing yet odd voice of McCloud, who here utters phrases that many might see as just plain incoherent. But it all works, and the resulting sound is hard to ignore. Previous albums saw New Wet Kojak being more ethereal, less structured, with a heavy edge. They wanted to rock your booty while they blew your mind. Sometimes it was abrasive, sometimes so unstructured and frantic you didn't know which way was up. And the horns, while great-sounding, seemed like an after-thought in areas. "Do Things" has none of these problems. The release is mostly laid-back, groovy, and pop-music sound byte oriented. The horns are nicely integrated to provide for a fuller, more realized sound. Best of all, New Wet Kojak still want to rock that booty. Despite the band members' commitments to their other projects, New Wet Kojak does tour frequently, and they're amazing live. And with GVSB on temporary hiatus while they sorted out their label problems, New Wet Kojak hit the and recorded a new EP, "No. 4," earlier this year. But it's "Do Things," released in 2000 but virtually ignored, that showed us the new New Wet Kojak roadmap. - Rob Devlin
samples:
BOURBONESE QUALK, "On Uncertainty"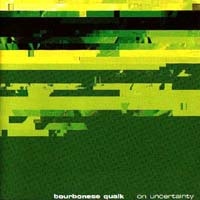 Do yourself a favour and get this one...
Bourbonese QualkÍs unspectacular return is one of the best things this year had to offer music-wise. Miles Miles and Simon Crab continue their unique traces where they left of with 'Unpop' nearly a decade ago.
Uncompromising with references to none besides their own work, they blend electronic and accoustic instrumentation to manifest their very own soundscapes which generate a nearly uncomparable atmosphere. Ray BradburyÍs Mars Chronicles are about the nearest I can think off. Otherworldly harmonies are set against subtilerhythms, tape manipulations and metallic sounds. Even a Sax and vocals find their place without spoiling the overall mood which is gentle and playful, free of any dogmaÍs and boundaries. A well balanced piece of work which will certainly stand the test of time.
If you canÇt afford or find it - half of the album is downloadable from www.bourbonesqualk.com. - Carsten S.
samples:
""SKABÉRN PJ"DARINNAR"

I became rather excited once I figured out, via some online research, that this is the soundtrack for a film by Iceland's Fridrik Thor Fridriksson. Some of Fridriksson's other films, such as "Children of Nature" and "Angels of the Universe", featured impressive soundtracks that included Hilmar Orn Hilmarsson and Sigur R?. Too bad they're not on this one. ""skab?n Pj?arinnar" (English title "Plan B") traces the lives of deviants in Reykjavik and 14 groups provide the backing music. The first thing that comes to my mind when listening is bands from the old Eastern Block countries who tried desperately to imitate Western bands. Here we have, presumably, all Icelandic groups doing much the same geared toward rock with some pop, synth pop, funk and - brace yourself - hip hop too. Much of it is bland or just plain bad and downright cringe inducing in places, such as XXX Rottweilerhundar rapping "my style is phat, when I got my gat" (something tells me Iceland doesn't have anything remotely comparable to Compton). Dip's "Mind in a Vice" is a welcome jazz-y vision and Biogen are the lone purveyor of an electronic track, nearly 8 minutes, but not very interesting. It's the more hardcore tracks by Purrkur Pillnikk, Minus and Brain Police that manage best to erase the geographical genre lines and prove to be the highlights for me. Otherwise, yuck. Come on Iceland ... give us more innovative stuff like Bj?k, Sigur R? and MÕQ! - Mark Weddle
samples:
We know that sometimes these CDs are somewhat challenging to find, which is why we have a community section which can be used to obtain nearly everything available on this site.
thief nabbed

Subject: Texas thief nabbed
Adam Hitt was arrested in Portland (!!!) Friday morning with my truck and some stuff. Not sure how or why, but hes in jail w/o bail. Apparently there is no damage to the truck and AAA (insurance) has been good to me and will return the truck.
Anyway, I wanted to pass this on to you. I really do appreciate the help in spreading the word. Several people (who then passed on the word to many people) heard about it through you...
thanks!
happy holidays,
chris
Thanks for writing. Now if only that Fridge gear was recoverable.

Subject: Coil boots and Ars-holes
It was beyond of my belief to find Ars Nova and other bootleg releases of COIL albums in the official website. You MUST delete it. You cannot mention these 'lables' who just stole the mony of John and Peter. You just DON'T UNDERSTAND what kind of attitude does that label experience here. It was officially punished by Moscow police but it is even not so important. Bootled in the West and bottleg in Russia mean pretty different. They are just suckers who print their cds at home withouit any concern on WHAT kind of music it is. We try to disroot that kind of 'lables' here but you help them adding to such a significant web resourse as official COIL website. Why don't you mention Bulgarian bootlegs which existed long before Russian then? There are tonns of them indeed. And they are jst like xerocopies of books. No quality, no degree, no care to the artists. Anyone can make it and must we accept them seriously? Why didn't yo mention Ars Nova bootlegs for Astral Disaster and other al! bums of a recent time?
Ars Nova is an enemy of COIL and of all others whom they issue. It is Ars Nova whom COIL dedicated their anathema for making money out of their music. You may accept this mail as a personal view, but you cannot take the situation with Ars Nova so futile. Please explain it to John and Peter and i am sure they will ask you to do the same - DELETE ANY ARS NOVA MENTIONS AT BRAIN.
[Greg Clow responds]
The purpose of the Coil site at Brainwashed is to provide as much information as possible about Coil and their various releases. Many other music sites that are run by fans (which this site still is, even though it's been stamped "official" by the band) include information about bootleg, pirated and counterfeit releases. So despite their shady background, I feel that mention of the Ars Nova releases is not out of place on the site.
In addition, John Balance has stated on the Coil mailing list that while they don't necessarily condone the existance of the Ars Nova bootlegs, they also understand that the economy of Russia works differently than most other places. So they don't have a serious problem with their Russian fans owning the bootleg editions. They are mainly concerned with them being sold on eBay and other places as "rare" and "limited edition" versions.
However, having given it some thought, I *do* think that the new design of the discography pages does not make it clear enough that these are bootleg/unofficial releases. So the pages will be modified slightly to make this point a little clearer.

Subject: Funckarma
you picked funckarma over brothomstates? and over plaid? thats just ridiculous...the brothomstates album is the best thing to happen to idm in 2 years....not to mention that 1 track from the plaid album is worth more than the entire Solid State cd......get your head out of your asses.
[Chris Zaldua retorts]
If all you listen to is Warp then it's clear who's got their head up their ass. Let go of Warp Records. Realize what they've done for this genre of music, and realize that they've become little more than utter shit now. Kind of like Skam, but not as bad as what happened to them. There's a whole world of stuff waiting to be discovered: Morr Music and City Centre Offices in Germany, Toytronic in ... uh, England, I guess? Hefty in America, Datathief from Manchester, etc. etc. etc... Claro placed Warp's corpse in a coffin, Drukqs slammed the lid shut, and Vincent Gallo jackhammered the nails in and dropped it 20 miles into a void. It's time to move on, my friend.

Subject: Dream Machine page
Esteemed Brainwashed Brains,
As a longstanding appreciator of Brainwashed, I have but a single critical observation to share — admittedly a selfish one. I think it's great that you include various items relating to the Brion Gysin Dreamachine. However, I regret that I cannot take credit for having penned the article "Dreamachine Weaver". Though it does reference me in its closing paragraphs, I am but one of several subjects mulled over in the piece and did not have a hand in its creation. Therefore, I humbly request that you instead credit the article (the complete draft of which originally appeared in the April '96 issue of High Times under the title, "Who Killed Kurt Cobain?") to its rightful authors, Tim Kenneally and Steve Bloom.
Many thanks, and Best Regards,
David Woodard
This has been noted by the Hafler Trio webmaster. Thanks.

Subject: V/Vm review
"...a timeless terrible Paul McCartney tune that time forgot..." - Jon Witney
...timeless yet forgotten by time. a condundrum, perhaps...
I think I was trying to convey the fact that "Pipes of Peace" by Paul McCartney was a miserably failed attempt at making a classic. Recalling the song, I can remember how painfully obvious it sounded like he was going for it, perhaps almost trying way too hard, but time has thankfully buried that tune.

Subject: looking for suggestions
I am looking for industrial ebm new beat acid tekno stuff from the 80's like gto and gruesome twosome, microchip league, c.c.c.p., voyou, league of gentlemen, zinno, force dimension, tribantura, pluuto, robotiko rejecto
what are some other names like this help help Im only 22
Calm down, sheesh. Go check out the message board and see who'll suggest things to you.