Daniel Padden & the One Ensemble
news || music || bio || photos || video
bio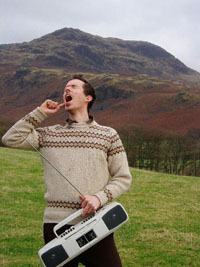 The first album as The One Ensemble of Daniel Padden was released by Catsup Plate in late 2002 while the second, The Owl of Fives was released by Textile in late 2003. All of the music on these 2 records was written, played and recorded by Daniel Padden with help from some friendly guests (as noted in the music section).
The One Ensemble has now grown to be a quartet who frequently perform live. The One Ensemble is made up of Chris Hladowski (bouzouki and clarinet), Peter Nicholson (cello), Daniel Padden and Aby Vulliamy (viola). This quartet, along with drummer/percussionist Alex Neilson, released 'Live At VPRO Radio' on Brainwashed's Handmade series. A new album 'Wayward the Fourth' was released in early 2007 on the Secret Eye label
Daniel Padden is also a member of Volcano The Bear, who have had albums released on Pickled Egg, United Dairies, Misra, Beta-Lactam Ring Records, Textile, and their own imprint, Volucan.
Read reviews here
Chris Hladowski and Aby Vulliamy are also members of Nalle
Daniel Padden was invited to create a piece for The Audible Picture Show entitled "The Flimsy Horse (a duet)". The Audible Picture Show presents original audio works for darkened cinemas.
Padden has also creates work for film, theatre and television. Go to www.danielpadden.com for more information.
Some time ago, Dusted Magazine asked Daniel Padden to talk about some of his favourite records. The feature can be read here
Padden and The One Ensemble can be reached by email at alcovebaron at hotmail dot com.