MUSIC
IN BRIEF
MICE PARADE, "RAMDA"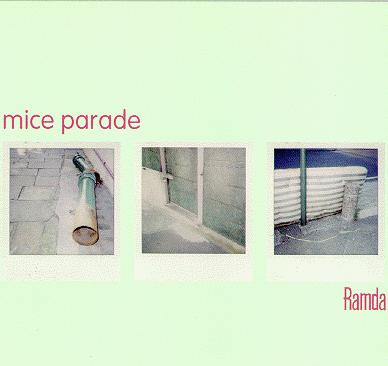 I can't stress enough how every Tortoise and Meat Beat fan really need to seek out the Dylan Group. Mice Parade is Adam Pierce of the Dylan Group, but one person from the band does not necessarily mean this is less intense, beat frenzied or chimey. Recorded and produced entirely at home, this disc is choc full of some fat beats, intence rhythms, innovative low end bass and some pretty melodies to put the icing on the cake. If anything this album sounds even more like a full group of talented musicians jamming than Dylan Group material. Perhaps it's because Adam set out to do each instrument and each mix in one take. I suppose if you write and play each part, you know what all the other musicians are thinking. Regardless, this is a very intense and enjoyable disc, coupled with a brief comment from Adam on something I feel stronly about - educating children and music. Reversing the brainwashing of the popular culture that feeds the masses the 4/4 bullshit product by the ton. Reward yourself today. - Jon Whitney
MONKS, "FIVE UPSTART AMERICANS"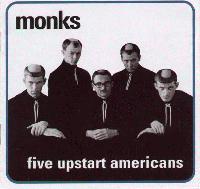 The Monks were a five piece band of American servicemen stationed in Germany in the 1960's. They began as a duo called The Torquays, quickly expanding to The Five Torquays, playing various rock and roll covers and originals in the night clubs near the military bases. In September of 1965, the band entered a studio just outside Stuttgart for two days to record the sessions found here (with the exception of the final two bonus tracks, The Torquays' "There She Walks"/"Boys Are Boys" single recorded in 1964). The bulk of these tracks are the primitive rough sketches for the songs that would make up the legendary (in an underground, cult classic sense) 1966 Monks album, "Black Monk Time", the definitive version being the unfortunately out of print 1997 cd re-release complete with 7 bonus tracks and a very nice 14 page insert on Infinite Zero Records. The Monks were rather unique, especially for mid 1960's Germany, in that they all dressed in black and shaved their heads to look like monks. Add to that their "anti-Beatles" take on rock and roll and that's what set them apart from the crowd ... these guys were "punk" before the word had any meaningful connotation. The songs are minimal and repetitive with every member of the band contributing to the rhythm via organ, cymbal-less drums, bass and electric guitar and 6 string electric banjo. They were experimenting with instrumentation and exploring the joys of distortion and feedback before Hendrix! Add to that Gary's lilting lead vocal and the choral vocals of the others and you have one hell of a great racket. The Monks' lyrics were also simple and repetitive, which helped to effectively communicate with the mostly German audiences, and shared the same devious sense of humor as their music and image. A few lyrical examples, from "Boys are Boys": "boys are boys and the girls are joys ... to you and me they're more than joys!" and "I Hate You": "I hate you baby ... but call me!" Although the songs here sound a bit unfinished, which they are, they still sound great and are a fascinating foreshadowing of what was to come. "Black Monk Time" perfected the sound and took it to the next level, but "Five Upstart Americans" is still a fun and very welcome companion piece. Plus, you get the Five Torquays single, 2 previously unreleased tracks ("Pretty Suzanne" and "Hushie Pushie") and a 6 page insert which has b/w in the studio/promo photos and liner notes by Eddie Shaw and Gary Burger. This is one of those rare chunks of little known rock and roll history that is now thankfully preserved on a 5" disc for eternal reference. It's Monk Time! - Mark Weddle
TAKAKO MINEKAWA, "XIMER"


While basically unknown in the Western world, Takako Minekawa is apparently quite a celebrity in her homeland of Japan where she's not only a musician (influenced equally, she says, by French pop music and Kraftwerk) but also an actress, writer and music journalist. Sonically, she inhabits a similar realm as her countrymen Cornelius, Fantastic Plastic Machine and Pizzicato Five, producing a sweet sounding hybrid of electro-pop and groovy lounge with undeniably cute little girl vocals. Ximer is a long EP (eight tracks, including two CD "bonus" cuts) featuring remixes from her Cloudy Cloud Calculator album, with different mixes emphasizing different elements of her sound. Cornelius beefs up the disc opening "Milk Rock" with quirky breakbeats; "International Velvet" is transformed into an experimental soundscape by Marcus Popp of Oval; Sweet Trip infuse "Cat House" with a laid-back funk-house vibe; and Nobukazu Takemura provides an epic rework of "Phonoballoon Song" that mutates from bossa nova pop to distorted electronica to almost Reichian minimalism over the course of ten and a half minutes. Too bad the crap cover will cause a lot of folks to pass it over. - Greg Clow
PLONE, "FOR BEGINNER PIANO"


How can anyone actually sit down and really listen to this is completely beyond me. The cheesiness factor of the primitive toy synths get annoying with the first note and last throughout the entirety of this disc. I'm waiting for something interesting to happen as there's been quite a bit of praise surrounding Plone, but this album is nothing but a bland collection of cliche themes, predictable with each note. This disc is embarassing to listen to in the car and should never be played on high volumes. - Jon Whitney
PANACEA, "PHOENIX METABOLISM"


The problem with putting out so many fucking brilliant albums is that you're bound to release a fairly decent product, whose mediocrity pales so much in comparison to earlier works that fans will be hurt, confused and get angry. Such is the case of this, Panacea's second full-lengther this year. Our German hardcore digitalist serves up this new platter, almost completely stripped of low end grooves perfected in the past, leaving the high end white noise and adding guest rap vocals. At 22 tracks this goes on a bit too much. I'm left thinking Mr. Panacea's trying to win some Atari Teenage Riot fans this time around. While it would probably be a decent record for anybody else, I was expecting a lot more after the brilliant collaboration with Hanaio released earlier this year. - Jon Whitney
PAPA M, "LIVE FROM A SHARK CAGE"


One of the busiest guitarists in indie rock and undoubtedly one of the best melody writers, David Pajo bring us a stunning new release under the relatively new moniker, Papa M. While Aerial M sounded like a good solid band, playing off each other and allowing the solo guitarist center stage, Papa M is a more introspective, solo man sounding effort. The sound choices are considerably more experimental and varied in nature than previous recordings, but the signature Pajo pretty swirling guitar melodies are still there. Warm, delicate, tender and inviting can be appropriately used to describe Pajo's melodies. David Pajo proudly uses new looping devices and mechanisms, some new drum machine sounds, while airy keyboard and unobtrusive bass lines take a back seat, rounding out the sound to make this full-lengther one of the best releases of the year. With instrumental and varied through melodic guitar loops, sustained drones, electronic interplay and live drumming, hand held cassette recordings and answering machine messages - the Papa M has a little something for everybody. Don't miss out on Pajo opening up for Stereolab on a few dates this upcoming US tour. - Jon Whitney
SPACETIME CONTINUUM, "DOUBLE FINE ZONE"


The career of Scottish-born and San Francisco-based musician Jonah Sharp is a bit of a paradox. On one hand, he's rather prolific, as his name appears on well over a dozen albums released on numerous labels worldwide in the last several years. On the other, it's been over three years since the last album from Sharp's main project, Spacetime Continuum. But finally, the long-awaited return of STC has arrived in the form of Double Fine Zone. And as might be expected based on past evidence (i.e. the progression from the classic ambience of 1994's Sea Biscuit to the Detroit and west coast techno of 1996's Emit Ecaps), he has shot off into yet another stylistic realm. The core of electronic beats remains intact, but draped over top is a whole mess of jazz, thanks to Sharp's live drumming (a return of sorts to a decade ago when he was a session drummer for the Acid Jazz label) and the saxophone work of his long-time mate Brian Iddenden. With admitted influences for the recordings including Herbie Hancock, Max Roach, Lalo Schiffrin and Carl Craig, Double Fine Zone is a superb blend of electro and tech-house grooves with jazz of the fusion, free and funk varieties. - Greg Clow
SKYLAB, "LARGE AS LIFE AND TWICE AS NATURAL"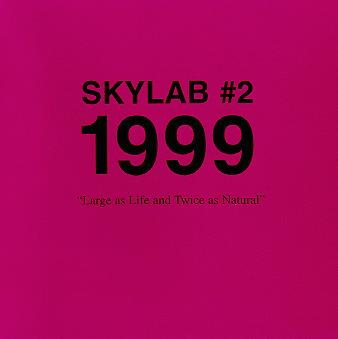 Five years after Skylab #1 is released, Skylab #2 surfaces, no longer on Astralwerks and no longer is Skylab an atmospheric, linear low end heavy somewhat dubby ambient mainly instrumental outfit. This could probably be accredited to Howie B's absence in Skylab #2, as he produced and programmed most of #1 with M Kudo. The album starts out almost like a free-form jazz influenced electronic record, littered with cut up samples, jazz bass, and live drums. Further into the record it becomes a bad rock album, with metal distorted guitars and bad vocals. While this is enjoyable for the first part, it's rather disconnected and somewhat half-hearted. By the middle, the singer has taken front stage. The vocals are thoughtless, unchallenging, unnecessary and sound entirely out of place. Too much time has passed for this to be a real follow up to the stunning debut. Some things are better left unresolved - I'm thinking of Stone Roses second album and the remote possibility of a follow-up to My Bloody Valentine's "Loveless". - Jon Whitney
MOUSE ON MARS, "NIUN NIGGUNG"


Techno-babble-icious! Mouse on Mars bring us a new platter full of zesty, happy, blippy and blonky head bobbing beats. This time around there's splashes of guitar samples, some beefy and bassy beats tossed in for good measure, a couple slow tempo pieces to break up the joy, with trumpet and other sounds tossed in here and there. I've seen this disc panned in reviews already and I'm not quite sure what people are expecting from Mouse on Mars. While it's not an earth-shattering release, it's quite intense and is most certainly not a paint-by-numbers techno album. Listening to this release, it becomes clear what is missing from the current Stereolab album - about half of their last album, Dots and Loops was produced by the Mouse on Mars fellas, and these fun and interesting sound effects really rounded out that album. None of the sounds are fresh out of the box, pre programmed keyboards and none of the melodies are predictable or over done. (Quite a noticable contrast from the half-assed Plone record.) Niun Niggung is currently available in Europe and Japan, yet it will be still a few more months until Thrill Jockey releases it in North America. Possibly worth the wait, but it's a recommendable disc.- Jon Whitney
THE HIGH LLAMAS, "SNOWBUG"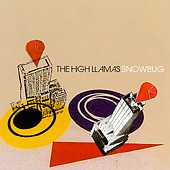 Strangely enough, the High Llamas get more enjoyable with each album while Stereolab are getting less. For those who don't know the connection, this album features ex-Lab member Sean O'Hagan's groop but feature vocal appearances by Laetitia and Mary of Stereolab coupled with enough production and guest vibes from John McEntire, it might as well be Stereolab. You could possibly also easily sneak a couple tunes onto a Lab album and nobody would notice the difference. That aside, the conservative production on this album makes it charming yet not overbearing, there's no musicians showing off here, just some great sounds. A shy and timid vocal is not completely unlike Sam Prekop's style alone or with the Sea and Cake. Heavy on the loungey 60s TV theme tip and light on the beat, this album makes for a great Sunday drive. - Jon Whitney
We know that sometimes these CDs are somewhat challenging to find, which is why we have a RECOMMENDED STORES section which can be used to obtain nearly everything available on the site.
NEW
RELEASES
MONDAY
Baretta [Varathane] - Kicking the Horse CD-R EP (Sprout/Hydrant, US)
Blackalicious - Deception two 12"s/CDEP [mixes by Ruby Dee & Aphrodite] (Mo'Wax, UK)
Brittle Ones [Varathane] - Brittle Ones CD-R EP (Sprout/Hydrant, US)
Broadcast - Echo's Answer 7"/CDEP (Warp, UK)
Duracel - '98 12" (Djak Up Bitch, Holland)
Lektrogirl - I (heart) My Computer CD/LP (Rephlex, UK)
Solvent - Solvently One Listens CD (Suction, Canada)
Syncom Data - 50 Pop or an Envelope 12" (Bunker, Holland)
Alden Tyrell - Love Explosion 12" (Viewlexx, Holland)
Various - Arctic Circles 2 CD (Beatservice, Norway)
Various - Boston Not London CD [with Asmodeus Spectre, Cathode Ray Tube, Entropy Struct, Plex, Ukuphambana and more] (CFOM, US)
TUESDAY
Adult - Entertainment 12" (Ersatz Audio, US)
* Can - Can Live 2xCD (Spoon/Mute, US)
Datach'i - 10110101 (rec+play) CD (Caipirinha, US)
DJ Spooky vs. Scanner - DJ Spooky vs. Scanner CD (Beggars Banquet, Canada)
Haujobb - Remix 99 CD (Metropolis, US)
Richie Hawtin - Decks EFX & 909 mix CD (M_nus/Novamute, Canada/US)
* Pet Shop Boys - Nightlife CD [initial copies include bonus CD] (Sire/Warner, US)
* Pig - Red Raw and Sore/The Swining CD (Cleopatra, US)
THURSDAY
Richie Hawtin - Decks EFX & 909 mix CD (M_nus/Sony Techno, Japan)

For a more comprehensive release schedule stretching far into the future, please check out the NEW RELEASES brought to you by Greg and Feedback Monitor.
BOOK
REVIEWS
LIQUID CITY

Marc Atkins and Iain Sinclair worked together on Lights Out for the Territory, though in that collection of essays Atkins' name appeared more often in the text than his photographs did on the page. Liquid City rights the balance, offering a couple hundred pages of images only occasionally broken up by Sinclair's commentary. It's a very different collaboration from that in Sinclair and McKean's Slow Chocolate Autopsy reviewed a few weeks back; Sinclair likes to play up the antagonisms and irritations in their relationship, even asking, "Why should a photograph matter? Another entry in the catalogue of the fabulous city, another marker." It's one of Sinclair's favorite tactics to suggest that it's him and Atkins against the world, and he's not so sure about Atkins. The photographs, infused with the light over London, capture derelict scenes, abandoned pathways split by weeds, the x of two contrails in the sky over grim concrete bunkers. He plays with the paranoia induced by surveillance cameras, becoming himself a kind of freelance surveillance device. All black and white, the photographs reveal contemporary London in the way Stanley Greenberg's Invisible New York opens up that city beneath, between, and around the buildings of its overdeveloped skyline. But Atkins is also adept at portraiture; if at times some pictures fall into puff profile celebrity journalism, many are striking, framing, for example, the casual exhibitionism of a naked man in a hospital bed adjusting long stockings. Sinclair lets the photographs stand for themselves, avoiding comment on the greater portion of them. At times his text reads like an appendix to his other works and his habit of advertising his titles will certainly irritate those who aren't familiar with his work. But the book is also crammed with brief interviews and considerations of a variety of artists, among them Michael Moorcock, Kathy Acker, Rachel Whiteread, Alan Moore and Gilbert and George. They are slight in themselves, but help tether Liquid City to a time and place, a London of the nineties which feels more clandestine and less exclusive than those eras for which the city is better known. But as Sinclair writes, "There is a world out there that isn't London and that belongs to no particular time or period. I look back on it, despite all the evidence to the contrary, as a collaboration that never happened. A series of accidents that occasionally fused discrete worlds." He denies any easy resolutions, such as a fin-de-siecle comedown, that might settle those tensions he hopes will fascinate the reader and viewer. In part this is due to his sincere interest in the mythical qualities of place, especially those locations which seem to require sacrifice to the point of ritual murder. But if Sinclair's interest in psychogeography is an attempt to find something beneath London's relentless self-promotion, he hardly keeps himself from using the cachet of its arts crowd to advance his cause. Happily, the modishness is little more than a flare at the edge's of Atkins' dark work. - Paul McRandle
FEEDBACK
ZING ZING ZING ZUM ZUM
Subject: buzz

Stopped by your site ---
Terrific pages. Charming and delightful all around. An eyeful for anyone stopping by. Great Design. Great contribution to the World Wide Web.

I am much impressed. I am awarding your site the Buzz Award. Stop by my page to download the award bearing the words "Buzz Award."

My good fortune to find you.

bzzzzzzzzzzzzzzzzzzzz! We don't display awards and link advertisers to your worthless sites which are no good contribution to the World Wide Web, muha. Thanks for the award however, we'll keep it safe.
---
Subject: Fridge covers

Hi Brainwashed people,
I was talking to Kieran the Manchester, England dance festival "D Percussion" and he told me the object on the cover of the Lign single is the inside of a radar transmitter. If you're interested, he Djed for about 45 minutes, mainly unexpected techno-ish stuff.

Thanks, we are interested. Fridge should just ditch the idea of touring in the USA supporting anybody and just let Kieran DJ as an opener and maybe Rick Bass could also do a funky ass opening set.
---
Subject: Searchable Archives?

Brain;

Any chance for searchable archives?
I trust your reviews like my mother, and would like to have indexed access to all of your opinions and recommendations.
I am nothing without the guidance of The Brain.
I am an empty vessel without your pouring living liquid to fill me.
With The Brain I can pretend that I live a satisfying life informed by a bottomless mailbox of free music and literature.
Without the Brain, I lay on a dirty rug in a dim room and shit myself.

Do you have photos of this?
---
Subject: jessamine

I recently got into Jessamine but I heard the nasty rumor that they broke up. Is this true? And if not, are they going on tour anytime soon on the East coast? I appreciate any help you can offer me. thank you.

Jessamine broke up when bassist/ singer Dawn Smithson moved to Seattle and drummer Michael Faith moved to Fresno, CA. There is a semi-new Jessamine/E.A.R. CD called 'Living Sound' out on the band's Histrionic label. It is a live recording of an August 1996 collaboration between the two bands. Histrionic has also released the second, self-titled CD from Southerning, which features keyboardist Andy Brown from Jessamine and David Farrell. The Histrionic address is P.O. Box 45102, Seattle, WA 98145. Andy Brown and Jessamine guitarist-vocalist Rex Ritter stayed in Portland, OR where they run Magnetic Park; a 16 track studio. They also have a new, four piece band called Fontanelle that has played a few select shows in Portland. Fontanelle are currently recording a debut album for kranky which hopes to release it in the spring of 2000.
---
Subject: Fetish Records

Hello --

Thanks for the site.

I'm with a record company in Los Angeles and I'm trying to find out who owns the master recordings of Fetish Records. Was it taken over by a larger company? Or do the original owners still own it?

Any information would be greatly appreciated.

No clues, most of Fetishes releases were licensed from other labels.
---
Subject: post postcard?

Hi,

I was wondering if you would be so kind as to scan the postcard for MTPITD:2 and stick it up in the gallery if you have time - I'd really like to see it!

It's in the Coil page in the music section under the album.
---
Subject: internet therapist

Dear Sir Madam
I im a student at the University of London and I'm doing a report on if on-line therapy is effective.

I would be very grateful if you could assist me with any information.

thanking you In advance

The Internet Therapist provides internet solutions - not crack-pot counseling.