MUSIC
IN BRIEF
DOLDRUMS, "DESKTOP TRICKERY"

Ok, so you're sitting on some fictitious backporch in rural Appalachia. The sounds of "mountain music." Guitar pickin', a banjo or two here, some spoons there... Now, take this scene, transport it to that fabled mountain range named Psychedelia, and you've got Desk Trickery, the latest album from the Doldrums. The album consists of guitar noodling, samples, loops, and sequences that have all been edited via a computer. Matt Kellum's drumming has been added over the guitars to infuse the release with an intrinsic sense or rhythm that connects the album, making it the perfect anthem for that new geographical location Psychedelia. And these guys know how to have fun, naming their last track--recorded live at a Texan music festival--"Godspeed You Young Actress." How can you not love these guys when they poke a little fun at the proliferation of their kranky labelmates. When listening to the beautiful harmonies and intricate textures that emerge of these guys on tracks such as "Office Scene" and "Who Shot J.R." I can't help but to close my eyes and nod my head a little as I dream of getting a nice glass of iced tea and heading out to the porch for some good 'ole mountain jams. - Carter Adams
THREAD, "IN SWEET SORROW"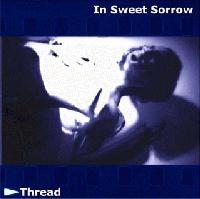 James Izzo is a solo electronic musician known for his music as Thread and The Boy Without Hands, as well as for 'recreations' of tracks by Coil, Meat Beat Manifesto, Pan Sonic and Autechre ... all of this released within the last year! If you're not yet familiar with any of his work, you will be. "In Sweet Sorrow" is the new Thread single (due Nov. 30) for the upcoming album, "Abnormal Love", due in early 2000. The title track and several of the ensuing re-mixes feature the vocals of Jarboe, solo artist and former member of SWANS. If you're familiar with any of Jarboe's vocal work, you already know that her voice works amazingly well with any type of musical accompaniment. Here her vocals are of the breathy, angelic variety and are backed with varying electronic soundscapes. The title track is utterly beautiful ... drifting washes of ambiance, quiet synth melodies and gentle bits of percussion meld perfectly with Jarboe's doubled up vocals. The song slowly fades in a cloud of ambiance in the final few minutes and segues into the next track. "A Sweeter Sorrow" and "Sorrowgazer" are primarily instrumental, the former being more percussive with layers of beats, samples of Jarboe's 'oohs' and 'aahs', synth melodies and bass throbs and the latter being a mellow ambient piece, loosely based on the title track, comprised of synth pads and gentle piano playing. The other two re-mixes are by the Netherlands' Artefact and Italy's CazzoDio, both of which retain the vocals. The former has a pulsating electronic wave, more synth melodies and gentle beats that develop into an almost breakbeat nature for the final few minutes. The latter is similar, with the addition of a sporadic, crushing and distorted beat. "Rain" is the final track, another mellow instrumental, this one based solely on a moody synth melody and drips of delayed sound tones. Very nice indeed ... the balance and continuity of the six tracks is perfect. This is simply Izzo's most intriguing work to date and I can only assume that the quality of "In Sweet Sorrow" foreshadows what's to come on "Abnormal Love". MP3 sound clips are available at the Thread site ... - Mark Weddle
JON SPENCER BLUES EXPLOSION, "XTRA ACME USA"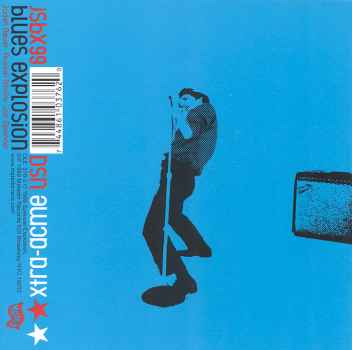 There are many reasons that this add-on to the 1998 Jon Spencer Blues Explosion album Acme rocks. Many many reasons. The first time I listened to it, I could not make much distinction between this xtra album and the original release. Don't get me wrong, I love jsbx, but on that first listening, what was so xtra about it alluded me. However, after a few times through, I can safely say that I have found the xtra and I'm a better person because of it. OK, maybe not better, just happier. There are a lot of different layers to the remixes, different layers that took me a few listenings to appreciate. jsbx brought in some notable players for this add-on. Well, honestly, the only reason I know that they are notable is because I read it, I wouldn't know these guys from a whole in the ground. But, for those of you who need the know, here it is. Steve Albini recorded basic tracks for seven songs, Dan "the Automator" Nakamura added hip-hop influences to six songs, Calvin Johnson lent an organic hand to several songs (one of which is his namesake), Alec Empire from German-based Atari Teenage Riot added his two cents, and Moby mixed one track. Most notably of all perhaps is the human beatbox on Soul Trance, a whacky, mellow tune, which hits all the right places. With this list of varied collaborators, the album as a whole could have gone in all sorts of directions. But, because jsbx already goes in a bunch of different directions, it all fits together. When you take the eclectic charm and general rockability of the jsbx and add to it some talented remixing and recording, it couldn't have worked out better. There's something for everyone on this album, if you're not into the remixes, there are plenty of new tracks to sink your teeth into. If you've never heard this band before, don't expect to hear any blues (as their name might imply), as Spencer shouts from one track, they don't play the blues, they play rock and roll! The lyrics have never been something that will win them any poetry contests, but they certainly are unique, in a wonderfully tongue-in-cheek kind of a way. However, the remix to Magical Colors (31 Flavors) lays the groundwork for a true love song, just take a listen to this, "Baby, have you ever had a otdog? . I'd like to eat a hotdog with you, baby, I'd like to hang out on the corner with you, I'd like to go to the top if the empire state building, anything that you want, so long as we're together" If there was ever a true romantic sentiment that is it. If romance isn't your gig, then you'll love "Leave me alone so I can rock again". Like a cool drink of water on a hot, steamy day. - Milcah Roden
THE NOTWIST, "SHRINK"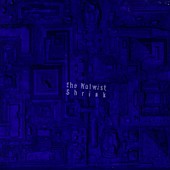 My pick of the week is the fourth album by this German group, released in 1998. Notwist is allegedly an offshoot from the Tied and Tickled Trio, a jazz rock influenced group who can be found on more remixes than original product, including the Aerial M remix album "Post-Global Music". For nearly all of the songs, the first measures start up in a wonderful electro glitchy rhythmic interplay, eventually kicking in to a fuzz-bass based pop tune, indie-pop (if possible) in nature. Music must evolve, and thus indie glitch-pop is born (?) as this album represents what you might get when you cross Coil with Magnetic Fields and Sam Prekop (of The Sea and Cake) at the vocals. Taking a break from the easy-melody pop, a few tracks break the electro mold and step over the line, rejecting vocals and adding a small horn section, living percussion players, nasty sounding organs and saxophone vs. drum break downs. Stereolab fans beware, as I have heard they're touring around with the band here and there for their current tour. The tunes keep your head bobbing, the melodies warm your soul and the electronics tickle your brain. Hunt this one out because Zero Hour isn't necessesarily an easy label to hunt down. - Jon Whitney
SONIC YOUTH, "GOODBYE 20TH CENTURY"


In the 90s, Sonic Youth have released less than exciting full-length albums for their major label, Geffen, meanwhile spitting out some of their most experimental, challenging, thoughtful and enjoyable works on their own. Musical Perspectives volumes 1, 2 and 3 were released in 1997 on Sonic Youth Records, each with 3-5 lengthy songs, each pushing the evolution of experimental rock music, the final of the EPs, recorded with Jim O'Rourke stretched nearly an hour, never getting dull or mundane. This set, Musical Perspectives 4, titled "Goodbye 20th Century" is a 2-CD set featuring guests like Wharton Tiers, Jim O'Rourke and Kim and Thurston's daughter, Coco Hayley added to the usual lineup of Sonic Youth. Each of the tracks are various interpretations of experimental 20th century pieces by John Cage, Yoko Ono, Steve Reich and others. Be warned that Sonic Youth fans expecting a pop rock album are in for a surprise while those fans of the Glen Branca school of experimental guitar electronics are in for a treat. This album should be savored like a fine yet biting alcohol in the privacy of your own home, hardly something to throw in the car for a night of driving around town. It's cold and calculated, inviting yet abrasive, a fine treat. - Jon Whitney
KOOL KEITH, "BLACK ELVIS/LOST IN SPACE"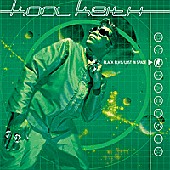 The sound of Kool Keith has always been incredibly hard to pin down. To relinquish him to the general label of hip hop is to neglect that very part of him that makes him so special. Although, hip hop is the genre that he inevitably falls into, I call him just plain weird (but weird in that really good way). This album is the second full length release from Kool Keith, the first was "Sex Style" in 1997. However, he is no new-comer, he has been on the scene under many different personas since the mid-80s when he was with the Ultramagnetic MCs. He teamed up with a variety of artists to release singles before unleashing one of his alter-egos Dr. Octagon with "Dr. Octagonynocologist" in 1996. Kool Keith himself, claims many more incarnations than I can mention here, but suffice it to say that he is well traveled. In this world and elsewhere. Usually his albums have a central theme that pervades the rhymes and the beats. Outer space is what drives this album. His rap style is unpretentious and unmistakable. His voice is impossible to mix up with that of any other fly by night rap artist. And, his rhymes are even more unmistakable. In this effort, I found it much more mellow than the Dr. Octagon work and less-focussed on all things vaginal than the "Sex Style" album (I guess that goes without saying). However, sex is never really that far from the brain, in fact many of the tracks have a blusey backdrop that can make you want to get down, such as on "Supergalactic Lover" and "Master of the Game". This mellow and less complex quality is one of the reasons why this is not my first choice from this artist. There is plenty to love here, but not plenty enough. Some of the tracks blend together, held apart only by the often repeated choruses. But, the rhymes are never a disappointment. Keith is adept at using pop culture references to spotlight the futility with our obsessions with materialism and the media. In his Intro he asks a number of probing questions, "Why do you pull up in valet parking with your Benz, that is rented, fronting on a cellular phone that doesn't work? Why?" I've asked that question many a time myself. It is this mixture of the omnipotent voyeur and the whacky boy just having a good time that makes Kool Keith a provocateur of the hip hop genre. This album is no exception to his innovative style, it's just not getting him as far as it could have. Visit www.koolkeith.net for the complete discography and the low down on all of his personas. - Milcah Roden
ICEBREAKER, "DISTANT EARLY WARNING"
The duo of Alex Perls and Simon Break paint a picture in sound of the cold loneliness of our mostly abandoned radar stations to the north on "Distant Early Warning." Now that the threat of Soviet attack is behind us, said stations sit unmanned between the Arctic and Northern Canada, gray against stark-white snow as reminders of a more hostile time. Icebreaker wash over us with old analog synths and man-made atmospheres, trying to convey the sense of sorrow all those machines must feel being left alone. A lot of it sounds like Eno's Ambient series, all blurring drone melodies and the gentle disorientation of consciousness. Mental pictures form in your mind: lazily travelling down empty, unlit hallways crammed with never-to-be-used supplies and long-faded echoes; a slowly panning aerial view of radar dishes and antennas uselessly searching the sky for intruders, only because their programming dictates it. Icebreaker, however, ground things when they introduce percussion into the mix. The jazzy brushwork of the drummer isn't bad, albeit a tad pedestrian, so it easily blends in with the bleak mood. Good soundtrack for a dark winter's day, alone. - Jason Olariu
LAKUNA, "CASTLE OF CRIME"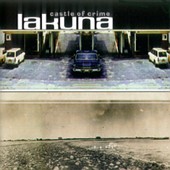 Not to be overlooked is the debut album from former Throwing Muses drummer, David Narcizo as Lakuna. I remember seeing Throwing Muses and always being drawn by the talent that Narcizo displayed - having a small and simple drum set while beating out some innovative and complex rhythms. This album is a delve into rhythmic experimentation first and foremost, with vocal, musical and environmental samples tossed in to the mix to add color. The rhythms are of course spectacular, while the music is never too complicated to be overshadowing while never simple enough to be boring. The songs go from peppy body music to slow tempo almost cocktail lounge sounding gems. Progressive and moving, this is a CD aching to provide the soundtrack for that Thanksgiving country drive to your relatives house. Mom might even like it! - Jon Whitney
We know that sometimes these CDs are somewhat challenging to find, which is why we have a RECOMMENDED STORES section which can be used to obtain nearly everything available on the site.
BOOK
REVIEW
MEMORIES OF MY FATHER WATCHING TV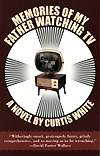 With such a domestic title reeking of the rec room, it's easy to see how one father/reviewer at Amazon.com felt himself duped by Curtis White's recent fevered novel. Yet how appropriate that this book about killing fathers should be given unknowingly by a daughter to her dear dad. For what sounds like a gentle and nostalgic baby-boomer memoir reveals itself to be a nasty and funny or funny and nasty mix of tv room battles, rotoscope frenzies, and myth. The novel arrives as a series of incarnations: Highway Patrol, Sea Hunt, Combat, Have Gun Will Travel, tv shows so little worth repeating that by their absence they've become something potent in White's memory. Most of these episodes take place somewhere between the living room, the stage set, and the fictional locale, the father less their star than their scapegoat. His humiliations are endless--from confessing on a quiz show that he's best described as a turd in a hat to playing a German bridge used by Nazis and blown skyhigh by his son. Most other times he lies comatose on the couch, only rousing himself if his children dare to interrupt his show. But as Dad sinks in his stupor, kids screw on the sofa, Maverick is born as a fetus in a boot, and a huge, singing worm is squeezed from Ben Cartwright's head. It's obvious that White's models include Kafka and Barthelme, but he avoids sounding merely derivative. While he can be sneeringly arch, through much of Memories White homesteads television's imaginative landscape with all the zeal of a man opening up a new frontier. In the process, he makes other writers on the subject sound like mere armchair travellers. - Paul McRandle
SORRY MENISCUS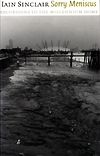 To Americans, London's Millennium Dome is more likely to recall Logan's Run or a football stadium than St. Paul's Cathedral. It's equally unlikely that many outside of Britain will take much interest in a critique of it. Iain Sinclair's little tract will only earn their attention when it comes closest to a rant, satisfying ill-spirited if universal urges to see great plans collapse and rich men shown for fools. In this Sinclair doesn't spare himself; his attacks on "the Teflon Hedgehog" are unremitting. There's no pretense of fair-mindedness here, and the photographs of this "poached egg sunset," "this skin with no pudding," give little reason for one. Engulfing 200 million pounds of lottery money and fouling traffic, the dome in return provides "all the excitement of a slightly dirty circus tent." Does it matter that others will enjoy the tent once filled? Not to Sinclair, yet he never attacks the potential audience for bad taste. In fact, he has the polling to show that most of Britain sees it for the waste it is. He attacks those who profit from it by abusing the public's good will. A slight book, Sinclair nonetheless shows how much local history and pragmatic utility the powerful are happy to sacrifice in the name of entertainment. As he puts it, "Give us the bread and we'll give you the circuses." - Paul McRandle
FEEDBACK
WOMEN SPEAK UP
Subject: thank you

From your music reviews this week: "...willing to explore making music on anything other than an acoustic guitar and tirades at ex boyfriends."

Thank you. If I hear one more Ani-Alanis-Jewel-Fiona DiMorrisAppleSette chick whining to poorly and unimaginatively played acoustic guitar, I am going to force said chick to eat said guitar. I believe in personal expression, but I don't understand why this is the sort of music that women are most associated with, and why the people who perform it all have to sound the fucking same.

I haven't been to Northampton MA since 1997, and actually, I was a "Smithie" myself, but never graduated for various reasons. I sort of miss it, sometimes--and then I snap out of it. My feeling on the 4-year/8-month lesbians was always, "Why?" I mean, if there's only women around and you want to get laid, go for it! Munch twat to your little heart's content! Just, why make a political statement about it? Just fuck; don't sleep your politics.

Thank you for letting me vent.

Thanks, this is the first note from a woman I have ever seen the words "Munch Twat" in.
---
Subject: Children of the brain

If it seems to you that I simply didn't get something you said, it's possible that I didn't know you said it. If not, I am sorry for the email it will never happen again.

"I recommend picking this album up for anybody who's losing faith in solo act female musicians - willing to explore making music on anything other than an acoustic guitar and tirades at ex boyfriends. "

Are we so desperate ? This deserves elaboration by someone better informed than myself.

Don't be sorry for not understanding, somebody gets it - see previous feedback note. My point was the fact that we're so brainwashed into thinking femaled produced, recorded, written music has to be about some reactionary woman with a bone to pick with someone, this isn't my fault, it's just my comment on the way the commercial music industry operates. There are women out there making electronic music that is intelligent, interesting and compelling, yet record companies have a hard time picking it up and selling it if it's not Ginger Spice. Even if you look at the brainwashed roster, there's only a couple of women on there, but then again what do I know about female musicians trying to make it in a progressive market - I'm neither a female nor a professional musician and merely made a one sentence comment, hardly desperate as you point out. Just trying to sum everything up in a small sentence.
---
Subject: assmilk.avi

I assume you have seen this vid. Do you know what film it is from?

Fantasia
---
Subject: Steven

I think I asked this question before, and I'm sure I got an answer....but does Steven Stapleton sing at all for nww? I came across a picture of him from that other nww site linked in the brainwashed nww site, and they've got a picture of him singing. Just wondering.

I don't think he sings, but might speak every now and again.
---
Subject: how do I join the staff of Brainwashed.

I admire the work done for the bands I admire, is there any way I can get in on the Web site building for some of those bands? Free of charge of course!

There is an initiation ceremony, a hazing week that goes on once a year, you can sign up for it, but all applicants are given an essay quiz, physical examination and are asked to endure various elements while in different states of vulnerability. After then it's years of cleaning floors and toilets until that one day when Non needs a redesign and the vice president is out of the country.