telefon tel aviv, "fahrenheit fair enough"

Sometimes a piece of music enters your life and has a tough time leaving your CD player. The debut full-lengther from this New Orleans-based duo happens to be one of the most addictive albums I've heard in months. I've said this before and I'll say it again: great organic musicians make for great electronic musicians, and we've heard hints of what this duo could do earlier this year with their contributions to the 'Scarlet Diva' soundtrack as well as some remix they allegedly did for Nine Inch Nails. Their debut is clean and sharp, with delicately crafted electronics gently glistening over the live playing of organs, electric piano, bass, guitar, drums and percussion. This is what I was dreaming of when I listened to the soundtrack and was anxious to hear an electronic band bring that live feel into the mix. Audiofiles would be happy to know this CD bears a high-definition logo (which means something to the effect of being superbly enhanced on expensive equipment). On regular equipment, however, the music sounds fine enough, with supersonic psychologically-stimulating ticks which move the beat finer than any laptop composition that bore a click and cut logo from any excessive German record label. Composition, structure and an incredible competancy can be shown from track to track on this 50-minute slice of electronic bliss. This disc has been tested in my car, in the walkman, on the radio and in the house and while it passes with flying colors in all places, the best experience is to sit back and simply tune every other distraction out. The duo is touring the USA starting this week on Hefty's Immediate Action tour. Don't miss this show as Slicker, Twine and Beneath Autumn Sky are also on the bill. For dates, check out Hefty's website. - Jon Whitney
samples:
ROTOSCOPE, "GREAT CURVES"


Rotoscope are a 6 piece group that share a producer and members with the acclaimed Norwegian jazz collective Jaga Jazzist. Their instrumentation includes electronics, keyboards, saxophones, clarinets, guitar, bass, drums, percussion and vibraphone, but it's the production that may very well be the most important component. Original recordings have obviously been obliterated, mangled or enhanced by cut and paste editing, the end result being 10 tracks that balance jazz, pop and electronica in widely varying degrees. "Press Stop", "The Bogota Sub" and "Noiserok Orkesterissa" contain the most manic juxtapositions and jams of spliced audio/vocal bits and jazzy drum 'n bass rhythms. But even within these 3 there are melodic counterpoints or moments of calm to be found and, often, vice versa within the other tracks. Christine Santorv's girlish, somewhat intentionally strained vocals (in English) help give about half of the disc a soft and sweet feminine quality. "All That You Owned (Remix)" places her words amidst seemingly random glitch crackles, piano notes and bass surges. "Pink Soda", "Carpet Illusions" and "Traveller" are pleasant and perhaps the most 'pop' due to the vocals and subdued acoustic guitar, wind and keyboard melodies. "Watercooler" and "Divide And Dissolve" are experimentally minded soundscapes while "Cooks Whip, Music Goes On" is a nice stroll through the park as solo saxophone, vibes and bass glide over an electronically treated beat. "Great Curves" is a rather schizophrenic album but it really works. There's something for everyone. Up next is 3 new vocal songs to be released as the "Exclusively For Everyone EP No. 1" on Jester ... - Mark Weddle
samples:
ORIGAMI GALAKTIKA "STJERNEVANDRING / EESTI LILLED SILMAD SUDA"


Origami Galaktika are the most active 'unit' of several dozen under the Origami Republika umbrella, an "open cultural network with 170+ agents operating in 18 countries on 4 continents" with origins in Norway (see http://kunst.no/origami/ for further information). This double CD remasters and reissues 2 of their ambient/loop albums from 1994 and 1996. Six vivid paintings in the insert by Cicille Ris╬sen complete the package. "Stjernevandring" is 2 tracks at about half an hour apiece. The lapping ocean waves and cold, dark and dense droning undertow of the title track become fully immersive within a few minutes. I am literally sitting on a sound in Norway in the dead of winter and middle of the night watching a relatively calm sea break upon the moorings. Nautical bells appear and by mid track the waves disappear - but they always remain subconsciously - then reappear during a simple but spooky 8 note melody loop. None of the other tracks has such a distinct audible tie to nature but each evokes a certain feeling (which is all I have to go on really since I'm unable to translate the Norwegian and Estonian titles). "M╬nedans" is next and the feeling is one of ascension and reflection. We steadily climb upwards through the clouds, a constant soft drone being the guiding light. By the 14th minute electronics swirl in then settle into their own respective glide path. A few lone notes near the very end seem to deliver a favorable final judgment. Beautiful. Disc 2 is "Eesti Lilled Silmad S┘da" and it has 4 tracks in the 10 to 17 minute range. It's just as good if not better with another palette of relaxing sounds: graceful, emotive drones and faint hums, scrapes and rattles, sample loops of what sounds like a train over tracks, a woman reciting text in a foreign tongue, the quiet pitter patter of hand drums, rain stick and some ritualistic vocal moaning. There is no hurry to get anywhere and that's fine by me. In fact, every one of these tracks could be the length of an entire disc, no problem. These albums are quickly becoming some of my favorite recent ambient works, along with Stars of the Lid "Gravitational Pull vs. the Desire for an Aquatic Life" and Zammuto "Solutiore of Stareau". - Mark Weddle
samples:
pram, "somniloquoy"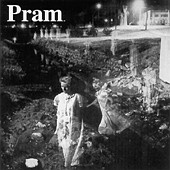 Taking a stopgap between full-length albums, Pram deliver a nine-track EP featuring some new stuff, an old tune and some mixing going on. The disc opens with the insanely frisky "Mother of Pearl," which ironically was my fave pic from last year's 'Museum of Imaginary Animals' long-player. The three new songs which follow are notably more adventurous than the cuts on the album, incorporating much more of a improvisational feel, even with the pop song "Monkey Puzzle" and the surrealistic dreamery of "Clock Without Hands" which could easily echo some of Legendary Pink Dots' most carnival-esque moments. The EP is rounded out with five remixes, thankfully all of different songs and by different remixers. Hint to groups: do stuff like this if you can - ten remixes of the same song on one single gets embarassingly dull. Guest knob-twiddlers include Plone (whose remixes always sound awesome despite their albums sounding like bad 14-yr old musicians demos), Andy Votel, Sam Jones, Terry:Funken, and Sir Real. While I have admired Pram for years, I have to confess that I can't always make it through a complete album, but with the mix-up of styles presented here by the various DJs and friends I'm quite satisfied. Old fans might scoff at remixes but I'm confident these are tasteful enough to avoid pissing off the purists and inviting enough to attract new friends. - Jon Whitney
samples:
BOWS, "Cassidy"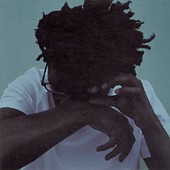 The first Bows album, "Blush" surfaced in 1999 — a collective of musicians and singers helmed by former Long Fin Killie multi-instrumentalist Luke Sutherland. This year's swirly, well-crafted follow-up once again showcases a diverse ensemble of talented musicians and singers, resulting in a lush, oneiric symphony. Sutherland, who has just completed his second novel, is as masterful as ever with his unabashedly poetic lyrics, beautifully worded even when the imagery is at its most violent. "Cuban Welterweight Rumbles Hidden Hitmen" is a perfect example: stripped down to nothing more than a gauzy guitar and Danish singer Signe H└irup Wille-J└rgensen's airy vocals while the lyrics honey-coat a melancholy tale of a boxer's run-in with a gang of thugs. Ruth Emond's voice on other songs like, "Wonderland," provides a remarkable contrast as her style is deep, dark and breathy. Sutherland is doubtless at his most versatile on Cassidy. His own delicate vocals feature prominently on several tracks, as does his guitar, piano and violin playing (which also received some exposure recently on his stint touring with fellow countrymen Mogwai). Credits on the songs "Uniroyal" and "Luftsang" list Sutherland's instruments among others as "gizmo" and "machines." In constrast to Bows' previous effort, 'Cassidy' abounds with more live instrumentation, but lacks much of the drum 'n' bass hooks of 'Blush' (and their presence is somewhat bemoaned by this reviewer). Sutherland has truly demonstrated maturity and progression, a graduation from the realm of 90s trip hop. - Jessica Tibbits
samples:
GODFLESH, "IN ALL LANGUAGES"


There are two types of people that will buy this 2-disc set: those who have every single release Godflesh has ever thought about putting out and those who don't have any Godflesh at all. The first disc, subtitled 'flesh of god', is a best-of collection (not my personal favorites, but hey, what can you do?) the 'Slavestate' and 'Pure' album tracks are remastered by Justin Broadrick, but otherwise the first disc's tracks are just selected album tracks from their first album (1988's "Godflesh") to their most recent (2000's "Us & Them"). The second disc, subtitled 'beyond the flesh' is the real treat and the real draw for fans, as it consists entirely of rare, out of print, compilation and exlusive tracks. As good as these tracks are, the disc is lacking: 2 BBC Peel Session tracks are missing, some mixes aren't as clear as they could be, and track selection isn't anything to write home about. Although I am disappointed in the track selection, it is varied; 1988's 'Love is a Dog from Hell', several new mixes of recent material, and compilation appearances, including the very unusual, very mellow "Empyreal 2". The album's liner notes are a short retelling of the band's history that does go through the beginnings of the band from Fall Of Because, Head Of David and Napalm Death, but doesn't give a lot of insight into the music itself, and includes an abbreviated discography. If you haven't heard any Godflesh at all and want to hear the evolution of Godflesh's sound over the years without picking up all the releases, or if you're a fan who wants the 2nd disc's exclusive material, this set is for you. If you're just a casual fan, you might be better off with a proper Godflesh album. - Dave Piniella
samples:
techno animal, "the brotherhood of the bomb"


Justin Brodrick has obviously been busy reinventing his aggressive side (anybody who's half of Godflesh are legally obliged to have aggressive tendencies), with the collaborative singles "Dead Man's Curse" (with Anti-Pop Consortian, Roger Robinson) and "Megaton" (with Dälek) over the last year. Along with partner Kevin Martin, the duo's 'Brotherhood' is an all-out sound war, with heavily distorted beats and earthquake-influenced bass frequencies. The sound is thick and chunky like some of the best Panacea ball-crushing bass sounds and never flat enough to be birthed from a laptop. Fans of the ambient deathscapes from 1995's 'Re-Entry' or the collaborations with Alec Empire and Porter Ricks should probably exercise caution before picking this one up, as it picks up more from where the ICE (collaboation with El-P) album 'Bad Blood' left off. As far as Techno Animal proper records, picture 'Radio Hades' with an exponentially increased intensity. Guest rap from El-P, Dälek, and members of Anti-Pop Consortium vocalize the rage but thankfully don't detract any vigor from the music nor litter every track on the disc. Elements from Techno Animal's dub affinity shine through in some of the more instrumental tracks on the disc but for the most part, this is one fierce fucking beast. - Jon Whitney
samples:
FRANKIE SPARO "ARENA HOSTILE"


Frankie Sparo toured with A Silver Mt. Zion throughout Canada and Europe as an opening artist following the release of last year's "My Red Scare" album. During his performances, he was accompanied by Thierry, Sophie, Jessica, and Ian of the Silver Mt. Zion live band. This EP, which acts as a document of Sparo's performances during the tour, was performed live in session at VPRO Radio. The first three songs are new arrangements of tracks from the "Red Scare" album. "Diminish Me NYC" opens the CD; this new version features the addition of minimal electronics and violin that emphasize Sparo's more-tattered-than-usual voice. "The Night That We Stayed In" is made darker by the addition of Thierry's double bass and a pair of violin lines. The addition of tremolo violins gives a soundtrack feel as well. "Here Comes the Future" features reworked drums and the addition of electronics and violins, which make it a much fuller composition. However, there's a drum machine clap noise that appears several times that sounds a bit out of place. The EP ends with a stripped down cover of the Rolling Stones' "I Am Waiting," performed solely by Frankie and his guitar. I really hope this is a sign of things to come, because the guests on this recording add a lot to Frankie Sparo's already amazing songs. - Andrij Kopytko
samples:
DETENTION "WARP & WOOF"


Detention is the improvisational duo of guitarist Sam Shalabi (of Shalabi Effect) and drummer Alexander MacSween. Normally Mr. Shalabi's improv recordings are quite beautiful in their energy, but this one falls flat. There are 8 tracks to the album, each with two names (I'm guessing Sam and Alex each gave the songs their own titles). After the first track ("Yehudi Messerschmidt / Ground)," the album is almost no longer interesting. The two musicians do not play off of each other well enough to keep the music interesting, partially because of the small size of the band. To make matters worse, the music becomes very sloppy in places, especially on "Slow Dance / Shey," where it feels like the band is just warming up before the rest of the quartet shows up. The album peaks with the sixth track, "Big Thighs / Ginger," where both musicians seem to finally be in touch with each other for a few moments. However, with the last two songs, the music loses all meaning and the album simply seems to die. If you want to hear Sam Shalabi improvise and shine, I suggest you check out the Kristian / Shalabi / Saint-Onge album from earlier this year. - Andrij Kopytko
samples:
maya shore, "farewell to introductions"


Have you ever had a longing that could not be satisfied? Not the longing for a beer or a pint of ice cream, mind you, but an intense longing of such emotional stakes that you weren't sure you could survive if the need wasn't satisfied? Believe me: maya shore knows how you feel. "farewell to introductions," in fact, is like an homage to intense desire. Never have I heard a band that could so easily -- or so it seems -- capture the exact soundtrack of plaintive longing. It's all very spine-tingling and wonderful, like the first time Glenn Miller's wife heard his trademark sound and she reached back to feel the hairs on her neck standing up. Singing appears sparingly, and on tracks where it is used, it's almost a secondary instrument; but the guitar glory Kelly Chambers exhibits with its melodic and harmonic beauty ensures that you won't miss the lyrics so much when they aren't there to guide you. dj suede also adds texture to the proceedings with field recordings and well-placed atmospherics and recording/mic techniques that serve the music well. This band is very tight, and they make beautiful music together. Where the songs may have the same general feeling of longing hanging over their heads, the are different in sound, feel, and tempo enough so that the listener is never bored. I was driving down Highway 1 listening to this CD and right at a gorgeous guitar passage on the second track, "july eleventh nineteen ninety-seven," the sun shot through the trees. I will remember that for years to come. This release, if you're not careful, can almost be too affecting for its own good and yours. But trust me: maya shore are a band that will only get better, and "farewell to introductions" is an excellent first effort. Aren't you longing to hear it now? - Rob Devlin
samples:
landing, "circuit"


this week, i'm reviewing two bands from music fellowship, both play passionate music, and both use only lowercase letters in their band name and album titles. i am almost convinced it is a label thing, as other releases i've seen on music fellowship use the same standards. At any rate, landing is a hypnotic four piece with a great love of delay effects on guitars, distortion and lovely interplay between male/female-sung vocals. "circuit" is their first proper album, after two EPs, one of which, "centrefuge," was released on Music Fellowship earlier this year. Those of us who heard "centrefuge" liked it, but I suppose were expecting more on "circuit" in terms of musical development. Since "centrefuge" seemed more like an EP than an album, maybe we were expecting an expansion of theme, or an extension of the major tenets of the landing theory on music. I must say "circuit" is a fine release if you've never heard landing. However, it seems to trod on some of the same ground present on "centrefuge." When I say this band loves delayed guitars, I mean they LOVE delayed guitars: they're present on almost every track. It almost gets to the point where the listener is tired of that effect, and would like to hear another, but it never picks up enough to get there, even. I liked the music, but I always felt like it was moving towards something it never achieved. landing are a band to watch, as "centrefuge" and "circuit" show, but I'd like to hear a variation in the feel and sound of the music. These tracks blend beautifully together, almost too much so. Still worth a concentrated and heartfelt listen. - Rob Devlin
samples:
SYMPTOMS, "APATHY"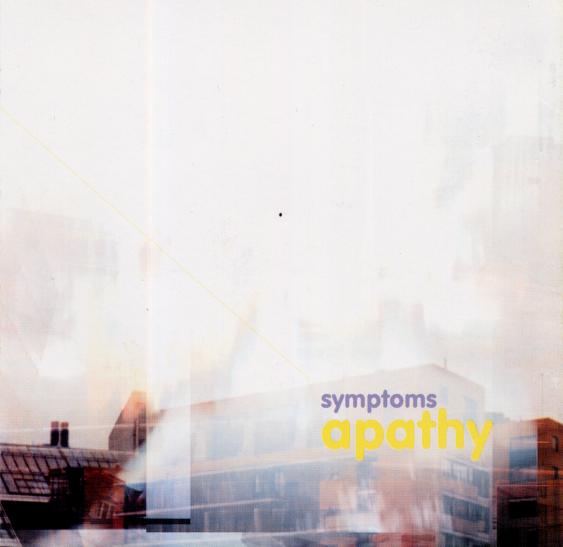 Imagine you're stranded on a rooftop in the middle of a city with cloudy skies above and nowhere to go. Cars buzz past on their way to nowhere in particular and as the day slowly passes, their exhaust fumes fill the air. Time goes by but you know it's an illusion. The world is moving but you're still waiting, watching. This is the feeling imparted by this follow up to Symptoms' rather more varied and up beat self titled debut. Danish sonic explorer Klaus Amitzboll has augmented his one guitar one computer set up with interspersed traffic sounds and this time lets the music unfurl slowly in a suite of deep bass moods coloured predominantly grey. Where Symptoms' first album often relied on a beat backbone is a much more stripped down and atmospheric affair, and consequently the guitar source seems more apparant. Mixed with help from his brother Fred Amitzboll of the excellent machine rock trio Silo, this is otherwise one man's paen to the deadening effect of city living. Two guitar lines, one distorted and one clean, unfurl and cut through a fog of familar doppler shifts of engines forming the forlornly reflective 'Asphalt Mirror'. Eventually a refracting bass line emerges but is soon replaced by held keyboard drone chords. The guitar lines seem to get attenuated and flap ever more morosely in the breeze. The recurring engines seem to suggest a dwarfing, as if the music is being consumed by the city that it's soundtracking, and merging with it. A couple of tracks a are little more than short linking pieces, cars blurring past skeletal loop shadows. 'Stale Air on a City Morning' could be compared to Swim records benefactors Immersion, but where Immersion's 'Low Impact' was warm, Symptoms hum with an ominous and forlorn atmosphere. A momentum builds up gradually but the journey just seems to lead back to the place it started. 'Mute Noise of Longing' is a minimal ambient keyboard sequence, and the following 'Burning to be Gone' captures a similar mood with intertwined processed guitar lines ringing like windchimes. Slowly a piano melody plays out amongst the ever moving cars. Distortion levels rise as the coda plays out, and the pollution keeps on choking until it rips a 'Crack in the Sky' towards which wistful whistles rise. This album might only be 46 minutes long, but it could almost be a soundtrack to a stop motion film of a city over ten or twenty years, as buildings rise up and crumble and shift, changes that are barely perceptible from day to day. Sleevenotes: "When you understand how things are, you lose yourself quietly standing, fading into the quiet of all things dead." - Graeme Rowland - Graeme Rowland
samples:
"OR SOME COMPUTER MUSIC 2"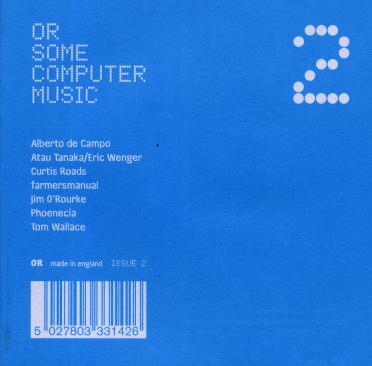 This compilation, described as 'difficult listening' in the press release, could be fuel to claims that much computer music is barking up seemingly generic alleyways since this could all quite conceivably be the work of just a couple of artists. However I see this more as an indication that compiler Russell Haswell has fairly consistant tastes and has done a pretty good job of sequencing the tracks. There seems to be a fairly equal footing for the highly serious academic side of computer music and the perhaps more frivolous rockpops side (Jim O'Rourke, Tom Wallace, Farmers Manual, Phoenecia). The academics all provide ample detail on the concepts steering their compositions, whereas the digital rockpops laptop fraternity provide a few screen grab pictures or in the case of Tom Wallace, no information at all. Perhaps the 'fuck off' finger on the farmersmanual desktop sums up the attitude. Farmers Manual open and close the compilation, and their unassuming little digiglitch flutter fanfare starting snippet gives hardly a clue of the awesome low floor shaking rumble of the monstrous live recording that rounds things off. This track alone makes it a worthwhile purchase, but the rest is enjoyable too. Jim O'Rourke, Tom Wallace and Phoenecia all pull similar tricks with varying degrees of daftness. Phoenecia place relentlessly mouse shifting bubbles and cracks over intermittent drones. O'Rourke throws some tropical Ai yi yi ya singing into his fluttering stew of rock glitched to death and Tom Wallace mixes the sounds of breaking bottles with what sounds like a rock band trying to start a song and cutting off sporadically. It's really quite silly, with silent stretches encroaching latterly making the sporadic bursts of noise all the more ridiculous. Rather more serious is Super Collider 2 workshop lecturer Alberto de Campo's synthesis of a pleasantly atmospheric droning green and blue world. He processed sound sources which have a 'rich symbolic aura', such as nightingales, meditation bells and cymbals, ritual mantras and chanting. None of these sources are readily identifiable but their aura remains in this eerily evocative foray that certainly avoids the 'New Age' alarms that the accompanying article might set off. Fellow academic Curtis Roads espouses the exploration of 'sound particles', microsound 'beneath the level of the note' and he even has a picture to prove it! And well he might, but his cut up computer collage isn't drastically removed from the soundworlds of Phoenecia or Tom Wallace. Maybe laptoppers have been exploring the realm of microsound for years without actually knowing it! Atau Tanaka and Eric Wenger created 'Bondage' using software that turns scanned photographs of Japanese women tied up in knots into sound, and it's a detailed suite that shifts moods rapidly from intensity to relief. What they did with the photographs after they finished making deep dark dungeon noises isn't mentioned in the booklet, but they did have the permission of the artist. - Graeme Rowland - Graeme Rowland
samples:
"staubgold"


This compilation, which shares its name with the Cologne-based record label who released it, is their first artist showcase and the release I got hold of. The disc is nearly one hour long and comes neatly packed inside a cardboard sleeve showing a record store's file. It was initially made available at shows during the last weeks of the label tour, but will soon be made available to the public who couldn't make it (see staubgold.com for details). Staubgold's spectrum ranges from post post anything electronica to an alternative version of what once was called techno pop (but lately seems to have developed into laptop blues). 'Staubgold 20' collects an interesting selection of their recent releases, coupled with a few yet unreleased tracks and mixes (from Institut F┘r Feinmotorik, Sack feat. Joseph Suchy and Schlammpeitziger). Familiar names include Alexander Balanescu, To Rococo Rot and Groenland Orchestra (also featured with an additional MPEG video). A name that should be more familiar is Reuber, also working with Markus Detmer as Klangwart, with his minimalist but impressive solo synthesizer work he explores live even further. Even though a few contributions (Oren Ambachi & Martin NG, Mapstation) are a bit too pointless for my taste, it serves well as a good introduction to this label and the more unknown artists working alongside A-Musik and Mille Plateaux releases.
Not equally glorified with the current avant-garde stamp yet, Staubgold spreads a sympathetically unobtrusive "home made for home listening" attitude without wasting energy on label conformity. If individualism is their goal, they're on the way. - Carsten S.
samples:
"lush life electronica"


...And the winner for the WORST album covers of the year goes to,.... QUANGO! Who have also came close to winning for most pointless compilations but were beat out by Mille-Plateaux, whose Clicks + Cuts volume 746 is a 23-CD compilation of bald Europeans exchanging emails. There was a time, I'm guessing around ten years ago, when Quango was a little beat-oriented offshoot from Island's Mango imprint. At the time, the label was daring enough (or appeared as such) to have sought out some pretty fine unique international electronic dance music. Now with the label resurfaced under new management, the only things to pop up are dust-collectors like this, a disc which features insanely boring 4/4 beats, tacky samples and predictable repetitions ad nauseum. The guilty parties this time around include Bochum Welt, Pub (with an Arovane remix), Move D, John Beltram, Blueshift and others I've never heard of nor want to hear until they figure out their gear a little better. Honestly, sometimes I think music's just way too easy to produce and manufacture. - Jon Whitney
samples:
We know that sometimes these CDs are somewhat challenging to find, which is why we have a community section which can be used to obtain nearly everything available on this site.