The Eternals, "Walk For Me"
Diamond Traxx


Benjamin Diamond, the strangely overlooked vocalist behind the smash Stardust hit "Music Sounds Better With You," has quietly been releasing some excellent French house singles on his Diamond Traxx imprint. Having enjoyed his solo releases, I was pleased to discover this 12" of electro-disco from The Eternals, a group who previously recorded for Daft Punk robot Guy-Manuel's Crydamoure label. "Walk For Me" is a deep, groovy track of warm squelchy bass pads and retro drum hits. An effected vocal sample echoes the title of the song repeatedly, sometimes seeming to be a command, other times more of a request or plea. It becomes all too easy to get entranced and lost here. "The Andromeda Gate" the B side picks the tempo up considerably with computer voices spouting statements and status reports over odd arpeggios, haunted synth lines, and a funktastic house beat. During the break, the machine seems to take control, but it cannot hold back the beat for much longer. It's a bit kitschy, but there's definitely an audience for it. Electroclash fans should keep in mind that before Americans embraced the sound popularized by Fischerspooner and Miss Kittin (and renamed it for their own purposes), French groups like Les Rythmes Digitales and Superfunk were already writing electro-tinged underground club classics that bubbled over to the mainstream. Therefore, The Eternals aren't trying to jump on our bandwagon. In fact, they're astro pioneers in their own right. - Gary Suarez
samples:
mirror, "die Spiegelmanufaktur"
Die Stadt


Die Stadt has finally made this limited 12" picture disc available to the world, originally released at the Mirror performances in April of this year. There are certain characteristics to be expected on Mirror LP releases: approximately 20 minutes of a drone graces each side which come in quietly, swell and then die softly. There is some sense of balance in all Mirror recordings, however, which has kept people like me addicted and coming back for more. Fans might be alarmed to hear the amount of non-droning abrasive sounds contained herein. Joining the core duo of Heemann and Chalk this time around is longtime friend and collaborator Jim O'Rourke, a man who is either loved or hated it seems, with nobody simply on the fence. Subsequently, while the context is somewhat familiar, the sound is much different. Open microphones inside a room open the first side as the drones begin to be set into motion, silently. Perhaps it was a hot day in das haus von Heemann, as I could swear I'm hearing an oscillating fan move back and forth while somebody rustles through utensils in a kitchen drawer. The drones are low, slow and bell sounds are kept in the distance. Over time, faster, higher-pitched drones are layered in, vibrating almost like horn sounds or a quickly-bowed stringed instrument. The drones drift off and succumb to the microphone recordings. The bell sounds ring in the second side and once again join the proverbial drones, along with the train engine-mimicing sound of what could easily be breathing through wind instrument mouthpieces. By the end of the second side, the drones have taken over as the field recordings give in. Surprisingly enough, this release is limited to a whopping 400 copies! (Unlike previous live specials occasionally found on eBay in the hundreds of dollars,...) - Jon Whitney
samples:
Fennesz/O'Rourke/Rehberg, 'The Return of Fenn O'Berg'
Mego


Three of the most well-known and talented musicians in modern electronic music reunite to follow up their 1999 release 'The Magic Sound of...'. Their newest collaborative effort once again allows the trio to exhibit their respective distinct styles in a way that is both amazingly well balanced and beautifully matched. The playfulness and humor found in both Rehberg and O'Rourke's work is evident, and when combined with Fennesz' skillful subtlety, create an uncanny convulsive beauty. The four pieces on 'The Return of...' total just over 40 minutes. The first two, "Floating My Boat" and "A Viennese Tragedy" exemplify the all-over decoupage nature of the album. A collage of twitters and low tones are enmeshed in orchestral touches, which lend a quirky and charmingly outmoded element to the digital noises. "Floating My Boat" is a marriage of the slow and the frantic, while the aptly-titled "A Viennese Tragedy" has something melancholic in its insectival chirping, metallic and aerial blares, and sublime patches. Also prevalent on this track is a heavy use of organic sounds, and the assembly of all these elements gives the sensation of an adroitly controlled chaos, which continues into the third piece, "Riding Again". Along with the final track, "We Will Diffuse You", the album evolves into an understated ocean of drones, interspersed by occassional twitchy bursts. The album's impishly abrupt ending is also strangely suitable. 'The Return of Fenn O'Berg', with the charactistic warmth and accessibility of its collaborators is a welcome one amongst the all-too frequent distant and overly academic leanings of some artists in the realm of the laptop. Thankfully, some of the most gifted in the microsound genre have decided to venture outside the ivory tower. - Jessica Tibbits
samples:
Steroid Maximus, "Ectopia"
Ipecac


Jim Thirwell's third album under the guise of Steroid Maximus is an epic, cinematic vacation from the razor-gargled industrial pound of Foetus. The underlying thread of irreverent and sophisticated humor (throughout all of Thirwell's work) is immediately apparent in the album title's play against the Futurist (utopian) cover art. Ectopia means "a morbid displacement of parts." Unsurprisingly, this mostly instrumental album splices a multitude of parts: unlikely genres, samples and sounds into a compelling collage. Various parts include strains of horror strings, sci-fi theremin wailing, jazzy synths, 70's cop-chase rhythm piano, funk drums, whimsical toy whistles, ecstatic swing band crescendos, mournful operatic vocalizations, hawaiian sunrise, gypsy music, and even a straight-up sample of James Bond suspense-moment near the end, just to name a few. One of my favorite parts of the disc is "WM ," where a couple of shortwave radio samples form a bouncy passage over tribal drums and xylophones. Thirwell clearly maintains his proclivity for cartoonish dynamism (he did a bang-up cover of the classic Raymond Scott tune "Powerhouse" on 1992's 'Gondwanaland'), as the pace rollercoasters throughout the disc's 52 minutes. It's an energizing listen, and reminded me at times of Igor Wakhevitch , or the soundtrack work of Goblin ('Suspiria', 'Dawn of the Dead', etc) and Alain Goraguer ('Fantastic Planet'), with big band splash and modern synth lines. Someone needs to hurry up and hire this guy to start scoring films—or maybe start making movies to go along with these soundtracks. - Jesse Nieminen
samples:
J-Live, "All of the Above"
Coup d'Etat


This second full-length album from New York City's J-Live showcases an increasingly popular brand of hip-hop music: competent, decidedly independent and exciting like a standardized test. I picked up this album because it was touted as an Independent (with a capital "I") parallel to early De La Soul albums and I had heard some of his early tracks which were enjoyable and promising. I tried, unsuccessfully, to listen to this album on my car trip back from Pennsylvania this weekend with my sister and my girlfriend. We were so disinterested in the album that we popped it out before it was finished and didn't even return to it when we were stuck in a 45-minute traffic jam on the George Washington Bridge. That's never a good sign. All three of us are De La Soul fans so we decided to listen to the real thing and put in "Buhloone Mind State" instead, which reinforced the reasons why "All of the Above" fails the test. J-Live's voice sounds a lot like Dove from De La Soul, but without De La's combination of singular beats and abstract, singsong vocals, the effect falls flat.
I feel bad trashing him because I appreciate what he's trying to do: return the spirit, creativity and jazz-inflected beats of the early nineties to current hip-hop. Unfortunately, each song comes off like a labored, calculated effort to do just that. He keeps reminding us that he is the great independent hope, the savior of "true" hip-hop but doesn't exhibit the inventiveness of Mos Def, The Roots, or even recent De La Soul (who he shouts out here as a guiding influence). The main failure of the album is that he spends so much time instructing the listener on the sorry state of modern hip-hop that he makes no contribution to reenergizing it. There are some bright spots on the album though, including the song "Travelling Music" with its sweetly nostalgic lyrics and instrumental combo of live vibes, bass and organic cymbals. He also has some clever lyrical turns, as on the "The 4th 3rd" in which he rhymes:
"Running from a paradox/
living like a pair of ducks/
but with different flocks/
with different destinations/
our ships remain docked"
More often though, his blatant attempts to highlight his superior lyrical content shows through in choruses like, "It's just that consciousness comes through on nights like this." On another chorus, he makes a reviewer's job way too easy by asking, "Are you satisfied? I'm not satisfied." I wish I was J, but I'm not either. - Abe Forman-Greenwald
samples:
Edward Ka-Spel, "O'er a shalabast'r tyde strolt ay"
Beta-Lactam Rings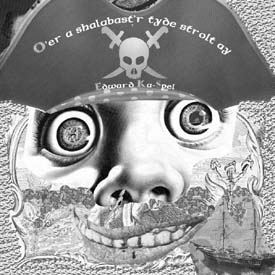 Sometimes I wonder when this market overflow of LPD and EKS material will lighten up and allow for the fans to catch up. Unfortunately when there's scarecely limited releases that spring up terribly often, this is becoming an increasingly difficult task. Does the words "economic recession" mean anything to psychotic record pimps like Chris McBeth? Limited to 600 copies, this super-thick LP is described as continuing what was introduced on the CD issued last year on World Serpent by Ka-Spel, 'Cast O'Grey Skreens.' While the LP is broken up into one side-long track on side A and two on side B, I personally feel the music echoes an older style of solo EKS recordings, with whimsical calliope-esque music, loops and gorgeous drones, rather than the somewhat recent trend: a hodgepodge of almost sketchwork-like songs strewn together as one super-lengthy track. "An Ill Wind" opens with a dull roar, builds, then quiets down to a tinkling piano melody, pretty enough to can give any old-school fan goose-bumps. What follows includes more shimmery instruments swaying along with Edward's vocal pleadings for a miracle. Then comes the unavoidable build-up and return to the quiet melody again, this time with more haunting coloration and blurring. Side B begins with the 11+ minute "O'Reilly's Comet," with a driving looped pulse which has almost become a signature rhythm for the more experimental loops the Dots are prone to. There are a few moments where it picks up to an excited pace, but the 4/4 clanging on percussive sound effects becomes somewhat monotonous for the duration. Almost predictably, the monotony is overtaken by sheer beauty in the 11+ minute closer, "Safer than the Open," where drones of reverberated voices are layered with arrhythmic sound effects which give way to a thundering few beats, a drop, and a fantastic return with some truly stunning string sounds. If form is more important than function, act quick on this release, as the deluxe package includes loads of goodies, but it might be worthwhile to wait for a forthcoming CD release which will hopefully include the tracks from the limited accompanying 7" record and that 10" out last year. Come on, Chris, didn't your mom ever teach you to share? - Jon Whitney
samples:
Cul De Sac, "Immortality Lessons"
Strange Attractors Audio House


For all intents and purposes, this should have been a horrible mess. The liner notes, written by Cul De Sac muli-instrumentalist Glenn Jones, outline the tragedy that should have been quite clearly: the band shows up to do a live radio performance at Brandeis University and suffer circumstances of Spinal Tap-ian proportions. There was very little space for the band to perform, they would not be able to see or hear the DJ during the production, and they had little time to sound check and would not be able to test their levels before the actual broadcast began. Again, this should have guaranteed a horrible recording. Instead, listening to it later, the band realized it was one of their best live performances, and certainly worthy of release to a fanbase rabid for new material. Having never heard Cul De Sac live, but having heard their records, it's also one of their best commitments to tape. Sure it's sloppy in areas, as live performance can be, and several of the tracks go on much too long; but the band plays out admirably, vibrantly, and without compromise. After all, they thought this would be horrible from the outset. So they pull out the stops and let loose with a series of tracks that suck you in and drone you out. There are moments of pure melodic beauty on 'Frozen in Fury on the Roof of the World,' dischordant beeps and steady rhythms meeting on the title track, the near-hypnotic shuffle of 'Flying Music from Faust,' and slow, deliberate marches to close the disc on 'Blue in E.' The band runs the gamut, and they're better having survived it. Ultimately, with two albums in the works—a soundtrack and a studio album of original new material - these recordings show promise for the direction Cul De Sac is headed towards, as well as serving as the best representation, by their own admission, of what the band is about. Sometimes it's pretty surprising what glory can be gained out of utter despair. - Rob Devlin
samples:
ludus, "the damage"
LTM


Part of the late 70s Manchester scene made popularly acceptable by the '24 Hour Party People' film, Ludus are now given the re-issue compilation treatment. It's long overdue really, as the majority of their material was never given a full CD issue. With digitally remastered material and over 70 minutes of music, this claims to be the 'definitive Ludus compilation'. The truly inventive mix of free-jazz, feminist lyrics, experimentalism and playfulness is a little disconcerting at first, but the sheer funkiness and playful energy stick out a mile. The complex jazz structures and sax skronking add to the fun, and to top it all, Linder Sterling's stunning, commanding voice. All the tracks are propelled along with this weird awkward energy, jumping between ideas, catching you off guard. Some are just minute long blasts of sax and drums, some could have been pop classics, in the right hands. The only complaint is the decision to put on some live recordings from a Hacienda performance when studio versions exist, but they are well-recorded and capture some of the audience's awe and nervous fright (Linder has been known to perform in clothes made out of raw meat..) Most of the tracks, like the highlight 'I Can't Swim I Have Nightmares' have enough hooks and twists for a whole album, and jump around from groove to groove so fast, that trying to dance to them would be a safety hazard. Endlessly clever, funky, scary and individual, this is one of the gems of the Manchester scene. - Bill Ryubin
samples:
Mary Timony, "The Golden Dove"
Matador


Mary Timony's second solo effort finds her exploring similar themes with slightly different sonic partners. Last time it was John McEntire and Bob Weston adding elements here and there, but this time it's geniuses of the moment Alan Weatherhead and Mark Linkous of Sparklehorse fame. New textures aside, it's still primarily Timony and Christina Files, though, with the power behind this music, and that's all it really needs. The themes are very much the same as last time, the lyrics just as affecting. Timony's songs are very occupied with the spirits of the earth, animals, and love and wanting. But they're like musical fables, with vivid characters in different costumes, like the works of Edgar Allan Poe set to music. It's all pageantry of sorts, and it's very well executed on "The Golden Dove", more so than in the past. 'Dr. Cat' is playful in the beginning and haunting in it's dying moments, 'The Owl's Escape' makes the hairs on your neck stand on end, and 'Ant's Dance' is all power and drive, with fantastic sounds and noises emanating from the speakers (the horns are just plain lovely!). Ultimately, the image of the dove is important as the love that left her for California, but also as the center image of 'Magic Power': "hey ho, how do you go?/how do you get through forty blows?/hey ho, how do you love/how do you love a dead dove?' The last two tracks left something to be desired, as they served to annoy with the trite imagery on 'Dryad and the Mule' accompanying whistling and handclaps, and the sometimes dischordant mess of 'Ash and Alice' ultimately serving little purpose. The 'hidden' track - listed in the liner notes, but approximately 2 minutes 'Ash and Alice' fades - is a lovely rendition, apparently, of a poem by Henry Lawes and Dr. Henry Hughes. It's a fitting end to this album's worth of emotional outpouring, as Timony seems to ask for requital of her love. An effort like this is certainly worthy of at least a little praise. - Rob Devlin
samples:
Venetian Snares, "Higgins Ultra Low Track Glue Funk Hits 1972-2006"
Planet µ


I bought this because I loved the "Shitfuckers!" EP (which I admittedly bought just for the name), and also because the description on the Soleilmoon website convinced me that I could not go wrong. They were right: once you've been hooked by Aaron Funk's madness, there's no going back. From the opening kitschy vibe this album just makes you laugh. And how could you not, with a Julie Andrews-type crooning in "Dance Like You're Selling Nails" over Funk's freakshow drum'n'bass demolition? Or the high-speed jazzy meanderings in "Banana Seat Girl" that sounds like a cross between Squarepusher and repeatedly fast-forwarding and rewinding a DAT tape while it's in play mode? You know, where you hear clear bits of the music on the tape, but which eludes you before it whizzes by. One of the highlights of the album is certainly "Make Ronnie Rocket", which starts modestly enough with interspersed dubby MC samples over Funk's characteristic bombastic drum'n'bass beats. But a minute or so into the track, all hell breaks loose as you're given a spoonful of C4 and forced to watch from the inside while your head explodes. This is not music to tap your foot to, or shake your ass to while you try to pick up chicks at the club. It's not exactly arrhythmic. It's not exactly asymmetrical. It's not exactly math-geek music. If you just sit and listen to it, preferably with headphones or loudly in the car while driving down the freeway, it's perfectly acceptable to just try to follow the grooves and beats with your mind. More than likely you'll just find yourself chuckling as Mr. Funk throws another curve. Some of the changes are just plain ridiculous. Take "Deadman DJ" for example. Once again the dub MC returns, his one-liner minced and butchered along with the frenetic beats. Midway through the song, it sounds like it's over, but it picks back up with the MC repeating "Deadman DJ" while a sound like the annoying high-pitched whistle sound that you hear in a lot of modern-day slow "rap" music whirs in the background. You know what I'm talking about. So now you've got a rasta MC backed by cheesy rap noises and absolutely breakneck d-n-b. How can you not laugh out loud? You might not even notice it if you weren't listening attentively. I find that half the fun is trying to figure out what Funk's sound sources were, and just what the fuck he was thinking (I like to imagine that he laughs out loud a lot while he composes). Or better yet, try thinking as you listen about how you would make this music if it were up to you? The beautiful thing about Venetian Snares is that this is truly music for the moment. - Ty Hodson
samples:
Nightmares On Wax, "Know My Name"
Warp


It would be rather difficult to review a Nightmares On Wax release without giving in to the temptation of referencing mastermind George Evelyn's affinity for marijuana, so let's just get that out of the way here. Good. Now we can move on. On this first 12" single preceding the upcoming full length 'Mind Elevation', Evelyn presents a radio-friendly track full of soulful sounds that outdoes a certain bald-headed New Yorker enjoying more success through sampling and working with pop icons than making happy rave anthems. Here we are treated to three versions: the vocal original, an instrumental version, and a remix on the AA side. Upon hearing the first 10 seconds of the original, I was prone to some uncontrollable bouts of serious head nodding and toe tapping. While the lyrics don't appear to have any real substance, that's pretty irrelevant and beside the point. DJs who spin abstract hip hop or downtempo will appreciate the instrumental more than the average listener, though the Mark Pritchard remix fails to do anything too interesting with the original, and is easily forgettable. Having already heard the upcoming album, it is doubtful that any old N.O.W. fans will be disappointed with either release. Besides, they'll probably too high to complain. OK I'm sorry... I broke my promise. So who's gonna get up and order the pizza? Not me. I'm in the comfy chair, man. - Gary Suarez
samples:
Claudia Bonarelli, "Everything Happens Only A Certain Number Of Times"
Mitek


Bornelli's instrumental electronic debut is a cross breading of techno dub and clicks with added splinters of glitch and a slight groove. It comes to us from the relatively new Mitek, a label which attempts to specialize in electronic hybrids (see Hakan Lidbo in last week's issue) - music difficult to classify (or between the chairs as the cover suggests). The cross-breeding of styles works very well on the ten tracks here. "Feminist" and "Vaneigem" even remind me of the classy Basic Channel 12" series with their heavy basslines, clear sounds, and distinct atmosphere. In addition, present are tactful nods towards various modern styles. Even in "Milieu," for example, subtle echoes of house music chords appear. The last few tracks, especially "Avenue," are the most daring, with cut-up sounds of voices and a trumpet and prominent distortions in the foreground. These 55 minutes of cultivated mellow sounds would pass as an easy listening album for most modern electronica connoisseurs, which is quite an interesting result, but I doubt it was the artists intention. - carsten s.
samples:
Japancakes, "Belmondo"
Darla


The Darla Bliss Out series, designed to allow ambient pop stars to spread their message and love to the world on a monthly basis, continues with this, it's 19th entry, from Japancakes of Athens, GA. Japancakes have released two full-lengths and an EP on Kindercore, and have drawn comparisons to bands like Macha and Air with their instrumental-with-electronics music. It's cohesive, full-sounding, grooved-out, and, yes, ambient, but also very innocent. Eric Berg started Japancakes as a simple ensemble to create music out of very simple chord progressions, but allowing for moments of genuine improvisation in the studio by having the members never practice the melodies together until it was time to record. As a result, most tracks start off with one or two instruments and sounds, then build and add more as they progress. What's interesting about this music is its clarity. There are no sounds here that distract or muddle the art - everything feels "just so," like it was meant to be that way from the beginning. While it is repititious by design, it is not at all unchallenging or boring listening material. On "Belmondo", Japancakes is again the core group that recorded last year's "The Sleepy Strange", once more with Andy Baker at the console. And it really is a fantastic listen. The album's key track, the sixteen-minute-plus 'Handguns & Firearms', is one of the best compositions I've heard all year, and elsewhere the band evokes truly spine-tingling moments with an interesting mix of drone, strings, keyboards, and even lap steel. It's a brave combination of styles that wouldn't necessarily work with other bands, but Japancakes pull it off with no serious injuries. A great addition to Darla's series and to Japancakes discography. - Rob Devlin
samples:
Antipop Consortium, "Ghostlawns"
Warp


Let me be honest here. I grew up in Queens, so I like my rap to sound a certain way. While I can appreciate the insanity of groups like Outkast and southern production geniuses like Timbaland and the Neptunes, I'd rather be listening to Cam'Ron, Nas, Jay-Z, Cormega, or the Wu-Tang Clan. Now what I can't stand is that trendy niche cleverly branded as "rap for backpackers" (think El-P, Cannibal Ox, Talib Kweli). Give me tracks about cash, ho's, and guns— I'm a happy clam. Show me something with a Definitive Jux label on it or a rapper who sounds like he wrote with a thesaurus next to his notepad and I'm out. So then Antipop Consortium, even with the Warp endorsement, has always been a blip on that side of the screen I don't fuck with. Personally, I think this is one of those acts that brings the label down. Needless to say, the original version of "Ghostlawns," the latest single from their recent 'Arrhythmia' CD, didn't move me. I mean sure, their flow is pretty tight, but if you're rapping about granola and tofu... does it really matter? The flipside redeemed this 12" somewhat, with more coherant remixes of "Ghostlawns" done by Mike Ladd and the legendary LFO. Ladd's remix actually gives the music a good kick in the ass with a steady electro beat you can both follow and rock out to. What makes this mix even better is it extends the track for a few extra minutes with the sampled female vocals and computer voice from the original, making it far more DJ friendly than the original. LFO (now Mark Bell, sans co-founder Gez "G-Man" Varley) seems to have his ear closer to the sound of Dirty South on the cheekily titled "Rik Waller remix" (Rik Waller was a contestant on the UK version of FOX's "American Idol"). And yet, there are elements of dub and the traditional Warp experimentation to be found among the chicken and grits grooves. Backpackers already own this (shit, they probably copped the promo 12" the moment they saw it), but unless you're a fan of Antipop Consortium, I wouldn't bother with this record. - Gary Suarez
samples:
We know that sometimes these CDs are somewhat challenging to find, which is why we have a community section which can be used to obtain nearly everything available on this site.
MOMUS AND PHIILIIP, THE GONGS, SUPER MADRIGAL BROTHERS
AMERICAN PATCHWORK TOUR, WILL'S PUB, ORLANDO, FL, July 13th
This poorly advertised, non-hyped stop on Momus' American Patchwork tour took place at Will's Pub in Orlando, Florida. The venue was too small, with a stage the size of a trophy stand, and a sound system that bordered on Goldstar. The bar was a horribly inappropriate place for Momus to be booked, given the Rockabilly-esque nature of the establishment, which tended to clash with the fey Scottish intelligentsia playing high concept medieval electronic folk. All these concerns aside, however, the show was terrific. The eleven people who showed up were treated to an evening of eclectic and disparate acts - all loosely tied together by some sort of inscrutable aesthetic - but more importantly all belonging to Momus' new record imprint American Patchwork, whose release schedule so far has been bizarre but impressive.
Opening the night were the Super Madrigal Brothers, an electronic duo consisting of a cute little Japanese jailbait mutant with a Prince Valiant haircut and a shaggy white sidekick. They played a continuous set harping on the newly exhausted genre of video game music. The duo was able to keep things fresh, however, by consistently interspersing their Nintendo melodies with a sophisticated labyrinth of distorted motorik beats, squiggly squelches and deconstructions, mathematically calculated for maximum dramatic annoyance. The shaggy white guy had this cool device he called an electronic theremin, which he apparently made himself. I want one.
The Gongs are a foursome, consisting of a childlike female vocalist who plays a homemade guitar thing, two guys who play similar homemade bass/guitar things, and a real dweeby guy in the back who plays a long slide-guitar apparatus inexplicably called "the chucky" (also homemade, apparently fashioned out of a log). Their music is an amazing art school joke: a submental combination of Jandek-style riffing, Shaggs rhythm section, deadpan vocals and musique concrete. They opened with "The Bat," a real pressure-cooker of a song in which the four repeatedly over-enunciate the phrase "THE BAT IS FLYING AROUND AND AROUND INSIDE THE CAVE" or something like that. Totally non-musical, completely hilarious and definitely odd.
Then came the real class act of the evening - a fey, highly coiffed Sunset Boulevard tramp named Phiiliip. He had been lurking around the room all night, and I must admit I did wonder what a precious, Patricia Fields artfag princess like this was doing in a place like Will's. I was just about to invite him out to the local production of Hedwig when he took the stage, looking like he couldn't be bothered to actually perform. Out of a nearby laptop came a cacophonous, arrhythmic mishmash of static, sleazy electro beats and distorted acid guitar. Phiiliip tried his best to look like he didn't care, but I could tell that his performance was from the heart, even when his half-assed attempt to do the robot fell apart and was quickly abandoned. His debut album, Pet Cancer, which I picked up at the show, is highly recommended.
Momus finally took to the stage with little fanfare and no applause. As usual, he had on that damned eyepatch and his scrawny, gawky frame looked sillier than usual in his loose bohemian outfit. His only accompaniment was the laptop, somewhat surprising for a "folk" artist. However, his set mainly focused on material from his medieval electronic hillbilly album "Folktronic" and some early material that had been reworked into the same general framework. He played all of the outrageous material - "The Penis Song" and "Coming in a Girl's Mouth." This was certainly an evening of classy material from a great performer, who despite the extreme minimalism of his arrangements, managed to maximize the energy in the small dingy room, with his absurdly humorous asides and charming demeanor. Momus and his entourage of weird little indie bands made for an enjoyable evening of absurdity and misanthropy. I highly recommend catching the American Patchwork tour as it blazes through a redneck bar near you. - Jonathan Dean
WIRE
ICA, London, UK, July 20
Twin screens in a dark room reflected ideal copies of each other. A film about the M25 London circular motorway narrated by Iain Sinclair was in motion. Ambient drones from WIRE guitarist Bruce Gilbert underscored the notion of time as spatial dimension. Cut to fake fat peroxide rapper horsing about amongst toy trains and fat controllers. Bumpy is the son of WIRE's other guitarist Colin Newman, and he's been making bootlegs. "Marshall the Tank Engine" set Eminem up against the theme to a BBC kids TV show, to humorous monkey organ grinder effect. Just as the irritation factor began to kick, a little cartoon pink flag began to flutter. The soundtrack seemed like a very poppy Immersion cut, but was in fact a new WIRE track. Then very early in the evening by average gig reckoning, WIRE took the stage and began a slow burn to ignition. At the end of a storming "Germ Ship" Bruce lit some totaly out to lunch fret fire, chewing determined and clad in black. It must've been a good version as he seemed a bit out of his head by the end, asking the rest of the band if they could play "Germ Ship" next. Well, it was a good version! Alongside four as yet unreleased numbers, every track from 'Read and Burn 01' is let loose in the current set which finds WIRE in almost frighteningly fierce form. The set seems perfectly paced to build a crushing yet liberating intensity. "1st Fast" dwarfs the recorded version and "I Don't Understand" seemed less the war cry it did at All Tommorow's Parties, more an impassioned plea for mercy, with bass-wrestler Graham Lewis sob-acting the chorus over and over. They were back for some "Lowdown" swing and a massive monochord grinding "Pink Flag" where Lewis, sweating profusely in a vest of allegience to the twin kingdoms of Elgaland-Vargaland, conquered the red slave trade by hammering huge noise from his pedals. Then they were gone again but the crowd noise was deafening so they returned to "Drill." Colin's head jerked side to side as he delivered fractured cut up lines. It took about nearly a week for the adrenaline high I got from this gig to subside, and the intellectual and emotional effects will probably last the rest of my life. This is powerful art effecting reality shifts. They're touring the USA in September, then the "Comet" hits Europe. Experience it. - Graeme Rowland
dining ambitions

Subject: Which dead musician would you like to have dinner with?
who the hell are all those people? i'm sorry. don't know them (except for john cage). i'd like to have dinner with Dwayne Rudolph Goettel. i heard that he's a good friend with ELpH these days...
This is a joke, right?

Subject: About this latest poll...
the snooty-patoot record geeks who say that they would honestly like to chat with John Cage over a plate of curried goat are full of poop, and they know it. Pushing for cool points on an anonymous poll is lame to the point of... deserving to be pointed at. Or something.
Shun, shun, shun!
I think Karen Carpenter might be the most fun to "eat" with.

Subject: bowery electric
hi there from sydney australia!
are Bowery Electric still going?
are they working on anything - the website is rather, um, dated ....
thanks
Unfortunately there hasn't been any news from the Bowery camp. The band as Bowery Electric has ceased to record as such, but there might be some future developments soon.

Subject: lightning bolt
on your review for "the power of salad" you said that brian gibson played drums and that brian chippendale played the bass. i'm pretty sure it's actually the other way around.
Hmm, it was hard to tell when they put their names on their backs at the opening of the video!

Subject: ed
is Ed Andrews taking his novelty angry chump show on tour? I for one can't wait for his 'post-hardcore' attitude in my face. cunt
Ed writes: "He doesn't travel for fans but if you take the time so show up at his door instead of being a whiny little emo email badass he'll gladly smash your plastic glasses and make fun of your womens jeans."

Subject:
maybe if the dude who reviewed "oops the tour" wasn't so busy playing mr. blackwell to the audience, he could've had his sphicter loosened by lightning bolt's set. come on dude, you went to see the locust, the uberfashion squad of hardcore since 1996! who the fuck do you think is going to be there? chill out! if you want to punch hipsters during their set, fine, but you can't bitch about them doing the "praying mantis" or whatever when they feel like it. get a clue!
Ed answers: "You know, for some reason I expect normal fucking looking people like myself and my friends to show up. Not fucking 80 pound waifs with runny blue hair and chained wallets that hit the goddamn floor while running around showing fat, haggardly indie girls their shitty dark angel poetry. I can bitch about all I fucking want slugger, no indie kid has bothered to stop me yet. I never thought it was possible to dance worse than those nuts-and-bolt prince albert-loving rivetheads who do the air traffic controller dance, but attending The Locust proved me wrong."

Subject:
Hey, are you taking suggestions for future brainwashed polls? I've got a riddle: which makes you a bigger hipster: wearing clothes that fit in a "genre" or writing several hundred word fashion critiques? Ed dear, you may not think you're a Joan Rivers, but you really are. Apparently the gravest offenses being committed were wearing ungeneric clothes and actually going in to watch the show. Yeah, dance police do suck, but is it really that devastating being called a "mosh pit badass"?
Ed respons: "Wearing clothes that fit a genre jackass. You can be a slave to your "genre," whatever the hell it happens to be all you want. There's a difference between wearing ungeneric clothes and wearing knit wool winter hats, jeans, and a jean jacket in a 100+ degree club in the middle of july, in case you didn't notice. If you have a need to wear ungeneric clothes you're an idiot. In case you didn't notice, I am the dance police."

Subject: irony
the only thing i hate more than irony soaked hipsters are obnoxious reviewers...
i'd like to read about the show, not the reviewers petty insecurities, or his high school jock mentallity when it comes to "the pit"...
Wow, we haven't received this much hate mail since Bjork was dissed.

Subject: ed andrews
I believe the Ed Andrews review of the Locust show is quite possibly the best piece of material ever published by the brain... please pass the message that if he has the desire to see a show in the Ohio/PA area I will happily buy the tickets and dinner in exchange for a night of his indie rock ridiculing one-liners...
There's an old saying, "doesn't matter what you say so long as you spell my name right." Controversy never hurt anybody, right?

Subject: HEy boys!!!
im brazilian and i like very much godspeed you black emperor! (my inglsh is poor)
wath this the pega of the brainwashed radio?
thaks for songs!!!
Err, sure.

Subject: [no subject]
I, just wanted to congratulate, there a lot of lps I bought after seeing them on your site, so really, bravo.
I also have a question. Do you know where I could find hrsta tabs, especially "Lucy's sad"... I need it so much really.
Well, sorry for my english and good luck.
Sorry, I don't think anybody's taken the time to make tablatures for Hrsta yet.

Subject: Merzbild Schwet
Hello Jon, sorry to bother you but I have a nww question and have been directed to you. I recently acquired a copy of Merzbild schwet and am trying to tell if it is original or a copy/bootleg. Any sure way to tell? Appreciate any help...
Yes, it's a bootleg.

Subject: UD Tapes
Do you know where i could get copies of the cassette only releases by NWW/Current 93: Scrag..Mi-Mort...Nylon Coverin' ....?? any address or e-mail address would be appreciated..thank you for your time..

Subject: Slint
So I hear people tossing around works like "Slint" and "Spiderland" and "1991". And so I'm in a record store and I see a used copy for cheap and pull the old -what the hell?- and buy it's ass. All whim like. And then like a gosht it blows my mind right goodly and I go home and try to find any info I can. TWO RECORDS?!?! THAT'S IT?!?!? Fuck you God. ARGHH!!! Who's idea was this. Do they have a mailing address I can send rancid meat to? Please tell me there's more, live records, split 7"'s anything. Help me.
They split in 1991.
Tom the Fish writes: "mcmahon went to for carnation. i think he's playing keys on tour with built to spill or some other equally awful band right now. buckler went off to king kong, of whom i seem to be the only fan of. the drummer was in one of 4 or 5 bands named evergreen and pajo jumps from band to band the way winonna ryder hops from cock to cock. brian macmahon's orginal band (of which david grubbs was also a member) squirrelbait is good in a husker do sort of way. rodan came out of no where (it seemed) and split up to form June of 44, Shipping News, Retsin, Sonora Pines, Rachels and other such non-sense. the drummer from June44 was also in Rex.

and this is why all i listen to these days in movie soundtracks and npr."