EARTH, "LEGACY OF DISSOLUTION"
No Quarter


Music as abstract as that made over the years by Dylan Carlson's Earth lends itself to wildly variant interpretations by various people, who read different motives into the music based on their preconceived notions and unconscious desires. For a generation of Seattle grunge scenesters, Earth were purveyors of speaker-rumbling, slow-motion heroin rock, the gloomy grunge aesthetic taken to its logical extreme. For metal fans, Earth represented an interested outsider take on the doom and dirge of Black Sabbath and Nordic Metal. For noise and industrial fans, Earth are simply using different tools to explore the same territories as Merzbow or Lustmord. For a more recent and far more pretentious contingent of Wire readers and experimental music enthusiasts, Earth is seen as a drone group, locating LaMonte Young harmonics within the insular world of underground metal. This remix album, featuring reassemblies and interpolations of Earth by fellow musicians, demonstrates these various different approaches to the music. This disc is released at a time when Earth is making something of a comeback, with recent touring in Europe and the release of a couple of impressive live albums (070796LIVE and Living in the Gleam of an Unsheathed Sword). All of the remixers on Legacy of Dissolution have remained very respectful to the original material, simply adding a few subtle background elements, or gently nudging the mix this way or that, rather than using Earth as raw material for entirely new compositions. Mogwai adds backwards guitar and layers of piercing digital chatter to "Teeth of Lions Rule the Divine," a punishing sub-bass frequency track from Earth 2, eliciting something more dynamic than the original's crushing minimalism, especially when the droning Tony Conrad violin starts up. Merzbow collaborator Russell Haswell's take on "Tibetan Quaaludes" (subtitled "Waveset Sloth Mix"), places Earth in a digital gristle-izer, upping the noise quotient by several degrees, producing a churning, mud-splattered, slug-paced exercise in audio interment. Jim O'Rourke's reassemblage of material from Phase 3: Thrones and Dominions is probably my favorite remix on the disc, gently nudging Earth's throbs and drones through his laptop to create precise, hypnotic tones that collate over the length of the track. Autechre do something entirely unexpected with "Coda Maestoso in F(Flat) Minor" from Pentastar: In the Style of Demons; they leave the song almost entirely intact, only altering the levels slightly and adding a backwards snare. Frankly, I'm relieved by the fact that Autechre decided not to do anything more ambitious with the track, as it was better left alone. Justin Broadrick of Godflesh adds finishing production touches to "Harvey" that bring the track closer in spirit to the swirling, slowcore noise rock favored by My Bloody Valentine and Slowdive. This will not be surprising to anyone who has heard the Broadrick's recent debut as Jesu, which was unashamedly derivative of the aforementioned artists. Finally, and perhaps most superfluously, is Sunn O)))'s take on "Rule the Divine (Mysteria Caelestis Mugivi)." Since Sunn O))) is more-or-less an Earth tribute band, their contributions are predictably unnoticeable, though they do seemed to have focused more on the third-eye drones and less on the guitar grind. Legacy of Dissolution neatly cuts across all the modern approaches to abstract metal, and provided me with more than an hour of fascinating revisitations of hallowed Earth. - Jonathan Dean
samples:
Kammerflimmer Kollektief, "Absencen"
Staubgold


I'm having difficulty imagining a sound more alluring than the one produced by this German sextet. Two years ago, Cicadidae put me under its spell and maintained a constant spot on my late-night listening play list. The band has tightened up for their latest release and managed to outdo themselves. Cicadidae was a bright album, glowing in the wake of processed instruments and slow-burning songs for the lonely and contemplative; Absencen maintains those moods, but adds a cinematic touch to the whole experience. The instrumentation and tasteful use of programming and processing gives Absencen a far more acoustic timbre. When the violins tremble there is little in the way that impairs the instrument's natural beauty, when the saxophone wails and cries, its as though I'm listening to some shadowed player on a dimly lit street corner. There are undeniably romantic elements sprinkled all over this album: almost every song is full of fluid, seductive curves that move along peaceful percussion rhythms or stuttered, textured movements. The band—at times—arranges the music purely by texture, preferring to eschew melodic and harmonic concerns for a purely sound-based approach. "Unstet (f?r Jeffrey Lee Pierce)" is a perfect example of this. While there are melodic and harmonic elements, it's obvious that the focus of the song is on the jumbled sax and wailing guitars that populate its six-plus minutes. The way the music creeps and slides about gives the entire record a voyeuristic angle. It settles over everything and made me feel as though I should be careful, watching my back at all times. I wouldn't want to be caught in the act. Martin Siewert guests on at least one track (specifics for guest appearances aren't provided), but it's little wonder that he was invited to play with the band. Kammerflimmer Kollektief's sound is enormous and mysterious, perfect for the dark or the veiled and shady corners of every city. - Lucas Schleicher
samples:
Manual, "Azure Vista"
Darla


Jonas Munk's most recent releases have been a series of collaborations with Jess Kahr, Syntaks, and Icebreaker International, the two former being band-mates of Munk's in Limp, but in his first autonomous release since 2002's Ascend, Manual sounds more like his less beat-driven songs from his 12" on Hobby Industries (compare a song like "I-dawn"). Munk's fascination with all things tropical or celestial has not diminished, as Manual's music captures the sound of laying out on the beach in your best swim trunks and Def Leppard cut-off shirt. Songs are saturated with the same synthesized sound which drenched the 1980s new wave pop movement. Munk, however is careful to add his own unique fringes of electronic eddies and whirlpools to the music. He is infatuated with the way stars sound if they fell to earth and danced gently on the ocean. "Summer of Freedom" has a measured and thumping prelude (replete with clapping sounds) to the ultimate supernova of exploded synthesizers which then ebbs back into the prelude theme only to explode once again. There are about four catharses in this 11-minute song alone and they all feel really good. The third quarter of the song devolves into a more quiet and ruminative state before gathering up its strength for one last celebration by the end. There are two classes of songs here: those which are paced and progress ("Summer of Freedom" and "Neon Reverie") and others which simply swirl atmospherically and go nowhere ("Tourmaline" and "Azure Vista"). I find the progressive songs more interesting and I get lost amidst the cosmic dust of the swirling ones. "Clear Skies Above the Coastline Cathedral" spans both types of songs. On the one hand, the melody is fairly static and there is not much development in the themes. On the other hand, a handful of other sounds dance around the leitmotif and it builds and swells along with these instruments. So there is a progression, yet is always tethered to a central locus. Also, there is the obligatory sound of ocean waves at the beginning. Azure Vista would make a properly complementary soundtrack to a sentimental 1980s film like the estimable Andrew McCarthy romp Mannequin, if that film were set on the beach and excised that horrid Starship song from the credit titles. Actually, perhaps McCarthy's Weekend at Bernie's (with its appropriate beach setting) could be used to make an amalgam of the two and then add Manual's music as the score. The delightful "Neon Reverie" would make a particularly inspired choice for an end scene fade-out. Additionally, the album's cover is indicative of the sound. A double-exposed beachfront Californian dusk with saffron lights mixing with azure skies, all impacted by darkly-jutting palm trees. It looks particularly lush and candy-colored, just as the music can be both sweet and ephemeral, unable to stick to the roof of your mouth for very long. Musically and visually, this album is the cotton candy of Manual releases. - Joshua David Mann
samples:
Brendan Murray, "Resting Places"
Sedimental


Brendan Murray is one of the most unsung practitioners of experimental music in Boston's fertile scene. This beautifully crafted set of four pieces should do much to raise his profile. As the tracks were recorded over a period of three years, each track has a slightly different feel. Murray has strengthened the set by choosing a universal theme (various types of resting places) and representing it in different ways through careful editing. The opening "Shore" is contemplative in tone, with layers of buzzing and shimmering tones weaving steadily in and out of the mix. "Garden" is less linear, with several different sections that gradually develop over 12 minutes. The short, sudden jolt of noise that occurs at one and a half minutes sounds like the equivalent of a flashback scene in a film. The relatively quiet sections of interlocking tones that follow this outburst then carry a heavy sense of tension, as the sounds of past memories could again interrupt the sequence at any time. Murray successfully fuses digital processing with a warm, human touch throughout the set. Six minutes into "Garden" an array of clanging, arrhythmically struck metal percussion is heard amidst the floating tones that gradually build to a steady drift until a section of shrill, piercing feedback brings the piece to a close. "Bed" begins with a collage of beautifully hazy bell tones, which give way to a passage during which Murray can be heard rubbing small bits of metal together. The length of these tracks (each between 10 and 17 minutes) allows him to fully explore each sound before morphing it into something else. He clearly brings a musician's sense of composition to the world of abstract, rhythmless sound. This intuitive sense of arranging and a keen use of dynamics helps the album to remain exciting although a very specific palette of sounds is utilized. "Tomb" is the most dense composition, with several layers of audio muck to wade through. It's a true culmination of all of the elements used in the preceding three tracks. The high-pitched squeals wind their way through a steady onslaught of digital detritus as Murray piles on the layers. If he is ruminating on the possibly permanent nature of the tomb as a final resting place, his reading of it seems to be a celebration of all that has come before this state, rather than a morbid reflection of death itself. By juxtaposing the meditative tones of "Shore" with the peaceful, womb-like environment evoked in the first half of "Bed" and the sheer catharsis of "Tomb"'s exorcism through noise, Murray has presented a thorough and highly enjoyable study of an eternal subject. - Jim Siegel
samples:
Jonathan Coleclough & Lethe, "Long Heat"
ICR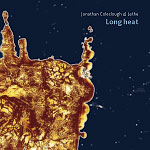 Any doubt that the term "drone," as applied to this sort of music, is completely and ridiculously misleading should be eliminated after listening to this recording. While all sorts of pulsing tones are used and thrown away on Long Heat, the most noticeable aspect this collaboration is that it never sits still or relies on constant droning sounds to achieve its rather confusing effect. Kuwayama Kiyoharu, otherwise known as Lethe, and Jonathan Coleclough construct a fairly ominous set of sounds, one on top of the other, until they produce the sound of music burning. Crackling, sticks snapping, and slowly detuned winds flow through a series of almost indefinable transitions; each new sound ushers in a new palette and a fresh movement. Sounding almost like a variation on a theme, the duo slowly allows an intensity to build, never really letting go and simply adding intriguing sounds as they move along, almost as though they were eager to drop the old ones as quickly as possible. At around the 21 minute mark, the atmosphere begins to spiral out of a control ever so slightly: the clanking of metal, the sounds of birds chirping, and the endless wail of synthetic tones grows over its own container and sounds more and more threatening with every passing second. There's almost never any doubt that anything released by Coleclough is going to be good, but not since his work with Colin Potter on Low Ground has his work felt this powerful. Lethe's contribution may have something to do with this, but unfortunately there are no details provided on the packaging in regards to who contributed what and how. There are two editions of this release available. One is a single disc edition and the other is a two-disc edition limited to 250 copies and available only through ICR Distribution. There's little reason not to own this; the fevered pitch this album reaches and it's beautiful, destructive aftermath exceed any description that might be applied. - Lucas Schleicher
samples:
AURAL RAGE, "A NATURE OF NONSENSE"
Aural Rage


Aural Rage is the work of engineer and producer Danny Hyde, who is probably best known for working with Coil during the group's transitional period from the late 1980s to the mid-90s, a period that included some of Coil's most accessible works, Love's Secret Domain, the Backwards sessions, and remixes for Nine Inch Nails and Depeche Mode. Even among some of Coil's most zealous advocates, works like "Windowpane" and "The Snow" are considered somewhat aberrant, their adherence to then-current techno norms seemed a deliberate step into the mainstream, not a strategy for which Coil are generally known. Much of this fixation on the reconfiguration of dance music was brought to the group by Danny Hyde, so it should come as no surprise that his debut solo album A Nature of Nonsense sounds a lot like that phase when Coil seemed to be spending a lot of time tripping at London discos. Those dark, synthetic strings, programmed rhythms, shuddering MDMA-filtered beats, acid gurgles and insect buzzes are all over the album. Unfortunately, this means that the album sounds a bit uniform and dated in the same way as "The Snow" does now. Also, like many talented engineers who create their own music, Danny Hyde seems overly dependent upon the gear and software he uses, producing many tracks that sound more like in-store demos for electronic music gizmos than they do like fully-realized songs. Hyde's maximalist approach, with a dense beatscape overpopulated with layers of samples and sonic detail, recalls The Orb and Meat Beat Manifesto, only not as polished or interesting. This is something of a disappointment coming from someone who worked on such stunning Coil tracks as "First Dark Ride" and "Nasa Arab." Aural Rage turns in its own interpolation of the latter track with "Nasahara Arab," a pointless refabrication of the original that adds layers of unnecessary busy-ness to the track. Another reinterpreted Coil track fares slightly better, the noisy forward momentum of "Unhealthy Red," based on the Coil piece "Unearthly Red" from Live Four. Two tracks featuring vocals by the late Jhonn Balance are strong points for the album, though Balance's voice sounds incongruous placed amid hyperactive compositions filled to bursting with extraneous sound effects. On "FJ Nettlefold," Balance performs a remarkably possessed vocal, but Hyde miscalculates by overprocessing and adding Dead Can Dance female backing vocals that sound ludicrous in this context. Still, it's wonderful to hear Balance again, in whatever form. Hyde seems to enjoy a good bit of humor, whether it's Stephen Hawking's computer voice proclaiming "Physics is all very good, but me, I'd rather get wood," or a cut-up of everyone's favorite tyrant George W. Bush on "Dubya Does One." Problem is, these gags visit well-worn territory, and in the case of "A Nutter at Radio 3," the jokes are just plain stolen, uncredited, from Trunk Records' Dirty Fan Male. I don't want to be overly cruel to an album that is plainly a very sincere DIY enterprise, but from the rather ho-hum name of the project down to the hack-job sleeve artwork, A Nature of Nonsense suffers from a dearth of actual ideas, not an uncommon problem for music made by engineers rather than artists. - Jonathan Dean
samples:
13+goD
Alien Transistor (DE) / Anticon (US)


13+God is the final product of an intensive 17-day studio collaboration between vaunted German electro-pop outfit The Notwist and US-based ambitious free-range "rappers" Themselves. Unlikely bedfellows, a common admiration for each others' work led to the trans-Atlantic t?te-? -t?te, which originally began with home-made Notwist remixes of tracks from Themselves' avant-garde LP The No Music. All the disparate elements of both groups—Notwist-staple dreamy, catchy hooks and scattered computerized percussion; themselves' esoteric and half-growled, half-whined verses—are noticeably present and, surprisingly, mesh quite well together. The fact that 13+God is entirely listenable (one needs granite ears for much of Themselves' music) from start to finish seems to indicate that the famously freewheeling Themselves chose to adhere to a more Notwist-friendly framework, if not working subordinately. Either way, the formula works perfectly and equally: harmonious, hummable radio-ready tunes as well as rambling, bizarrely epic tracks are created, and the above note aside, it's not immediately apparent who wrote or performed what. There are moments of dominance: the lead single "Men of Station" reeks of Teutonic influence, replete with Markus Acher's trademark spoken-chanted vocals and Themselves relegated to background noises; the closing track "Walk" is similar to the messily intense cuts found on producer Jel's Meat and Oil EP. Otherwise, the six very different musicians have achieved a near-perfect balance of European electronic pop and American avant-rap. Neon Golden-worthy percussion and harmonization compete with the best No Music beat-poet stream of consciousness vie for position, neither winning out but instead creating an inventive and original-sounding record. The collaboration also has the novelty of minimizing its flaws: when the vocals drone on, inducing slumber, a heavy backbeat will raise the energy; and the structure and harmonization keep otherwise ethereal vocalization grounded. Fans of Themselves may be disappointed that 13+God is too accessible to the plebian public and not jarring or discordant enough, and Notwist aficionados may be annoyed with Themselves for making such nonsensical noises over an otherwise perfectly-ordered Martin Grestchmann arrangement, but such attacks are Phillistinic. 13+God has upped the ante for cross-genre collaborations and met or exceeded all of its lofty expectations. - Chris Roberts
samples:
ADULT., "D.U.M.E."
Thrill Jockey


Though it did make me chuckle back when I read Jon Whitney's scathing review in which he unfavorably compared the duo to a pair of untrained monkeys playing with a drum machine, I actually always liked Adult's Resuscitation. The collection of 12" singles from the Detroit group came right in the midst of a slew of other retro-analogue electro acts a few years back, but was unique enough to stand out from the crowd. I liked the childish simplicity and cold, rigid plasticity of Adult's repetitive beats, and the humorously reductive, robotic lyrics of Nicola Kuperus ("Do you have a phone/I need to accommodate/My communication needs"). The purist, technological aesthetic of all the releases on their Ersatz Audio label, including Kuperus' series of "dead secretary" photographs added a great visual element to the odd postmodern satire, and their live shows were also quite a lot of fun. Not satisfied to continually inhabit the same synthetic, climate-controlled interiors forever, Adult stretched out on their follow-up album Anxiety Always, producing an aggravating concoction of minimal techno and brutally ascetic no-wave that I still find very difficult to listen to. With D.U.M.E., their first release for Thrill Jockey, Adult go further down the same rabbit hole, leaving behind their Detroit techno roots for increasingly darker and pricklier post-punk territories. The result is an album even less approachable, a series of anally retentive goth pastiches that highlight Kuperus' deliberately piercing, grating vocals. Noisy stabs of subterranean guitar, spiky psychedelic touches and simplistic programmed beats give these songs the feel of early Cure, Tuxedomoon or DNA music stuffed into tiny, vacuum-sealed plastic containers and left around for 20 years. When the seal is removed, the stink hits you right in the face, relentlessly obnoxious and quite repellant. I think Adult deserve some praise for so single-mindedly pursuing a sound so angular, ascetic and uncommercial that most will not even get all the way through a three-minute song. However, in their dogged stylistic pursuits, they leave the listener far behind, choking on their toxic exhaust. I couldn't help but notice how Kuperus' confrontational vocals are a pitch-perfect recreation of the "Me and My Rhythm Box" performance from the film Liquid Sky, which was a welcome reminder. However, it's something I can only take in very small doses. And though this EP is only 16 minutes long, it's already far too much to take in all at once. - Jonathan Dean
samples:
We know that our music picks may be somewhat challenging to find, which is why we have a community section which can be used to obtain nearly everything available on this site.

WEEK OF APRIL 24 - APRIL 30
13+God [Themselves & The Notwist] - 13+God CD/LP (Anticon, US)
Accessory - Forever & Beyond CD (Out Of Line, Germany)
Antony and the Johnsons - I Hope There?s Someone 12"/CDEP (Rough Trade, UK)
Aidan Baker - The Sea Swells a Bit... CDR (Scarcelight, US)
Bloc Party - Banquet 7"/CDEP/DVD (Wichita, UK)
* The Cure - Seventeen Seconds 2xCD [remastered reissue with bonus disc of rare/unreleased tracks] (Rhino, US)
* The Cure - Faith 2xCD [remastered reissue with bonus disc of rare/unreleased tracks] (Rhino, US)
* The Cure - Pornography 2xCD [remastered reissue with bonus disc of rare/unreleased tracks] (Rhino, US)
Dismantled - Breed to Death CDEP (Dependent, Germany)
DJ Spooky & Dave Lombardo - Drums Of Death CD (Thirsty Ear, US)
Drowsy ? Growing Green CD (FatCat, UK)
Enduser - Comparing Paths CD/2xLP (Mirex, Germany)
The Fall - The Complete Peel Sessions 1978-2004 2xCD (Castle/Sanctuary, UK)
The Fall - Los Angeles 1979 Live CD (Cog Sinister/Voiceprint, UK)
The Fall - Glasgow 1981 Live CD (Cog Sinister/Voiceprint, UK)
The Fall - Hof 1981 Live CD (Cog Sinister/Voiceprint, UK)
* Gene Loves Jezebel - Promise 2xCD [remastered reissue with 2nd disc of singles, b-sides & rarities] (Beggars Banquet, UK)
* Gene Loves Jezebel - Immigrant 2xCD [remastered reissue with 2nd disc of singles, b-sides & rarities] (Beggars Banquet, UK)
* Gene Loves Jezebel - Discover 2xCD [remastered reissue with 2nd disc of singles, b-sides & rarities] (Beggars Banquet, UK)
Fred Giannelli - Telepathica 12" (Dust Science, UK)
Jen Gloeckner - Miles Away CD/LP (One Little Indian, UK)
Heimataerde - Gotteskrieger CD (Metropolis, US)
Her Space Holiday - The Young Machines Remixed CD (Wichita, UK)
Jaga - What We Must CD/LP [initial copies of CD include bonus disc of demos] (Ninja Tune, UK)
Jose Gonzalez - Veneer CD/LP (Peacefrog, UK)
Shawn Lee?s Ping Ping Orchestra - Moods & Grooves CD/2xLP (Ubiquity, US)
Love As Laughter - Laughter's Filth CD (Sub Pop, US)
M.I.A. - Arular CD/LP (XL Recordings, UK)
Motor - Stuka Stunt/Junker 12" (novamute, UK)
Mountain Goats - The Sunset Tree CD (4AD, UK/US)
New Order - Waiting for the Sirens' Call CD (Reprise/Warner, US)
Odd Nosdam - Untitled Three 12" (Anticon, US)
Optimo/Various - Optimo Present Psyche Out CD (Eskimo Recordings, UK)
Petra Jean Phillipson - Extended Play 12"/CDEP (Gronland, Germany)
Port-Royal - Flares CD (Resonant, UK)
Psyclon Nine - INRI CD (Metropolis, US)
* The Rogers Sisters - Three Fingers CD/LP (Too Pure, UK)
Rotersand - Exterminate Annihilate Destroy CDEP (Dependent, Germany)
[:SITD:] - Coded Message 12 CD (Metropolis, US)
Stereolab - Oscillons From the Anti-Sun 3xCD+DVD [anthology of EPs, rare tracks, videos & more] (Duophonic/Too Pure, UK)
Stromba ? Tales From The Sitting Room CD/2xLP (FatCat, UK)
* Emiliana Torrini - Fisherman's Woman CD (Rough Trade/Sanctuary, US)
Triola - Im Remixraum 12" (Kompakt, Germany)
Tubbs - Good Days, Better Nights CD/LP (Exceptional, UK)
Unsane - Blood Run CD/LP (Relapse, US)
Various - Gigolo Compilation 8 2xCD (International DeeJay Gigolo, Germany)
Various - HVW8 Sampler 12" [with Plantlife, Radio City & John Arnold] (Ubiquity, US)
Various - Wackies Sampler Vol. 2 CD (Wackies/Basic Channel, Germany)
Weird War - Illuminated By The Light CD/LP (Drag City, US)
Geoff White - Etsche 12" (Spectral/Ghostly, US)

This is simply this week's highlights from the NEW RELEASES provided by Greg and Feedback Monitor. For a more detailed schedule stretching into the future, please check out the page, since release dates can and will often change.
dijweek

Subject: Death In June
I was quite surprised to see a DIJ feature and podcast considering that thier section of the website hasn't been updated for years. But it was really quite great to see Douglas open up a bit and answer some interesting questions (especially the origins of the band name)... and the podcast selections were great! PTV, Wire, Bowie!!!! Great stuff. Well... I always enjoy every week of The Brain, but this week was quite a welcome surprise!
Thanks. Once again, there's a problem with technology and volunteers. We really need to do something drastic regarding the outdated websites on Brainwashed. We're looking for answers, content management systems, blogging, and if anybody has experience and wants to project lead/manage an overhaul and has the time to see it through completion, please contact us directly.

Subject: brainwashed radio
stream is down for a long time now... will it return?
Hopefully by Tuesday at the latest.

Subject: Eyes
Great to see that last week you featured Boyd Rice, now Death In June. Hopefully in the near future you will put both of these interviews together onto dvd for sale. Hope so.
Death In June just recently played in Sydney, nice of Douglas to perform small shows in Oz still, seeing how DiJ are unknown here and they don`t have a great deal of people seeing them perform.
How about an Isis or Jesu interview for the Brain?! that would be cool.
Cheers.
That'd be killer. Upcoming features are already looking exciting: in the next few weeks look forward to Ulrich Schnauss, Melt Banana, and Monade.

Subject: Fridge
hey there. i want to buy Fridge, "Eph" 2xCD but i'm not seeing it where you're "availabe here" link sends me. little help?
Sorry, we're sold out.

Subject: brainwashed
Nice work on the web pages. I like the layout, clear and concise. Many websites are sometimes difficult to navigate, but this is easy. Colors are good, too, plus I like all the linking going on, makes it easy to quickly find out more information.
Very cool.
Lucas Schleicher's dad.
Thanks Mr. S!

Subject: Boston Bash
I'm sorry I couldn't attened. I'm a CPA, and coudln't get away from NY to trek to MA to see your wonderful 9th anniversary show.
Mmmmm, accountants, how sexy. 10th bash might actually happen in September 2006, if it ever comes together, so if you're still pushing pencils you'll have no excuse.