Der Brennende Acker
Liles / Stapleton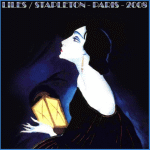 Details
Track Listing
Der Brennende Acker (Zuerst) (37:15)
Der Brennende Acker (Mittlere) (35:26)
Der Brennende Acker (Letztes) (38:17)
Personnel
Sleeve Notes
In 2007 Andrew Liles and Steven Stapleton were commissioned to compose and perform a live soundtrack for the Murnau film "Der Brennende Acker". The performance took place at the prestigious Cité de la Musique, Paris, France on 20th May 2008. Here is a recording of that live event available for the first time in its unabridged form of 1 hour and 50 minutes.

Some original backing parts and themes of this recording were heavily restructured and formed the building blocks to what would later become the Nurse With Wound album 'The Surveillance Lounge'.

"Der Brennende Acker" is considered to be a Murnau masterpiece. The film is dark and moody with very little romance, concentrating on the dark side of life, which is reflected in the greed, and ambition of a prodigal son who arrives home too late to say goodbye to his dying father.

The film was considered lost for a very long time, but in 1978 an almost complete print was found in the estate of an Italian priest who had organised screenings in mental hospitals.

released 20 May 2008

ANDREW LILES: Grand Piano, Digital Data Manipulation, Keyboards.
STEVEN STAPLETON: Prepared Guitar, Sound FX, Electronics.

All compostions written and performed by Andrew Liles and Steven Stapleton. P+C Liles/Stapleton.
Notes
The mention "released 20 May 2008" refers to the date of the performance.

As of June 2011 these tracks are available from www.andrewliles.bandcamp.com