Gran Reserva
Andrew Liles & Steven Stapleton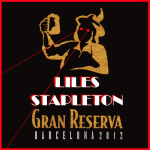 Details
Track Listing
Gran Reserva (Una Parte) (15:41)
Gran Reserva (La Segunda Parte) (17:45)
Gran Reserva (La Tercera Parte) (12:47)
Personnel
Sleeve Notes
Live performance by Andrew Liles and Steven Stapleton at the LEM Festival, Barcelona, Spain on the 12th October 2012.

Andrew Liles : Tuned Guitar, De-tuned Guitar, Sound FX & Saxophone
Steven Stapleton : Drone Guitar, Sound FX, CD turntables, Samples, Implements & Sundry instruments.

All music improvised, performed, produced, remixed and remastered by Andrew Liles & Steven Stapleton.

P + C Liles/Stapleton

Many thanks to Lucy and Victor.
Notes
As of April 2013 these tracks are available from www.andrewliles.bandcamp.com