Lumb's Sister
Various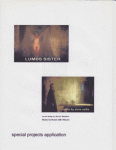 Details
Sleeve Notes
Notes
On 17th November 2006 Lumb's Sister was shown for the first time as part of the brainwaves festival

In November 2010 a copy of the original script for 'Lumbs Sister' was auctioned for charity.
Thios consisted of 18 pages, including stills, concept, production notes, synopsis, budget and hand written notes by Steven Stapleton.
It also contained a signed letter by Stephen Stapleton all housed in a transparent plastic ring binder.
Other Images