NL-Centrum Amsterdam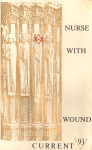 Details
1985 CS NL Staaltape ST00F
In plastic bag with insert
Track Listing
Personnel
Andy Leach
Tim Spy
Sleeve Notes
None
Notes
David Tibet - vocals
Steven Stapleton - mixing
Andy Leach - drums
Tim Spy - violin (?)

This was a recording of a concert live in Amsterdam in 1984 and was released briefly through Staalplaat, but recalled because the groups were not happy with the quality of the release (Nurse With Wound being spelled "Nurse With Wount"). The concert is noteworthy in that it features an early version of C93's "Happy Birthday". A bootleg recording of this cassette on LP also exists called Noddy Goes To The Sea. The track "Maldoror Rising", taken from this concert, was released officially on the Nature Unveiled CD later on.
Related Items