Creakiness / Firepool
Nurse With Wound / Spasm
Details
2500 Black vinyl copies in regular sleeve
Track Listing
Side A
Creakiness

Hair, Fur and Twiggs Jameson
Delilah's Lap
Creakiness
Admirals of the Blim
Electric Fretum Attachment

- Nurse With Wound [dpromdcd140] [ud036] [uj2007]
Side B
Firepool Part One - Spasm
Jellymoon - Spasm
Vinyl Etchings
Side A: IN A PICKLE NOW EH MARK!
Side B: FOR POSITIVE RESULTS CONTACT YOURSELF
Personnel
James Mannox
Sleeve Notes
Creakiness
Steven Stapleton
Hand cranked percussion
clockwork
Pygmyphone
Sheep ventilator

Joolie Wood
Violin pendulum
Flute
Jaws

James Mannox
Jews

Tony Wakeford
Basso electrico
Harmonics

Mixed, produced and edited by S. Stapleton
Recorded at I.C.R., Tollerton, York
Engineered by Colin Potter

1 Firepool Part One, 2 Jellymoon
Spasming was: Andy Hilton, James Mannox, Andy Semple, Ade Williams.Produced and mixed by Steven Stapleton

Thanks to: The Spasmystic renegade lodge, Amy, Annie, Sam and Marnie, Simon, Cooloorta peeps, Al and Jon for Spasmystic visuals, Joolie, Clair, Kate, Rosh, Karen, D. Tibet, Alan, Rockin Jonny, Mark P and all others who have shown support. Our love goes out to you in unquantifiable amounts. Spasm Mayday '91. "Pull the wool over your own eyes!"
Creakiness / Firepool
Nurse With Wound / Spasm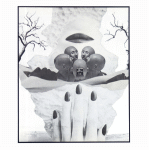 Details
1 test pressing of earlier release
hand-made sleeve by Steven Stapleton
Track Listing
Side A
Creakiness

Hair, Fur and Twiggs Jameson
Delilah's Lap
Creakiness
Admirals of the Blim
Electric Fretum Attachment

- Nurse With Wound [dpromdcd140] [ud036] [uj2007]
Side B
Firepool Part One - Spasm
Jellymoon - Spasm