MUSIC
IN BRIEF
CHICKS ON SPEED, "WILL SAVE US ALL"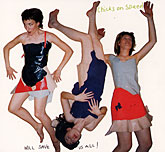 Imagine a world where The Yeastie Girls get kidnapped by Pan Sonic and flown to Germany to make a pop record! These chicks are God awful at times but never anything less than fun. This debut full-lengther pulls some of their previously issued singles, "Glamor Girl" and "Mind Your Own Business" along with 11 other tasty delights. A new split 7" with V/Vm has just come out and another CD of other bits and pieces - "Unreleases" is next to impossible to find at this point. Get this when you see it as it's a fun ride of bored chick electronica with attitude, equipped with titty twisters and a cover of The Normal's "Warm Leatherette." Limited in the release, this CD is due to surface in about a week through the help of EFA distribution from Germany and Caroline in the USA. - Jon Whitney
samples:
ZIPPERSPY, "ICKI BEATS"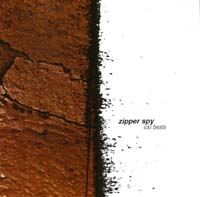 The always charming and ever so wonderful Maria, a.k.a. Zipperspy released this CD full of chopped up beats with harsh abrasive wall of sound noises. For those not in the know, Maria's husband is none other than the Ron of RRRecords, so amidst her electro chop-up gabber drum and bass it's not terribly surprising to find tasty bits of old school noise and loops. Zipperspy is one girl to keep your eyes on as it's hard to keep up with the volumes of output she's putting out, and it's only getting better and better and better. I find myself listening to this one more and more in my walkman and thinking "wow." - Jon Whitney
samples:
HRVATSKI, "OISEAUX"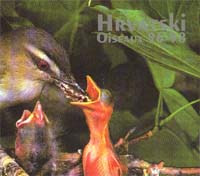 Another Eastern Massachusetts native, Hrvatski has released this collection of yummy stuff from 1996-1998 on his label, Reckankreuzungsklankewerzeuge (yeah, it's pronouncable). His flavor is a choppity chopped up sonic bubblebath of abrasive beats, quick changes and obtrusive melodies. Many fans of Kid 606 shouldn't go without hearing this fella who's been playing in the same Macintosh-powered genre since before Kid could see R rated movies legally. It's less comical but truly imaginative, talented and thrilling to listen to. Those with existing heart conditions be warned. 60 second sound clips truly don't do this artist justice as each track has many different movements. Short attention span theater, indeed. Note: this disc was released with assistance from Forced Exposure and I've personally not seen it elsewhere... - Jon Whitney
samples:
BEDHEAD LOVED MACHA LOVED BEDHEAD

Growing up together, the two brothers in Bedhead were separated from the two brothers of Macha when their families each moved away. Keeping in touch, Bedhead sent Macha some unfinished tapes, which Macha gladly completed. Presented here are the last studio recordings known of to surface from Bedhead, given a special treatment, with instruments added that you'd never expect like vibes and horns. Throughout the whole disc, you never forget the fact that it is truly the wonderful Bedhead people worldwide love. (I wish I could speak with more authority on Macha but alas, I'm in the dark.) The disc is sadly enough merely an EP at slightly over a half hour's worth of 6 songs (and 86 tracks). Introspective and beautiful, this disc ends on a cheery note as they break into a cover of Cher's "Believe" accompanied by a cheap drum machine and telephone touch-tones. - Jon Whitney
samples:
ARANOS, "MAKING LOVE IN SMALL SPACES"


People into the collaborative efforts between Nurse With Wound and Aranos might be in for a little surprise with this one. Violinist Aranos has released his first solo post-Noise Museum full lengther on his own label, Pieros. On this disc, Petr Vastl (a.k.a. Aranos) has tapped more into his Gypsy roots, making a more folk sounding album crossed with influences of his Irish surroundings. It's a great listen but difficult to review for Nurse With Wound fans as it's much simpler and much different than his work with Steven Stapleton. There's no cut ups, noise nor sound manipulation going on here. Perhaps I'm not used to his singing, but then again how many Tom Waits fans really loved his voice the first time they heard it,... More difficult than that is the fact that no distributor is carrying it currently. To obtain it right now, you have to email Aranos himself at aranos@eircom.net and see what kind of deal he'd like to work out with you depending on where you live! It's good to be alive. - Jon Whitney
samples:
BACKWORLD, "ANTHEMS FROM THE PLEASURE PARK"


There are a lot of very talented classically-trained musicians appearing on this Very pretty gloom-folk CD from World Serpent. Some from other bands as notable as Amber Asylum and Rasputina! Backworld's third album combines masterful sound arrangement, very pretty melodies and brilliant yet melancholy songwriting to bring you a musical delight. The Death in June influence is apparent in the song structure of tracks like 'Destroying Angel,' but Backworld's sound quality is far superior. The crisp clean 12-string guitar and dulcimer blend so well with violin and cello, and the vocals are mixed at just the right levels. Remarkably consistent in its high quality, and yet each song has its own unique sound and emotion. - Alan Ezust
samples:
JEAN-MICHEL, "MARSHMALLOW ROOMS"


1999 Eleganz Records
I listen to a lot of electronic music, but for a techno album to grab my attention - that's a feat. For me, most techno is just way too repetitive and irritating. Just because it has a really strong regular dance beat doesn't make it good!
Jean-Michel is an unfortunately confusing band name for this one-man musical project by Thomas B?cker. It sounds very little like Jean-Michel Jarre, and people keep asking me what's the connection? French? New-age? Nope. Sometimes boppy and dancey, sometimes aggressive, and other times downbeat, blended in with some of the most beautiful acoustic guitar and restrained breakbeat you've ever heard. The build-up is long and gradual, but by the middles of the songs, you're drawn into it and there's no getting out. Some of the songs even have some jazzy improvisational interludes! 'Supernova,' one of the most brilliant pieces of trip-ambient-intelligent-techno I've ever heard, is constantly changing and shifting, yet carrying through the entire piece a kind of energy, mood and melody that is quite appealing. Since the piece is so diverse, it is almost a crime to sample just one minute of it, so I sampled two! I wish it was more widely available in North America; I'd tell everyone to buy it. Fortunately, a couple of big mailorder places do at least list it in their catalog now, although at very expensive import prices and with a "can backorder" status. - Alan Ezust and Dan Levin
samples:
TWELFTH OF NEVER, "BLOWING BUBBLES THROUGH BROKEN WINDOWS"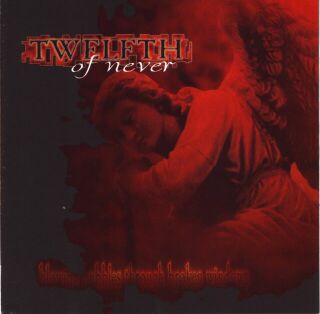 There is so much bad goth music coming out these days, it's been tough to motivate myself to listen to new bands, especially local ones. The thing I hate most is when a band comes out with a whole album where each song sounds basically the same, or a bunch of rock guitars sounding gloomy. Give it up already, it's been done too many times before. What I really like about goth music, especially of the kind you find on Heavenly Voices compilations or some of the recent stuff on World Serpent or Middle Pillar, is when it brings in another musical influence and blends it in, but then sinks a lot of energy into making it sound good. East meets west, old meets new - Qntal and Love is Colder than Death pop into my head here. Twelfth of Never's debut CD, Blowing Bubbles Through Broken Windows, is an example of the kind of stuff that turns my crank. Beautiful vocal harmonies, very lush ethereal soundscapes, and overflowing with brilliant ideas - each song has its own unique character and beauty to it. The creepy yet pretty song 'The Cycle' could easily score some of Tim Burton's next movie. Lots of crisp acoustic sounds, shimmering bells, flute and dulcimers? Wow! I sincerely hope that Hyperium puts Theanna on Heavenly Voices Volume 6,... And they're from Boston, no less. Oh, did I mention I liked the artwork too? - Alan Ezust
samples:
CHICAGO UNDERGROUND DUO, "SYNESTHESIA"

Trumpet player Rob Mazurek has been fronting many incarnations of the Chicago Underground since the mid 90s. This is the second full-lengther from the Duo and stretches about 40 minutes over 8 random length improvised numbers. As the ensemble gets smaller, the directions get considerably more experimental and electronic. 'Synesthesia' opens up with a multi-part 12 minute long piece, "Blue Sparks,..." with a sound that could have easily been influenced by watching loads of 1960s sci-fi flicks. "Tram Transfer Nine" closes the CD with a cut up experimental track worthy of recognition of any experimental brainwashed band fan. Having the album engineered by John McEntire might have had a role in the more daring sound, but sources close to me say that McEntire merely strategically brings out what the band wants to really sound like and accomplish,... Another guest on the disc is the Sea and Cake's front man, Sam Prekop twiddling with a Moog midway through the disc. When you see the Duo in concert, the setup is simple Mazurek on trumpet and Chad Taylor on the drums AND vibraphone. More than just a percussionist, Taylor beats out the rhythms with his right hand while chiming in the melodies with the left. Tortoise/Isotope member Jeff Parker often joins in to complete more of the sound. - Jon Whitney
samples:
THE DYLAN GROUP, "UR-KLANG SEARCH"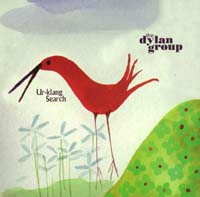 More vibes chime in with the latest from The Dylan Group, another drum-and-vibes heavy outfit. With vibrophone virtuoso Dylan Cristy and music enthusiast/drummer Adam Pearce at the production helm, this disc grooves more on a dub tip than anything else they've done--without compromising the intensity of the ever so prominent vibes. A somewhat shocking pleasant surprise is the brilliantly executed cover of The Orb's "Towers of Dub." Hypnotizing and intoxicating, those into reverberated echoed dub a'la Twilight Circus and the swirling chiming melodies of vibes-heavy Reich-influenced Chicago bands will find something wonderful in this release. I truly adore it when a band can just jump into a laid back dub groove, and hold onto it as long as they please. Sadly enough, they will not hit Boston on their current US tour. - Jon Whitney
samples:
LOCKGROOVE, "SLEEPING ON THE ELEPHANT FOG"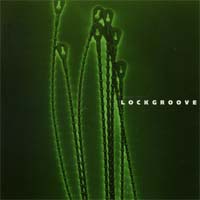 The playing on this rock-based record is top notch and the production is fine, but it's hard to figure out what exactly the band is focusing on. One of the challenges of being a talented band with a ton of influences is that albums going in all directions can show a lack of consistency. While I sincerely enjoy their first full-lengther, it's hard to decipher if they're going for a post-rock sound, a dreamy guitar washed drone, electronic experimentation or rock and roll jamming. Perhaps I'm wrong on all accounts, but the disc has been quite favorable on many different genres of radio shows on the local college station I DJ at,... - Jon Whitney
samples:
We know that sometimes these CDs are somewhat challenging to find, which is why we have a RECOMMENDED STORES section which can be used to obtain nearly everything available on the site.
FEEDBACK
INFIDELITY
Subject: High Fidelity

Just wondering why you chose to post such an uniformed movie review for "High Fidelity". Everyone is entitled to have their own opinion but people who don't know what their talking about shouldn't be published. The reviewer, who appears to be British seemed to have no clue that the movie was taken from a book by Nick Hronby, one of the most popular modern British authors, and ridicules the writer of the "script".

Now if the writer of this review had read this book, he may have realized that it too focuses on the relationships of the record store owner. In fact the whole purpose in the case of the movie and the book was to show how music can color one's emotions, especially when love and relationships are involved. I think the concept is brilliant. To go to this movie expecting it to be about what its like to work in a record store or to be a DJ is missing the point.

Lets also consider that the movie was reset in Chicago instead of London. I grew up in Chicago and I find the new setting to fit the story perfectly. In addition, the locations were very authentic to the Chicago scene, but thats to be expected considering that John Cusack is also a Chicago native.

If the reviewer of "High Fidelity" had taken the time to examine the movie for longer than the hour he spent sleeping in the theatre he might have put together a more educated review. Instead all he did was use it to make fun of Americans. It seems like most of your reviews seem to be well though out and well researched. I'm curious how you let this one fall through the cracks.

It was posted because it was a well-written and entertaining review. Whether or not the editors of The Brain agree with his viewpoint is a completely different story. The wonderful thing about opinion is that it is only opinion! The joke about things like this is that we'll always get people like you to defend something you like. You can't defend taste - you like something or you don't like it. For the record, Peter Choyce is a US Citizen.
---
Subject: Coil in Spain?

Looks like the sonar.es site was updated today, the program indicates Coil will be playing on June 17th. Can you confirm the validity of this? Thanks.

Looks pretty valid from here...
---
Subject: Lard who is in your CD player?

Hey! As I was perusing your pages, I happened upon the "Musick to Play..."(cute reference) section of your brain page. I see you have a little Lard thing called "70's Rock Must Die"...what the hell is it? I've not come accross this before, and when I try to do a search for all that is Jello, I come up with either porn (no surprise) or women's hygiene.(surprise)

Would you be so kind as to illuminate me as to what that is? New, old, vaulted? Just hadn't heard of it prior to your mention of it.

O.K. Thanks!

A spectator, never a fan(atic).

Every week there's a different title for The Brain - as well as Brainwashed has a different company theme. Somehow I'm left wonderng if this really answered your question.
---
Subject: LPD Midi Files

are there any midi-files available from lpd?

thank you very much

The only ones we'd have would be on the website.
---
Subject: whas amorkisphord

i had a dog but it died thanx to you

it was my karma that ran over your dogma
---
Subject: the poo-poo song by NWW

I like the NWW website. Longtime fan of NWW here. Is there anyway I can get the compilation or the album that contains the poo-poo song on it besides the little clip of it on sylvie and babs?

It's on the Various Artists comp, "Ohren Schrauben" which is relatively easy to find, and still in print most likely.
---
Subject: Gloria

Hi! I have come across an mp3 of a song titled "gloria", which was credited to Tortoise. I haven't found this song in any of the discographies i've found. Not in the brainwashed one either... But i thought I'd try some social engineering. Have you heard of it? Or heard it, it's a beatiful little vocoded electropop piece. And it doesn't say "tortoise" like most of their stuff. So if it's mistakenly attributed to tortoise, I'd really like to know who recorded it...

Funny thing is I think I've heard this before. I'm pretty sure (if memory serves me right) they do this live every now and again and this might be indeed a live bootleg or something similar...
---
Subject: hey!

my emails are not brainwashed brain feedback fodder, you brat!

Bitch! I kept you anonymous. And still do...