MUSIC
IN BRIEF
GAS, "POP"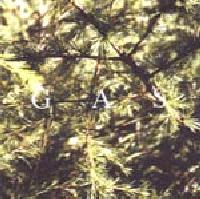 Gas is Wolfgang Voigt aka Mike Ink, Mint, Digital, Love Inc, Grungerman, etc. and head of the Profan and Studio 1 labels. "Pop" is his 4th full-length release as Gas and judging from the artwork it continues the 'forest' theme of the last few albums. The near 66 minutes are split up into 7 untitled tracks ranging from 5 to 15 minutes in length. Each track has the same basic formula: loop and repeat, ad nauseum. Voigt uses a variety of dense and mildly melodic atmospheres somewhere between gaseous and liquid states. They simply flow on repeat for the duration of the track with little to no change. Add a simple techno beat to 2 tracks and there you have it. "Pop" is relaxing but it's also very tedious, even as 'background' music, due to it's excessive and pointless repetition. Instead of drawing me in it makes me want to play something else that's more fully developed and more interesting. And the title? You've got me ... - Mark Weddle
samples:
TARWATER, "ANIMALS, SUNS & ATOMS"


Tarwater return with their second album for Mute (US) and Kitty Yo (Europe) with this wonderful 11 part songbook. Once again, it's a delicate arrangement of beats, electronics and beat poetry influenced spoken/sung words. These post-kraut-rockers step away from the others with their daring choice to sing over the analogue synth-bath. Multitudes of sounds get layered in an almost Arab Strap sounding execution I've been told, but I really can't see it myself. Head bobbing slow cool tunes and pretty melodies litter the entire album, providing a great soundtrack for chilling out or slow dancing. Simple melodies but complex rhythms, percussion, effects and samples. It's lovely, but ends quickly. - Jon Whitney / Daniel McKernan
samples:
SOUTH PACIFIC, "CONSTANCE"


Did you cry when Slowdive broke up? South Pacific are Graeme Flemming (drums guitars samples), Joachim Toelke (guitars) and Phil Stewart-Bowes (bass), and if you answered yes to the above question you really want to hear them play. Constance is South Pacific's first full-length release on Turnbuckle Records, following their "33" EP - now out of print and increasingly difficult to find. Full of drifting guitar landscapes and upbeat percussion, this album is a perfect for days when you would rather have music shape the patterns in your head then words. Vocals appear on only one track, and even then seem to barely cut through the atmosphere. Almost any of the songs on Constance could have easily fit onto Slowdive's "Souvlaki" or "Just for a day" because of the drifting quality of the music and the use of similar effects, but South Pacific have a decidedly different direction to their music. I am finding it very difficult to put any other albums in my cd player this week. Verdict: Strikingly beautiful music to dream by, don't operate heavy machinery while listening. South Pacific releases can be ordered through Turnbuckle at www.turnbuckle.com. - Freida Abtan
samples:
EDWARD KA-SPEL, "THE RED LETTERS"

"The Blue Room" never sat very well with me, though I did love Hotel Y. "Red Letters," on the other hand, is to my ears a cohesive, well structured and thoroughly effective disc. I'm very pleased with Edward's latest work. The whole album has a very slow, somber, moody atmosphere to it, yet "Seeing Red" is a bit faster (though still quite dark). It stirs me, my emotions, my thoughts and has already become one of my all-time favorite Ka-Spel songs. "Belief on a Breeze," "Red Rock," and "Radio 6," are slow peices with plenty of chilling textures circulating around behind the simple melodies, with Edward's emotive voice at the forefront.
A question: Is it just me, or does the progression to "Beleif on a Breeze" sound hauntingly like "Lisa's Seperation" ; and does the piano progression in "Red Rock" hint of some song from one of the China Doll releases...? Of course, it wouldn't be the first time Edward has re-circulated musical themes.
"The Carrier," "Groovy," "Red Letters," and the latter half of "Beleif on a Breeze" offer the more experimental side of the album -- crunchy sounds, clanging percussion, odd vocal samples and other bits of chaos. In a word, *wonderful*. I really like the way on "The Carrier," Edward's drawled vocals fit perfectly with a very 'non musical' backdrop.
"Swamp Thing" differs quite a bit from the rest; it's musically brighter, with peppy keyboard percussion and a catchy chorus of "down boy down boy..." I enjoy the addition of Rachel's voice at the end, too, singing "what you do, you do for love."
Nothing on this disc failed to connect with me. Nice work, Edward! - Michael Holloway
samples:
VLADISLAV DELAY, "ENTAIN"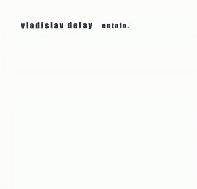 Vladislav Delay is a 23 year old sound artist from Helsinki, Finland. His output of recent and the near future is extensive, including 12"s and full lengths on numerous hip labels: Sigma Editions, Chain Reaction, Max Ernst & Freunde, Phthalo, Force Tracks and here Mille Plateaux. "Entain" combines 4 new tracks with "Kohde" and "Ele" from last year's debut cd "Ele" on Sigma. Each of the tracks, with the exception of 2 brief untitled segues, are between 15 and 22 minutes in length for nearly 77 minutes total of continuous unfolding music. "Kohde" sets the tone with a flow of disjointed micro sounds (bass swells and blips, metallic plucks and pings, minuscule bits of percussion, glitches, pops, clicks and barely discernible human sighs) set against a reverb shrouded ambient drone. The sounds gradually slide into a mildly funky rhythm as subconscious melodies also rise up out of the mix. The 22 minutes continually evolve/devolve, almost inexplicably, and never become tiresome which is remarkable. And it's simply beautiful! "Poiko" and "Notke" are a bit more abrasive, repetitive and structured, the former featuring a glitch loop and the latter a bass throb as centerpieces for their duration, while "Ele" is more similar to "Kohde". There is a strong sense/feel of improvisation and controlled chaos within this music and it's all purpose suitable to deep, background or REM time listening. With the glut of artists working within the future music fields, Vladislav Delay is one to pay attention to. He is truly extending the boundaries of the electronic frontier with innovative and evocative sounds ... - Mark Weddle
samples:
RUSSELL MILLS/UNDARK, "ONE STRANGE FAMILIAR"


Many may recognize Russell Mills' name from the artwork for NIN's "The Downward Spiral," others might know his name from the multitude of audio/visual art installations that have taken place all over the world. Bella Union presents the debut Undark release, originally released in 1996 for a limited time direct from the label, but soon being sent to stores worldwide. The usage of different musicians and combinations from track to track echoes ideas from This Mortal Coil albums from the 80s, differing styles yet remaining linear from start to finish of the album. Some songs that have an avant-garde classical feel, with very subtle mutations of noises in the background and classical instruments layed over. Others, though, are very beat driven with fresh sounding noises, sampled and noodled around with an attention to detail. The vocal track "How Safe is Deep?", would also appeal most likely to fans of Eyeless in Gaza. For the most part, however, the album is devoid of singing, although often touched with voices and scattered fuzzy samples. Much like the last Undark album, guests include Brian Eno, Bill Laswell, Roger Eno, and David Sylvian. And, of course, the sleeve art and design was done by Mills himself, and showcases a new computerized direction for him. - Daniel McKernan / Jon Whitney
samples:
ANTONY AND THE JOHNSONS

I'm sure by now you've heard the hype surrounding this growing legend. He was picked up by David Tibet of Current 93 to be on the Durtro label after Tibet listened to this album. Antony's lyrics and vocals are some of the most soul-clenching and amazingly powerful sounds around today by far. His piano work is splendid. The Johnsons band consists of drums, harp, bass, two violins, cello, flute, two clarinets, sax, and "guitar effects." Fans of vocal performaers strong enough to slice through your heart and leave your lungs without air should definitely seek this out. The sound is almost reminiscent of old show tunes about broken hearts, but instead with an effeminate male singing. His lyrics tell of pain and can be percieved as melodramatic on the same level that Current 93 can be, but at the same time leave you listening to this disc repeatedly. "Cripple and the Starfish," from the split-single with Current 93 is only one of quite a few stand out tracks on this album. I have yet to see his performance live, but word is that listening to it from a CD is not a tenth of the power felt while experiencing it live. I look forward to seeing his last show in the current New York series on May 30th. For more details, visit the site at: www.antonyandthejohnsons.com. - Daniel McKernan
samples:
FONTANELLE

The press releases states that Fontanelle consists of four members, two of which were members of the now-defunct Jessamine. The statement then goes on to say Jessamine should not be used as a reference, but as a departing point for Fontanelle's sound. Well, after many listens, I probably would have never have placed the band's self-titled album in any category with Jessamine. Instead, the first band that comes to mind after hearing "Picture Start:," the album's opening track, is Isotope 217. Maybe it's the analog synths, the bobbing basslines, or the organic funk, but the album conjures up images of jazz--funky, homebrewed jazz. While there aren't any horns on the album, it doesn't take much to imagine them there, and the drum and keyboards help to fill in the bubbling mix with a variety of textures and melodies. "Niagara" begins with a brooding guitars and brushed drum beats, building and building until it subsides into quietness and the albums third track, "Reflex vs. Parallax." A slower, more downbeat track filled with repeated piano chords and well-crafted guitar work, it serves as the perfect soundtrack to rainy nights and hazy visions. The album ends with "Counterweight," a beat-driven number accented by scif-fi guitar effects and bubbling bass notes. This release, while sometimes a bit slow for me, is just what I need to supplement these long summer nights spent reading and writing long, sentimental letters. - Carter Adams
samples:
SPRING HEEL JACK, "ODDITIES"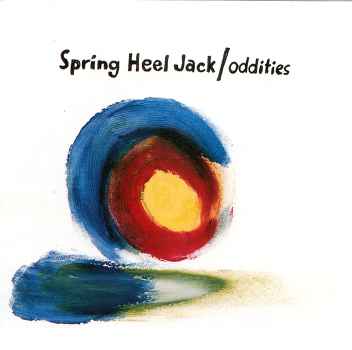 Perhaps it's one of them 'contractual obligations' from the label, but this collection, appropriately titled, gathers bits and pieces from all over SHJ's repertoire. Oddities is much more diverse and experimental than their previous full length releases, as it showcases the bands range of a multitude of styles as opposed to having an album which start to finish, barely strays from the drum-and-bass lines. This release also features a spoken word piece from William S. Burroughs, "The Road to the Western Lands," which has sounds of distant saxophones and, of course, the cut up and layered words of Burroughs. It isn't until track three, "Trouble," that sounds of percussion start to arise, and even then they are extremely chopped up and form a very disjointed, noisey beats that morph - stoping/startomg, with odd sounds affects that resemble either a woman or a bird, I can't tell. This track is 12 minutes long, and midway deteriorates into occassional syhnthetic noises which, do unfortunately become slightly tedious. Track four, "Shine a Light," has some very beautiful parts to it - echoing, fading electronic sounds and samples, with random beat-esque noise on top. For the most part this disc is very quiet and droney, as opposed to their jazzy influenced, punchy sound. It's a great collection of fans but isn't entirely representative of older works, however. - Daniel McKernan / Jon Whitney
samples:
BELLE AND SEBASTIAN, "LEGAL MAN" 7"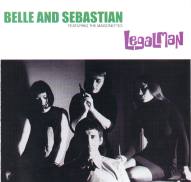 Belle and Sebastian are arguably the best Brit-pop band to come out of the UK since The Smiths. They have a beautiful balance: happy upbeat pop music with very touching lyrics and emotional vocals. The new single is available in three formats, 7", 12", and CD -- all of which have different querks about them (which is slightly annoying since this material will not be on the upcoming album). Regardless, "Legal Man," shows a new direction for the group. It features The Maisonettes, whom I assume provide congos and vocals on the title track. The song is extremely short, only two-and-a-half minutes, but worth the $4. It's predictable Brit-pop, but has a hint of old beach music splashed in - just in time for the summer. The cutesy female vocals sing, "get out of the city and into the sunshine - get out of the office and into the springtime!" On the 7" this track is backed by "Winter Wooskie," a sad, but upbeat love song with very quaint piano work. The 12" doesn't feature this track, but instead features "Judy is a Slap Dick (extended mix)," and the CDs features all three normal versions. A very nice taste of what to look forward to in their new fourth album, "Fold Your Hands Child, You Walk Like a Peasant," which I can't wait to get my hands on June 6th. - Daniel McKernan
samples:
HIM, "SWORN EYES"


Boy do I hate dropping the names of Tortoise, Isotope and Chicago Underground in a review, but fans should most definitely take a spin with the latest project from June of 44/Rachel's drummer Doug Scharin's new Him record. This one features Rob Mazurek, Bundy K. Brown and Jeff Parker on nearly all of the tracks and was produced by Scharin over three months in 1999. The album takes a new direction for Scharin, stretching more into electronic experimentation rather than the jazzy improvisation of earlier Him products. The playing is incredible and the production is flawless. The music overflows with an emotive depth, sccented with many dub influenced delays and echoes. Those of you interested in purchasing the wax version rather than the laser one will be in for a special 4th side treat. - Jon Whitney
samples:
We know that sometimes these CDs are somewhat challenging to find, which is why we have a RECOMMENDED STORES section which can be used to obtain nearly everything available on the site.
BOOK
REVIEW
KING OF THE CITY


Michael Moorcock is like some alien force babbling out book length fantasies about albino fencers and incestuous siblings. I read somewhere that back in the sixties he could grind out a novel in a week, which isn't too surprising if he takes half as much speed as his characters. He's dreamt up images like the chaosphere and the multiverse which now bob around the culture, appearing on Coil albums and physics texts, while he offered Jerry Cornelius free of charge like Linux to other writers (for a while). For the last two decades, however, he's slowed down his production and concentrated on a well-crafted novels, letting his happily odious Colonel Pyat run rampant over the world and exploring his home town in the nostalgic and beautiful Mother London. Moorcock seems to see all of his books as series within series, and his latest, King of the City, is billed as a sequel to Mother London.
It's a story he's been telling a long time, the torment of a three-way incestuous affair, though here he's toned down the Wagnerian elements, and made his main characters Dennis and Rosie mere first cousins, while the evil brother, Barbican, is a slightly more distant relation. At the novel's start, Dennis is a tabloid photographer who has just snapped the shots proving that Barbican, until recently the most powerful man in the world, had faked his own death and is living a dream life screwing royals on Little Cayman. Lady Diana, however, has had the poor timing to die while Dennis is returning to London, making this paparazzo persona non grata in England's green and grieving land. So Dennis retreats inwardly to consider how life led him up to this gross festival of public sentimentality. His story is that of growing up with Rosie and Johnny (Barbican) Begg, from childhood shoplifting to teen existentialism, Dennis and Rosie in pure contact while Barbican envies them from outside. Barbican, however, quickly rises up England's commercial powers and uses his riches to woo Rosie, a social worker in Africa, while Dennis mostly does drugs and plays Hawkwind tunes.
Unfortunately, Dennis is something of a problem. Moorcock is great with nostalgia, evoking old London's eateries, its bloodsports, the strange customs of its inward-looking communities, and the first half of the novel, written in short, fast-paced chapters (all given great slangy pulp titles--The Spit, The Lick, The Skin, etc.) is full of nasty satire and feeling for kids making their way in this big city. But while Moorcock has a talent for drawing sympathetic portraits of amoral monsters like Colonel Pyat or Jerry Cornelius, Dennis, on the surface so much more a normal guy, is full of nothing so much as long humorless homilies on the evils of the Grand Consumer and modern capitalism. The chapters grow longer, conversations become earnest q-and-a sessions about corporate irresponsibility, and then Dennis gets into his fantasy rock band and things really start to drag. The end of the book reads more like a fulfillment of Moorcock's own musical and political fantasies than any his readers are likely to share by that point after been hectored for the last couple hundred pages. This is all too bad, because he really is capable of some great scenes such as a visit to the bird market:
"Strutting dusty chocolate, glaring ebony, pulsing scarlet, crimson, yellows and verdanta. Fancy white tiles streaked with vividly coloured shit. Old iron beams hung with busy wicker and wire, swift, dark eyes, defiant beaks. Gorgeous ruffs around huge, clawed feet. Caged flutter everywhere. ... New Marshalsea was like a gathering of Victorian regiments: imperial scarlet and gold and royal blue, periwinkle and evergreen. And every one an officer or a lady. Proud to be fowl."
It's this strange mix of poetry, nostalgia, and satire which I enjoy most in his writing, but found increasingly stifled by Moorcock's polemic. As Dennis's rhetoric blooms, his fantasies grow less and less enticing. - Paul McRandle
FEEDBACK
FRIENDS
Subject: Chriomancy

Aleister Crowley is my parasol, and protects me from me oncoming cars, and I'm a proxy for an insane god. You seem to be a relic, and reliquary of the list, and I'd like to become Friends with you. I'm Recherche and Righteous, so itz appropriate. You're such an obscurantist, and I never shut this slut's hole in my mouth? Do you Chat on Yahoo, all my schizophrenic friends tell me Im not insane, but a developing poet, what do you make of this? My Sex drive is cosmic, my penis is a black hole, suck it all in.

no comment
---
Subject: V/Vm Website...

Brainwashed,

The V/Vm website describes downloading .mp3's from the site, yet we can't find any. Could you give us a direct link to the .mp3's or are they not posted yet?

Soon, sorry for the delay, those anxious can always snoop around the /audio/ directory!
---
Subject: brainwashed recordings nr.4

Dear brain staff!

First of all - thank you for your great site, I go for it every week!

What I`d like to know, is the status of your birthday-double-CD you mentioned about 4 or 5 brains ago. is it available already? Important to me is, if it contains tracks fron Coil and Cyclobe. If yes, which?

The CD will probably not surface until the end of the summer. It will contain tracks from Coil and Cyclobe, both will be exclusive.
---
Subject: Beware The Cat

hello all at Brainwashed,

We are a UK based independent music an culture magazine and internet site. Firstly, I'd just like to say how much I like brainwashed.com as it seems like we have very similar ideas about music and the way it should be represented. We would like to mention brainwashed in our next issue and possibly do a feature for our internet site including a link to your site. If you would like to receive a copy of our latest issue then please mail back stating a contact name to send the mag to. I have included our press release for our latest issue which includes a link to our Web site if you fancy checking it out.

Thanks, we always love being mentioned whether it be good or bad. So long as you spell our name right!
---
Subject: How do I purchase some of these???

Hey, I'd just like to know can I purchase things from this site. I see things here that aren't available on the Stormy Records site????????????///

Stormy Records is Windy & Carl's store, but a band's website will include a discography usually of everything - which in many cases with this type of music - includes singles that were only available for a limited amount of time. In Windy & Carl's case, they'll most likely know the best places to get what might still be available somewhere. It never hurts to ask.
---
Subject:

hello there
As huge pink dots fans you probably have email directly to the Pink Dots. I got a Russian import of an album that I have never seen. It's a best-of compilation. Have you heard of it, it's a 1999 release.

Yes we have and it's in the discography section to prove it!
---
Subject: interested in some rare experimental/noise items

Hi!

I'm interested in trying to find copies of several rare noise/experimental music items and was wondering if you might be able to help? Would it be possible for me to send you a brief want list? Please let me know. Any assistance that you might be able to provide me with would be greatly appreciated.

Ok then, I thank you for your time, and I hope to hear from you soon!

The Brain Staff has been extremely busy recently, so we hope you don't mind us displaying your email address for some of our readers - perhaps one of them would be willing to take some time and help you out. All those interested, drop a note to mrshml2@mailcity.com
---
Subject: sonar

Do you know if there is a way to preorder tickets? I know there is an online order system, but it seems to only work for local pickup. It would suck to try to buy tickets at the door and find that they are sold out. Do you know of any other Coil list members going? It would be nice to meet up there.

No ideas, sorry, try asking Sonar folks...
---
Subject: angry consumer

I know that we are only supposed to email about the web site, but have a complaint. I ordered 2 CDs around november and still i have not recieved anything nor heard anything about them. I sent a money order, so they were already paid upon delivery. I would greatly appericate it if you could help, or tell me who can, because I'm not going to send another letter and this is the only email given on the site.

Actually, it's not, every label's website on here clearly has email displayed for the label, themselves.
---
Subject: CRASH/Mark Dumais info sought

Information needed about mid/late-80s pop band, CRASH, headed by Mark Raymond Dumais; the band also included Mark Ralske. CRASH was active in NYC in the mid-80s, and in approximately 1987 moved to London. Dumais died in the early 90s. The band sounded like a delightful, pop mix of the Smiths and The Jesus & Mary Chain - with some Creation band jangle thrown in for fun.
I'm looking for: performance, studio & other pictures of Dumais and the band; tapes, demos and other recordings; posters, flyers, invitations; press clippings; and contact information for former band members, friends or family of Mark Dumais.
CRASH broke up in about 1988. Ralske formed Ultra Vivid Scene and Dumais released at least one albuma nd a few dance singles under the name TANGERINE - on Creation. CRASH were:
Mark Dumais - vocals, guitar
Kurt Ralske - guitar
Bill Carey - guitar
Also, these folks played with CRASH at various times: Brian Bendlin (drums), Robert Huff (guitar), David Maready (bass) and Linda Smith (backing vocals). Last known address for Mark Dumais was: 60 Wells Street, London, W1P 3RB

Once again, the staff is coming up empty handed. Any readers with info are welcome to shed any light to: ld@btldesign.com - thanks!